Singapore: The Land of Extraordinary Architecture
Singapore is an improbable oasis of calm in otherwise bustling Southeast Asia. When we crossed the border from Malaysia (our easiest land border crossing yet–see our Cambodia post for the sketchiest one), it felt like we had stepped into a magical land of green trees, clean streets, and innovative architecture. And it all just felt so…quiet. There was no blasting karaoke music, no screech of motorbike horns, and no being hassled by touts trying to sell us things. Singapore provided an interlude of tranquility after the chaos of preceding countries we visited.Singapore is small (only 278 square miles), and is the wealthiest country in Southeast Asia. It's modern, orderly, and freakishly clean. It has some strange laws (chewing gum is banned, as is jaywalking–we had to constantly remind ourselves to actually find a crosswalk to cross the road after months of traveling through countries that don't have them). We joked that Singapore is the Japan of Southeast Asia with its abundant comforts and spotless public transportation.
After checking into our hotel, we headed to the Singapore harbor front to take a look at its most iconic building, the Marina Bay Sands hotel and casino. Opened in 2010, the trio of skyscrapers is connected on top by a massive boat-shaped structure that holds the world's largest rooftop infinity pool. (If you've seen the movie Crazy Rich Asians, the final scene was filmed there). It was the most unique piece of architecture we've ever seen; when you gaze up from the streets below, you get the sense that the whole rooftop is floating. Although we fantasized about visiting the pool, unfortunately it's only accessible to hotel guests (for a cool $350 a night–not exactly in our budget!) Still, seeing the building up close was incredible. In our opinion, the Marina Bay Sands is Singapore's most spectacular structure, but the city is filled with funky skyscrapers adorned with cascading greenery and interesting design features.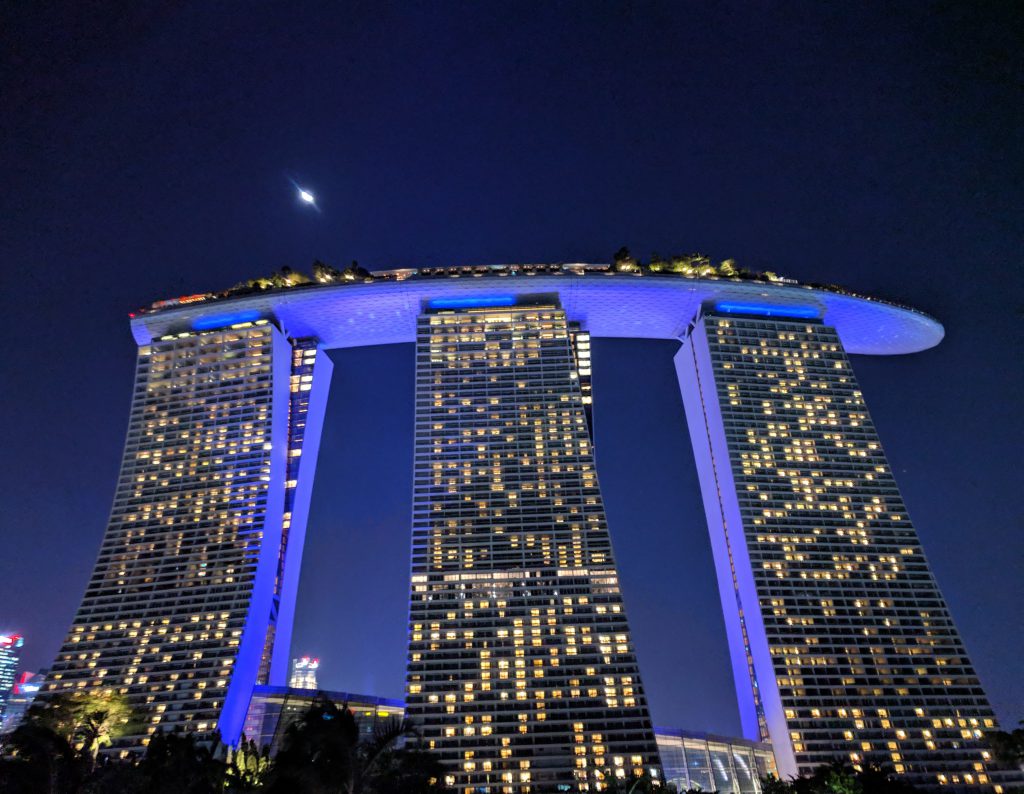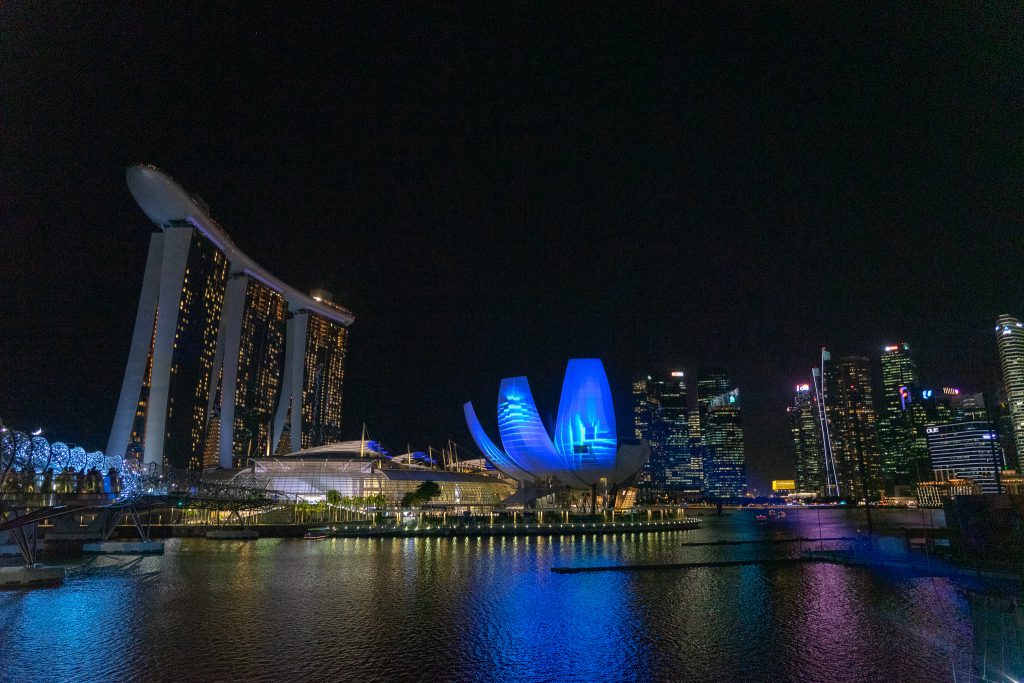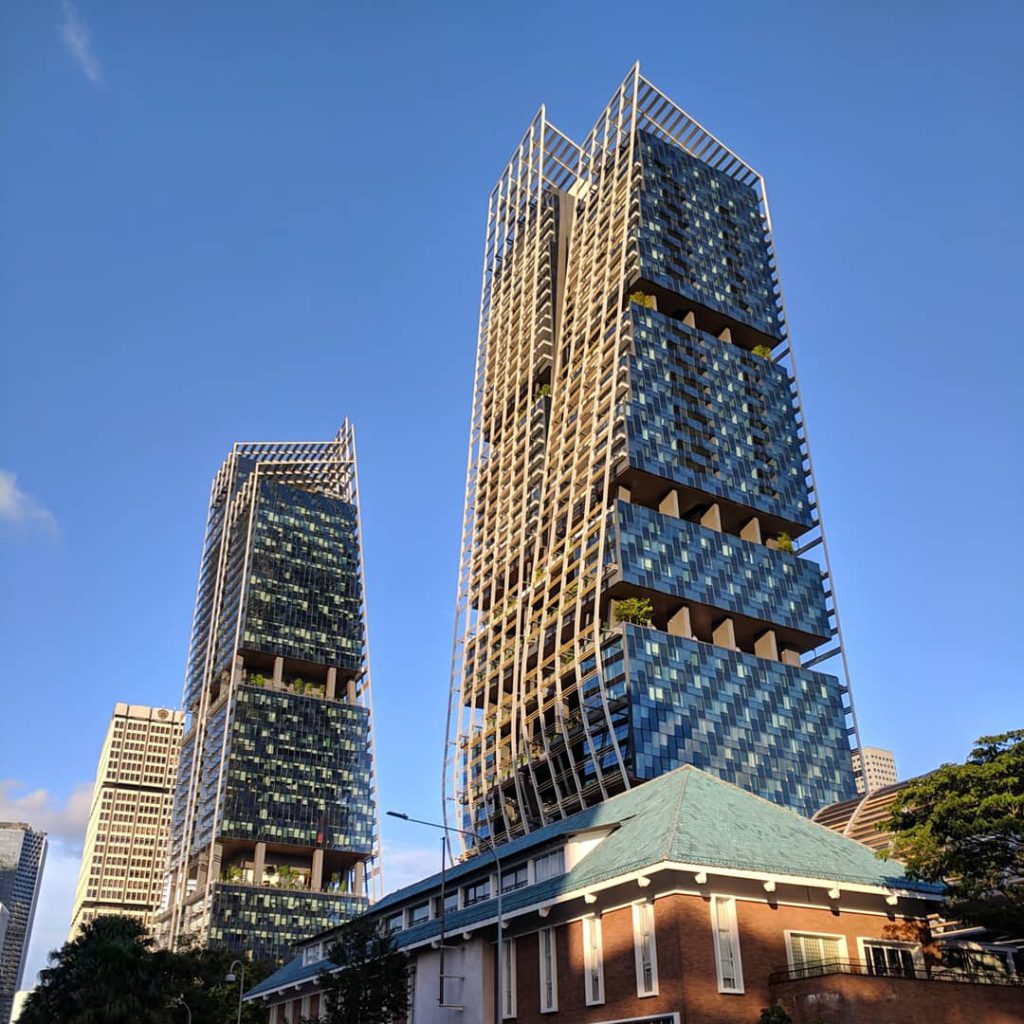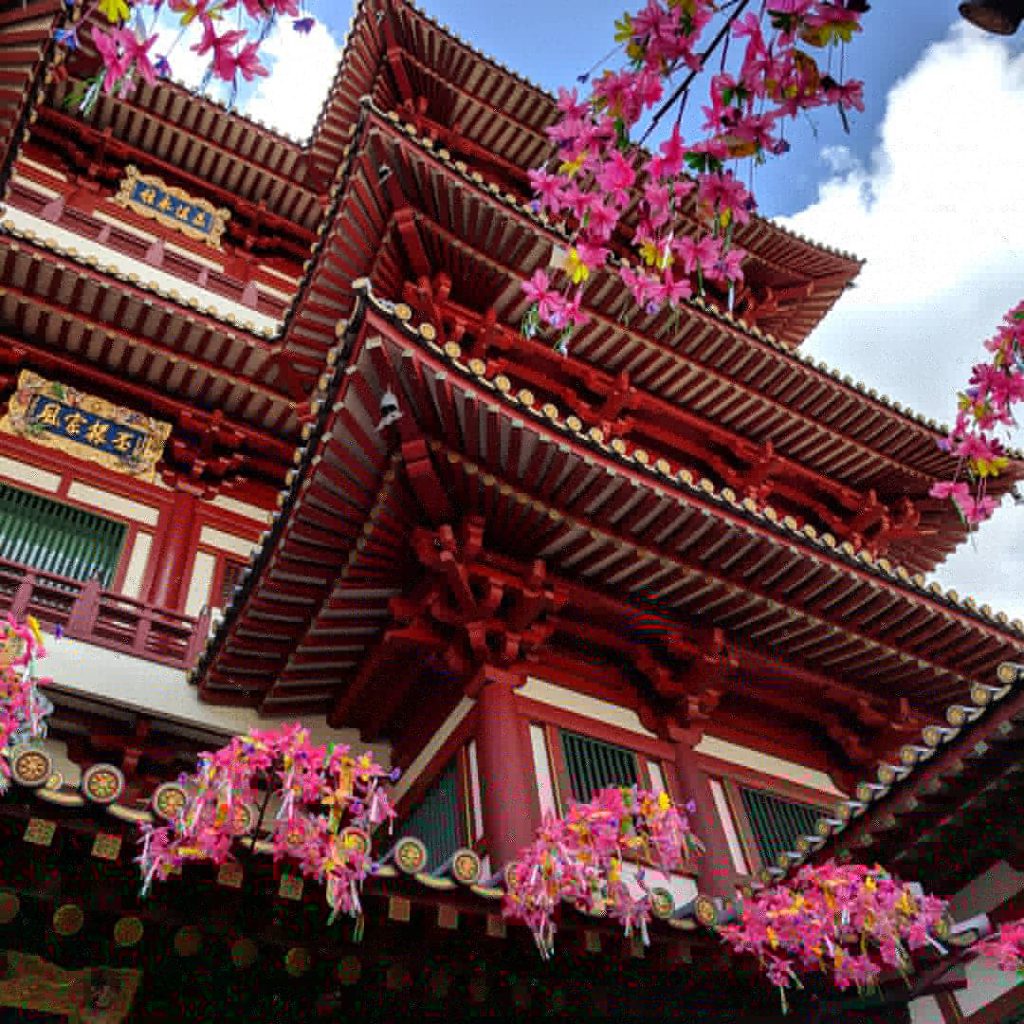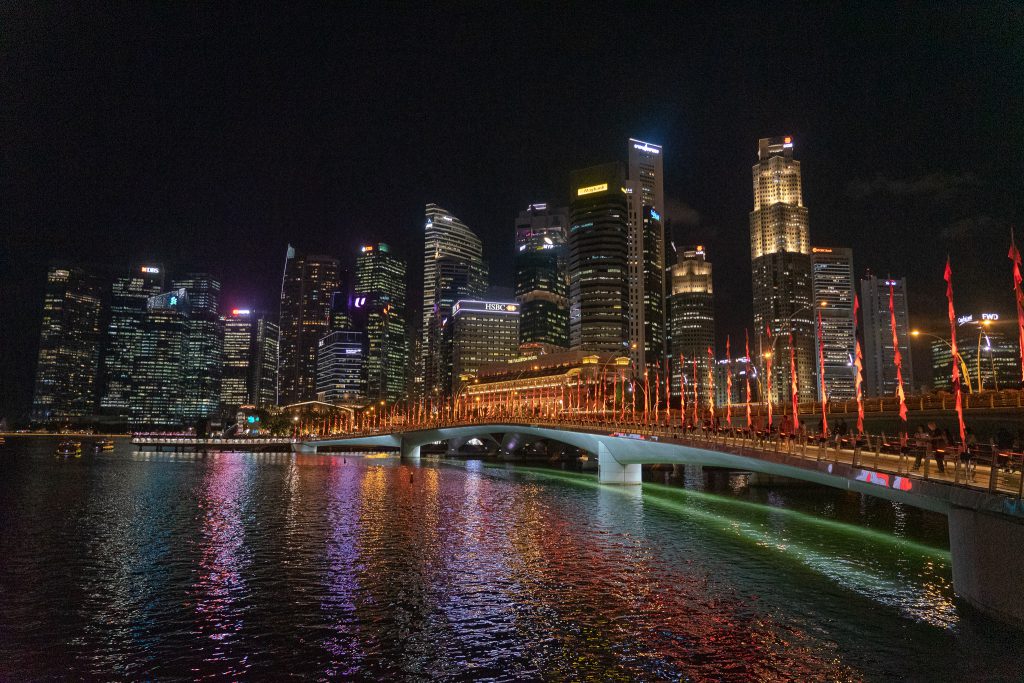 Our other favorite uniquely Singaporean site was Gardens by the Bay, a collection of waterfront gardens that encircle the Avatar-like supertree grove. The manmade trees serve a variety of purposes, from providing a home to exotic ferns and orchids to harnessing solar energy for the surrounding conservatories. When they're lit at night in vibrant shades of blue, green, and magenta, they look even more impressive.
Each evening, the grove hosts a light show called the Garden Rhapsody. The lights on the trees shimmer and dance in time to music. (Predictably, I cried while we watched it. The show was visually stunning, and it happened to start and end with classics by Tony Bennett, whose music will forever remind me of my maternal grandparents). If you find yourself in Singapore, this is the top experience I recommend.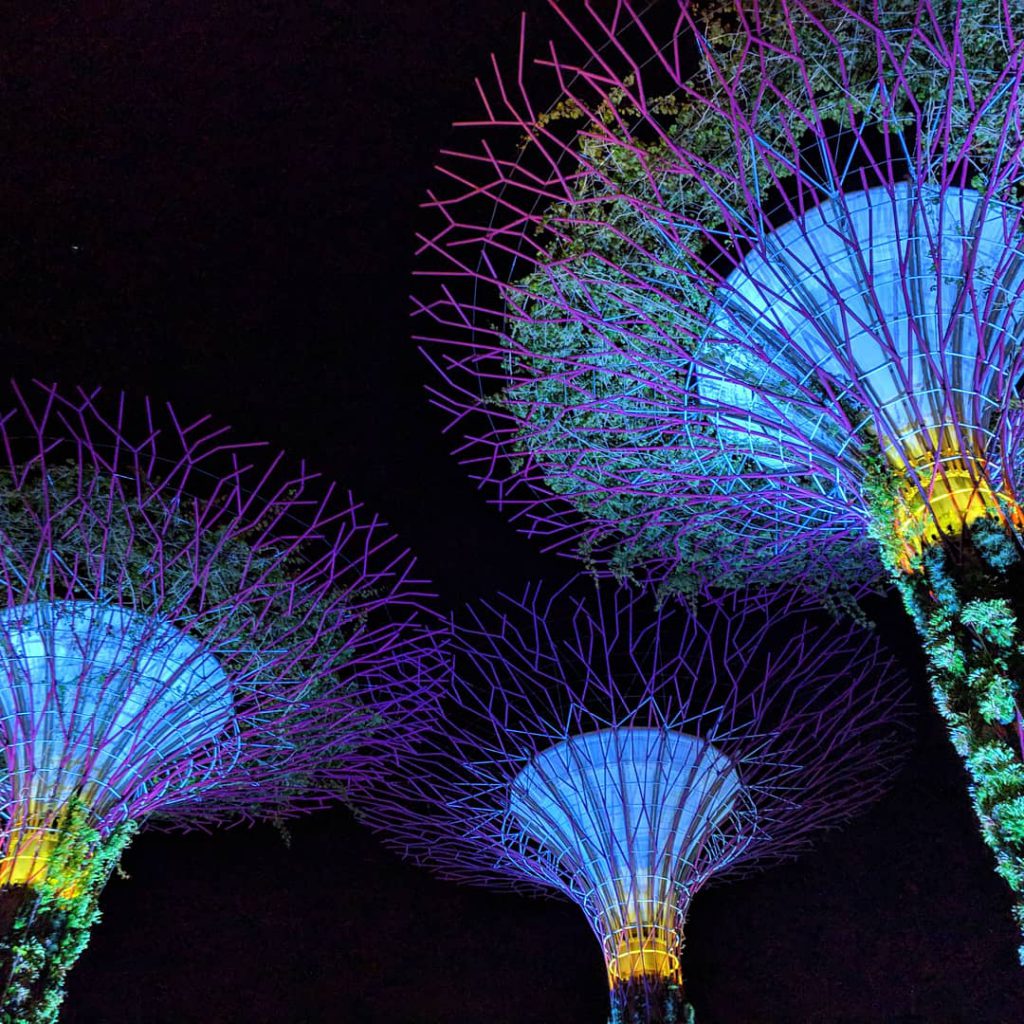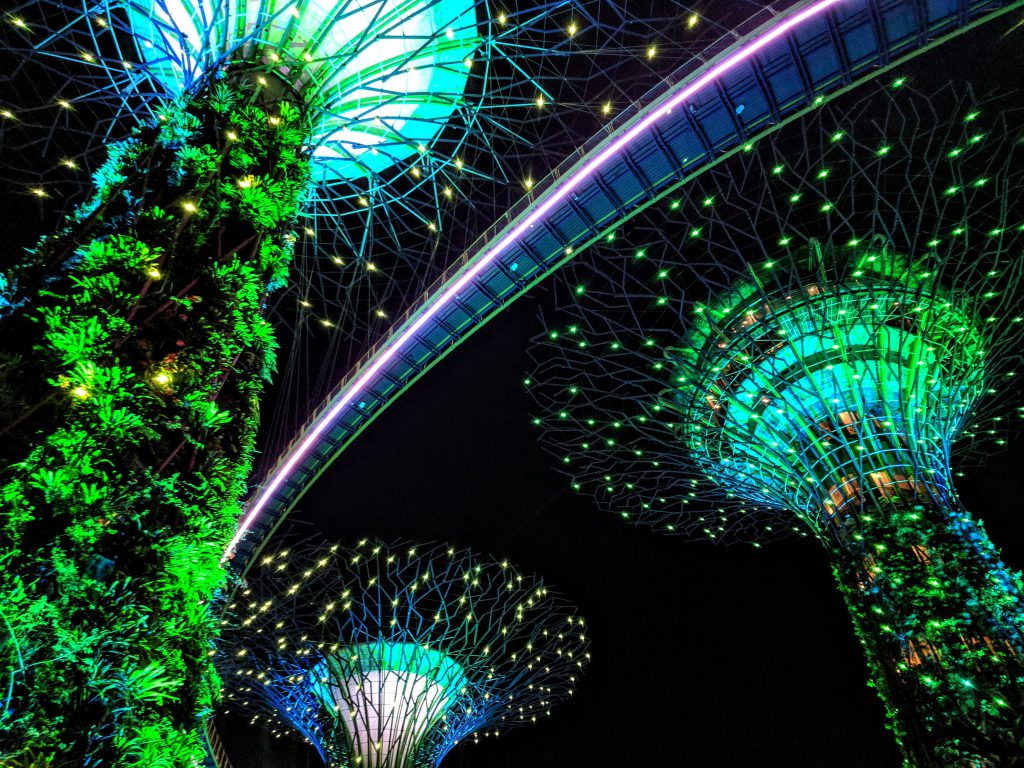 Singapore doesn't only offer urban experiences, though–it has a surprising amount of outdoor space, and there are numerous parks, as well as a handful of beaches. But perhaps the best outdoor activity is visiting the Singapore Zoo.
Mike and I are not normally zoo people. While we agree that a zoo run ethically serves an important role in conservation, we've heard one too many stories in the news that link zoos with mistreatment of animals. The Singapore Zoo, however, is reputed to be one of the best in the world. Animals roam free within natural enclosures separated by vegetation and bodies of water rather than fences.
Within two minutes of entering the zoo, we were greeted by monkeys who swung in the tree branches above us. We felt like kids again as we spent hours roaming the zoo's paths and spotting all sorts of creatures, from orangutans to lions to giraffes. We came eye to eye with a colorful toucan, saw white tigers hunting prey, and watched elephants pluck carrots and bananas out of zookeepers' hands. We haven't visited many zoos, but we strongly recommend this one! It more than lived up to its stellar reputation.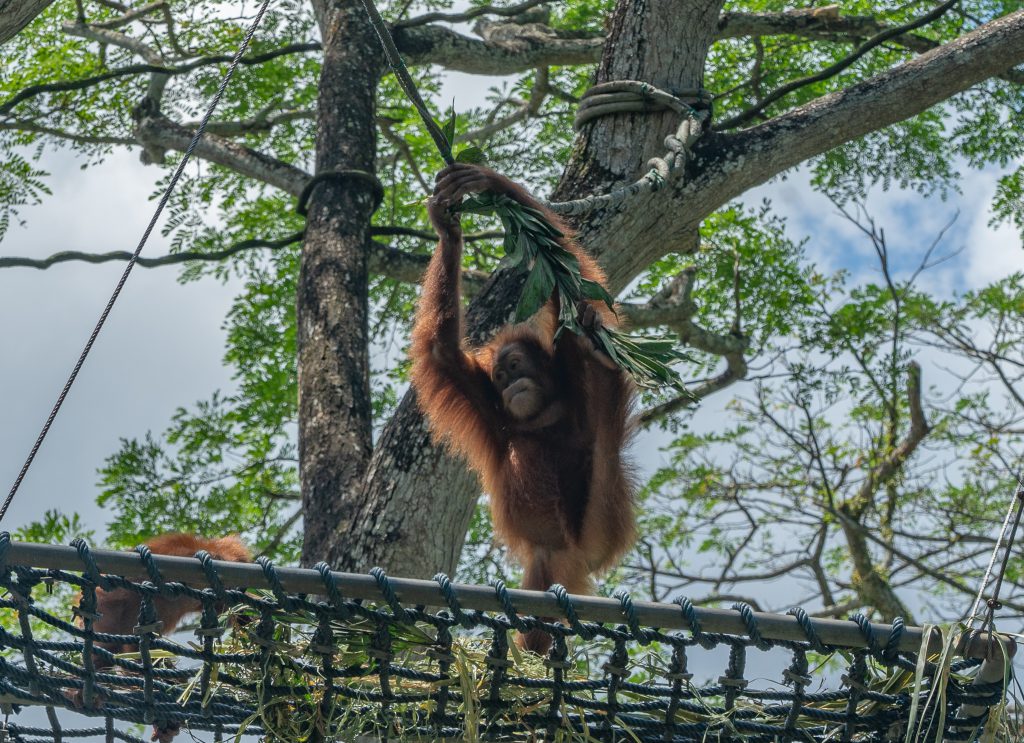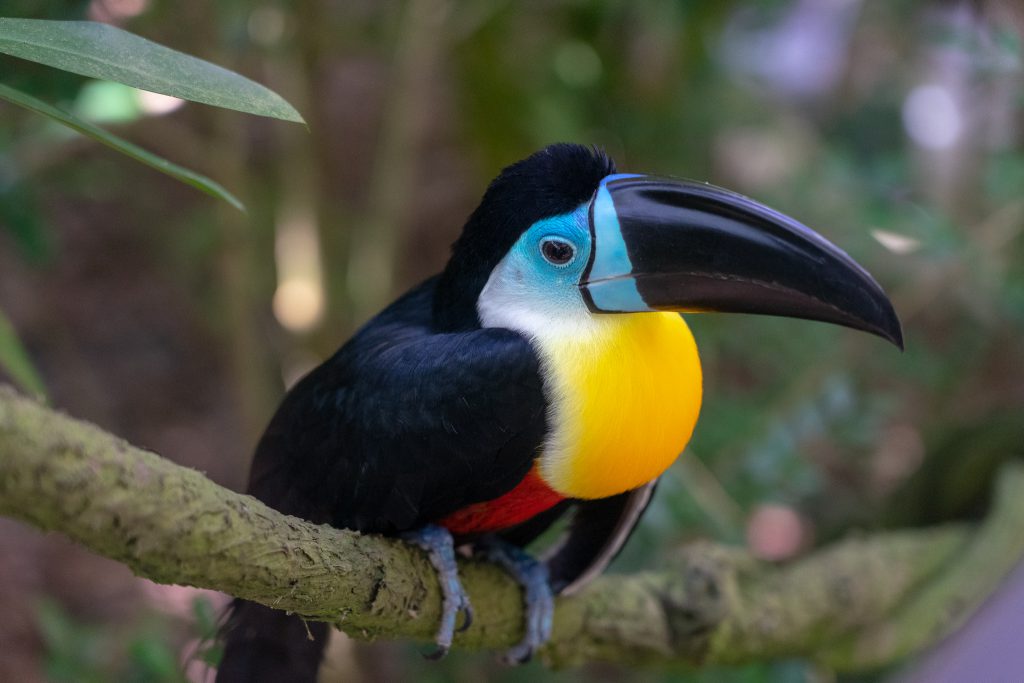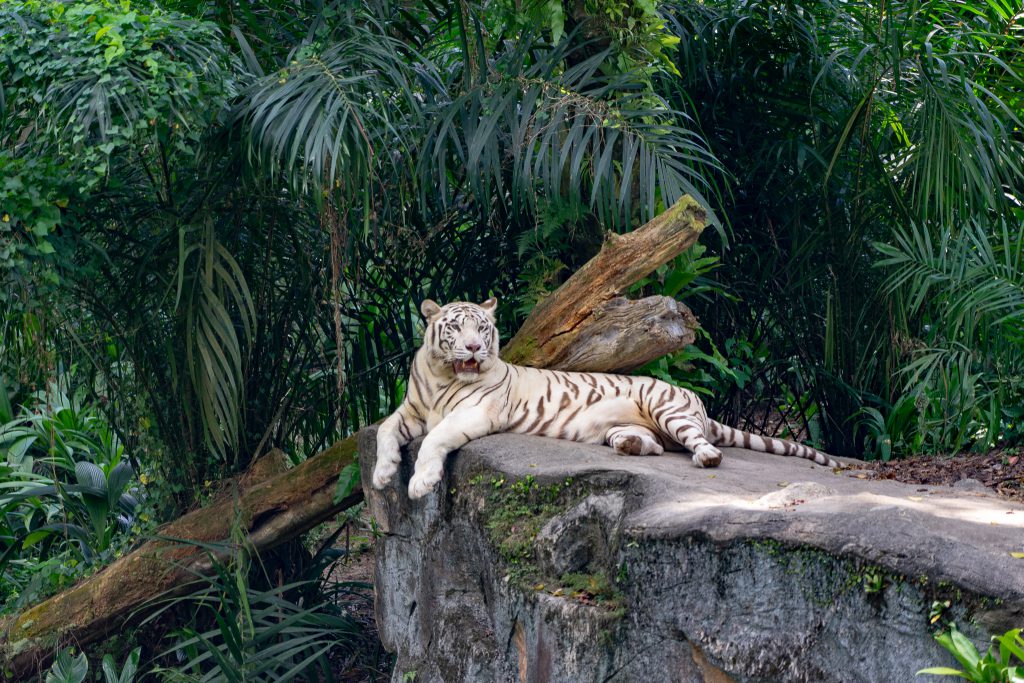 Singapore is not a budget destination; accommodations and attractions are notoriously expensive. But one thing in Singapore is relatively affordable–good eats! Singaporeans love to eat, and the country's sizeable immigrant communities contribute to a diverse food scene for such a tiny nation. There's an ample amount of cafeterias, where you can get tasty food on the cheap.
We ate almost exclusively at these food courts, and tried everything from Indian-style sandwich wraps (Indian food is plentiful and delicious in Singapore) to Chinese noodle dishes (roughly 75 percent of Singapore's population is ethnically Chinese, so much of the food has Chinese origins). We also tried other snacks like satay (seasoned grilled meat skewers) and carrot cake (which actually isn't carrot cake at all, but a savory dish prepared with rice flour, radishes, eggs, and garlic).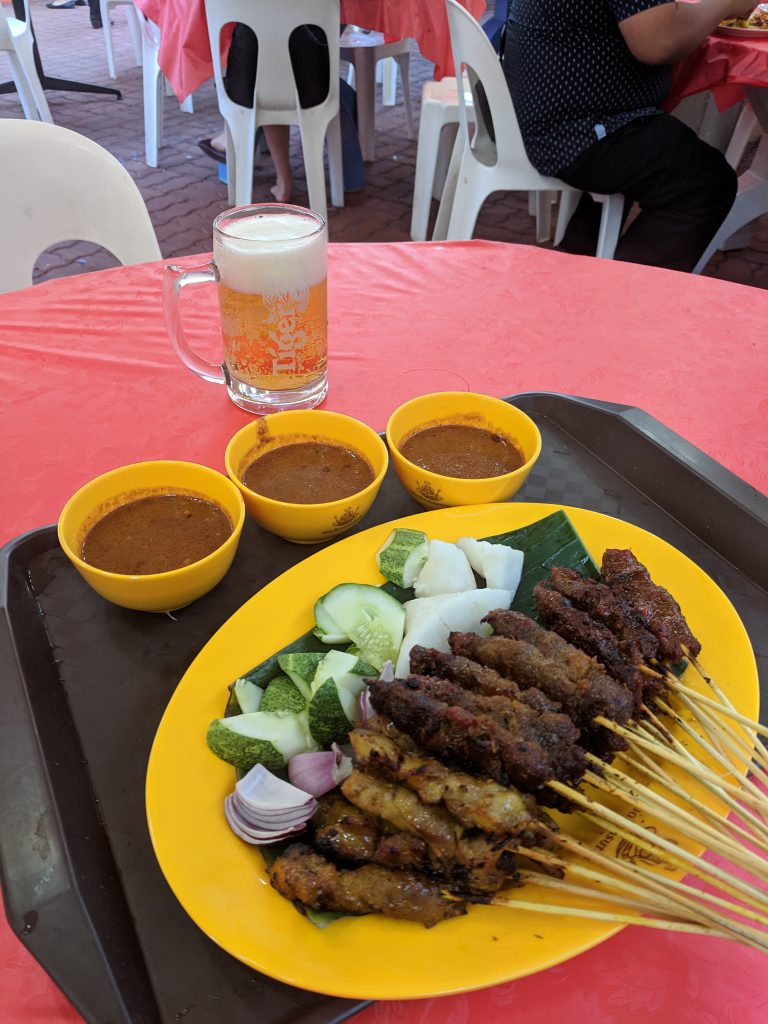 One afternoon, we deviated from trying local food to devour some western cuisine we've been missing a bit–macaroni and cheese washed down with American craft beer. It was the first mac and cheese we've had since leaving home (pasta and cheese are both rare in Asia), and it hit the spot. Mike and I are pretty adventurous in the culinary department, and we love eating local dishes in each country we visit. Yet it's nice to occasionally scratch our itch for American comfort food.
On our final evening in Singapore, we got together with the friends we made in Vietnam, Kaisa and Sierra. We met hiking in the mountains of Sapa back in December and were happy to have a chance to see them again. One of the best parts of traveling is the random encounters you have with people. Sometimes it's just a passing conversation, but now and again, you become friends and keep in touch.
Although we enjoyed our stay in Singapore, after three days we surprisingly found ourselves missing the grittiness of other destinations we've visited. I never thought I would say it, but I've grown to love the fast pace and slight edge that places like Vietnam and Cambodia offer. However, the timing of our visit to Singapore was perfect in this sense: when you spend months frequently going without luxuries that are simple givens in the western world, such as hot showers and comfy beds, you appreciate those things all the more when you do have them. Singapore gave us a brief hiatus from having to forgo modern amenities, and as a result, we cherished those small comforts in ways we never do at home.
Until next time, selamat tinggal from Singapore.