Colombo, Galle, and Madiha Beach: The Colorful Sri Lankan Coast
From cherry red hibiscus blossoms to bright yellow saris to the sapphire blue Indian Ocean, Sri Lanka is an explosion of color everywhere you look. For such a small nation, it contains a staggeringly diverse amount of natural beauty, but the color doesn't end with natural scenery–everything about Sri Lanka is vibrant, from the clothes people wear to the textiles for sale in street stalls. I swear colors exist in Sri Lanka that you can't find anywhere else on earth.As we drove from the Colombo airport to our seaside hotel, I removed my sunglasses and peered out the window. Colombo had the same organized chaos we've seen in other Asian capitals–the traffic was horrendous, and the streets were congested with pedestrians hustling to their destinations while they dodged stray dogs and discarded trash–but surprisingly, the city didn't seem ugly at all. The brilliant colors everywhere cast a spell, making what should have been a hideous place look downright gorgeous. For the first time in my life, I wished I had artistic skills–the scenery around us was so beautiful, I wanted to paint it on a canvas.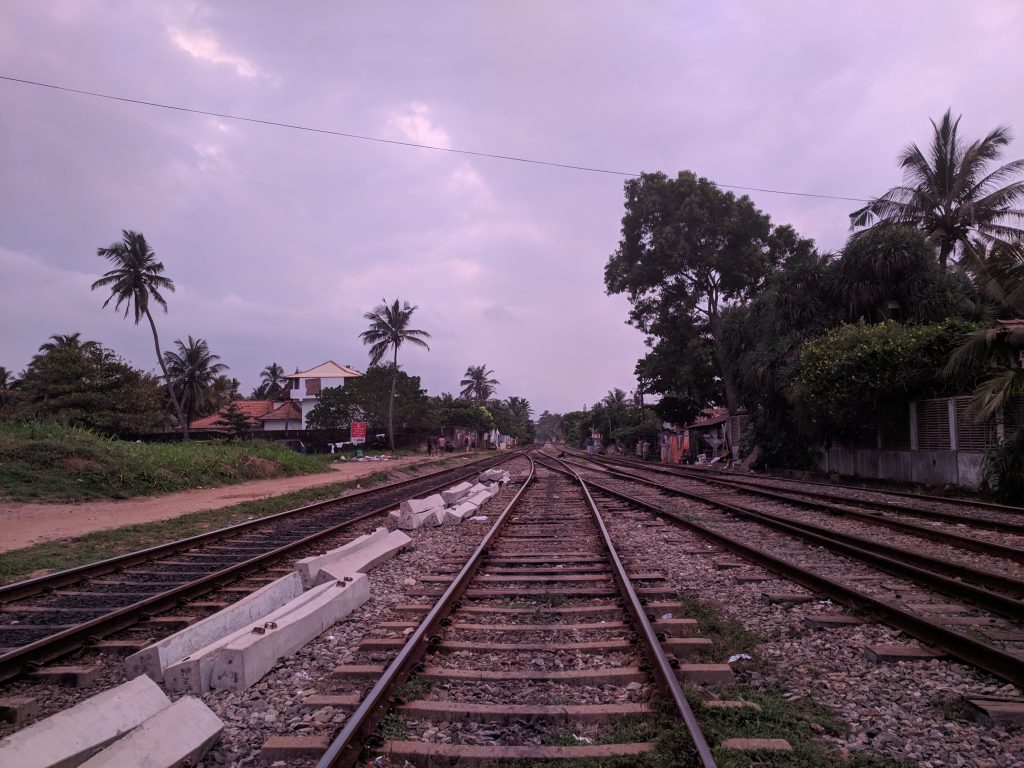 Colombo, Sri Lanka's capital city, is one most tourists skip. Just a few years ago it wasn't considered the safest place, and while that is no longer the case, the reputation has lingered. We decided to spend three nights there at the start of our trip, figuring it would be our best chance to get a taste of the real Sri Lanka, a country where tourism has utterly exploded over the past five years. After the nation's civil war ended in 2009, Sri Lanka began to be touted among western travel publications as the next "big" destination. And big it has become–we joked that half the population of France and Germany was on vacation there. It's most certainly not undiscovered, but there are still cities you can go to if you want to get off the main tourist track. Colombo is one of them.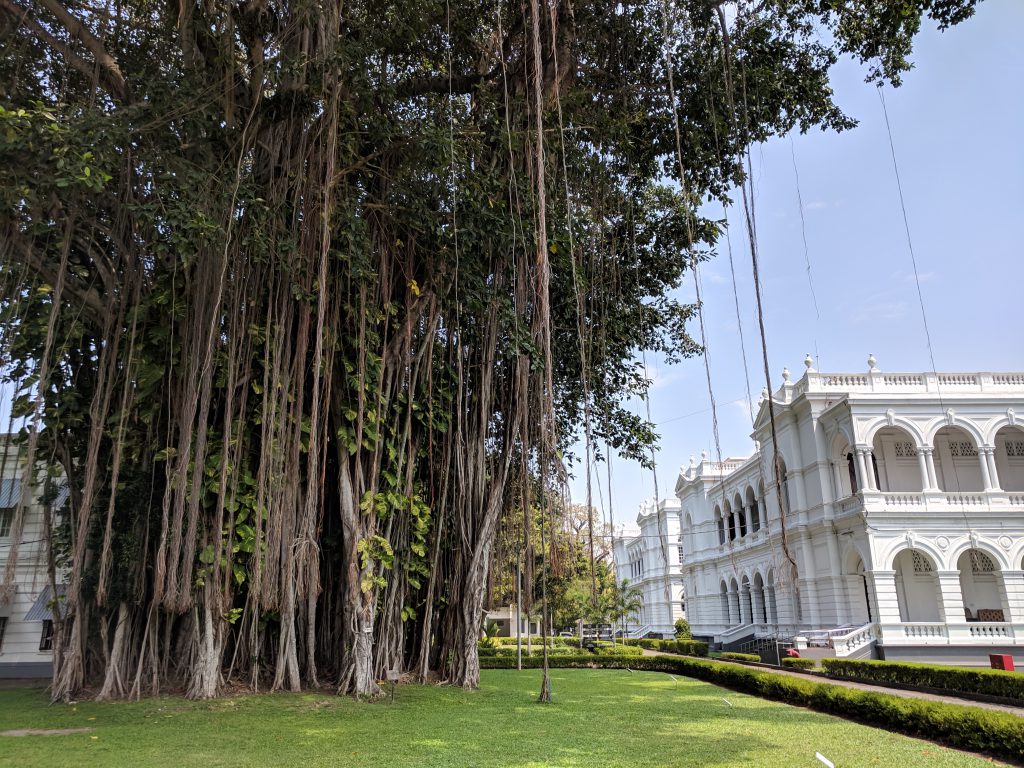 We opted to stay in one of Colombo's residential neighborhoods rather than the main city center, and we are glad we did. We barely made it out the door on our first morning before a group of teenage boys approached Mike to ask for a selfie. I stood in the background laughing; being greeted by curious locals would end up being a frequent occurrence during our trip. As a person with pale skin, you stand out in Sri Lanka. Locals know you're a tourist, and they love approaching you to chat or take a photo. This didn't make us feel uncomfortable, however–the people of Sri Lanka are some of the most genuine and down-to-earth we've encountered during all our time in Asia (which says a lot, because people everywhere have been nice!) The kindness is so overwhelming that a westerner visiting for the first time might think people interacting with them had ulterior motives. But there really is no catch–people are just that friendly!
Colombo doesn't have many tourist attractions, but for us, that was part of its appeal. Instead of doing traditional sightseeing, we spent most of our time wandering through various neighborhoods. Our favorite afternoon was spent on Galle Face Green, an open oceanfront space where locals gather, especially on weekends. We bought spicy fried prawn cakes and corn flat bread from a street vendor, then strolled through the area watching families fly kites and starry-eyed teenagers giggle at each other. As dusk started to fall, we walked by a snake charmer perched on a sidewalk. The gentle tunes from his flute caused a cobra to emerge from a wicker basket beside him. When the man caught us looking, he grinned and said, "It's okay; he don't bite." We still didn't get close!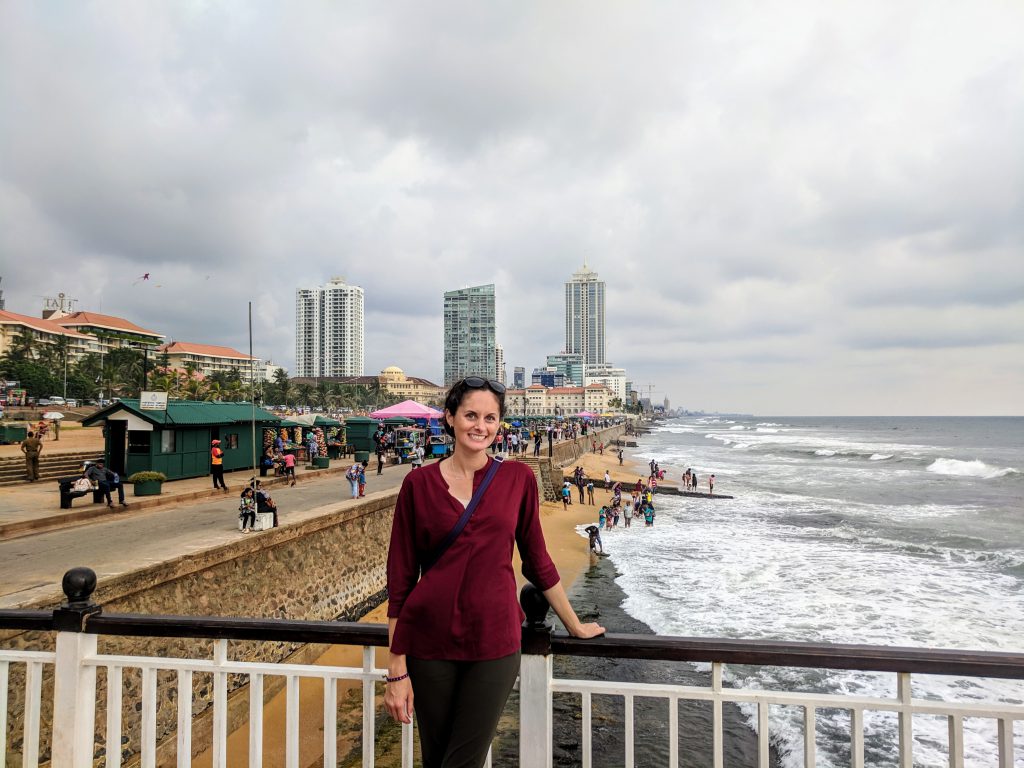 Soon enough, it was time to make our way down the coast. Sri Lanka has an extensive train network, and it's by far the easiest and cheapest mode of transportation. A third class ticket costs just a dollar or two, and the trains never sell out. You just show up on the day you want to travel, buy a ticket, and then squeeze yourself into a carriage. The trains are old–many of the cars date from the 1950s–and they aren't air-conditioned. Eurorail this is not, but there's an old timey feel to the stations and trains that I'd venture to say you can't find in many other places. There's nothing luxurious about Sri Lankan train journeys–even first and second class carriages are basic–yet there's a vintage appeal that makes the whole experience enjoyable, even if you're sweating bullets and squished against someone else's armpit.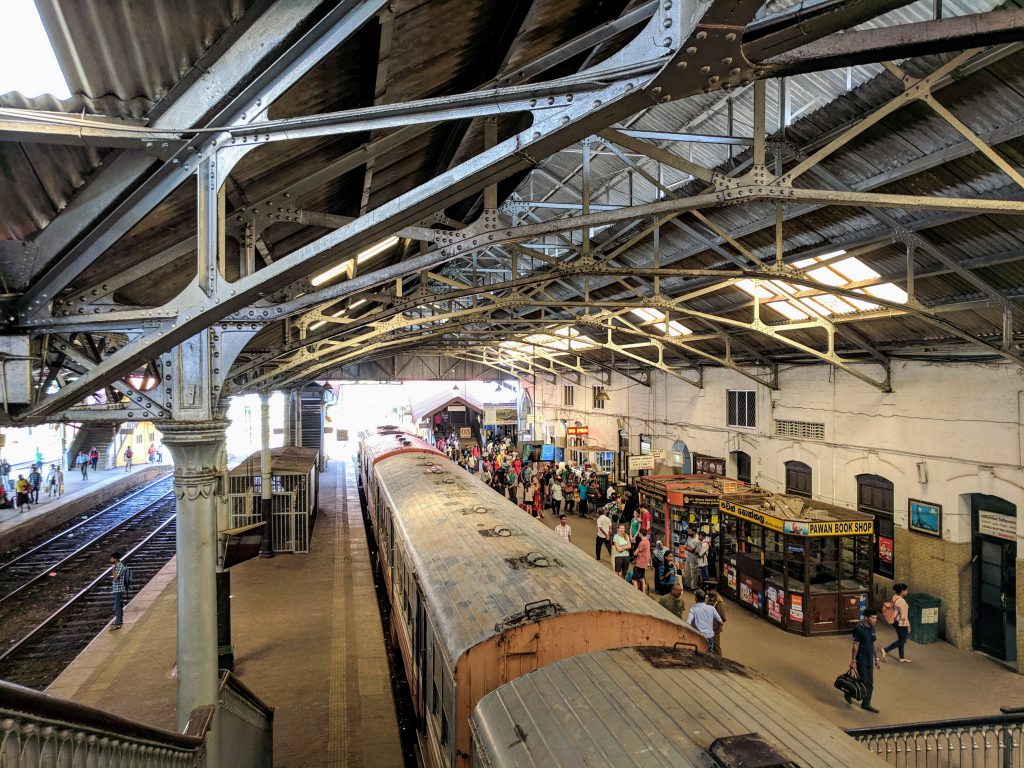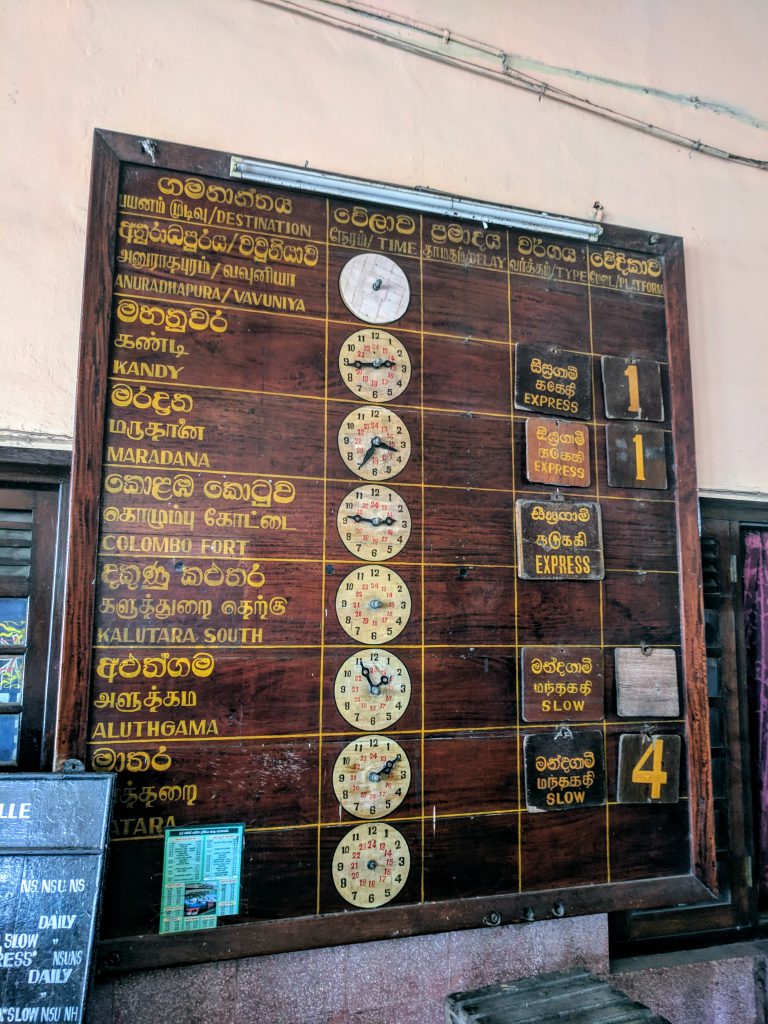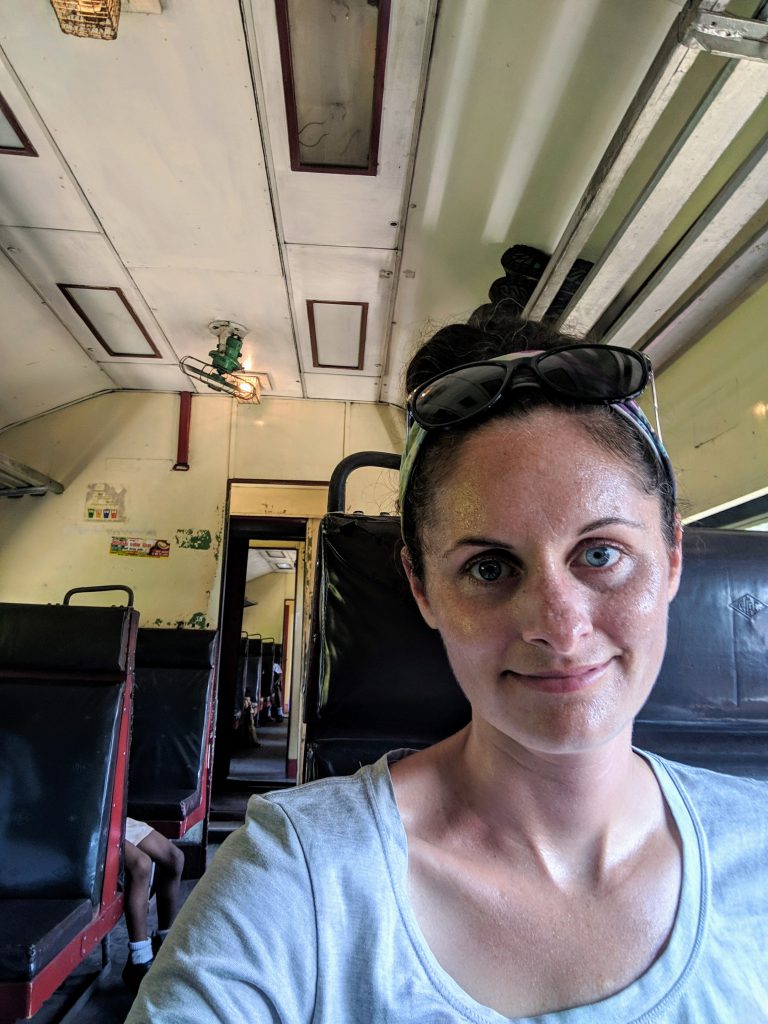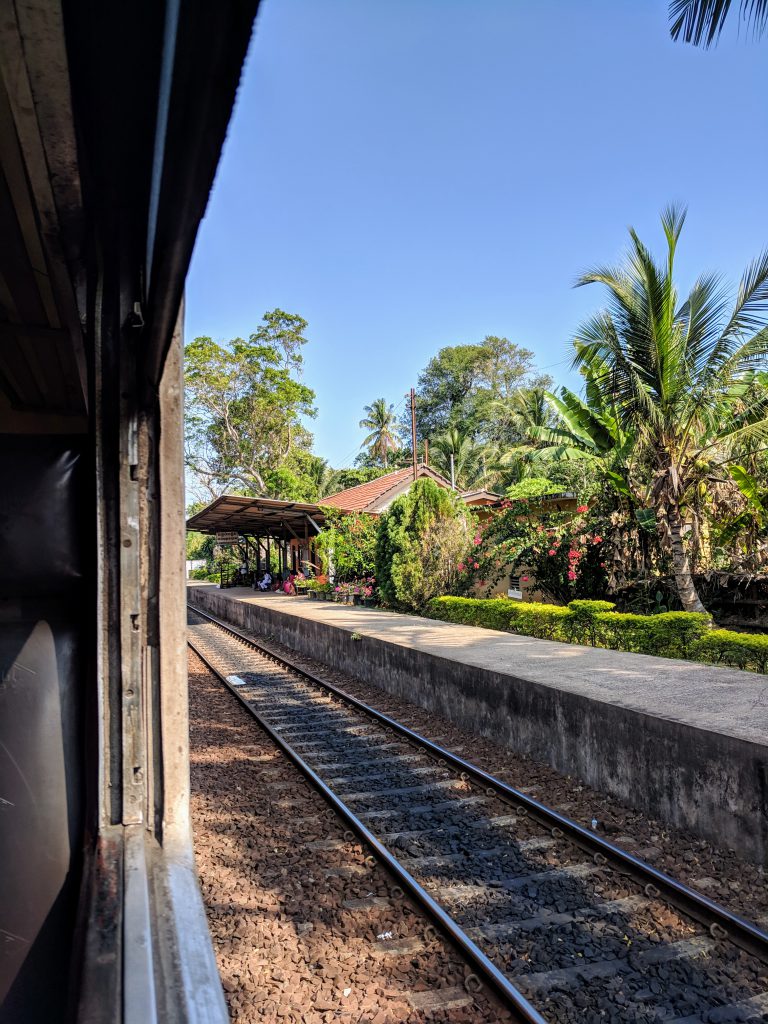 Our first stop was the coastal town of Galle, famed for its Dutch fort that dates to colonial times. (Sri Lanka is yet another country that fought colonization for many years, first by the Portuguese, followed by the Dutch and British). While we did think Galle fort was picturesque–it has windy historic streets and a massive wall bordering the sea that you can walk on–spending one afternoon there was enough for us. It's touted as unmissable, but we found it a bit touristy for our liking and probably could have skipped it. We quickly moved on the next day to Madiha Beach, which was another hour away by train.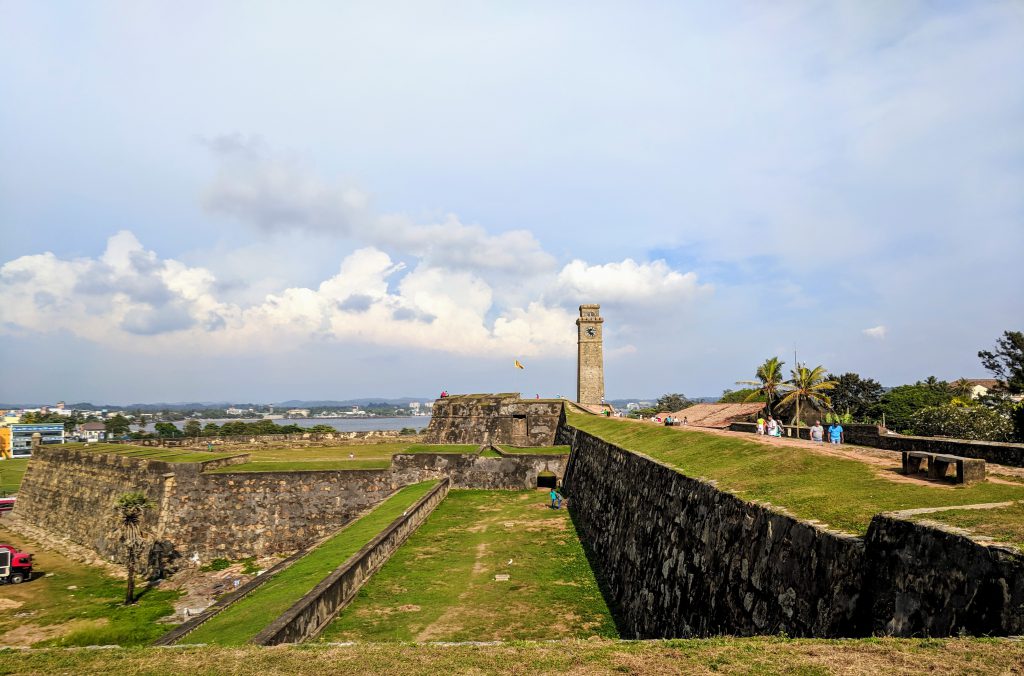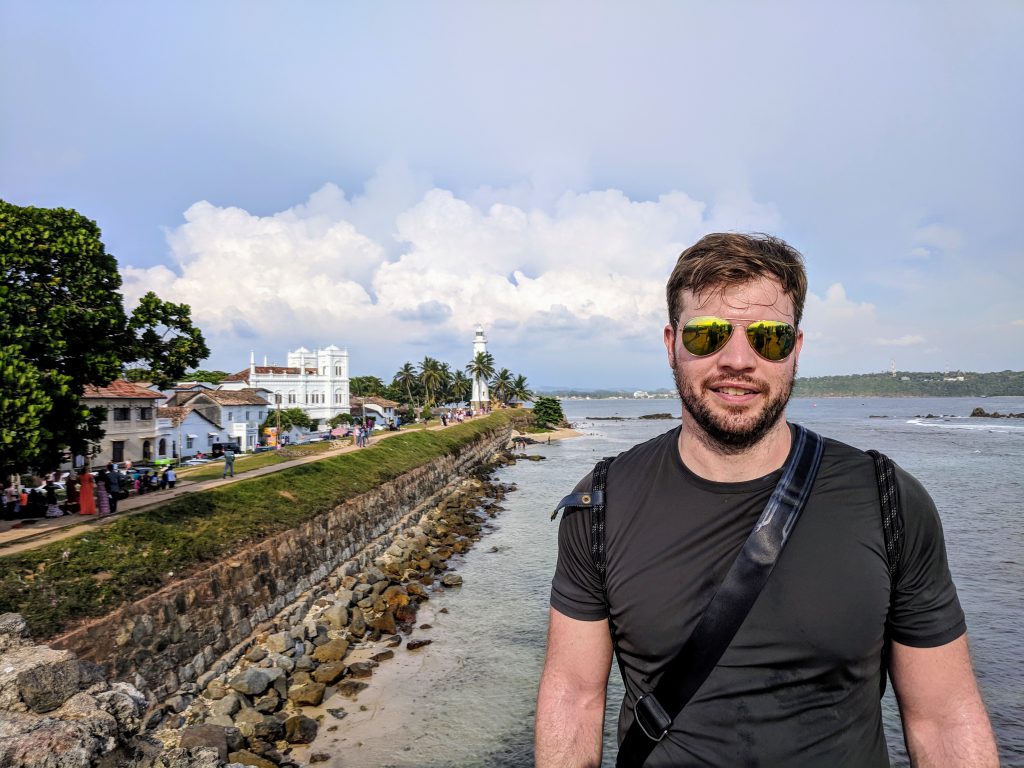 The beaches in Sri Lanka receive a lot of hype, and the moment we arrived in Madiha, we could see why. Madiha was so stunning it looked like an Internet stock photo of a beach–it reminded me of the tropical island poster I had hanging on the wall of my dorm room during my freshman year of college. Impossibly tall, skinny palm trees dangled languidly over powdery white sand, contrasting with clear azure water in the background. Hermit crabs darted across the sand into tiny tunnels while beach dogs dozed lazily under chaise lounges. I've never been to Fiji or Tahiti, but it conjured images of those islands in my mind.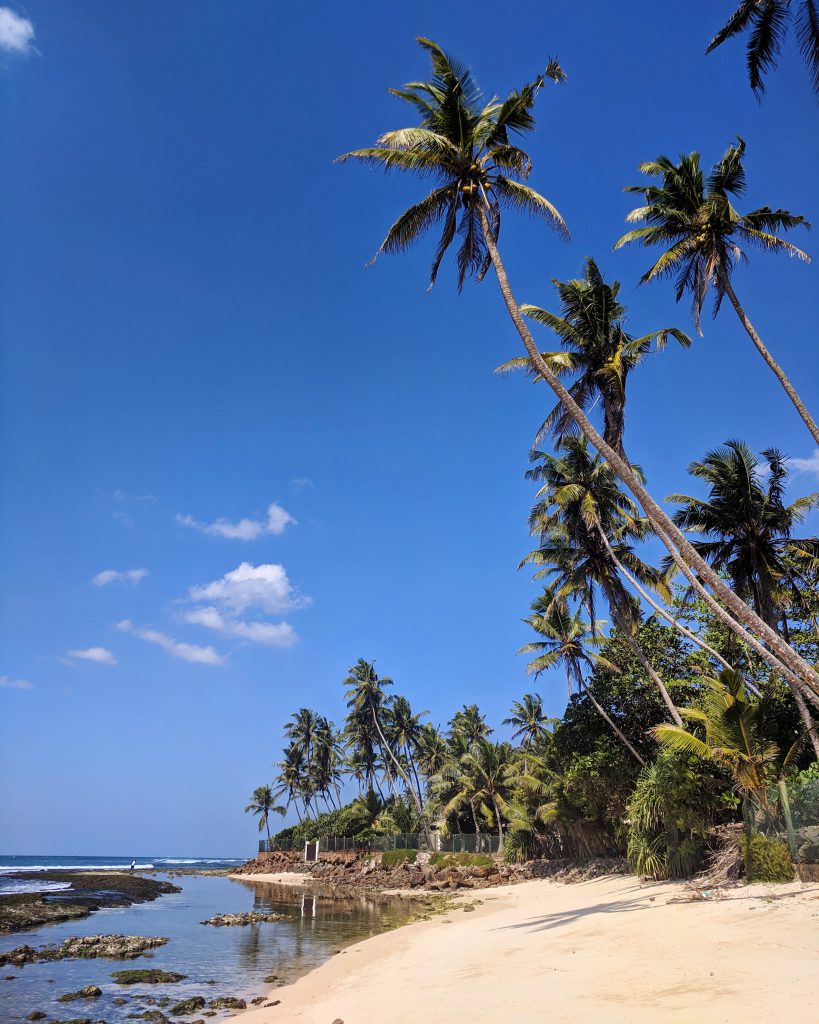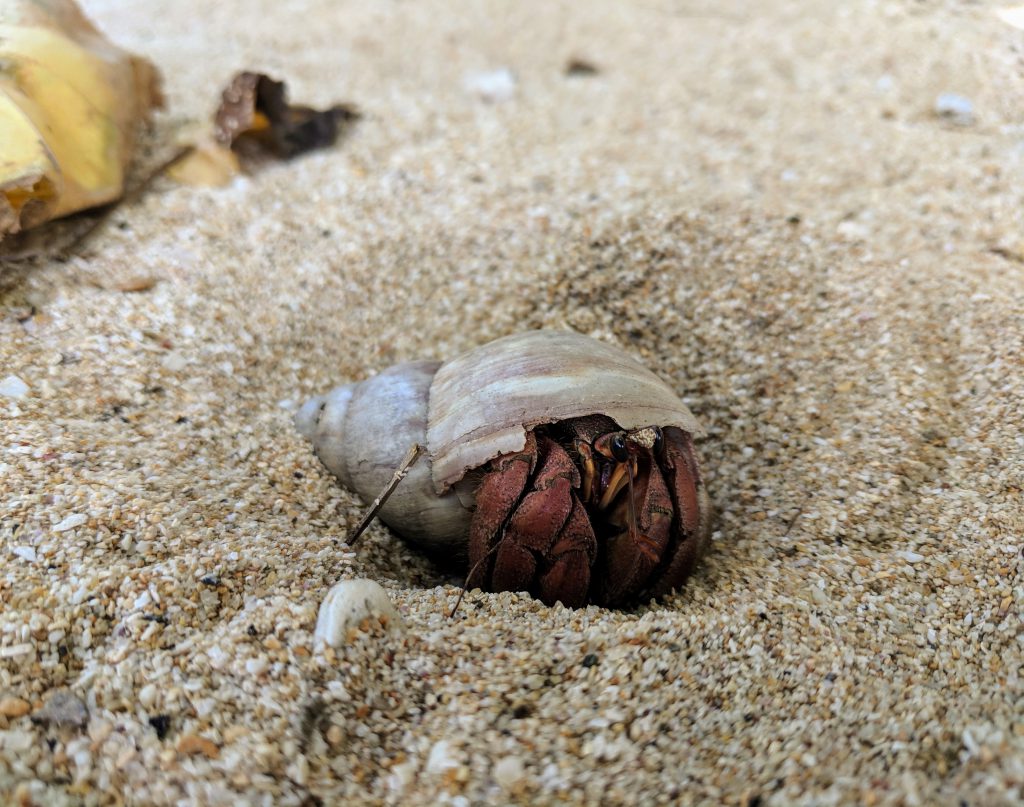 What made Madiha even better was the lack of crowds–unlike neighboring Mirissa Beach, Madiha doesn't get many visitors (at least for now–as the tourists continue to pour in, I have no doubt it'll only grow in popularity). The beach attracts an eclectic mix of surfers and families, but it has enough locals around to make you feel like you're in an actual town with real life going on around you, not a spot dedicated to vacationers. We quickly decided to extend our stay from three nights to five. It's pretty hard to tear yourself away from an oceanfront hotel room that costs only $40 a night!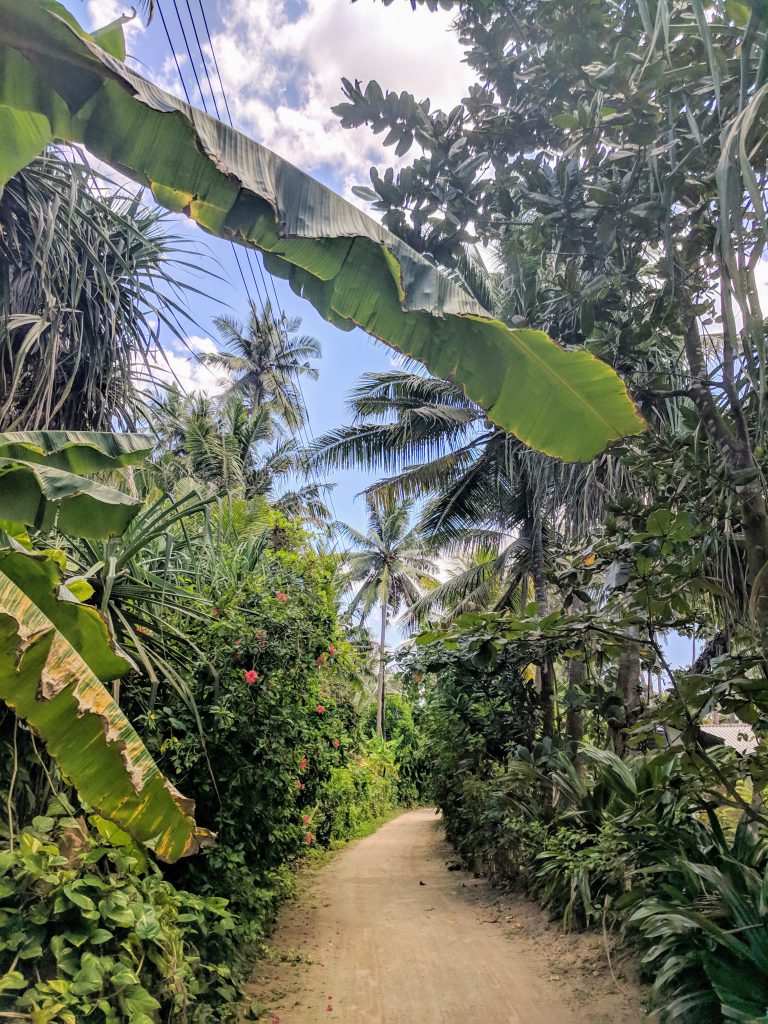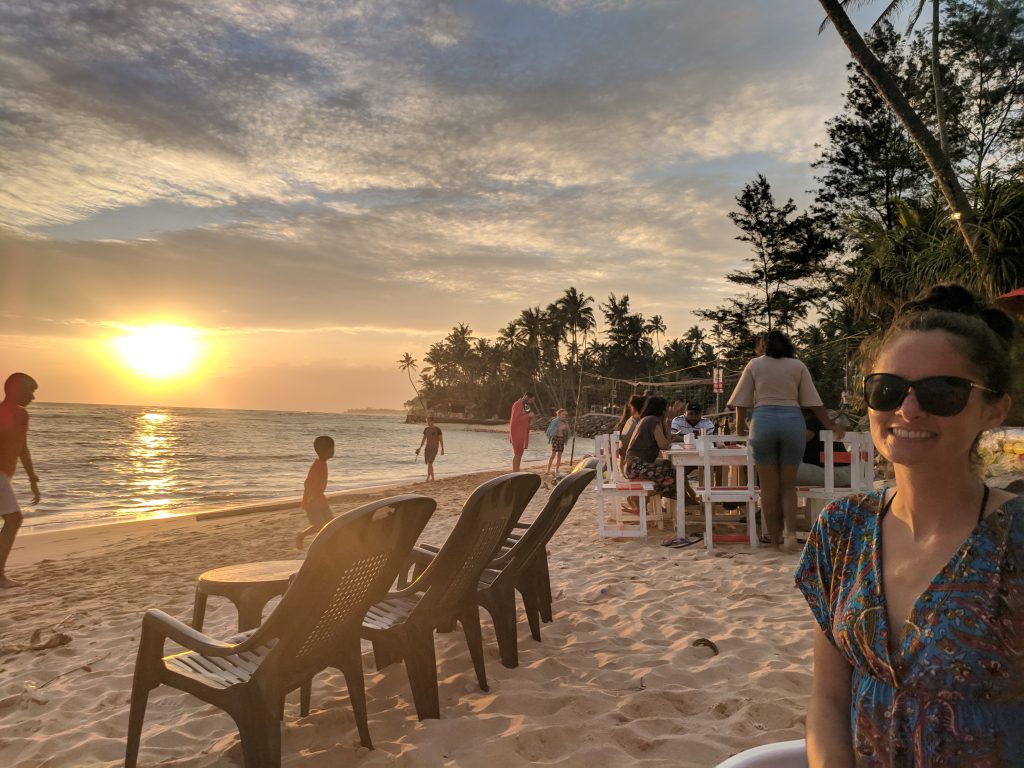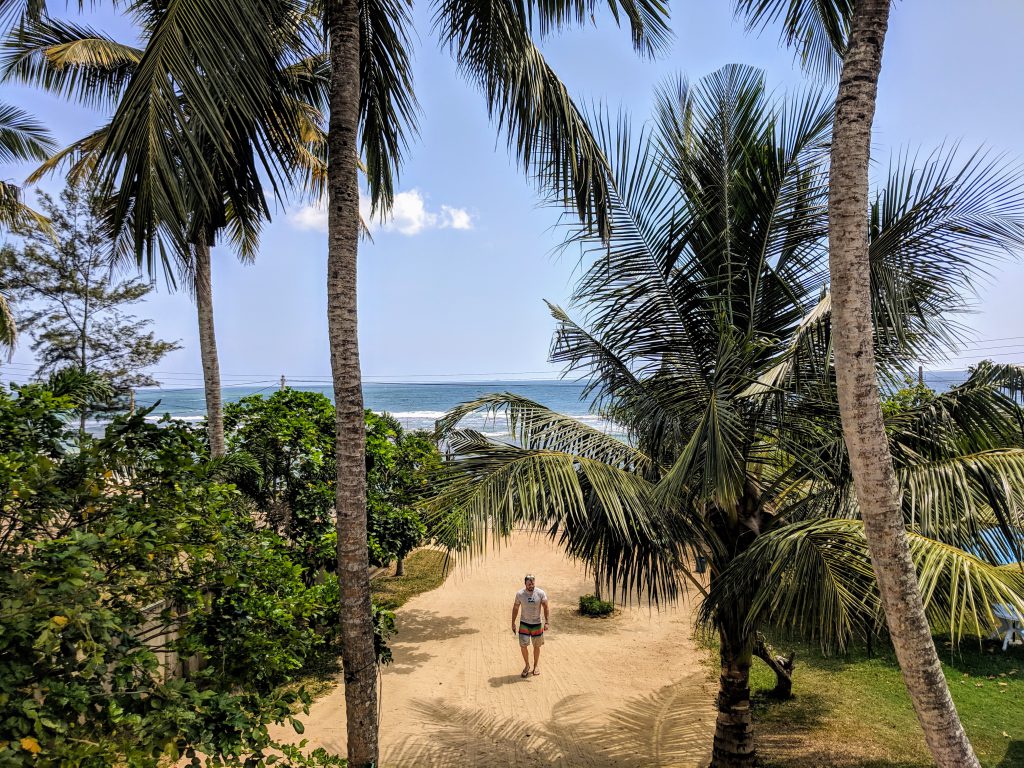 Madiha captured our hearts so fully that we even fantasized about buying property there. As we meandered through town, we found an abandoned house right on the ocean, bordered by overgrown tropical vegetation. We wrote an entire story for ourselves and our future there–we would work to trim the yard back, eventually cultivating a garden paradise that passersby would stop to admire. We'd live on the second floor, enjoying beautiful sea views from our balcony, and open a burger restaurant on the first floor (Mike's idea, as you can probably guess. And a good one, too–Madiha has a pizza place, a taco shop, and a couple of coffee houses, but nowhere to buy a hamburger!) And of course, we'd paint the house a shade to match Sri Lanka's vibrance–maybe emerald green or cobalt blue. After spending the past few years renovating our house in Virginia (a true labor of love that's ongoing), it might seem strange that we dream of repeating the same process again all the way around the world in a different country. Somehow, the idea sounds surprisingly appealing.
We filed our dream away in our minds, much like we first tucked our fantasy of traveling the world together into a safe spot where it couldn't be touched. There was a time I thought we'd never be able to do what we're doing now, so who's to say we won't remodel a fixer upper in Sri Lanka someday? You never know, right?
Eventually, we departed Madiha Beach. The center of Sri Lanka was waiting to be explored, from tea plantations to national parks to ancient ruins. If we were going to make full use of our two and a half weeks, we needed to get moving. As we drove out of town, I couldn't resist looking over my shoulder one last time at our little house, and smiling.
Until next time, ayubowan from Sri Lanka.