From Ella to Anuradhapura: The Alluring Interior of Sri Lanka
"Ahhhhh!" I screeched like a crazed banshee as we leaned out of the Jeep. "It's a teeny baby! Look!"Just twenty feet away, a wild baby elephant was galloping back and forth between its mother and another adult elephant. The baby, just a week or two old and the size of a large dog, was the cutest creature I've ever laid eyes on. It almost looked like it was smiling with its crinkly eyes and playful facial expression. Every time it lifted its tiny trunk and scampered through the underbrush, I let out squeals of joy that rivaled the delighted cries of the children surrounding us.
Our safari in Udawalawe National Park had definitely delivered. We'd already spotted wild peacocks, macaques, monitor lizards, water buffalo, and scores of other animals, including plenty of adult elephants. Stumbling across the baby elephant during our last hour–when we'd been bumping around for hours in a Jeep, growing hot and dusty–was the crowning jewel of an animal lover's dream day.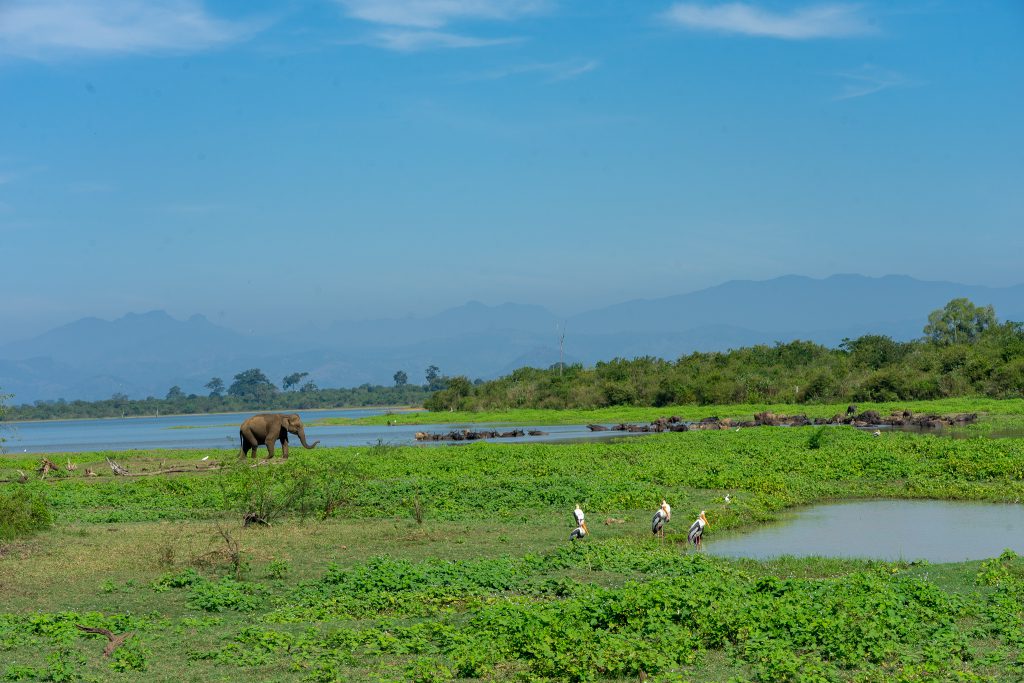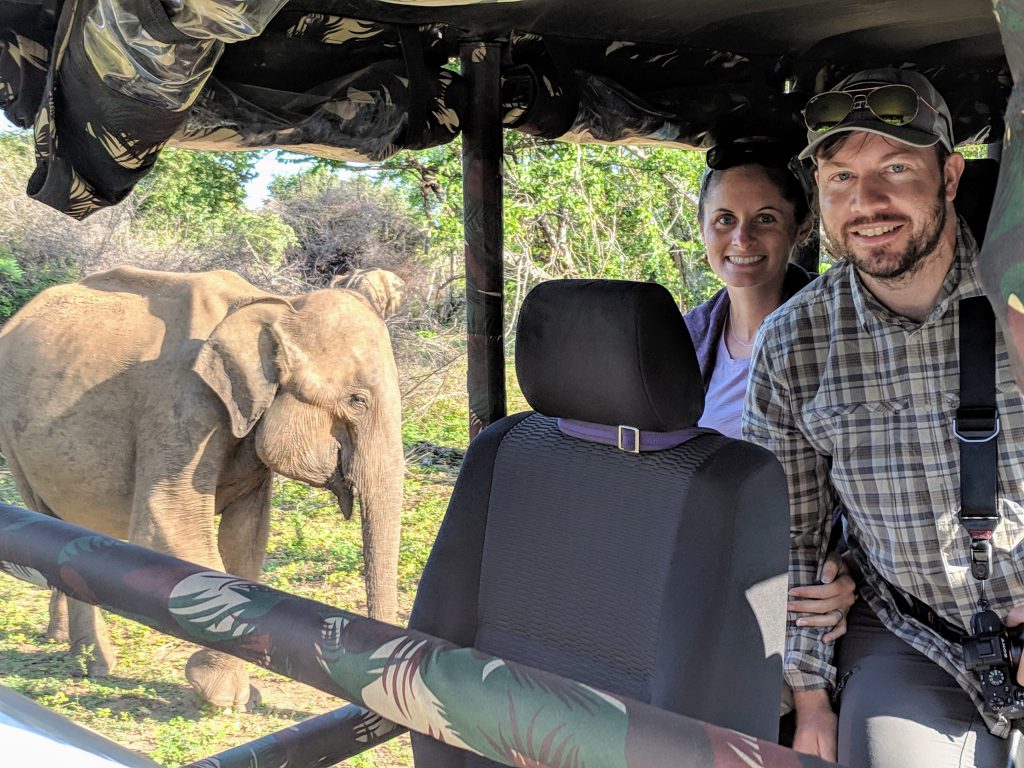 Sri Lanka has twenty-two national parks, a lot for an island nation roughly the same size as Ireland. And the natural beauty of the country is extremely diverse. Besides world-class beaches along the coast, inland areas have park reserves that stretch for miles against backdrops of faintly painted hills, as well as towering mountain scenery. When you venture further north, the mountains give way to thick jungle and then desert-like terrain.
After spending several days soaking up the sun at our beloved Madiha Beach, we were suddenly jolted into the realization that there was a lot more of Sri Lanka to explore if we wanted to fully experience the country's natural beauty. So we departed Madiha, embarking on an ambitious whirlwind tour that would take us to the country's most scenic areas.
After our stop in Udawalawe (try saying that ten times fast!), we headed to the town of Ella, located high in tea country. Ella is nestled in a prime location surrounded by spectacular mountain peaks and tea plantations. I couldn't believe it was in Sri Lanka–Ella feels so entirely different from the country's low-lying coastal regions that you have to remind yourself you haven't been transported across the globe to a national park in Hawaii or California.
When we arrived at our mountaintop homestay, I was instantly in love with the views and overall vibe. Our hosts, Rashan and his grandmother Sita, greeted us with warm cups of tea and vanilla cookies, then stuck around to chat with us (the norm!)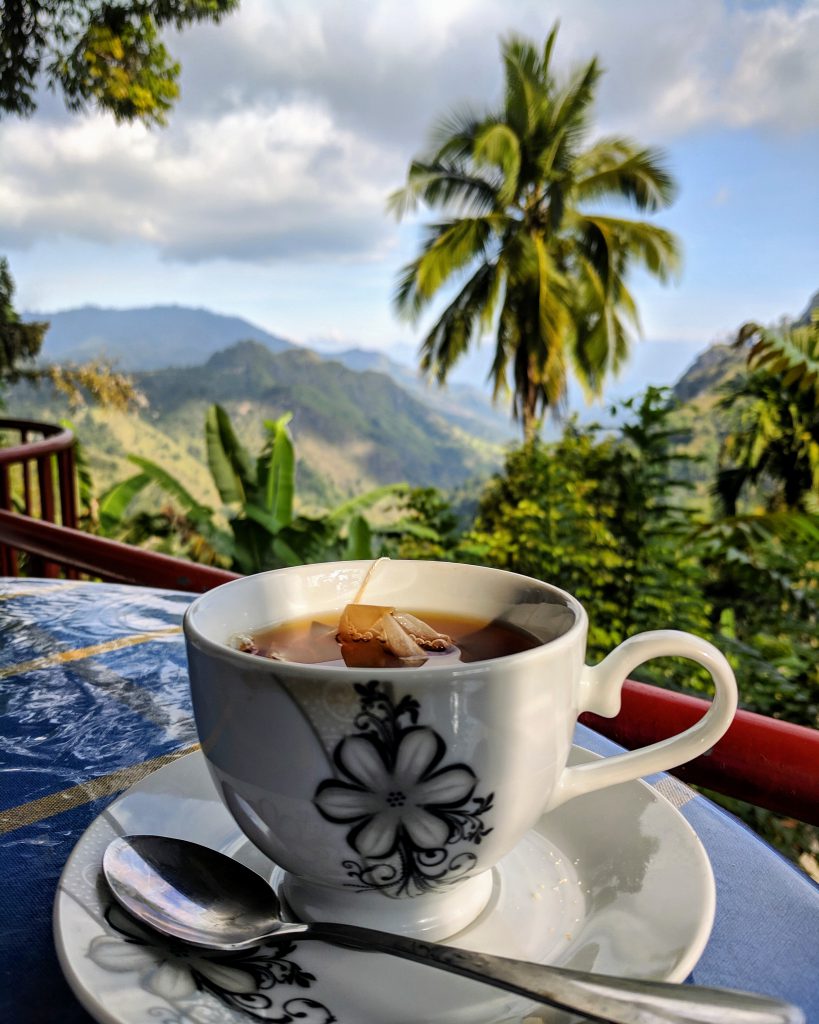 Unlike other countries in Asia we've visited, where locals mainly eat out because dining at restaurants is so cheap, most people in Sri Lanka prefer to eat at home. Therefore, getting your hands on the best food requires sleeping at homestays. We were only too happy to oblige–as we previously mentioned in our Vietnam posts, we LOVE homestays.
I really can't recommend Sri Lankan homestays highly enough. Not only are they affordable (anywhere from $5-$30 per night, depending on how many amenities you're after), but they're the optimal way to connect with locals and fellow travelers. Plus, Sri Lankan homestay food lives up to its reputation. As big fans of curries, naan bread, roti, and pretty much anything that contains coconut or cumin, we basically experienced days and days of uninterrupted food paradise. (In fact, we ate curry so often that we could barely look at it by the time we arrived in Nepal a few weeks later!)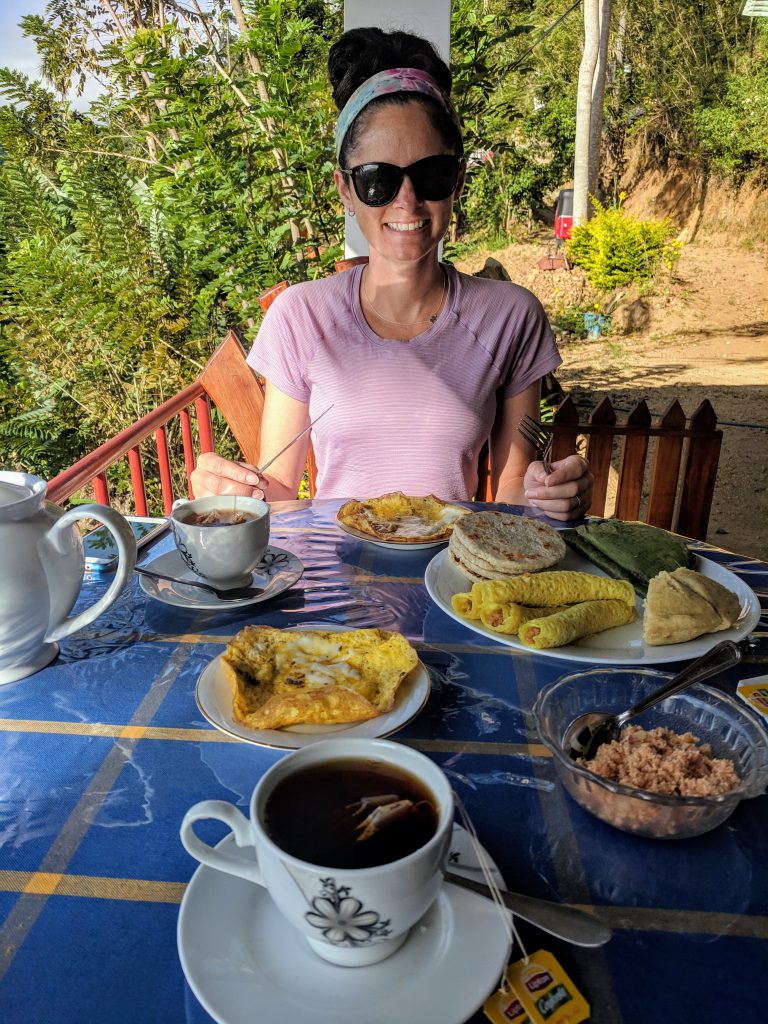 On our first morning in Ella, we fueled up with a delicious breakfast prepared by Grandma Sita of coconut roti, palm sugar pancakes, egg hoppers, and fresh papaya and pineapple. Then we ventured down the mountain, past tea fields, and up to Little Adam's Peak, Ella's top hiking destination. The perspective from the top gave us a perfect view of the switchback-filled road that snaked up to town from the valley below. Next we hiked to Nine Arches Bridge, Ella's most recognizable sight and one of the most photographed locations in Sri Lanka. We watched trains cross over the historic bridge several times while we kicked back in the shade with fresh coconut water.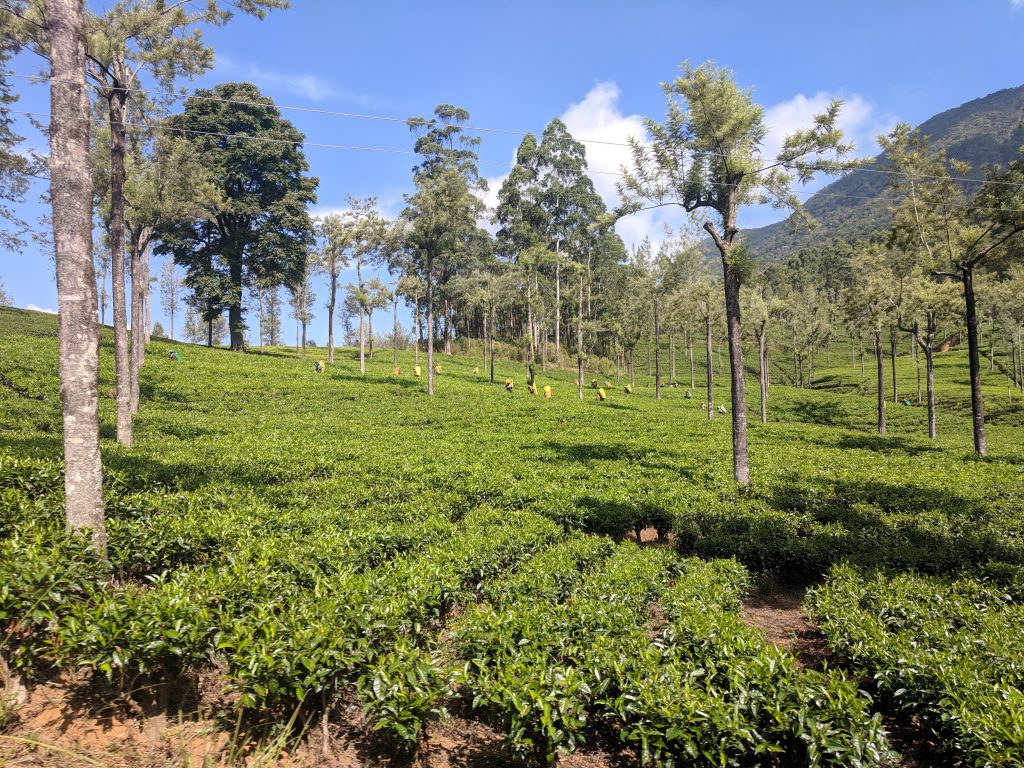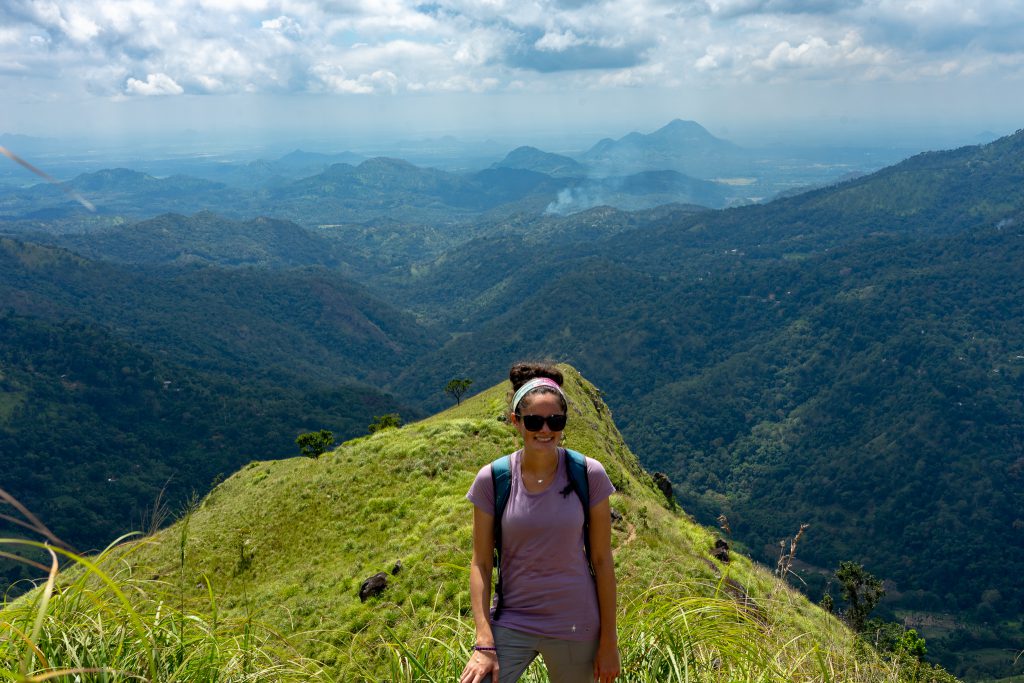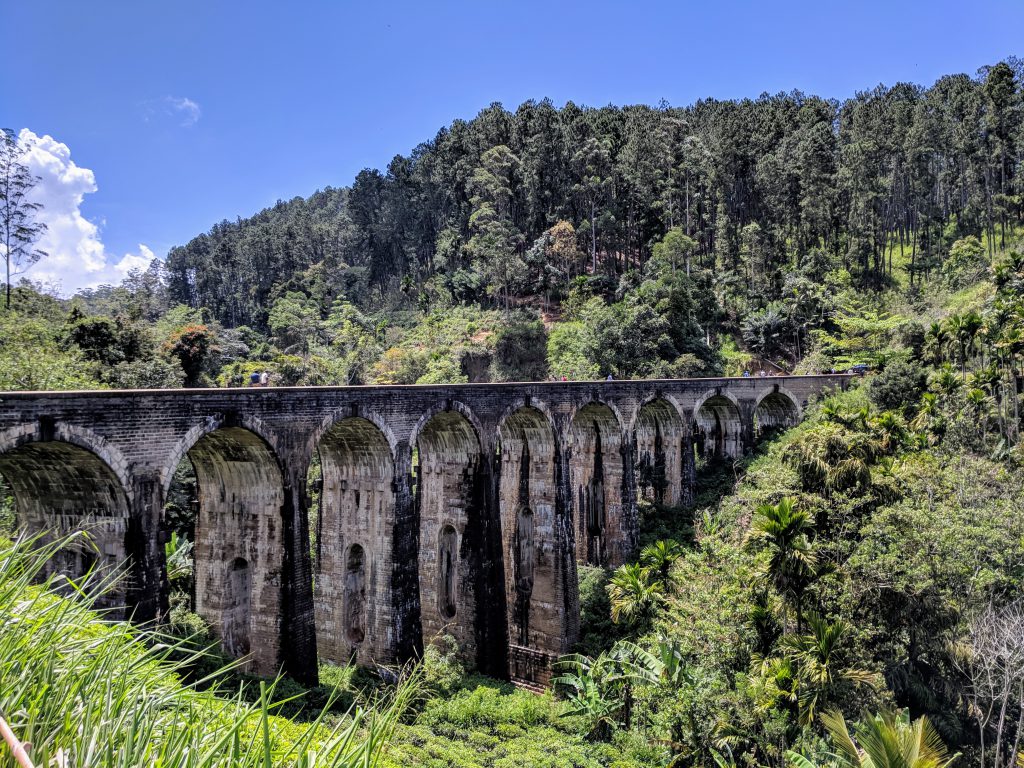 On our way back to town, we shared a tuk tuk with Lola, an eighty-year-old British woman who's spent six months of each year traveling solo in Asia since she retired in 1999. Though we only had a brief conversation, she was one of the most fascinating people I've ever met. Randomly meeting her was one of those travel encounters I'm sure I'll recollect for a long time. Hopefully we'll make it to her age and emulate her travel style in our golden years!
After Ella, we decided it was time for a hardcore hike to start breaking in our new shoes. With our trip to Nepal coming up, we needed to try out the cold weather hiking boots we'd purchased in Kuala Lumpur. (As a side note, walking around Sri Lanka with winter boots strapped to our backpacks was downright hilarious. We got more than a few strange looks from locals, who probably wondered what the heck we needed them for in a country whose average year-round temperatures hover in the high 80s).
Ridiculousness aside, it was time to get our butts in gear. We hopped on the train again, leaving Ella behind and heading to the town of Hatton. This train route, which stretches from Ella to the city of Kandy, is supposedly one of the most beautiful in the world. We were fortunate to snag a bench by the window, so we literally had front row seats as spectacular mountain peaks and valleys trundled past. We sipped warm masala tea and munched on samosas with our noses glued to the window. The weather that morning was sunny and clear, and the scenery was utterly breathtaking.
Upon arrival in Hatton, we transferred onto a bumpy local bus (which like Sri Lanka's trains, could best be described as vintage), and were eventually dropped off in Nallathanniya, a small town known as the starting point to hike Sri Lanka's most famous mountain, Sri Pada. The mountain is a holy site for Buddhists, Hindus, and Christians, who climb it in the night to be able to witness a sunrise at the top. The mountain has a different significance for each religion. Buddhists believe the mountain contains a footprint mark of the Buddha, while Hindus say the footprint belongs to the god Shiva. Christians believe it's where Adam took his first step after being exiled from the Garden of Eden. It's not an easy walk to the top; the conical mountain is roughly 7,000 feet tall and the trail has about 5,500 steep steps. To complete the several hour journey to the peak in time for sunrise, we'd have to hike it like the locals, which meant rising at 1:30am and being at the trailhead by 2am (eep!) Still, we decided to go for it. What better way to have an authentic cultural experience, with the added bonus of breaking in our boots? We hauled ourselves out of bed in the middle of the night and started walking.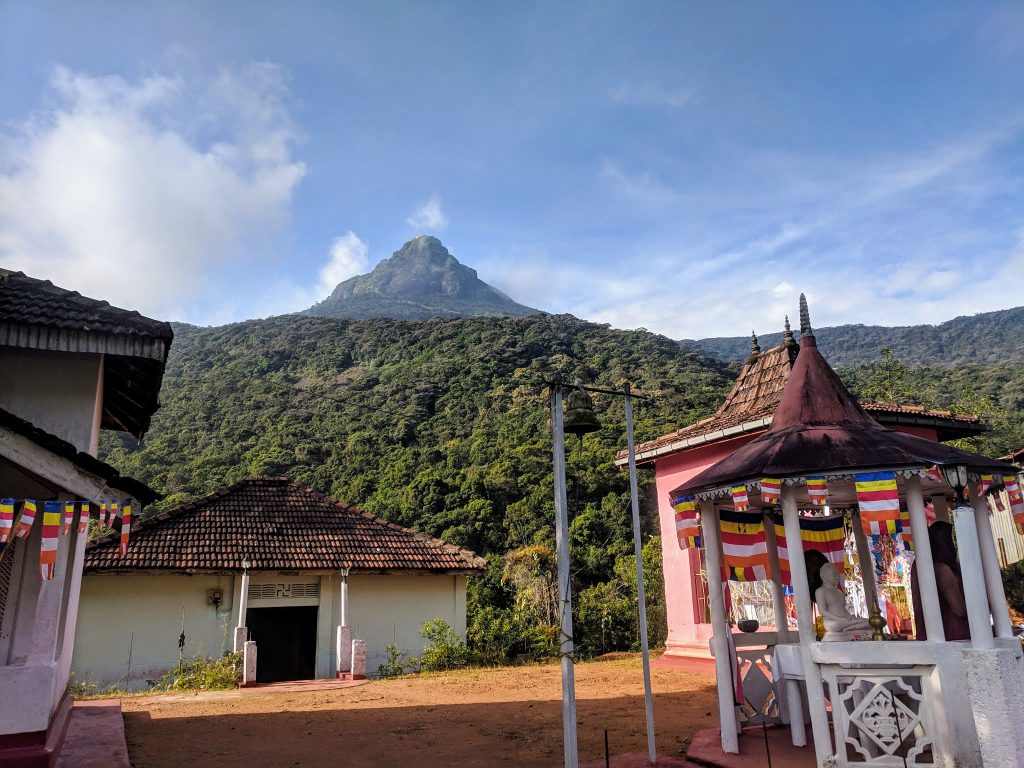 The night was pitch black and chilly, and I was shocked by how many people were there from all walks of life. While there were some other tourists hiking too, we were mainly in the company of locals, including senior citizens with canes, pregnant women, parents carrying babies, and groups of gleeful teenagers singing motivational hymns. Many of them were wheezing for breath and looked as tired as we felt, yet they still paused to say hello and ask where we were from. Mike basically had to drag me up the second half of the mountain while I muttered that I was exhausted and wanted to turn around, but I fell silent when a barefoot old woman who looked to be a hundred hobbled past us, out of breath but eager to push on. That sight shut me up.
Oh my god, I thought to myself. If she can do this, so can I!
When my lungs and legs were screaming and I didn't think I could make it any further, we finally approached the top, where it was cold and drizzling. We'd made it! We huddled together next to the peak's golden-hued Buddhist temple while we waited for the sun to come up. When dawn finally came, the rain stopped, and rosy smudges of light began to flicker through the thick cloud cover. The scenery around us was slowly unveiled. We were literally floating above the clouds, as if we'd been plucked from the earth below and placed on some heavenly platform. The experience was made even more special by the reactions of the Sri Lankans around us, who held their hands together in reverent prayer while the keepers of the mountain temple beat drums and paid tribute to the Buddha. Waking up in the middle of the night to hike six miles in the dark suddenly didn't seem totally nuts–it seemed like the most pure and beautiful thing in the world.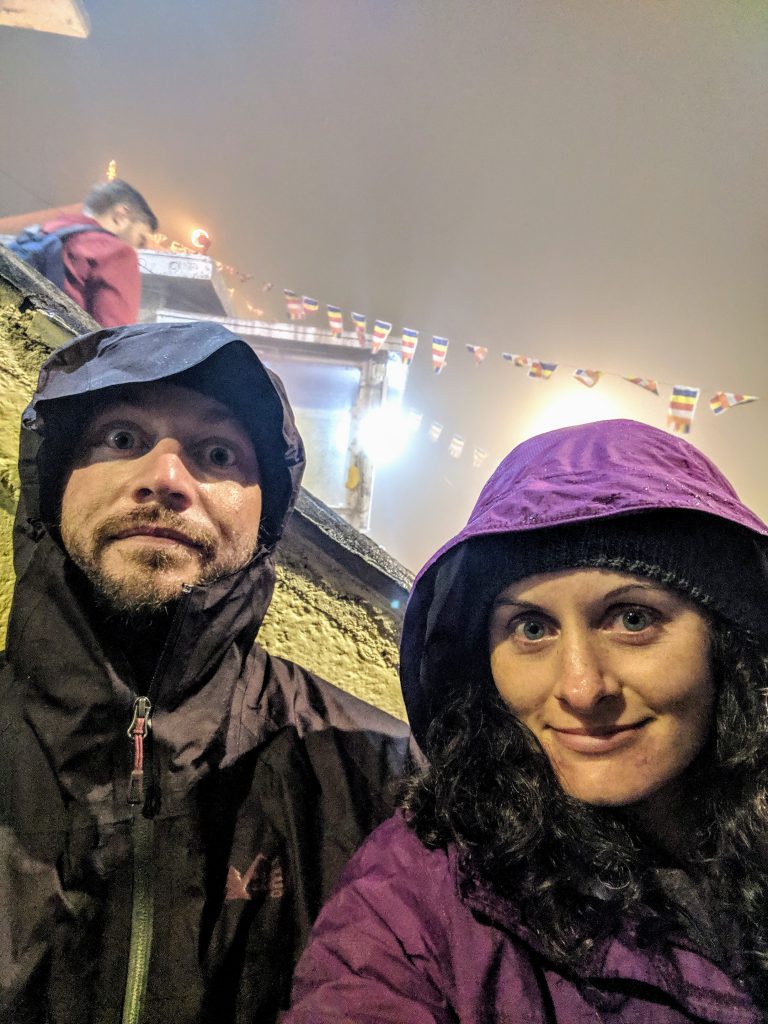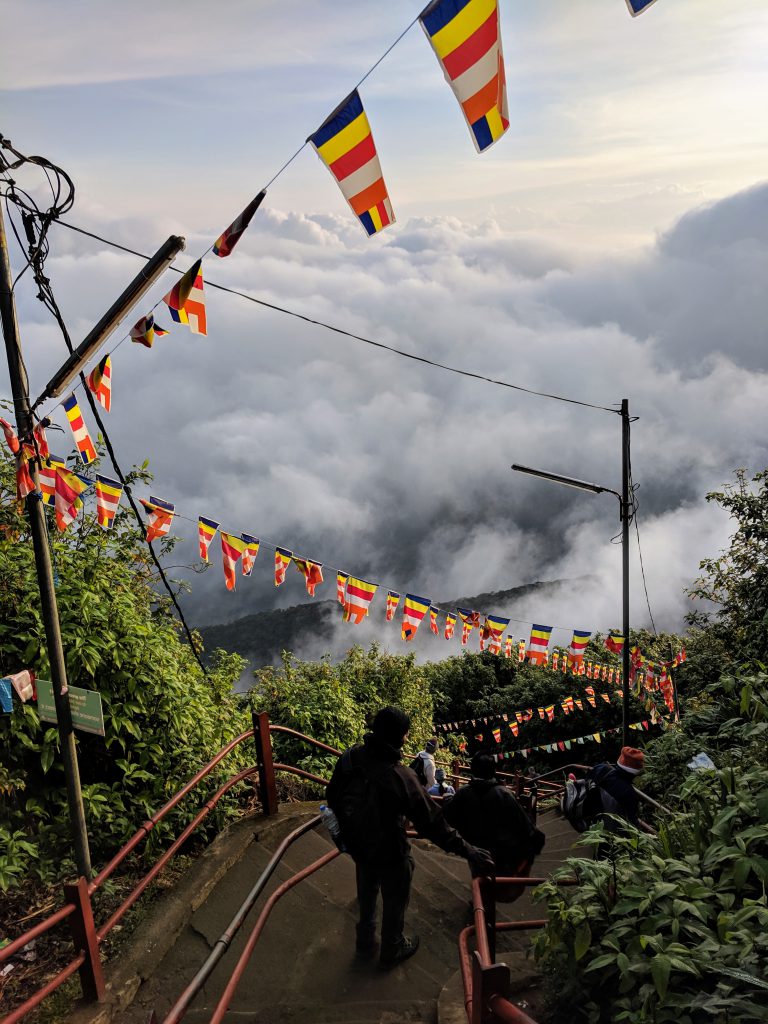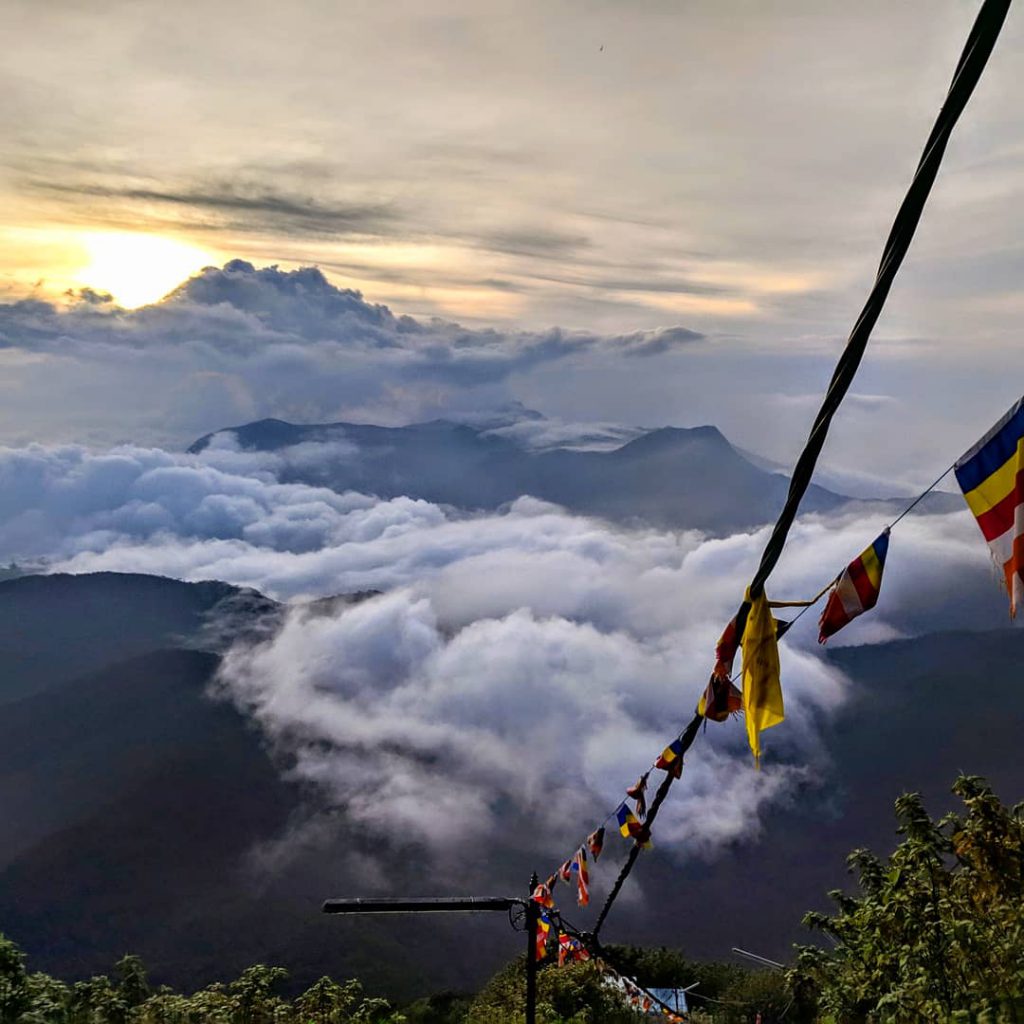 After Sri Pada, we hustled to our last three stops in Sri Lanka, Kandy, Sigiriya, and Anuradhapura. Our intense overnight hike rendered us too tired to do much of anything in Kandy besides stroll its quaint lakefront path and chug coffee (real coffee is notoriously difficult to find in Sri Lanka, a country of tea drinkers), but we were rested and ready to hike again by the time we arrived in Sigiriya.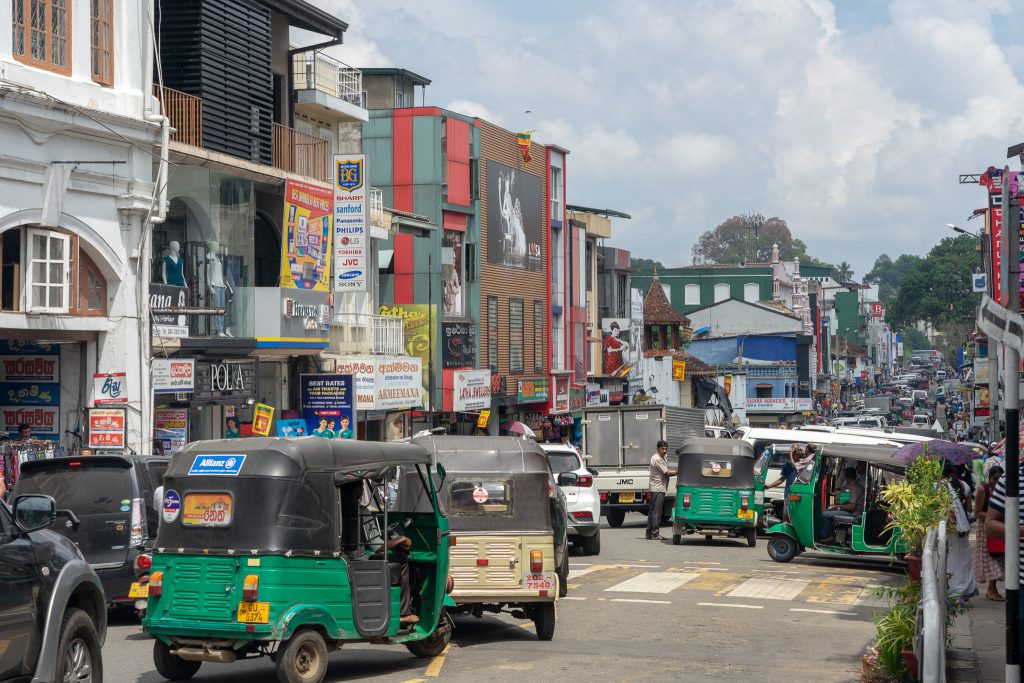 Sigiriya is the site of Sri Lanka's most visited place, Lions Rock, a 660-foot-tall boulder that rises prominently out of flat jungle terrain. It's not just any old rock, though–the ruins of an ancient palace complex are on top. Hiking Lions Rock ended up being one of my favorite experiences. We completed the climb in late afternoon, when the hordes of visitors were starting to thin out and the colors of the softening evening sky made for great photos.
On the way up, you can pause to gaze at wonderfully preserved frescoes of buxom maidens, as well as the remains of the rock's namesake, the pointy paws of an enormous stone lion. After a dizzying climb up rickety metal stairs bolted into the side of the boulder, you arrive at the top, where there are not only panoramic views of the surrounding jungle that look like something out of an oil painting, but also the crumbling walls of a palace that dates to the year 477 AD. I couldn't stop wondering how it was built so long ago–how on earth did people ever climb to the top in ancient times, let alone manage to haul up building materials? The site's many unknowns give it a mystical appeal. I absolutely loved it.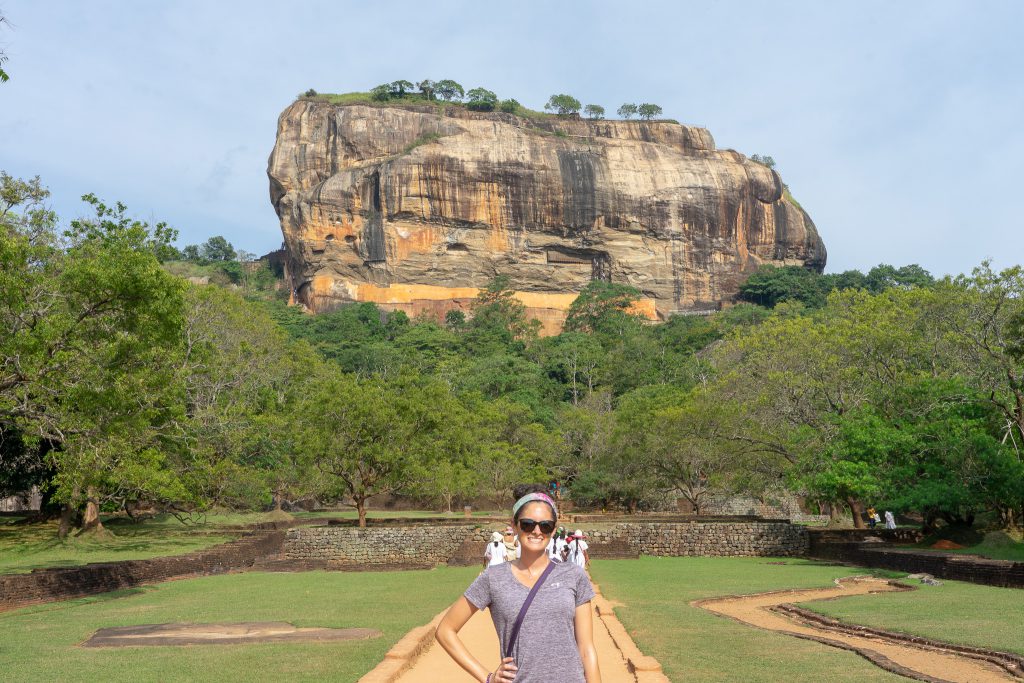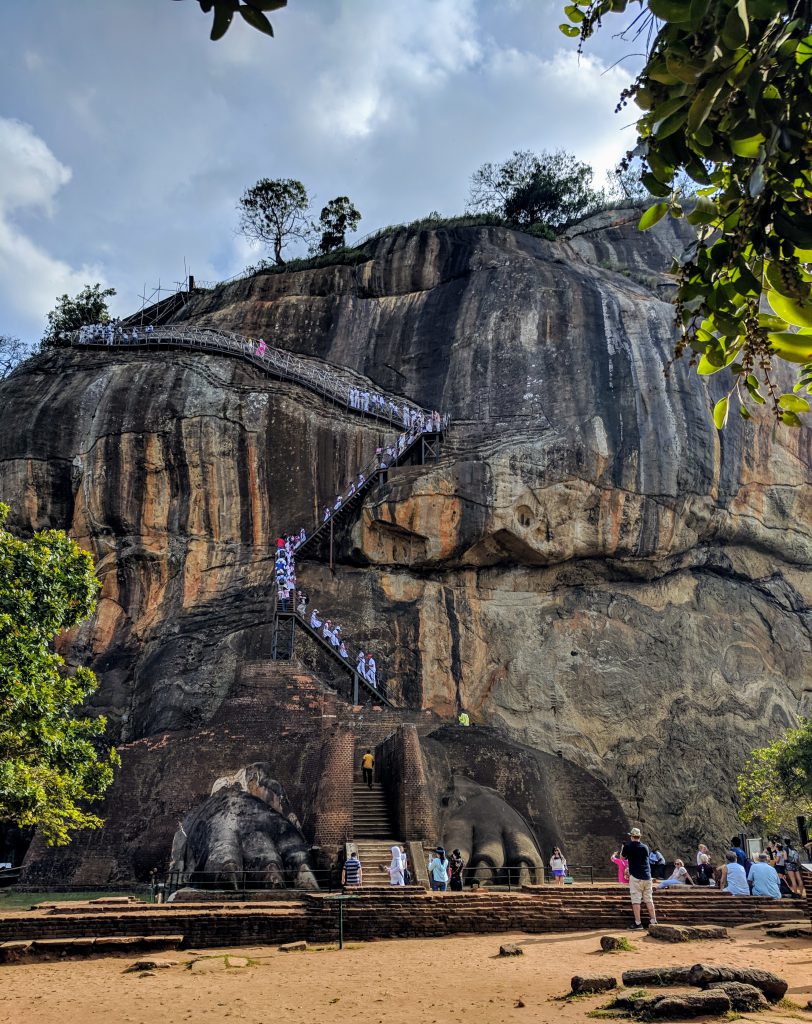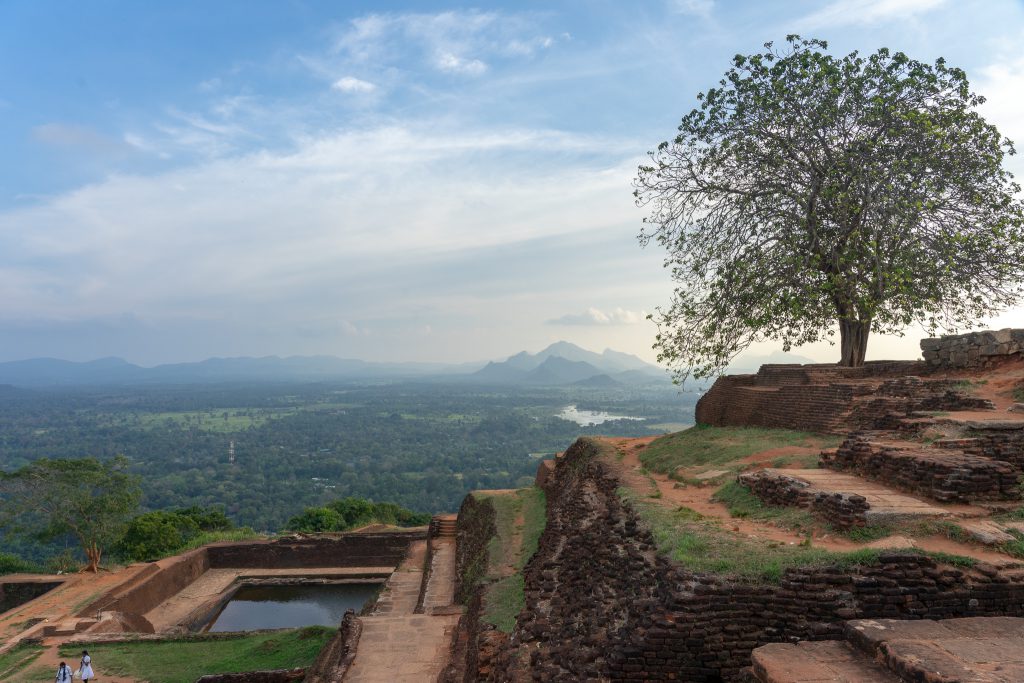 We ended our seventeen days in Sri Lanka with a brief visit to Anuradhapura, another city with historic significance. Once an ancient capital, Anuradhapura is filled with ruins of old temples and manmade lakes. The entire city is a well-preserved archeological site that bears striking similarities to Rome. Walking amongst Anuradhapura, my mind could almost trick itself into thinking I was looking at ruins in the Roman Forum.
Sri Maha Bodhi, said to be the oldest living tree in the world at over 2,000 years old, is also located in Anuradhapura. Worshippers come from all over the country to make offerings to this fig tree, considered a sacred site. Anuradhapura is full of holy places, and we happened to be visiting on a day marking the anniversary of a prominent monk's death. Thousands of people dressed in white walked among us while chants played over loudspeakers. When I looked up in puzzlement at a helicopter hovering low overhead, a friendly man near us noticed and said, "They're filming this for a Buddhist television station." I probably should have known that religious TV channels aren't just a thing in the United States!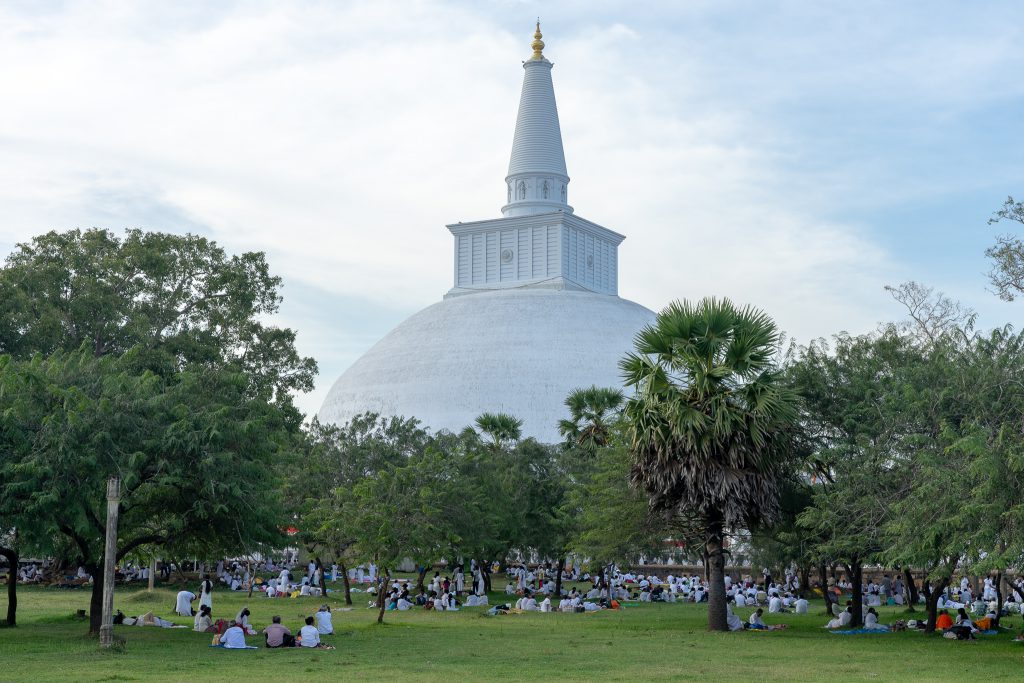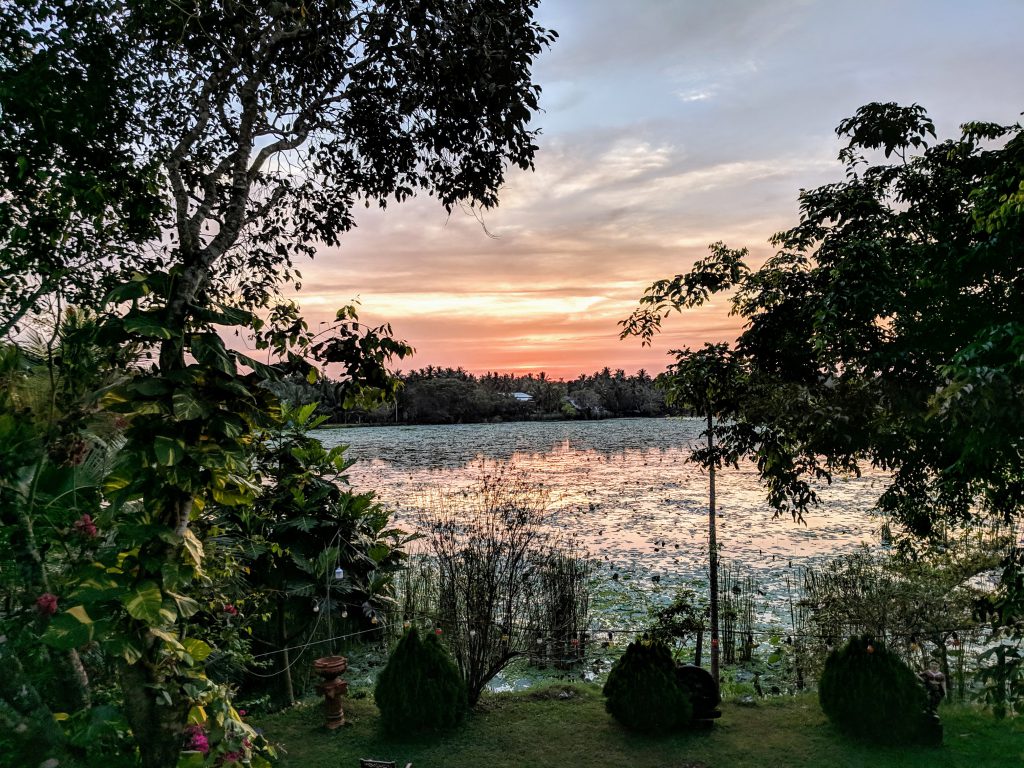 The second half of our time in Sri Lanka was exhausting, but in the best way–the kind where you lay down at night feeling bone-tired yet completely content with how you spent your day. Some friends at home have noticed how fast we jump from place to place, and I've gotten comments like, "Good god, Alison! When do you guys sleep?"
The answer is, sometimes not much! I figure we'll sleep when we get home; there will be plenty of time for that later. Right now, we've got baby elephants to see, tea to drink, ruins to walk upon, and mountains to climb.
Until next time, ayubowan from Sri Lanka.