From Casablanca to Chefchaouen: A Journey Through the Mosques, Medinas, and Mountains of Morocco
We came to Casablanca on a mission: to tour the Hassan II Mosque, purported to be among the most beautiful in the world. Although there isn't much of interest to travelers in Casablanca, every resource we consulted mentioned the mosque as an essential place to see in Morocco. It was definitely worth the detour!
The enormous building has a capacity for 105,000 worshippers, and it's accompanied by a 700-foot-tall minaret tower, a landmark visible across the city. The jaw-dropping beauty of the mosque is increased by its location on an outcrop overlooking the ocean. The inside is just as dramatic as the exterior, with walls made of hand-crafted marble and pink granite, as well as ceilings carved from cedar harvested in Morocco's mountains. During the hour-long tour, we learned that thousands of craftspeople helped design and assemble the exquisite decor and furnishings. 
The building also has modern features, like heated floors and a retractable ceiling for letting in sunlight (which sadly was closed the day we visited!) The mosque, completed in 1993 after only six years of construction, is a work of art. Just being able to enter was special, as nearly all mosques in Morocco are closed to non-Muslims.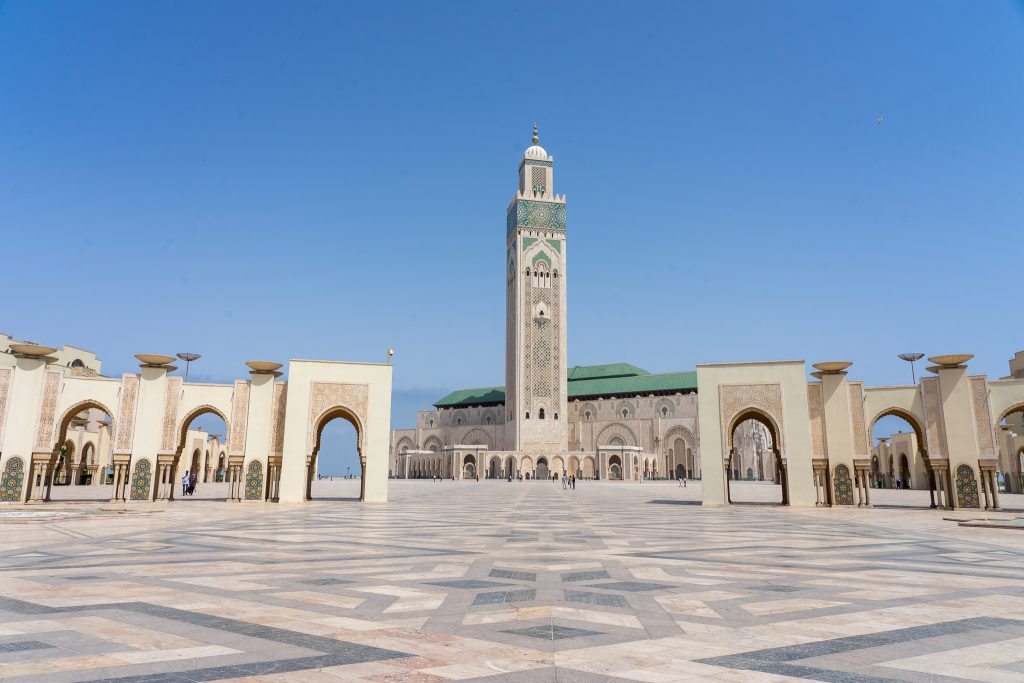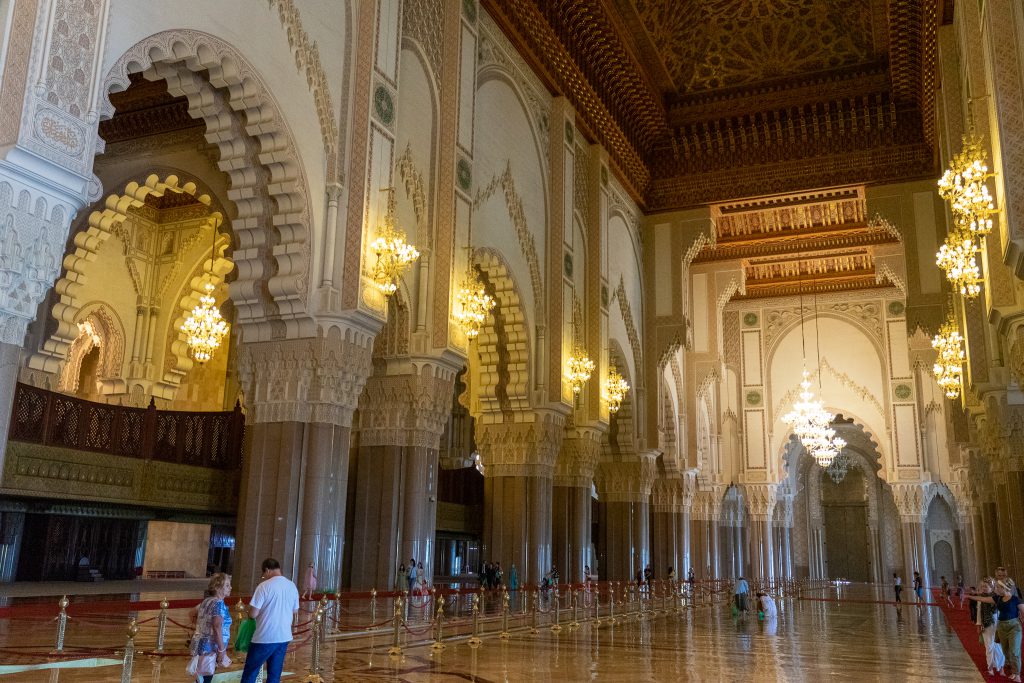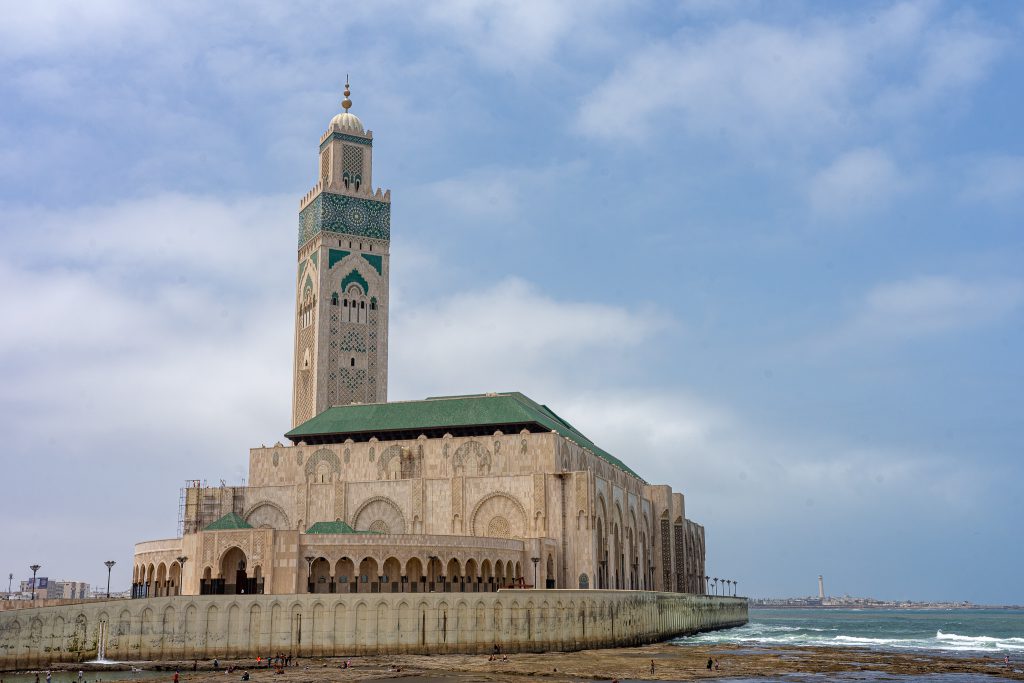 After checking out the mosque, we had lunch at Rick's Cafe, a tribute restaurant inspired by the classic 1942 film Casablanca (funnily enough, none of the movie was actually filmed in Morocco–a little-known fact!) The food wasn't that memorable, but it was still a fun experience for the atmosphere. Two nights in Casablanca was plenty, and we probably could even have shortened our stay to one night. While the city does offer a glimpse into the non-touristy side of Morocco, unfortunately a lot of it felt sprawling and dirty, with an air of neglect. We quickly hopped on the train to our next destination, Moulay Idriss.
Moulay Idriss, a tiny town in the Middle Atlas mountains, is an important pilgrimage site for Muslims. The village's namesake, purported to be a descendant of the Prophet Muhammad, is entombed in a mausoleum right off the main square. However, we visited for another reason: the town's proximity to Volubilis, the best-preserved archaeological site in Morocco. We were also eager to spend time in a small village after visiting much larger Marrakesh, Essaouira, and Casablanca.
Moulay Idriss ended up being a wonderful place to unwind for a couple of days. Situated on a steep hillside overlooking fertile plains, the town gets absolutely stunning sunsets. We stayed in a cozy local guesthouse that had a rooftop terrace filled with couches and hammocks, an ideal spot to while away warm evenings. Aside from a Swiss family we befriended, there were no other guests, and from what we could tell, no other tourists in town at all. We relaxed our sightseeing pace, spending the majority of our time reading and enjoying yummy home-cooked meals on the terrace. We also played with the guesthouse's cutest resident, Kiwi the tuxedo cat.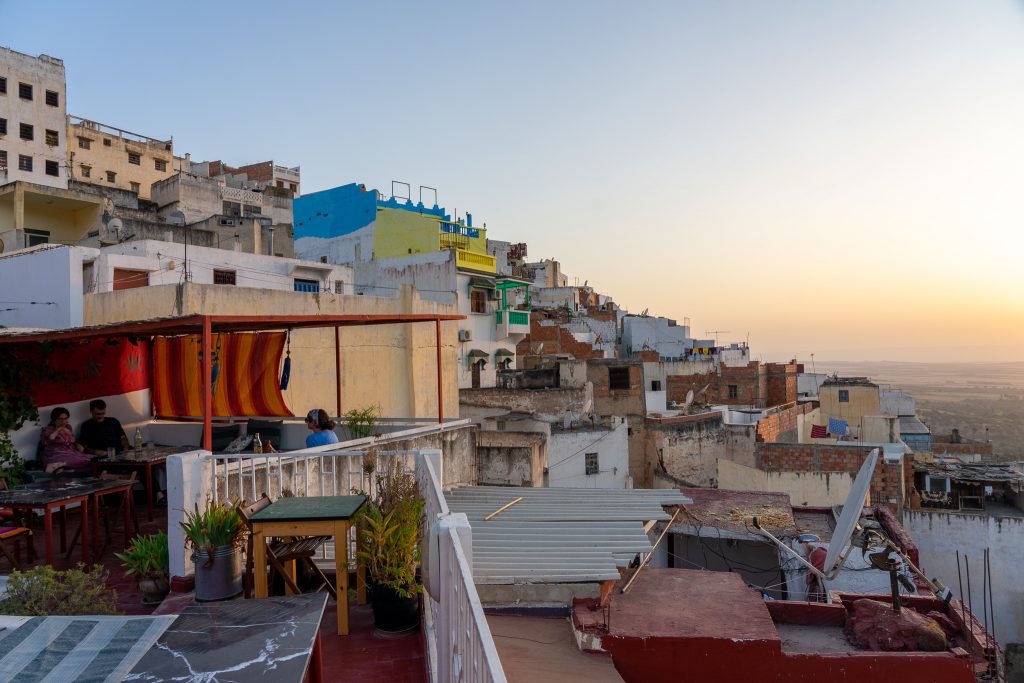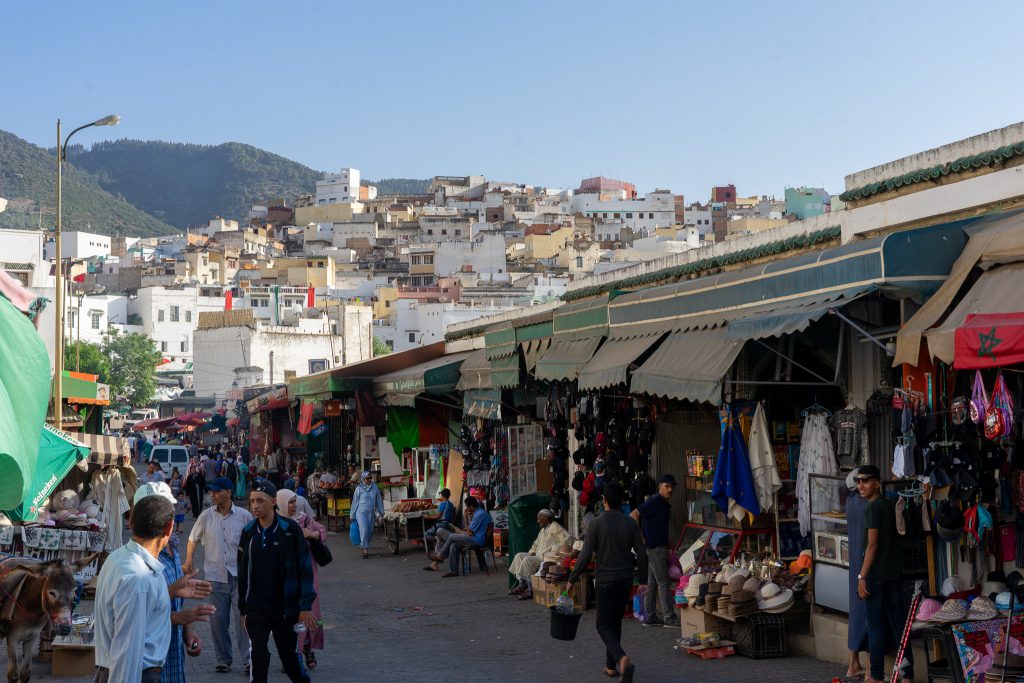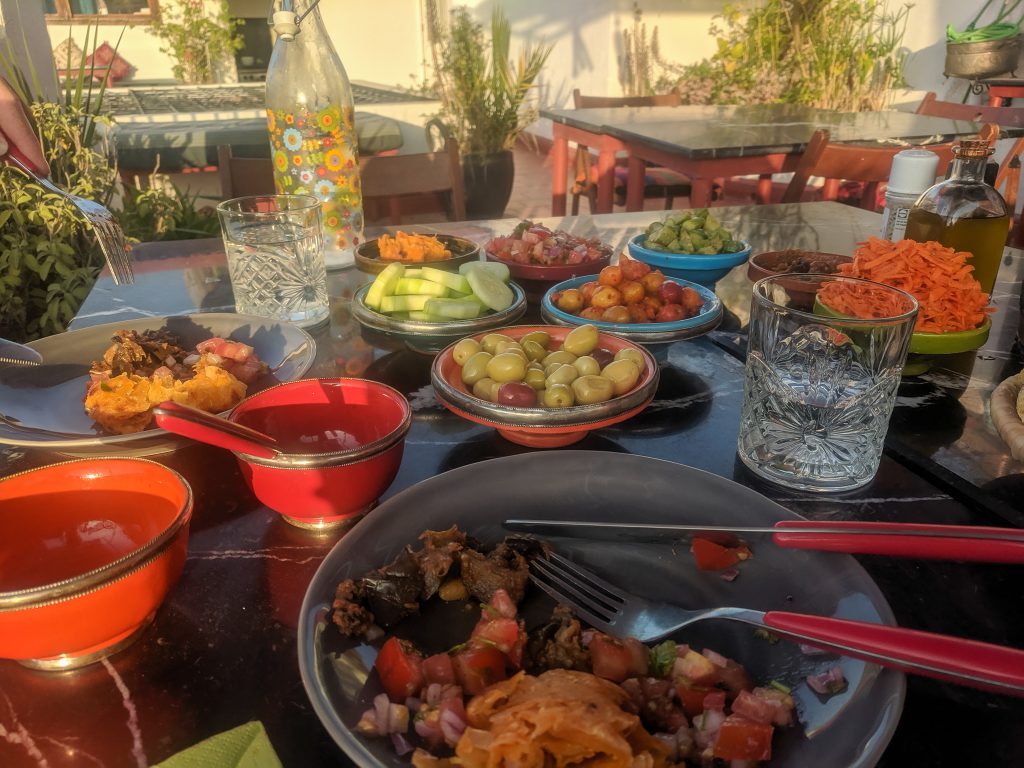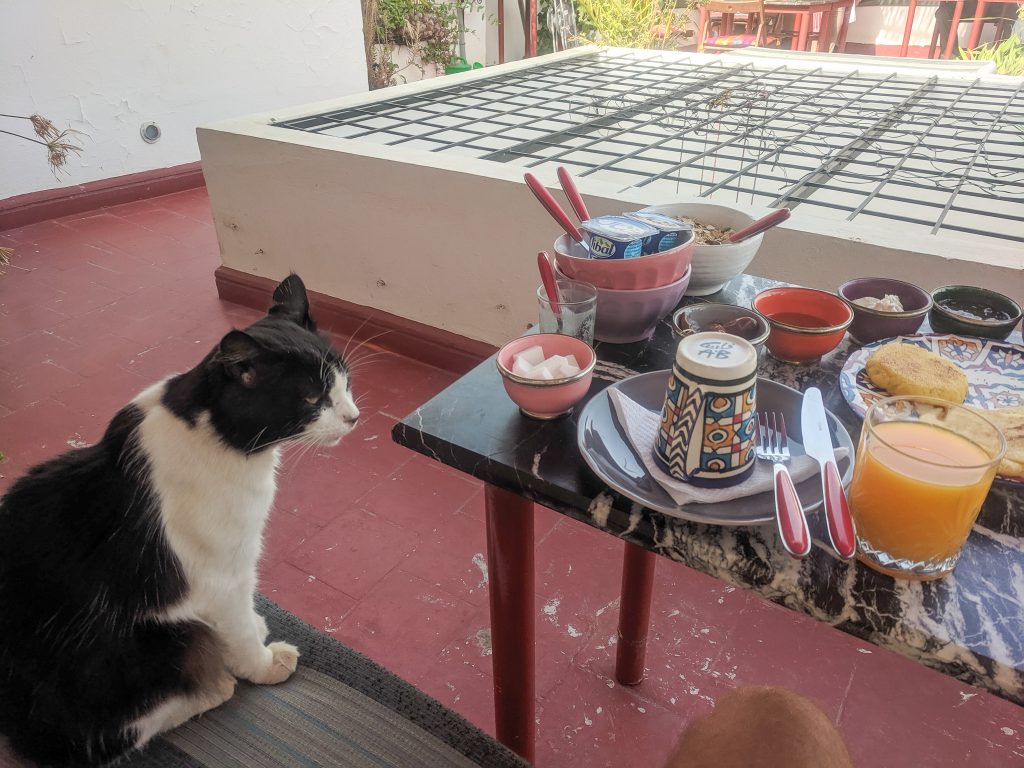 One afternoon, we braved the blazing temperatures and headed down the mountain to check out the ruins of Volubilis, an archaeological site located just a few minutes away. Once one of the Roman Empire's most remote outposts, Volubilis was populated by wealthy olive oil merchants in ancient times, and was the one-time home of Cleopatra and Marc Anthony's daughter. Walking around the ruined city–founded in the 3rd century B.C.–gave me the feeling we'd been transported to Greece or Italy. The whole site was in surprisingly good condition, and aside from a French tour group, we were the only visitors. (If you're willing to sweat your butt off, visiting Morocco in July will ensure you have lots of places to yourself!) 
For me, the coolest part of Volubilis was viewing all its intact floor mosaics. While most of the buildings don't exist anymore, lots of the floors still do, many with gorgeous tile designs that give you a window into how opulent the town must have looked in ancient times. The UNESCO-recognized site was one of the most impressive historic places we've seen in all our travels.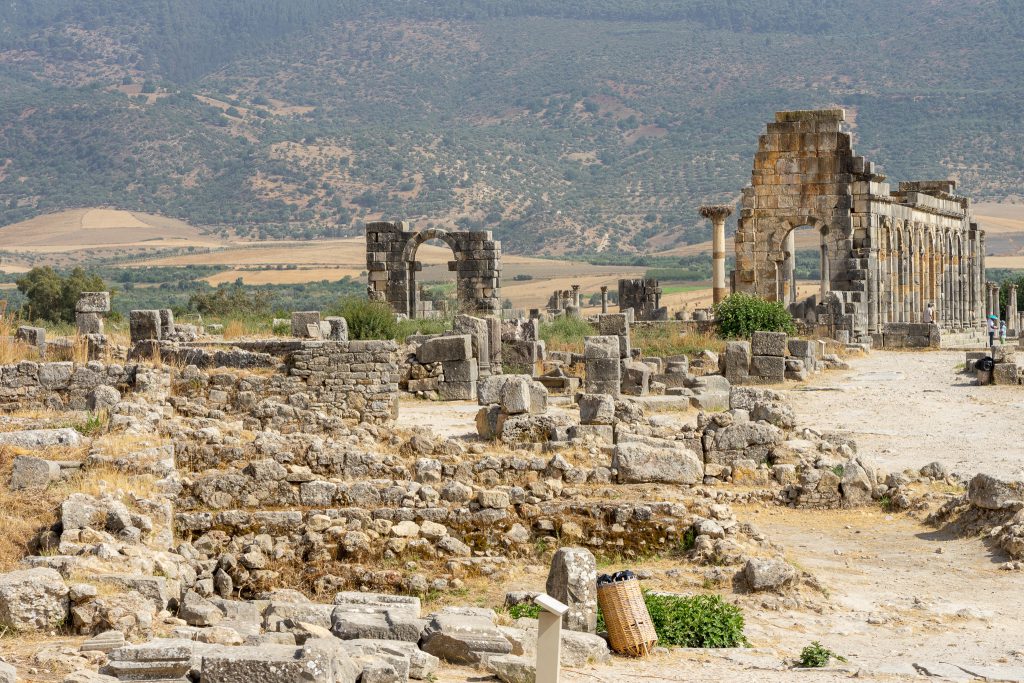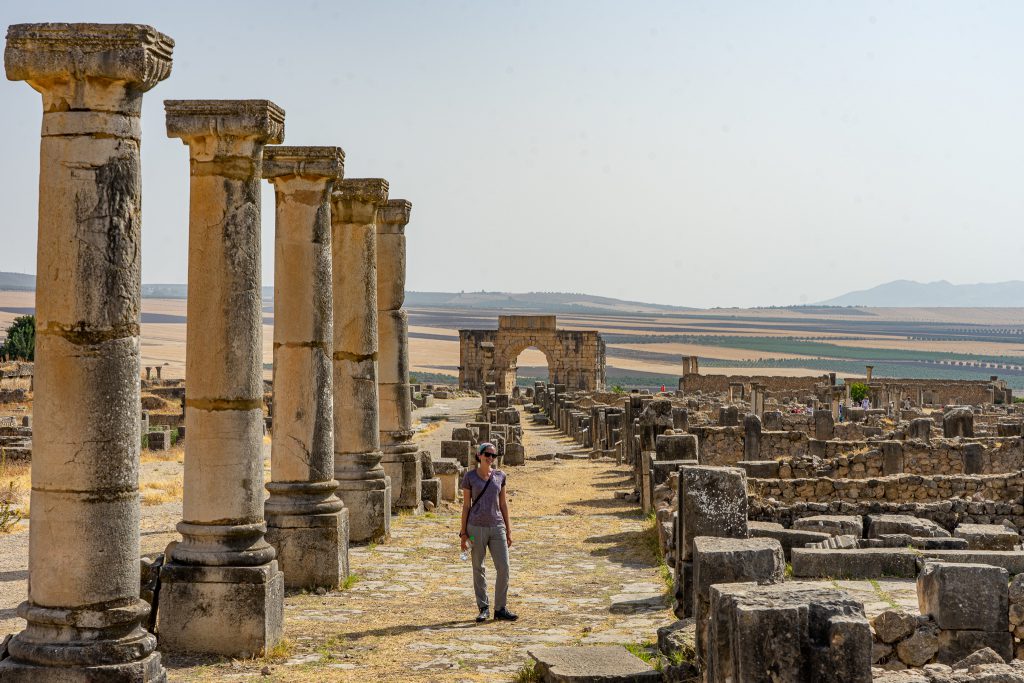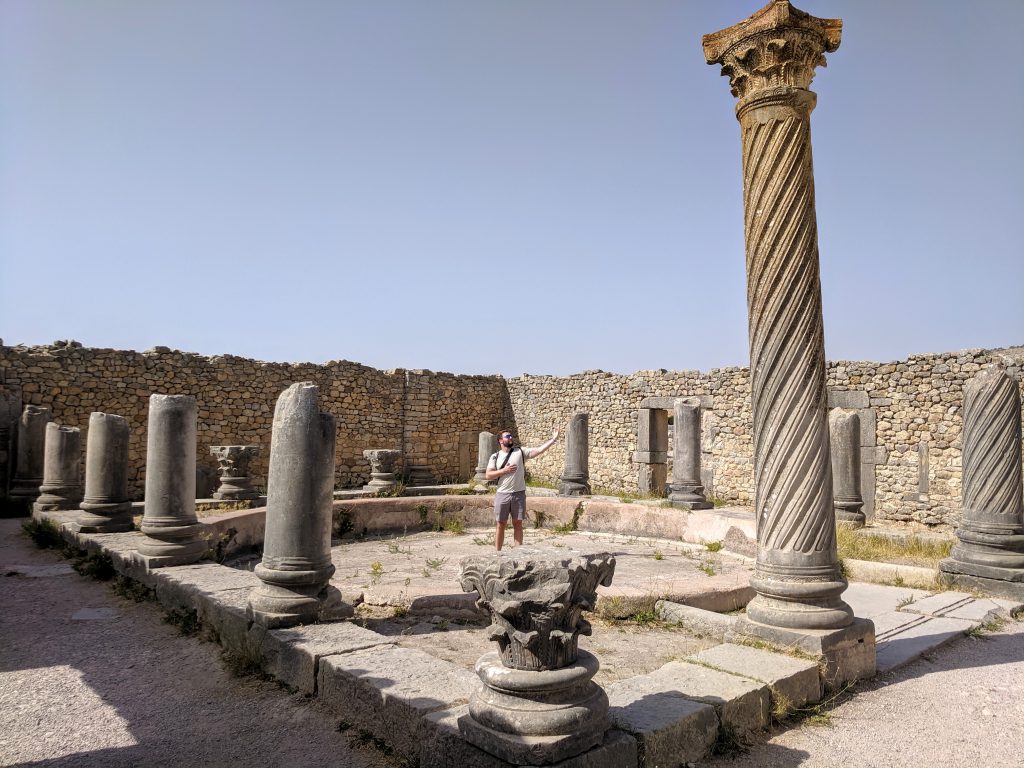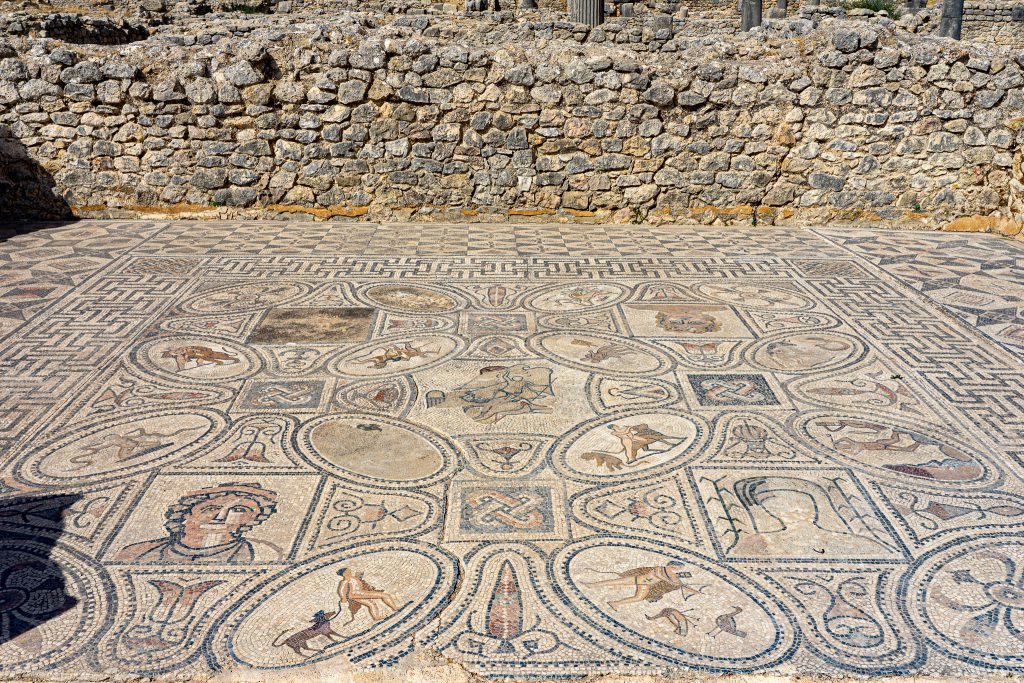 Feeling relaxed and recharged, we headed on to Fez, the oldest city in the country, which served as Morocco's capital until 1925. Walking around Fez felt like being inside a giant living history museum, with its old medina, labyrinth-like streets, and fortressed walls. The Fez medina is one of the biggest pedestrian-only zones on earth; it would take years to explore every corner of it. The city also boasts the oldest continually operating university in the world, University of al-Qarawiyyin, founded in 859 A.D. Fez reminded us a lot of Marrakesh, with a slightly less frenzied vibe. The city doesn't have as many traditional sites as its neighbor to the south, so it draws fewer tourists.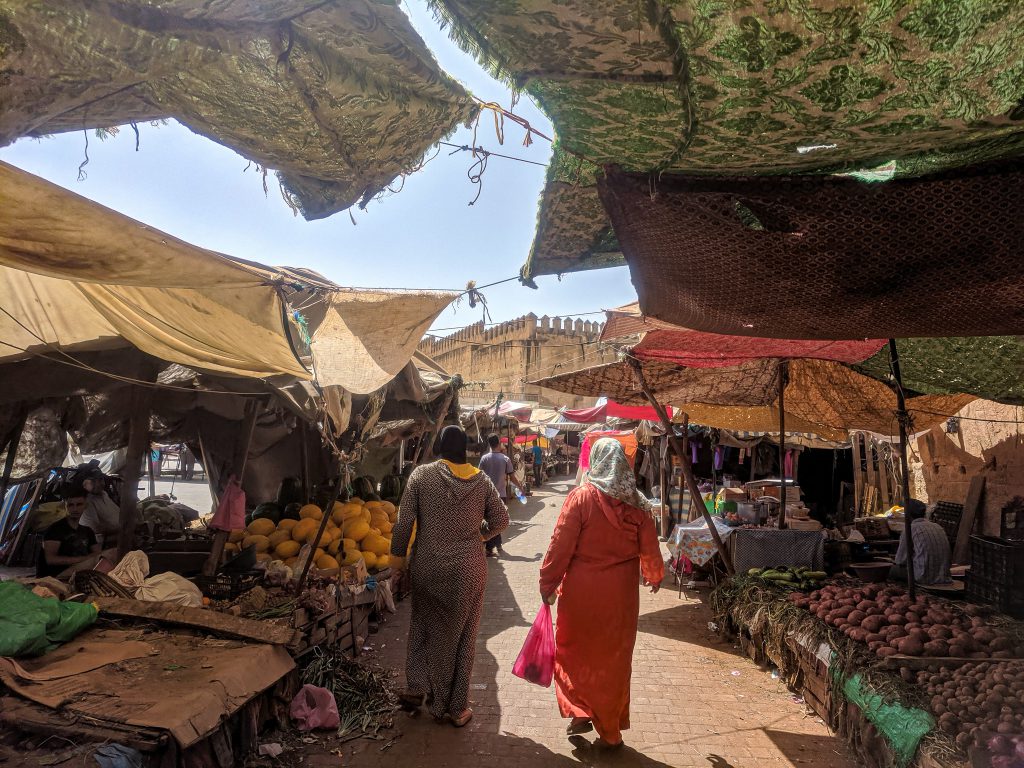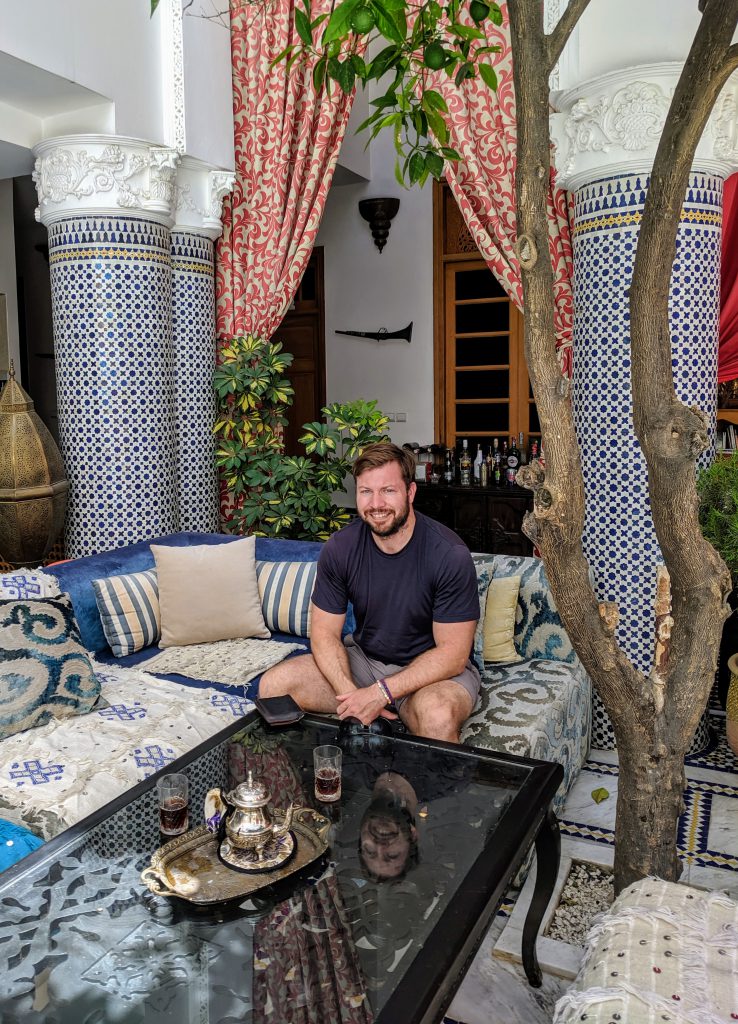 Unfortunately, we weren't able to roam as much of Fez as we hoped. On our first morning in town, we were both stricken by a horrendous stomach bug that lasted nearly two weeks. (I'll spare you the details, but it was bad enough that we ended up leaving Morocco a few days early to see a doctor in Spain–the only time on the entire trip we've had to seek professional medical attention!) During our time in town, Fez also experienced a heat surge, with daily temperatures soaring to 110 degrees (which locals told us wasn't even that hot! We're such American wimps.) Between the oven-like outdoor conditions and our queasy stomachs, we could barely bring ourselves to leave our air-conditioned riad room for the first couple days.
Eventually, we gave ourselves a pep talk, popped some potent stomach meds, and forced ourselves to get out and do a bit of sightseeing. We walked outside the medina walls to visit Jnan Sbil, a former royal garden, then hiked uphill to the Merenid Tombs, a popular lookout point. The fourteenth century tombs were once the grand resting place of Moroccan royalty, but today they're crumbling hulks (albeit neat-looking ones.) We lingered on the hill as the sun set behind us and the heat of the day slowly faded away. The tombs were an ideal perch to get a bird's eye view of the old medina, which was sprawled below us in miniature form.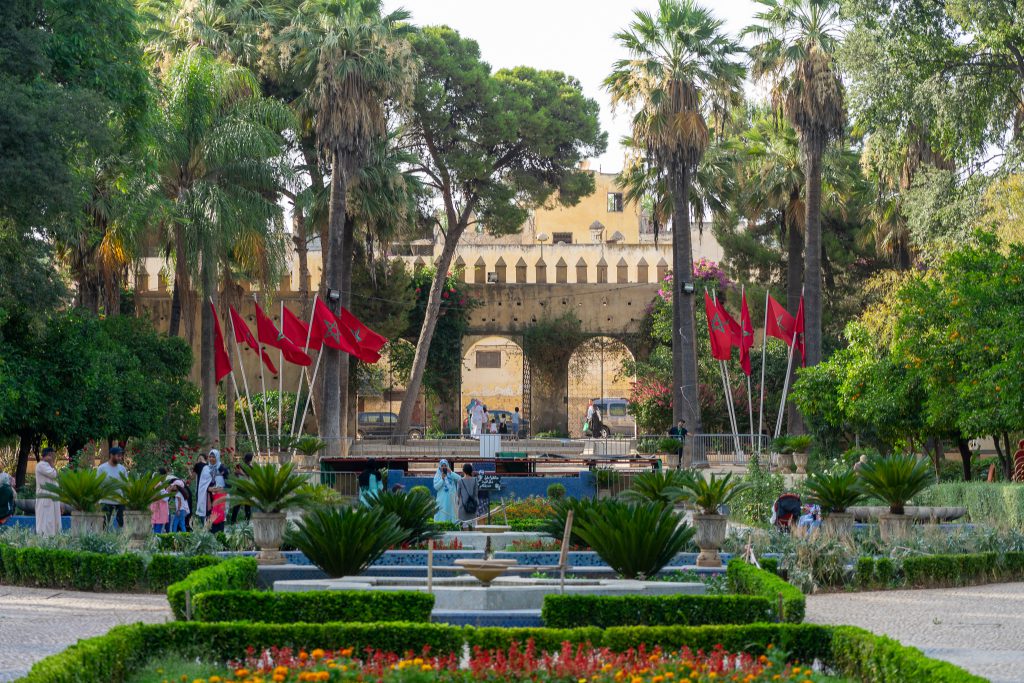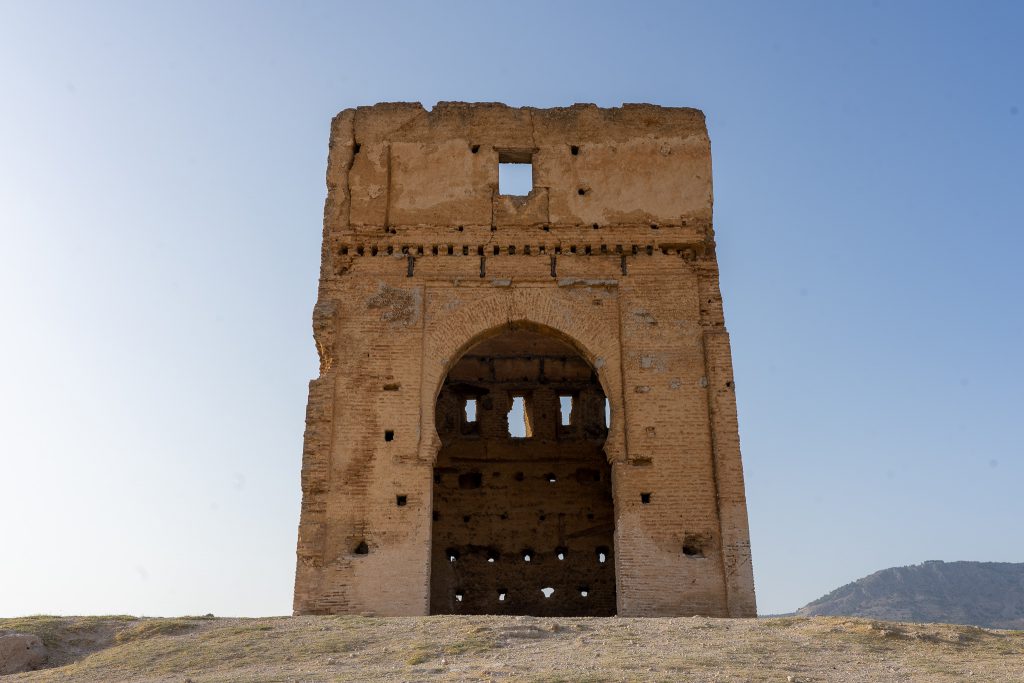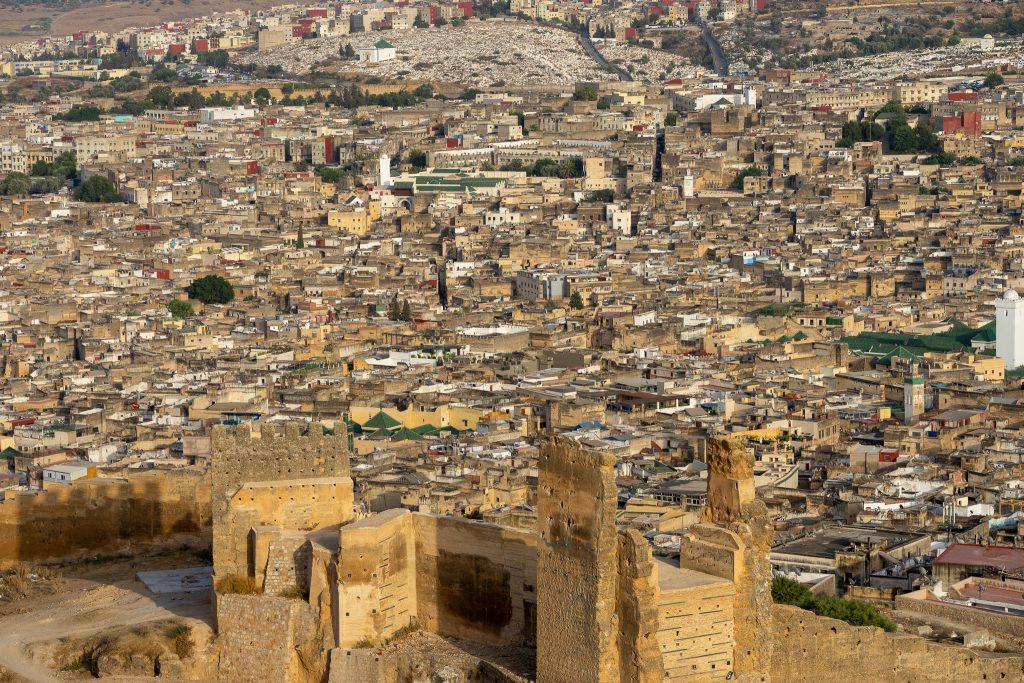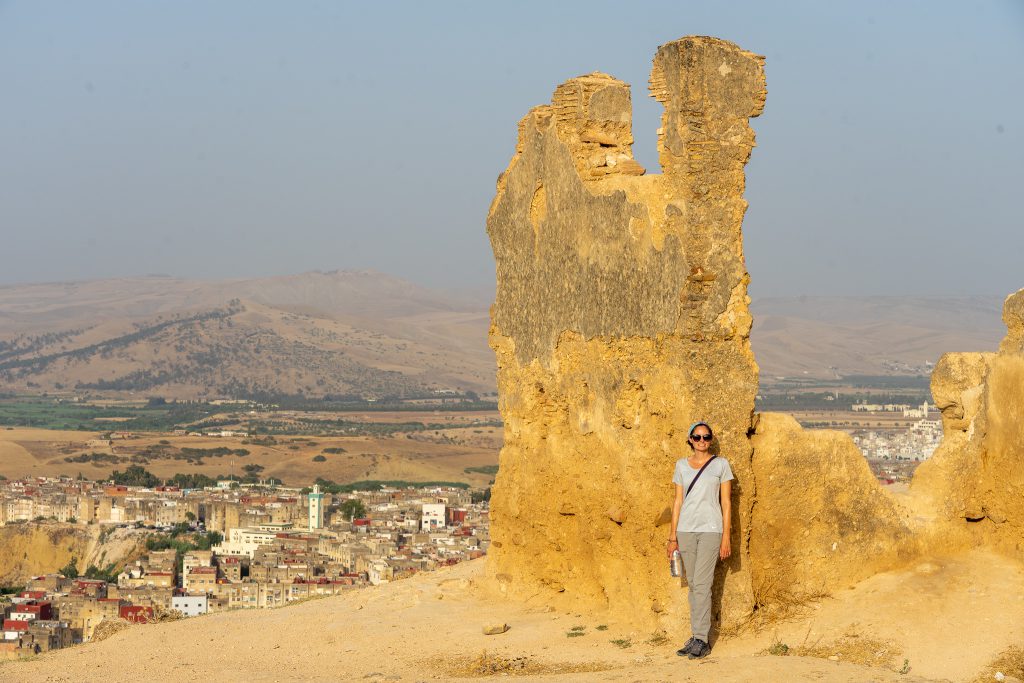 The next morning, we traveled to the famous "Blue City" of Chefchaouen, which would end up being our last stop in Morocco. We made friends on the bus with a Russian-Canadian couple who live in Fez, and they regaled us with stories of what it's like to live in Morocco as foreigners. We laughed as they described how puzzled their Moroccan neighbors were that they owned pet cats, and that they actually take the cats "to a cat doctor" for annual shots. (Apparently the concept of getting a cat or dog immunized in Morocco is rather laughable.)
Chefchaouen is a place Mike and I both had on our must-see list. Tucked away in the Rif mountains of Northwest Morocco, the town is known for its gorgeous blue-washed buildings (which seem to be all over Instagram these days) and Spanish feel. The whole place is a photographer's paradise, and while there isn't a ton to do, it doesn't matter. The town is so charming and beautiful that all you really want to do is roam the streets and take pictures. Although Chefchaouen draws a good number of tourists, it's easy to get off the beaten path and find quiet alleyways with cats napping on stoops and laundry drying in the breeze.
One experience in Chefchaouen also reinforced for us the importance of being polite travelers. When we arrived at our guesthouse on day one, the family in front of us was being extremely rude to the man at the front desk, snipping at him to hurry up and whining about how tired they were. We waited patiently for him to finish checking them in, then made an effort to strike up a friendly conversation with him. Although he treated the nasty guests with cool professionalism, his demeanor with us was totally different–open, warm, and amiable. I'm a big proponent of making sure you represent your country well when you travel abroad. You might be the only American the person you're interacting with has ever met. If you act like an a**hole, then guess what? That person is probably going to think everyone from the United States (or whatever your home country is) is an a**hole. Just be nice. And that is the end of my TED Talk!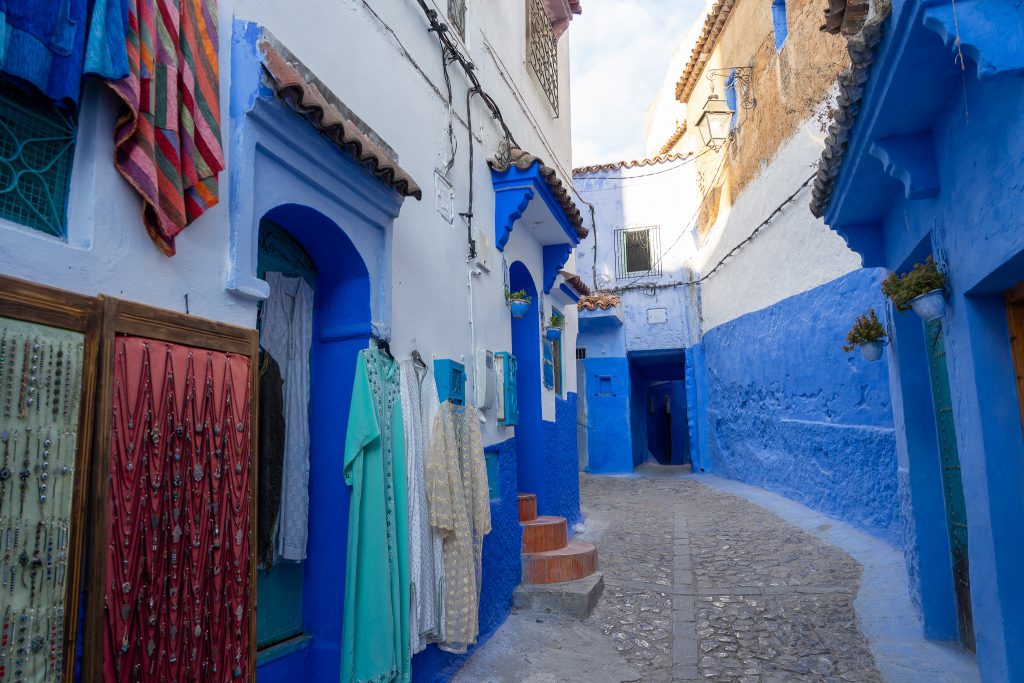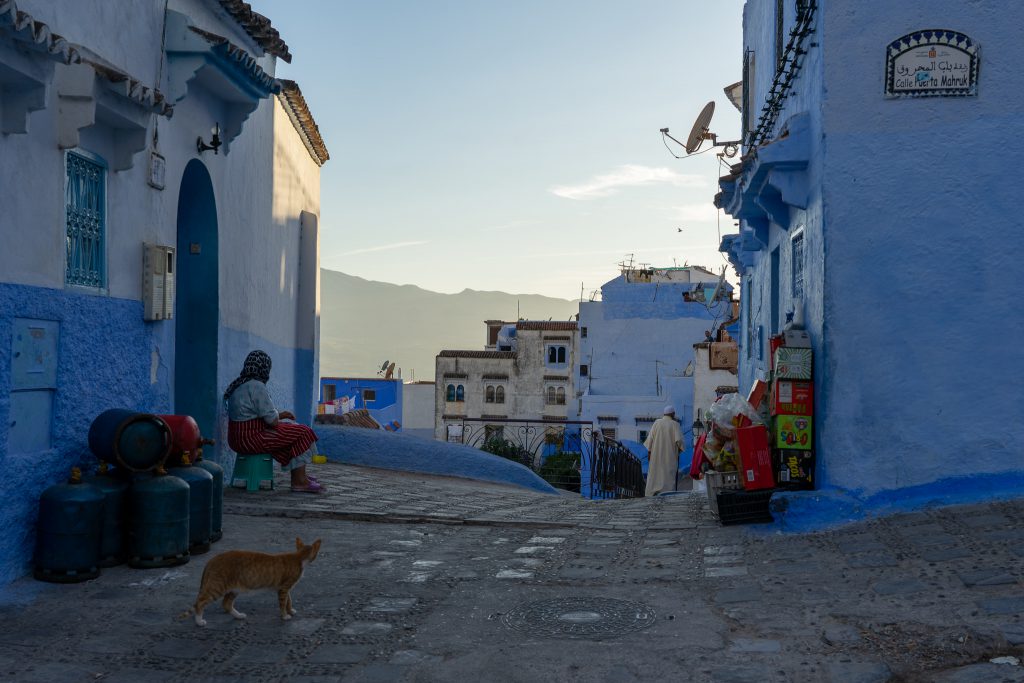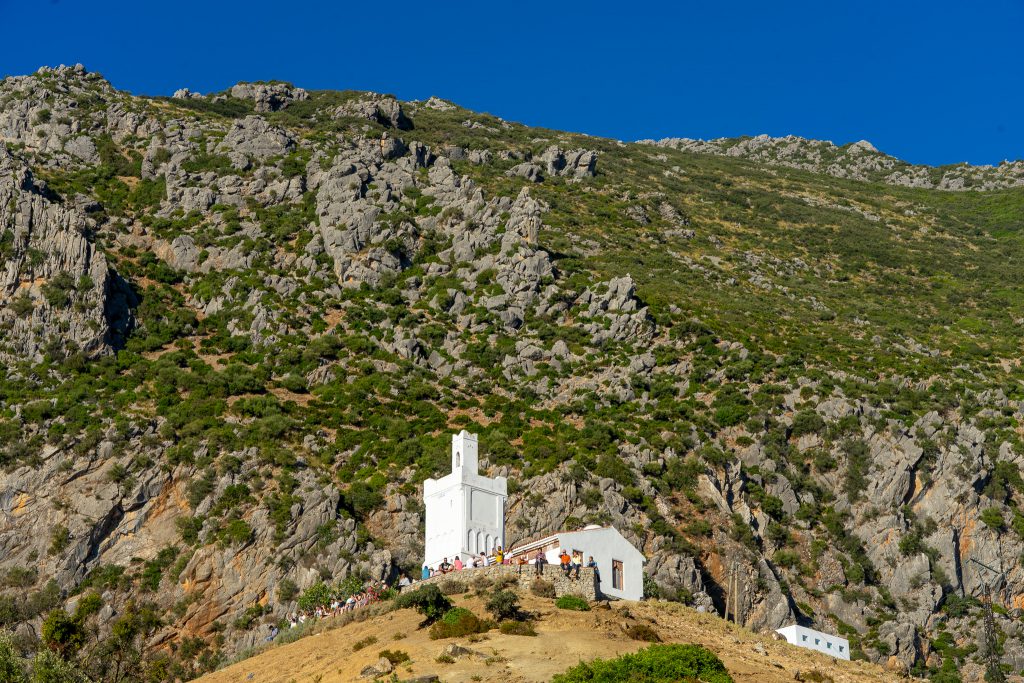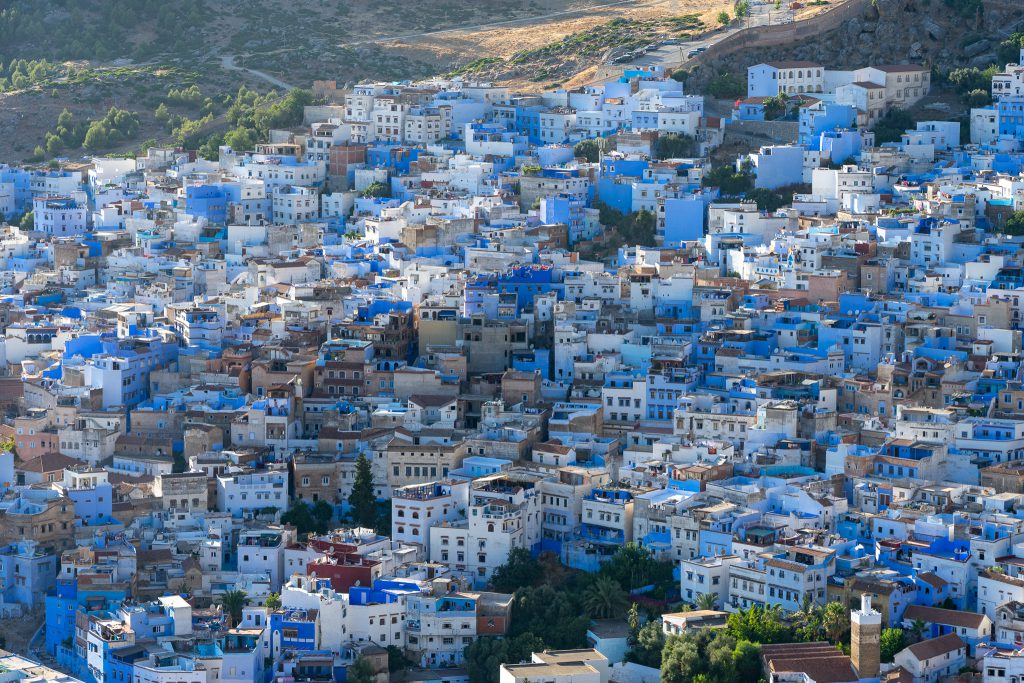 After a couple days of wandering through the hilly medina of Chefchaouen and ogling every shade of blue imaginable, we were faced with a choice: continue to Tangier, as we'd originally planned, or head straight to Spain. Our stomachs made the choice for us–we'd been sick for days with no sign of improvement, so we figured the smart decision was to go to Spain early.
We hired a local driver, who drove us the two hours from Chefchaouen to the Tangier ferry port at breakneck speed. He drove so erratically that I didn't even need coffee that morning–if I wasn't awake when I got in the car, I sure was by the time we'd taken hairpin turns on mountainsides at the pace of an Olympic sprinter. Nothing like an early morning terror-induced adrenaline rush to get your heart pumping!
Eventually we were safely delivered to the ferry port (phew!), where we quickly passed through immigration and boarded a boat bound for my beloved España. As we steamed away from the coast of Morocco towards the Strait of Gibraltar, my heart caught in my throat for a moment. Morocco had been a delightful, colorful feast for the senses and a completely new cultural experience. Nausea aside, Mike and I both had no regrets about spending two weeks there. While I don't think we'll return anytime soon, I hope we get to go back eventually. I still dream of hiking in the High Atlas mountains and riding a camel through the Sahara desert. Maybe someday–there's nothing wrong with having a long travel bucket list! I think this past year is proof that even the most crazy, distant-seeming dreams can come true.
Until next time, ma al-salamah from Morocco.