Fourteen Days in the Himalayas: A Trekking Journey Through Nepal
I crept slowly in the dark towards the dilapidated outhouse, the weak light from my headlamp illuminating the snowflakes drifting down from the sky. My breath came out in ragged gasps in the cold as ice crunched under my feet. I was wearing the warmest outfit I had, including a down jacket and fleece-lined tights, but I still felt freezing, a bone-deep cold that seeped straight through my winter clothes and into my skin.The silent mountain night was a void of blackness; not even a sliver of moon was visible to help guide my way. The outhouse loomed in front of me, its silhouette rendered sinister against the snow, like a hulking beast. Just as I reached for the handle of the door, a soft rustling sound stopped me. I whirled around as my heart raced in my chest, fear crawling up my spine.
What was that?
Opening scene from a horror movie?
Nope, just a midnight bathroom trip in Nepal!
In case you're wondering, I never did find out what made that sound. Even though it was more likely a goat than a vengeful demon, let's just say I took care of business and bolted back to our room as fast as humanly possible.
So, how on earth did I find myself in a remote mountain village high in the Himalayas, creeping outside to use the bathroom in the middle of the night while a potentially supernatural creature (but probably a yak) stalked me?
Our Nepal hiking adventure technically began in Kathmandu, though the plans were set in motion long before that. Back when we decided to take this trip, we agreed to make visiting Nepal a priority. We both love hiking, and what better place to go trekking than the Himalayas, the highest mountain range in the world? Multi-day treks around some of Nepal's tallest peaks, including Everest, Annapurna, and Manaslu, are extremely popular. They're touted as a way to see the Himalayas up close without needing the budget and experience (and in my opinion, the utter insanity) of a mountaineer.
We were both game for a physical challenge, plus we were intrigued in general by the country of Nepal, known for its natural beauty and spiritual culture. We registered for a fourteen day guided trek through the Annapurna region, and before we knew it, we were leaving behind the hot jungles of Sri Lanka for Nepal's snow-capped peaks.
Kathmandu is a place I wouldn't have enjoyed much had we visited at the beginning of our trip. I probably would have found its dusty, litter-ridden streets, large crowds, and polluted air overwhelming, if not repulsive. But after my baptism by fire, so to speak, back in Hanoi, I've found that highly chaotic cities and big crowds don't really bother me anymore. In fact, I kind of enjoy them (who have I become??)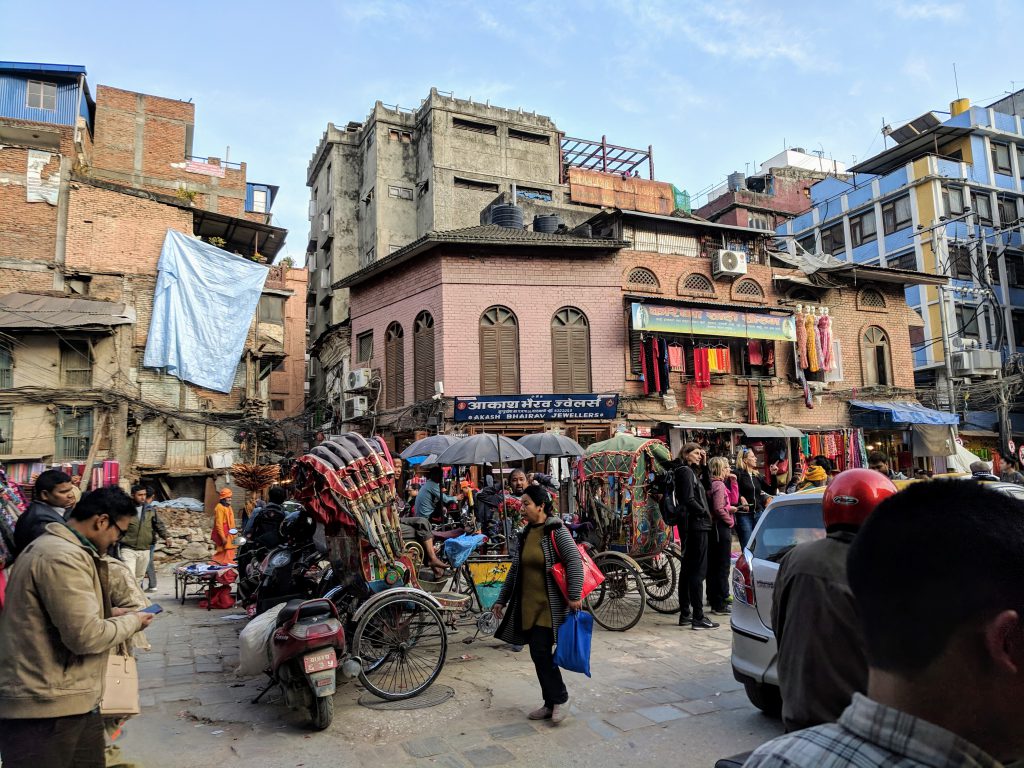 Kathmandu isn't known for being pretty, but it does have some beautiful sites, like Durbar Square, a UNESCO World Heritage site badly damaged in the 2015 earthquake. The toll of the quake is sadly still apparent everywhere, but you can also sense resiliency among Nepal's incredible people, who've overcome so much in the last decade, from natural disasters to political upheaval. We enjoyed visiting Durbar Square and can only hope that efforts to conserve its temples and other structures will continue.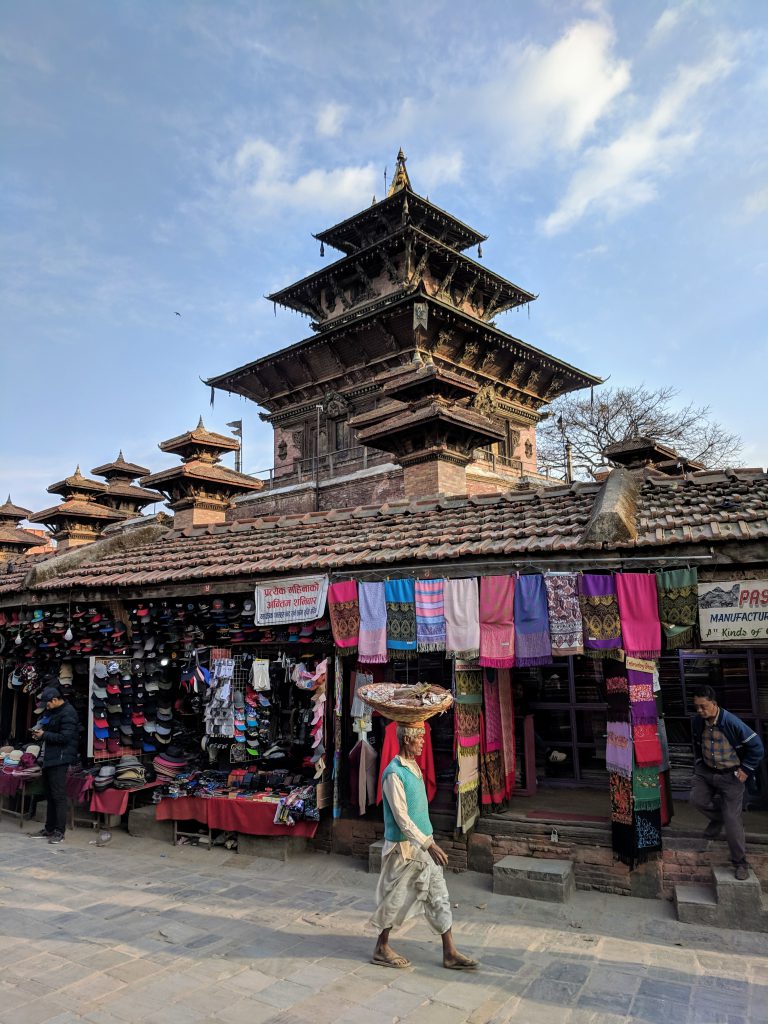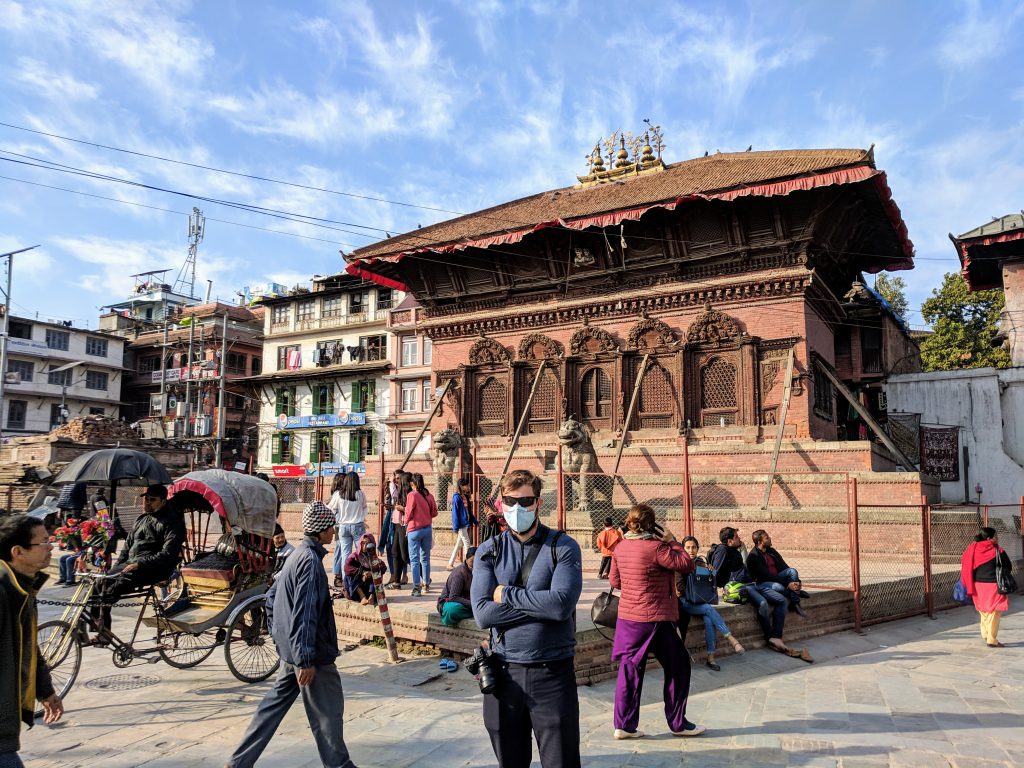 We also visited Swayambhunath, otherwise known as the Monkey Temple. Elevated on a hilltop in the middle of the city, the white stupa has the eyes of the Buddha painted on all four sides, representing wisdom and compassion. Colorful prayer flags encircling the temple flap in the breeze while monkeys dart up and down the surrounding steps. It's a peaceful place and offers a respite from the busy city.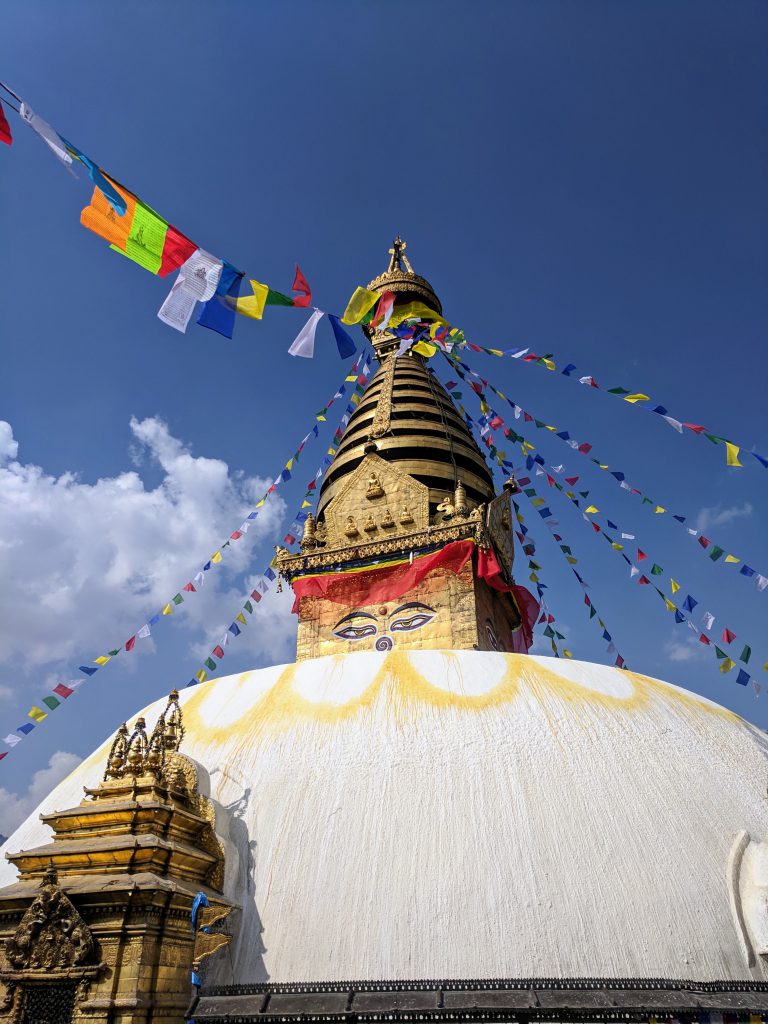 However, we spent most of our time in Kathmandu acquiring gear for our trek. After several hectic days of shopping for cold weather items like waterproof pants, wool socks, and crampons (things we didn't have with us after spending the past few months in warm climates), it was time to begin.
We drove nine hours to the village of Chamje (the last three hours of which had to be completed in a Jeep on an extremely rough road) and then collapsed, exhausted.
"I take back everything I said about Laos having the worst roads," I moaned. "Nepal is the winner!"
The weather was so rainy and foggy that first evening that we couldn't see any of the surrounding peaks. And unfortunately, poor Mike was sick with a stomach bug and a fever. It wasn't the most auspicious start. The hike hadn't even begun, and one of us was in rough shape. Still, the drive had worn us down so much that we quickly fell asleep in our chilly room.
To provide a little background, overnight treks in Nepal involve sleeping in teahouses, or simple guesthouses, which serve hot food and drinks but don't have heat or hot water (so you can forget about showering during your hike unless you want to pay extra for a gas or solar powered shower that's lukewarm at best.) In short, multi-day treks in Nepal are akin to camping and sleeping in a cabin.
Some teahouses are a bit more luxurious than others (we even slept in a few that had private attached bathrooms), but most had basic rooms with thin cot-like mattresses perched above a concrete floor. The majority of teahouses have communal bathrooms located down the hallway or outside behind the building, and let's just say the toilets aren't the kind you find in the United States. (But as a plus, your leg muscles get strong from all the squatting!) The toilet paper situation is strictly BYO–bring your own. And perhaps this goes without saying, but you can't drink water straight from the tap in Nepal. To obtain clean drinking water, you have to filter it first or use purification tablets.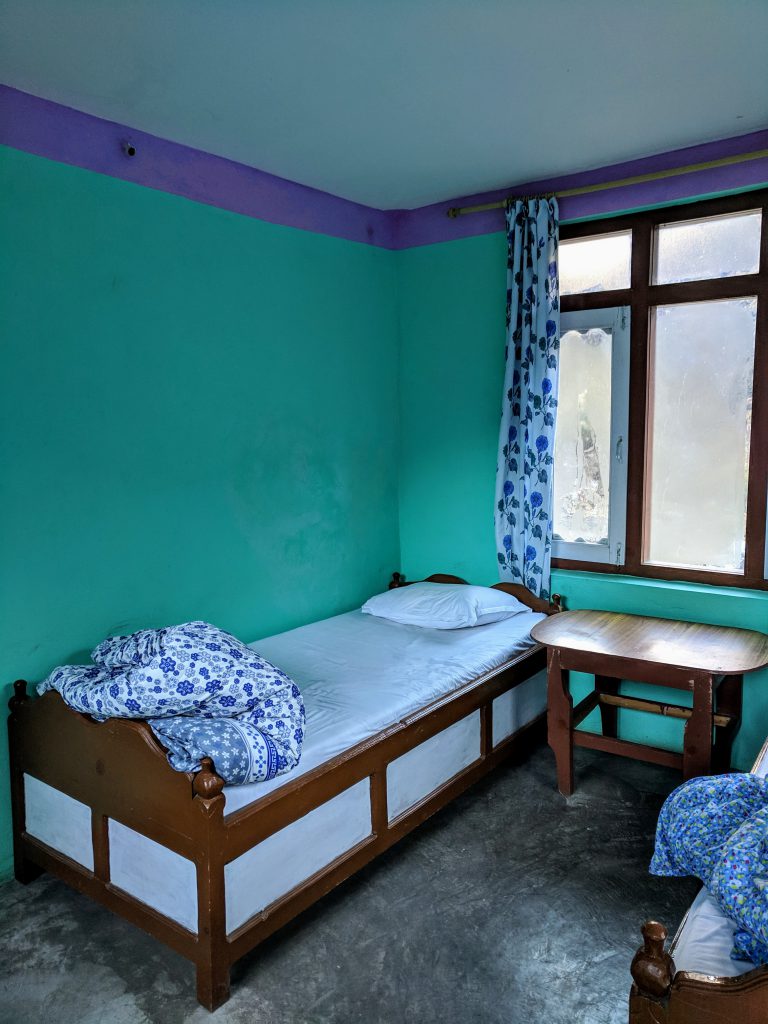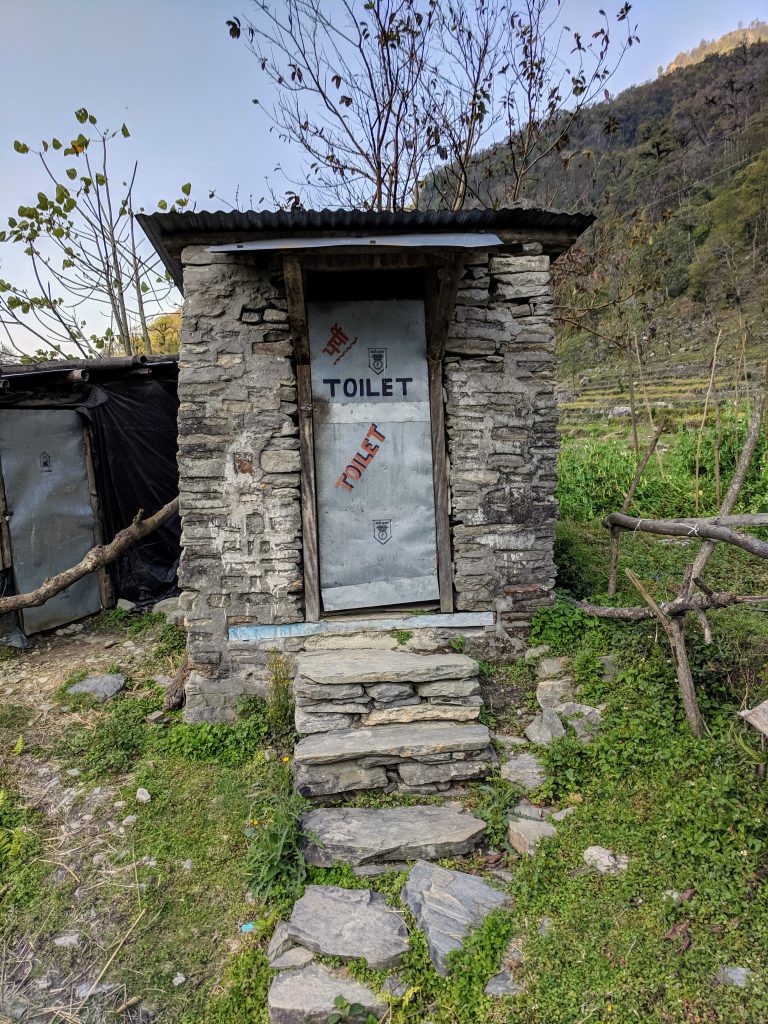 Luckily, on our first official morning of actual hiking Mike felt a little better and the weather had cleared up. After a breakfast of boiled eggs, toast, and instant coffee, our guide led us to the trailhead, and off we went!
The Annapurna Circuit trek begins in a river valley with towering mountains on both sides. Multi-hued prayer flags were hanging everywhere, from doorways of homes in the villages we passed to random trees seemingly located in the middle of nowhere. That first day, we couldn't stop taking photos and exclaiming about how massive the mountains were. Our guide, Gokarna, smiled.
"These are just hills," he said. "Wait until you see the actual mountains!"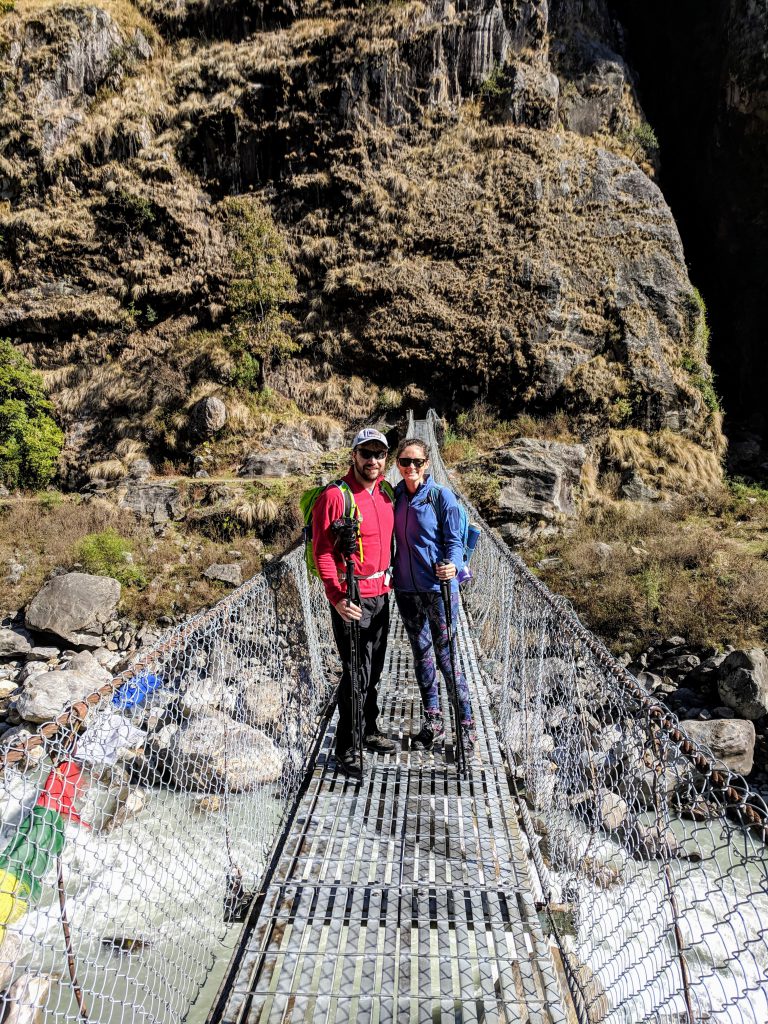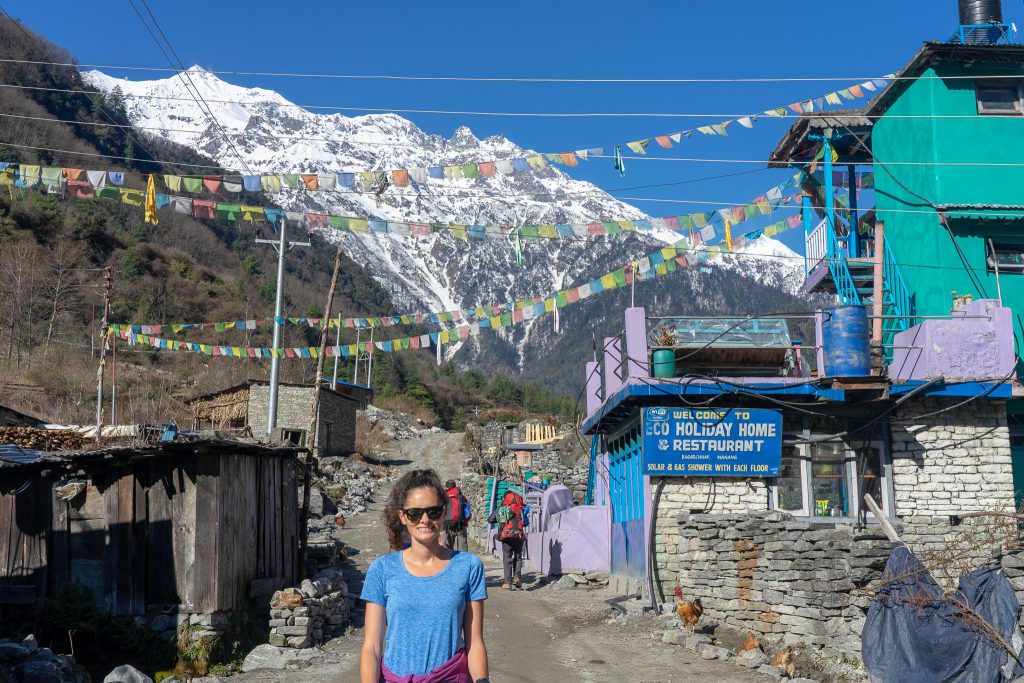 He was right. By day two, we were in awe of the snowy giants that loomed around us. The weather remained clear and comfortable, and we grew warm enough when we walked that we often wore only t-shirts. The trek wasn't a cakewalk, though–the Annapurna Circuit is rated as moderate to difficult, and involves walking an average of seven to ten miles a day on trails and roads that mostly go uphill. Some narrow sections were literally carved into cliff sides, and picking our way along required complete concentration, lest we tumble off the edge into the abyss. (I don't recommend trekking in Nepal to anyone with a fear of heights!)
We're in good enough shape that the physical aspect of trekking didn't pose the biggest challenge–the mental part was toughest. After trekking about four hours each morning, we'd stop for lunch, then walk another two to four hours. We found that starting again after lunch required digging deep for internal motivation. It wasn't easy to keep going after an hour of rest, especially knowing we had more miles in front of us.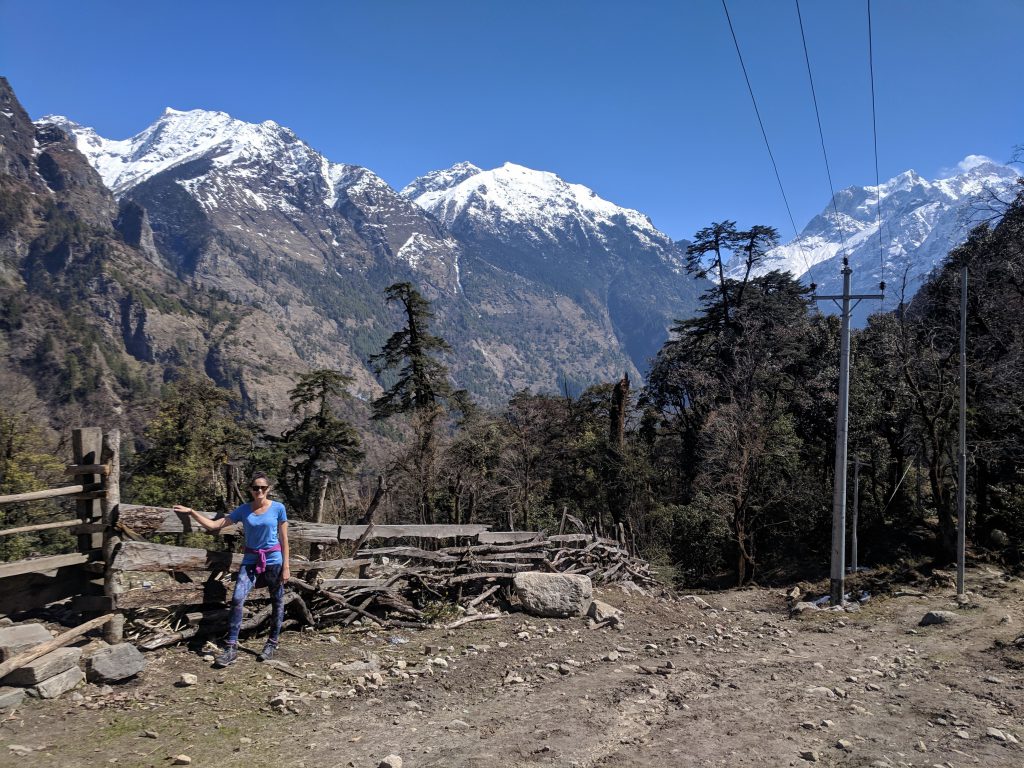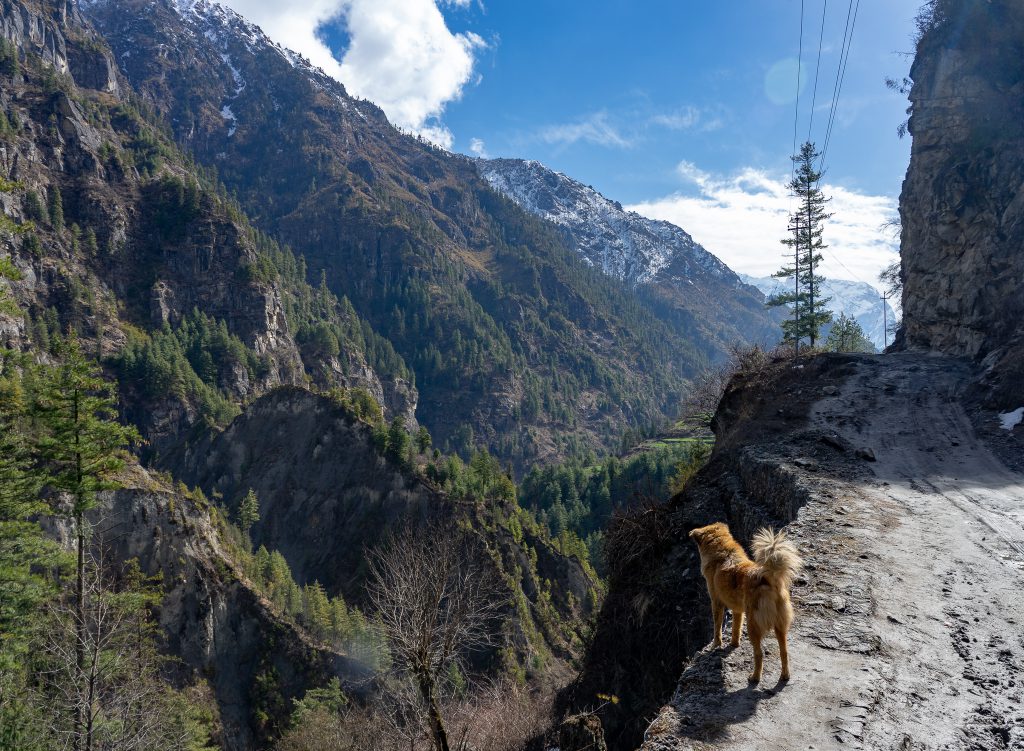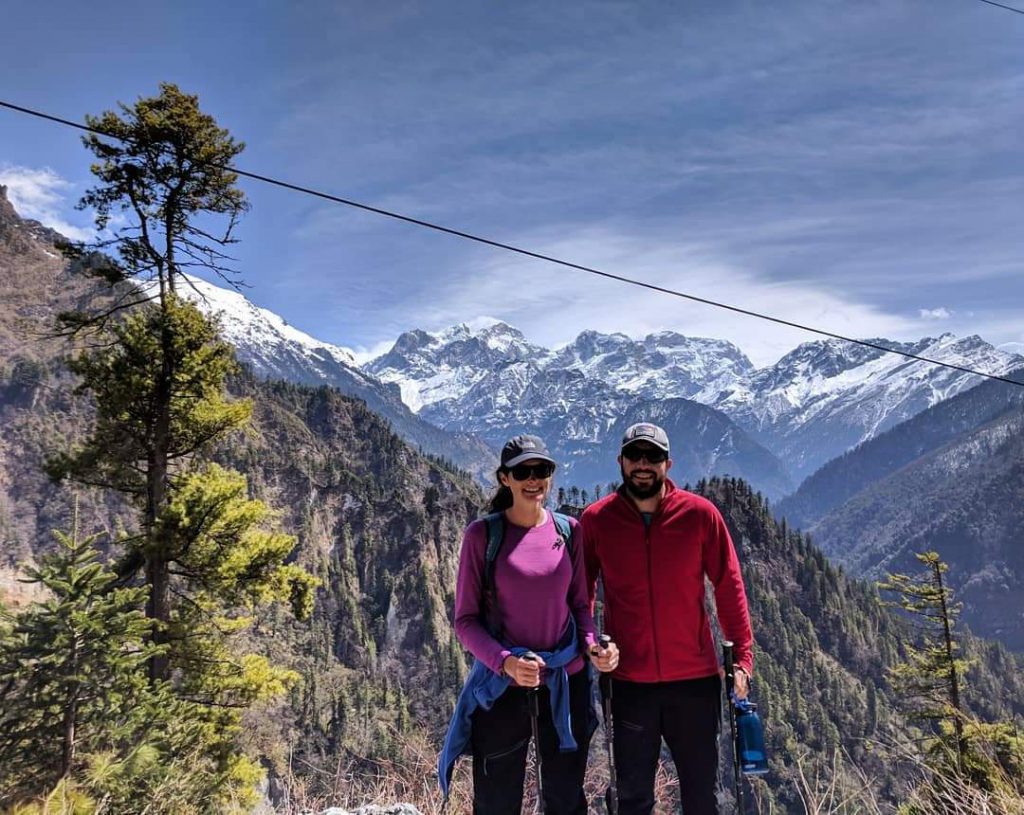 By day three, it was time to put on our hardcore snow armor. We donned crampons (spikes that make it easier to walk on snow and ice) over our boots and pulled gaiters over our shins (gaiters cover your lower legs to prevent moisture from entering your boots.) Then we embarked on an excruciating nine hour day that involved trudging our way uphill through two feet of snow.
We hadn't expected to encounter snow by only day three, and it made us both nervous. March is usually an optimal month to trek in Nepal; snowfall tends to be minimal, and the weather is mainly sunny and clear. But unfortunately, a rare late February blizzard this year dumped several feet of snow over the central Himalayas, blanketing trails at the relatively low height of 10,000 feet (low by Nepal standards at least.) It not only made the trek more difficult, it made it more dangerous. Just two days before we started our hike, the bodies of a Dutch trekker and a Nepali guide were discovered buried under snow on our planned route, victims of a massive avalanche. So while the scenery around us made for the most spectacular winter wonderland I've ever seen, it was tainted with the heavy knowledge that conditions could change in a heartbeat.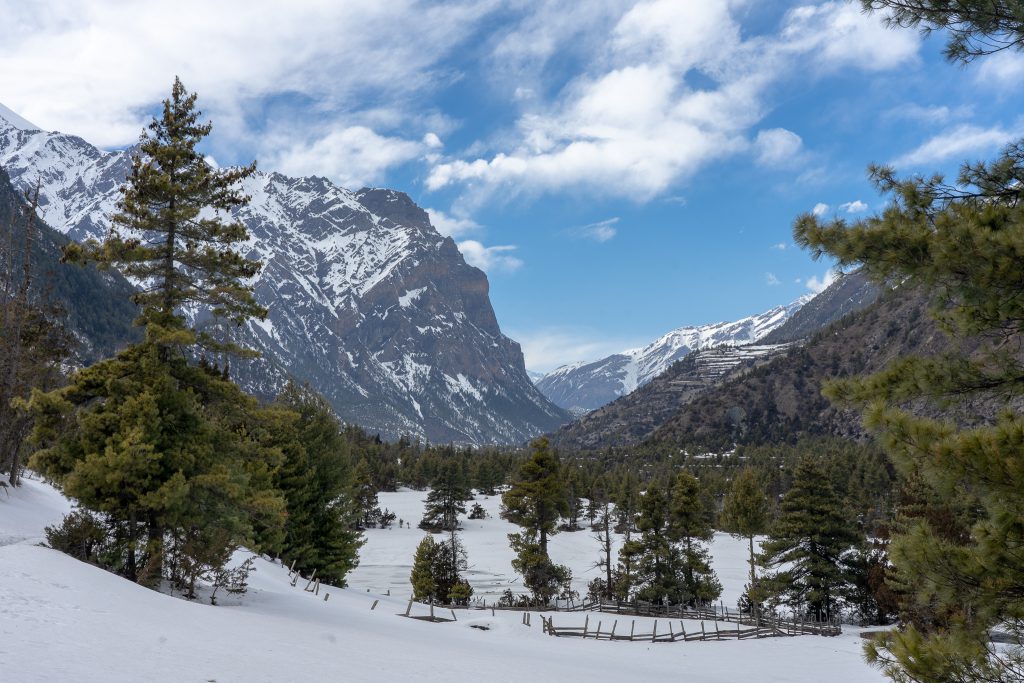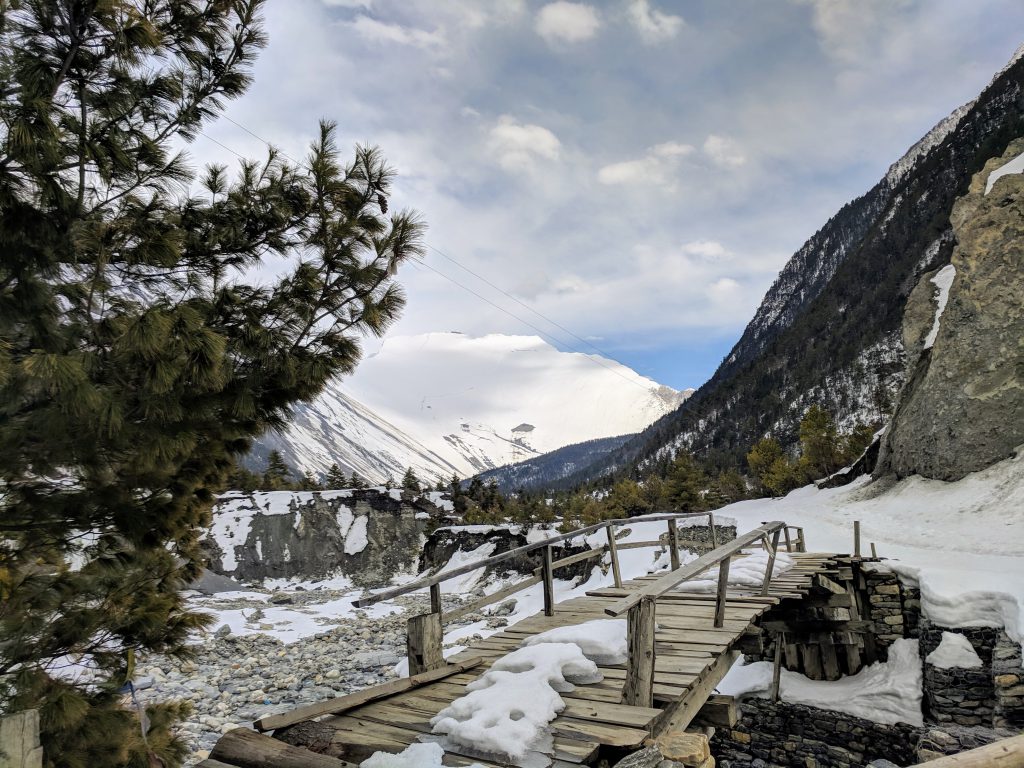 There were rumors floating among fellow hikers and guides that Thorong La Pass, the highest spot on the Annapurna Circuit, was closed due to hazardous levels of snowfall. The route leading to Tilicho Lake, the highest lake in the world and another of our planned stops, was also purported to be shut down. By the time we arrived in the village of Pisang at the end of day three, we had the feeling it would be the furthest we'd get. After a long discussion with our guide Gokarna and our porter Raj (who carried our bags–the strongest guy we've ever met!), we made the decision to turn around.
Though we felt pangs of disappointment, we knew we were making the right choice. Gokarna told us that even if the mountain pass and lake opened in the next few days, it didn't mean it was risk-free to continue. And the knowledge of the deadly avalanche was never far from our minds; risking our lives to push on wasn't worth it. We decided to rest for a day in Pisang, then walk back the way we'd come. Fortunately, our trekking company was able to arrange an alternate trek for us at a lower altitude (a portion of the Annapurna Base Camp hike), so we'd still get a full fourteen day experience as planned.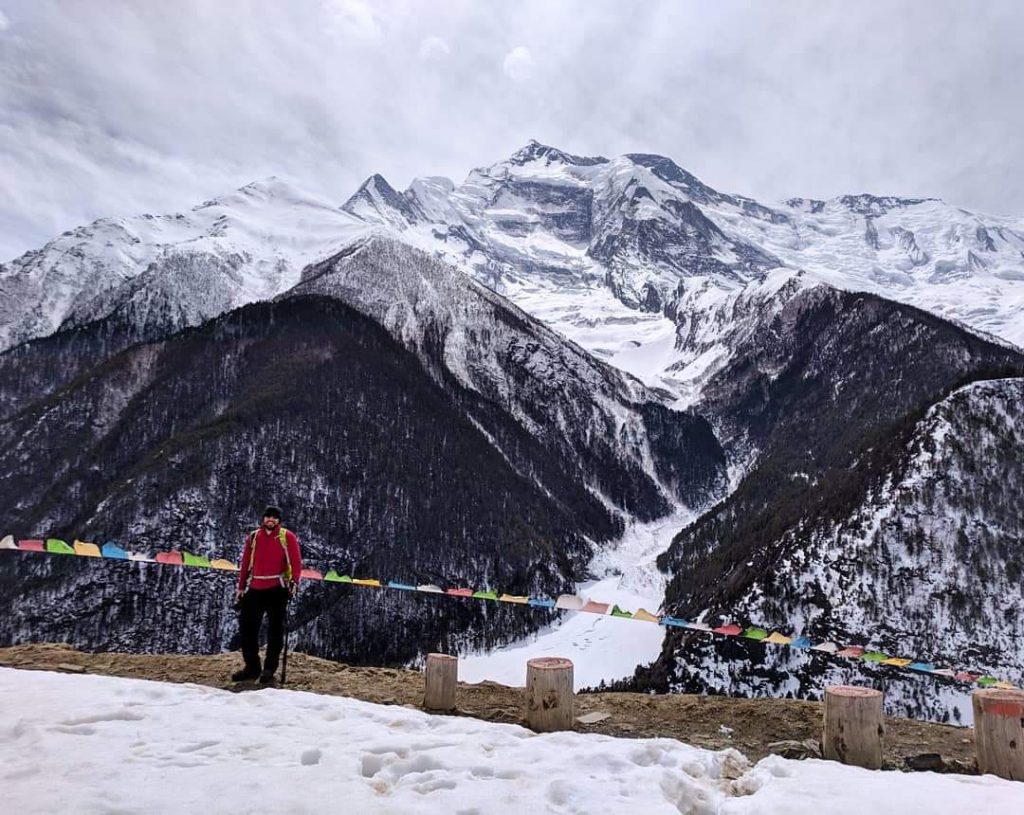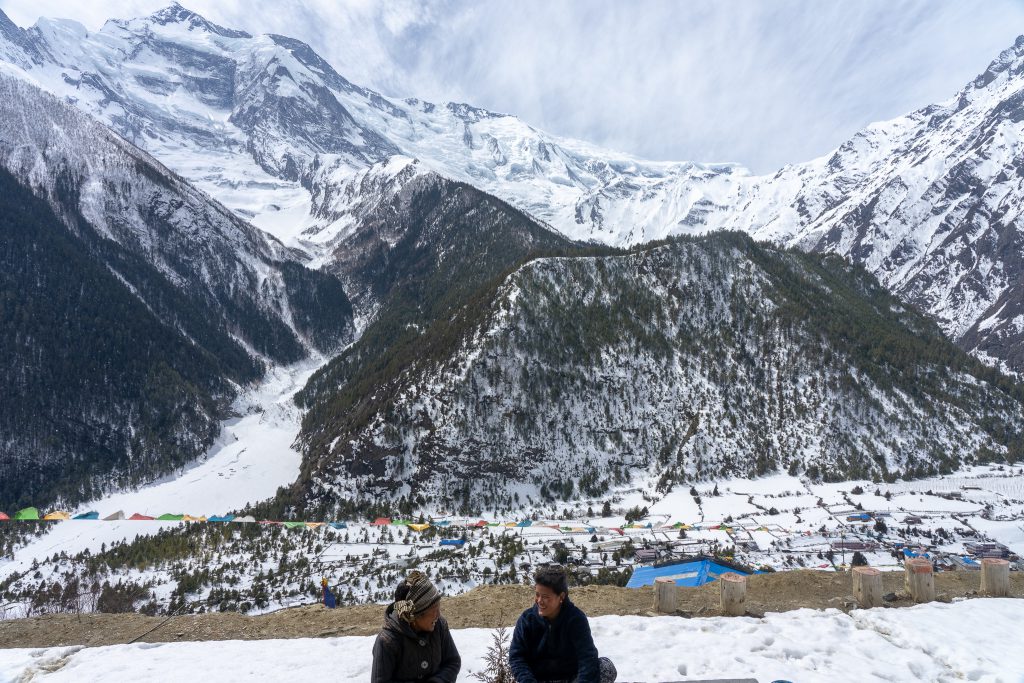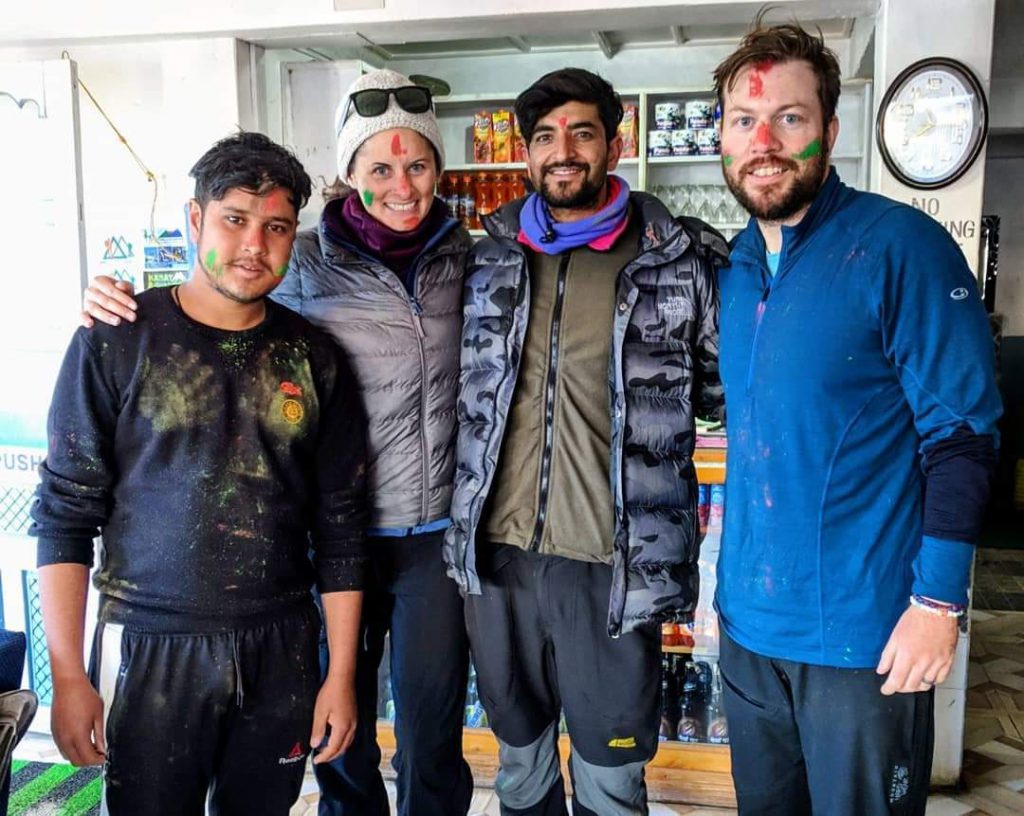 Just when we thought we could breathe easy a bit, a stomach bug slammed me that night, and I was completely miserable. Mike hadn't yet recovered from his stomach issues either (we both blame contaminated food that we must have eaten at some point), so we spent our rest day mostly hustling back and forth between our down sleeping bags and the icy outhouse. By that point, not only did we feel sick, but we also smelled horrible and were freezing. Our last shower had been days ago, and to feel even a hint of warmth, we had to put on every piece of clothing we'd brought. We tortured ourselves with thoughts of our cozy hotel room in Singapore, the last country we'd visited with modern amenities. And that night, I was visited by the demon/goat/yak creature during my midnight toilet break.
Needless to say, by morning we couldn't wait to get out of Pisang even though we felt awful. We awoke to gray skies and snow flurries, keeping an eye on the weather as we began the long slog back to the town we'd slept in the night before. Lumbering our way through the snow that day wasn't easy to begin with, and it was made tougher by our weakened physical states. But at least the walk going back was mostly downhill, and we made it!
Eventually, several days later, we arrived back in Chamje, the village we started from on day one, still just as sweaty and tired but finally starting to feel better in the stomach department. We were ready for part two!
We ended up loving the second half of our trek, a multi-day loop near Annapurna Base Camp. The views were still stunning, but the climate felt a little more forgiving–the weather was slightly warmer and the air less dry. We walked through diverse terrain that included everything from moss-covered forests to foggy ridges bordering famous peaks like Machapuchare, a sacred mountain shaped like a fishtail that's off limits to climbers. Spring seemed to have arrived in this part of the Annapurna region, and rhododendron blossoms (Nepal's national flower) were out in full scarlet bloom.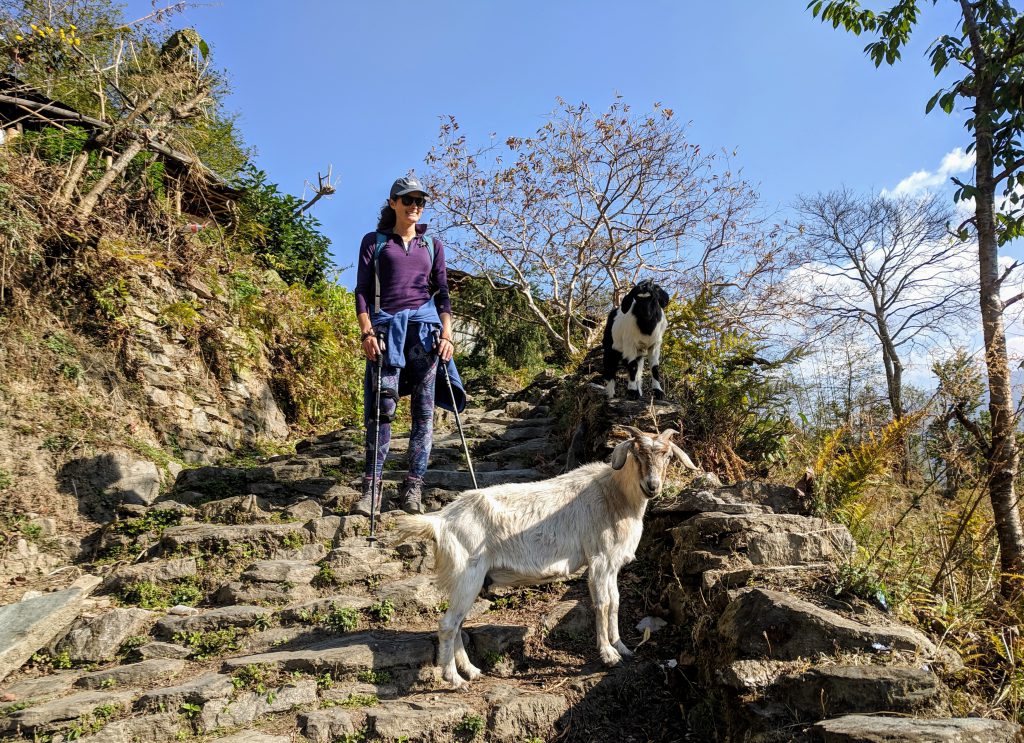 The highlight of our entire trekking experience in Nepal came on the morning we rose at 4:30am and started walking from the town of Ghorepani to a nearby ridge called Poon Hill. Poon Hill is a famous spot to watch the sunrise, as it's perched close to several of Nepal's giants, including Machapuchare, Annapurna South, and the Dhaulagiri range, offering panoramic views.
We were lucky to have a perfectly clear morning. When the sun came up, the dark shadows shrouding the majestic peaks slowly faded away as the snow-covered mountains were cast in dramatic shades of gold and pink. I got choked up as I quietly watched, my heart bursting with joy and awe. Nothing mattered anymore–not having to abandon our original trekking route, not being cold or exhausted or sick. Not even the midnight goat demon. Those things seemed petty; earthly. I am not a particularly religious person, but if I could choose one single moment in my life when I felt closest to God, it was then. Without doubt, without question, watching the sun come up that morning over the Himalayas felt like a divine gift.
How do we live in such a beautiful world? I wondered. What have humans ever done to deserve this kind of beauty?
I gave silent thanks for having the chance to witness that sunrise. I will never forget it. In any trials that may lay ahead in my life, I hope God (or whatever spiritual being is out there), brings forth that morning to my mind again, reminding me that life is full of beauty and joy, that darkness eventually gives way to light.
Until next time, namaste from Nepal.