Hanoi, Cat Ba, and Sapa: Our Tour of Northern Vietnam
Vietnam is not a country that instantly captured my heart. After just 48 hours in the capital city of Hanoi, I was ready to hop on the first flight out back to quiet, languid Laos. However, my opinion of Vietnam completely changed within our first week there. Here's the tale of what happened!It all began the moment we stepped out of our taxi. We'd booked an Airbnb apartment in the heart of Hanoi's Old Quarter, which looks a bit like a crumbling New Orleans (like Laos, Vietnam was controlled by the French for many years). However, our host's advance warning that the neighborhood is extremely noisy and chaotic fell on deaf ears. How bad can it really be? I thought. We'll be walking distance to everything! It'll be awesome!
Ha! We were woefully unprepared for what awaited us. The taxi dropped us off in a narrow alley jammed with people and motorbikes, music blaring from the bars lining both sides of the road. Families and couples alike crouched in the street on little stools eating pho and drinking beer while scantily clad girls weaved among them selling cigarettes. The air smelled like a mix of burning plastic, wood smoke, and roasting meat. Motorbike horns beeped incessantly, adding to the cacophony. Aggressive street hawkers immediately descended upon us trying to sell us food, drinks, and pleasures of the more unsavory variety. A woman chased me with a "free" doughnut to sample, shouting, "You try! No money!" as she clutched my sleeve. (For inquiring minds, no, I did not take the doughnut).
After escaping the unrelenting doughnut lady, our host's kind father led us to the apartment, which was down another small, dank alley, through three locked gates, past a snarling dog cooped in a crate, and up two flights of stairs (the second of which was so steep that it was more like climbing a ladder). The studio apartment that awaited us wasn't much of an oasis from the chaos–you could still hear every decibel of the street noise below. Mike joked that we should have skipped paying for the apartment and just slept outside. Ahh, our introduction to Hanoi!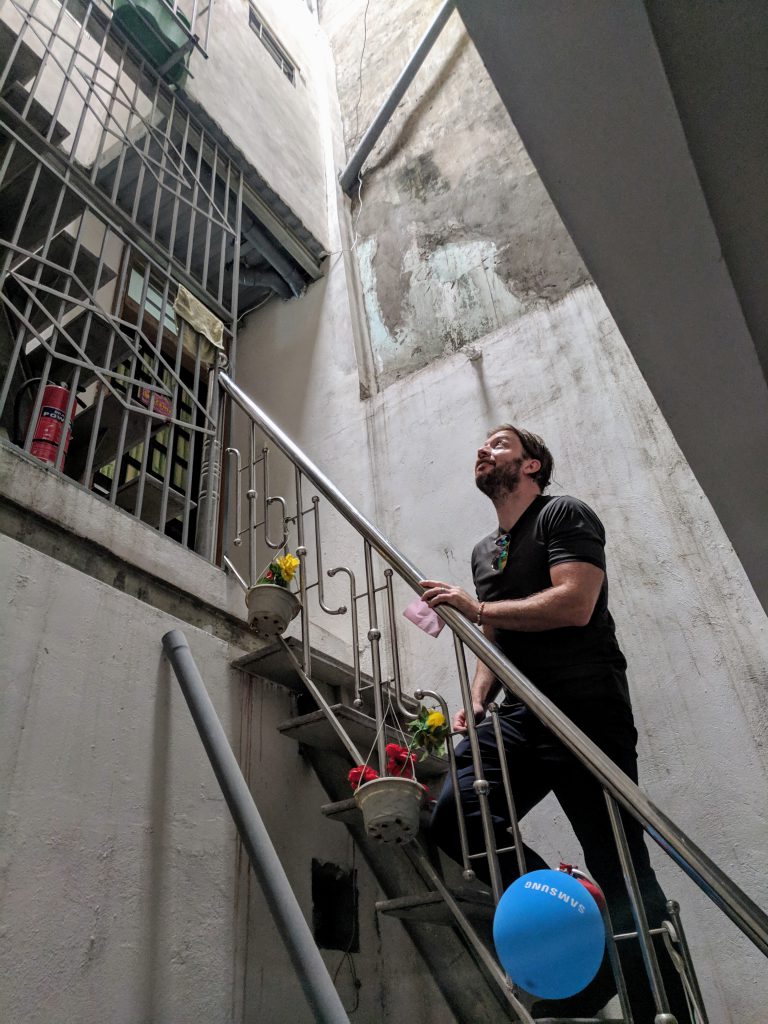 Hanoi is the loudest, most chaotic city I've ever visited, surpassing even Bangkok in my opinion. While it eventually grew on me–we visited two additional times as a transit point between other destinations–I found it to be, in a word, overwhelming. There are almost no traffic lights, and the few pedestrian crosswalks that exist are usually ignored. Sidewalk space is completely taken up by parked motorbikes. Pedestrians have to be on high alert to avoid getting hit by a motorcycle, car, or bus. It's a gritty city that feels undeniably authentic, and it certainly forces you to be in the present moment. But after two weeks in tranquil Laos, the sheer sensory overload had me itching to get out.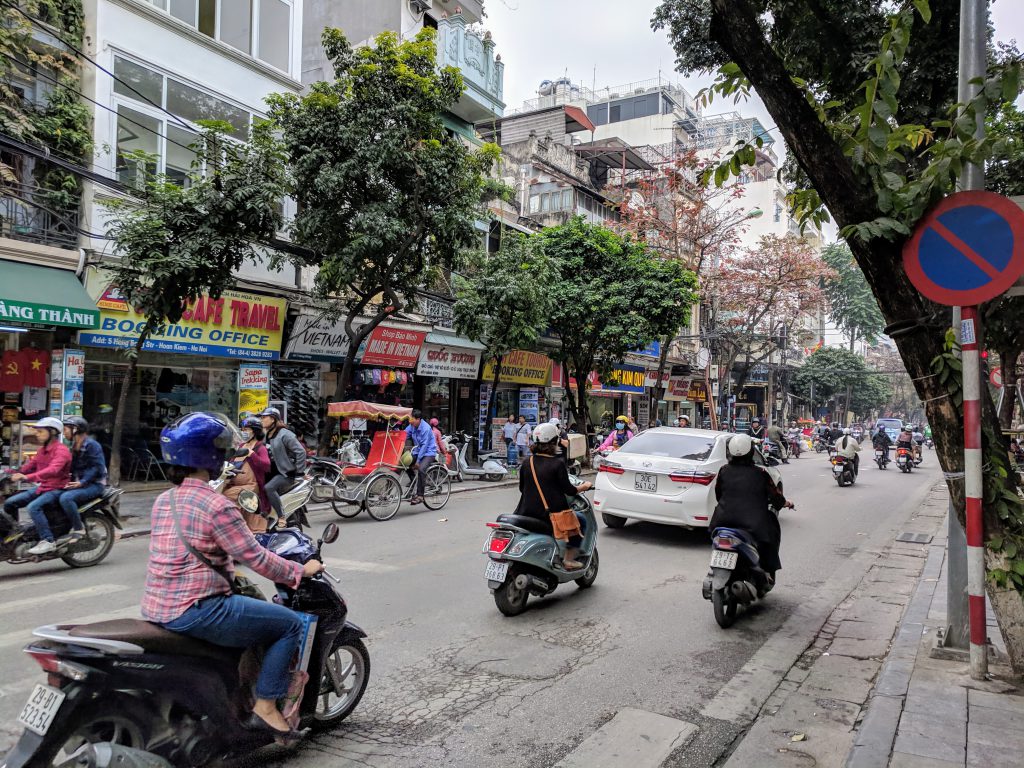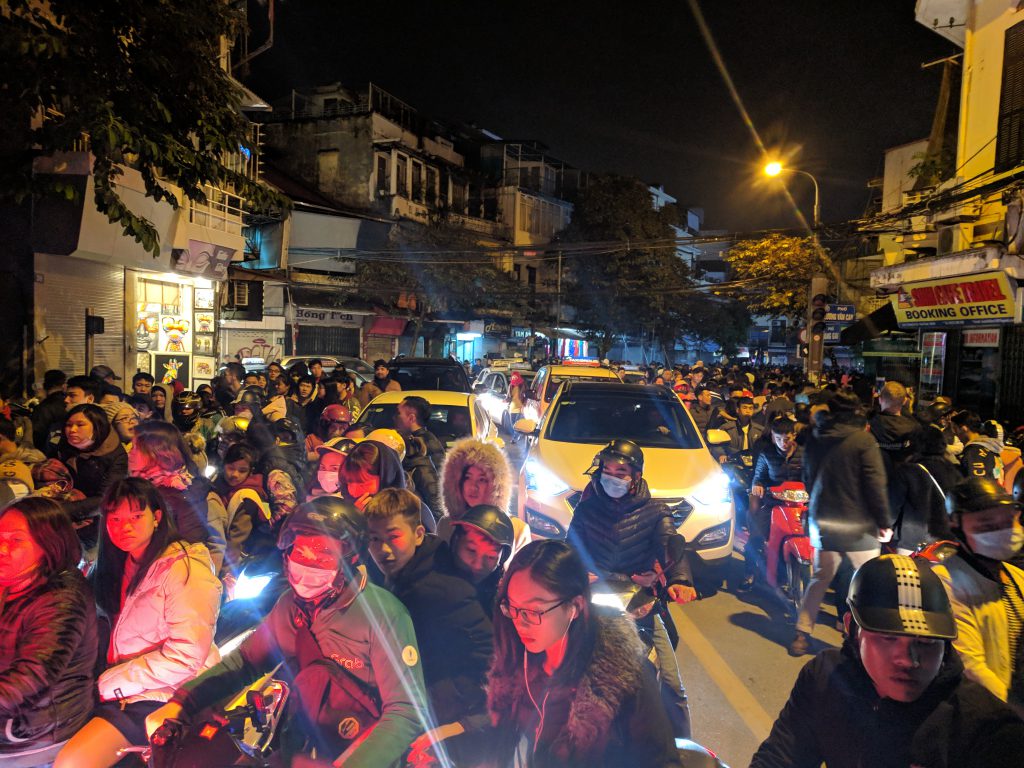 I'll forever associate the blast of car horns with my first few days in Vietnam–it was truly the non-stop beeping that sent me over the edge. By day three, while we'd done a decent amount of exploring and feasted on some Vietnamese culinary delights (including banh mi sandwiches, pho, turmeric fish with dill, and egg coffee, a delicious caffeinated drink made with egg yolk), horn screeches had begun looping around my brain like bad song lyrics. It was time to escape. We booked bus tickets to the quiet island of Cat Ba three hours from Hanoi, deciding that it would be a great jumping off point to tour Vietnam's famous Halong Bay.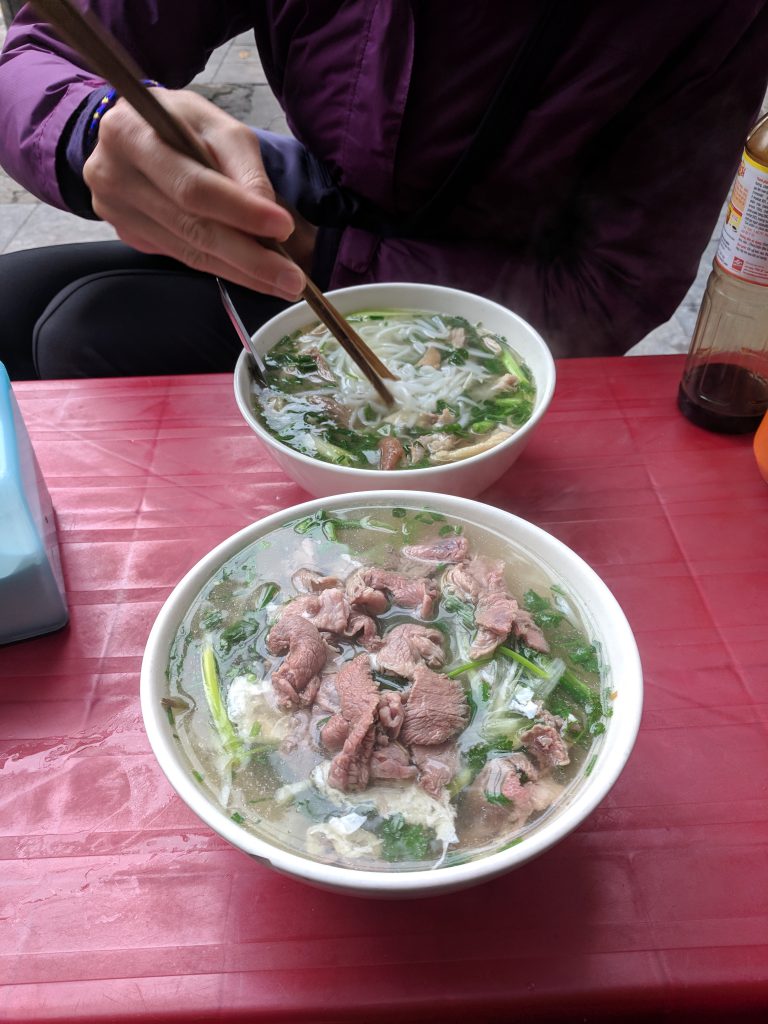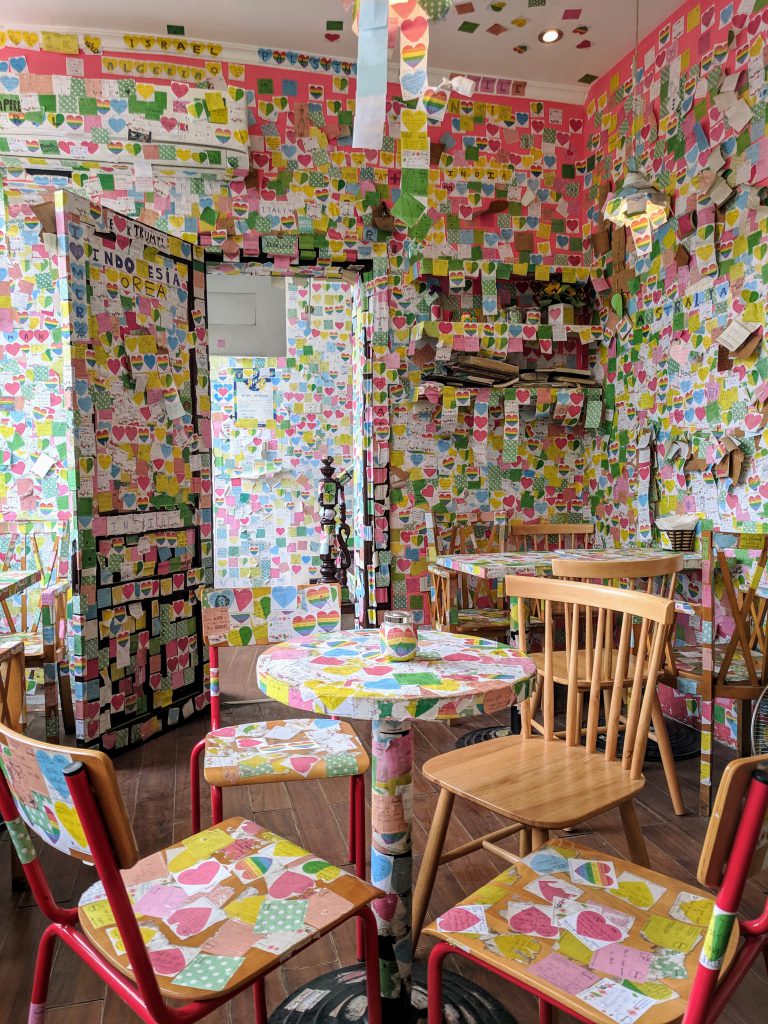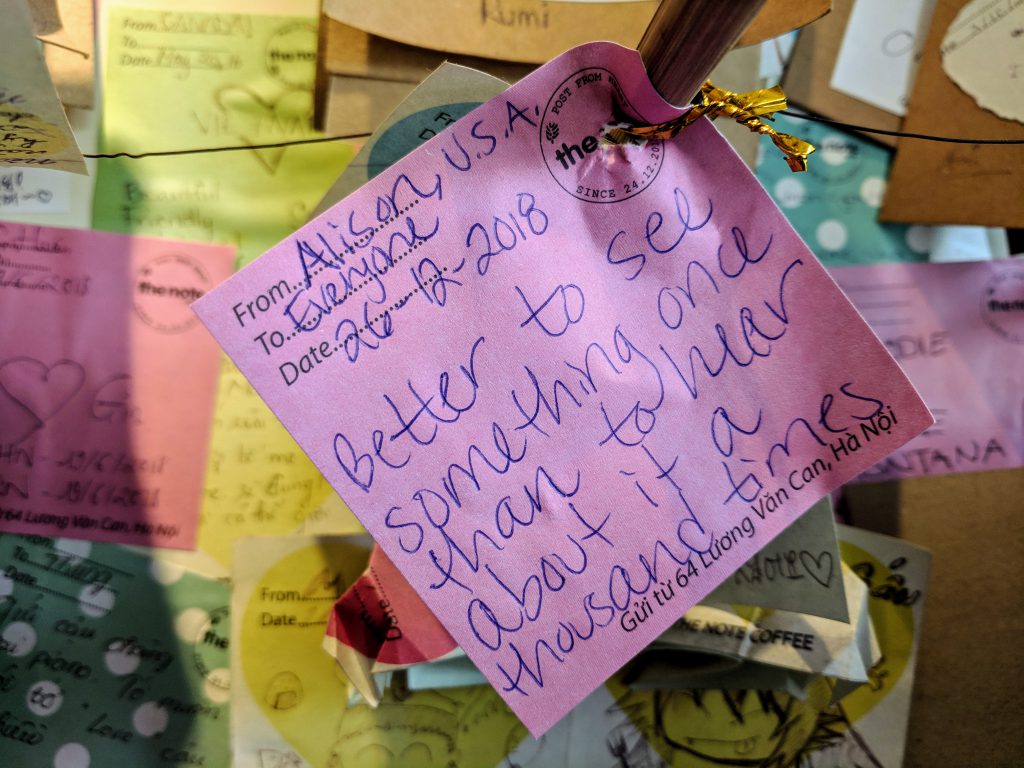 Cat Ba is what started to turn around my opinion of Vietnam. We arrived in the island's low season, securing a harbor front hotel room for just $11 a night (Vietnam is extremely affordable–it's perhaps the cheapest destination in Southeast Asia). The town was empty save for a few tourists, fishermen, and sleepy dogs. It was the complete opposite of Hanoi and a balm for my anxiety.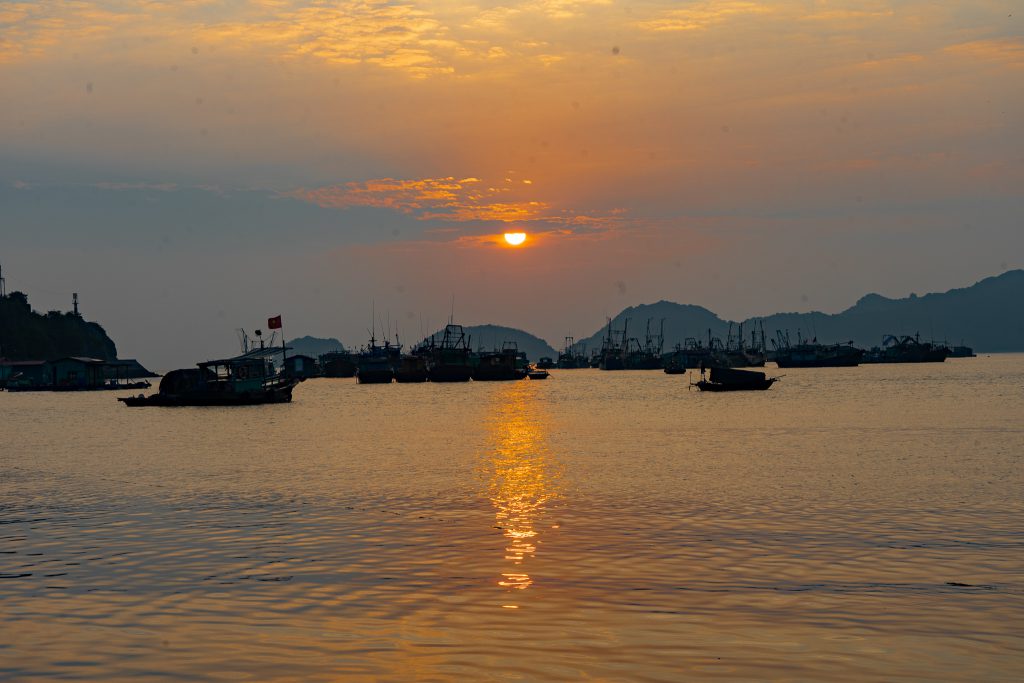 The following day, we headed out for a day-long tour of Halong Bay with a local sailing company, Cat Ba Ventures. Our boat carried just 17 passengers even though it had the capacity for many more. It was Christmas Eve, and we happily chatted with our fellow passengers (all Europeans save for a friendly guy from California) about our countries' Christmas traditions and how we felt about spending the holiday away from home.
One young woman from Norway put it aptly when she said, "Christmas Eve is the biggest holiday we have in Norway. I'm sad to miss it, but just look at this! It's hard to be sad when you're here." She gestured to the rock formations surrounding us, their jagged limestone layers bathed in sunshine. She wasn't wrong–Halong Bay is stunning. The bay is filled with some 1,600 islands, from large ones people live on to tiny rock pillars that jut out of the sea. (Unsurprisingly, it's another UNESCO World Heritage site. We've been fortunate to visit many of them these past few months!)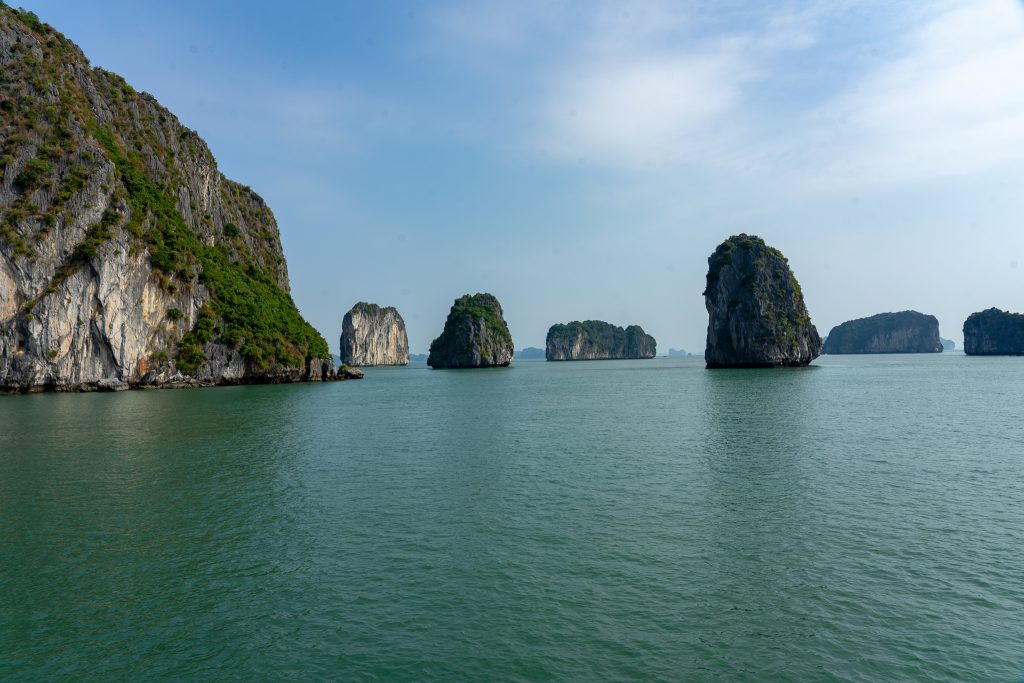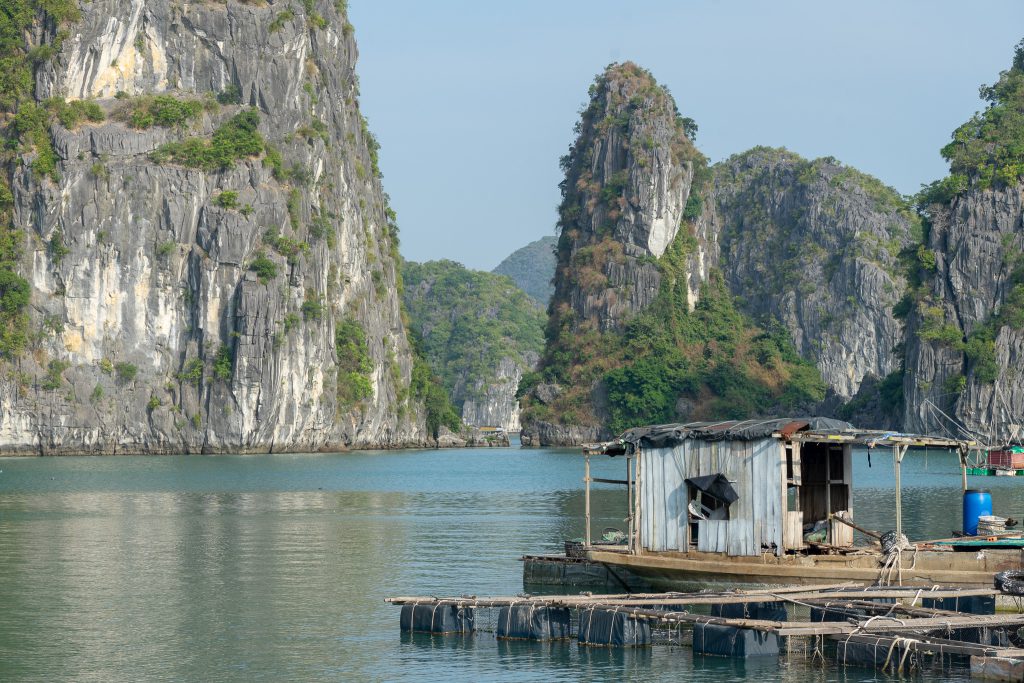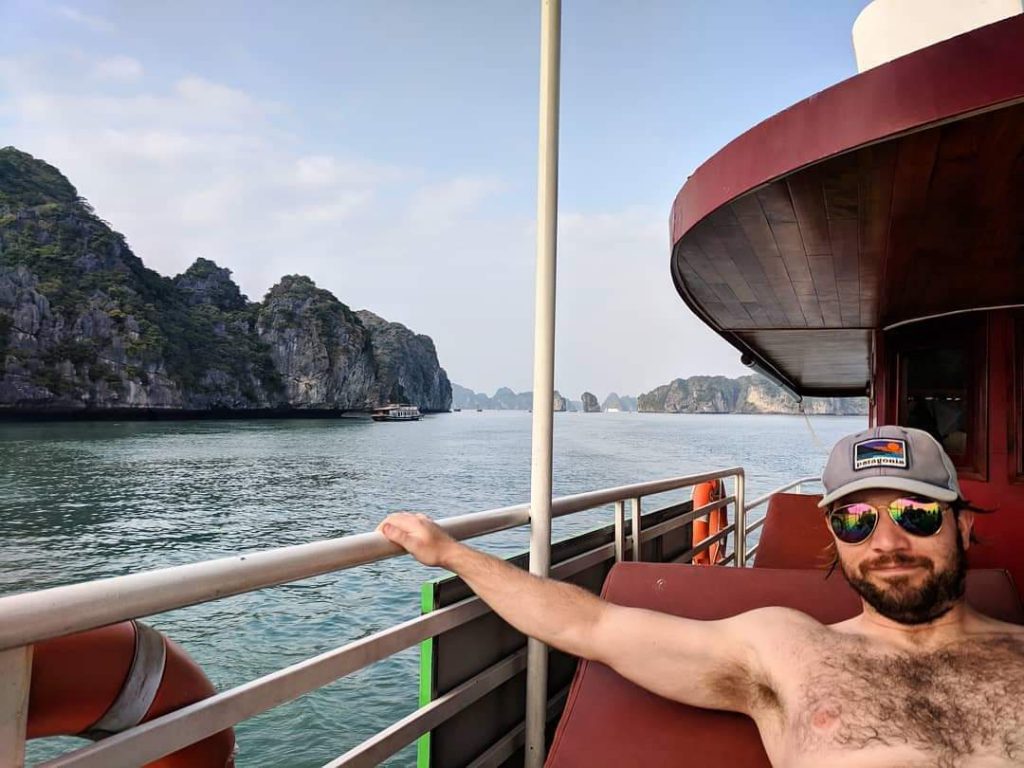 It was a day we'll forever recollect fondly. We jumped off the boat to swim to private beaches, kayaked through water caves, and ate a delicious lunch of squid, fish, and stir-fried veggies. One of the highlights was catching a glimpse of a rare monkey, the white-headed langur, only 65 of which remain in the wild. According to our guide, they're only spotted once or twice a month.
After we arrived back on shore and bid our guide and fellow passengers goodbye, grinning and wishing each other a happy Christmas, we treated ourselves to a Christmas Eve dinner of fresh seafood and fried rice. A few decorations scattered through the town were the only sign of what day it was (Christmas isn't widely celebrated in Vietnam, but there is a small Christian population). We chuckled when the restaurant suddenly started blasting Christmas pop hits by Ariana Grande and Meghan Trainor. The scene got even more surreal when patrons of the karaoke bar next door began loudly singing cheesy Vietnamese ballads (a la "My Heart Will Go On") to compete with the holiday music.
For a few moments, I belly laughed so hard I could barely catch my breath. Where else in the world but Asia are there so many cultural mash-ups, things jumbled together in ways that make no sense yet make perfect sense? In addition to the screeching beeps of motorbikes in Hanoi, the other sound I'll forever associate with Vietnam is karaoke music. It seems like every citizen owns a karaoke machine and busts it out at night regardless of where they live. You could seriously be in the middle of the jungle miles from the nearest town and there would probably be a guy there ready to start a party with nothing but some cheap beer and a karaoke machine. It's kind of awesome, and one of the many reasons I ultimately fell in love with Vietnam.
On Christmas morning, we departed Cat Ba. We were both excited for the next leg of our trip, a three day trek near the mountain town of Sapa, located far in the north just a stone's throw from the Chinese border. Sapa is a popular place for hiking and is known for its spectacular mountain views and rice terraces, as well as for its Hmong villages. The Hmong are one of many ethnic minority groups in Southeast Asia.
After researching the dozens of companies that lead hikes in Sapa, we selected Sapa Sisters for several reasons, primarily because it's 100% owned and run by Hmong women (rather than by a foreigner who pockets most of the fees, or a local man). Anyways, spoiler alert: this was probably our favorite three days of our entire three months in Asia.
Our trek began when we were introduced to our guide, Little Mu. We took an instant liking to her friendly, open personality and playful sense of humor. Day one of our trek was sunny and clear, a rarity in Sapa for December, which usually brings chilly and foggy weather. Mu led us through the streets of town and into the surrounding countryside, where we were treated to clear views of the tallest mountain range in Vietnam. She willingly answered question after question about Hmong life, stopping along the way to point out plants used for medicinal purposes, as well as the indigo plant Hmong women famously use to make clothing and other textiles.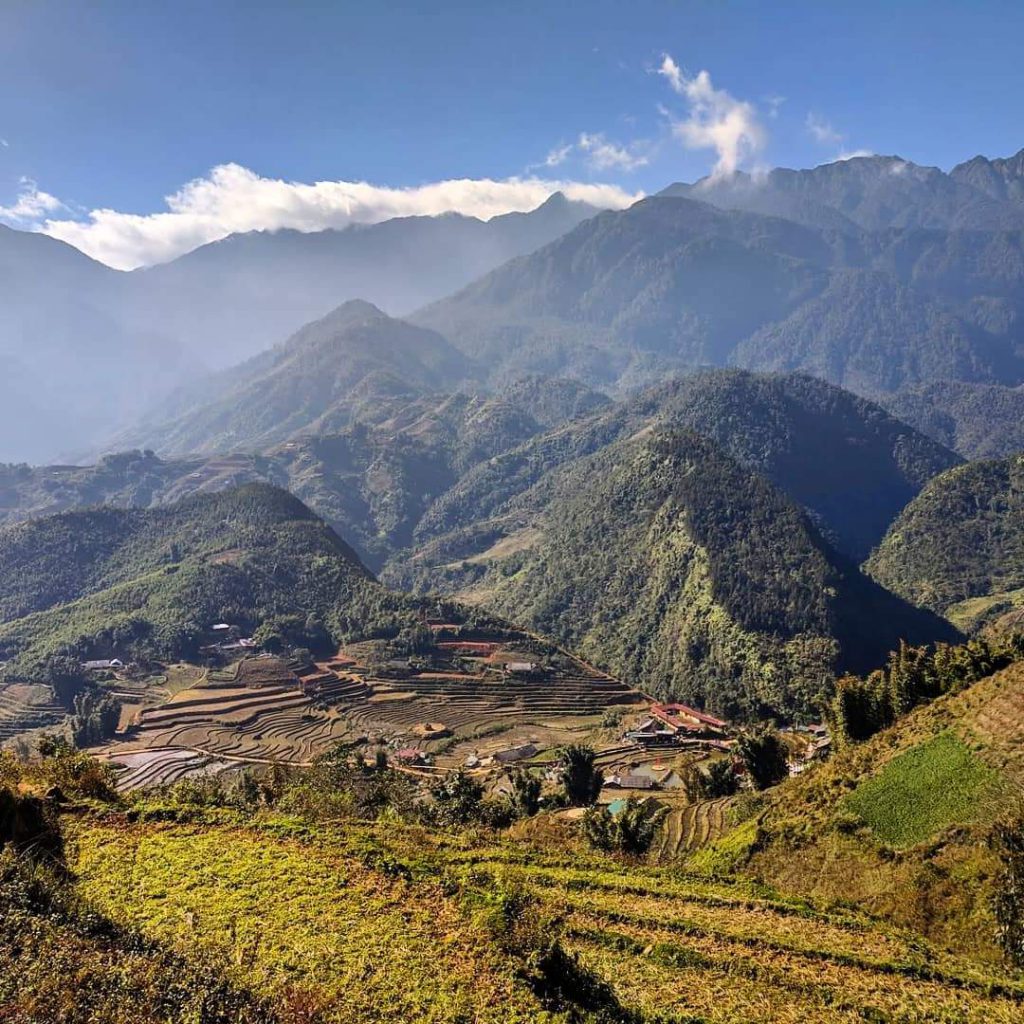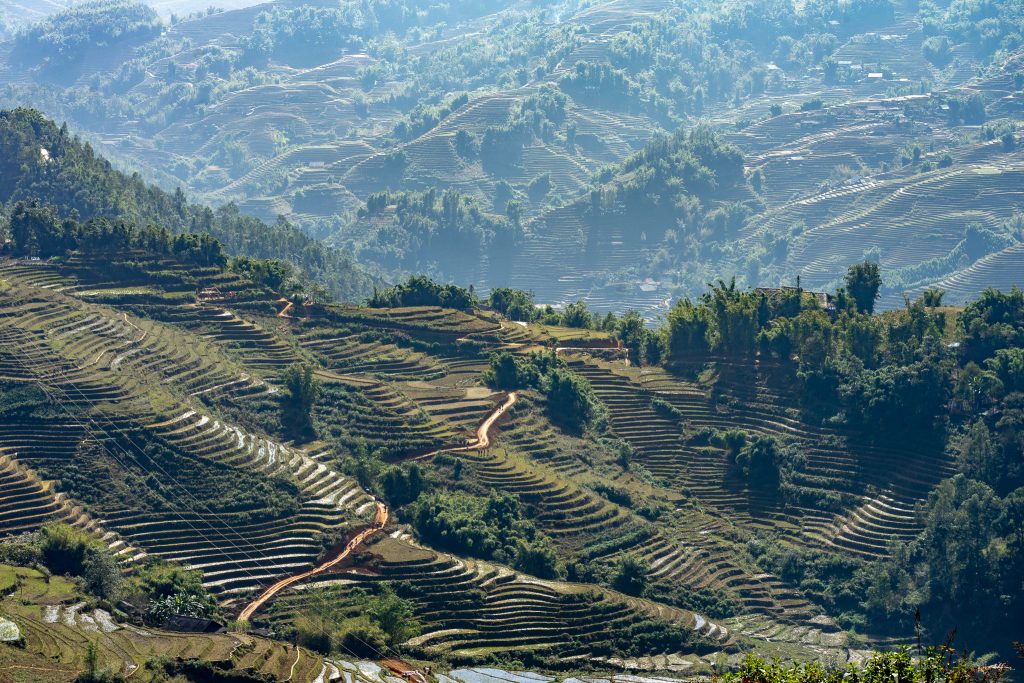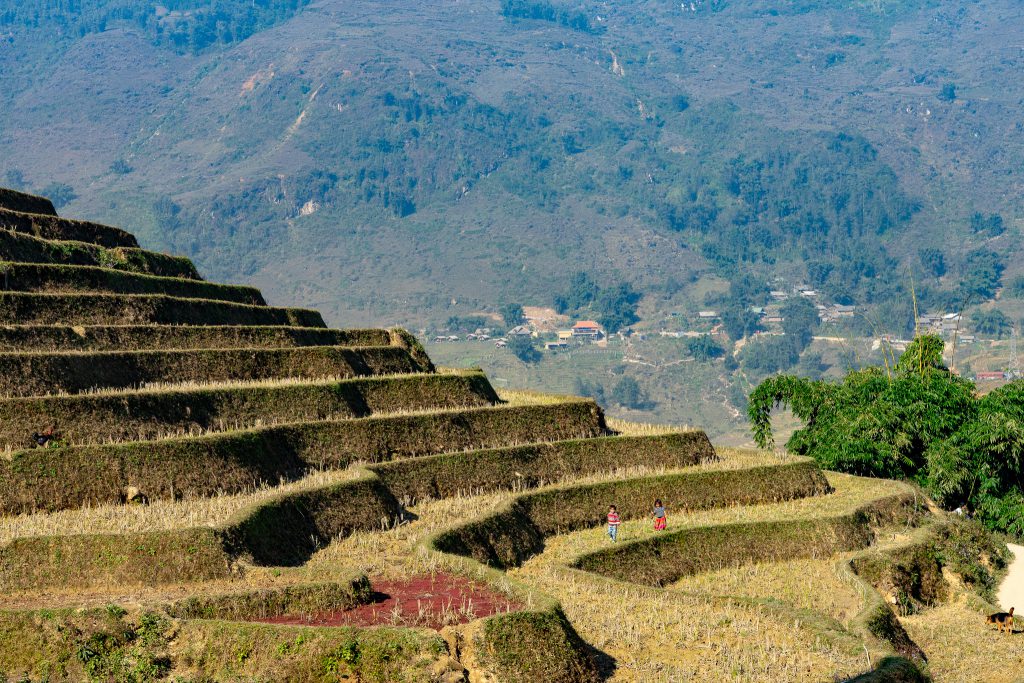 Just 45 minutes into the hike, I tripped and fell smack into a water-logged, buffalo dung-filled rice paddy. It was one of those moments in slow motion where you realize what's happening, but it's too late to stop! Mike whipped out the camera to document my misfortune as a family of ducks waddled past us, quacking in a way that sounded disturbingly like laughter. Instead of moping about my wet shoes and poop-coated legs though, I just giggled and carried on. How could I be annoyed when we had those views?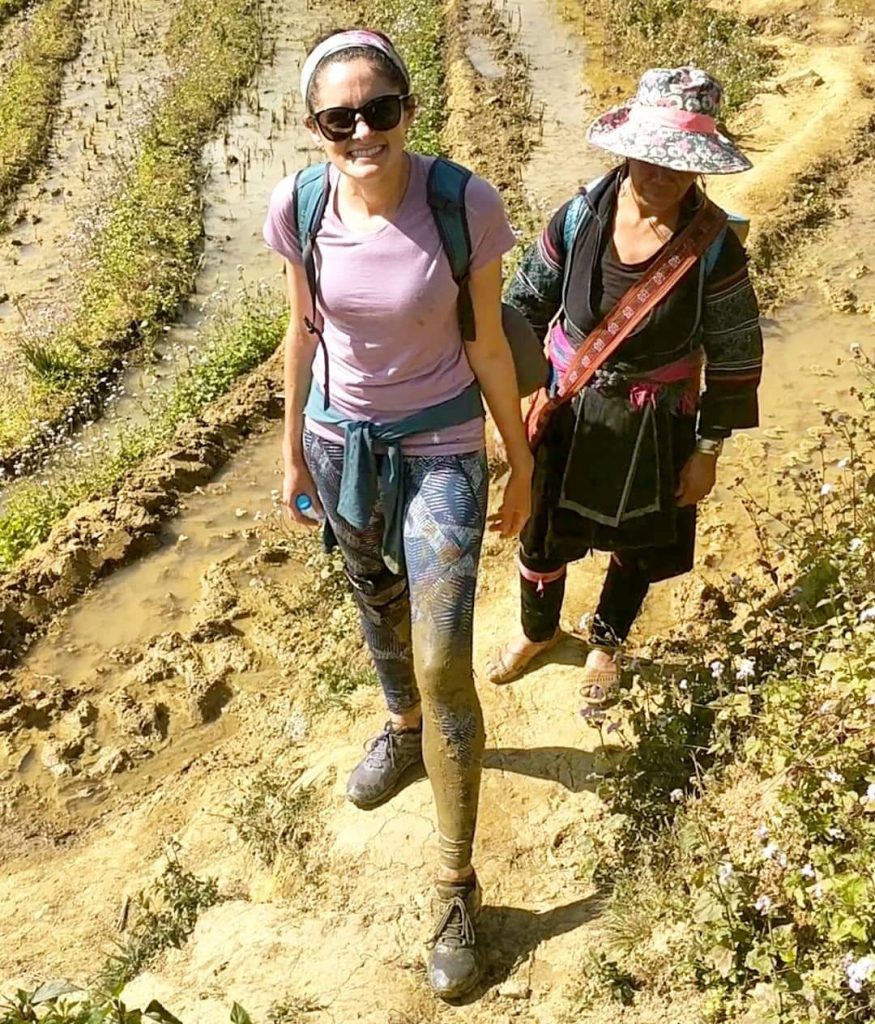 Eventually we arrived at our homestay for the night, a house perched on a mountainside where we would bunk summer camp-style with a dozen other hikers. It was there that we met our new friends Sierra and Kaisa, hailing from Singapore by way of Canada and Finland. We struck up an easy conversation, the cold evening punctuated by our cozy cabin and the sense of camaraderie among our fellow trekkers, who came from as near as Malaysia and as far as Brazil. After a home-cooked dinner of Vietnamese staples like lemongrass chicken, spring rolls, and steamed rice, we huddled around the fireplace, exchanging good, bad, and hilarious travel stories.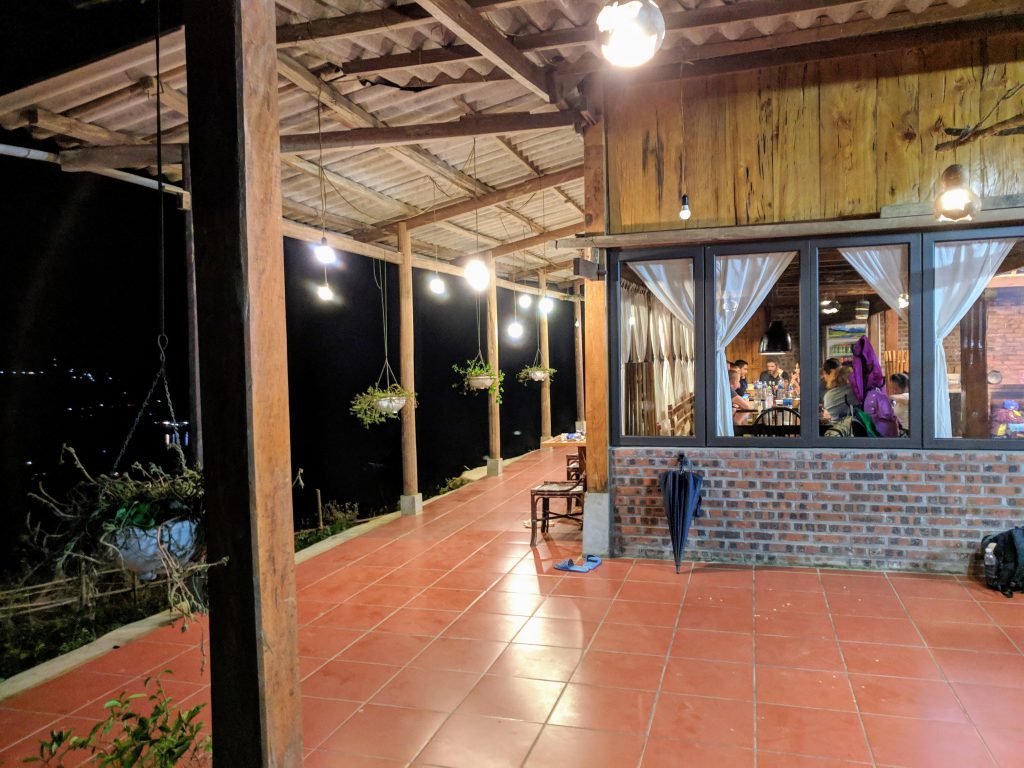 The next morning, we crawled hesitantly out from under our fleece blankets into the wintry air. Although the morning began with patches of blue sky, by mid-morning it was cloudy and visibility had been greatly reduced. This is no way diminished our experience, however–if anything, it only made the hike more atmospheric. For several hours, Mu led us up winding mountain paths toward her cousin Pen's house, where we would have lunch (also a Sapa Sisters guide, Pen happened to be taking around Kaisa and Sierra). As we all dined with Pen's family, crouched around a table high in the mountains, Mike and I grinned and gave thanks for the wonderful company. We realized we were enjoying our first meal in someone's home since leaving the U.S. Eating out in restaurants can get old after awhile, so having a home-cooked meal was a huge treat. As lunch wound down, Pen busted out a bottle of "happy water," the cheeky Vietnamese nickname for homemade alcohol. Several toasts later, we wobbled back down the mountain, slowly picking our way over the muddy paths while locals sped past us.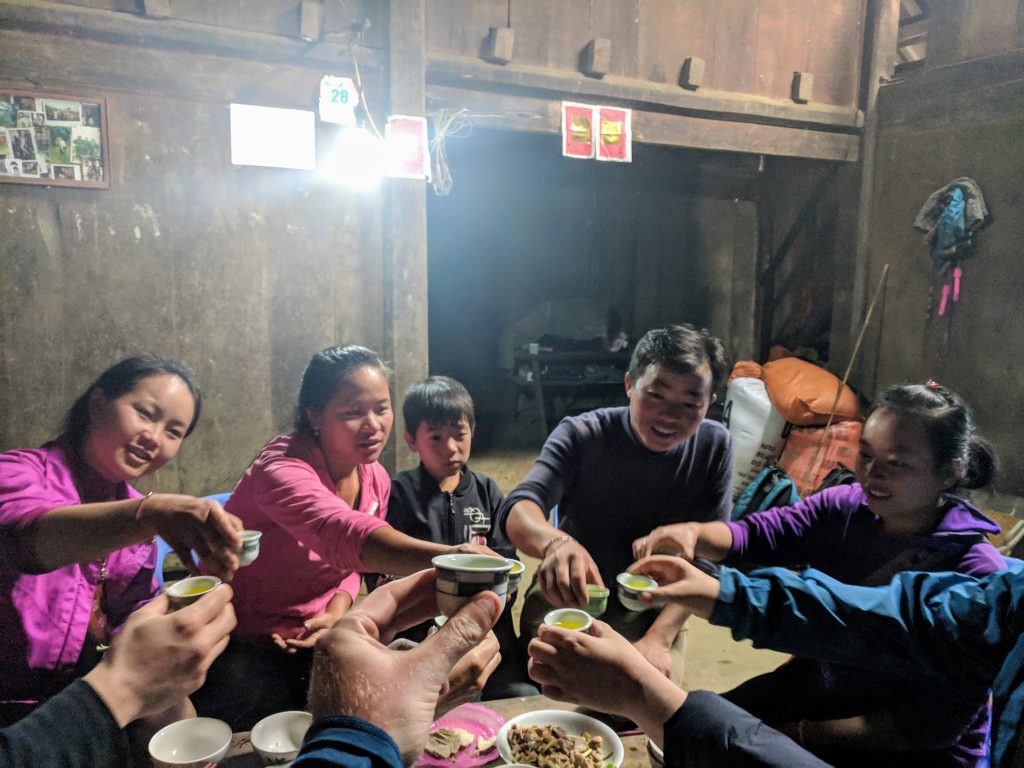 The hike culminated on the third day with a trip to a waterfall. A cold drizzle fell steadily over us as we made our way through thick fog, yet despite the dismal weather and exhaustion settling into our limbs, we didn't want the trek to end. The words of a fellow traveler we met in Laos came back to me, "Great travel experiences are defined either by the people you meet, or the place itself. But the best experiences happen when you love both things–the people and the physical destination."
Our time in Sapa was, without question, one of those experiences.
I'm so glad I gave Vietnam a chance, ultimately embracing my uneasiness rather than running away from it. The initial dislike I felt in Hanoi slowly became a cautious like in Cat Ba, then eventually an all-consuming love in Sapa.
Until next time, tam biet from Vietnam.