Ho Chi Minh City, Can Tho, and Phu Quoc Island: 10 Spontaneous Days in Southern Vietnam
"3…2…1…HAPPY NEW YEAR!" We shouted across Hanoi's Hoan Kiem Lake, our voices intermingling with hundreds of other revelers. Even the cold weather couldn't dampen the festive atmosphere on our final night in northern Vietnam.In the United States, Mike and I have never spent a New Year's Eve alone. For us, it's a holiday synonymous with friends, mulled cider, and relaxing by the fireplace (I realize that makes us sound old! But our days of getting all dressed up and hitting the bars on NYE are pretty much over now, haha).
It worked out perfectly, then, that we were able to ring in 2019 with friends, both old and new. Early in the evening, we met up with a friend of Mike's from high school who happened to be vacationing in Hanoi with her family. Afterward, we strolled the city with our new trekking friends from Sapa. We joked that it was the most social we've been since leaving the U.S. in October–although we've met many wonderful people over the past few months, the transient nature of long term travel makes it difficult to form deep connections. New Year's Eve in Hanoi offered us a rare opportunity to see familiar faces from home and hang out with new friends on the same evening.
On New Year's Day, we headed to the airport for our flight to Ho Chi Minh City. Just the day before, we'd made the choice to fly directly to southern Vietnam rather than working our way down the coast by train, a decision dictated entirely by the weather forecast. The central coast cities of Hue, Hoi An, and Nha Trang–which we'd originally intended to visit–were supposed to be rainy and chilly for the next couple of weeks. We agonized over this a bit–Mike and I both have serious cases of travel FOMO–but ultimately realized we were making the right decision if we wanted to get back to warm and sunny weather.
Ho Chi Minh City, formerly known as Saigon, was the complete opposite of Hanoi (aside from the zillions of motorbikes). While Hanoi retains a far east feel, Ho Chi Minh City almost felt like a place that could be plunked down somewhere in the west with its craft breweries and shiny new coffee houses. Once full of French colonial architecture, many of the old buildings are rapidly being demolished as the city plunges into the 21st century. We were both surprised by what a large and modern city it was; we won't be surprised if it grows to Bangkok-scale in the next twenty years or so.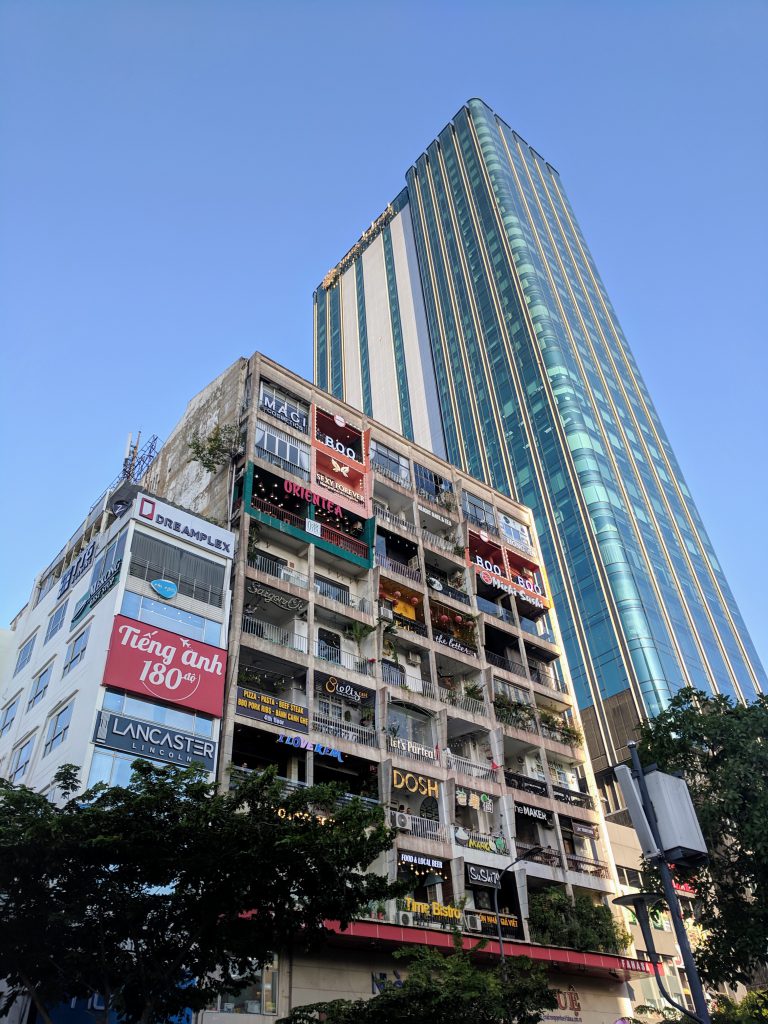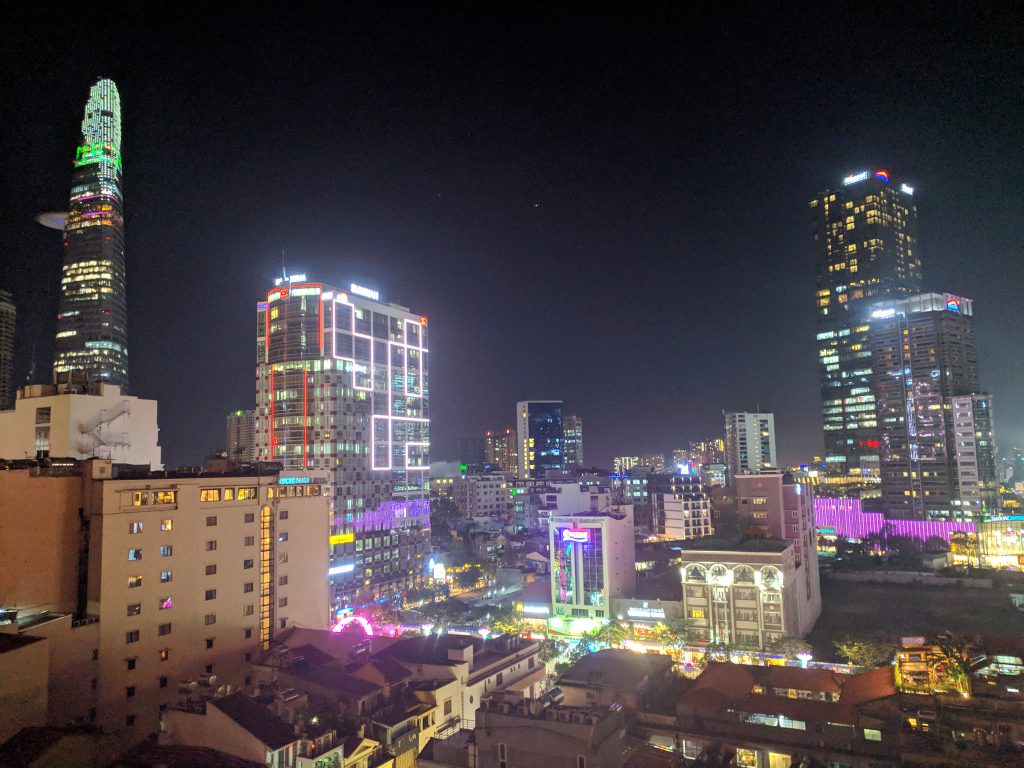 Our time in Ho Chi Minh was mainly spent at historic sites important to the Vietnam War. We visited the War Remnants Museum (formerly called the Museum of American Atrocities), the Independence Palace, and the Cu Chi Tunnels. Each place led to much discussion between us about America's place in the Vietnam War, which, in our opinion, accomplished absolutely nothing. Mike had the added perspective of having just watched Ken Burns' Vietnam War documentary on Netflix (which he highly recommends, if you haven't seen it).
The Independence Palace was a relic frozen in time; its preserved 1970s furnishings made it feel like the last president of South Vietnam just vacated last week. While the top floor made us laugh a bit–there was an Austin Powers-esque bar and rooftop helicopter pad a la James Bond–the basement bunker with its network of secret radio transmission rooms was downright eerie.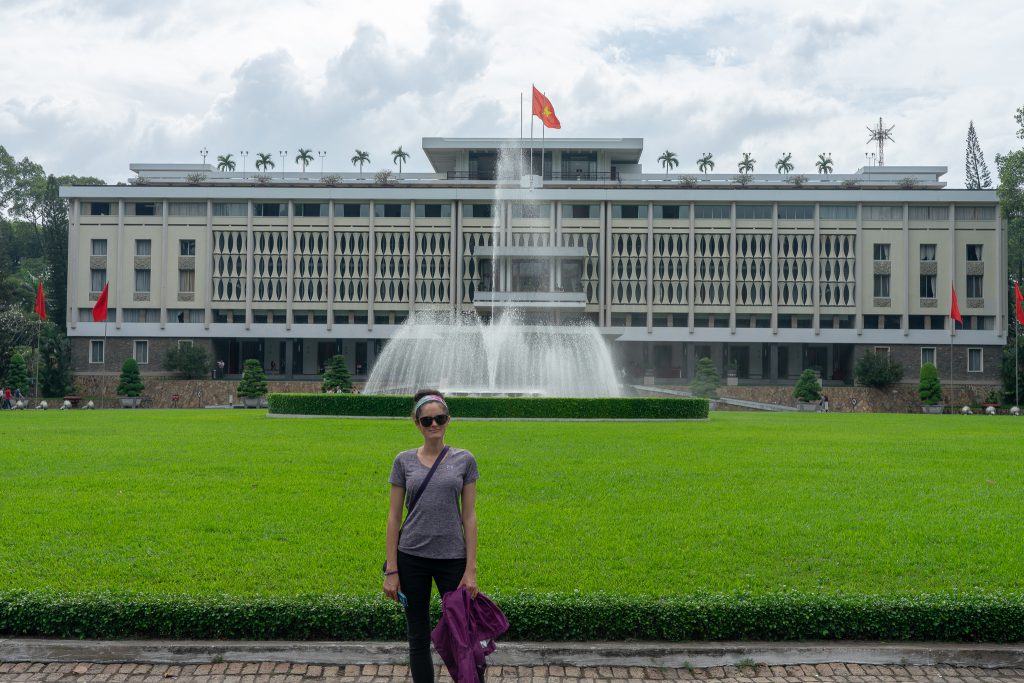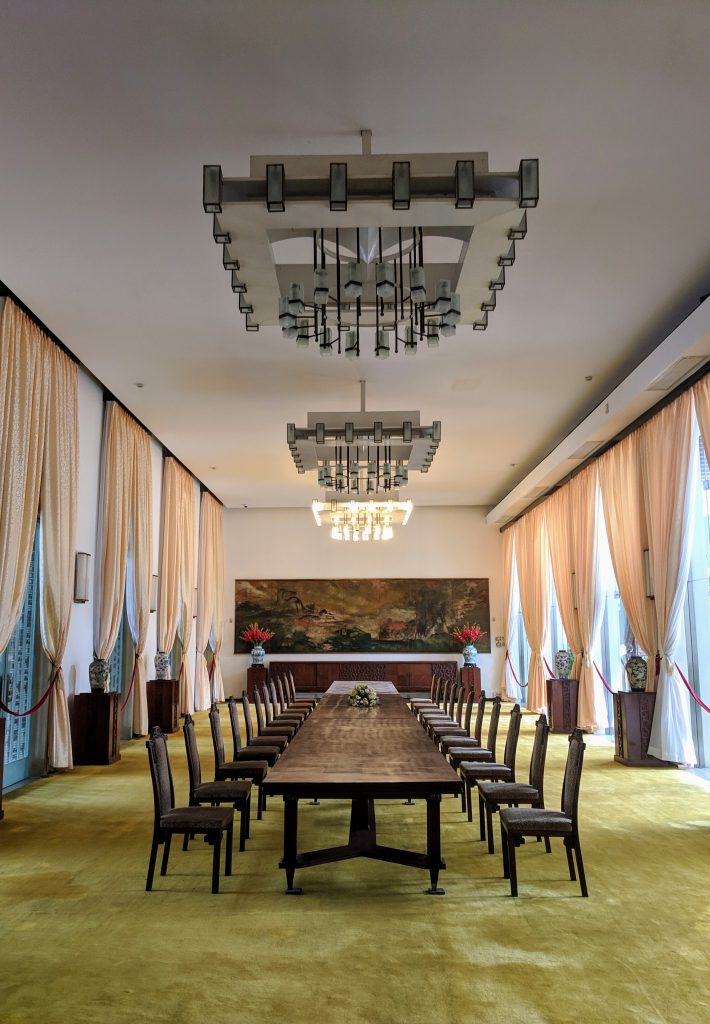 Our day at the Cu Chi Tunnels, a network of underground passages extending for miles north of Saigon, ended up being rather gimmicky. Still, imagining Viet Cong soldiers crawling through the pitch black, airless spaces while clueless American soldiers walked above was creepy. And just being in the rural jungle areas where the tunnels are located made it clear why the U.S. lost the Vietnam War; the North Vietnamese army had massive advantages in their knowledge of the terrain. The real upside of the tour was, strangely, our Vietnamese guide's guitar skills. On the long bus ride back to Ho Chi Minh City, he whipped out a Spanish guitar and serenaded us with Catalan-style solos in perfect Spanish. Ahh, the randomness of travel.
The War Remnants Museum is what got me, though. Unlike museums in the U.S. with difficult subject material, which often don't display graphic images (or at minimum, offer visitors an opportunity to choose whether to look at them, like at Washington, D.C.'s Holocaust Memorial Museum), the War Remnants Museum has them all right there in the open, with no option to turn away. The exhibits with images showing acts of rogue American soldiers, including the charred bodies of Vietnamese children who were massacred in cold blood, were extremely hard to look at.
Our stomachs also turned when we walked through an exhibit about the long term effects of Agent Orange. I never knew that the chemicals used in the production of Agent Orange can lie dormant in a person's body for years, then be passed along to the next generation, and the one after that. Photographs and descriptions of children and adults with severe physical and intellectual disabilities were not easy to take in, nor were the statistics about Vietnamese civilians injured or killed by U.S. bombs.
Our sadness morphed into fury when we realized that out of the 108 countries who've signed an agreement not to use cluster bombs ever again, the United States is not among them. It is, quite simply, utterly inconceivable, and it makes it easy to understand why there is still ill will among some Vietnamese people towards our country and our government.
After several days of being inundated with information and images related to the Vietnam War, we were ready for a change of pace. I say this with no intent to diminish the importance of the Vietnam War, but all countries are, of course, more than a single twenty year period in history.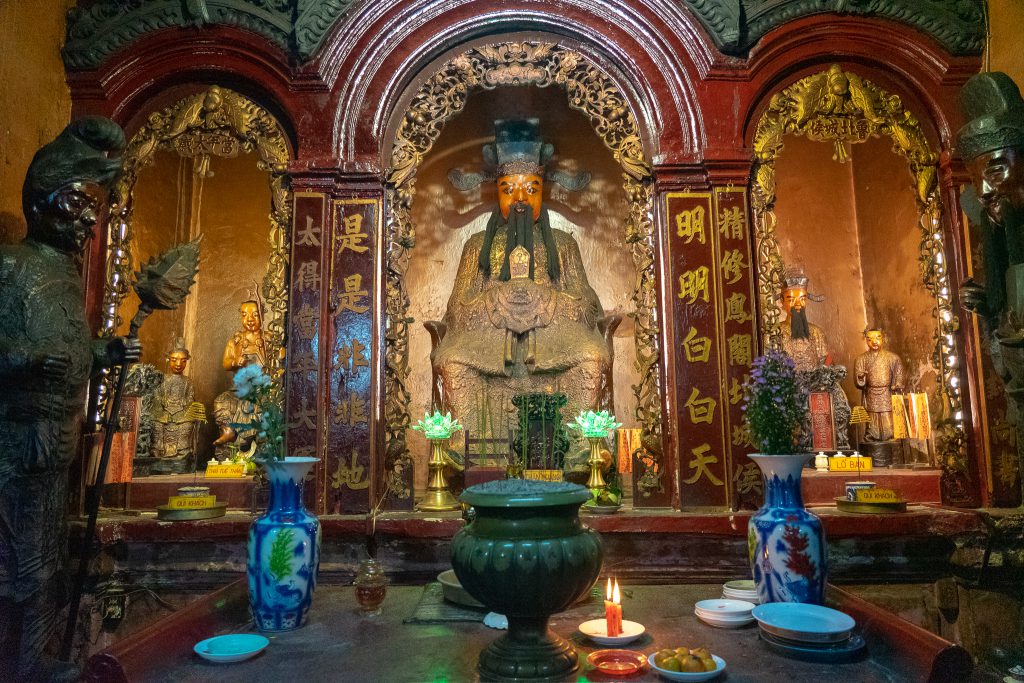 We departed Ho Chi Minh City, working our way further south into the Mekong Delta. The two day organized tour we joined was a disappointment at first, despite the tour company's good reviews (which we now question the authenticity of). The morning started off with one downright dumb experience after another. We've done our best to shy away from cheesy tourist traps, so having a group of Vietnamese villagers sing, "If You're Happy and You Know It" while we clapped along wasn't exactly our idea of an authentic experience. As we were hustled from one tacky performance to another, we eventually accepted our circumstances, figuring it was better to try to appreciate the day for what it was (and know we'd probably laugh about it later) instead of stewing.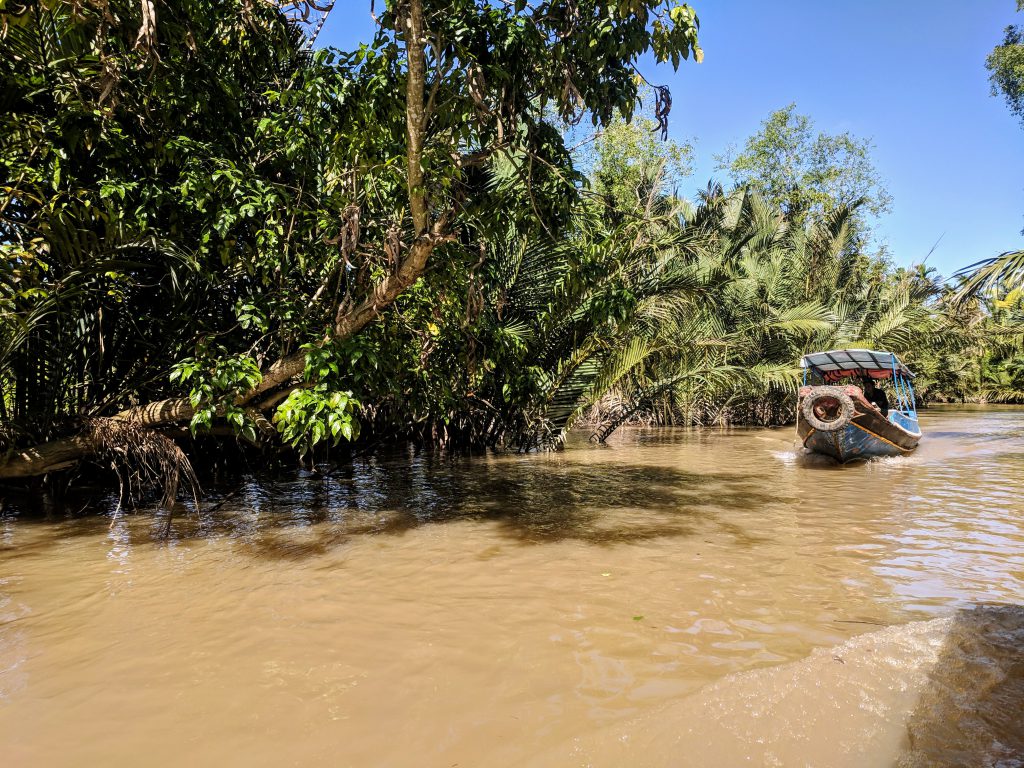 The tour took a dramatic turn for the better when we arrived in Can Tho at our homestay for the night, a collection of cabins along a rural stretch of the Mekong River. Our host, Hung, and his family ran down to the boat dock to greet us, smiling and immediately making us feel welcome. Mike and I have discovered that we love homestays in this part of the world. They're a bit like hostels, except they cater to adults of all ages. You're bunking with other travelers, so it's easy to meet new friends and have conversations with people from all over the world. While the accommodation tends to be more simple and may not have all the amenities of a hotel–you're staying at someone's home, after all–you get to talk to a local family, cook with them, and eat with them. All meals are served at communal tables.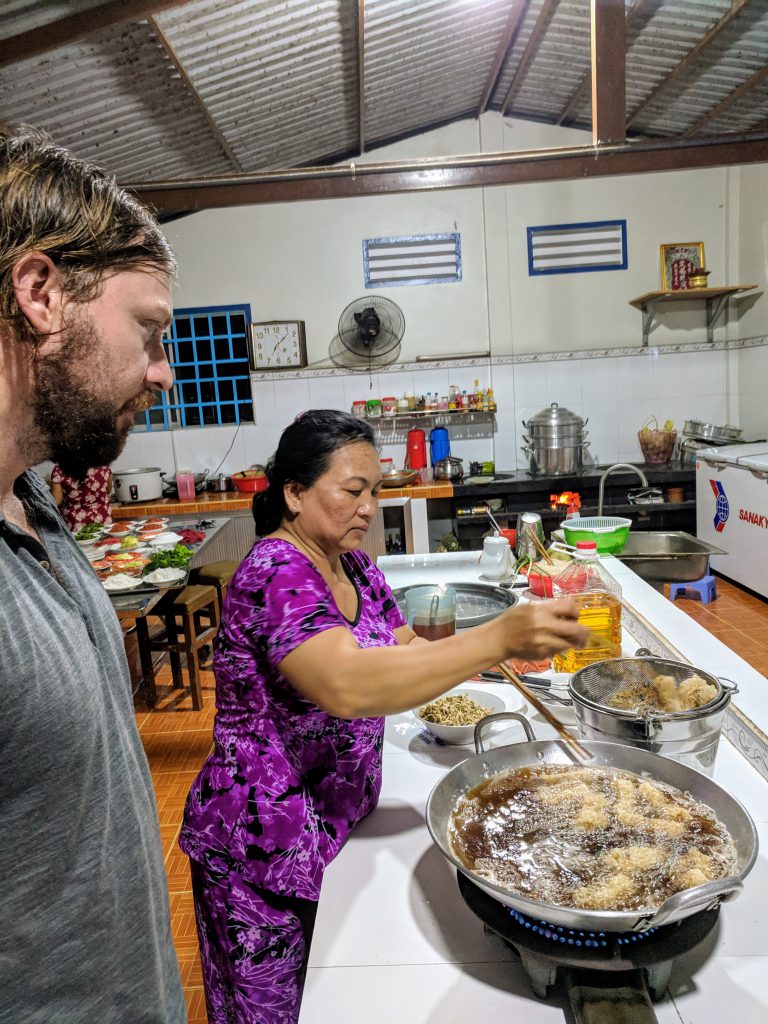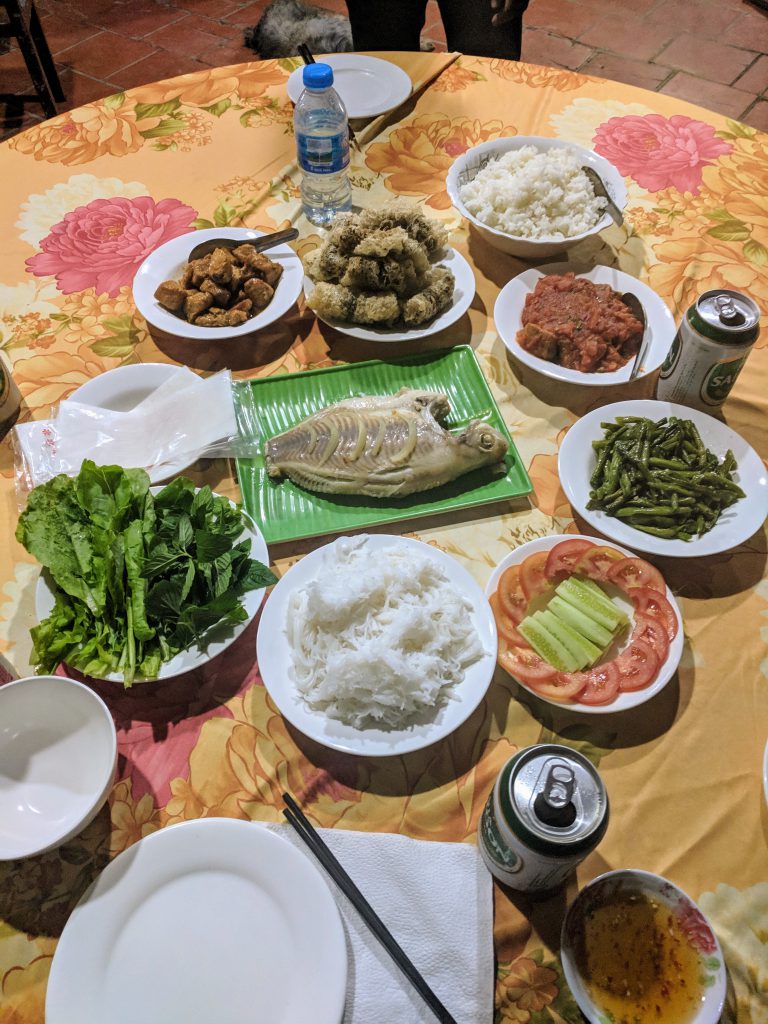 We stayed up late with our host family and fellow guests, feasting on tasty Vietnamese dishes and drinking rounds of happy water (it's not just a thing in Sapa!) I glanced around at one point and realized everyone seated at the table represented seven countries–France, Switzerland, Holland, Great Britain, Israel, and of course, Vietnam and the U.S. The conversation continued well into the night in a mixture of English, French, and Vietnamese as we shared our most side-splitting travel tales. (The winner, in our opinion, was a British doctor's story about attending a bachelor party in Morocco, where a donkey wandered into the living room of their luxury villa in the middle of the night). As we drifted off to sleep that night, we heard the distant strains of karaoke, coming from a bar or party somewhere deep in the jungle.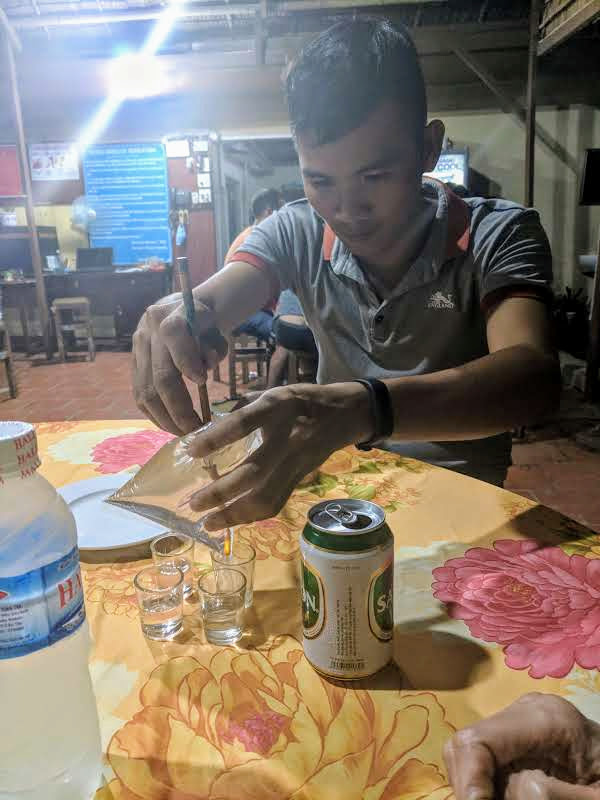 At dawn the next morning, we were roused and shepherded onto the backs of the family's motorbikes, taking off on a dusty ride to town (ahh, how quickly my vow not to motorbike in Southeast Asia has slipped away!) My driver was Hung himself, who pulled over at a kiosk in Can Tho to buy us barbecue pork sandwiches for breakfast. As we approached the river, we came upon the Can Tho market, where morning business was bustling. Residents walked through the stalls with purpose buying everything from live sea eels and snails to ducks and chickens, among other things. We were finally able to glimpse a snapshot of real life in the Mekong Delta–there's nothing like the local market to really show you the soul of a place.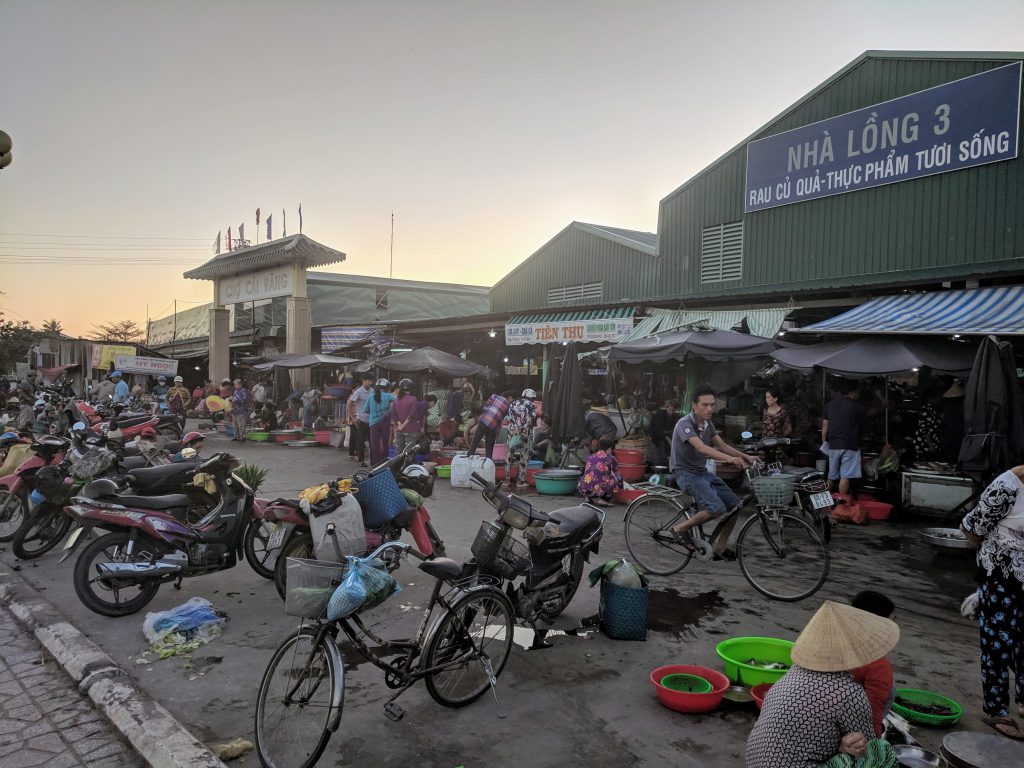 After saying our goodbyes to Hung and his family, we joined up with our tour group to ride a boat through Can Tho's floating market. It's exactly what it sounds like, a market held on the water. We bought coffee from a beverage boat (the captain literally pulled up next to us and passed us two steaming cups), then sat back and watched as fishermen sold fish and other fresh catches to locals, who hopped from vendor to vendor in their own boats.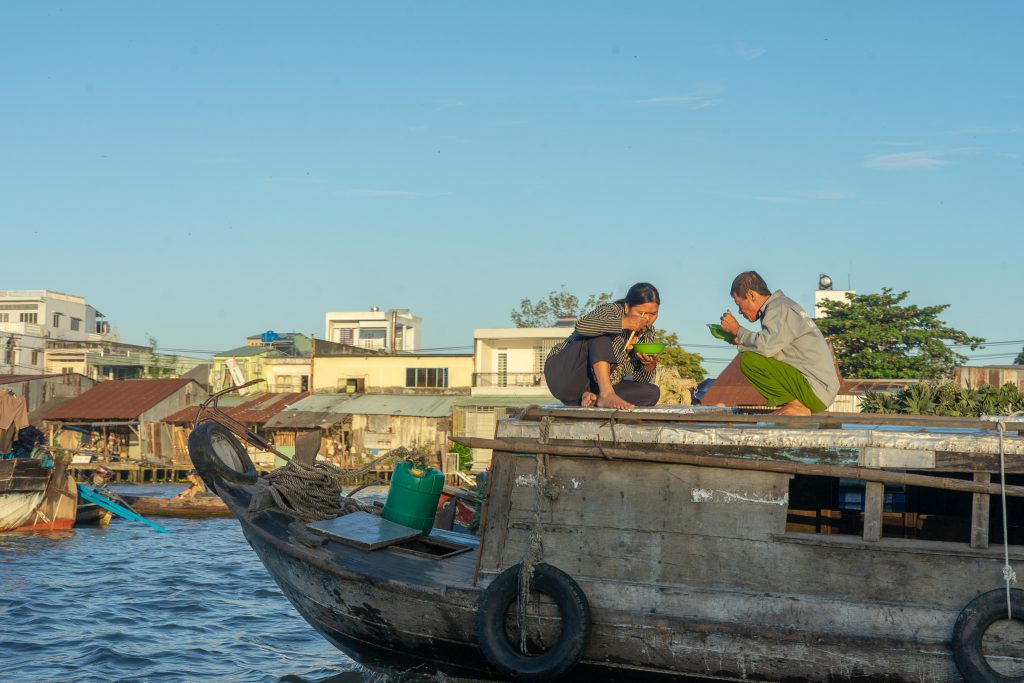 The lame-turned-awesome tour complete, we boarded a bus and headed towards our next destination–Phu Quoc Island, a tropical paradise off Vietnam's southern coast in the Gulf of Thailand (interestingly, if you look at a map, Phu Quoc is much closer to Cambodia than Vietnam. It was a contested territory between the two countries for many years).
Our decision to chill on Phu Quoc for a few days was also a last minute decision. Aside from our brief visit to Cat Ba Island in the north of Vietnam, we hadn't yet spent time on any of Southeast Asia's world-famous beaches. We briefly considered returning to Ho Chi Minh City, then making our way up the coast to visit the Vietnamese cities we'd skipped, but the lure of laying on a tropical island won out. Plus, Phu Quoc's proximity to Cambodia would make it easy to do a land border crossing when we were ready to head to the neighboring country.
From Can Tho, we took a local bus followed by an easy ferry ride (sadly, while the ferry blasted music videos in Vietnamese for three straight hours, there was no karaoke). The beginnings of mass tourism are evident on Phu Quoc; it's definitely not the undiscovered paradise it was just a few years ago. An upgraded airport was opened in 2012, and high rise resorts are beginning to line some of the beaches. It also has a huge problem with garbage disposal; many of the beaches are littered with trash. That being said, it's still possible to find pristine, tucked away parts of the island untouched by development.
Our three days on Phu Quoc were a dream; we were able to secure an oceanfront bungalow on a quiet beach for a fraction of what it would have cost in Hawaii or the Caribbean. Mike, ever the active explorer, kayaked and swam while I lazed on a chaise lounge with my Kindle. For a few days, we repeated a delightfully lazy cycle of sun-swim-eat-repeat with the coastline of Cambodia hovering across the water in the distance. We intended to rent a motorbike to explore more of the island, but quite simply couldn't tear ourselves away from the beach. Doing nothing for a few days was a treat after weeks of nonstop sightseeing and trekking.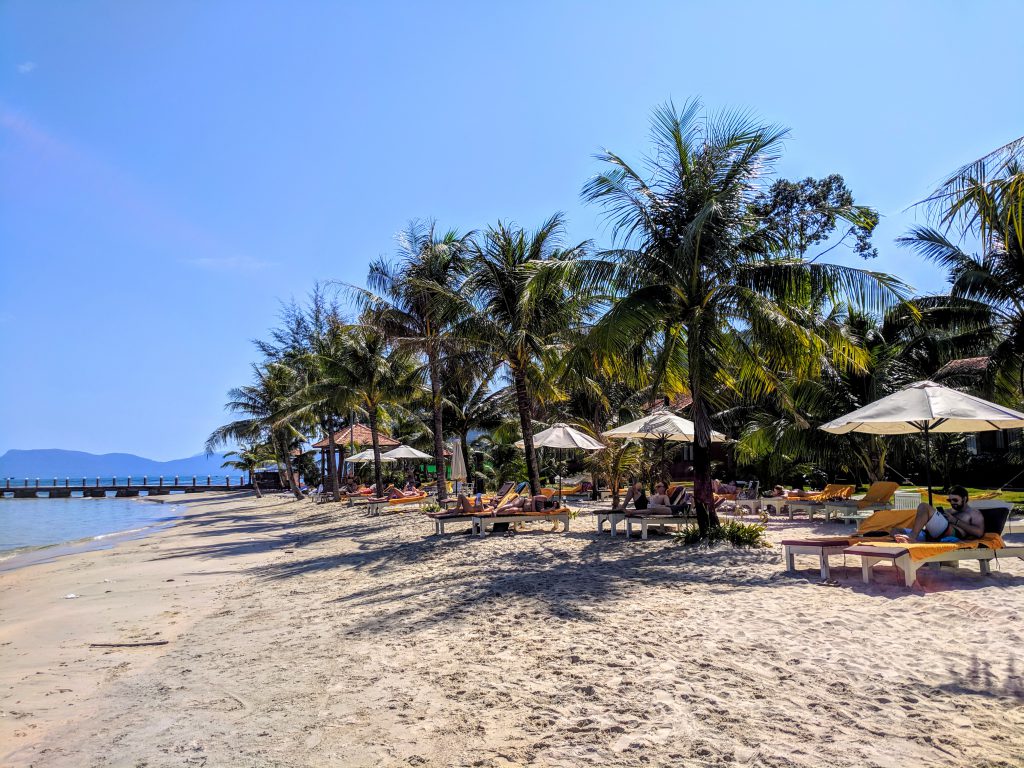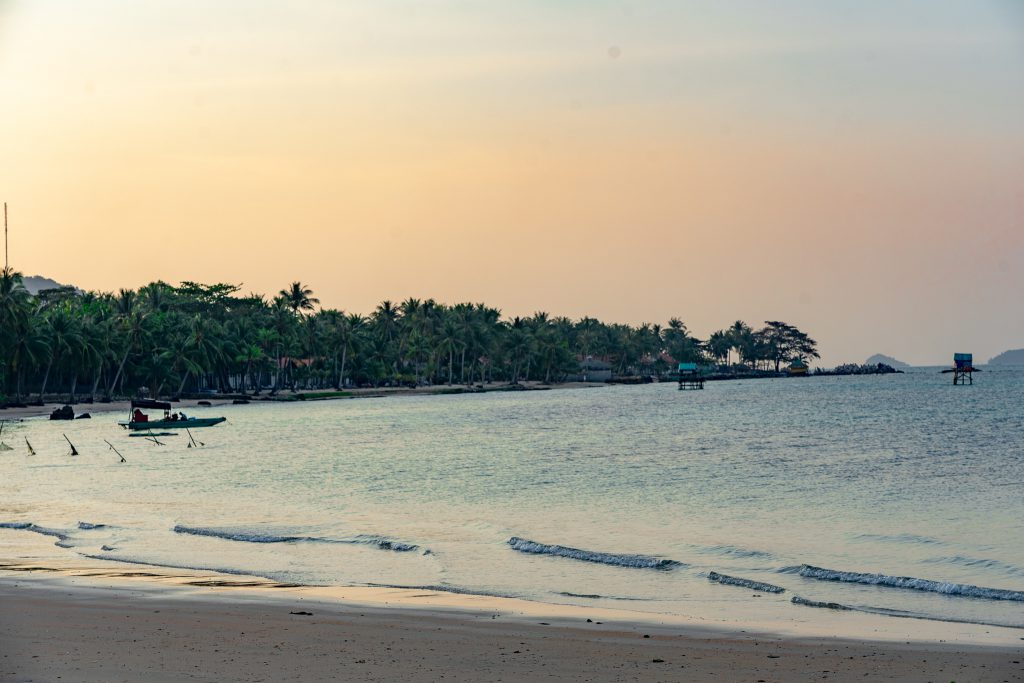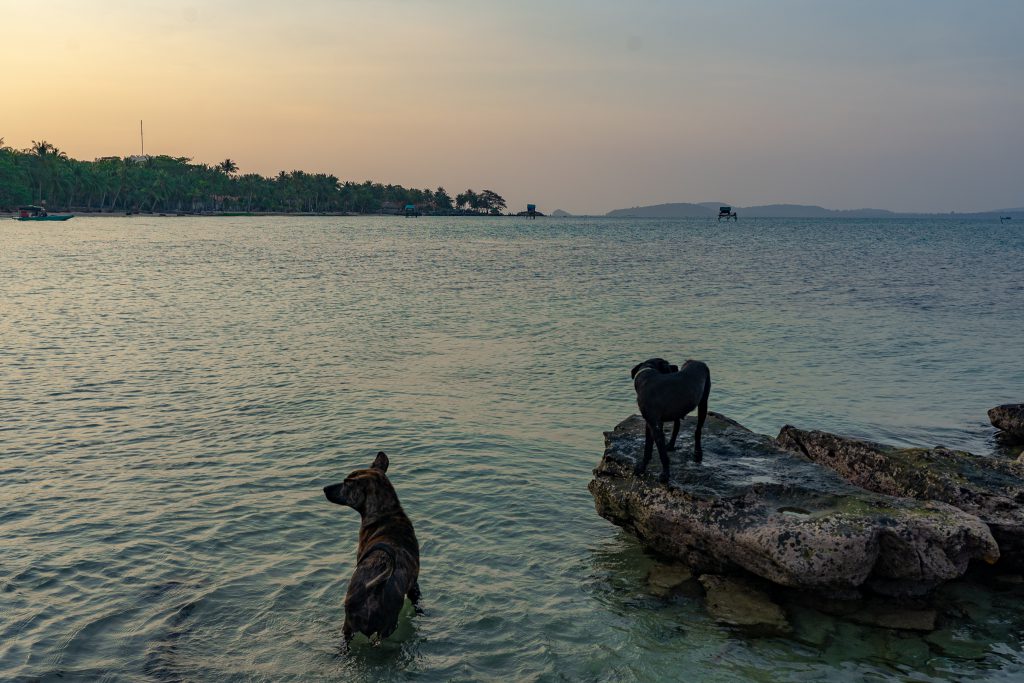 Vietnam truly has something for everyone, from bustling urban cities to ancient historic sites to a plethora of outdoor activities. You can hike in the mountains and snorkel on tropical islands. There's also obviously quite a lot to see if you're a military history enthusiast. Throw in amazing food and world-class coffee, and you've pretty much got a dream destination that appeals to all personality types and travel styles.
It is a place I truly hope we can return to someday. Next time, I'm going to find out where that jungle karaoke is coming from.
Until next time, tam biet from Vietnam.