From Kep to Siem Reap: Nine Whirlwind Days in Cambodia
Another day, another sketchy land border crossing!I'll start by sharing that crossing overland borders in Southeast Asia isn't exactly a picnic. Border checkpoints tend to be chaotic and crowded, and usually lines don't exist. There's often just a crowd of people clustered around the immigration counters waiting to shove their way to the front to get their passports stamped or their visas processed.
Corruption is rampant among border officials in this part of the world, and strange rules are randomly enforced (for example, when we journeyed from Thailand to Laos, we witnessed a woman being sent to the back of the line because the dollar bills she attempted to use to pay for her visa weren't perfectly crisp). Crossing a land border can be a stressful experience.
To ease the Vietnam-Cambodia process a bit, we hired an experienced English-speaking guide to arrange our crossing and transport. When we arrived on the Cambodian side of the border, our guide strongly encouraged us to pay $5 extra each for our visas. Doing this, he assured us, would expedite the process. If we didn't fork over the extra cash, the border officials would make us wait all day long inside the customs building. If they were feeling generous five minutes before closing time, they'd allow us through without paying the extra money. If they were feeling nasty, he said, they'd leave us stranded in Vietnam-Cambodia border purgatory for the night.
As unsettled as we felt, it wouldn't be the first time we saw evidence of Cambodia's seedy underbelly. Along with Laos, it is the poorest country we've visited so far. And sadly, poverty breeds desperation and a need to escape. We saw old white men walking around with decades-younger Cambodian girlfriends, and people high on drugs wandering the streets screaming at passersby. Cambodia is also easily the country where we've been approached the most by children trying to sell us things (and while it's tempting to buy a soda or snack from a cute child, we never have and never will. Buying from kids just reinforces to their parents that it's profitable to keep them out of school).
Okay, enough negativity! Cambodia isn't all bad, of course. Despite its issues, we absolutely loved this country. From the moment we arrived in the seaside town of Kep, we noticed how warm and welcoming the people of Cambodia are. This held true in all four places we visited, from rural to urban areas. The local people are quick to smile and eager to chat with you.
When we pulled into Kep, we were immediately enthralled. A small village along the Gulf of Thailand, Kep boasts a prime seaside location, quiet streets, and perhaps the best seafood market in the country.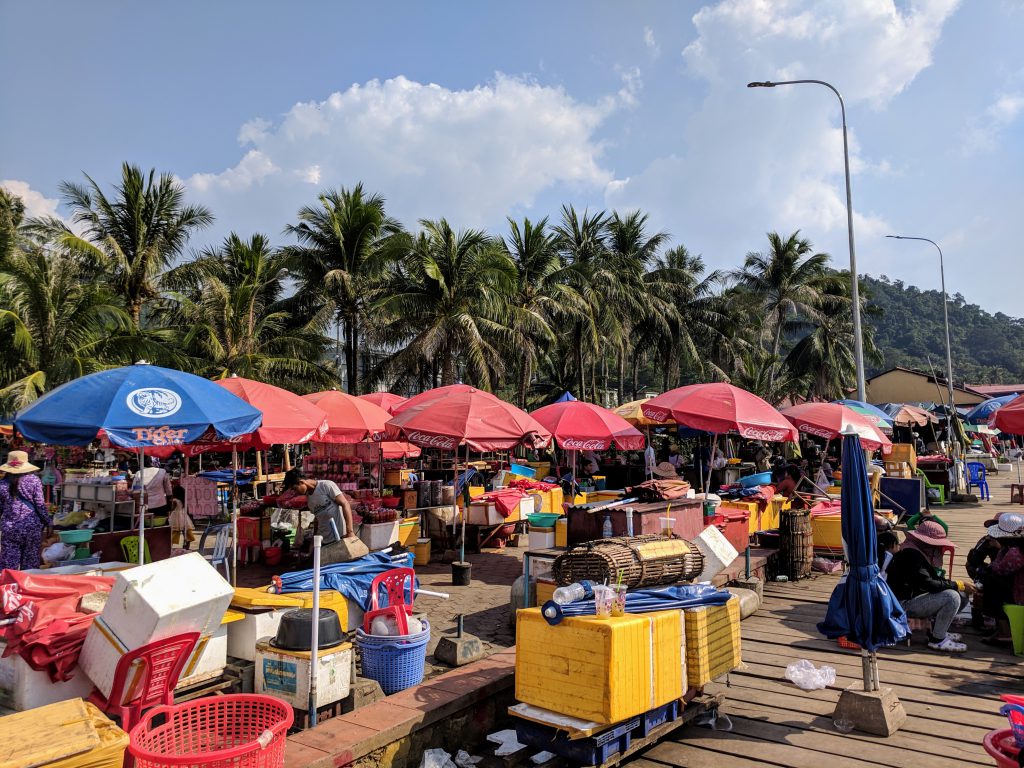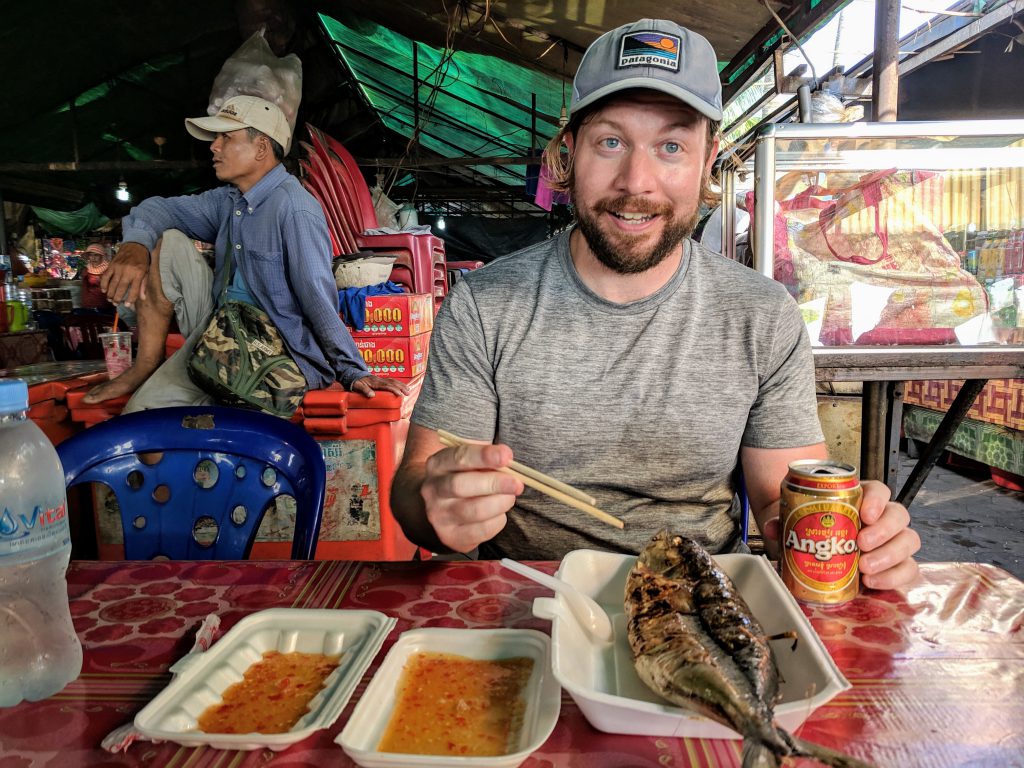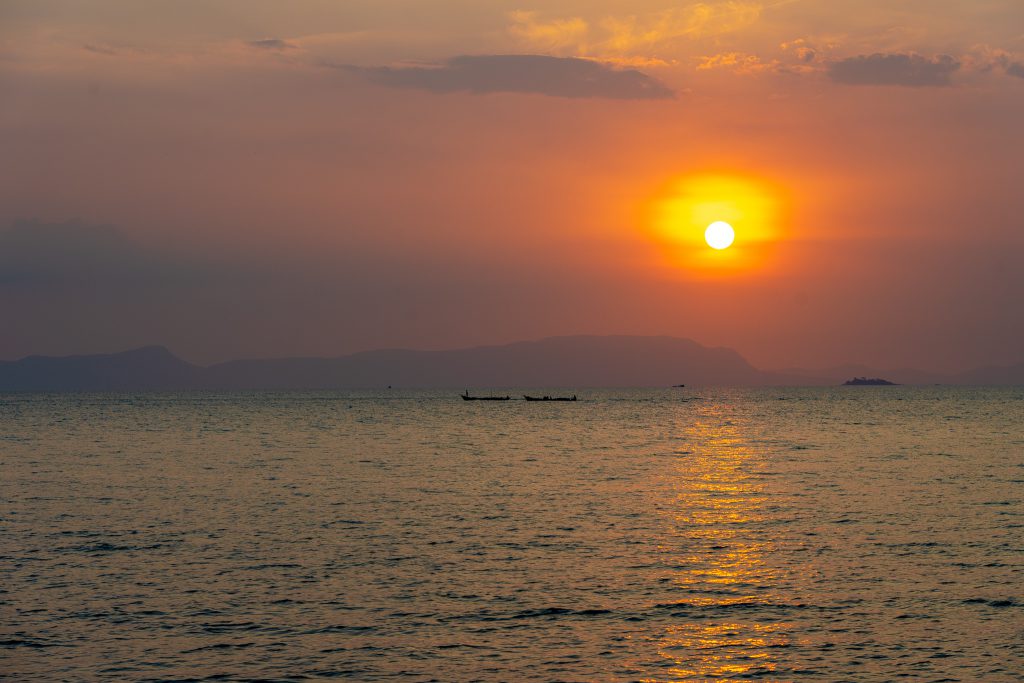 Kep is famous for two things: crab and fresh pepper, which are combined to create its signature dish. Kep crab was the best I've ever had, on par with the Maryland blue crabs I grew up with. The pepper sprinkled over the crabs tasted rich and aromatic rather than harsh or overly spicy. It was one of the best dishes we've eaten these past few months.
Kep is made even more fascinating by its crumbling 50s and 60s era luxury villas. Once considered the "Riviera of Cambodia", Kep was where the Cambodian elite spent sumptuous holidays, back in the country's heyday before the Vietnam War and Pol Pot regime. By the time the Khmer Rouge took over in 1975, the rich had fled, and the mansions were left to nature. Many of them stand abandoned to this day. They were hauntingly beautiful, and made us wonder what the now-sleepy village was like in its busy prime.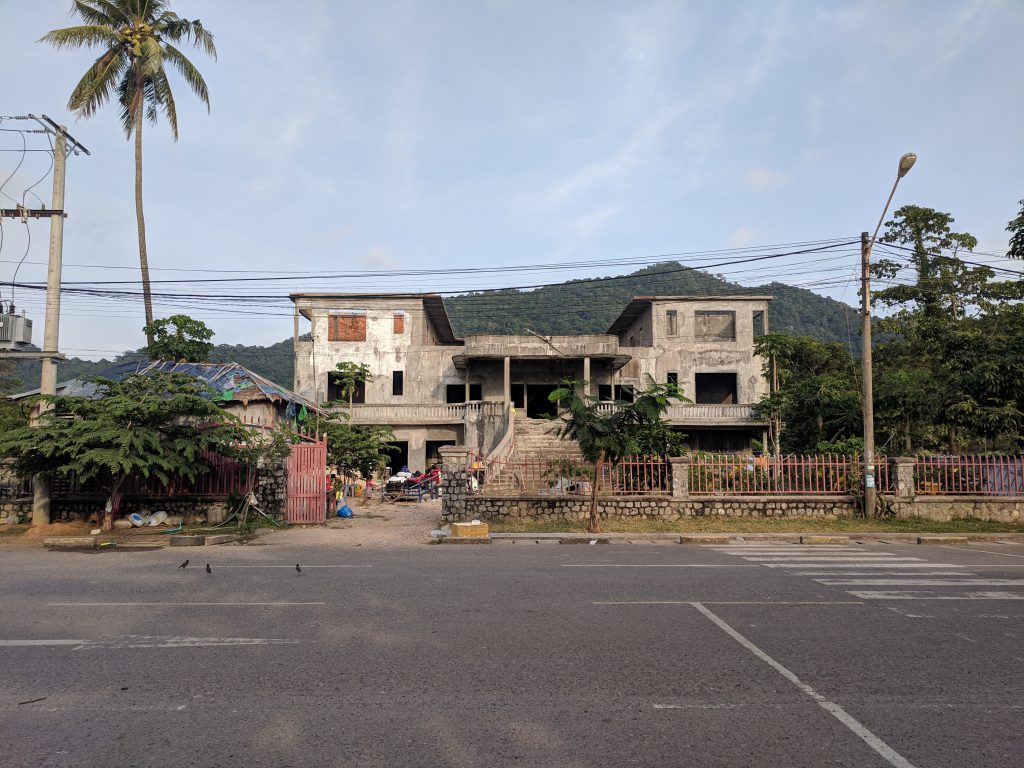 The neighboring town of Kampot, situated on the Preaek Tuek Chhu River, was more bustling than Kep, but still had a chill vibe. A popular place for digital nomads and expats, we took a detour from local cuisine and enjoyed the best (well, only!) hamburgers we've eaten in months. We also rented a motorbike for a day and headed to Greenhouse, an old restaurant situated on the river. We spent the afternoon floating in tubes in the cool, clear water. It definitely wasn't a bad way to get some relief from the Cambodian coast's humidity.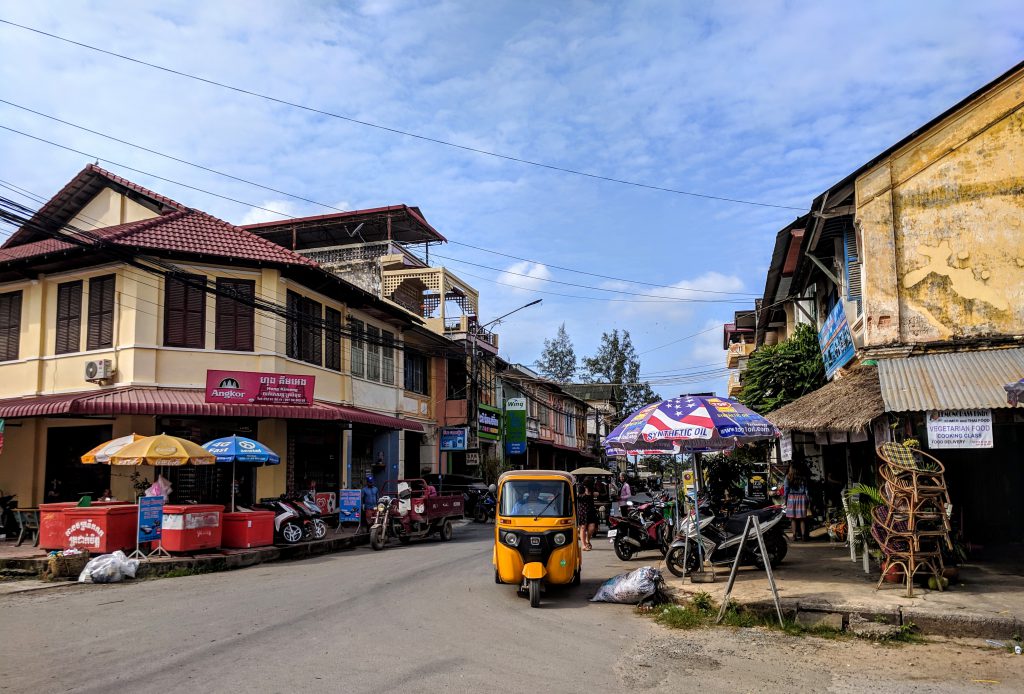 We would have loved to spend more time in Kep and Kampot, but the urban centers of Cambodia called to us. Our next stop was the capital, Phnom Penh. Phnom Penh is another rapidly growing Southeast Asian city; there is construction on basically every corner. While some of its neighborhoods are lovely, unfortunately the city has a reputation for crime. It's not the type of place you want to walk around after dark by yourself, but we didn't think it was any more dangerous than big cities we've visited in the U.S.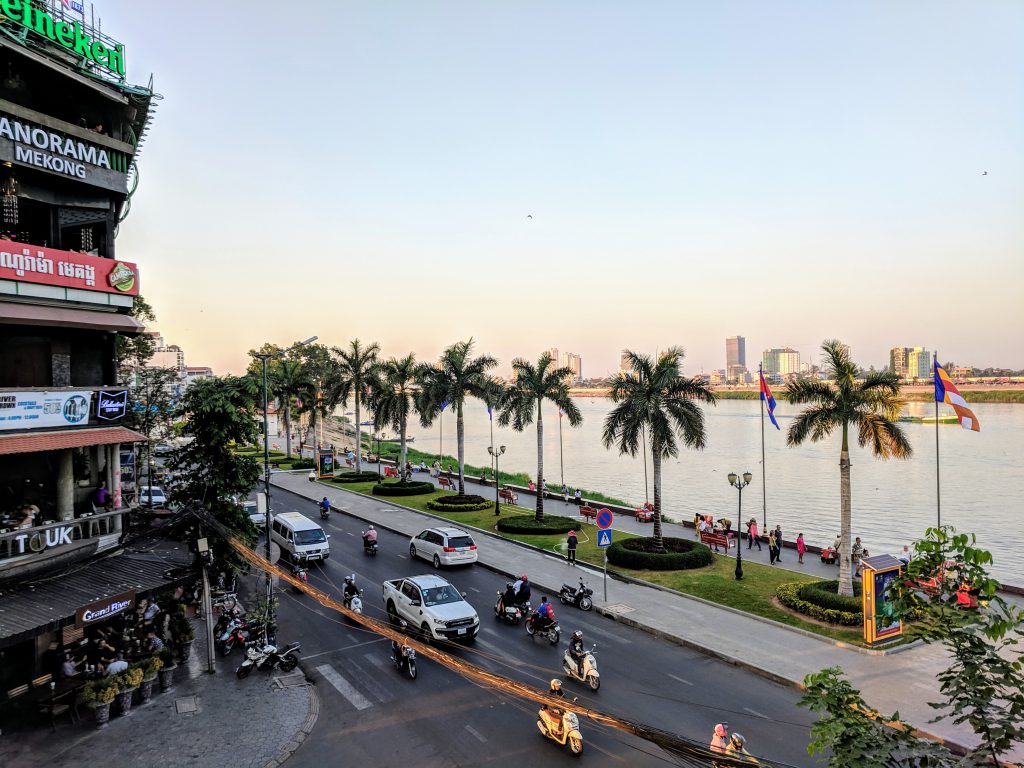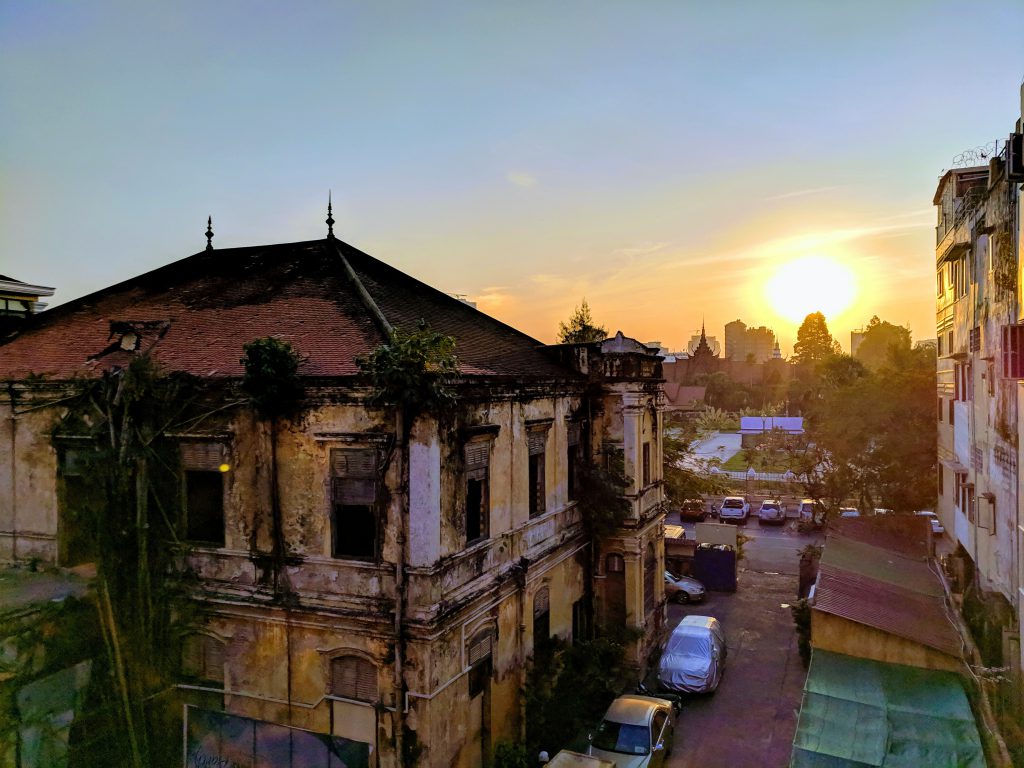 We spent our one full day in Phnom Penh acquainting ourselves with Cambodia's painful recent history. The departure of the French in the 1950s led to a bloody civil war, which eventually paved the way for the Khmer Rouge to take over in 1975. Pol Pot, the communist leader of the regime, had a deranged vision to transform Cambodia into a classless agrarian society. In his mind, educated people were the enemy. For 3 years, 8 months, and 20 days (every Cambodian knows this number by heart), the Khmer Rouge systematically murdered intellectuals, like doctors, lawyers, and teachers, as well as ethnic minorities, religious leaders, and basically any person perceived to be a threat. And there were many–roughly 21% of the country's entire population died in the late 1970s, all victims of genocide.
We first visited the Tuol Sleng Genocide Museum, a former high school converted into a secret prison by the Khmer Rouge. Of the estimated 17,000 people who passed through, only twelve (yes, twelve) are known to have survived.
I won't go into detail about the museum's exhibits; they were extremely graphic and disturbing. What I will share is what haunted me most–the hundreds of nameless photographs of each prisoner, displayed in room after room after room. The Khmer Rouge, much like the Nazis, kept meticulous records. Each prisoner was photographed upon arrival, and those black and white headshots still exist today, lined up one after another. The expressions on the faces vary, but they break your heart. The photos evoke such strong emotions in visitors that many openly cry, or find they need to leave the building.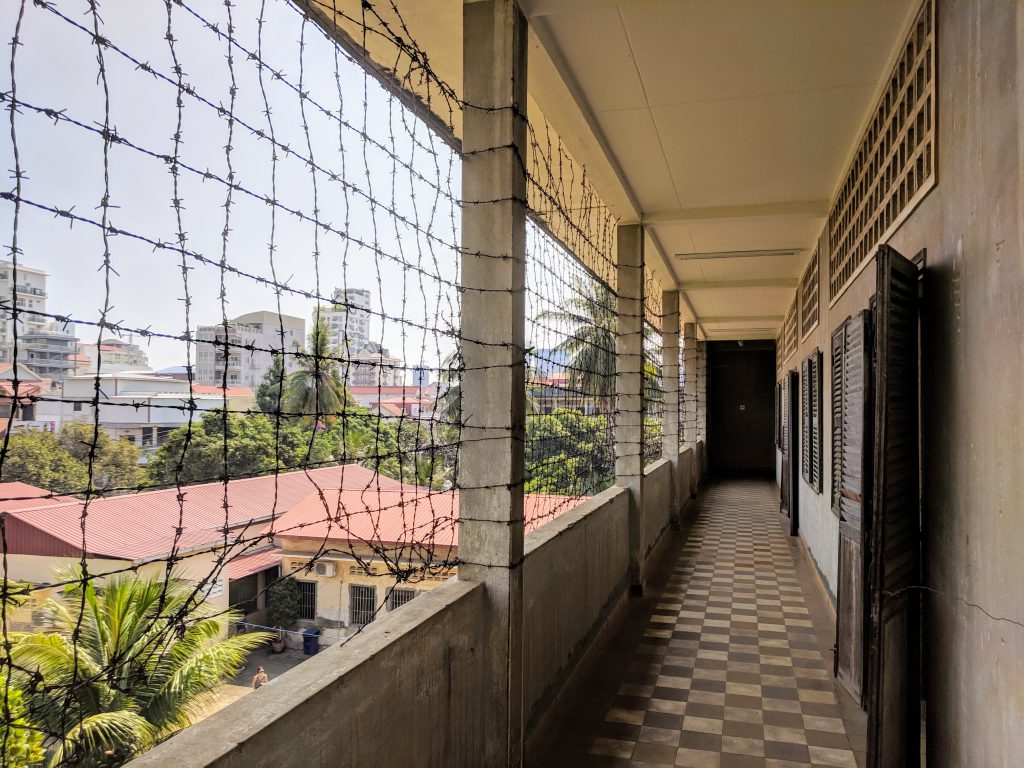 The afternoon didn't get any easier. We drove to the Choeung Ek Genocidal Center, more commonly known as "The Killing Fields." Most of the Tuol Sleng prisoners were murdered and buried here, secretly and at night. The audio tour immediately warned us we might see human bones and teeth in the fields, or stumble across victims' clothing (these things routinely surface after heavy rains). And we did–it was awful.
What truly got me, though, was when the audio tour played the final sounds victims would have heard before being executed–communist propaganda songs blasting from speakers, along with the rattling hum of a diesel generator. At that point, I had to remove my headphones.
That day in Phnom Penh was the toughest of our trip. It made us all the more amazed at the warm and positive spirit of the Cambodian people. As one woman in Kampot said, after telling us about her upbringing in a Catholic orphanage (what went unsaid was how her parents died), "We can hope that the next generation will bring change to Cambodia. But there are some things only God can change."
Our last stop in Cambodia was Siem Reap, the location of the most famous place in the country–the magnificent ancient ruins of Angkor Wat.
Angkor Wat is one of the largest and oldest religious monuments on earth. We'd been looking forward to visiting since we started planning this trip. We purchased a multi-day pass, as the archaeological park where Angkor Wat and the surrounding temples are located is massive. Some argue that even a month wouldn't be enough to see them all–in three days, we barely scratched the surface. The best way to see them, in our opinion, is by either tuk tuk or mountain bike. We did both, but biking was our favorite.
Nothing, and I mean absolutely nothing, could have prepared us for the moment we walked down a wooded path and the spires of the main Angkor Wat temple came into view. The scale was astounding; photos will never do it justice.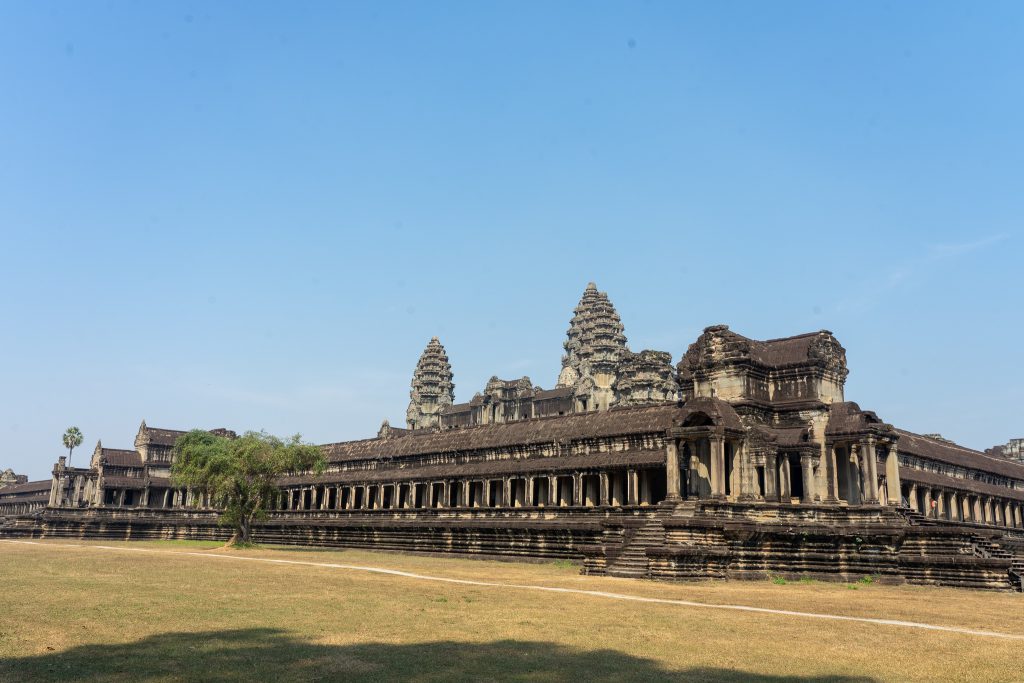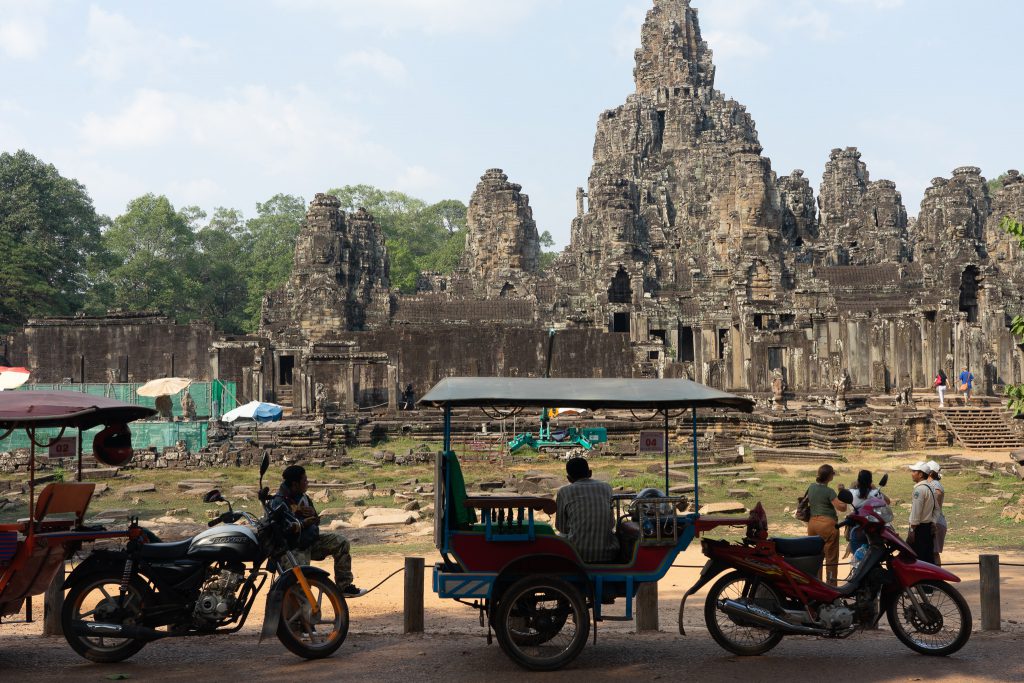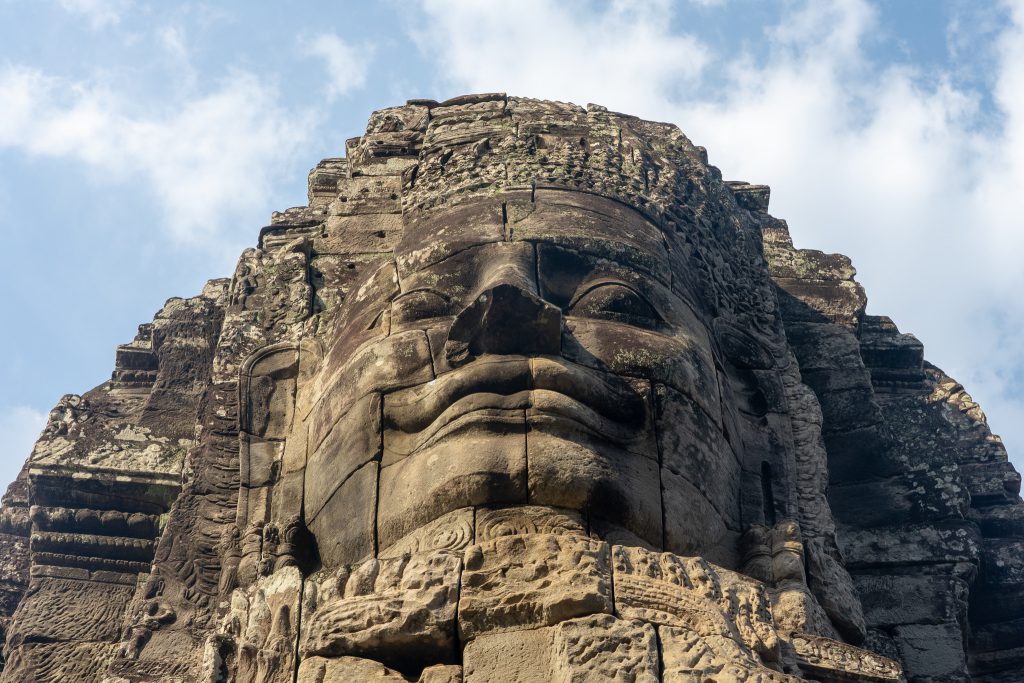 The Khmer Empire that built the temples starting in the 900s was once one of the most powerful in the world. The people of Cambodia have a huge amount of pride regarding their ancestors, and it's easy to see why. Each temple is so meticulously detailed and perfectly built that you marvel continuously at the knowledge of the architects.
Unlike other ancient ruins in places like Mexico and Egypt, you're still permitted to actually enter and climb on the temples of Angkor Wat, a practice that will no doubt end someday. Yet being inside buildings over a thousand years old, knowing that the structures you're standing in were there during the Crusades, the Renaissance, the Industrial Revolution, World War II, you name it–is simply astounding. The whole experience was also humbling; it reminded us that humans are not long for this world. We'd encourage anyone who has the opportunity to visit just once in their lifetimes if they can.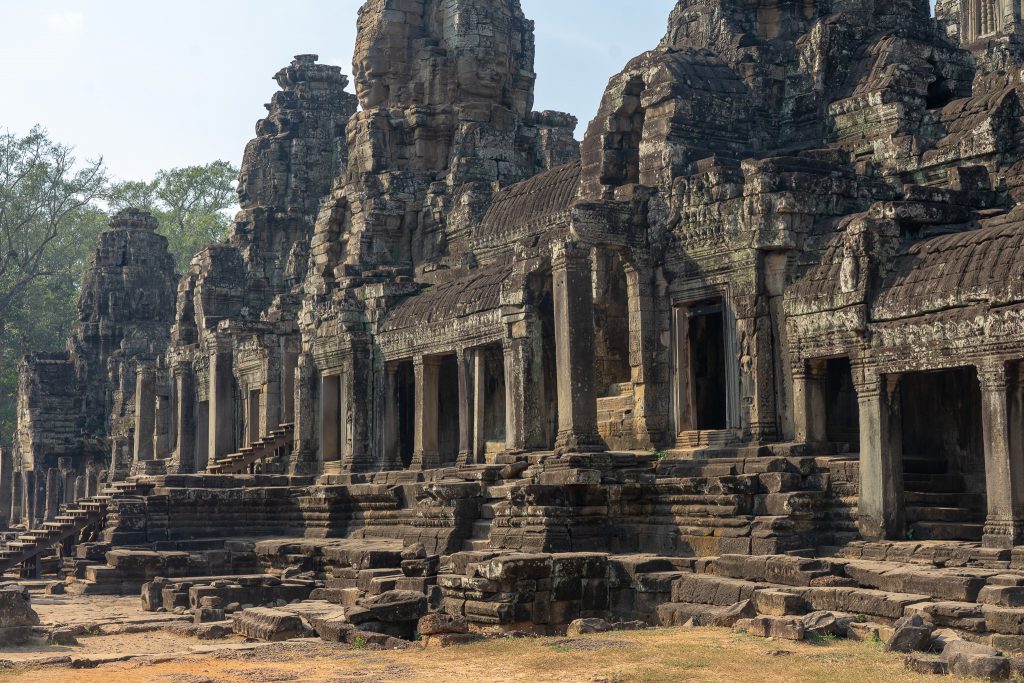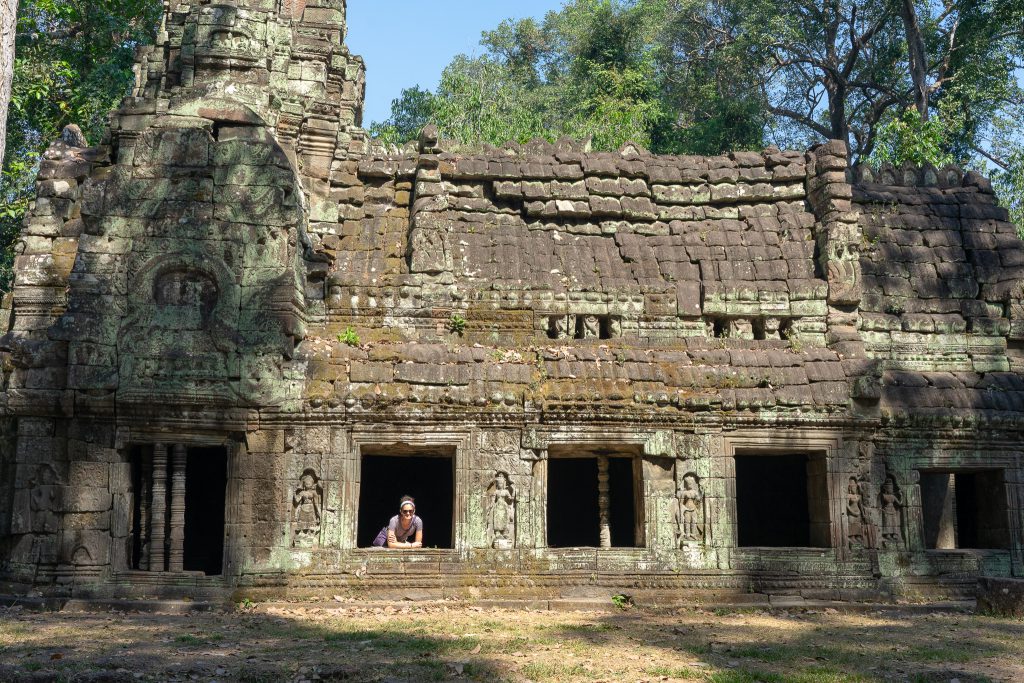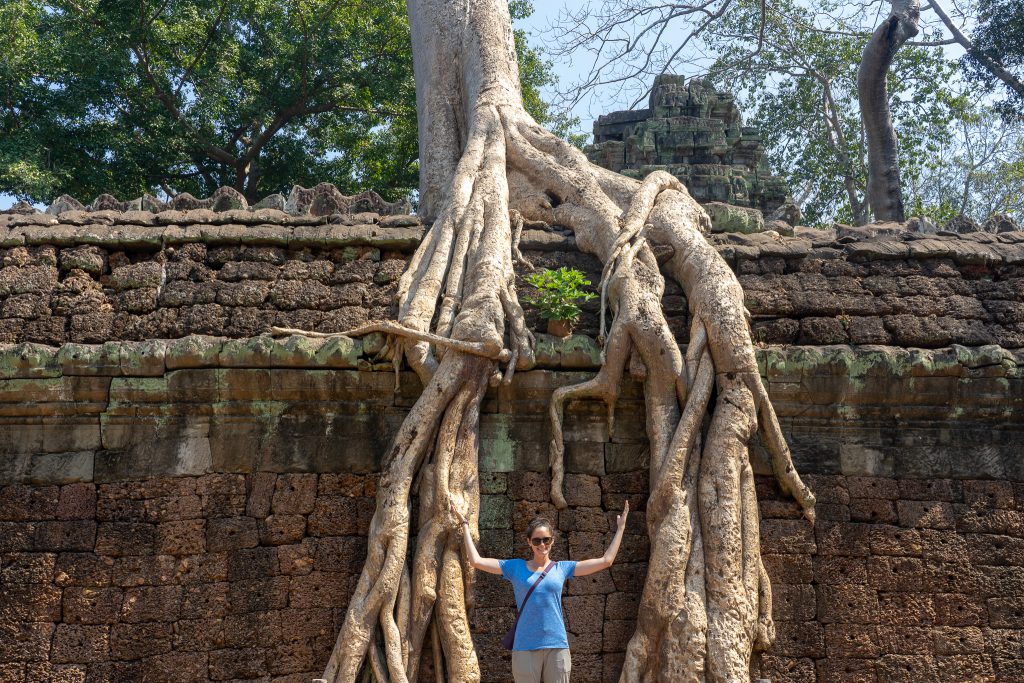 Standing in awe of Angkor Wat was the highlight of our time in Cambodia, and one of the top experiences of our whole trip. However, I'm glad we were able to visit other places in Cambodia in addition to its most famous site. Seeing more of the country painted a fuller picture, albeit not always a pretty one. We can only hope that the next generation of young people lead the charge towards a better Cambodia, one free of corruption. From our conversations with people our age and younger, it was extremely clear that the youth want change; they despise the current system and its shortcomings.
The world as a whole will be in the hands of its youth soon, something that gives me hope. When the past looks bleak and the present isn't inspiring much confidence either, looking forward isn't just the best option–it's the only one.
Until next time, lee hi from Cambodia.