Kuala Lumpur and Penang: Eating Our Way Around Malaysia
"Oh my god," I said, glancing up and down the street at the dozen restaurants and food stalls on our block alone. "How are we ever going to choose what to eat? I want it all!"On just one street in Kuala Lumpur, the capital of Malaysia, we found ourselves utterly spoiled for dining choices. To our right, a Bengali restaurant grilled chicken in a giant stone barrel filled with coals, a bit like the Pit Barrel smoker we have at home. One of the employees kneaded fresh naan dough next to a hot oven. Further down the road, we could see signs for an Iraqi restaurant, and a queue of locals in front of a chicken shawarma shop and fruit juice stand. Adjacent to them, a bakery with pistachio and cashew-laden Turkish desserts gleamed.
To our left, an open air patio with whirring fans advertised Vietnamese noodles, and just beyond, an upscale Syrian establishment revealed families and couples contentedly dining on mutabal and falafel.
Malaysia is, quite simply, foodie paradise. If you love to eat, it is THE place to go in Southeast Asia.
Just south of Thailand, Malaysia is nothing like the other countries we've visited in this region. A melting pot of cultures, it's a mash-up of Malay, Chinese, Indian, and Middle Eastern influences all stitched together into one colorful and delicious tapestry. Malaysia is known for its diversity and many immigrant communities. It is the first country we've visited that is primarily Muslim; about two thirds of the population practices Islam. The comforting sound of the call to prayer echoes from mosques multiple times a day everywhere you go.
Malaysia has stunning beaches, verdant green mountains, dazzling urban cityscapes, a rich cultural heritage, and a food scene that would reduce even Gordon Ramsay to tears. The people are warm and eager to strike up conversations with visitors, and English is widely spoken. It's also an affordable destination that's easy to get around–there is a sophisticated bus system that will take you just about anywhere. So most shocking of all is this–there aren't that many tourists in Malaysia. Don't get me wrong; there is most certainly a thriving tourist scene. But having just come off two weeks in Thailand (with our good friend Stacey who came to visit us from the U.S.!) Malaysia felt positively empty by comparison. Unlike Thailand, Cambodia, and to a slightly lesser degree, Vietnam and Laos, Malaysia feels practically undiscovered by western tourists. It was a destination we quickly wholly loved, and found ourselves scheming of ways to return to before we even left. Our plan to stay for eleven days, we realized, would most certainly not be enough.
Our first stop in Malaysia, Kuala Lumpur, is a bustling, modern city whose landscape is quickly being transformed. By now a familiar tale in the Southeast Asian capitals we've visited, old buildings are rapidly disappearing as soaring glass and steel structures make their way in. One of the first sights we visited in "KL" (as locals call it) was the minaret-shaped Petronas Twin Towers, currently the tallest twin tower structure in the world, and briefly the tallest buildings in the world from 1998 to 2004. An elevator whisked us up to the 86th floor, where we were treated to panoramic views that reinforced just how sprawling a place KL is–it stretched out as far as our eyes could see, along with many cranes and signs of active construction work. We could even see the Batu Caves in the distance, a massive Hindu cave temple that's gone viral this past year on travel-themed Instagram accounts for its rainbow-hued steps.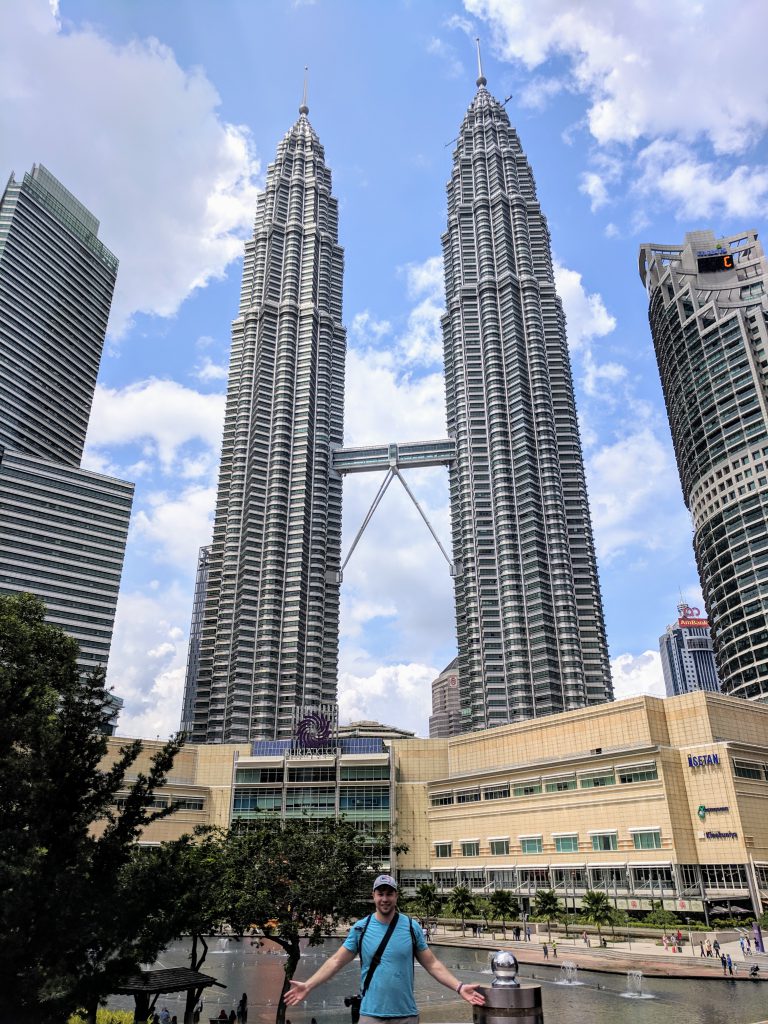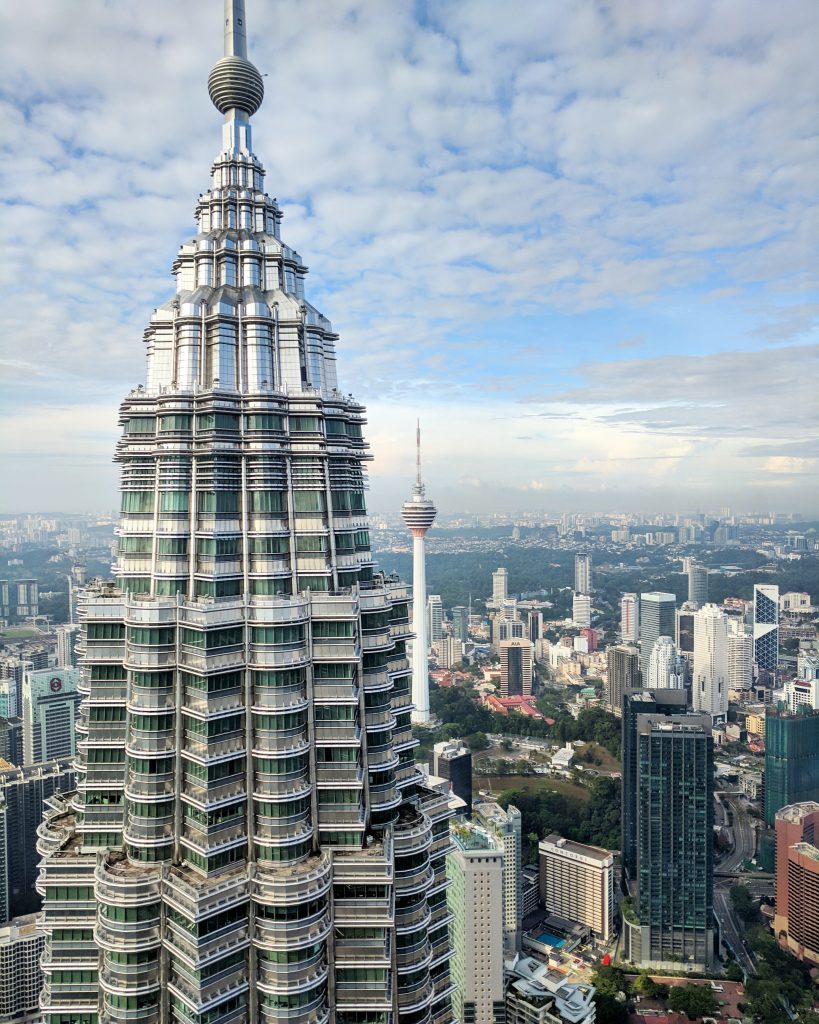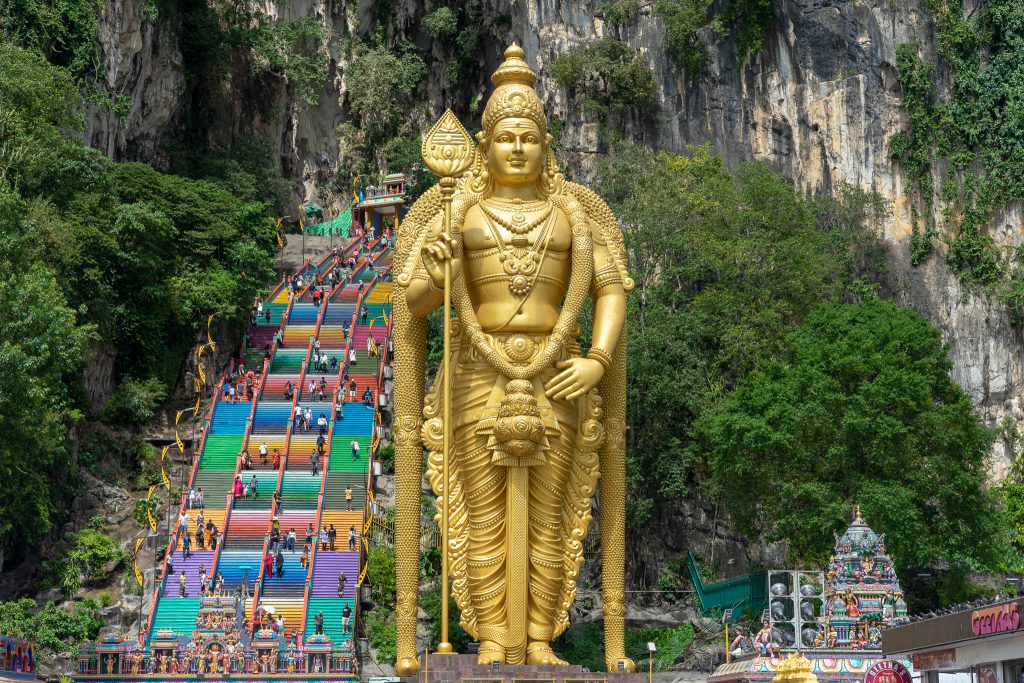 Though we made some efforts to sightsee in KL, our "tourism" trail mostly consisted of eating. We sampled as many culinary delights as we could, from authentic Cantonese dim sum to Indian curries served up on banana leaves instead of plates. We laughed when at one restaurant, due to a language barrier, we accidentally ordered giant lamb hocks seasoned with mint leaves, when we had intended to order only plain basmati rice. We ate them anyway. We ate our way from neighborhood to neighborhood in the sticky heat, stopping occasionally at one of KL's many air-conditioned shopping malls for relief from the oppressive humidity. (One might think we'd be adjusted to the heat after three months of hanging out near the equator, but I won't lie–it's still brutal. The humidity here is a killer).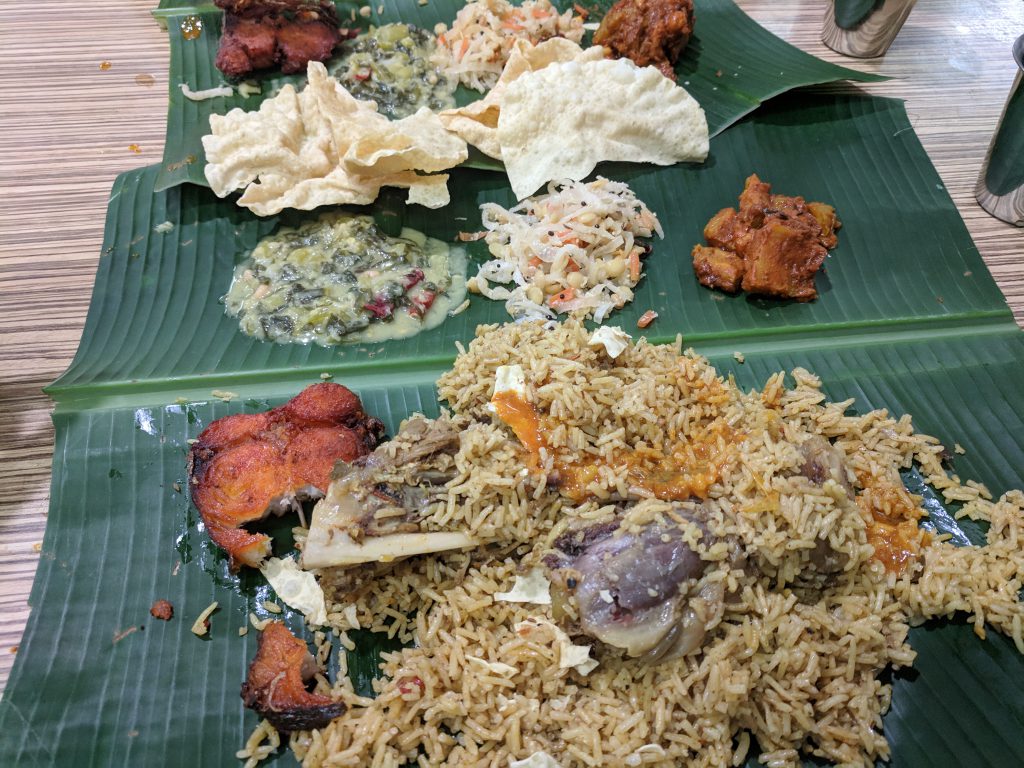 After a few days in KL, we headed up the coast to the island of Penang. Located in the Strait of Malacca, Penang is a developed island touted as the food capital of Malaysia. With that reputation, we figured, how could we NOT go?
Our visit in early February coincided with Lunar New Year. Lunar New Year (also known as Chinese New Year) is a hugely important holiday in Asia, observed by a staggering billion people in China alone and millions more worldwide. Penang is a top destination to experience Lunar New Year in Malaysia; many of the locals are of Chinese descent. While the holiday is mainly celebrated in private homes (much like Americans observe Thanksgiving or Christmas by spending time with loved ones), the capital of George Town hosts a gigantic festival the weekend after. When we learned this, we were even more sold on Penang.
Our first glimpse of Penang was on the twenty minute ferry crossing from peninsular Malaysia. We were struck by how urban it appeared, even from a distance. We stayed in George Town, a UNESCO World Heritage town known for its charming 19th century Chinese shop fronts, but much of Penang is filled with high rise buildings and newer construction. Although it is a tropical island with a smattering of pretty beaches, the tourism scene is more centered around experiencing local culture and historic sites than relaxing by the sea.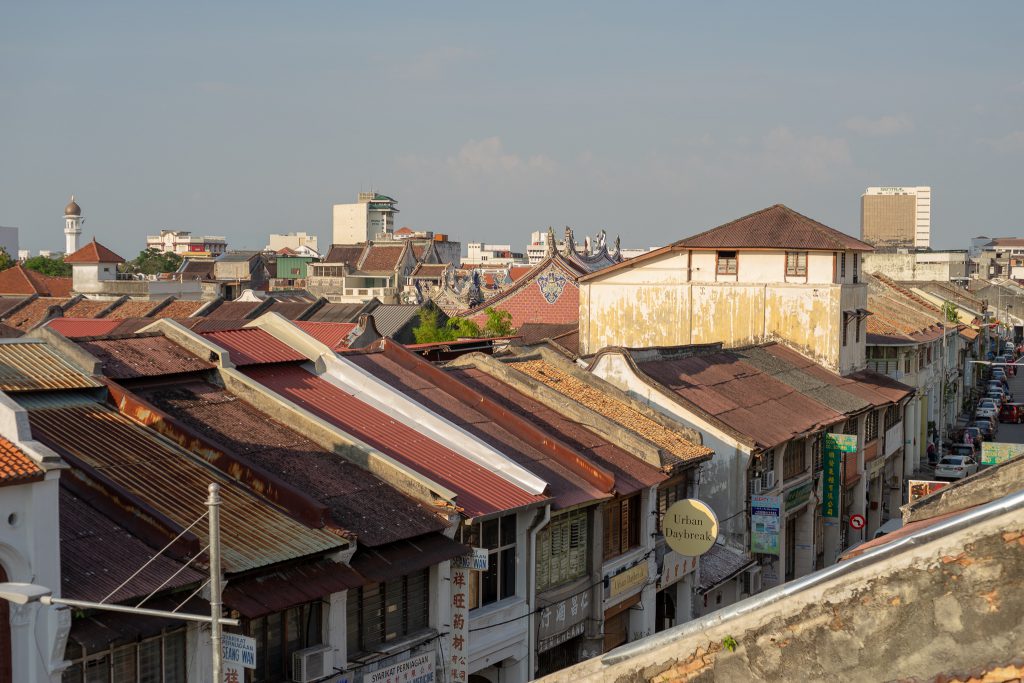 One of our favorite things about Penang (and Malaysia as a whole) was how easy it was to eat like locals. Chain restaurants and establishments catered to westerners are rare. Because most places to eat are geared to local tastes, we didn't have to look hard for authentic food.
We took full advantage of this during our six days on the island. Each morning, we ate breakfast, then meandered through George Town's narrow streets to admire its crumbling old architecture and abundant street art. When we got hungry (or too hot to continue), we ate lunch, then walked around more until we got hungry again. We feasted on rich Indian curries, fried Chinese-style prawn cakes, custard-filled sweet dim sum, and vegetarian Bengali food. We sampled Nyonya cuisine (a unique type of food that is the result of Chinese ingredients prepared with Malay and Indonesian cooking techniques) and cendol, an iced dessert made with rice flour jelly, coconut milk, and palm sugar.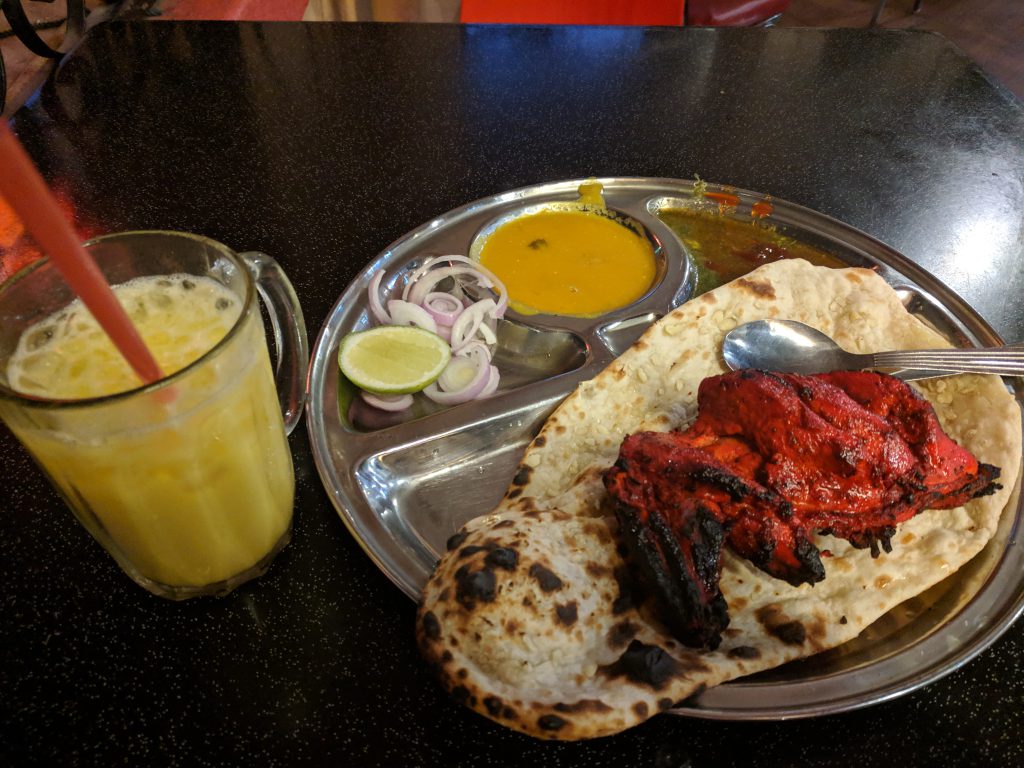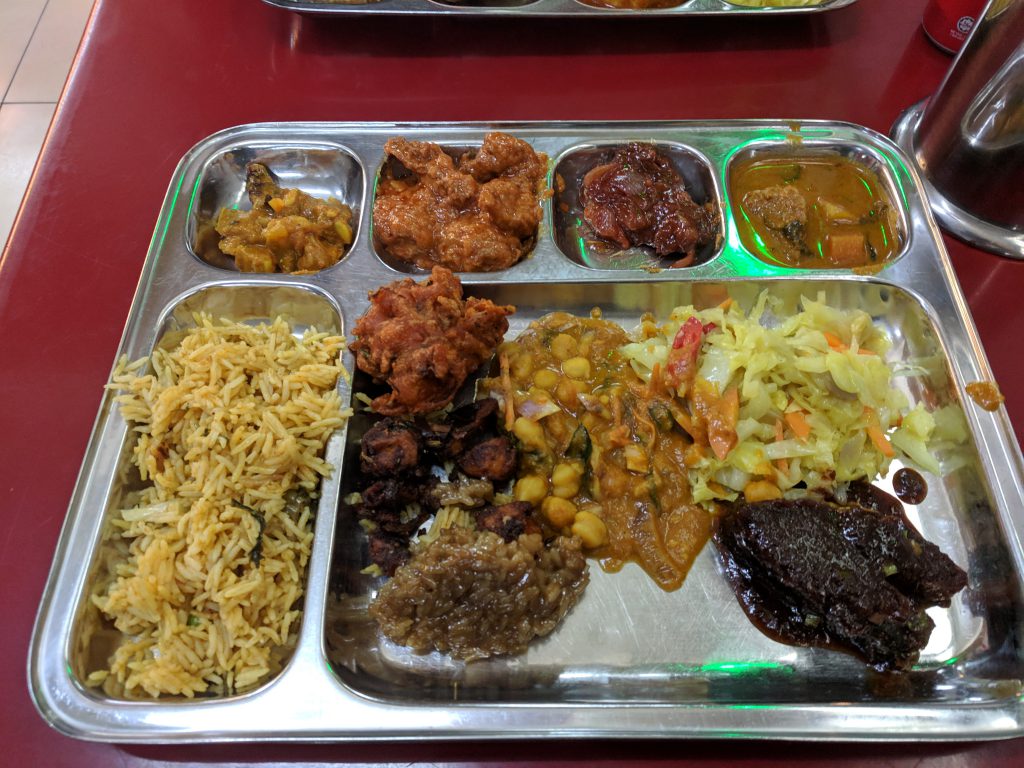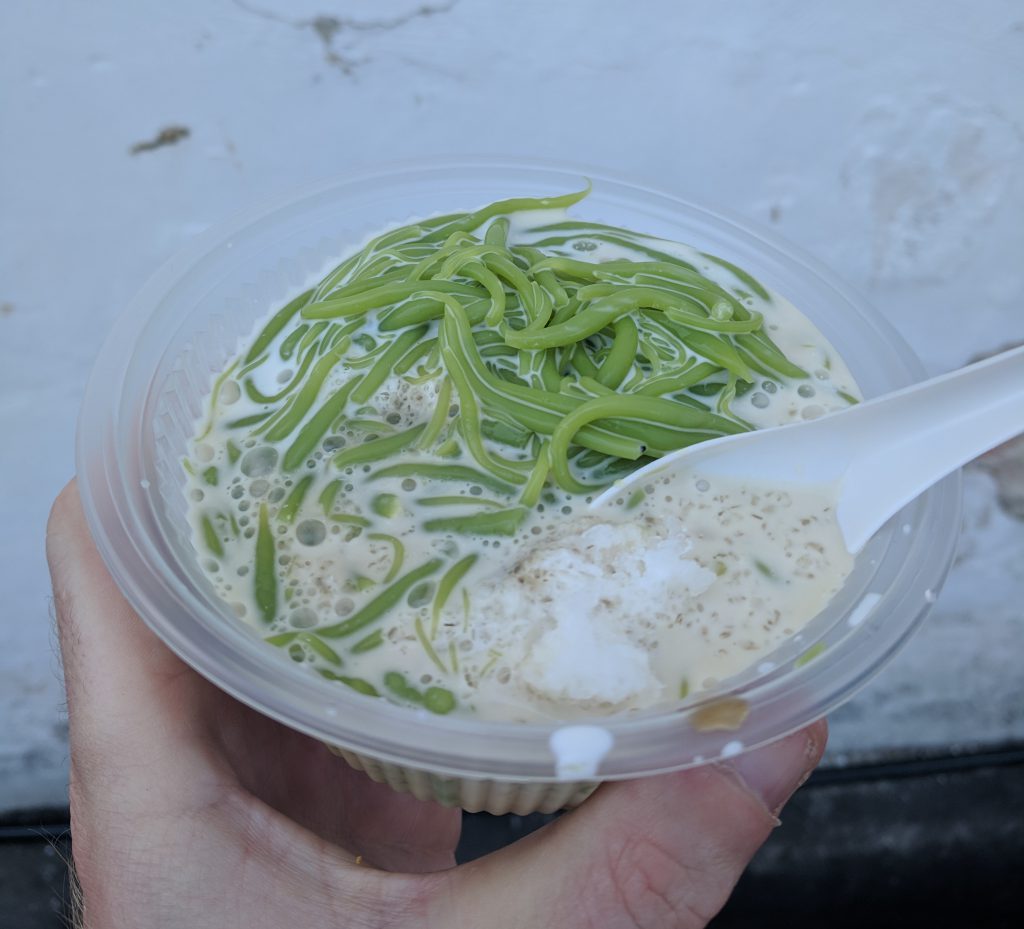 We drank fresh coconut, mango, pineapple, and passionfruit juices. We tried nasi lemak, the national dish of Malaysia, a rice dish cooked in coconut milk and pandan leaf. We bought spicy Hokkien mee shrimp noodle soup from a street cart, slurping it down while we perched on rickety metal stools. We even sampled a salty pastry made with durian, a spiky tropical fruit with such a pungent odor that it's banned across Asia in hotels and on public transportation. We ate random street snacks we happened upon even when we had no idea what they were–we just followed our noses and looked for where locals congregated. Penang more than lived up to its reputation as Malaysia's food capital.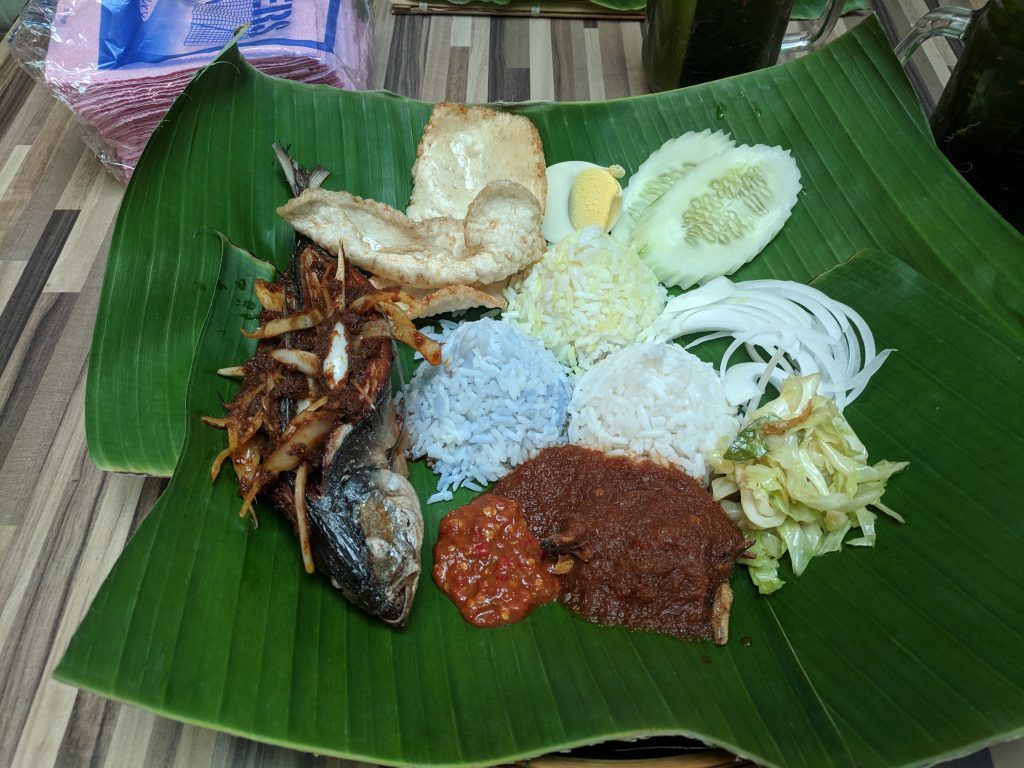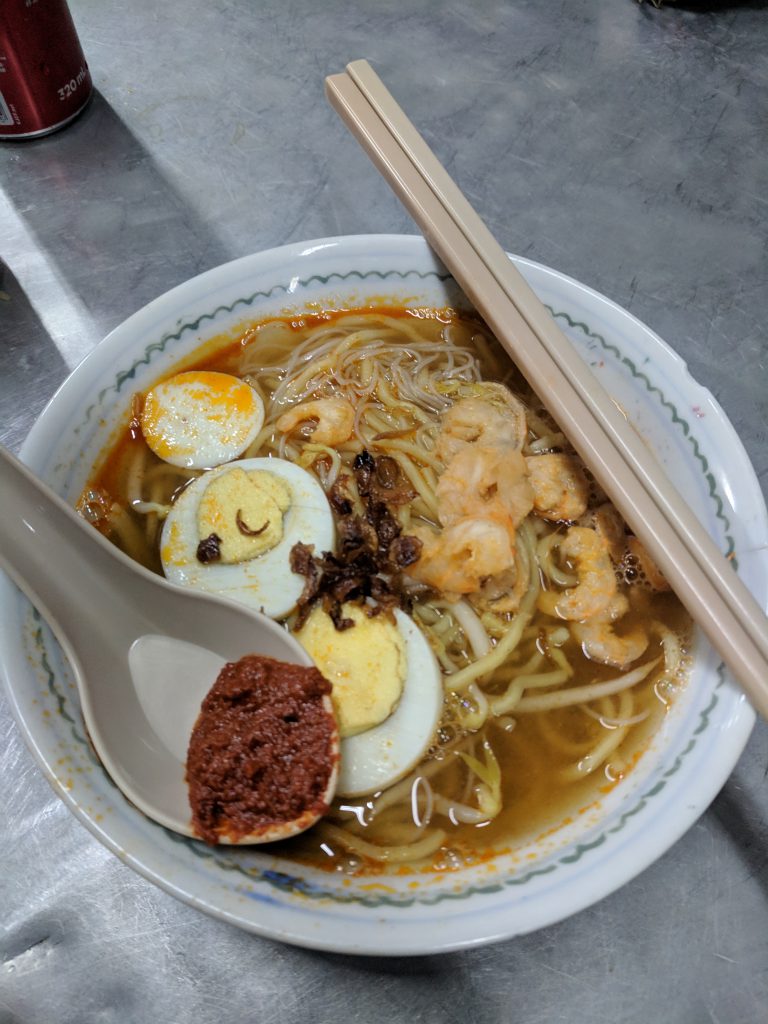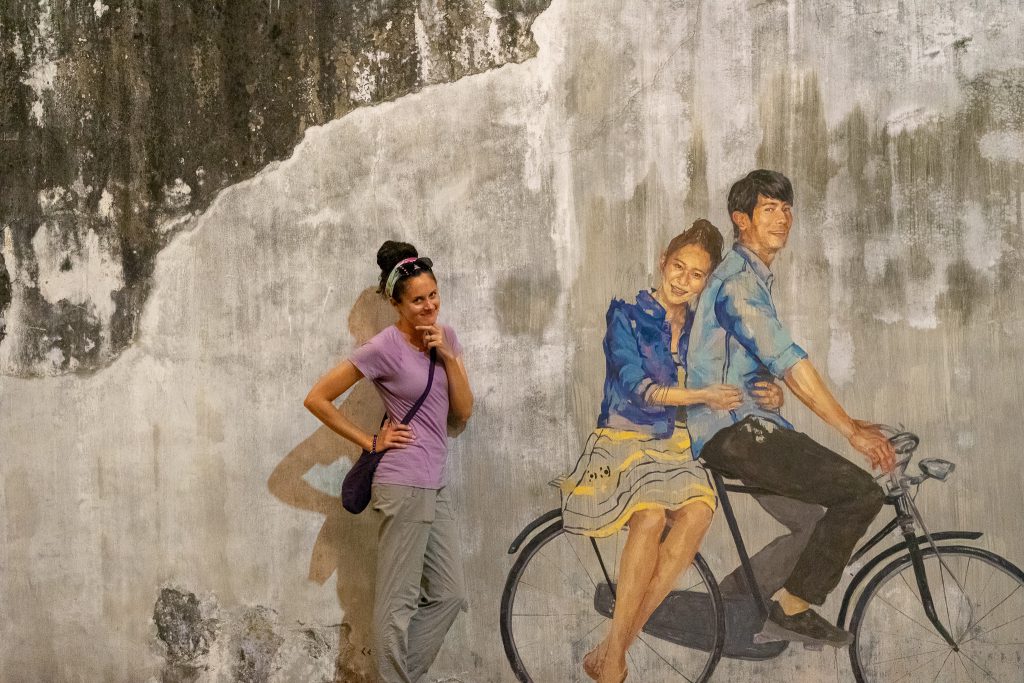 Aside from stuffing ourselves with local delights, we paid a nighttime visit to Kek Lok Si, the largest Buddhist temple in Malaysia, which was decked out in thousands of bright lights to commemorate the New Year. Watching visitors light incense at the temple and bow their heads in prayer drove home to us just how ancient and important a holiday Lunar New Year is. The temple was full of symbolic decorations, including Mandarin oranges, which we learned represent luck and prosperity for the coming year.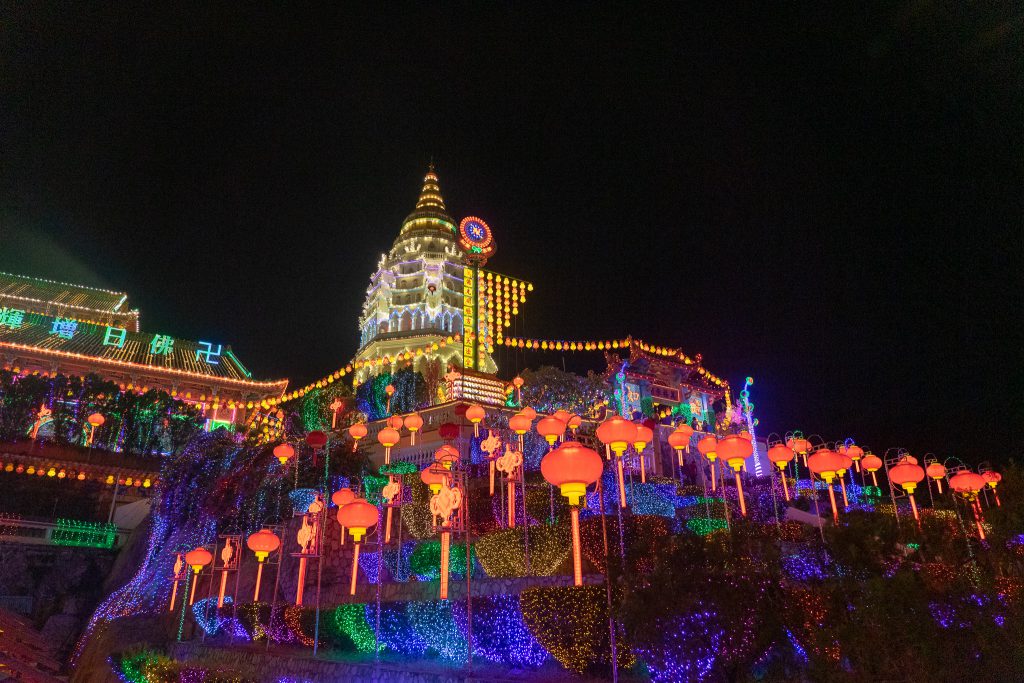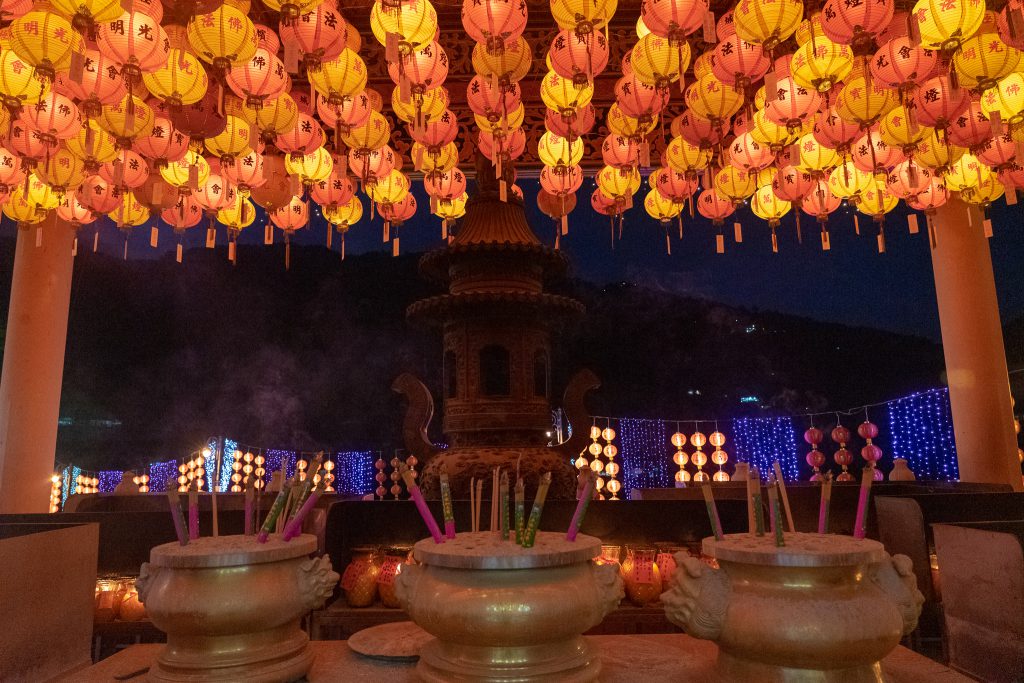 Throughout the week, fireworks randomly went off across the island as residents welcomed the Year of the Pig. And every morning, we woke to find the covered sidewalks of George Town awash in bright red confetti from firecrackers lit during the night, mysterious remnants of private celebrations.
The week of festivities culminated with George Town's Chinese New Year celebration. Normally heavily trafficked roads closed to vehicles, and pedestrians were free to roam among dozens of food vendors and artisan stalls, as well as stages with traditional song and dance performances (including the ubiquitous lion and dragon dances).
Chinese clan houses (historic places of worship normally closed to the public) opened their doors to visitors, welcoming island residents and tourists alike into their ornately decorated courtyards. Throughout the evening, the exotic scents of cumin, incense, curry, coconut, and durian wafted through the streets. We embraced every moment of the revelry, our moods turning a touch melancholy as we realized it was our last evening on the island. Though we didn't want to leave Penang, we were also looking forward to exploring Singapore, our final stop in continental Southeast Asia.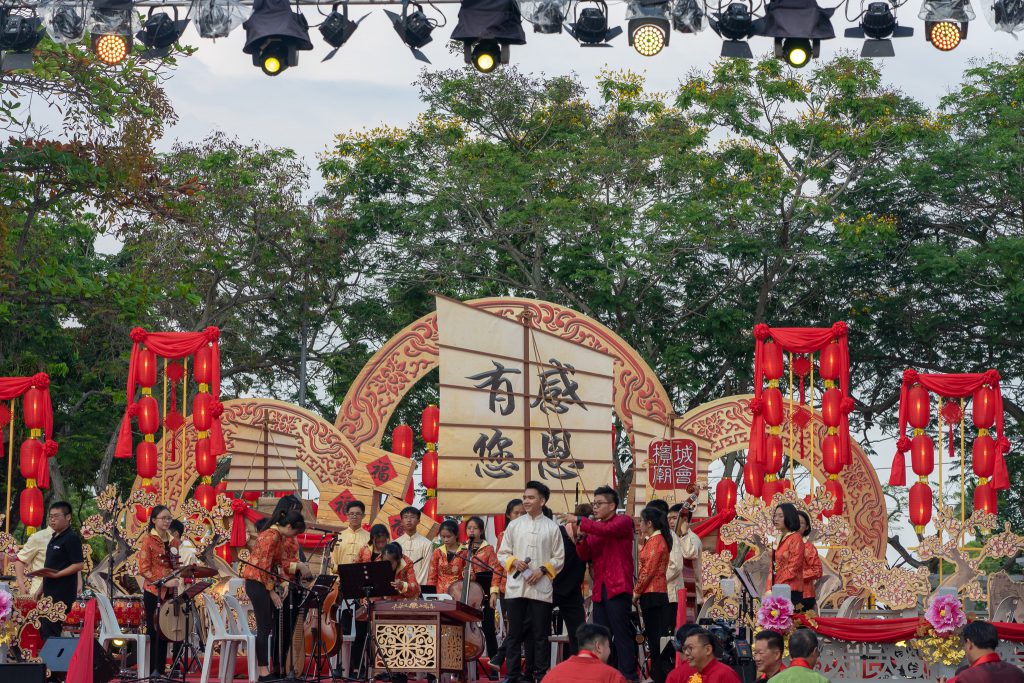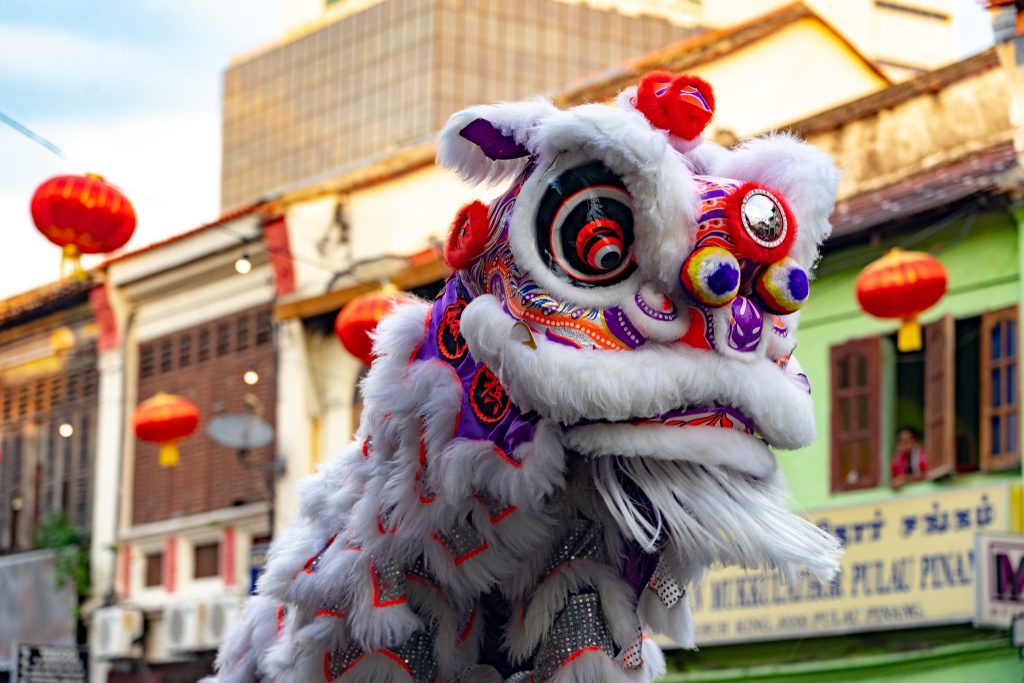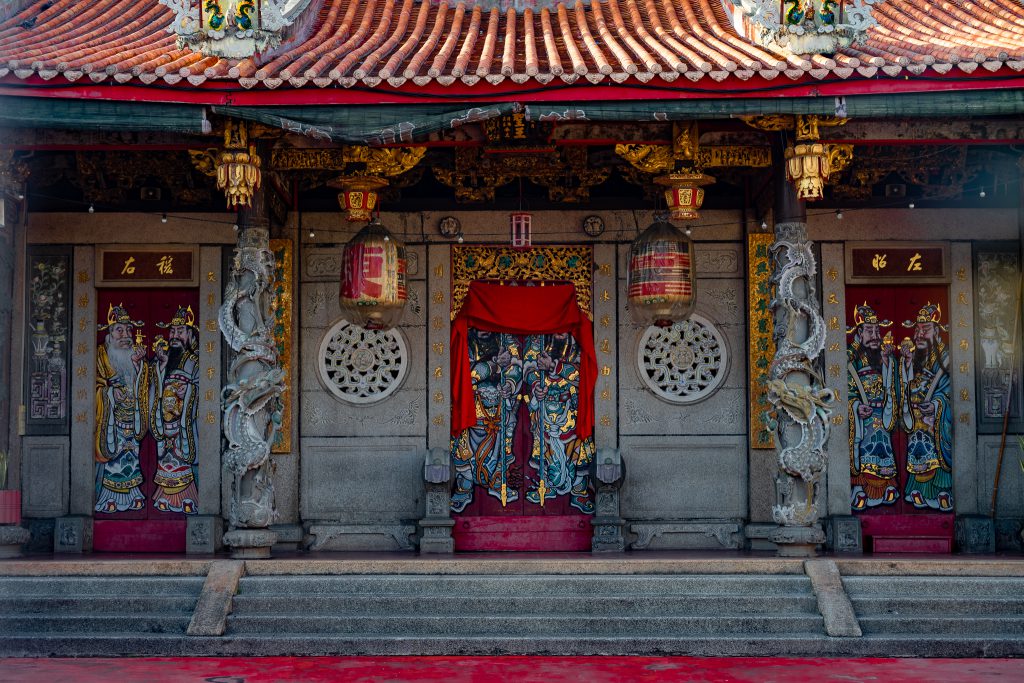 Malaysia is a place we would return to in a heartbeat. It blew us away with its vibrant culture, kind people, and mouth-watering food. Like Laos, it's a country we didn't know much about before we arrived, and could probably not even have identified on a map. Exploring countries lesser known to us has been one of the many joys of this trip. While our itinerary has also included spots we heavily researched in advance, we're learning there's a certain wonder and excitement to just showing up in destinations we know nothing about.
When you arrive in a new place without reading too much about it first, you're able to enjoy it for what it is, rather than stacking it against any preconceived notions you have. And for me in particular, who loves planning ahead, it's been a lesson in letting go and enjoying the present moment. Don't have any idea what to expect of where you're headed? Who cares! Just go and see what happens. It's Asia, so chances are pretty high that you'll find something interesting to explore–or delicious to eat.
Until next time, selamat tinggal from Malaysia.