Beautiful Bali: A Farewell to Asia
Bali is seductive. The combination of lush palm trees, creamy frangipani petals scattered across the ground like snowflakes, and incense wafting from tiny plates of roadside offerings has been casting spells on visitors for decades.But truth be told, we almost didn't go at all. Wary of encountering large crowds, we originally considered skipping Bali altogether in favor of its neighbor, the lesser known Indonesian island of Lombok. However, practicality won out in the end–flights between Bali and Australia are affordable, and since New Zealand was next on our agenda, we decided to make Bali our last stop in Asia. Plus, we wanted to find out for ourselves why Bali attracts so many visitors–popular places become popular for a reason!
After a long journey from Kathmandu that involved a delayed flight, an unexpected overnight stay in the Bangkok airport, and a connection through Singapore, we finally arrived. Although we were anticipating an atmosphere akin to MTV's Cancun spring break, we realized our assumption that Bali is a party destination filled with Australian college students was completely wrong. Sure, there are towns with reputations for wild all-nighters, but a lot of Bali is surprisingly quiet.
We kicked off our two weeks with a lazy stay in Nusa Dua Beach. Mike and I don't typically gravitate to chain hotels, but we unabashedly enjoyed treating ourselves to a few days at a mega-resort to let our aching muscles recover from trekking in Nepal. The beach was postcard-perfect and the water was clear and refreshing. We weren't far from a town, so we could easily walk off the resort to find authentic Indonesian dishes like beef rendang (similar to a curry dish, but without the broth) and nasi uduk (a meal that consists of rice cooked in coconut milk, along with vegetables and fried chicken.) It didn't take long for us to start falling for Bali and see why it's been winning the hearts of beach lovers for years. Whether you want to while away the day on a sunbed by the pool or stay active with surfing, scuba diving, or yoga, every activity (or non-activity) under the sun is available.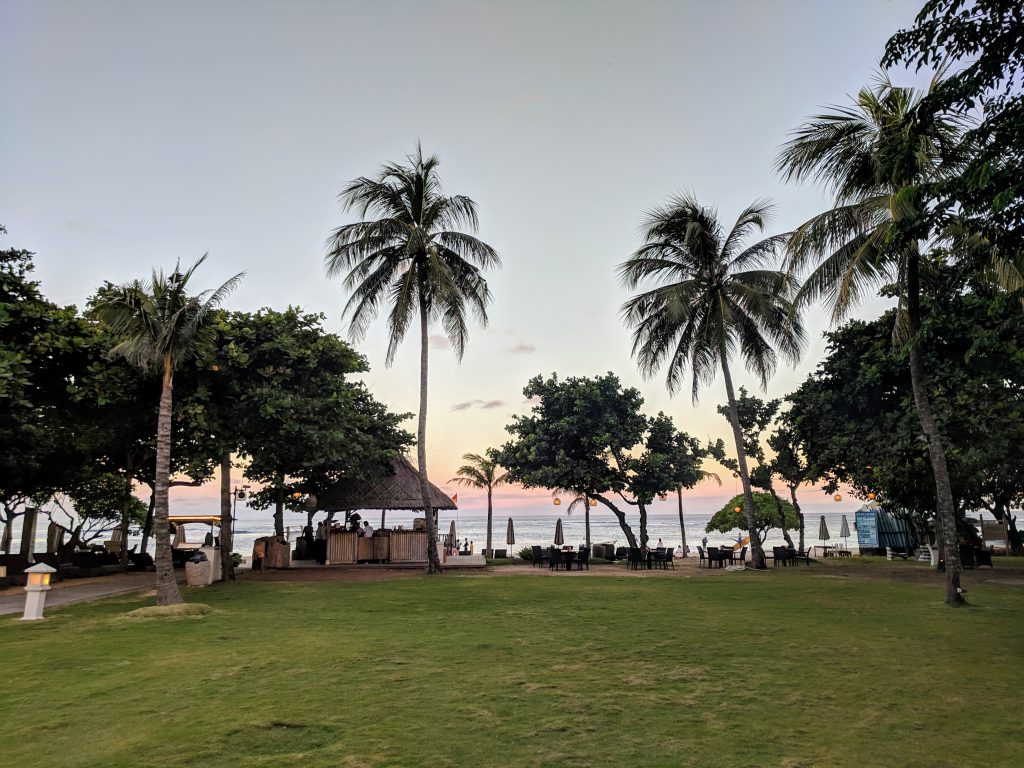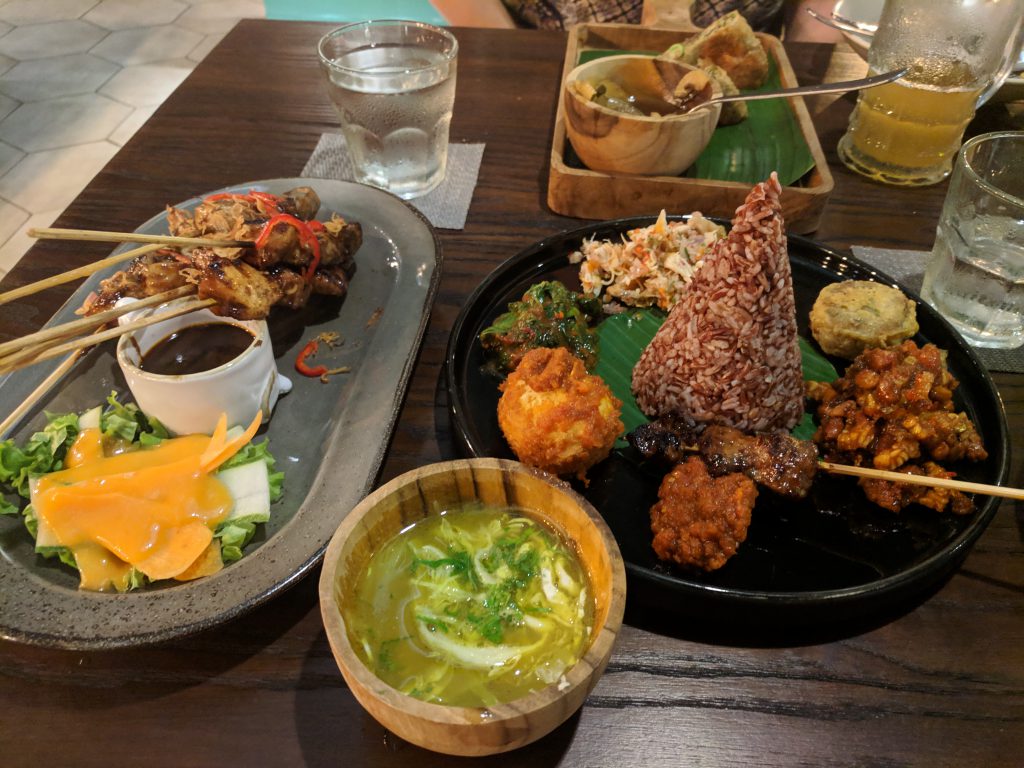 Once we left Nusa Dua for the town of Ubud, however, we began to encounter a more authentic side of Bali, and realize the island is much more than picturesque beaches. Made famous by the 2006 memoir Eat Pray Love, Ubud attracts all kinds of tourists, from people immersed in spiritual journeys to yogis on retreats to couples seeking romantic honeymoons. Although its streets are traffic-clogged and there are tons of western-style shops and restaurants, it retains a strong aura of spirituality. Maybe it's all the plates of Hindu offerings, or canang sari, that residents place daily outside homes, businesses, and temples. You can't walk down a street in Ubud, or anywhere in Bali for that matter, without having to step around them. The square woven baskets are filled with colorful flowers and often contain small bits of food and incense. Balinese Hindus set out the offerings each day to honor the gods, but the meaning behind them goes far beyond that–their daily preparation and presentation helps maintain balance between the forces of good and evil, and between the gods and mankind. Bali is a Hindu island in a Muslim-majority country, and its religious practices are a source of fascination for many, us included.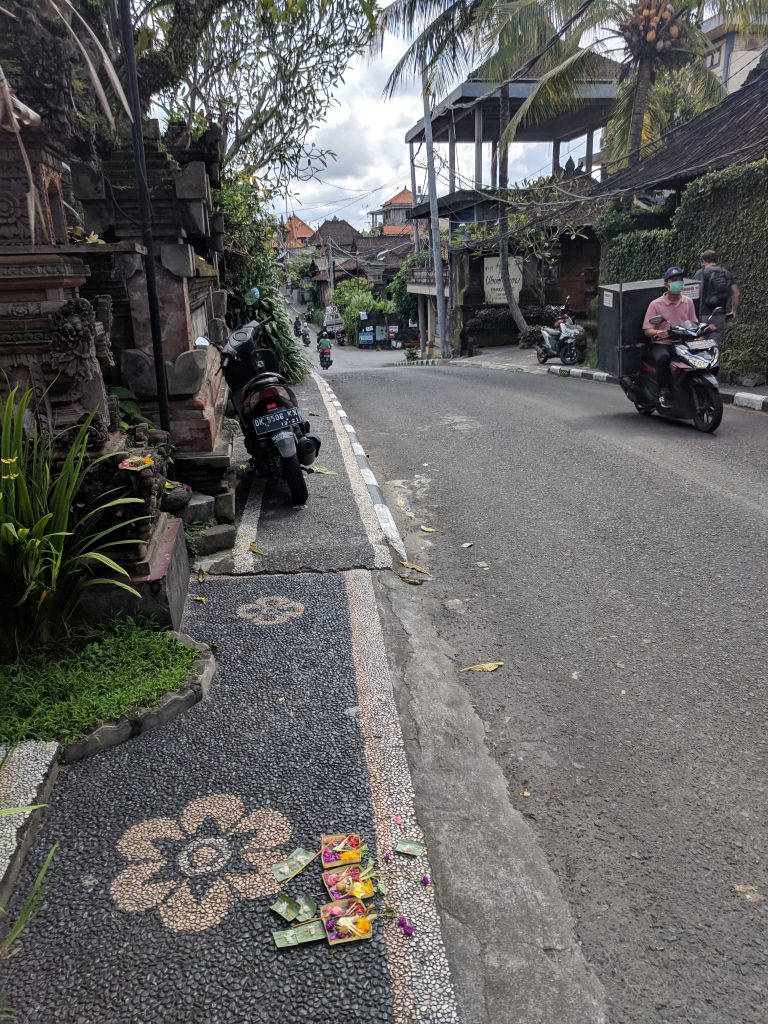 We witnessed religious rituals at seemingly random moments. One morning, while we sipped espresso at a cafe, the steady roar of motorbikes abruptly ceased as a Hindu procession came marching down the road. People dressed in traditional Balinese outfits paraded past with baskets of offerings balanced on their heads while others loudly beat drums and played other instruments. Moments like these are a reminder that Ubud isn't just a built-up tourist destination; it's a living, breathing town whose residents are still performing the same spiritual rituals that have existed for centuries.
While Ubud's center felt a bit stifling at times, we only had to venture a couple miles outside the city to discover little villages, soaring green rice terraces, and empty jungle back roads. Our favorite day was spent exploring rural sections of the island on a motorbike. In the morning, we walked to a scooter rental shop, and within five minutes of forking over 100,000 rupiah (about $7) we were confidently roaring north of town. (Oh, how far we've come since that first shaky scooter journey in Laos!) Brilliant tropical colors whizzed by in a blur, the veritable rainbow of hues reminding me of Sri Lanka. We stopped at the Tegalalang Rice Terrace, a towering staircase of ancient rice fields built on a hillside, pausing to take photos and sip on cold coconut water before venturing further north, eventually ending up at Gunung Kawi Sebatu temple.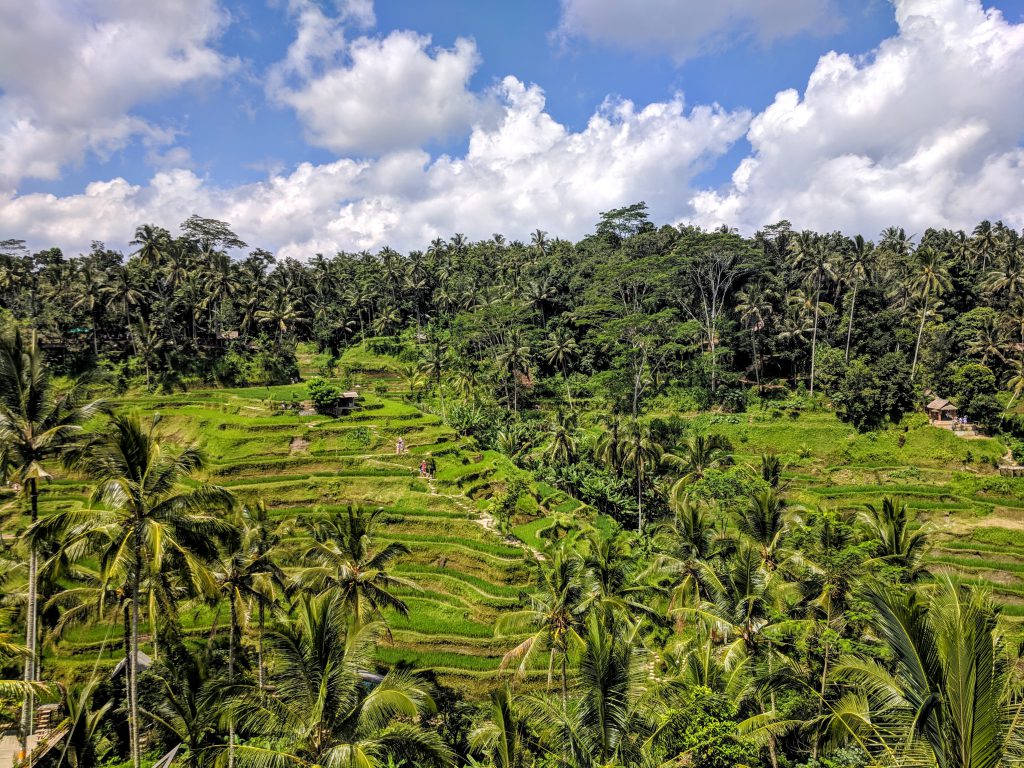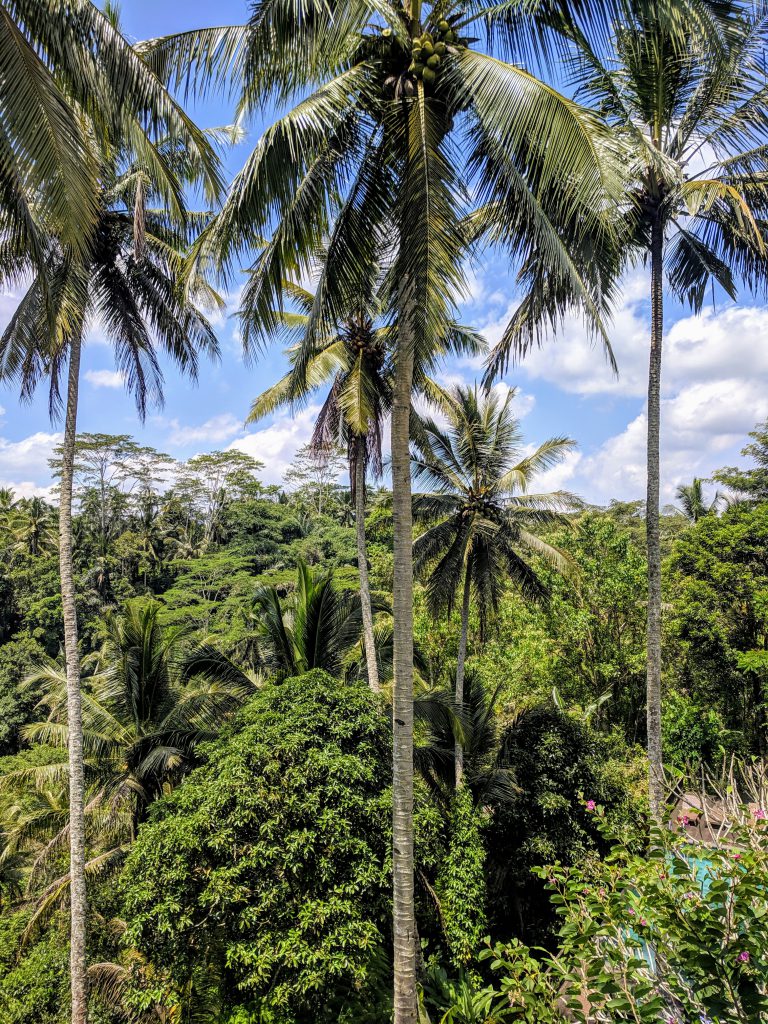 Bali's Hindu temples have a distinct style. They are all open to the sky, and are divided into three areas–an outer courtyard and two inner spaces, which are considered the most sacred. Tucked away in the jungle, Gunung Kawi Sebatu is famed for its springs of holy water, which shimmered in the afternoon sunlight as we circled them. Birds cooed in the trees, adding to the peaceful atmosphere. In fact, we were so zenned out we didn't notice a snake lurking nearby until it suddenly slithered past.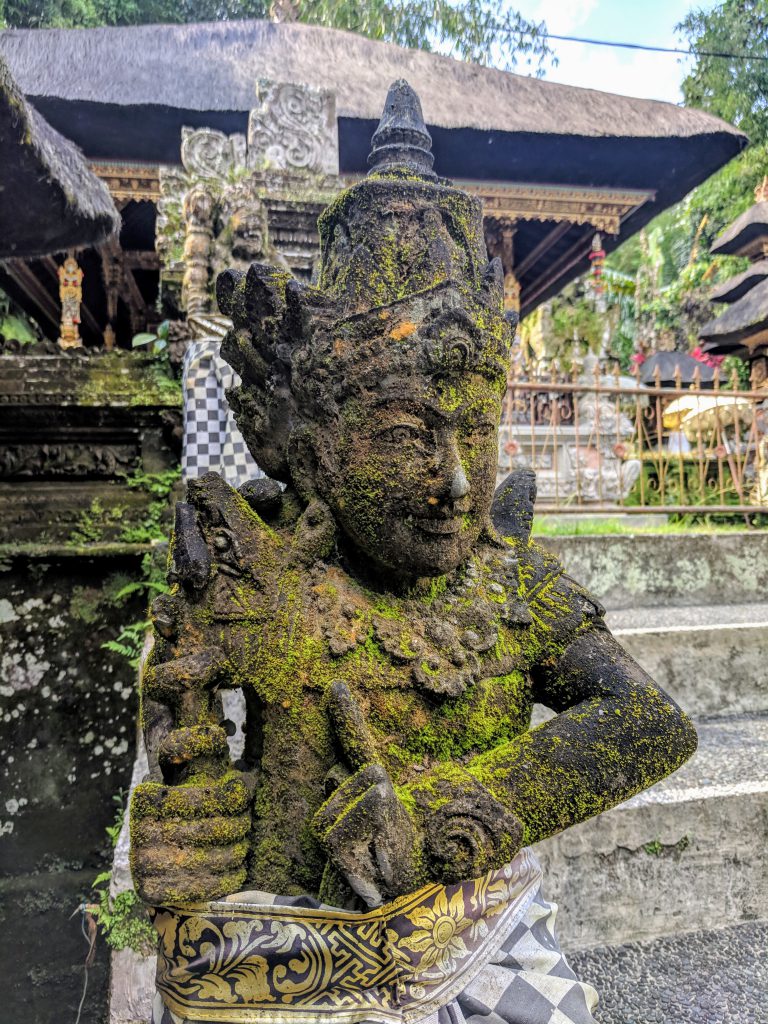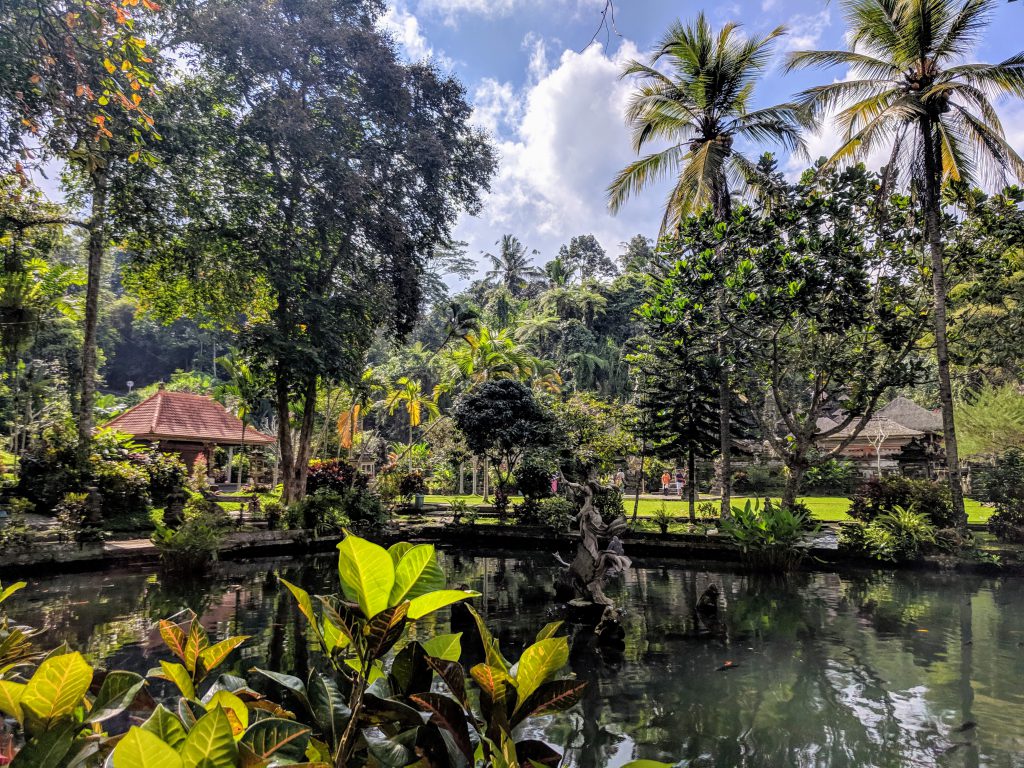 The highlight of the day, though, came on the way back to town, when we took a remote route and stumbled upon a local religious procession comprised of young men carrying ceremonial objects. We pulled over to watch, our presence drawing the attention of the participants, who cheerfully shouted, "Photo! Photo! Take our photo!" as they grinned and waved at us. We obliged, unable to stop ourselves from smiling back.
"The days we rent motorbikes are the best," Mike said as we jumped on our scooter again.
"I know," I replied. "Can you believe this is our second to last day in Asia? Remember the afternoon we got to Tokyo?"
"Of course," Mike smiled, remembering our glee in that seemingly long-ago moment.
It seemed fitting that we began our journey through Asia on one island, and were ending it on another more than three thousand miles away. The huge differences between Japan and Bali are a perfect representation of our biggest take-away from our six months in Asia: just how diverse the continent is. You can't define Asia in one sentence or fit it into a box. It is is a place where many things are true at once, often conflicting things. It's lively and energetic and loud, yet also quiet and deeply spiritual. It's eccentric yet traditional. History is valued while modern advancements are embraced. In lots of countries, there are dozens of languages spoken, and numerous people identify themselves as part of an ethnic minority. There are countless sub-cultures within each main culture. To visit one place in Asia is to explore just a tiny fraction of it.
But honestly, that's what makes it so exciting, and it's why we'll return one day. The knowledge that layer upon layer of culture and people and history awaits us in this corner of the globe is what has already inspired us to come back, and why we'd encourage anyone who has the opportunity to visit if they can. After all, isn't the joy of discovery–of knowing the unknown–why we leave home in the first place?
Until next time, selamat tinggal from Indonesia.