Auckland and Wellington: Our Introduction to Glorious New Zealand
New Zealand hardly needs an introduction. As our plane descended through the clouds and we caught our first glimpse of rugged coastline bordered by emerald waters, we immediately knew the country would live up to every ounce of the hype surrounding its natural scenery. Arriving in Auckland was surreal. We've dreamed about visiting New Zealand for years, and knowing that we were actually there–all the way at the bottom of the earth, so very far from home, on two wild islands carved by centuries of volcanic activity–felt like something magical. The fact that it was our first stop outside Asia only amplified the feeling.
In some ways, arriving in New Zealand felt like coming home. For the first time in months, we could revel in a culture that felt familiar. We could walk into a supermarket and find familiar products (like peanut butter and cheese!) We could stroll down a street and completely blend in. We could understand the language. After so many months of travel where we had to exert effort each day, where it sometimes felt overwhelming just to buy toothpaste or order a meal, we basked in the newfound joy of everything feeling easy. So many small things brought us happiness that first week in New Zealand, from the ability to drink water straight from the tap to being able to take long showers with a never-ending supply of burning hot water. Even flicking through the TV channels and finding The Real Housewives of New Jersey practically brought tears to my eyes.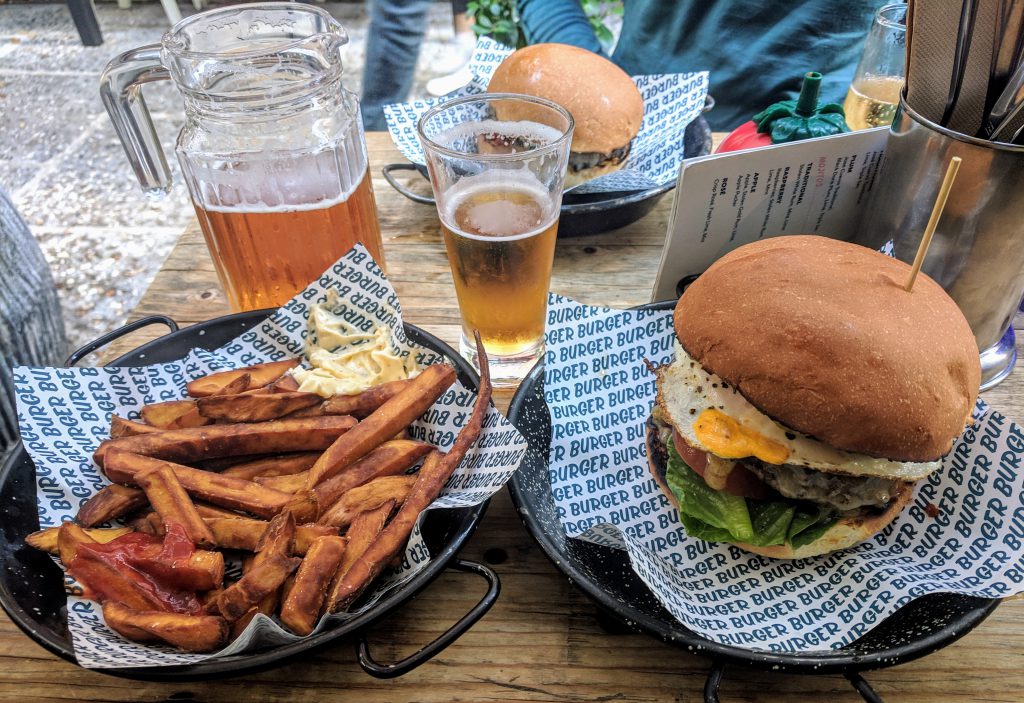 After 24 hours of vegging in our Airbnb apartment and cooking all our own meals (another pleasure!), we started to check out Auckland. Situated right between the Pacific Ocean and the Tasman Sea, Auckland is a metropolis surrounded by lovely natural landscapes (which we would soon see is the case for all New Zealand cities.) It's hard to fathom, but nearly a third of New Zealand's entire population lives in the city proper or suburbs. The downtown looks out upon a vast harbor with islands hovering in the distance. It reminded us of Vancouver or Seattle, right down to its fickle weather. On our first day of exploring, conditions switched back and forth at least four times between brilliant sunshine and rain showers. The weather didn't dampen our enjoyment of it at all, though–I haven't felt such an instant and intense love for a country we've visited since Japan. And it wasn't just due to the honeymoon feeling of being back in an English-speaking, westernized nation after six months of journeying through Asia–I loved everything about New Zealand.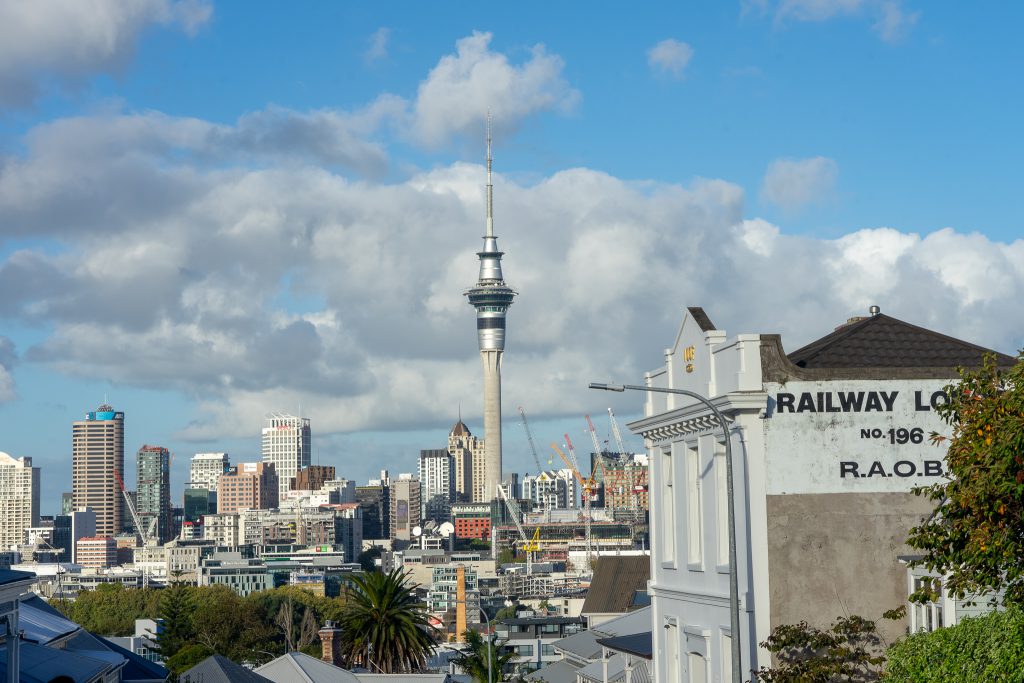 First off, it's drop-dead gorgeous in the nature department. It has beautiful beaches, ocean water that's a hue I can only compare to Hawaiian blue, and diverse terrain, from barren volcanic coastline to lush subtropical forests to snow-capped mountains. Hiking, biking, and outdoor activities are HUGE–everyone loves active pursuits. The country is diverse; it has many Asian immigrants, as well as the largest community in the world of people who hail from the South Pacific. There's terrific food, world-class wine, and a burgeoning craft beer scene. It's also socially and politically progressive, with a young female prime minister who's been described as "passionate about climate change, unabashedly feminist and an ardent supporter of gay rights" (Lonely Planet, 2018). And did I mention how friendly and open the people are, and how there is basically no traffic whatsoever? Are you wondering yet how you can migrate to New Zealand??
Of course, I'm aware that no country is without its problems, and that it's easy to romanticize a place where you don't live. However, as someone strongly in favor of stricter gun control legislation in the U.S., I have nothing but profound respect for New Zealand, whose government banned semi-automatic weapons just six days after the terrible March mosque shootings in Christchurch. SIX DAYS. No further commentary necessary there.
As much as we enjoyed the city of Auckland, getting out of town to explore the neighboring islands ended up being the highlight of our time there. One morning, we rose early and headed to the ferry terminal, then steamed out of the city harbor over to nearby Waiheke Island. Waiheke is known for having one of New Zealand's best wine regions, especially for lighter wines like rose and sauvignon blanc. We spent a day walking all over the island, trekking on paths between wineries as we paused to take photos of rolling green hills and rocky beaches. I felt like we'd been transported to some faraway, more casual version of Martha's Vineyard. Everywhere we looked, we wanted to stop and stare. New Zealand's beauty is heavenly–it's so gorgeous, it quite simply doesn't feel real. It belongs on another planet or in a different realm.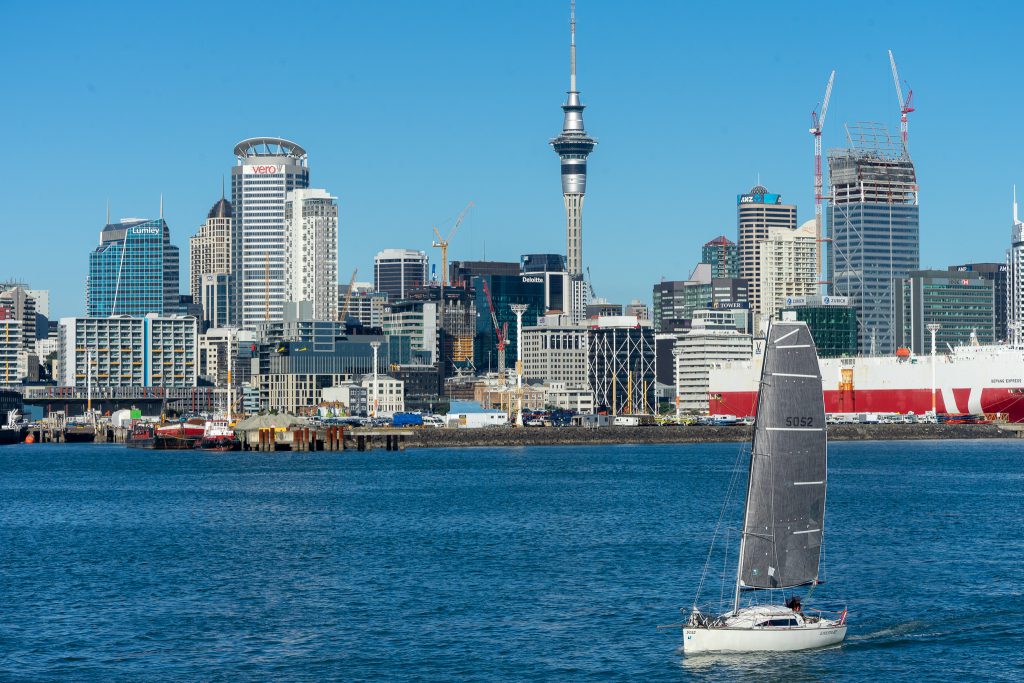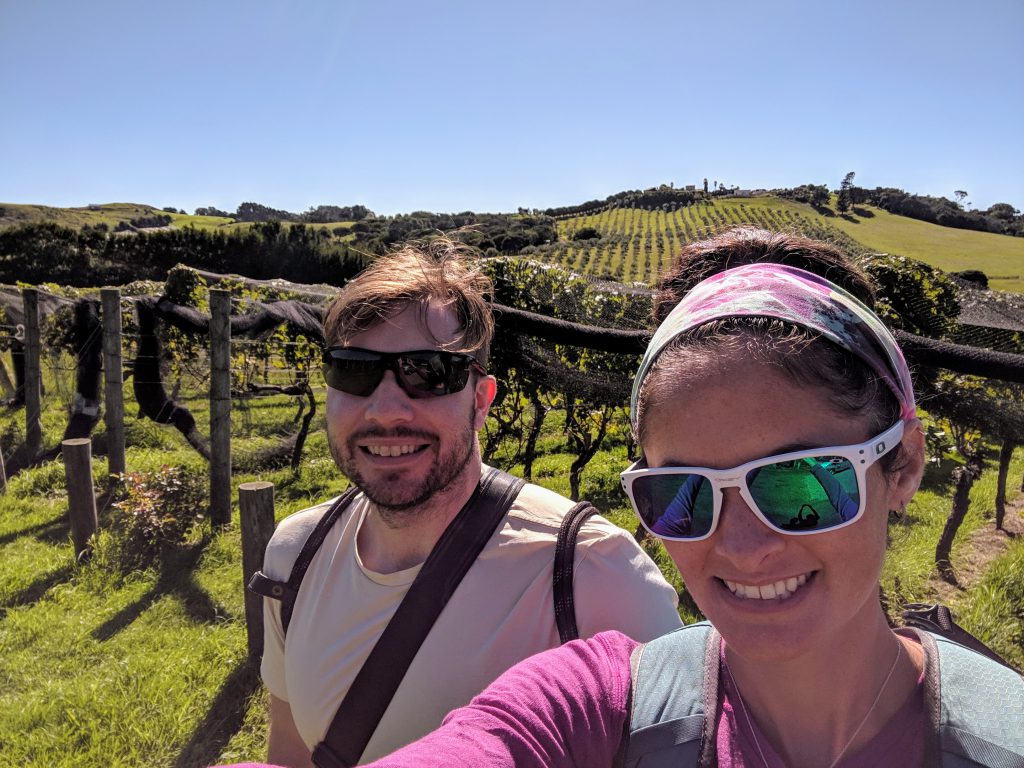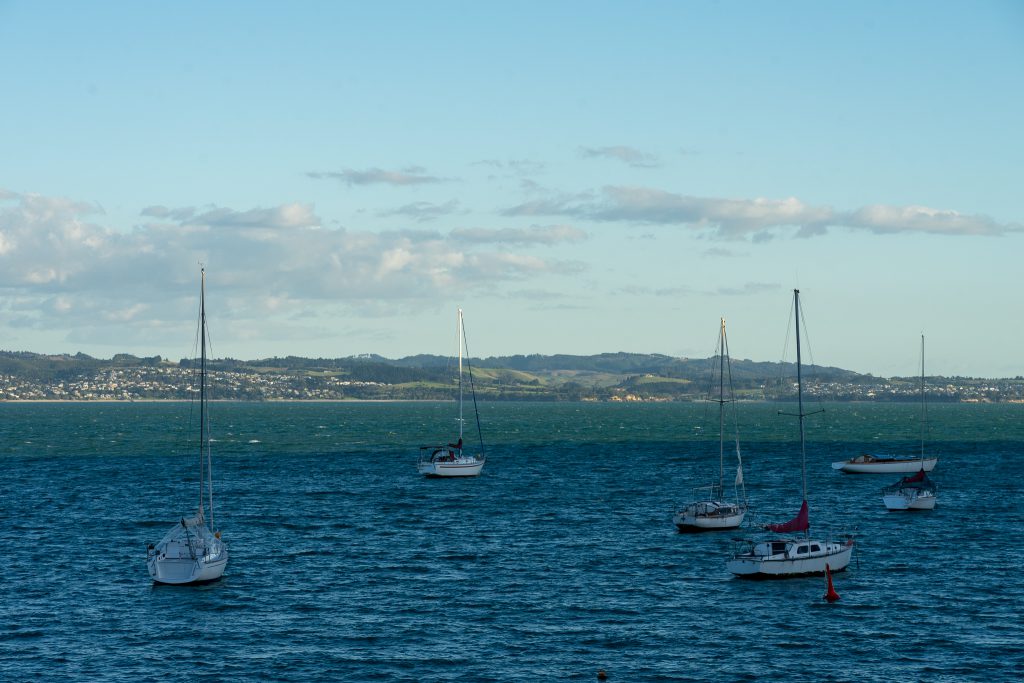 After five days in Auckland, we took the train down the north island to Wellington, the capital. The eleven hour ride was so mesmerizing that we did little but look out the windows the entire time. It felt just like our two day journey down the Mekong River from Thailand to Laos–I was worried that if I read a book or wrote in my journal, I would miss the glorious scenery going by. We passed sheep farms (yes, New Zealand really does have more sheep than humans), narrow river gorges, flat plains, and several noted mountains, including the volcanic cone of Ngauruhoe, which was featured as Mount Doom in the Lord of the Rings movie trilogy. Finally, the track emerged onto the craggy coast of the Tasman Sea just as twilight fell. It was an amazing journey, and we were happy we shelled out a little extra for it rather than going with the cheaper option, taking a domestic flight.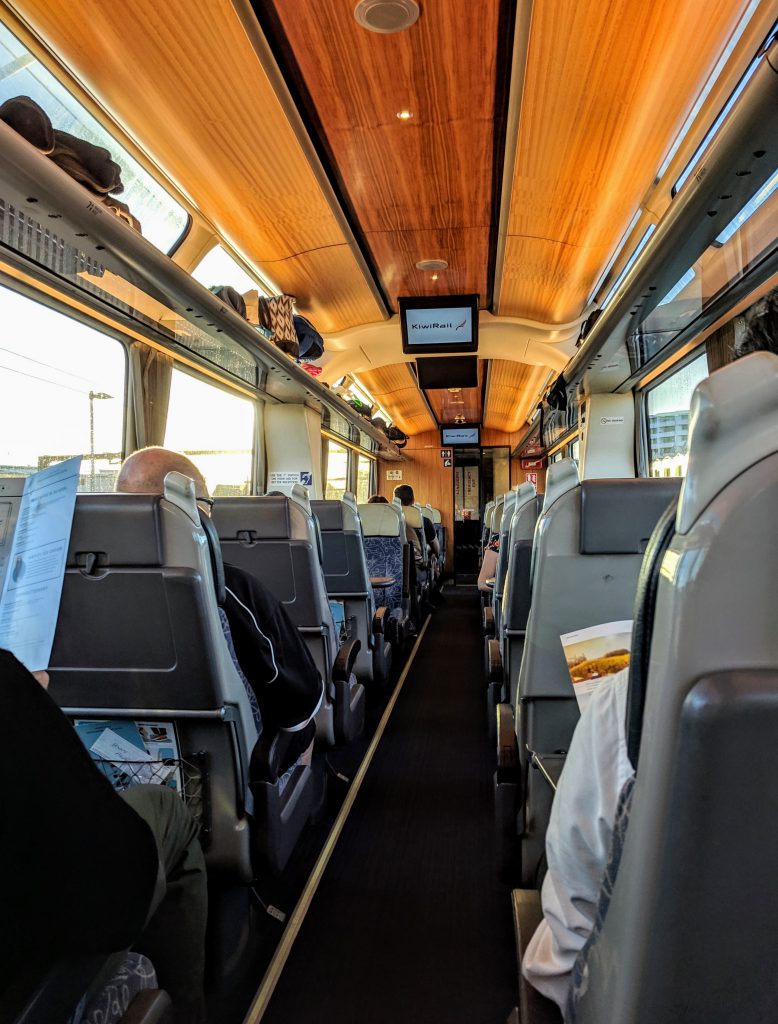 If our budding love affair with New Zealand took root in Auckland, Wellington sealed the deal. Windswept, hilly, and located on an expansive harbor, Wellington is stunning. We actually liked its vibe even more than Auckland's, which felt more offbeat and artsy than its northern neighbor. Wellington is known for its dozens of independent coffee houses, eateries, breweries, and dynamic music scene. The downtown area is also very compact, making it easy to see everything without having to drive or take public transportation.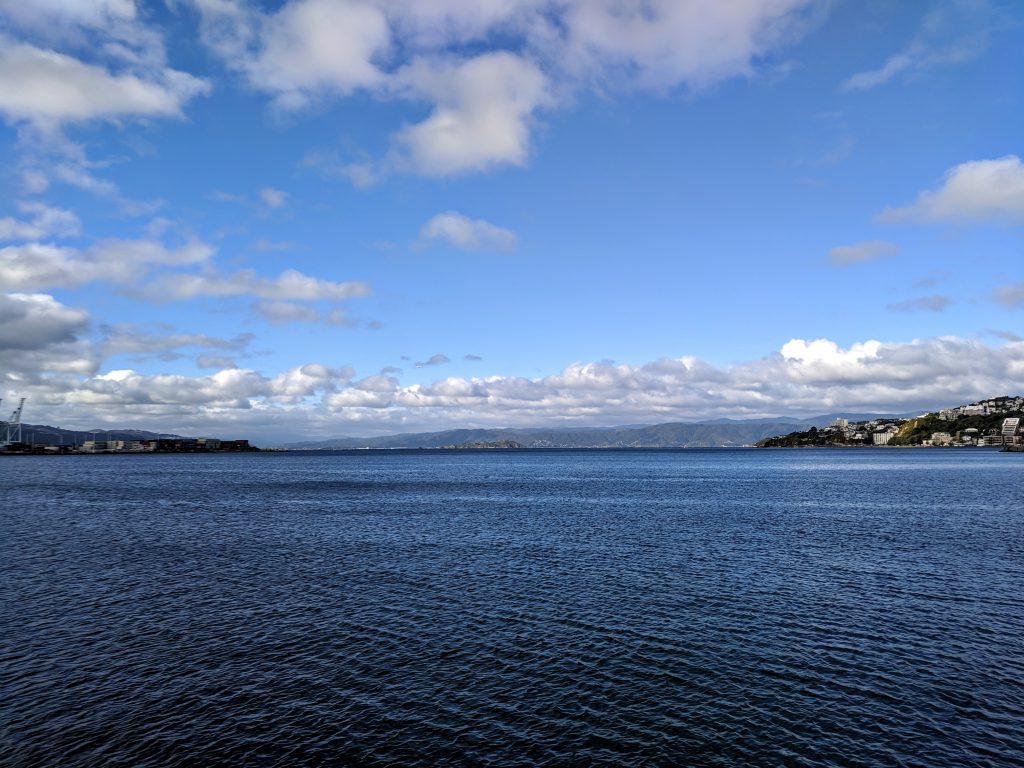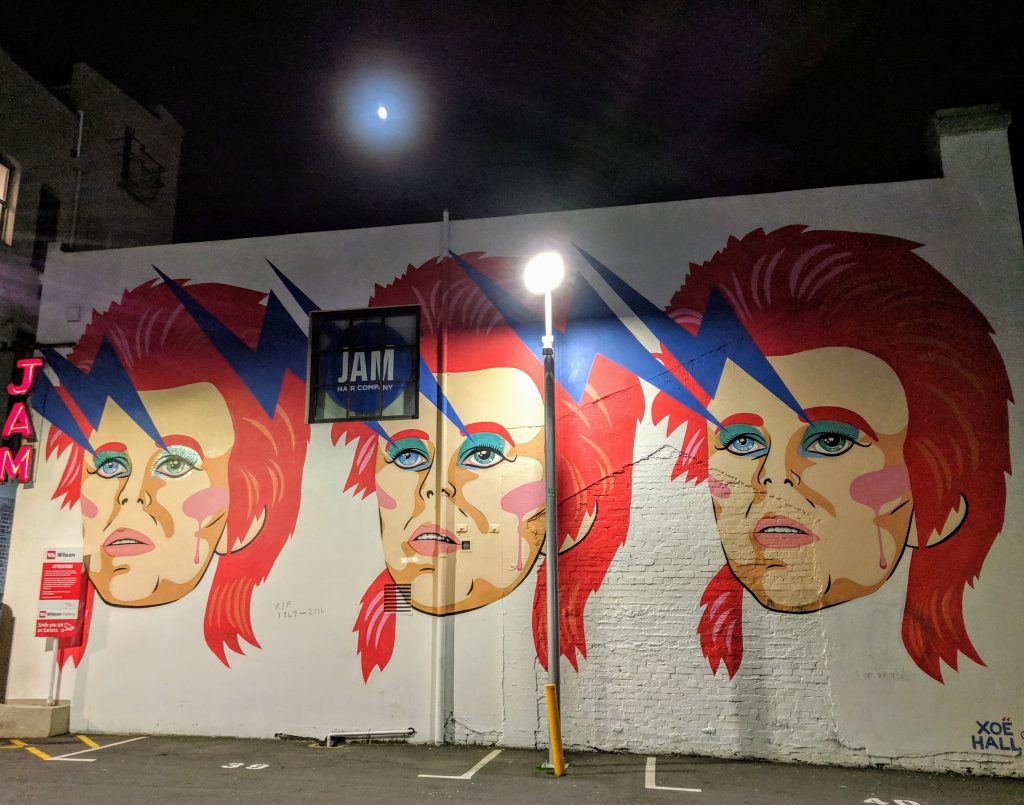 Unfortunately, we only stayed in Wellington for two nights. Had we not already set a firm date for picking up our camper van on the south island, we definitely would have lingered longer! We made the most of our one full day, waking up early and cutting through a park to get to the downtown area. The wet, misty forest trails with gigantic ferns and other exotic-looking plants felt ethereal–an aura that permeates all New Zealand's wilderness areas.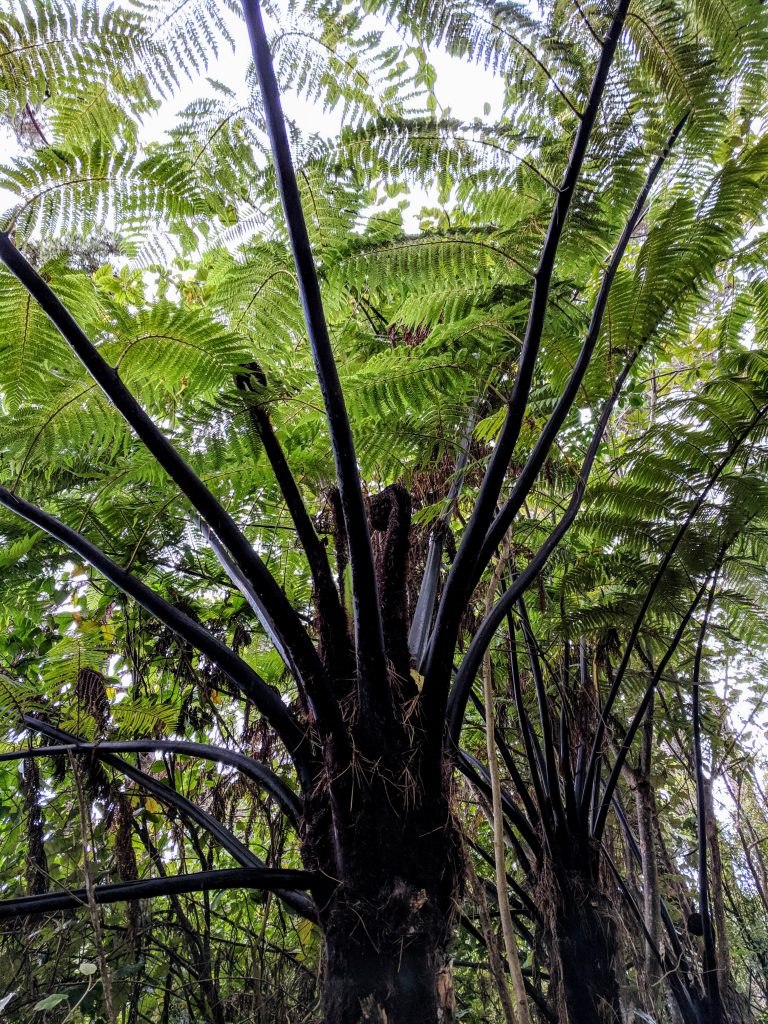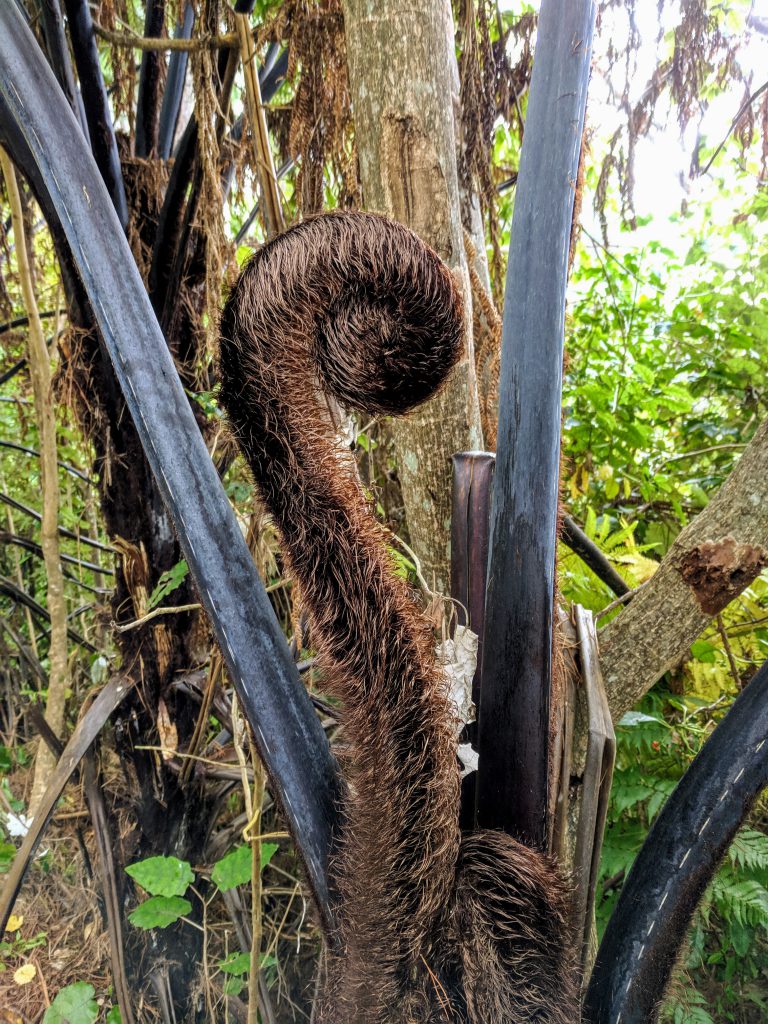 I indulged my inner literary nerd by heading to the Katherine Mansfield Museum, located in a Victorian house where the modernist author was born in the late 1800s. Mansfield, hugely popular in the early twentieth century, was a contemporary of Virginia Woolf. I've been a fan of her writing since reading her short story Bliss in high school. On the surface, Bliss is about an insecure married woman who discovers that her husband is having an affair. However, it's full of subtle ambiguities hinting that something else is going on. Mansfield's stories are kind of odd and often sad, with endings that leave the reader wondering. My inner teenager rejoiced at the chance to tour her childhood home.
We fueled up with homemade peanut butter toast from Fix and Fogg before continuing our self-guided city tour. In the afternoon, we ambled along the harborfront promenade and roamed the exhibits of the Wellington Museum, ultimately ending our day at Garage Project Brewery. Garage Project is New Zealand's most famous brewery and their beers are distributed worldwide. We love craft beer, and after months of drinking Asia's limited selection of lagers, we felt spoiled for choice as we examined Garage Project's huge range of pale ales and IPAs.
Our week on the north island drew to a close the following morning, when we took the interislander ferry through the Cook Strait to the south island. The three hour journey was, unsurprisingly, breathtaking. Just when we thought the scenery couldn't get any better, we arrived in the port town of Picton, which had the most spectacular harbor view I've ever laid eyes on.
"Come ON, New Zealand!" I exclaimed. "Now you're just showing off!"
As we disembarked and boarded the train to Christchurch, where we would pick up our camper van, I felt a surge of happiness. Driving a camper around New Zealand has been high on my bucket list for a long time, and I couldn't believe my dream was coming to fruition. As we steamed down the Pacific coast, the adventure of a lifetime–one of many adventures of a lifetime we've been lucky enough to have these past months–lay on the horizon. The south island was calling.
Until next time, goodbye from New Zealand.