One Van and Two Pairs of Hiking Boots: The Road Trip of a Lifetime in New Zealand
"So, what are we going to name her?" I asked as we eyed our camper van, a highly glamorous 2008 Toyota Estima the color of dirty dish water.
"How about Shud?" Mike suggested.
We both burst out laughing. Shud is our favorite Saturday Night Live character (search Shud the Mermaid on YouTube if you have no idea what we're talking about; we promise you'll laugh.)
Shud it was!
Our two week road trip with Shud the minivan began in Christchurch. Although we reserved a van in advance, we did almost zero planning for our camper adventure. It was mid-April, fall in New Zealand and nowhere near as crowded as the country gets during the summer, so we figured we had freedom to be spontaneous. Our loose plan was to hike at least every other day and see as much of the south island as we could.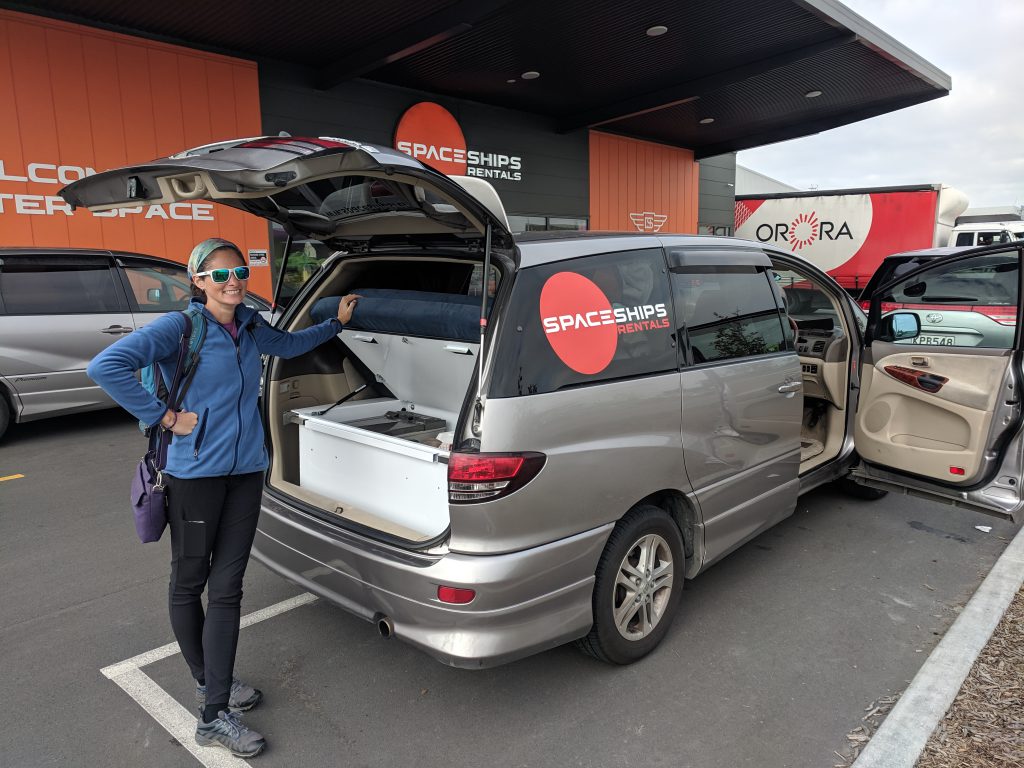 After getting the rundown on how to operate Shud, including instructions on setting up the bed in the back and keeping the mini-fridge cold, we were ready to hit the road. As Mike drove us south, I scoured an app called CamperMate to find a campground to park for the night. As I scrolled through lists of government-operated budget campsites and fancy holiday parks, one place stood out. It wasn't a campground, but someone's private driveway–specifically a driveway on a working sheep farm. We quickly agreed to head there. When else would we get the opportunity to spend the night on a New Zealand sheep ranch?
Sleeping in the driveway of a sheep farm in the tiny town of Fairlie ended up being the first of many wonderful spontaneous choices we made on the south island. The owner of the ranch, Evan, greeted us as if we were long lost friends and immediately offered to take us on a tour of his property. He cheerily explained everything from the shearing process to how to determine the quality of wool. We even got a chance to play with his highly trained yet adorable sheep dogs, who followed us around merrily, pushing their heads into our hands when they craved a scratch.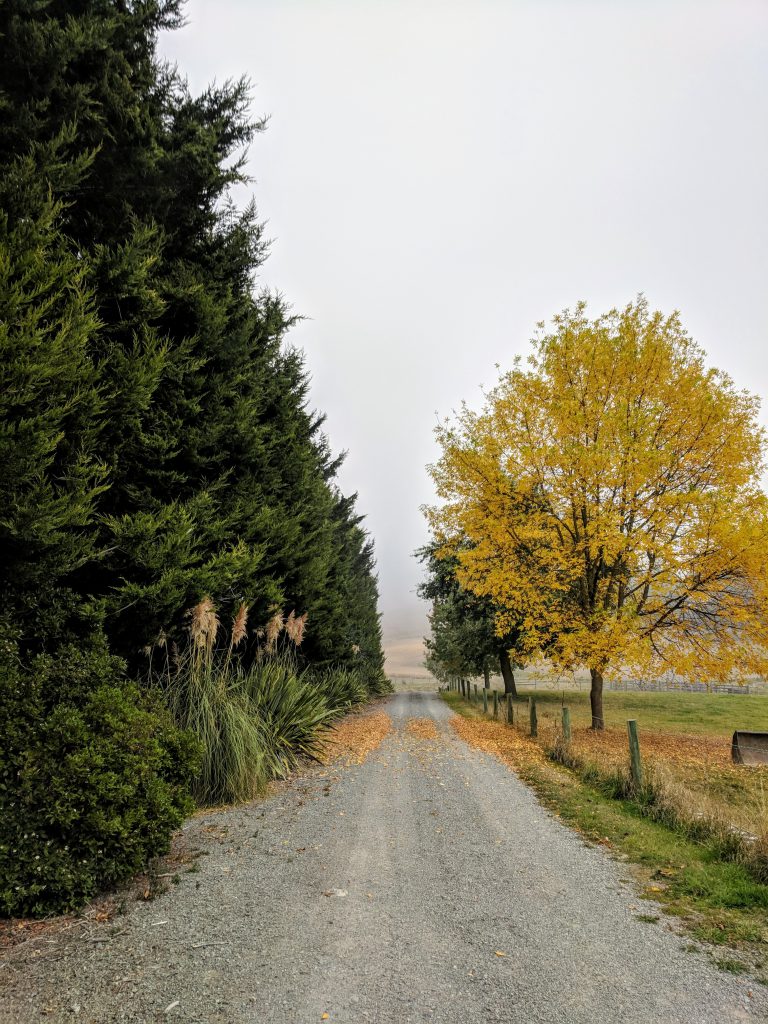 Later in the evening, Evan invited us inside to sign his very full guest book. Apparently he's been hosting camper vans in his driveway for several years now, opening his property to anyone passing through who might need a place to park for the night. We've been fortunate to make friends from all over the world these past few months, but Evan might be the most unexpected one of all. When we woke up that morning, we had no idea we'd befriend a semi-retired farmer in rural New Zealand by the end of the day. As I've said before, the best travel experiences are the ones that happen randomly.
The next morning, we rose early in the autumn chill and continued south, making our way towards some of the country's most spectacular national parks. The land where Evan's farm was located–which looked surprisingly similar to the flat farmland on Maryland's eastern shore–suddenly gave way to barren volcanic mountains.
We completed our first official south island hike next to Lake Tekapo, whose milky turquoise waters look like they belong on Mars. The scenery reminded me of the American west; the trail views gave me serious Yellowstone National Park deja vu. Until, that is, I would turn and gaze at the lake. New Zealand's beauty defies earthly logic. Like Sri Lanka, it seems to have colors that don't exist anywhere else in the world.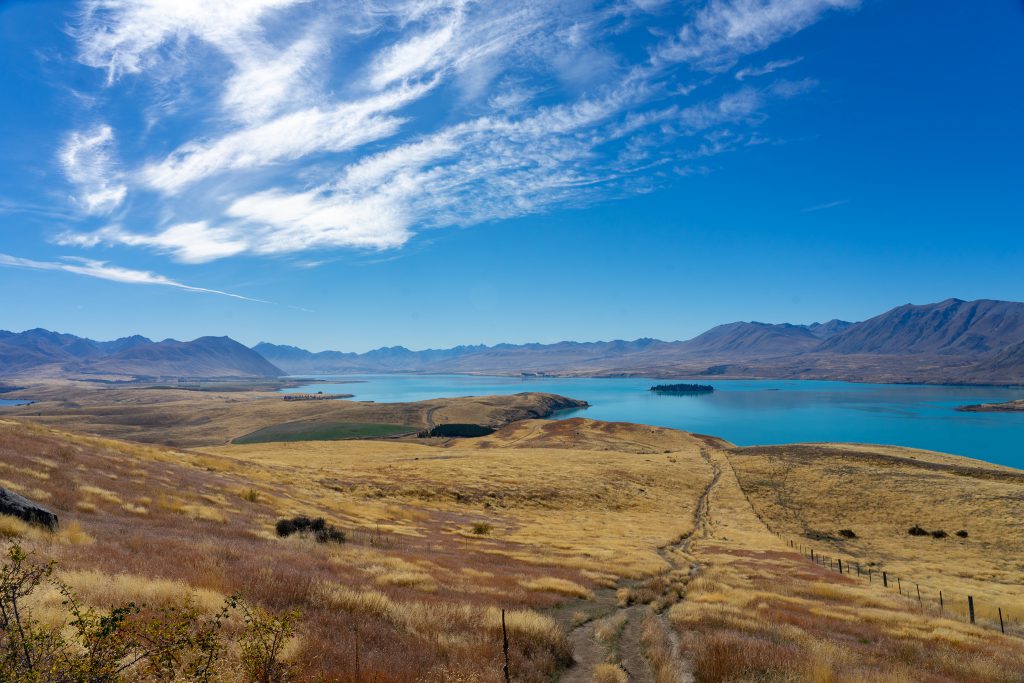 Ready to tackle something more challenging following our "warm-up" hike, we drove Shud to the bustling resort town of Wanaka, which is surrounded by quad-thrashing but awe-inspiring hikes. The town of Wanaka is quaint enough, but the scenery around it steals the show. Outdoor enthusiasts are spoiled for choice–there are not one but two massive lakes nearby with ethereal blue waters.
We got to see both on the day we hiked Isthmus Peak, a ten mile out-and-back trek that took us high into the mountains surrounding the lakes. Despite an overcast start, we reached a spot several miles up where we literally ascended above the fog. Dramatic mountains suddenly burst into view, and the lakes shimmered below us, so still they looked like stained glass cathedral windows. Sheep dotted the green lakeshores like miniature cotton balls. It was one of the most beautiful hikes I've done in my life, rivaling even some of the vistas in the Himalayas.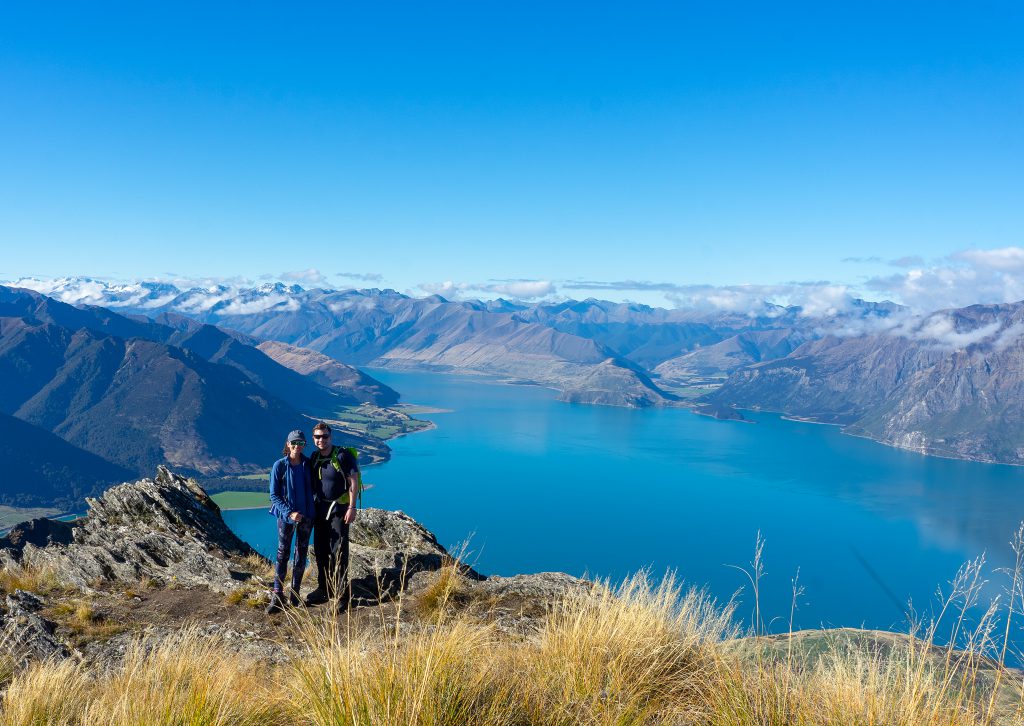 Meanwhile, we were rapidly settling into camper life. After roughing it in Nepal back in March, "roughing it" in New Zealand may as well have been vacationing at the Four Seasons. Although we were sleeping in an unheated van in the middle of autumn, when nighttime temperatures on the south island often dip into the thirties, we had little to complain about. The van came equipped with cozy bedding and a kitchen compartment fully outfitted with a mini-fridge, gas cooktop, and cooking utensils. Plus, the vast majority of campgrounds in New Zealand, even more basic ones operated by the Department of Conservation, are clean and well-equipped, and many even have hot showers and wifi. Van life was turning out to be pretty nice!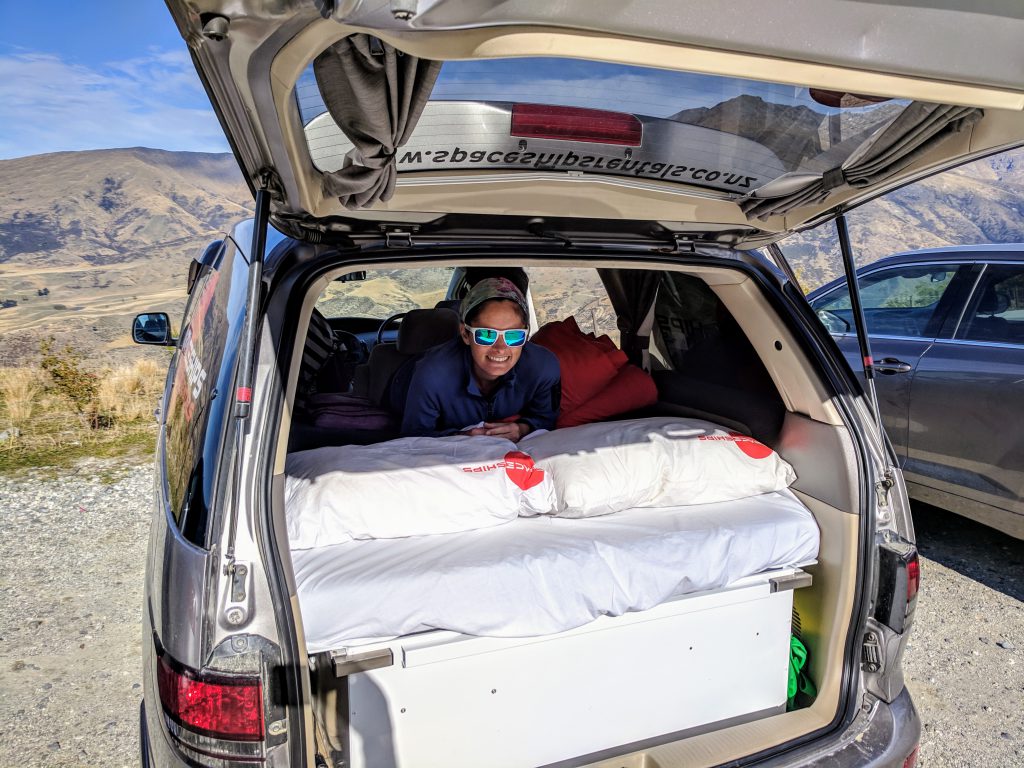 We took a few days to appreciate Wanaka before moving on, but not before our next destination was determined by a random encounter at a brewery. One rainy afternoon, after completing a morning hike around a small lake with vibrant fall foliage, we ducked into a local pub to treat ourselves to a post-workout beer. A group of friends sitting next to us struck up a conversation. It turned out two of them–south island natives and hiking lovers–had a plethora of insider tips.
"Make sure you go to Fiordland National Park," one of them commented. "And the best hike there is called Gertrude's Saddle. It's hard, but it's so beautiful."
"Awesome, thank you!" I said.
"Just one thing," she added seriously. "Do NOT do it if it's raining. You'll see what I mean when you get there."
And just like that, we found ourselves pointing Shud in the direction of the Fiordlands. Fiordland National Park is New Zealand's crown jewel and one of the most stunning places on the planet. It's also the location of Milford Sound, whose conical mountains and dark waters form an iconic vista that's been painted, written, and sung about for generations.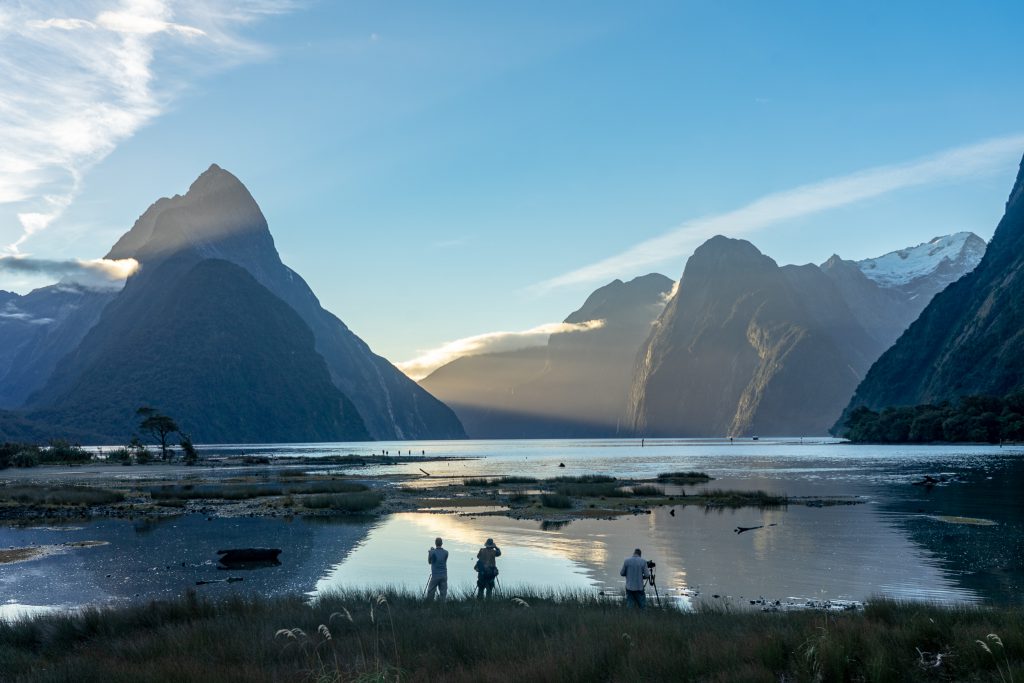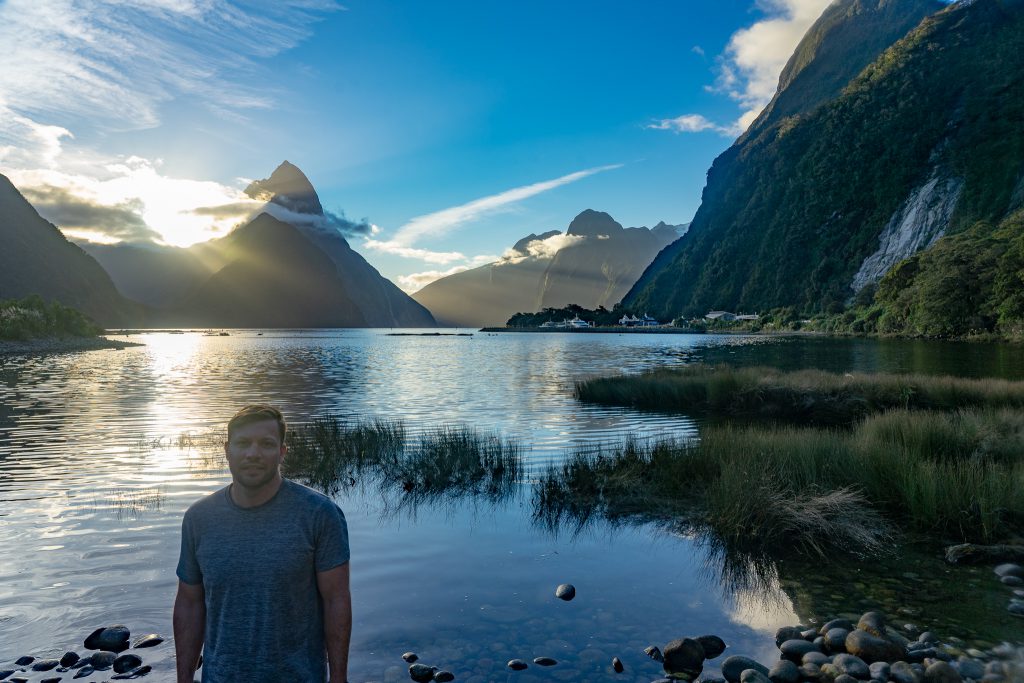 We camped at a little site just inside the park, watching the sun go down over distant snow-capped peaks as stars slowly lit up the velvety night sky. Since the Fiordlands have no light pollution (the case for much of New Zealand, where the total population is less than five million), the amount of stars was staggering. There were so many that we felt like we were living inside an IMAX film. Mike, who loves night sky photography, could barely be coaxed to get in the van as the night wore on.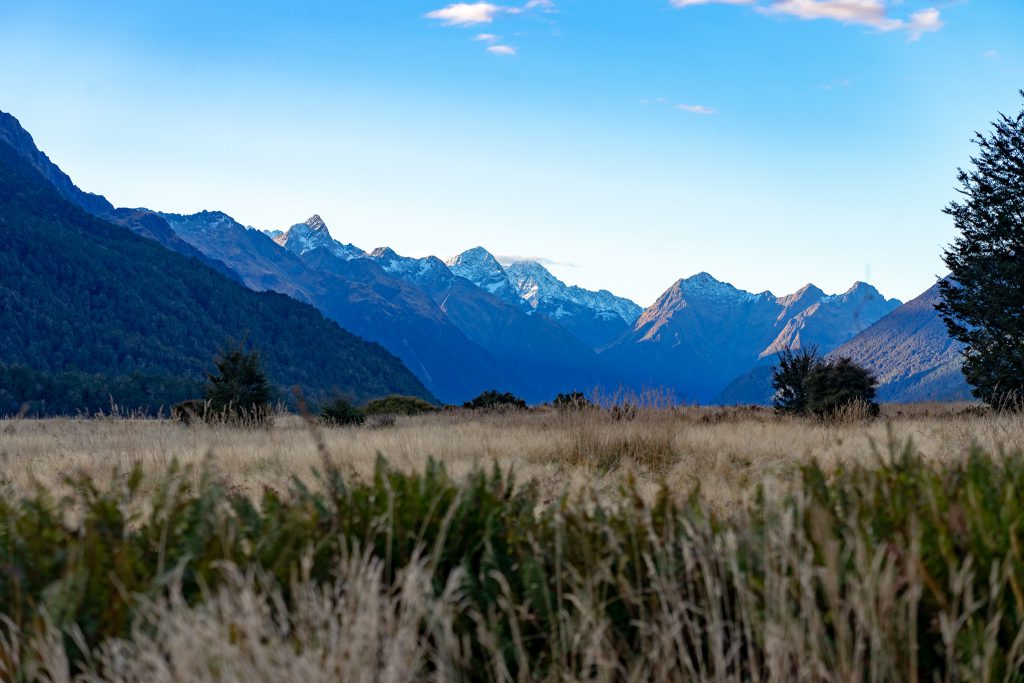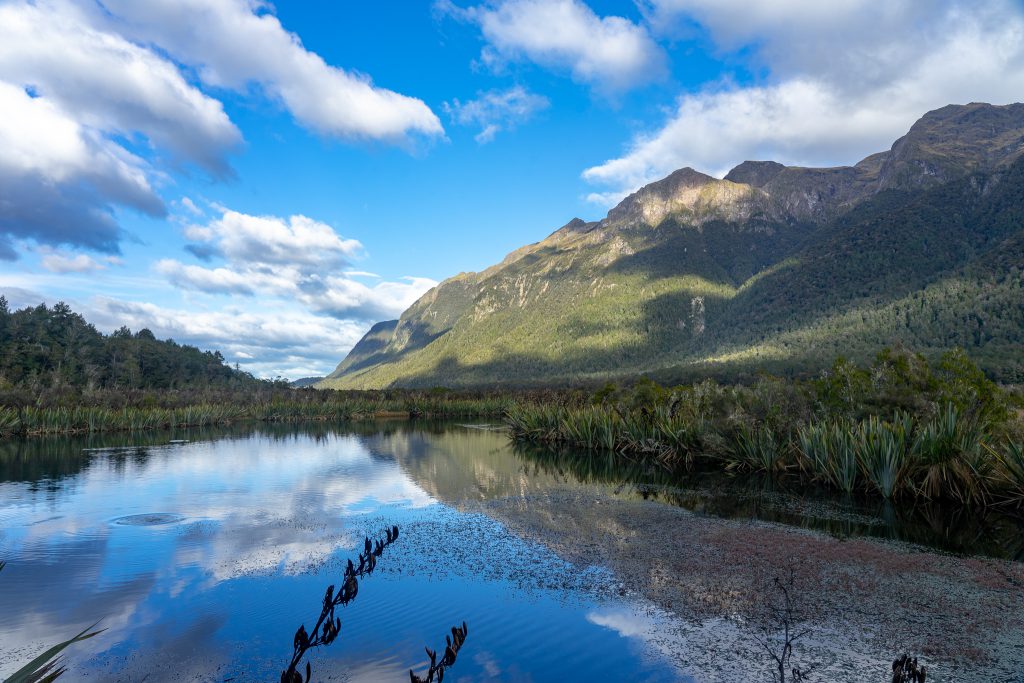 The following morning, we ventured further into the park and arrived in the Gertrude Valley, ready to attempt the hike our brewery acquaintances recommended. We immediately realized why trying it in poor weather would be an awful idea–much of the extremely steep trail requires walking along a rock face and scrambling over boulders, so rain quickly creates dangerous conditions. But luckily we had a clear morning, so we decided to push on despite a seemingly endless number of scary warning signs.
The hike wasn't easy, but it delivered amazing views. After three hours of precarious ascending, carefully watching every step and pulling ourselves up with the help of steel cables bolted into the rock face, we arrived on a narrow ridgeline. The sea of thick clouds roiling below us looked like the ghostly tentacles of a creature in a fantasy story. Every drop of sweat we poured into getting to the top was worth it.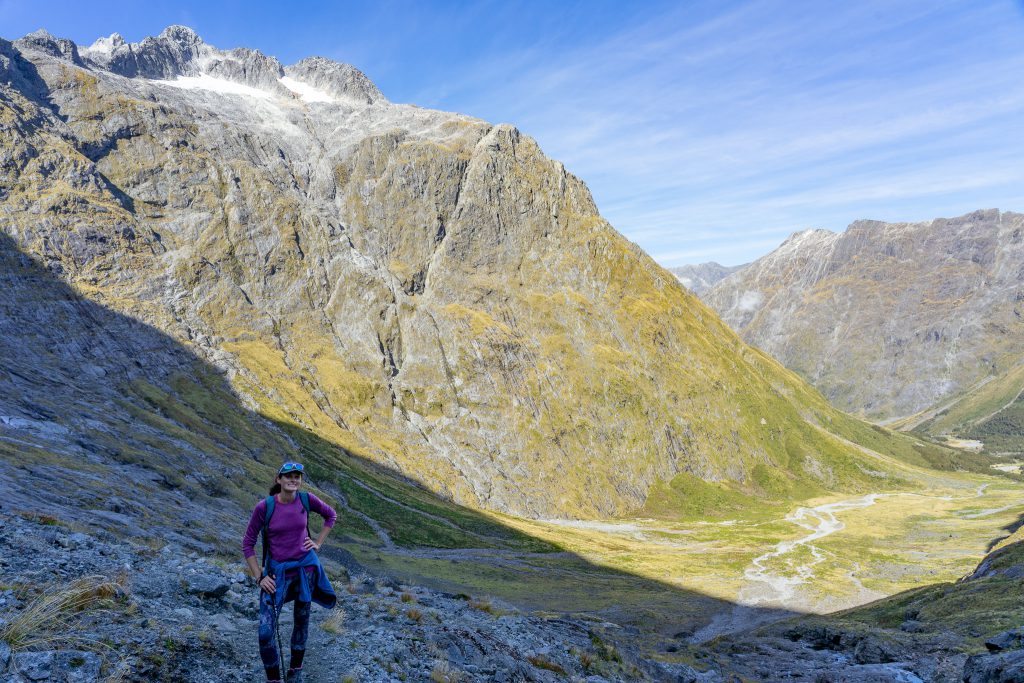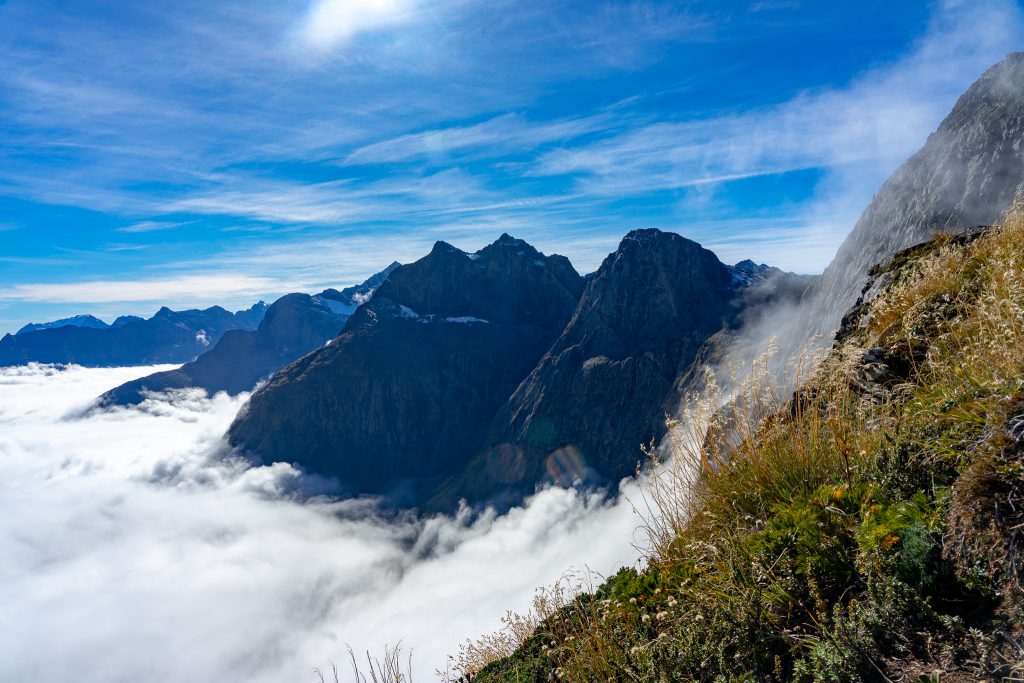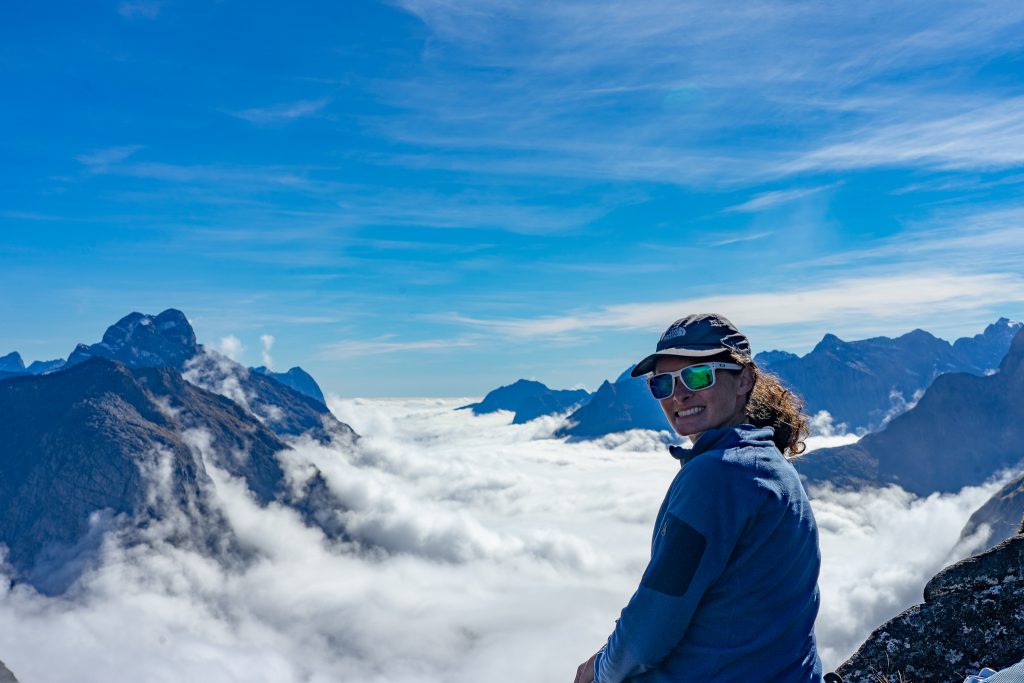 From the Fiordlands, we made the decision to drive to Queenstown. Queenstown is New Zealand's adrenaline capital where every extreme sport under the sun is available, from bungee jumping to downhill mountain biking. There's even a huge park where you can try luge, the hair-raising winter sport that involves catapulting feet-first down an icy track. The city is situated in a mind-blowing location right on New Zealand's third-largest lake, but unfortunately, it's also mobbed with tourists.
Rather than parking Shud at a crowded downtown campground, we made another last minute choice that paid off–to stay in a hotel for a couple of nights. Through a quick online search, we found a place that was offering steep discounts for anyone who booked a room that day. The bonus? It was located at a winery. Sold!
Our two night stay at Kinross Cottages highlighted what wonderful accommodation options New Zealand offers. Since road tripping is so popular in the country, most hotel rooms (even budget ones) have kitchenettes and laundry facilities. Kinross also had a cozy outdoor fireplace and gave us free wine tastings as part of our stay. New Zealand wine is world class, and while we never made it to the Marlborough region (the country's most famous area for wine), the vineyards around Queenstown make some excellent pinot noirs.
The foodie scene in New Zealand is also on the rise. A decade ago, there wasn't much variety in the country's cuisine, which was mostly of the steak and potatoes assortment and influenced greatly by bland British dishes. However, the culinary scene has exploded in the past ten years and there are now more farm-to-table options than ever. We took full advantage, making sure we paired pinot noir with yummy dishes like lamb rump and pumpkin ravioli. I've always had a soft spot for autumn comfort food, so I loved having a chance to experience western-style cold weather meals after spending last fall in Asia.
With full bellies, well-rested muscles, and clean laundry, we took on one last tough hike in the Queenstown area, the Ben Lomond track, before moving on to the south island's remote west coast. If you're truly looking to get away from civilization, it's the place to go. Aside from a handful of tiny sheep-farming communities, there is nothing for miles around except national parklands and unforgiving rocky coastline. In fact, most of the towns on the west coast weren't even connected to the rest of the south island by road until the 1960s.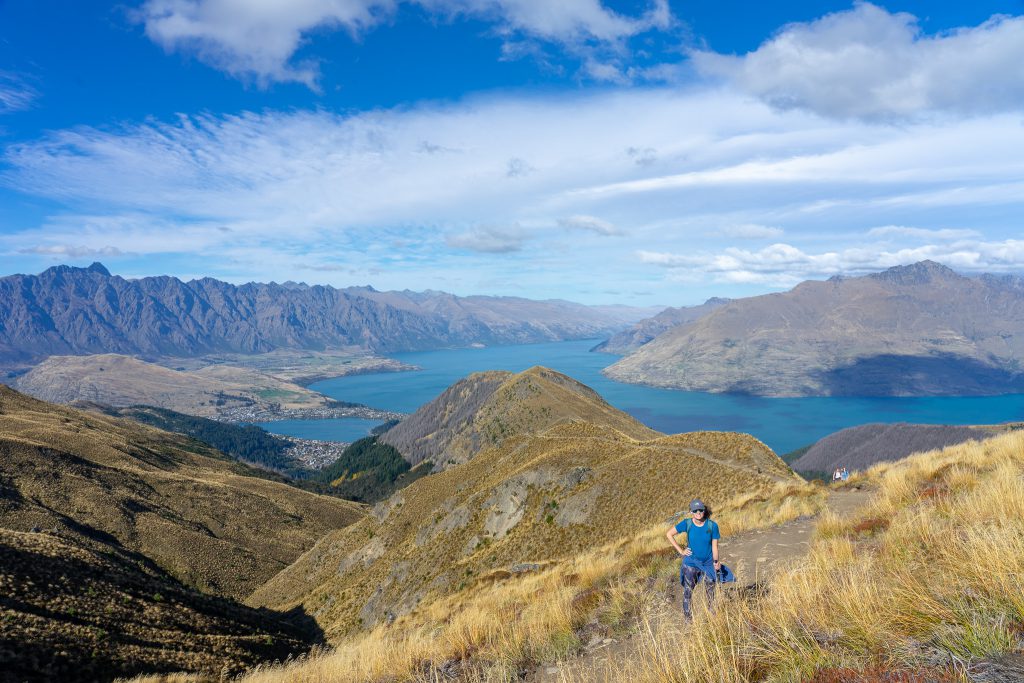 It was a fascinating area to explore, despite the rainy weather we encountered. My favorite afternoon was when we stopped for lunch in the coastal town of Hokitika. We walked down to the pebble-strewn beach to take photos of the Tasman Sea, imagining as we looked out at the horizon that we could spot the coastline of Australia (which we obviously couldn't–Australia is much further from New Zealand than maps might lead you to believe!) The waves came suddenly crashing in, splashing our legs with chilly water and sending us dashing back towards town. We were giddy with laughter, chiding ourselves for being the type of tourists who get so caught up in taking photos that they turn their backs on the ocean.
Our main goal on the west coast was to hike around Franz Josef Glacier, which is purported to be breathtaking (despite the sad fact that global warming is causing it to retreat more and more each year.) Unfortunately several days of torrential downpours prevented us from seeing the glacier up close, but we had the luxury of choosing from seemingly dozens of other bucket-list hikes. We decided to head to Arthur's Pass National Park instead before ending our journey back in Christchurch.
The Bealey Spur hike in Arthur's Pass was different from any of the others we did–in fact, every single trek we completed in New Zealand felt like it existed in a unique ecosystem. The trail first led us through a wet forest coated with a down layer of bright green moss. The scenery was exquisite, especially when the sun shone through the trees. It almost felt the setting of a Grimms' fairy tale, as if a princess might be lounging right around the corner on the fallen logs.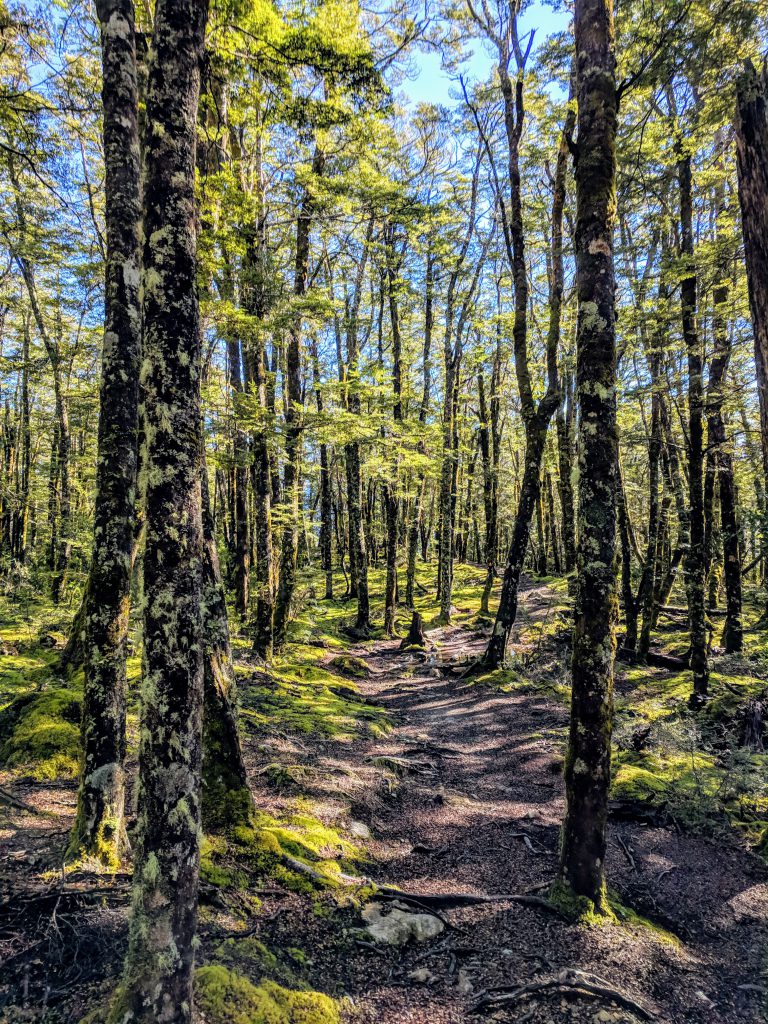 We climbed higher, where the forest gave way to swamp-like marshland and eventually the dry scrub of a mountainside. At the top, we discovered a panoramic view that stretched for miles in every direction. Many of the distant peaks had snow on top, making them look like giant frosted cupcakes. We reluctantly pulled ourselves away, eventually walking back down the way we'd come and loading into the van for one last drive with Shud.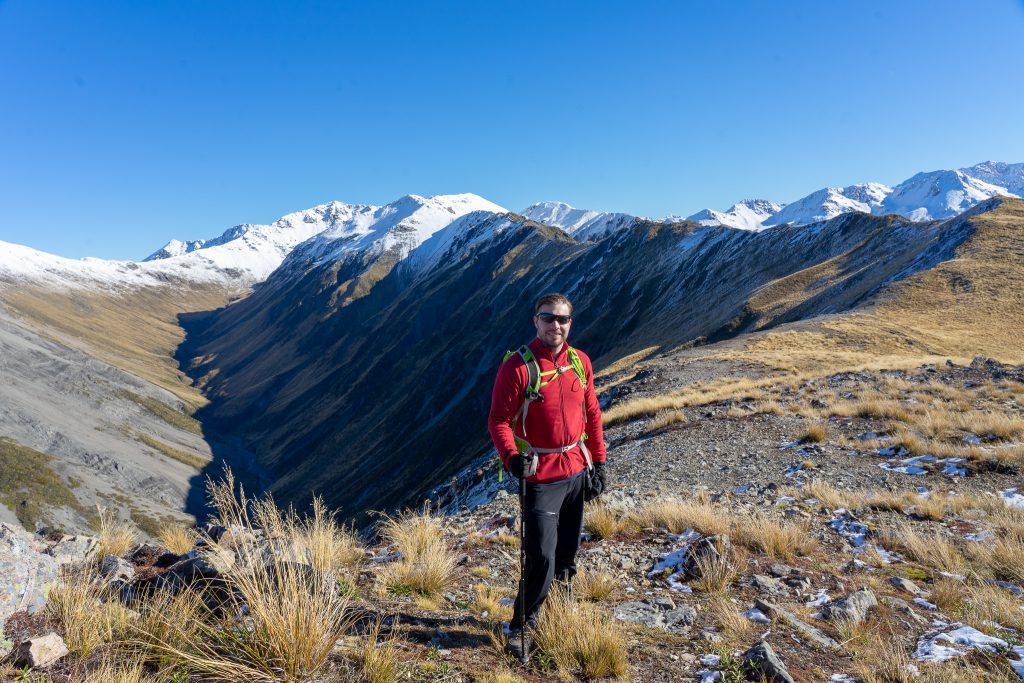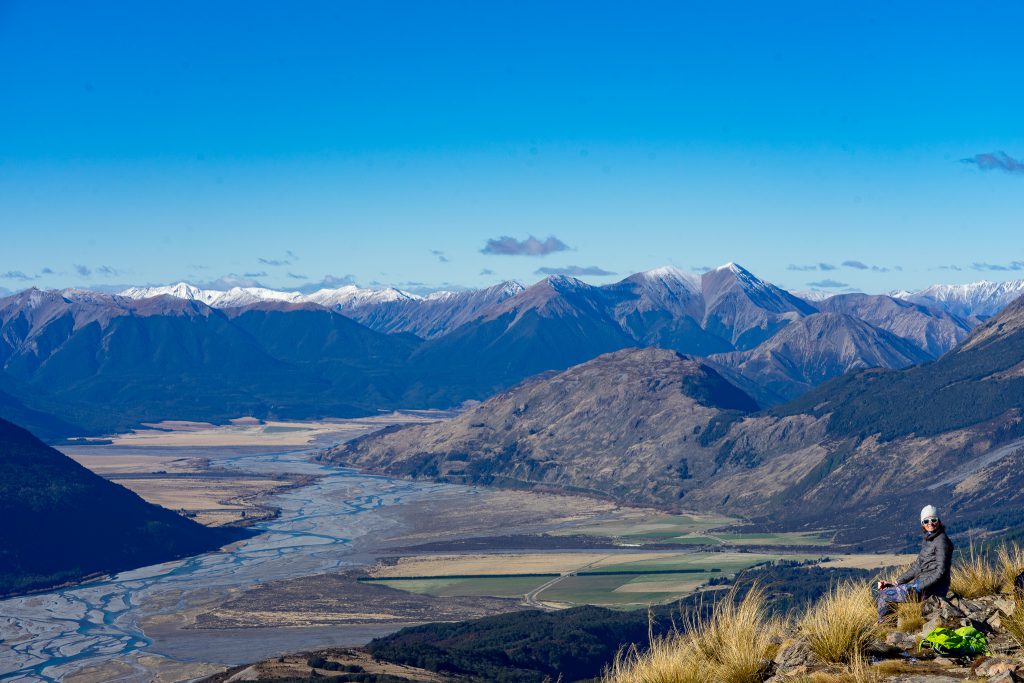 The road through Arthur's Pass National Park back to Christchurch was indescribable. We wound along the base of the colossal, barren mountains that make up the park, passing no other cars for over an hour as the sun gradually faded and the stars came out. We felt tiny and insignificant, as though we were the only humans left on earth. But instead of feeling a deep loneliness at this, I felt a sense of coziness and contentment. We were ensconced in the warm comfort of our van, having pushed ourselves up mountains to see views that few people get to enjoy. My dream of driving a camper around New Zealand had come true, and what we'd seen along the way–mountains, lakes, oceans–was even more arresting than I could ever have imagined. I knew I would never quite be able to put the gorgeous views we'd seen into words, but I reveled in knowing I would always recall the sense of accomplishment that came with arriving at the top of a majestic peak, with burning lungs and tired legs and a joyful heart.
Until next time, goodbye from New Zealand.