Koya and Osaka: From Praying with Monks to Halloween Revelry
Back when we committed ourselves to this trip, we decided we'd strive to have authentic experiences unique to each country, and pursue activities that went beyond "typical" sightseeing. In Japan, spiritual and mysterious Koya fit the bill.Visiting the tiny mountain town of Koya, only 90 minutes from Osaka by train, was like stepping back in time. The secluded hamlet is known for being the center of Shingon Buddhism, and the whole town has been an important religious pilgrimage site since the seventh century. Koya is most notable for Okunoin Cemetery, a 1,200-year-old graveyard containing the tombs of over 200,000 people, including monks and feudal lords. There are no hotels; rather, visitors who wish to stay the night must find lodging in one of the town's temples, which are inhabited and run by Buddhist monks. When Mike first told me about Koya, which he discovered through online research, I was immediately up for a visit.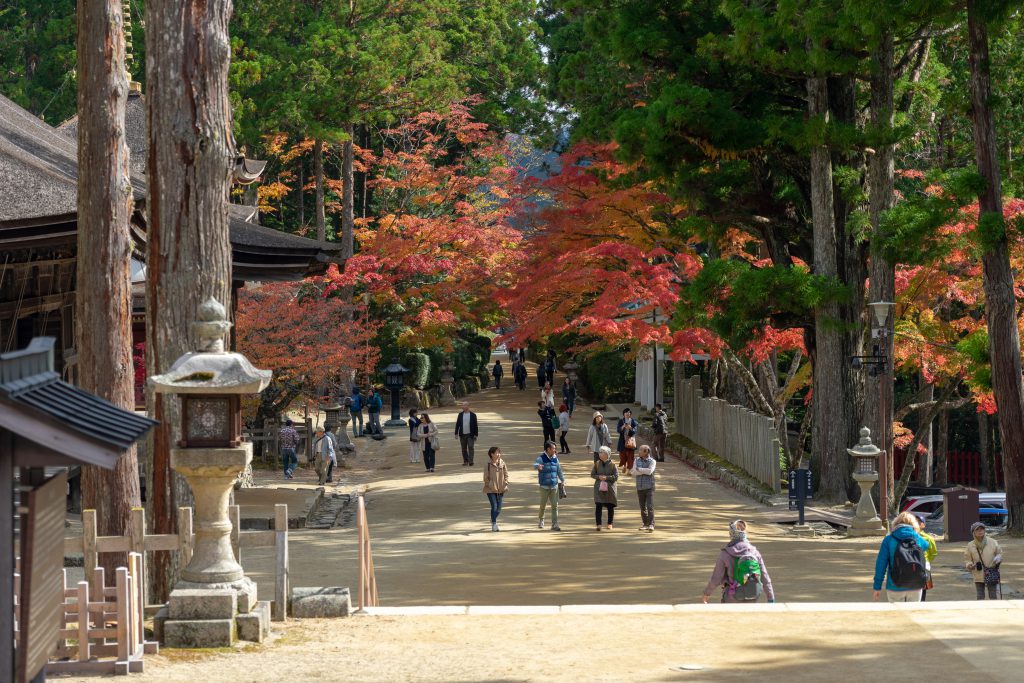 Despite Koya's close geographical location to Osaka, Japan's second-largest city, getting there was an adventure. Coming from Kyoto, we changed trains four times before finally arriving at the end of the line, where a cable car took us up Mount Koya. Once we disembarked, we were ushered onto a bus that deposited us right at Jimyoin Temple, where we would be spending the next two nights. We looked at each other in wonder as we entered Jimyoin's beautiful courtyard: this was going to be like nothing we'd ever experienced.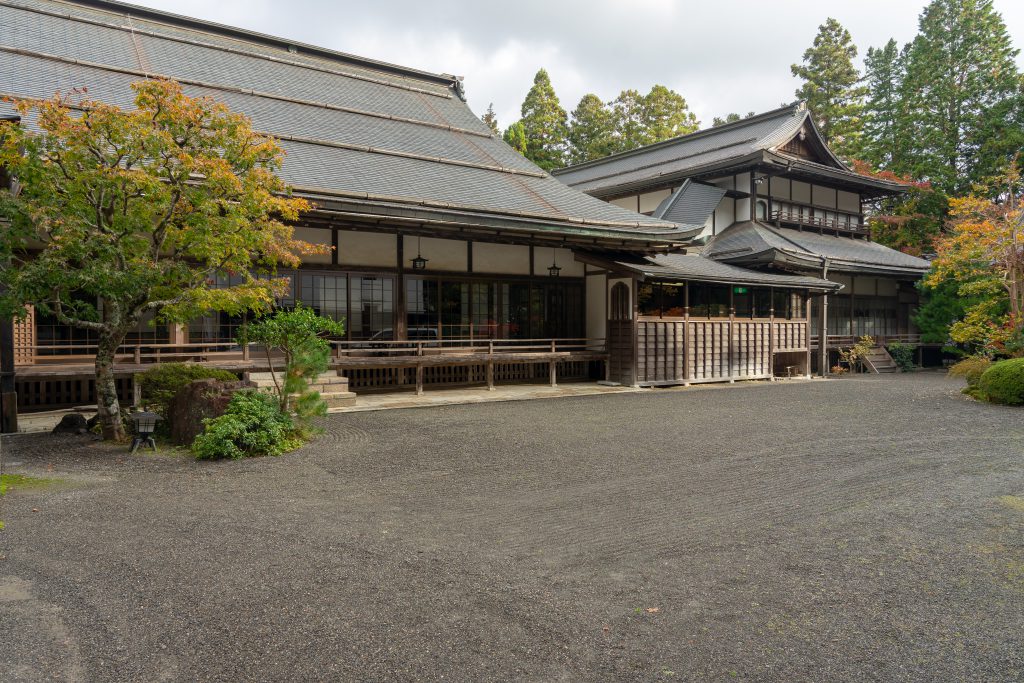 Two monks greeted us before offering us tea in our traditional Japanese-style room. The younger of the two monks spoke some English and explained the meal schedule and house rules–dinner and breakfast would be served in our room at 5:45pm and 7:00am, and curfew was at 9:00pm. He then pointed out the shared bathroom down the hall (none of the rooms had private bathrooms) and invited us to participate in the 6:30am prayer service the next morning.
As the evening wore on, Mike and I discovered another unique feature of Koya–the temples don't have central heating. (This makes sense since most of these vast structures are hundreds of years old, but those who know me know I'm a total wimp when it comes to cold temperatures!) With nighttime temperatures forecast to fall into the 30s and daytime ones only set to rise into the low 50s, we were grateful our room at least had a little oil heater to protect us from the mountain chill. Also, the temple had its own small onsen, which was heavenly to soak in each evening and helped warm us up before bed (see more on onsens in our Tokyo post).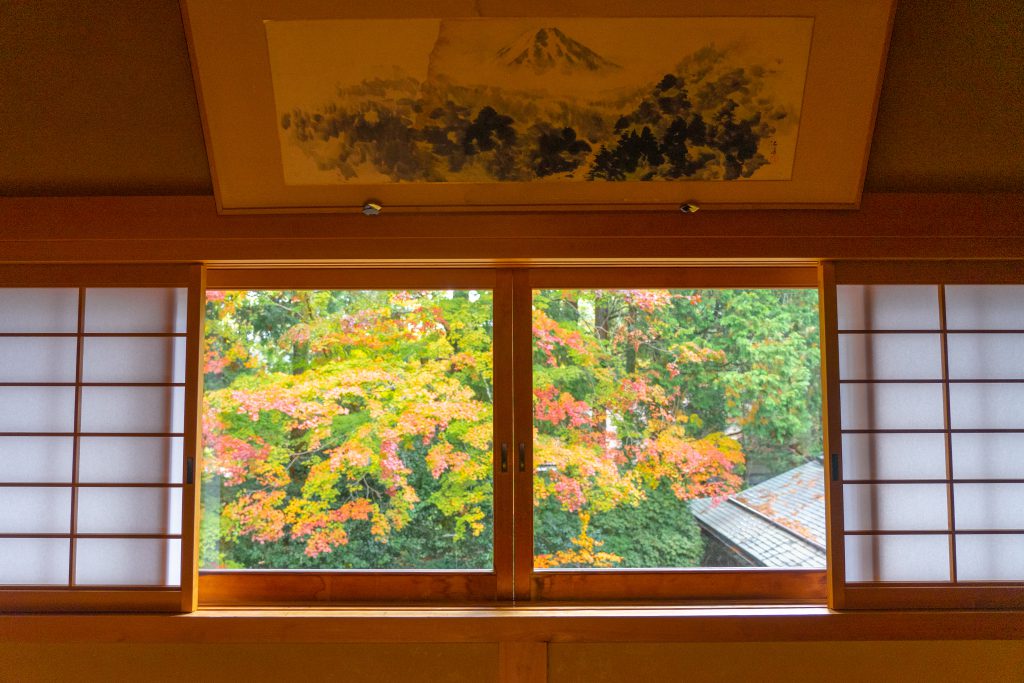 When morning came, we were awakened by the sounds of other guests rising for the dawn prayer service. We reluctantly left the warm cocoons of our sleeping mats and followed everyone towards the main temple. A monk led us into a darkened, low-ceilinged room lit only by candlelight. The sweet smell of incense surrounded us as the monk began the service, which consisted of 30 minutes of continuous chanting. Although we didn't understand the words, we understood the intent behind them, and witnessing the prayer, likely unchanged for hundreds of years, left us in awe.
After the service concluded, we returned to our room for breakfast. Meals at the temples in Koya are prepared by the monks and are completely vegan. Every dish was packed with flavor–we had no idea foods as simple as seaweed could be so delicious! And if you think a vegan meal can't be filling, you'd be mistaken. We were served so many varied dishes in such ample quantities that we could barely finish. (Actually, Mike would like it noted for the record that he easily finished his meal. 😉 )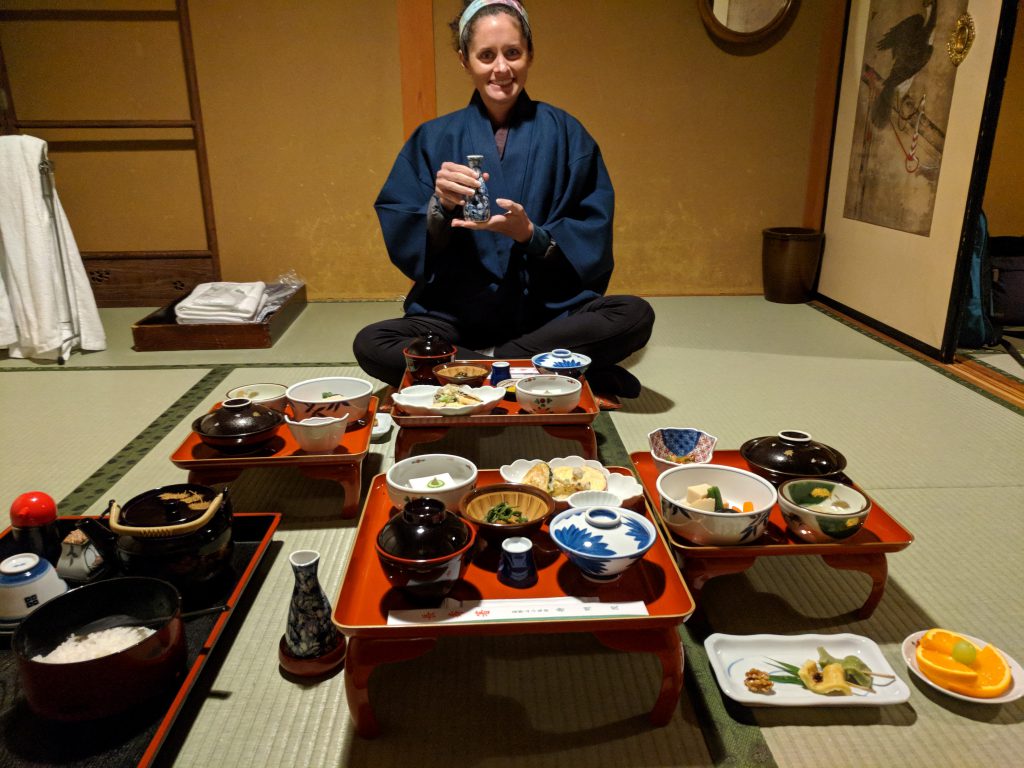 After breakfast, we bundled up to explore Okunoin Cemetery, the largest in Japan and widely regarded as one of the most sacred places in the country. The first thing that struck me as we entered was its sheer size–the path leading to the main portion is over a mile long. Walking through the cemetery was otherworldly and eerie (and yes, definitely a bit creepy), especially because it's set in an ancient forest of huge cedar trees, which are somewhat similar to California redwoods. The cemetery is full of moss-covered graves and has a well-tended stone walkway in the middle, but there were also winding little paths that led to older, crumbling sections set way back in the woods. Those spots were what really intrigued me–who was buried there? How long had their remains been interred in those spots? It was an overcast morning, and each time the sun peeked through the trees and illuminated a portion of the forest, we found ourselves quietly pausing to stare. What made the morning even more fascinating to us was a piece of information we'd learned just before entering the cemetery–Shingon Buddhists believe there are no dead in the cemetery, only spirits lying in wait for the arrival of the next Buddha. Wow.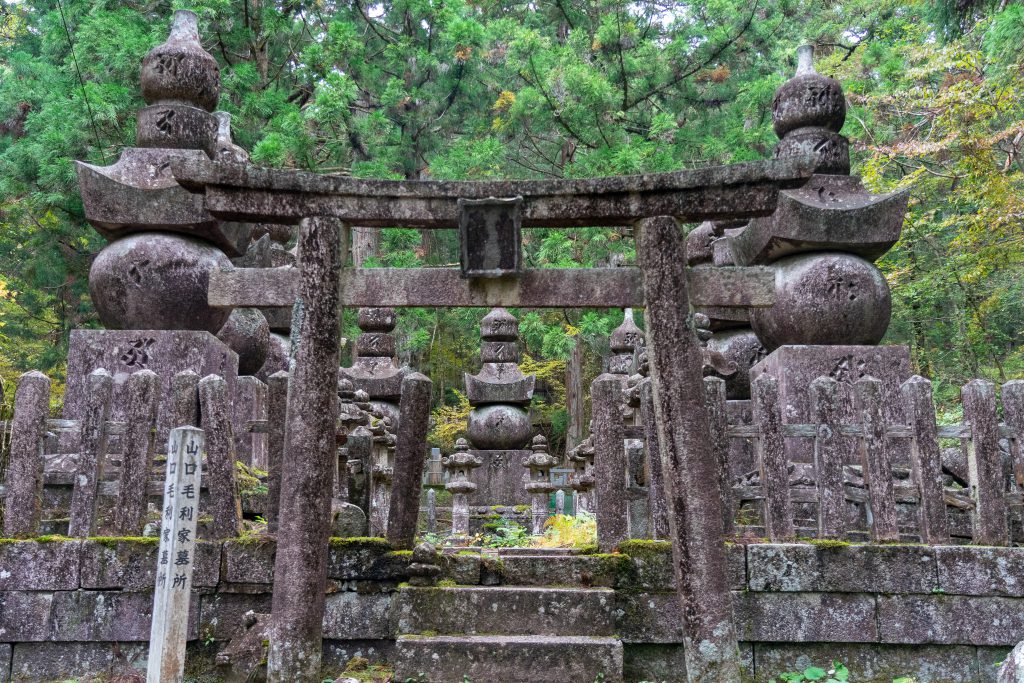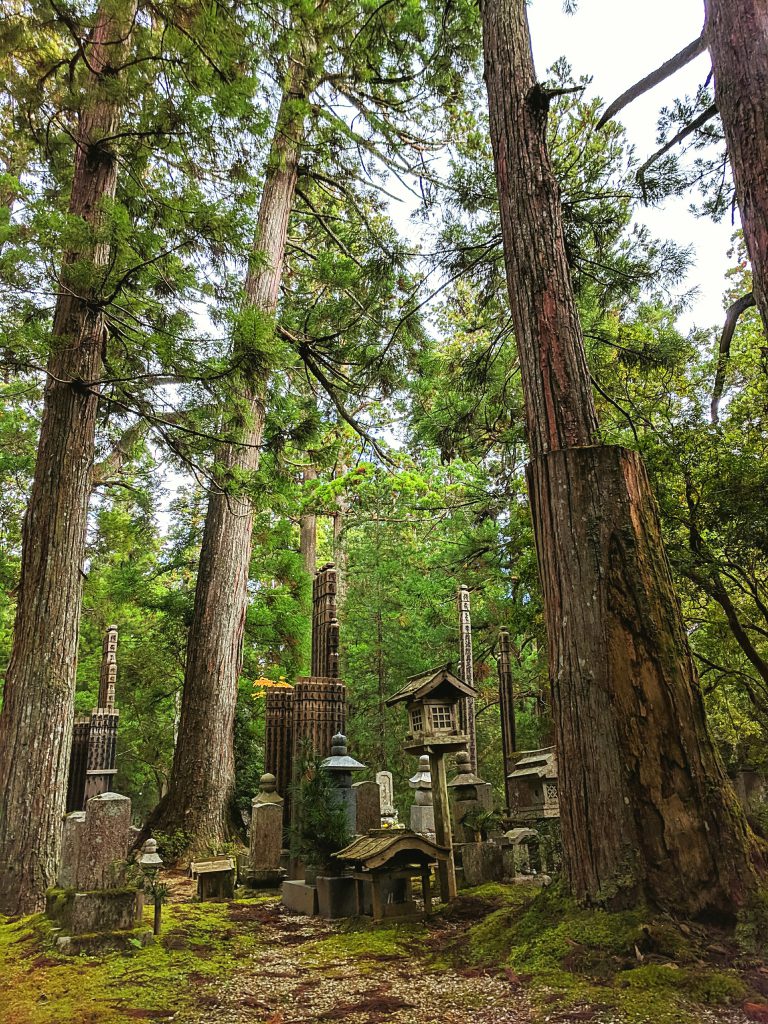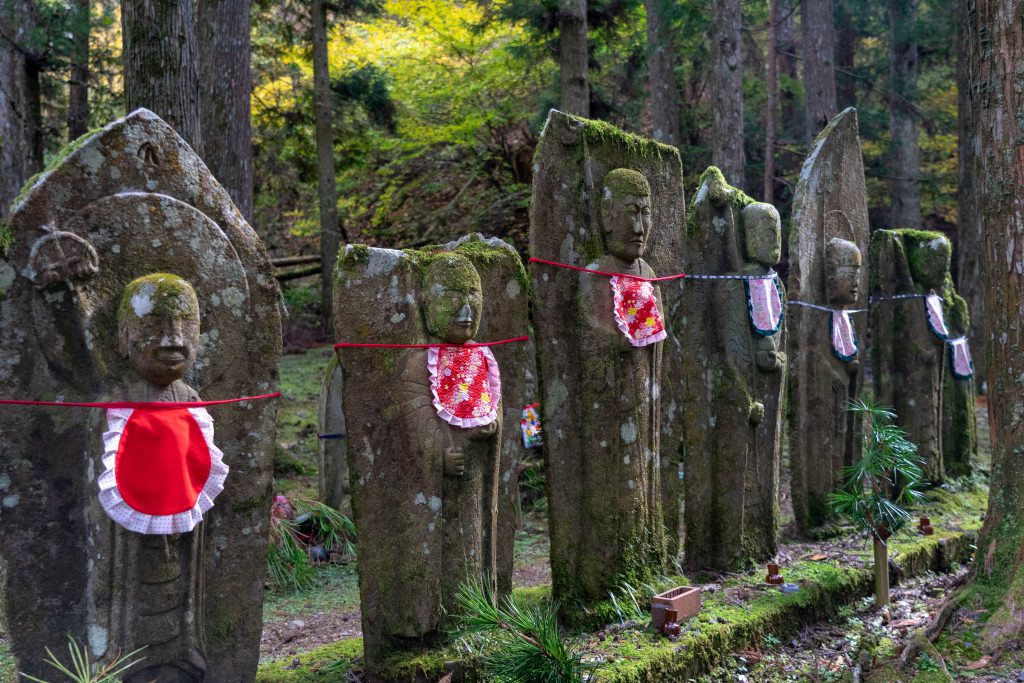 We eventually arrived at Torodo Hall, the cemetery's main place of worship. The interior of the hall was bathed in golden light from over 10,000 lanterns, two of which are said to have been continuously burning since the year 1088. Many of the visitors quietly chanted sutras as they paid their respects. It was an emotional and overwhelming sight that I believe would move even the most seasoned traveler.
Eventually, our time on Mount Koya drew to a close, and we headed back down the mountain, slowly making the journey back towards civilization and the city of Osaka. We felt saddened at the thought of leaving Japan in a couple of days, but were excited to spend Halloween in another country–a first for both of us. We hastily purchased cheap costumes at Don Quixote, a discount mega store, and cans of chūhai (a Japanese canned cocktail consisting of shōchū and carbonated water with fruit flavor) before venturing into Osaka to check out the scene. We'd heard that many people in Japan have embraced Halloween in recent years, and that information was definitely correct. Just wandering around Osaka on Halloween night made for such good people watching that we never actually ended up at a particular destination!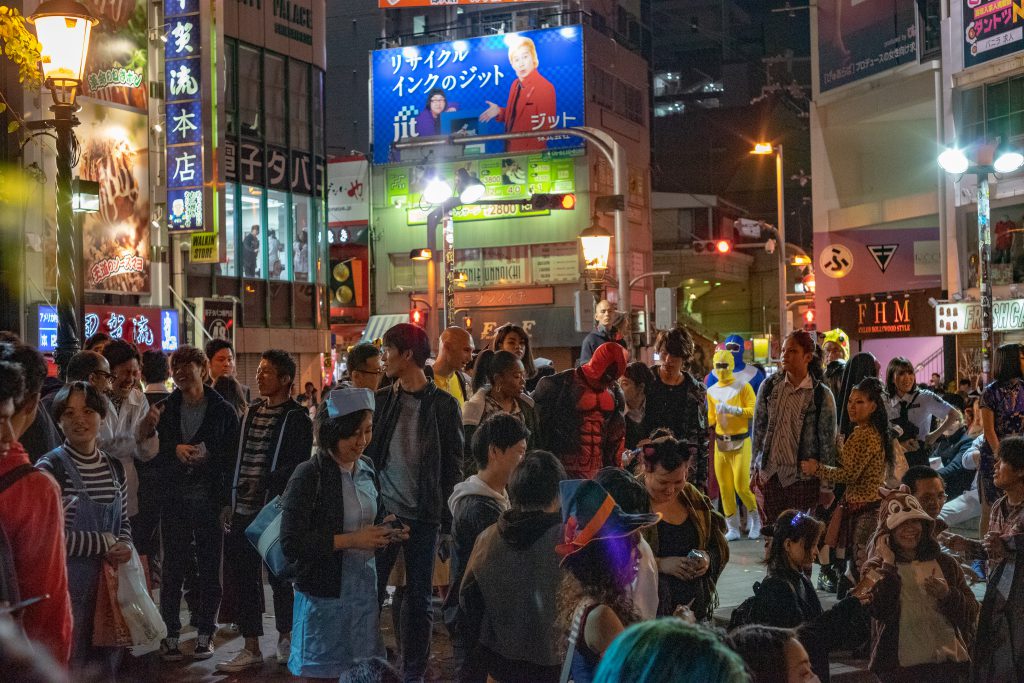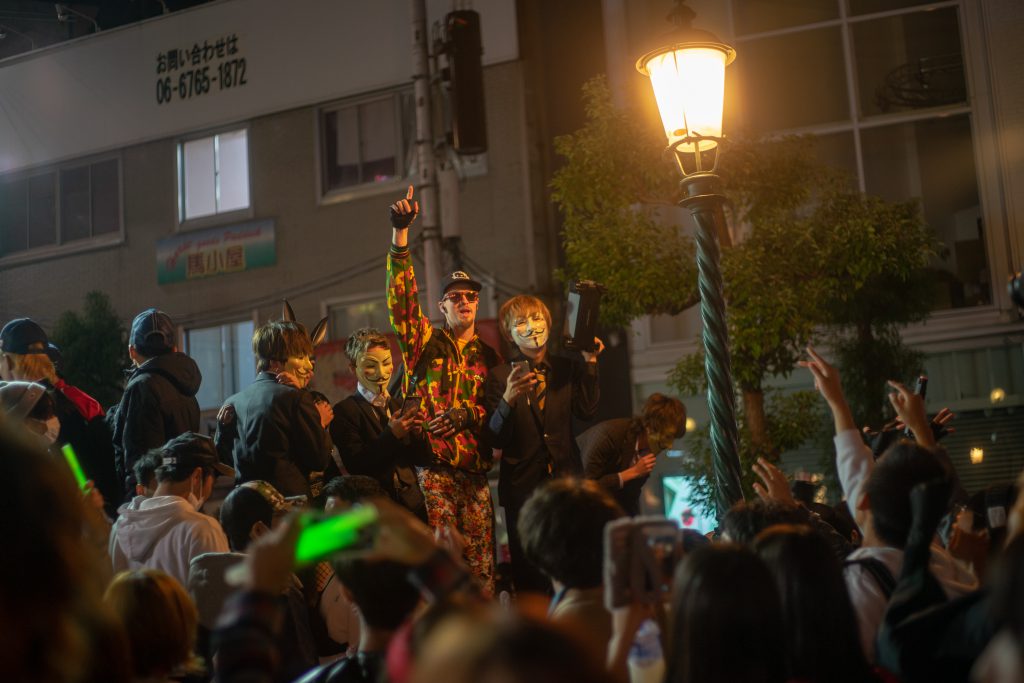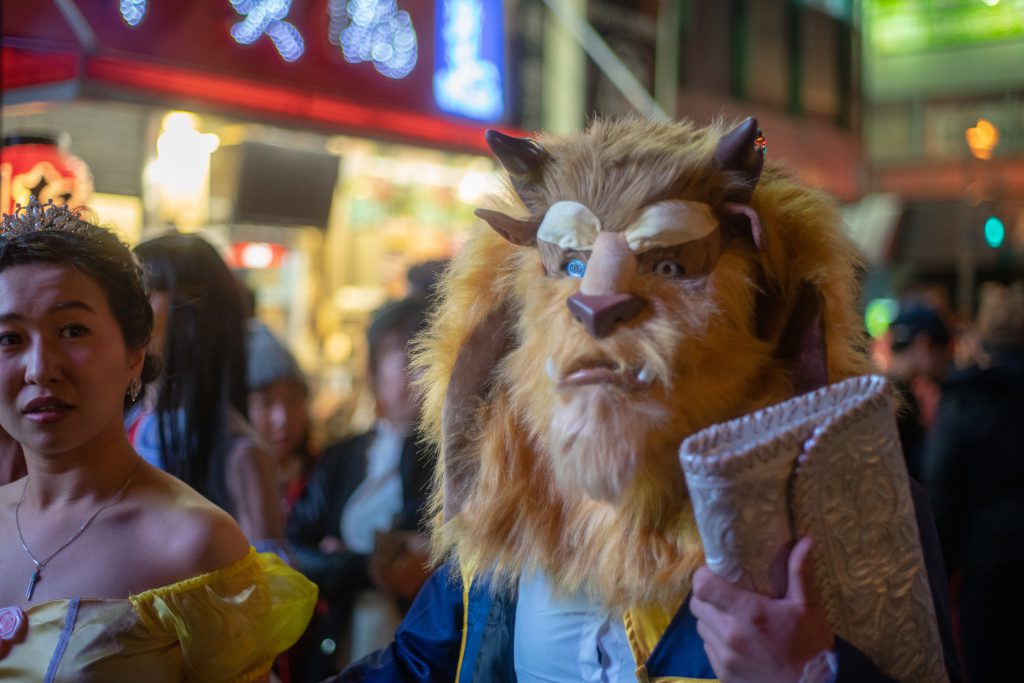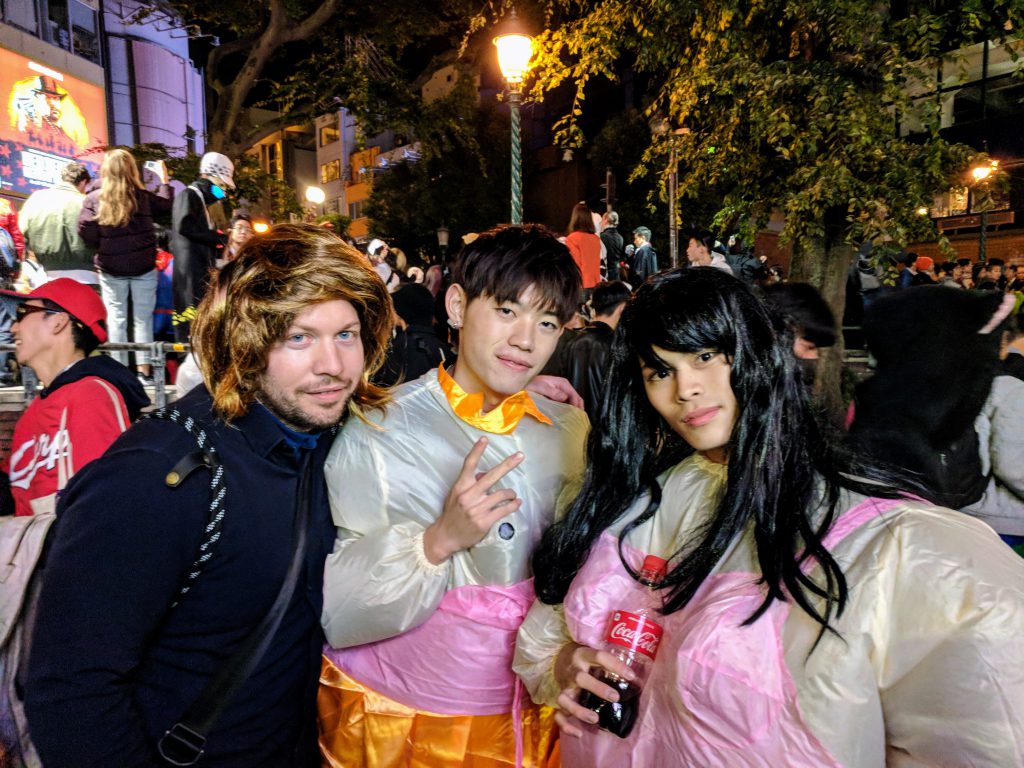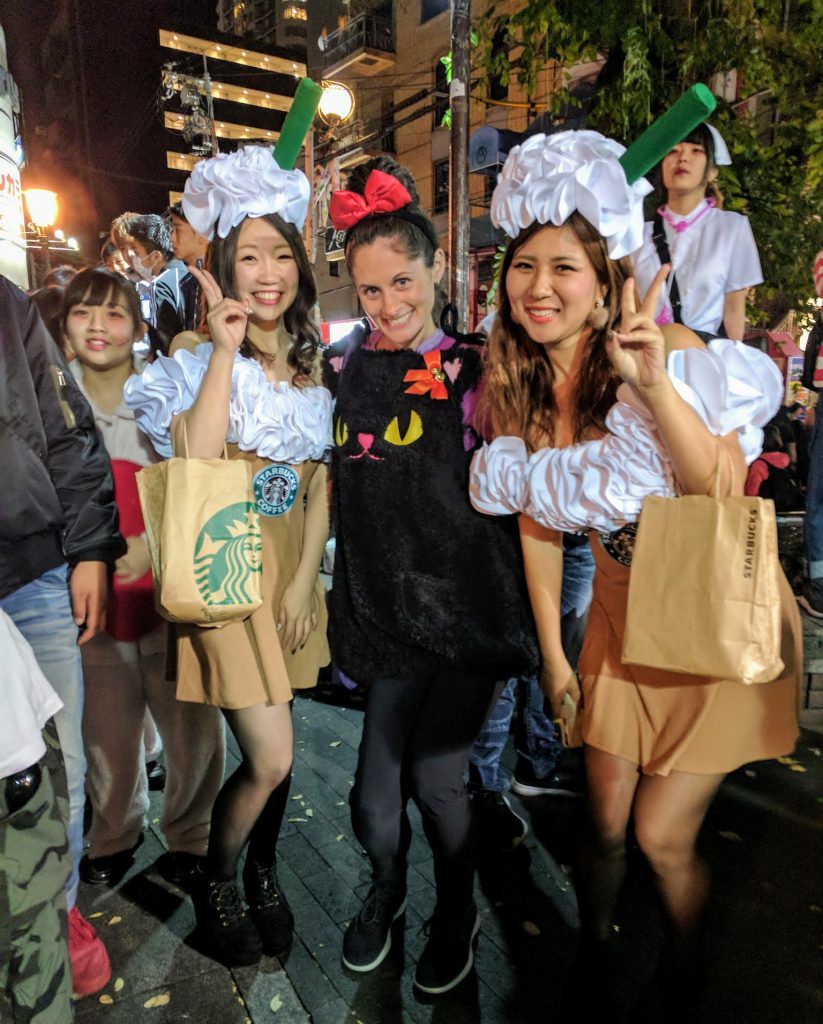 As our time in Japan draws to a close, we're marveling at how quickly this trip already seems to be moving. Our first destination couldn't have been better–it bears repeating that Japan is absolutely awesome. We think it's a great place to start if you're Asia first-timers like us. We keep joking that this country has spoiled us with its top-notch public transportation and modern comforts. We're aware that many destinations in our itinerary will not be like this! Soon we'll head on to Korea, a country just a few hundred miles away that we're sure will be completely different in many yet-to-be seen ways.
Until next time, sayonara from Japan!