Kyoto: Temple Hopping and the Hunt for the Elusive Geisha
If Tokyo is Japan's modern and futuristic hub, Kyoto is its ancient Rome–packed with history and a near magical aura.The first things we noticed when we disembarked from the bullet train that brought us to Kyoto were the city's much lower buildings (Kyoto doesn't have any mega-skyscrapers) and the Appalachian-like mountain range that surrounds them. Kyoto was the perfect contrast to the frenetic energy of Tokyo and we were glad to embrace a slower pace of living after our week in Japan's capital. (Side note about bullet trains: watching the landscape zoom past you in a colorful blur while you're cruising at 175+ miles an hour is one of the neatest experiences you'll have in Japan. If you visit this country, definitely ride one!)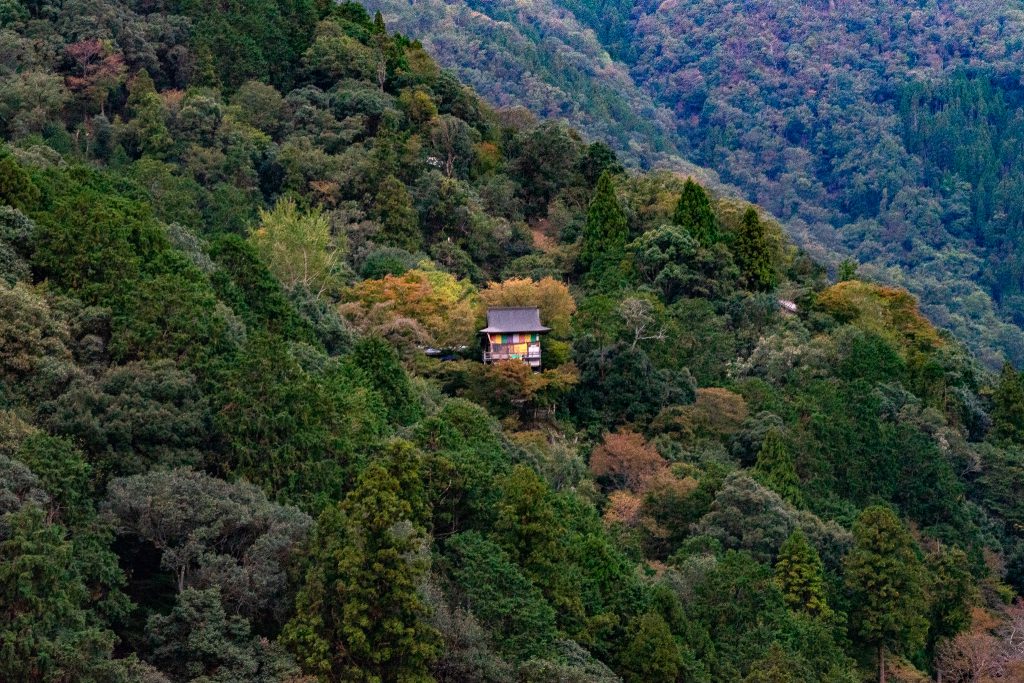 Our four days in Kyoto began with one of my favorite meals we've had so far in Japan–tonkatsu, a dish that consists of fried pork cutlets served with shredded cabbage.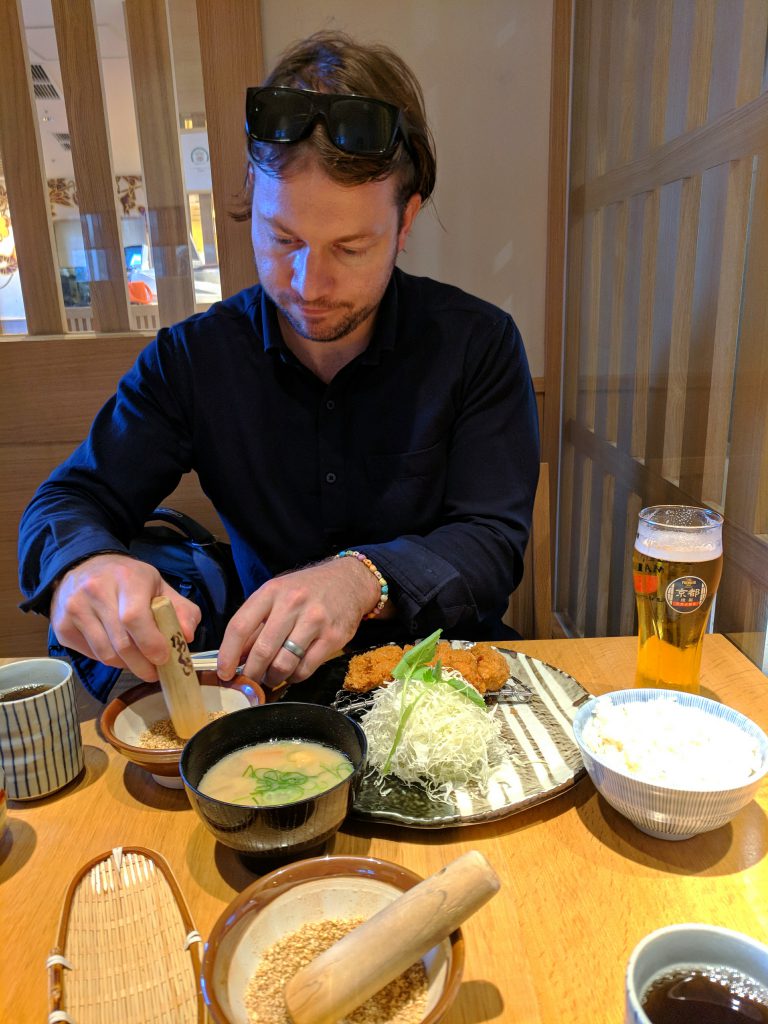 We then hiked our way to our guesthouse, located in a small apartment complex with 14 rooms. After staying in a postage stamp-sized hotel room in Tokyo, it was wonderful to have a little more space to spread out. Our service apartment was simple but clean, and even had a kitchenette and washing machine (ability to do laundry for free in a country as expensive as Japan = score!)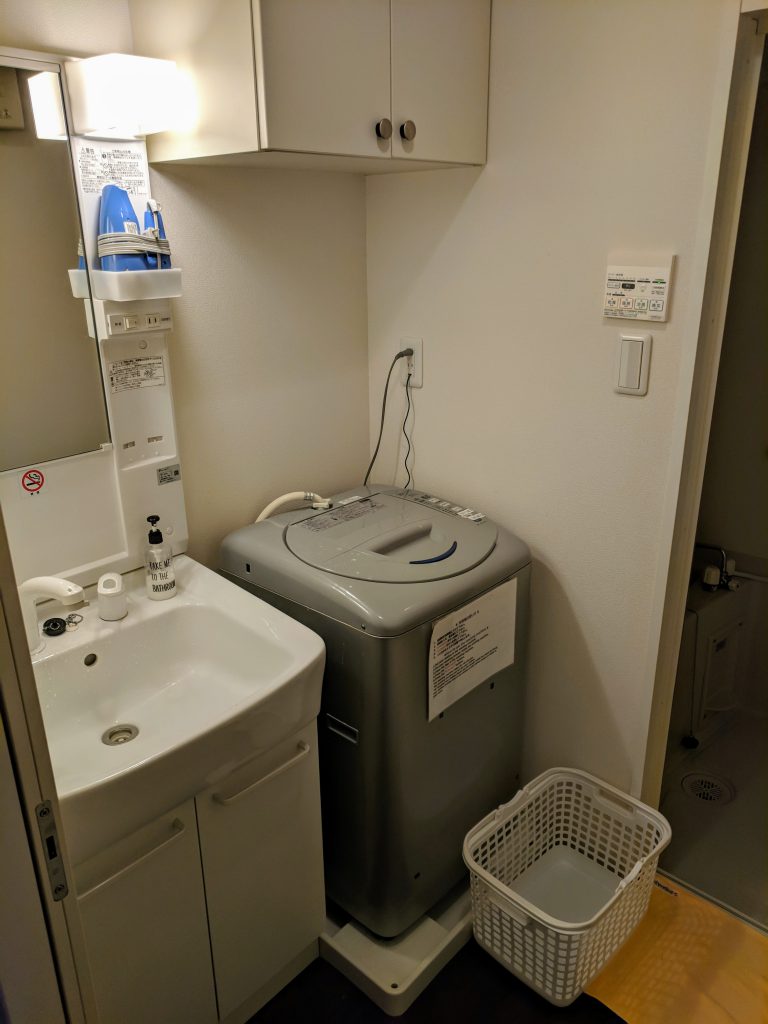 That night, we wandered to the local neighborhood pub, which didn't appear on Google Maps. We've discovered that restaurants here without an online presence are often the best spots, as long as you're willing to be surprised when it comes to the food and drink options. That rule definitely held true at this family establishment, which had some pretty dubious translations on its English menu (as Mike pointed out, somehow vegetables are meats! And is chicken ovary really a thing?? We weren't brave enough to find out!)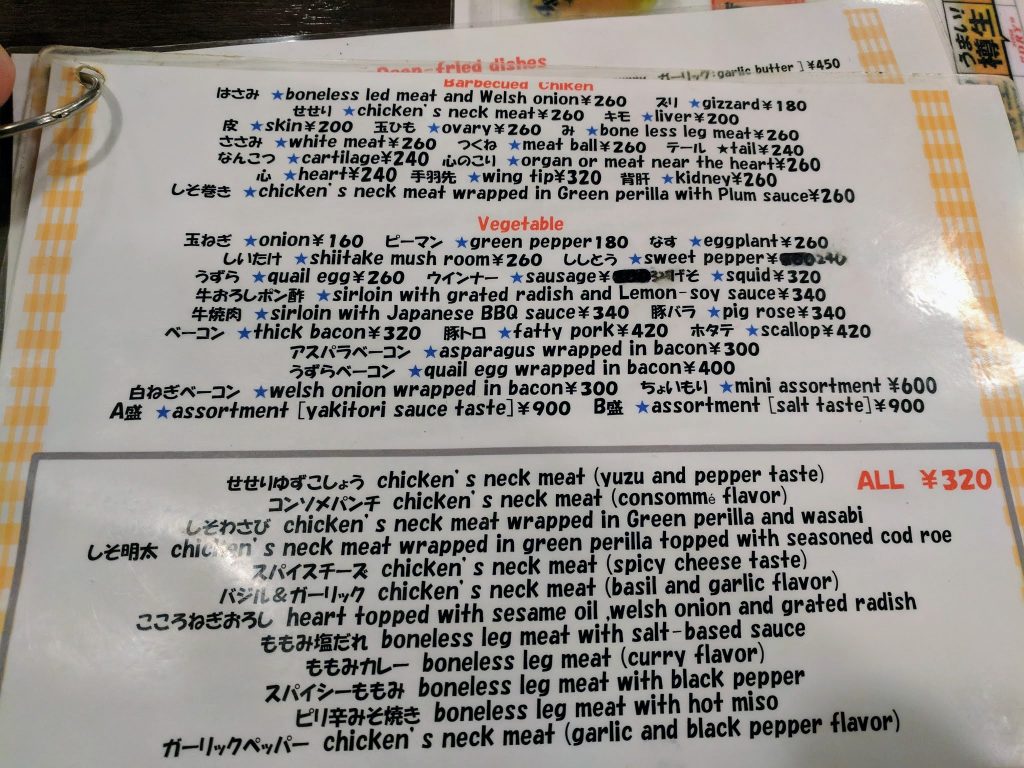 We rose early on our first full day in Kyoto to begin experiencing its many historical sites. Kyoto is packed with temples and shrines (there's said to be over 1,600 of them) of varying sizes and ages, and the best way to visit them is first thing in the morning before all the tourists arrive. Our first stop was Nishi Hongan-ji, a UNESCO World Heritage site conveniently located just down the block from our guesthouse. It's one of the only historic buildings we've been to in Japan that permitted interior photography. The intricate gold leaf details inside the temple are representative of many of the Buddhist places of worship throughout Kyoto.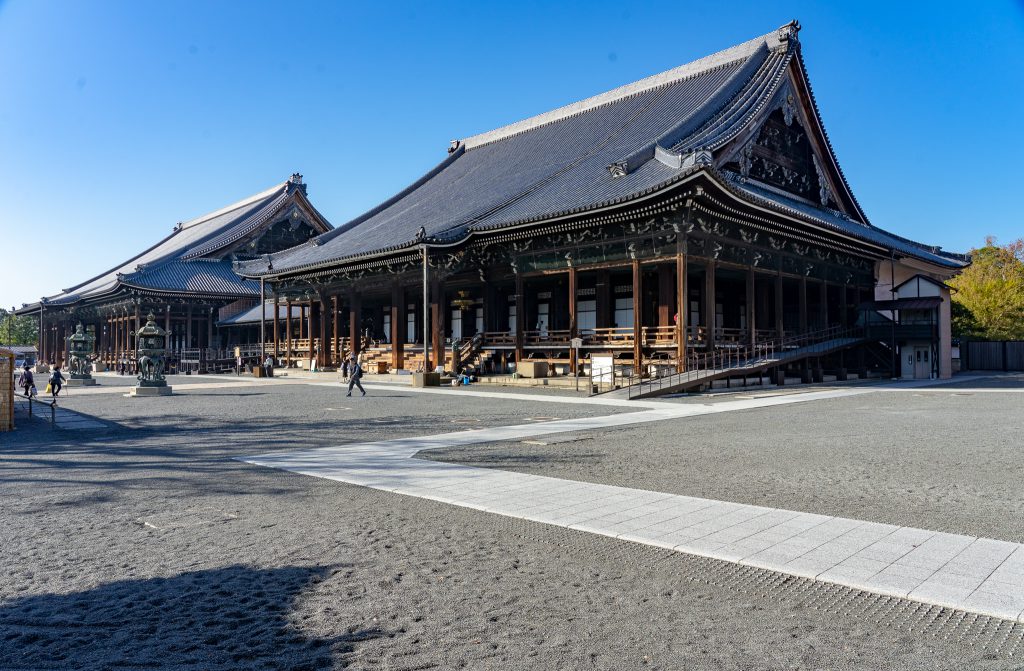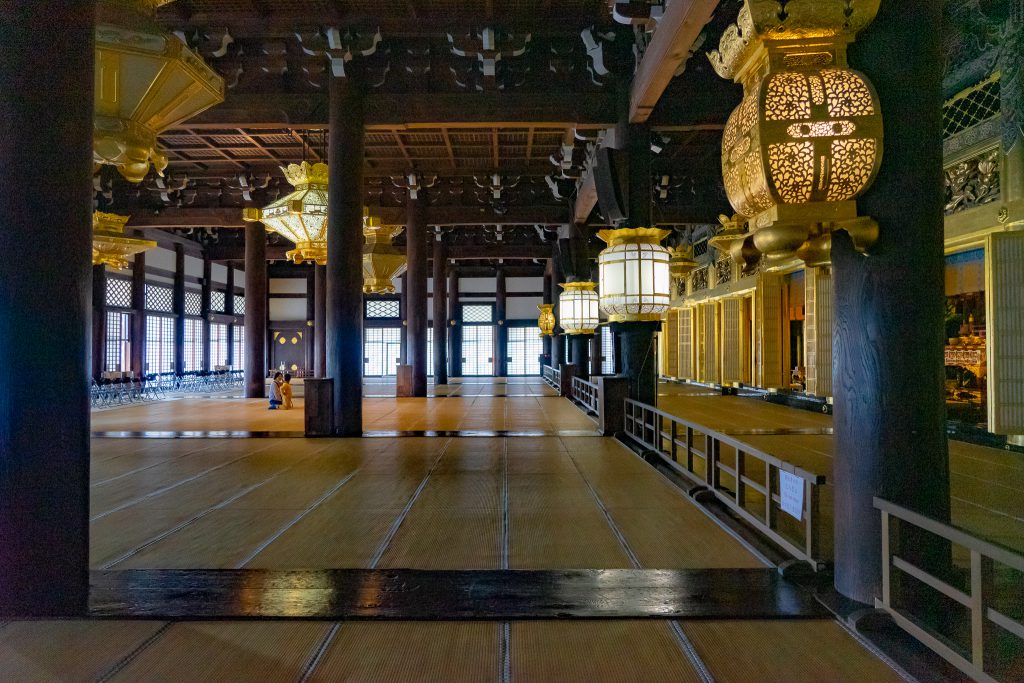 We then headed to Nijo Castle (another UNESCO World Heritage site), an ancient castle where Japan's ruling lords, or shoguns, once lived. Kyoto is, as Mike joked, the city where you can see twenty World Heritage sites before it's even lunchtime. They are everywhere here!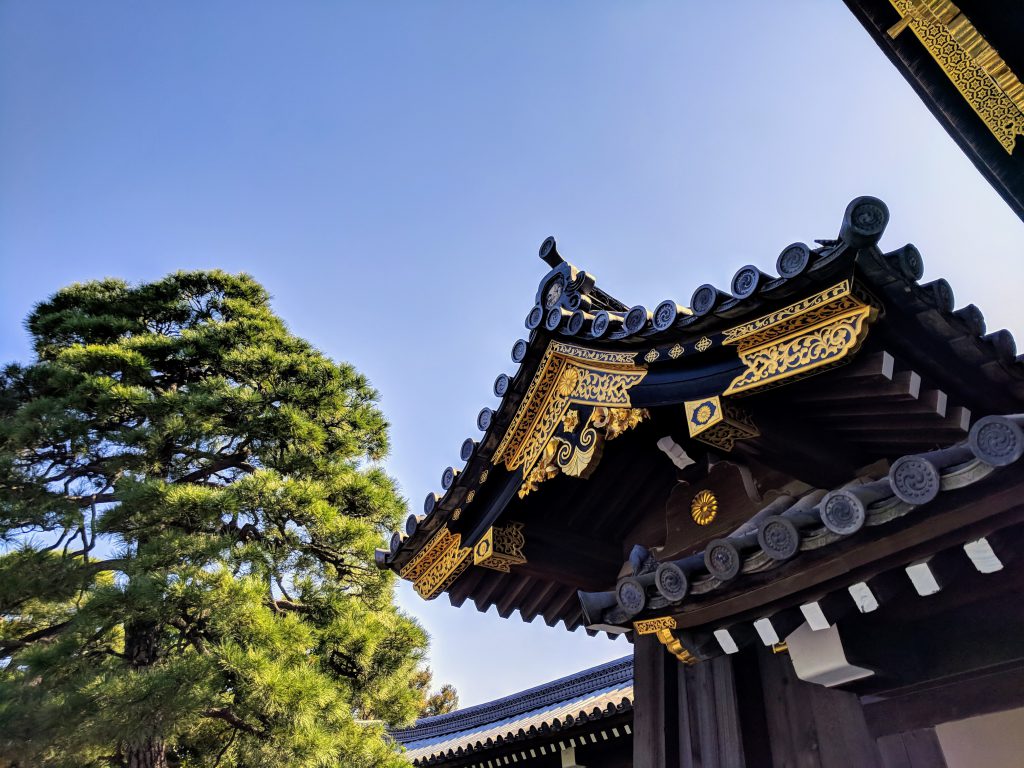 That evening, we made our way to Gion, Kyoto's famed riverfront neighborhood. Its notoriety is mainly tied to the fact that it's the "geisha district"–if you want to spot geisha, this is where to hang! Although the art of geisha entertaining is dying out in Japan, Kyoto still has 200 or so geishas. I was eager to see one–I've been interested in geishas ever since reading a book about them as a child. And if you haven't read Memoirs of a Geisha, I highly recommend it.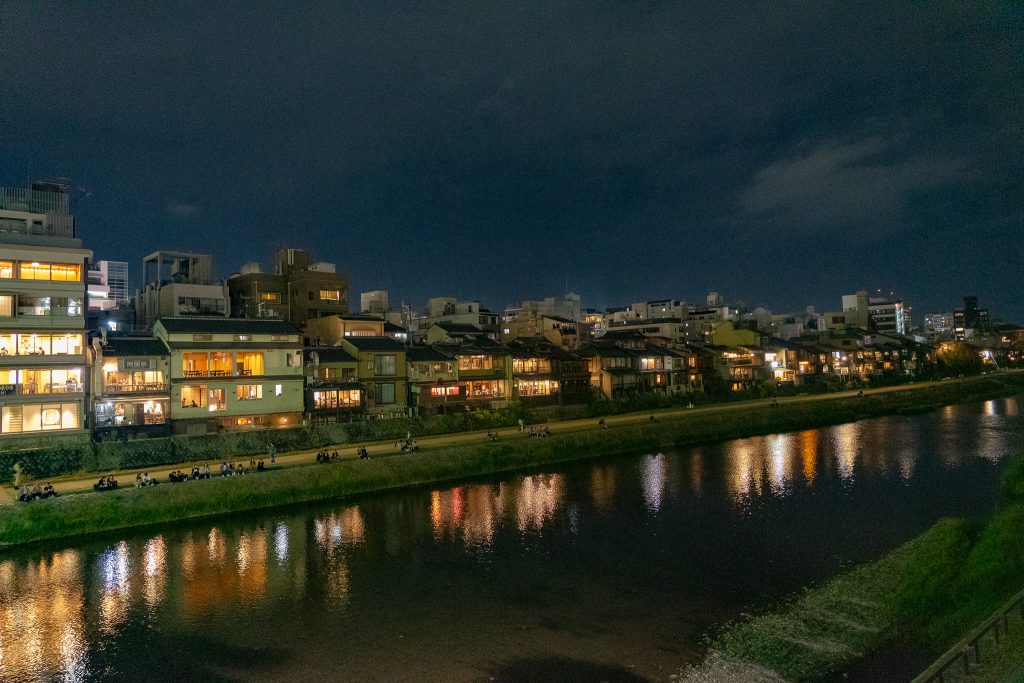 Mike and I parked ourselves along a street that we thought would be prime for geisha spotting, but alas, we didn't have any luck. I kept repeating that if we saw a geisha, we should maintain a respectful distance and not go all cray cray paparazzi on her (I'd read stories of geishas being harassed by rude tourists, who do things like tug on their kimonos in an effort to get their photo). At the same time, my heart leapt every time I saw a woman in costume who might be a geisha (full disclosure, I almost screamed, "GEISHA!" like four times) but they all turned out to be fakes. Renting kimonos and traditional Japanese wear for the day is a common tourist activity here, not unlike people who dress up in costume to visit Renaissance festivals or Colonial Williamsburg. Just when I thought we wouldn't spot a genuine geisha, one of them appeared in, of all places, a McDonalds! We'd made a brief bathroom pit stop at the fast food restaurant before walking back to our guesthouse, and when we emerged, there she was, standing there regally waiting to cross an intersection. I was in complete awe of her makeup, hairstyle, and outfit. My evening was complete!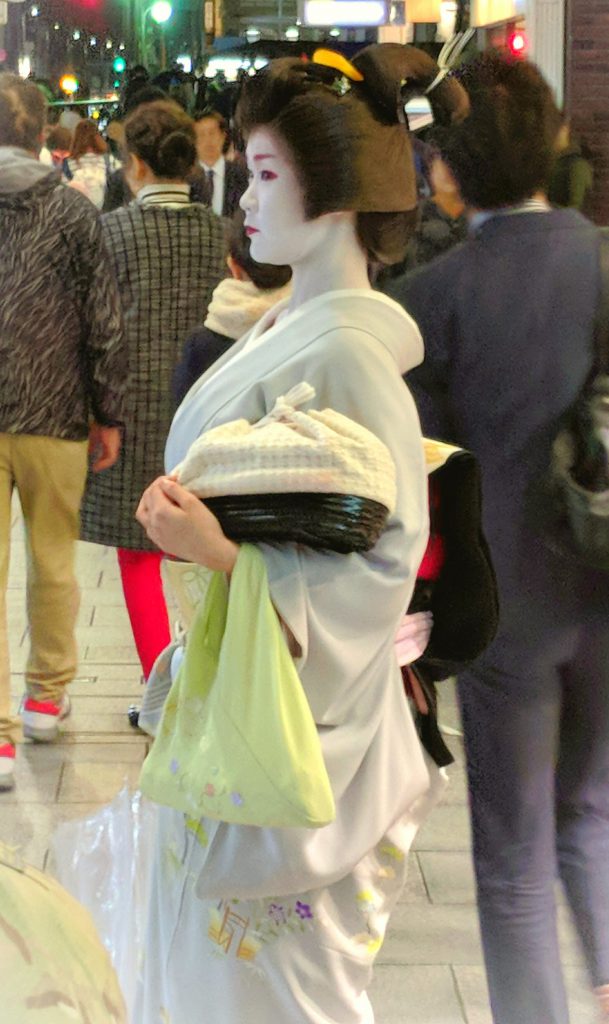 Gion was also the site of one of our favorite Kyoto experiences. Many of the best travel adventures are unplanned and unexpected, and that was certainly the case for this one. While trying to locate a particular bar, Mike and I accidentally walked into a different one. Two little old ladies were right there by the door to greet us, ushering us inside and offering us giant cups of sake. The velvet-upholstered walls and furniture gave the place a roaring twenties, old-Japan feel. We camped out there for awhile, gazing out the window onto the dark river below, the passing pedestrians, and the rising full moon. Mike attempted to thank the proprietors in Japanese for the drinks we'd been served, and tell them their sake was the best we'd had. After a valiant attempt that drew blank stares from our hosts, he typed the phrases of thanks into Google Translate, which instantly helped us be understood. (Thank goodness for Google Translate. It sure ain't perfect, but it's been a huge help ever since my days as a middle school ESOL teacher.)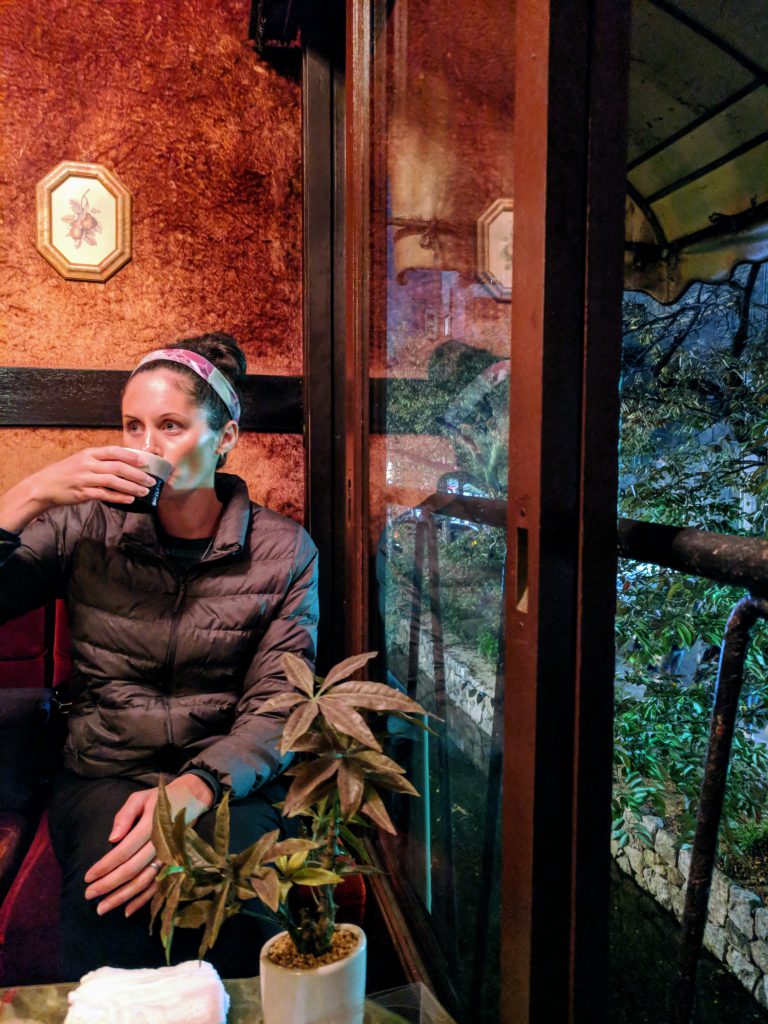 Our favorite day in Kyoto, however, was our last day before we departed for Koya, when we rented bikes and went temple hopping. Kyoto is an extremely cyclist-friendly city with ample bike lanes; many locals bike as their primary means of transportation. Our first stop was the five-story tall Toji Temple, the tallest pagoda in Japan, before we headed back across the river to Sanjusangendo Temple. Sanjusangendo is famous for its 1,001 identical carved wooden statues of Kannon, the Buddhist goddess of mercy, set in ranks in the main hall. Upon setting foot in the building, we were instantly in awe (yup, I cried). The sheer devotion that it must have taken the sculptors to complete such a massive project was mind blowing.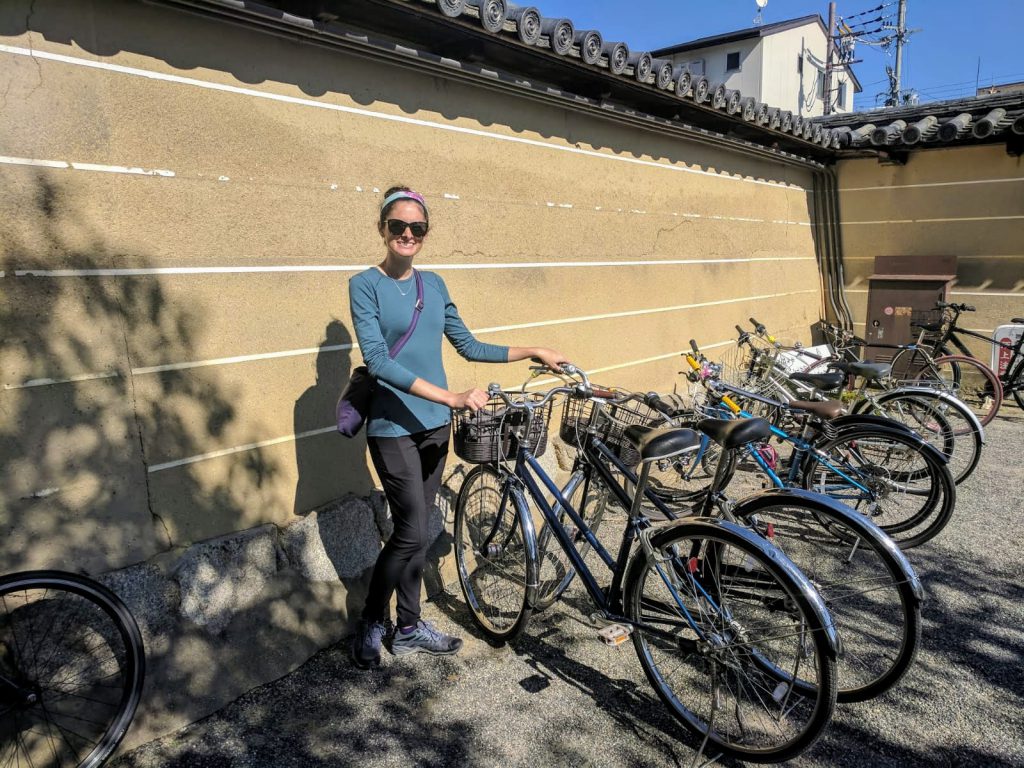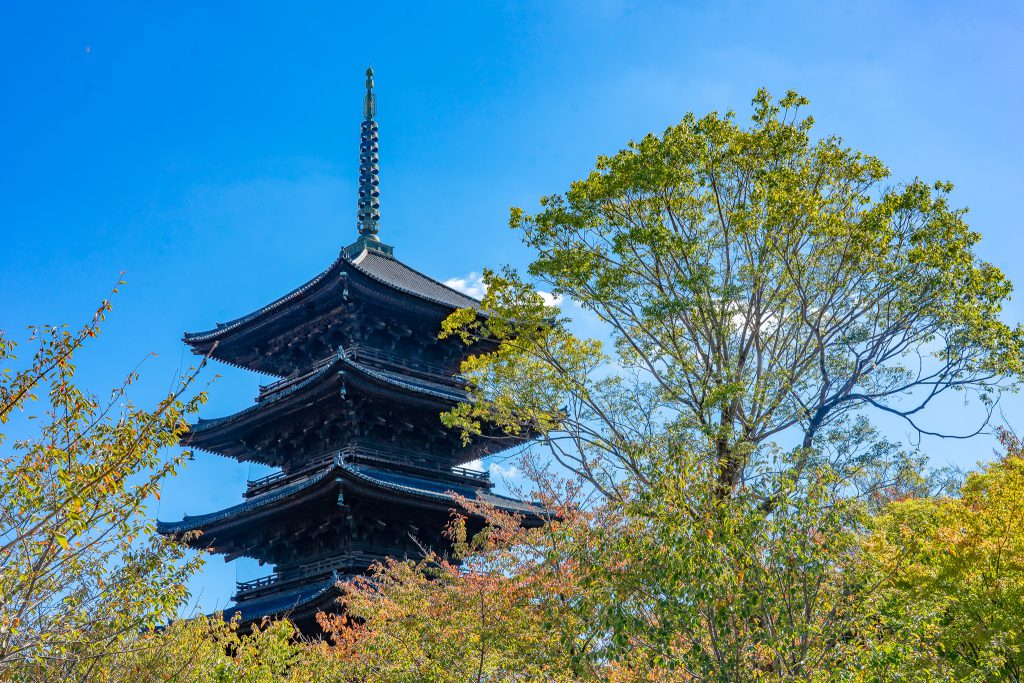 Our final stop was Kinkakuji Temple, otherwise known as the Golden Pavilion. We arrived in late afternoon just as the sun was hitting the temple's western-facing walls, emitting an otherworldly glow onto the reflecting pond and the autumn foliage on the surrounding trees. It was a picture-perfect way to end the day.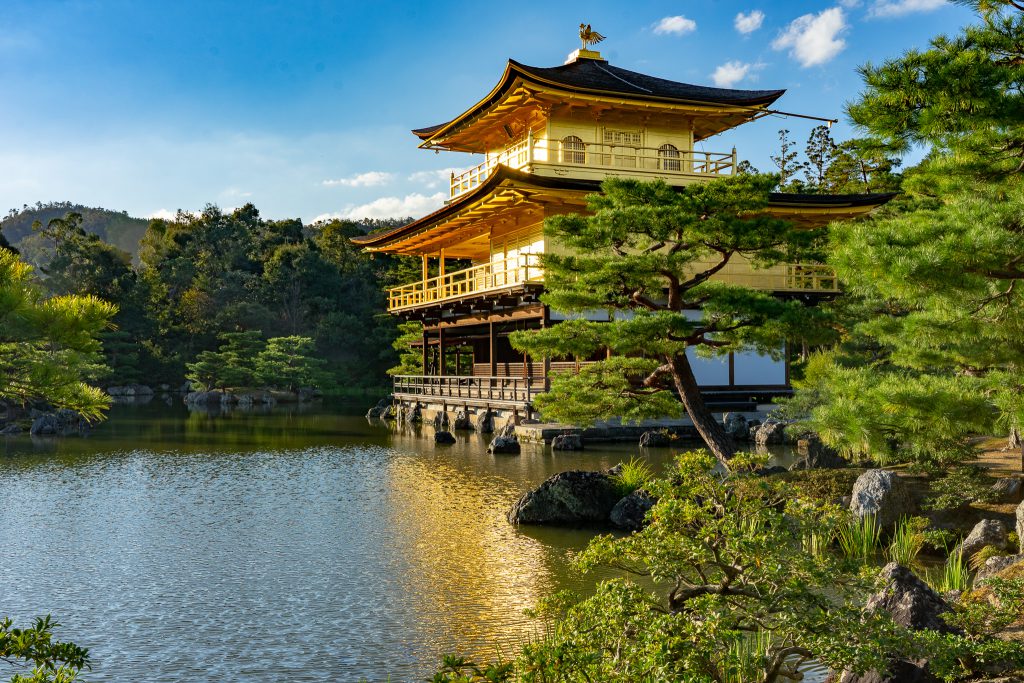 A recent question some friends asked us is if we miss anything about home yet. Although I do mildly yearn for American breakfast foods like bagels and Greek yogurt, we are doing pretty well so far! I did get a little teary one evening in a restaurant after Mike and I looked at pictures of home on our phones, but when I ducked into the bathroom to sniffle in peace, the motion-sensor toilet turned on and started playing loud Kenny G-style jazz music. I instantly burst out laughing. And I was reminded of why we decided to take this trip in the first place: to have random and hilarious experiences like toilet seats regaling you with private concerts.
Until next time, sayonara from Japan!