Seoul: Grand Palaces and Teahouses
Ahh, Seoul. Seoul is smog and sprawl, but it's also beautiful mountains, fresh noodles, and endless varieties of tea. Seoul may be the second-richest city in Asia, but it's got a gritty edge that sets it apart from the shiny, utopian feel of Japan. The rough-around-the-edges vibe was the first thing we noticed when we landed in Korea. The streets are a bit dirty, the crowds a bit pushy and impatient, and people don't really make eye contact with strangers, or smile at passing pedestrians (in other words, it's Washington, D.C.–I say that with love! 🙂 ) Korea was a country we grew to appreciate slowly, rather than one we instantly loved.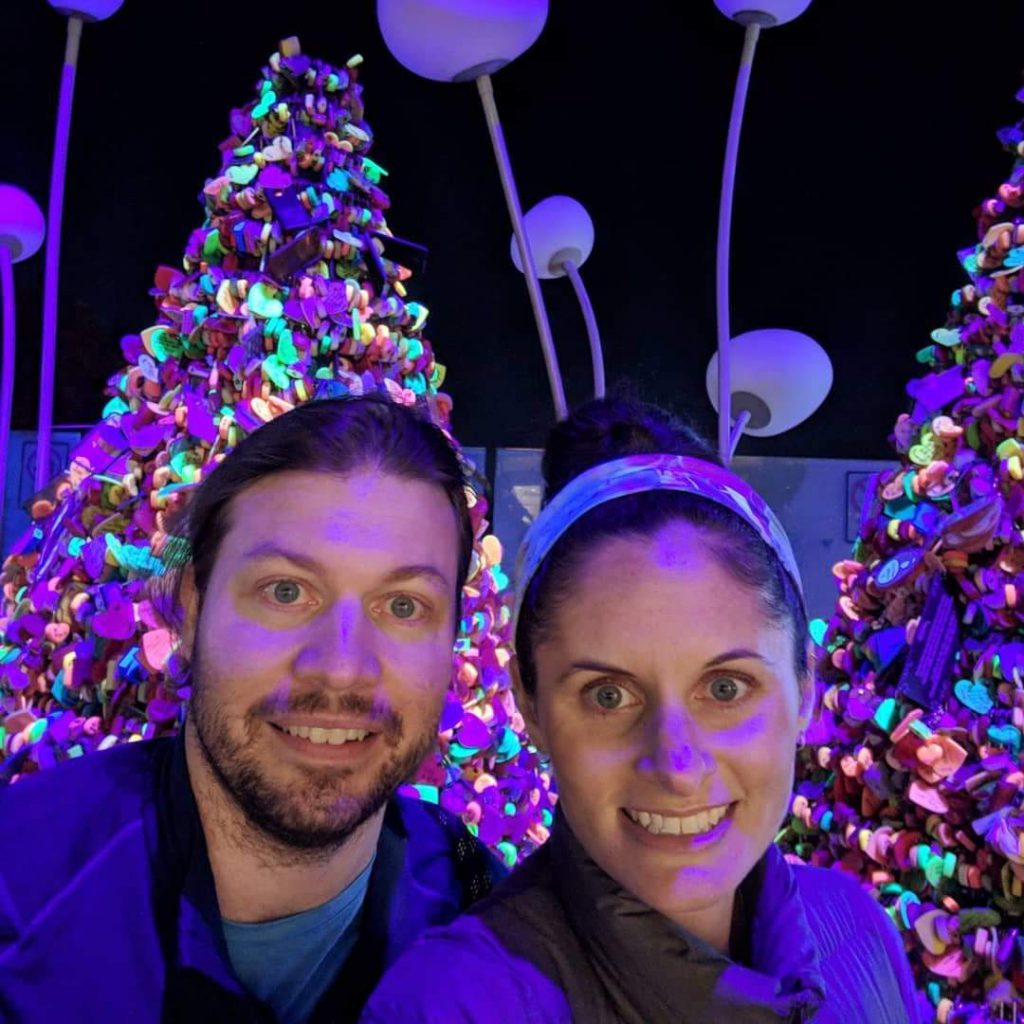 I was under the weather for most of the week, so I fully admit my opinion of Seoul was somewhat clouded. We had been looking forward to touring the DMZ and hiking up some of Seoul's famous urban mountains, but illness prevented us from partaking in those activities. After 17 action-packed days in Japan, though, slowing down a bit ended up being just what we needed. And it also gave us a reason to visit our first pharmacy abroad–it was going to happen at some point, right? 🙂 On our first day in Seoul, Mike ventured to a Korean pharmacy for me while I was in our hotel room hacking up a lung, and returned with two pharmacist-recommended cough medicines. Although I have no clue what they actually were, they worked like a charm.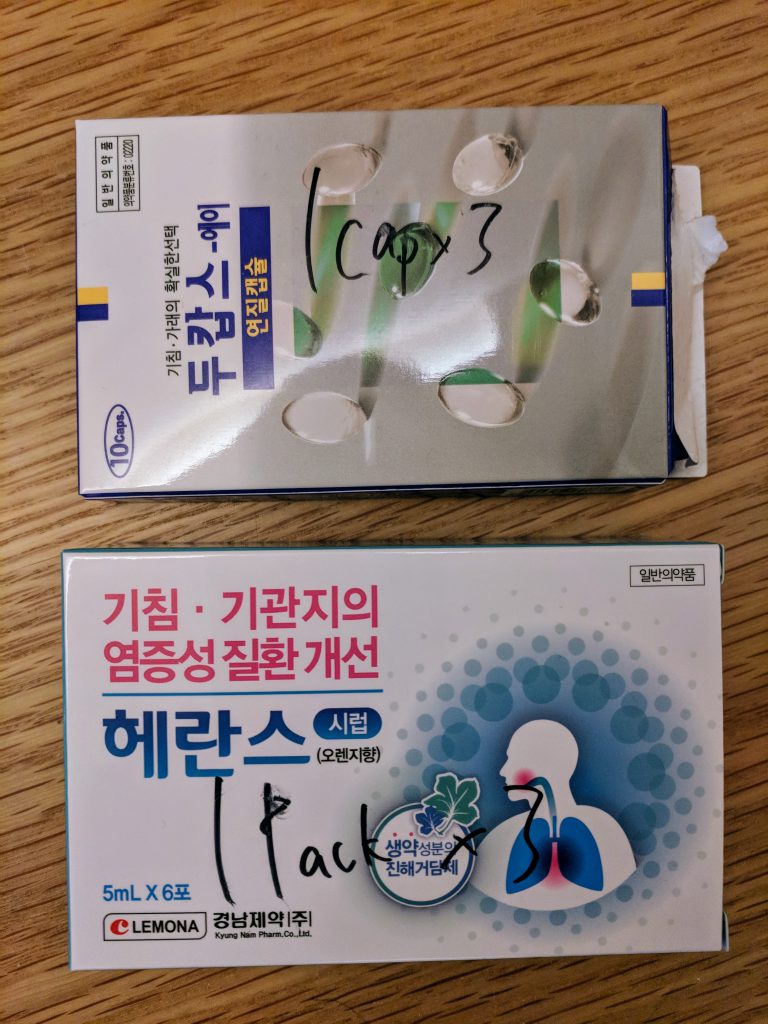 After a solid day of rest, I was ready to start exploring Seoul. Stop one was a traditional Korean teahouse, a place we ended up returning to multiple days in a row. Although I'm no tea connoisseur, I can safely say the tea I had in Korea was the best I've ever had. Koreans strongly believe in the healing power of tea for various ailments, and I was glad to have the chance to down copious amounts of strong herbal and citrus varieties when I wasn't feeling 100%. Also, sipping on hot tea in a cottage with exposed beam ceilings on a cool fall days felt very cozy. And Seoul doesn't just have tea–we also discovered that coffee culture is huge. The streets are packed with chain and locally-run cafes that serve espresso drinks and sweets.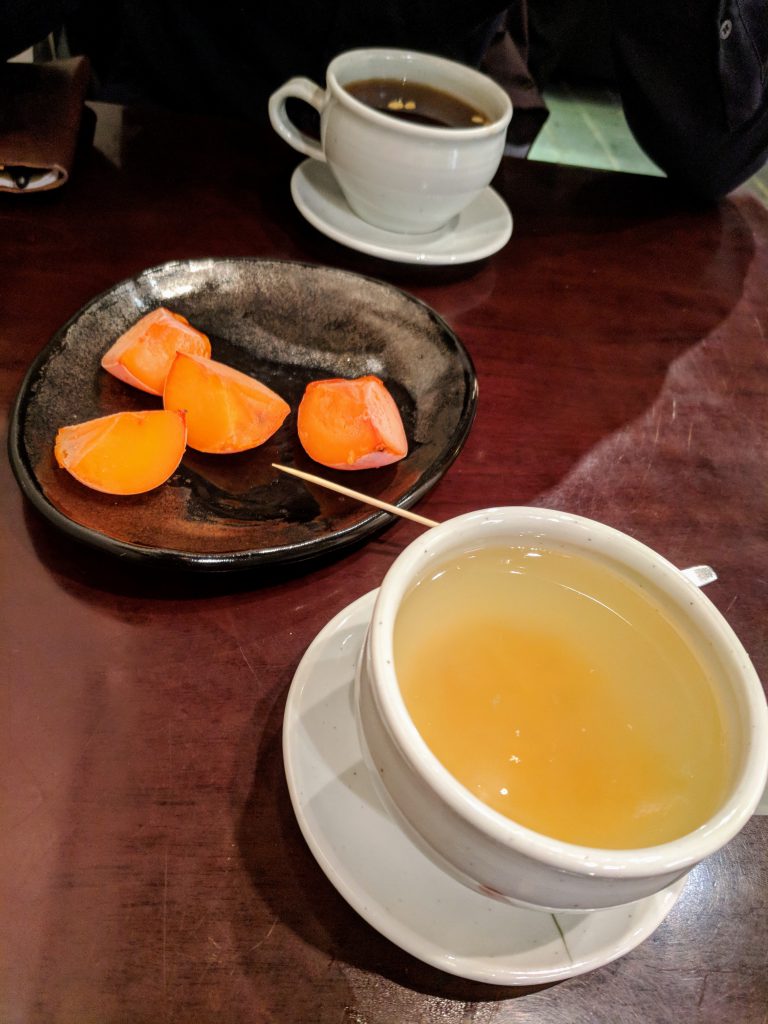 Seoul doesn't just specialize in caffeinated drinks, however–the food was some of the best we've had in Asia. From fried seafood pancakes to hot noodles to spicy kimchi, the food options were plentiful and delicious. Kimchi is automatically served with every meal and restaurant customers typically aren't charged for it. It's as free and abundant as bread baskets are in the United States.
Our favorite place for eats was Gwangjang Market, an indoor market lined with food stalls. One afternoon, we sat on a heated bench and watched our noodles be freshly cut and cooked right in front of us. The noodles were melt-in-your-mouth delicious and the broth–which had been simmering all day–was flavored with chicken and scallions. It was simple fall comfort food at its finest!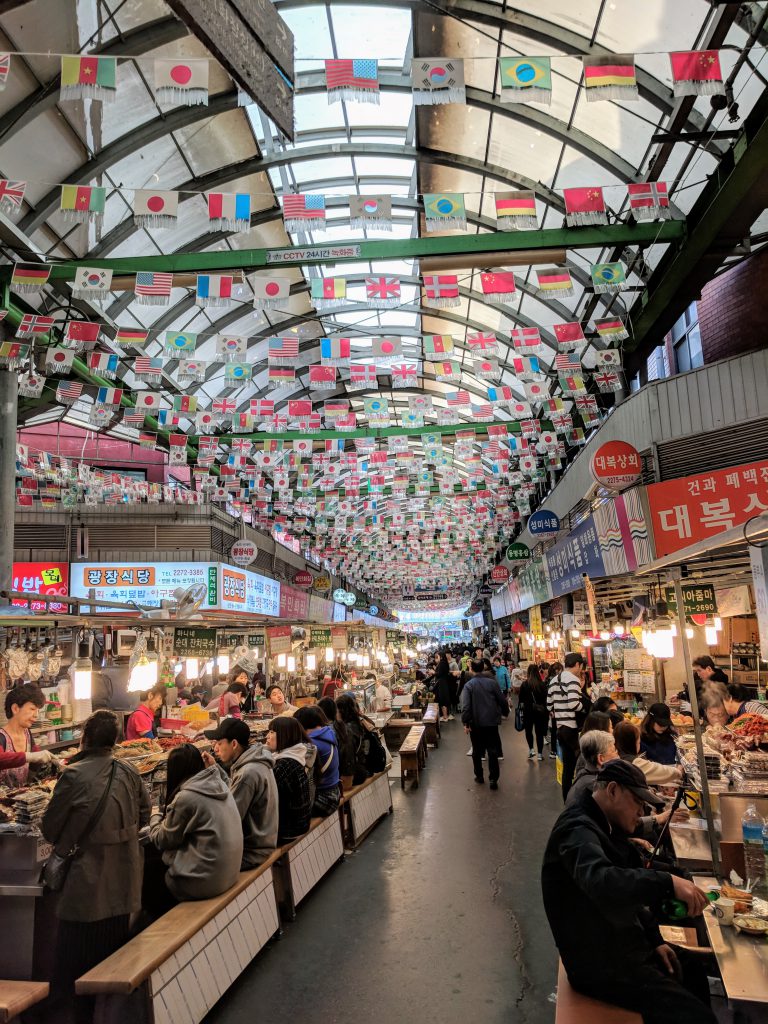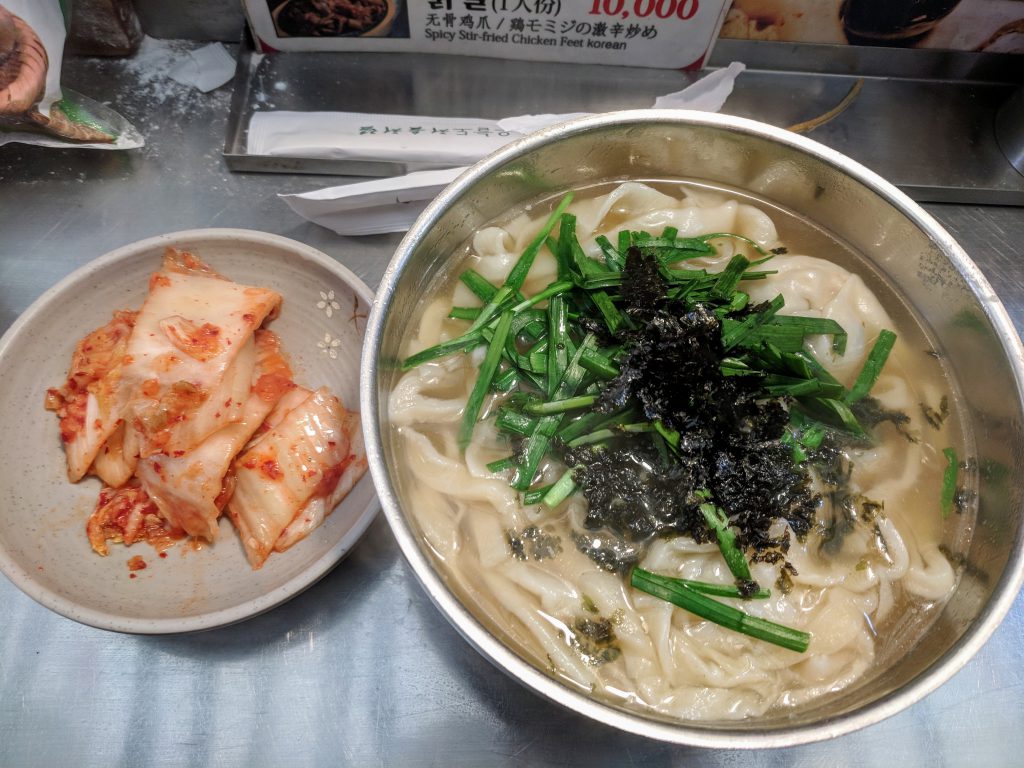 Although Seoul is an enormous city (the sheer size and urban sprawl reminded us of Tokyo), it's filled with plenty of quiet neighborhoods to escape in. One clear afternoon, we had fun getting lost in the Bukchon Hanok Village, an old, swanky area with traditional Korean-style homes. Visitors respectfully kept their voices down as they wandered through the residential streets. The view from the neighborhood was the visual embodiment of Seoul–modern, yet steeped in tradition.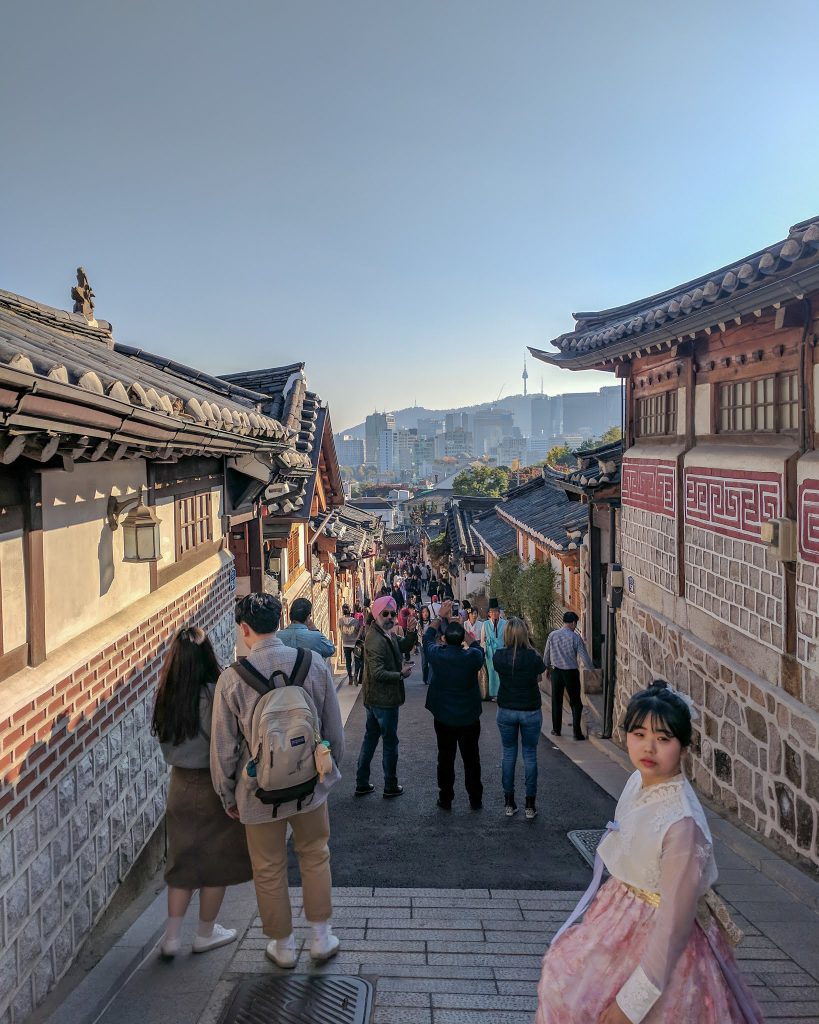 Reminders of Seoul's traditions and history were everywhere, especially in its many grand palaces. Our favorite was Gyeongbokgung right in the heart of the city. First built in the 1300s, the massive palace compound is undergoing a 40 year renovation that began in the 1980s. A huge number of the buildings within the palace walls have been destroyed at some point or another since their construction, whether due to fire, deliberate destruction by occupying Japanese forces, or bombing during the Korean War. Despite the palace's painful history–Korea's Empress Myeongseong was also assassinated there by Japanese agents in 1895–you can sense the pride that Koreans have in it. The palace is a symbol of Korea, continuing on and rising again in spite of a dark past and complex present (in terms of relations with its neighbor to the north, at least).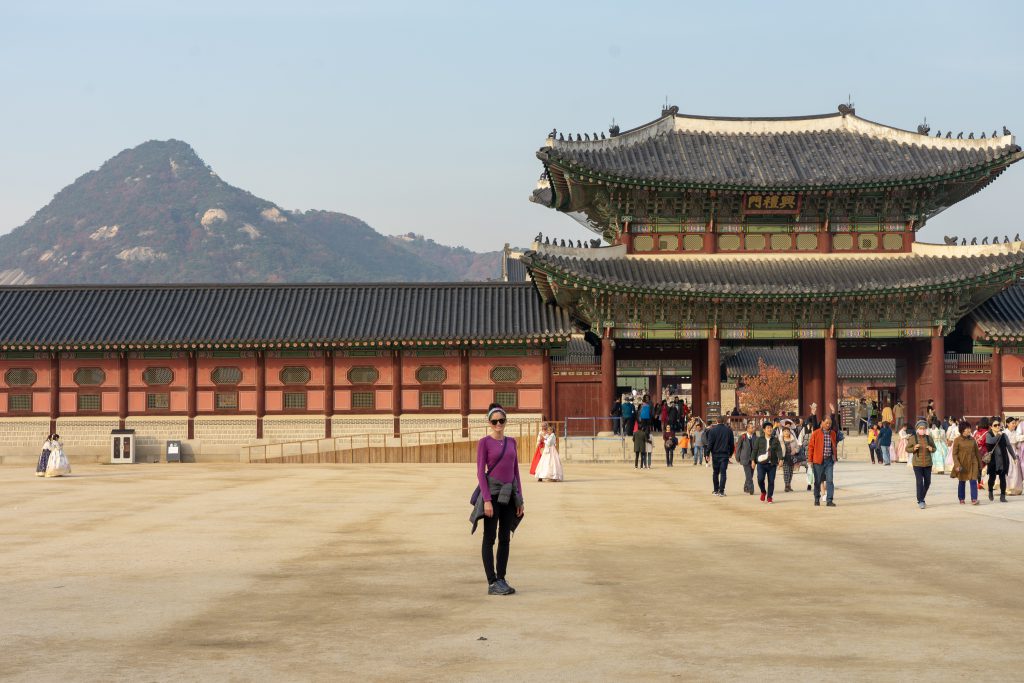 In Seoul, it's easy to forget that North Korea, arguably the most reclusive and dangerous country on earth, is a mere 35 miles away. We did see a few jarring reminders, though, like the cabinets in each subway station stocked with emergency supplies like gas masks and flashlights. The knowledge that North Korea is so close may not be on the forefront of most Koreans' minds, but it's always there, lurking in the background. You just have to look closely to see it.
As our week in Seoul came to an end, Mike and I were faced with one of the practical realities of long term travel–that cleaning your clothes takes effort. Since we only have a week's worth of clothing with us, we've learned that washing clothing by hand in hotel room sinks from time to time is inevitable. It's also given us an appreciation for our washer and dryer back at home. We were lucky, however, that our hotel in Korea had a laundry room for guests to use free of charge. Although we were creeped out by its location in the hotel's dingy, serial killer-esque basement (think that final scene in Silence of the Lambs when Jodie Foster is being stalked by the murderer), we dissolved in laughter as we tried to figure out the washer's Korean instructions. Fortunately we did our laundry without incident and hauled it back upstairs to dry on our clothesline!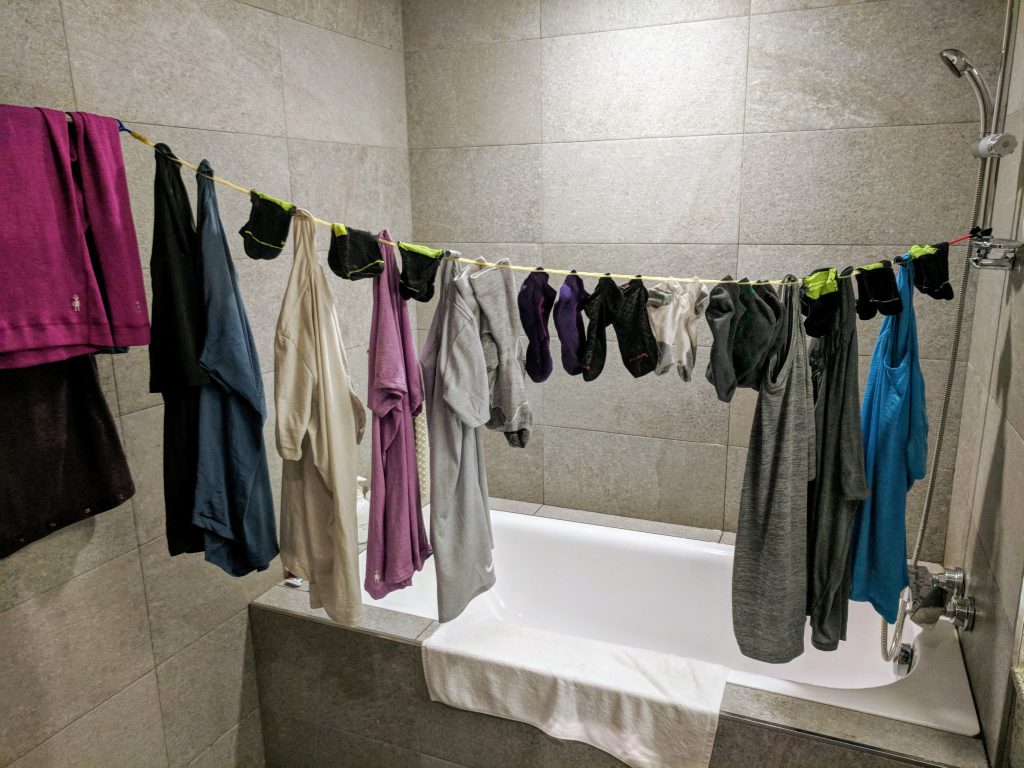 Soon it'll be time to enter the tropics and put away our cold weather clothing for awhile. See you soon, Hong Kong! And until next time, annyeong from Korea!