Vienna and Prague: Exploring Two of Europe's Grand Imperial Cities
Vienna wasn't part of our original itinerary, but I'm very glad we made a last minute decision to spend a weekend there. At the end of June, we had a few days to fill before we were due to meet my mom and my cousin George in Prague. We debated about where to go, but the discussion didn't last long. Vienna was just an hour by train from Bratislava. It seemed like it would be a travesty to be so close to Vienna–imperial seat of the Austro-Hungarian empire, birthplace of the waltz, inventor of schnitzel–and not see it.
When we stepped off the train, we instantly knew we'd made the right choice. Vienna is one of the most stunning capitals I've ever seen. The city is filled with gloriously preserved palaces and homes from the eighteenth and nineteenth centuries, when over-the-top Baroque and Rococo architecture reigned supreme. The city is diverse, squeaky clean, and the most cyclist-friendly place I've visited (Mike likened Vienna's amount of bike lanes to Amsterdam's.) There are bicycles everywhere, resting against lampposts and stop signs, and there are even dedicated parking lots for bikes.
And if Vienna residents don't fancy cycling, they also have access to one of the most efficient and user-friendly public transportation systems in the world. Vienna has buses, trams, and an underground subway, and riders don't have to run their tickets through machines or pass through turnstiles–they can just get right on. While purchasing a ticket is required (and there are random checks to enforce this), the whole process is based on the honor system. This fascinated us; we've never been to a city that runs its public transportation this way. It seems Vienna operates its transport with the mindset that trusting people to be honest will actually encourage honesty. It seems like it's working!
After checking in to our studio apartment in the Leopoldstadt neighborhood, we walked south to Innere Stadt, the city center. Along the way, we crossed the Donaukanal, an artificial canal that runs through the middle of the city. The canal banks have been transformed into a recreation area, and there were hundreds of people out enjoying the fine summer evening, lounging on docked boats and relaxing at beach bars with imported sand.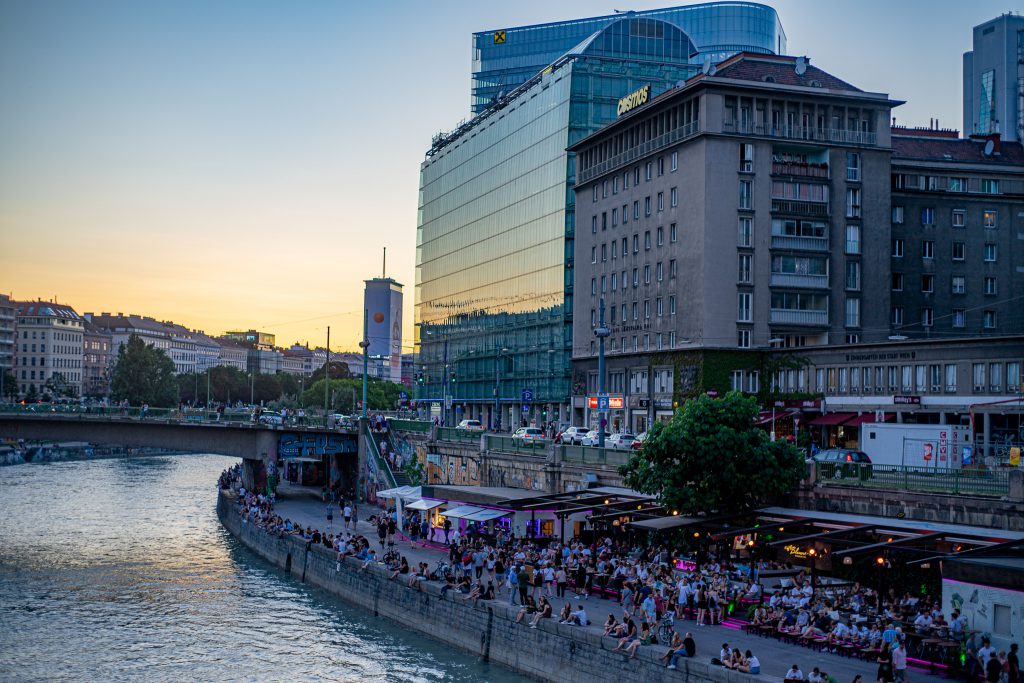 As dusk fell, Vienna rapidly captivated us even more. Much of the city is lit at night, bathed in rich, golden tones that reminded me of evenings in my beloved Salamanca. We walked inside 900-year-old St. Stephen's Cathedral, famed for its colorful chevron-tiled roof, standing in awe of the church's dark, soaring interior. Our nighttime stroll continued along Innere Stadt's wide pedestrian avenues, eventually taking us to the courtyard of the sprawling, grand Hofburg Palace, the home base of the ruling Hapsburg family from 1273 to 1918.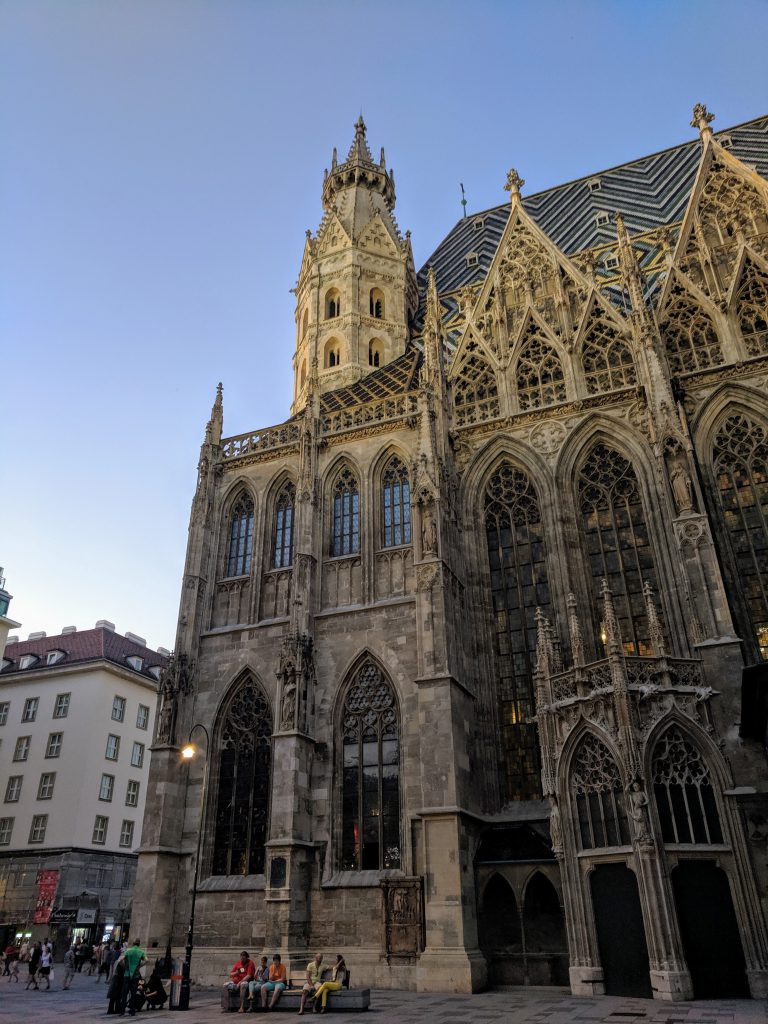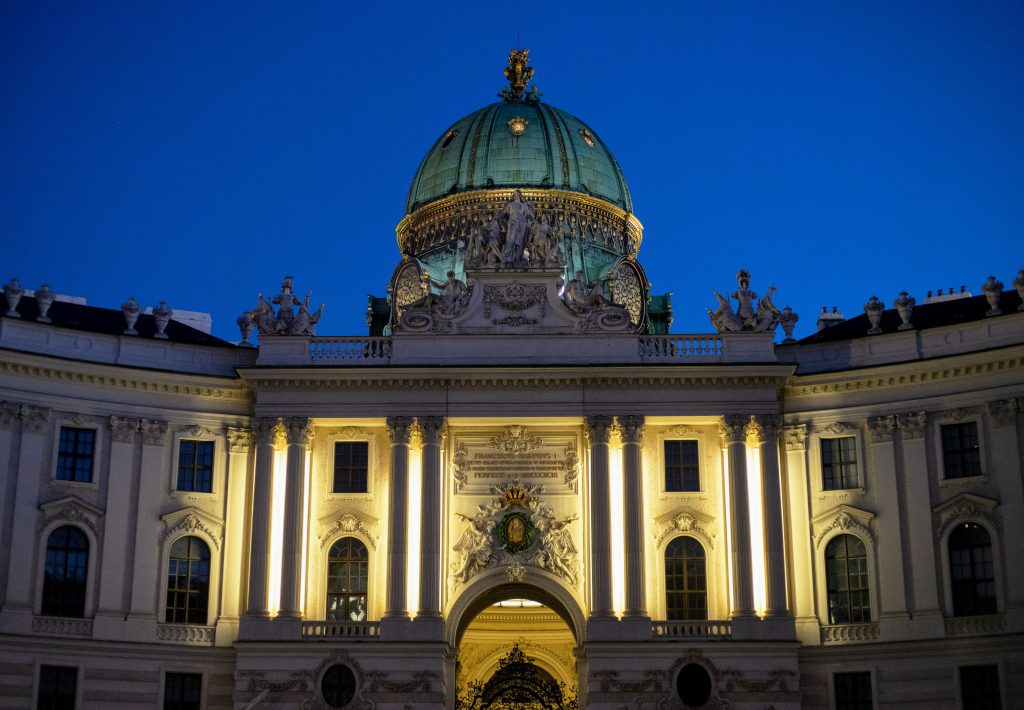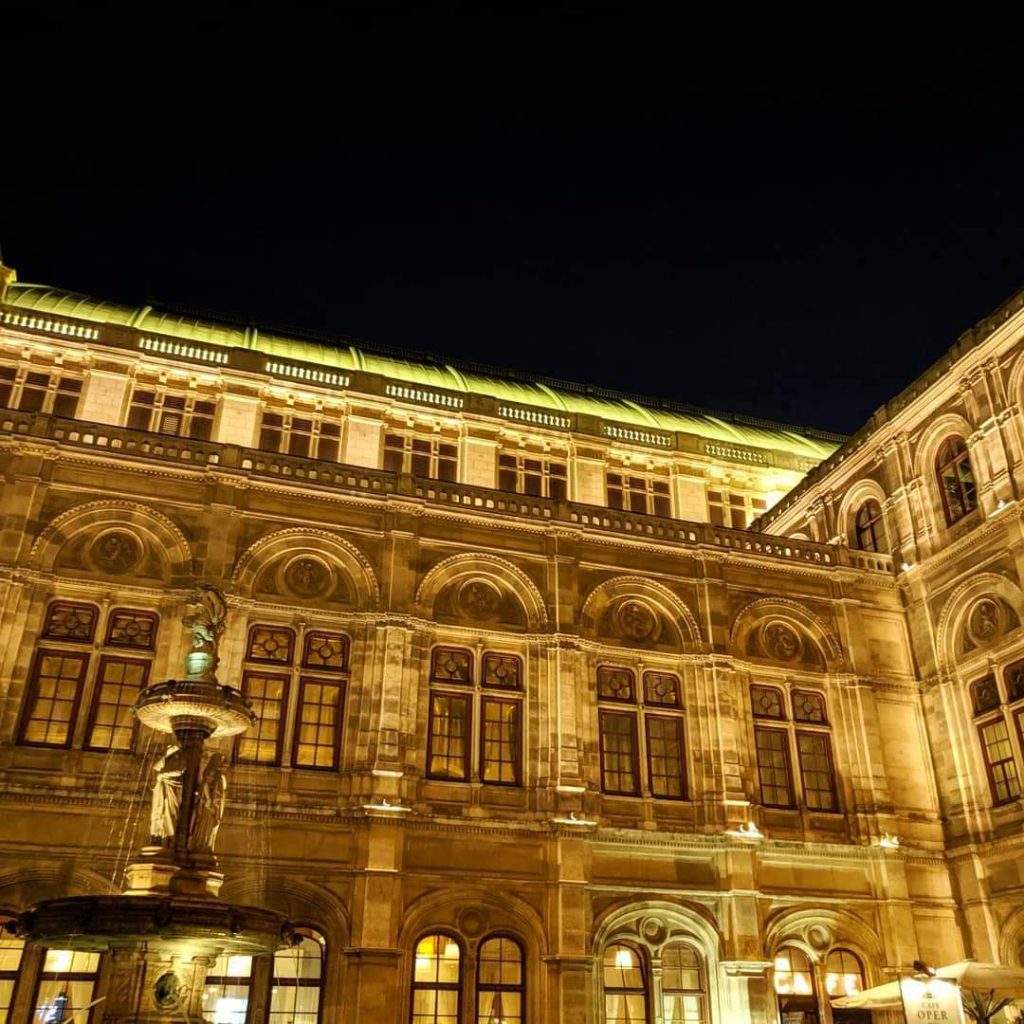 I developed a bit of an obsession with the Hapsburgs over the course of our three days in Vienna. The Hapsburgs were one of the most powerful and long-running royal families in the history of Europe, who produced kings and emperors of Austria, Bohemia, Croatia, Hungary, Galicia, Portugal, and Spain. The ill-fated Marie Antoinette was a Hapsburg. Another tragic Hapsburg figure is the beloved Empress Elisabeth, who was stabbed to death in 1898.
Though they exerted great influence over much of Europe for hundreds of years, the family's desire to consolidate power through intermarriage eventually led to their downfall. The effects of inbreeding over the course of generations rendered the last Hapsburg ruler of Spain, Charles II, physically and intellectually disabled. He died without an heir, and war ensued. (Google "Hapsburg inbreeding" if you want to learn more–the family history is as drama-filled, violent, and tumultuous as an HBO TV series.)
Most of our sightseeing in Vienna revolved around the Hapsburgs. I spent a morning checking out the imperial treasury collection, which illustrates how filthy rich the Hapsburgs were (and highlights the massive divide that existed for hundreds of years between the wealthy ruling class and the poor.) The crown jewel collection is filled with priceless art and jewelry, but I thought the most impressive object by far was the Emerald Unguentarium, a behemoth of an emerald that clocks in at 2,680 carats.
We were equally impressed by the Schönbrunn Palace, the summer home of the Hapsburgs. The palace has a staggering 1,441 rooms, 40 of which are open to the public. Photography wasn't permitted inside, but the rooms were decorated in such ornate Rococo designs that I could only compare the interior to pictures I've seen of Versailles. The massive gardens and park surrounding the palace were equally over-the-top. It was hard to imagine that such a gigantic home and estate was built for just one family.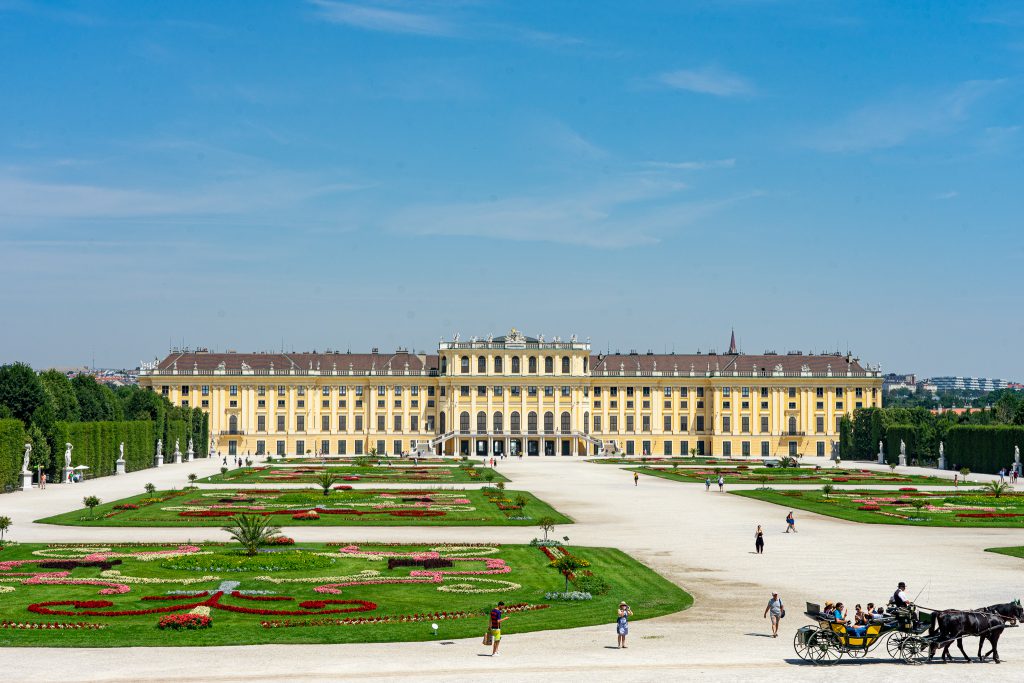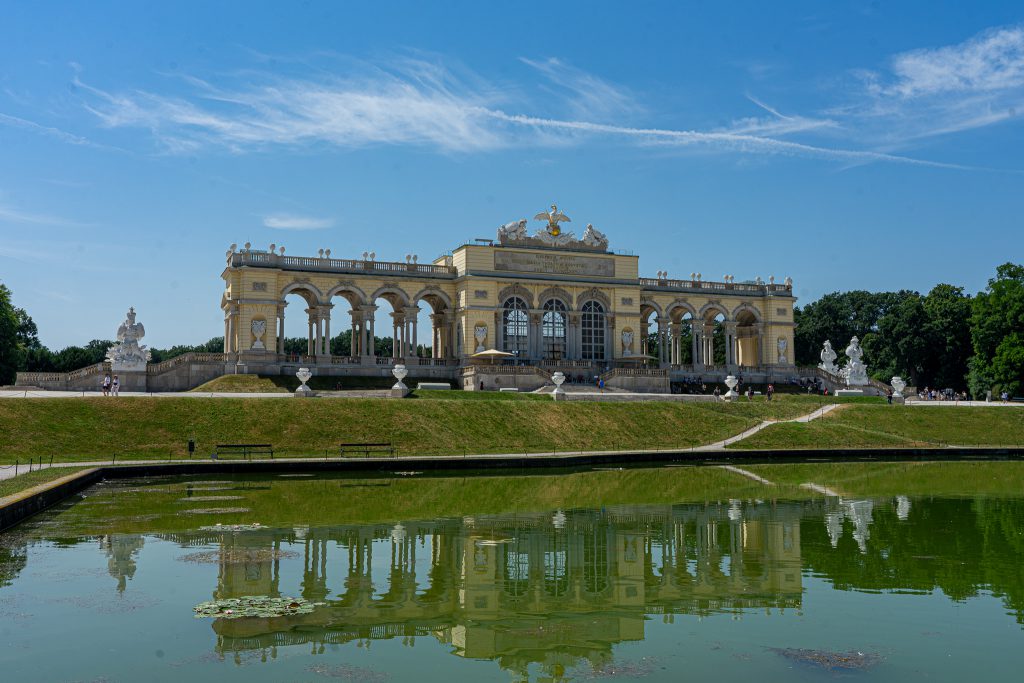 Though we enjoyed immersing ourselves in Viennese history, we also loved some of the city's more everyday sights. We spent one evening wandering Prater, an amusement park located right in the city limits. Admission to the old timey park, modeled after early twentieth century American amusement parks, is free. We didn't go on any of the rides, but it was still a surprisingly fun place to hang out. I laughed at a few things you'd never find at theme parks in the United States, like the grotesque life-size statues portraying fairy tale villains committing various evil acts.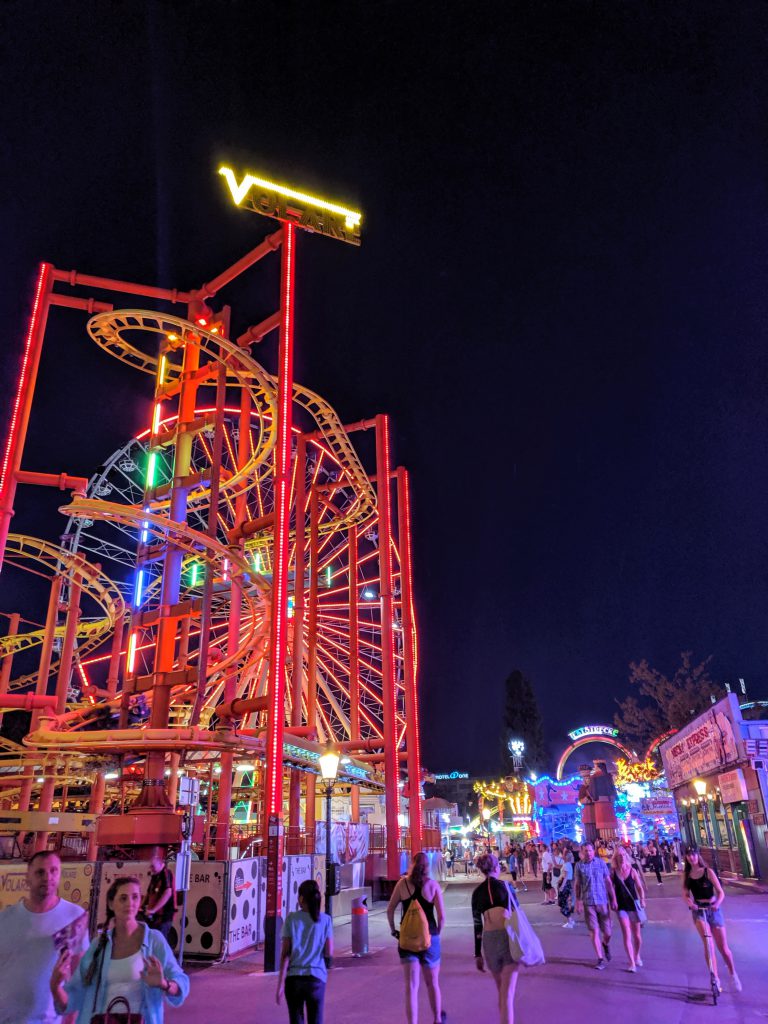 We also treated ourselves to many of Vienna's culinary delights, from desserts served at upscale cake shops to grilled bratwursts purchased from sausage stands. (After all that hiking in Slovakia, we figured it was okay to indulge a bit!) The food in Vienna was delectable. We didn't have a single bad meal, and we thought the service was good as well.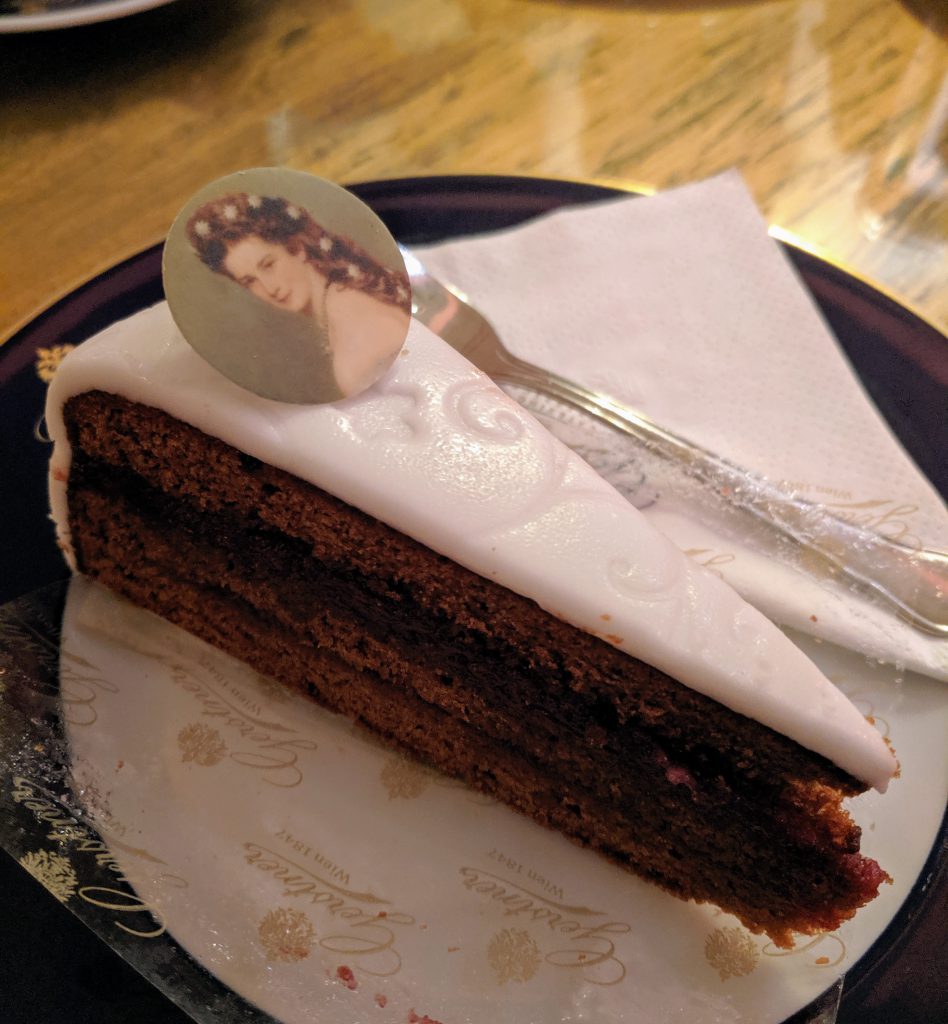 Our fantastic three day sojourn in Vienna was quickly up, and we boarded a train for Prague, our next destination. I was practically bouncing in my seat the whole way–we were going to meet up with my mom and my cousin! I visited Prague for a weekend long ago when I studied abroad, but I was excited to see the city again with fresh eyes.
Prague was just as picturesque as I remembered, with its orange tiled rooftops and Gothic spires. Unlike many European capitals, the city wasn't damaged during World War II, so the majority of its historic architecture is intact. After a giddy reunion with my mom and my cousin George, our first order of business was enjoying a meal together at a typical Prague pub. The Czech Republic is famed for its quality pilsners, which are cheaper to purchase than water.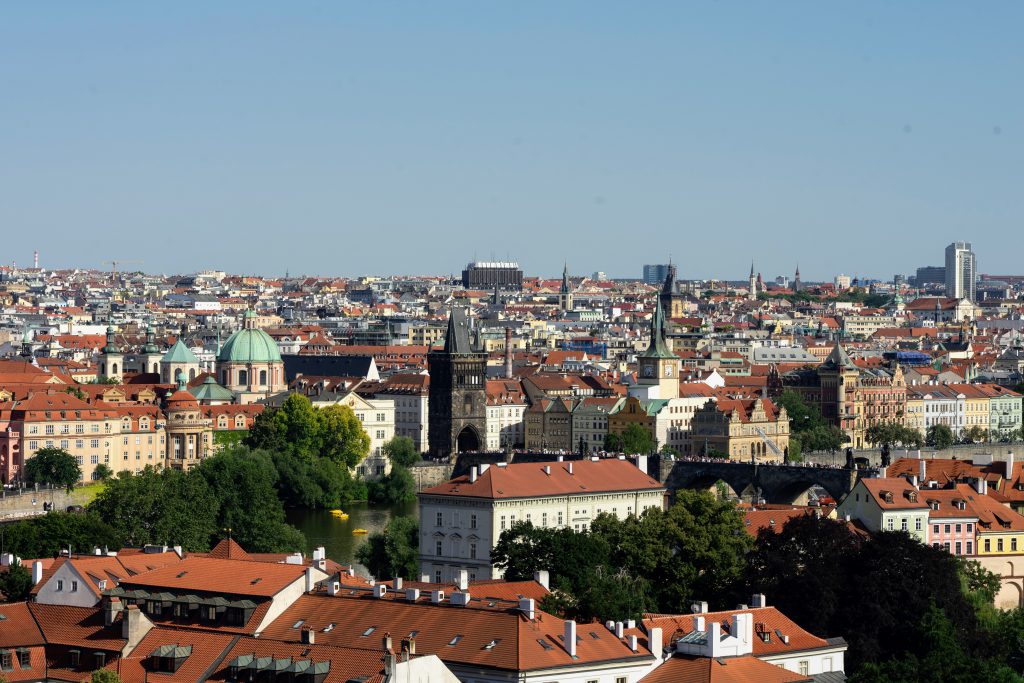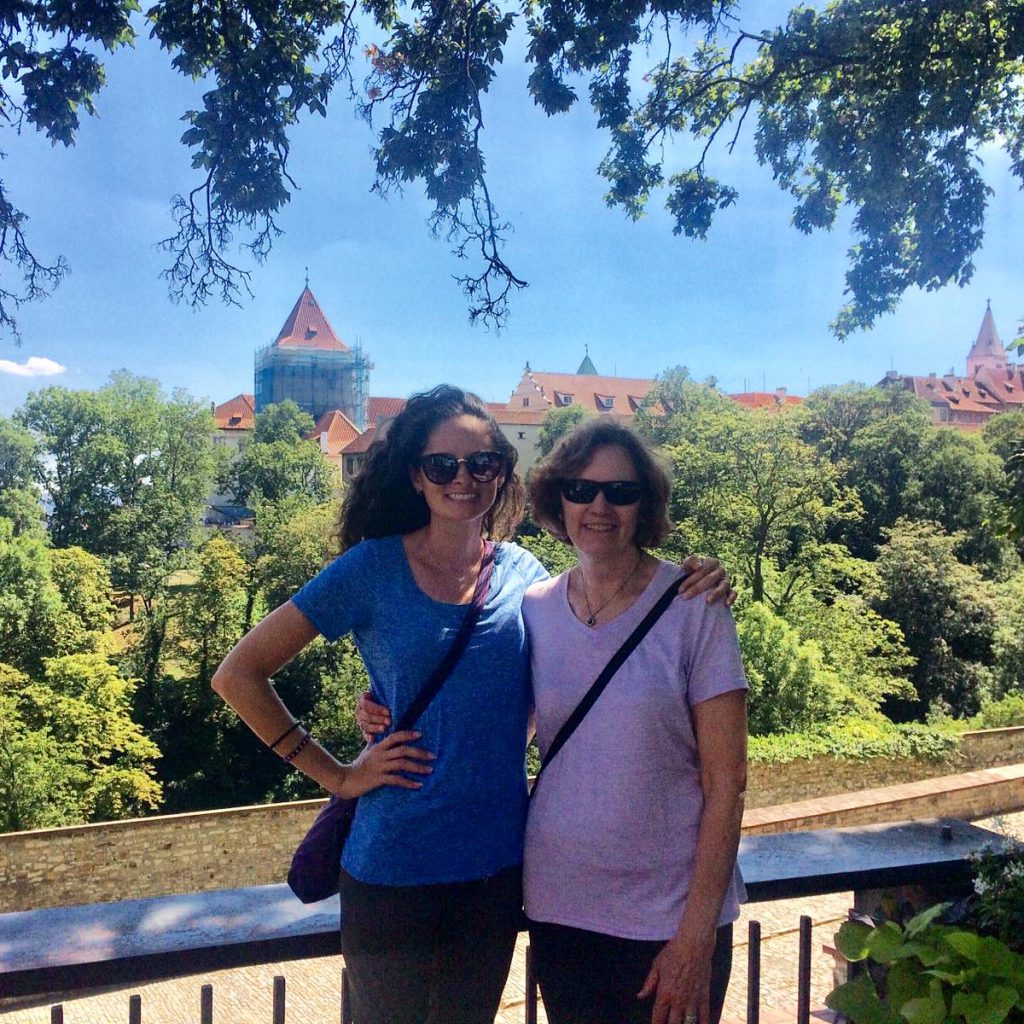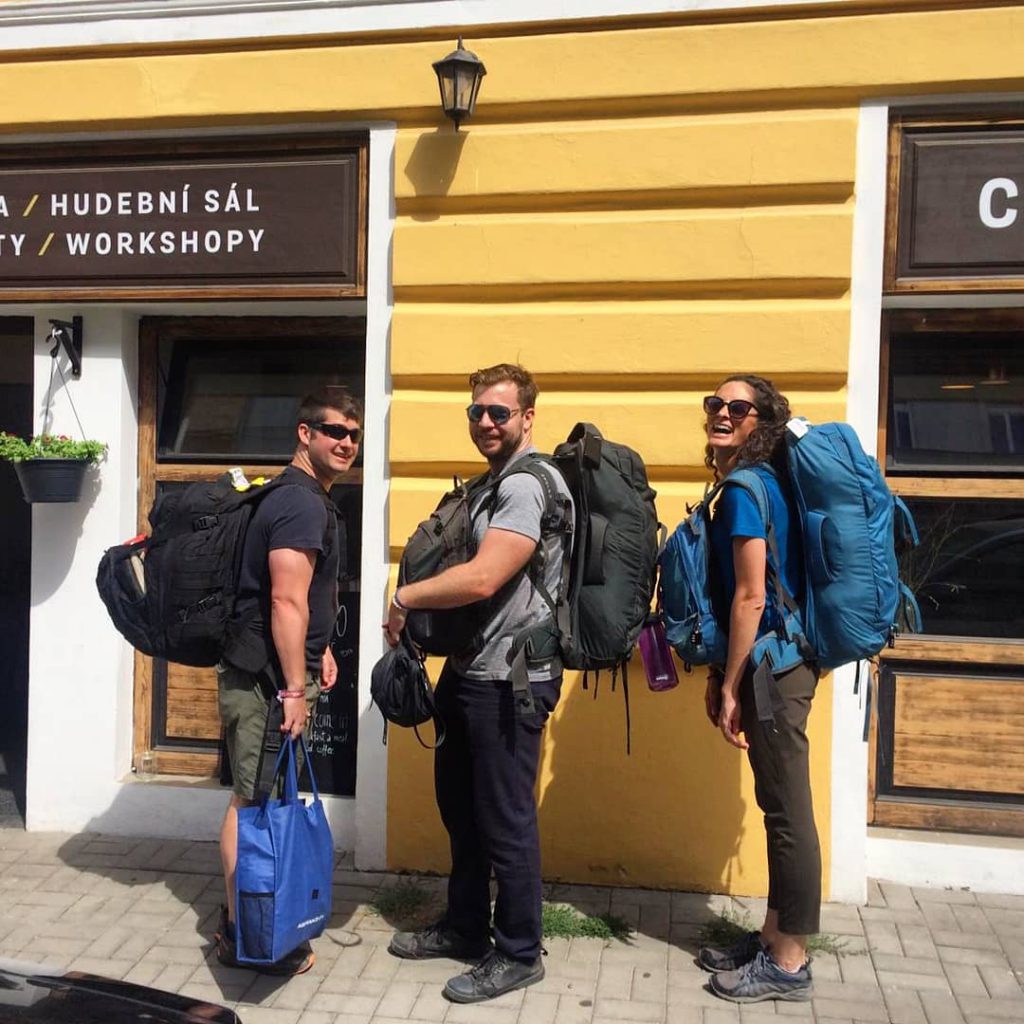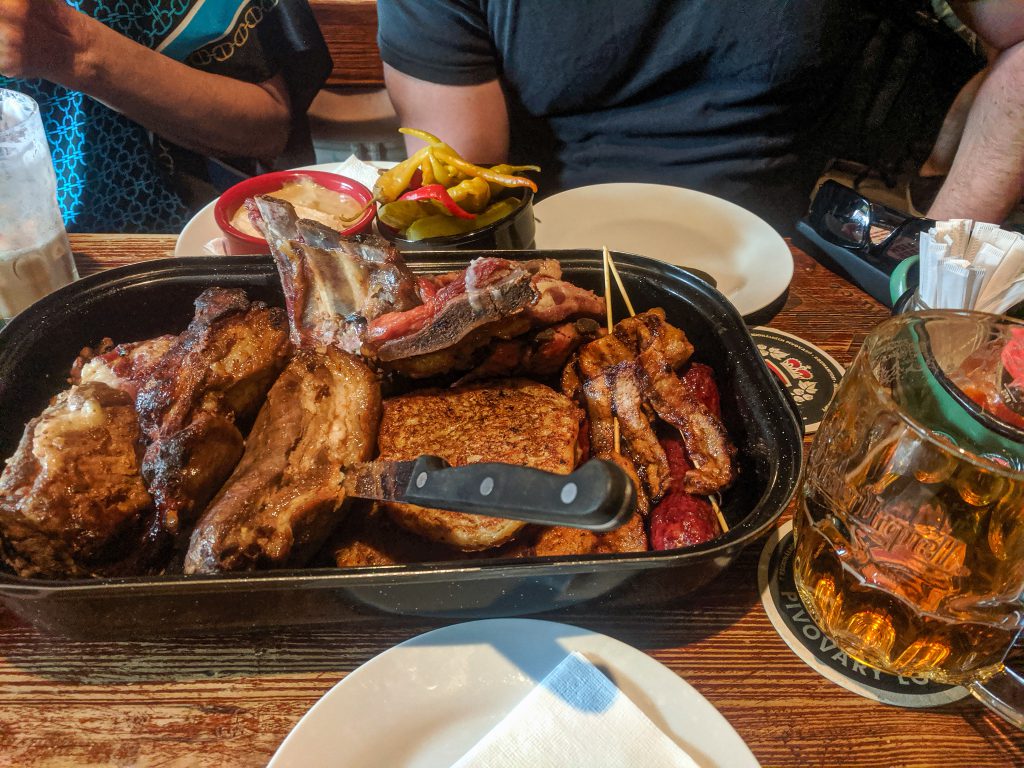 Our accommodation was fortunately located away from the insanely packed city center in the more residential Žižkov neighborhood (out of every European city we've visited this summer, Prague has been the most crowded.) Žižkov has a bit of an offbeat vibe, and is home to plenty of trendy restaurants and divey beer halls. It also has the famously weird Žižkov Television Tower, a Soviet-era architectural oddity with sculptures of faceless babies all over it.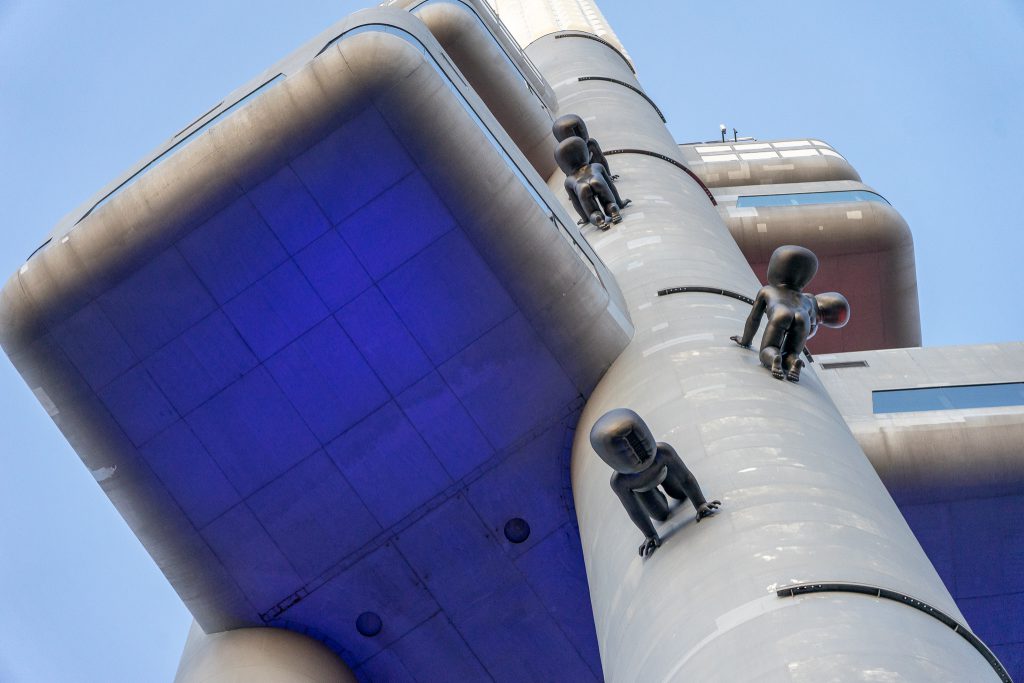 We spent our four days in Prague enjoying the city's numerous historic sights. On our first full day, we went on a free walking tour with Sandeman Tours. It was one of the best tours we've ever taken–free or paid! Walking tours are an excellent way to get the lay of the land on your first day in a new city. Lots of major cities offer free ones, where there is no formal cost to participate but you can tip your guide if you feel he or she did a good job. We love this system. You can pay what you think the tour is worth, and it's a nice option for students or budget travelers. Our guide was an animated storyteller and did a wonderful job engaging our group with his tales about Prague's history. We liked the tour so much that we chose Sandeman to lead us on a tour of Prague Castle the following day.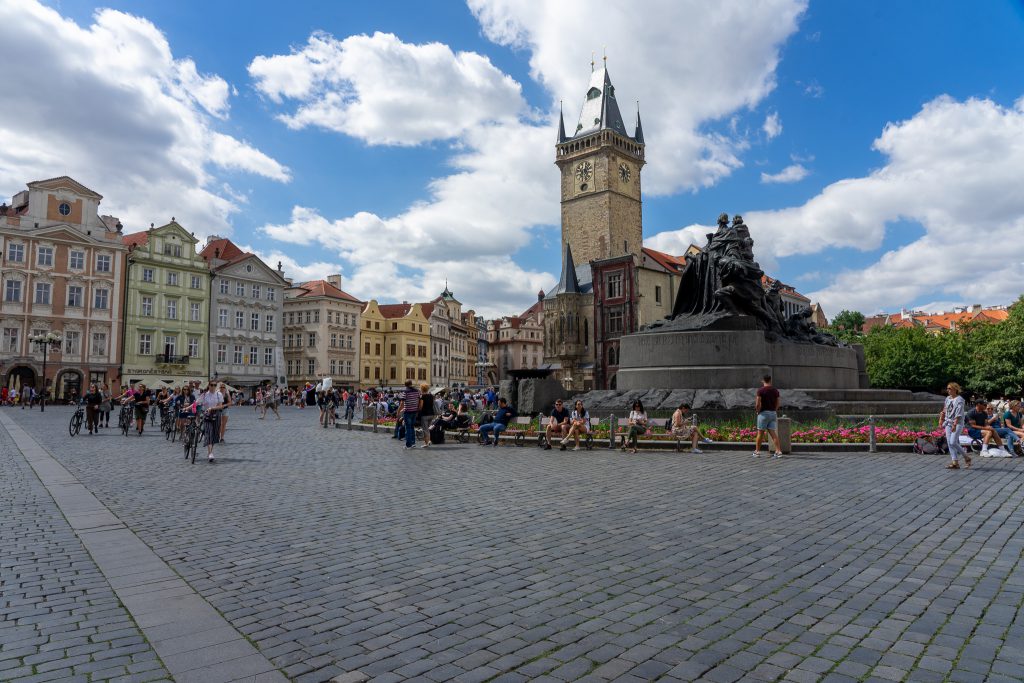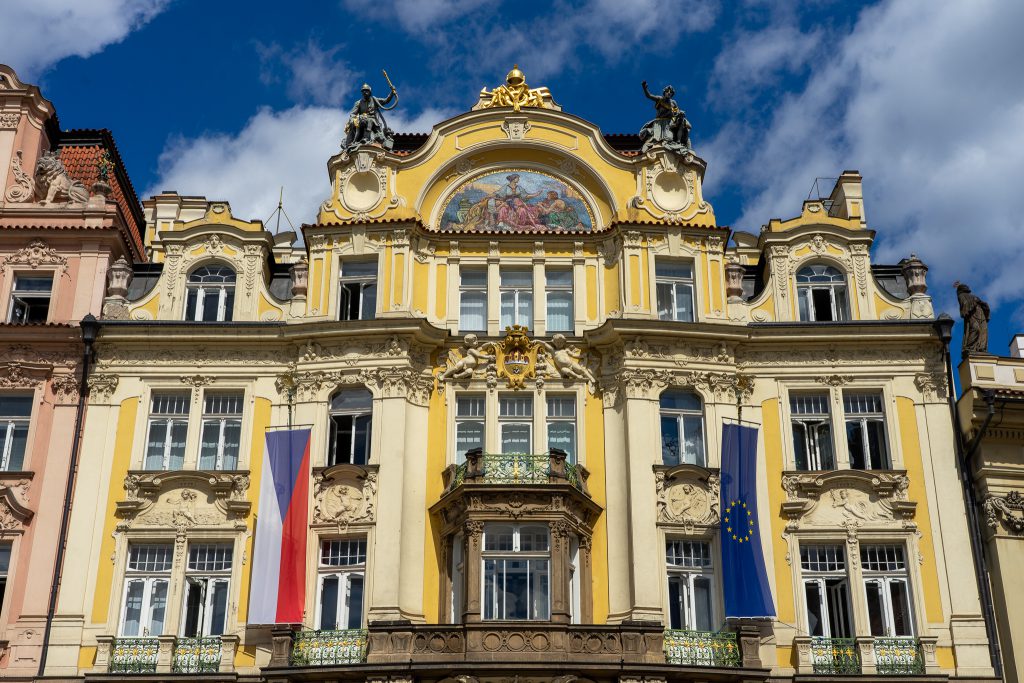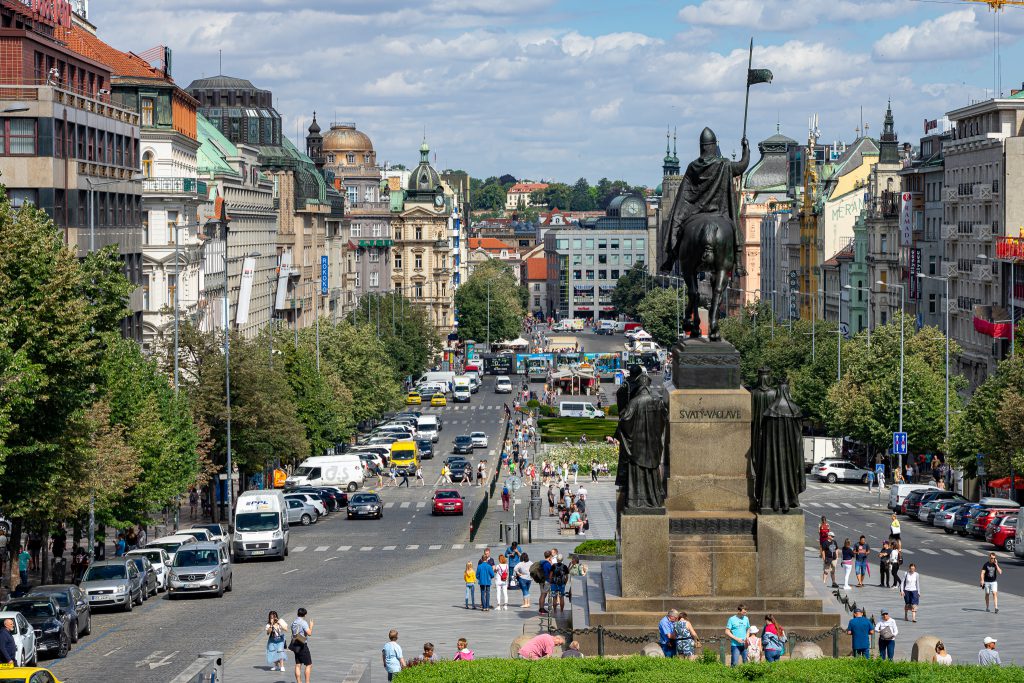 Prague Castle looms above the city on the banks of the Vltava River. It's not actually a single building, but rather a vast, fortressed complex of palaces, towers, and churches. Its most famed site, visible from multiple vantage points across the capital, is St. Vitus Cathedral, a richly decorated church built over a 600-year period. The stained glass windows are some of the most gorgeous, detailed ones we've laid eyes on (and we've seen a lot of European cathedrals at this point!)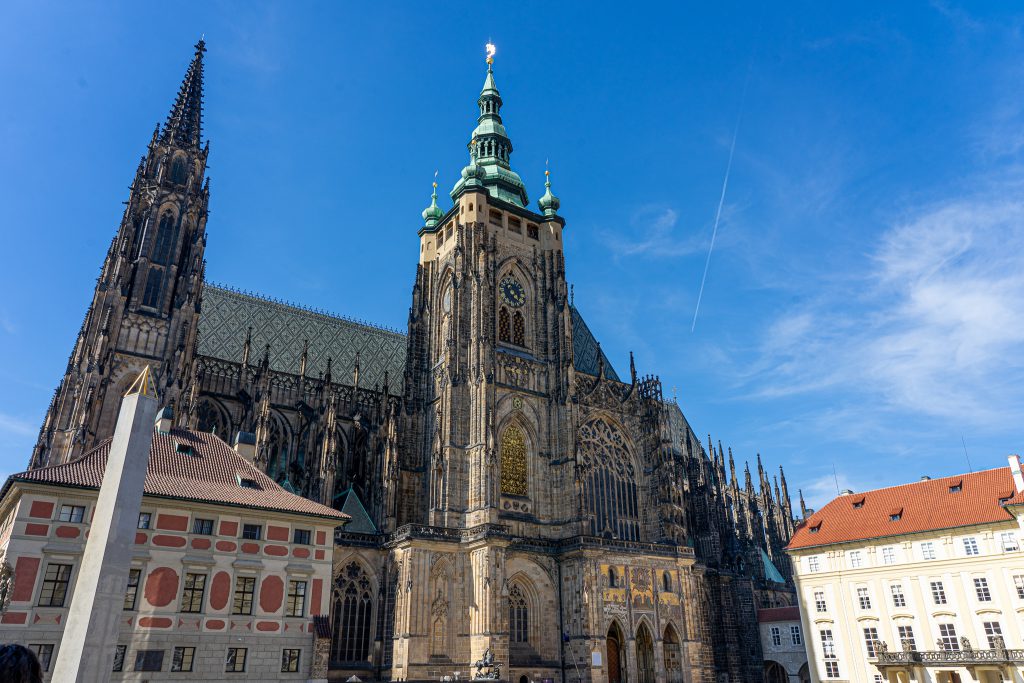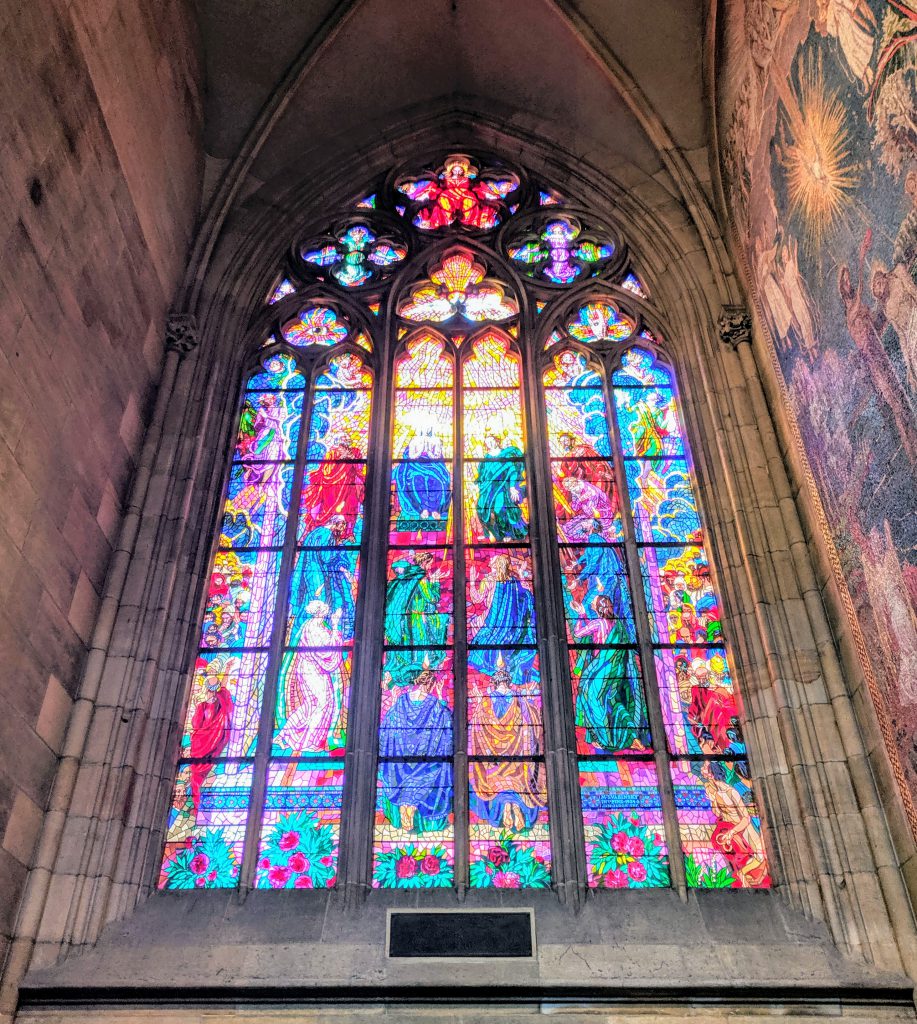 We also learned about the Czech Republic's more recent history at the Museum of Communism, which presents a detailed look at everyday life in Czechoslovakia's post-WWII Communist regime. The regime's brutal psychological tactic of encouraging people to spy on their friends, family members, and neighbors–then report them–was downright appalling. It's hard to comprehend just how much the citizens of Czechoslovakia suffered in the twentieth century. We've visited so many countries now where the people have only recently been granted the right to live in a free society. The United States may have its flaws, but the random luck of being born there is a gift many people don't grasp the significance of. There's nothing like travel to show you what could be–for better or for worse.
Truth be told, we were so content just to spend time with my mom and cousin that we probably would have been happy hanging out together in any city. The fact that we got to reunite in Prague, one of Europe's most beautiful and lively capitals, was a bonus, the cherry on top of our month in Eastern Europe. Soon we were having one final breakfast together before going our separate ways–George to Croatia, and me, Mike, and my mom to Germany. The latter group of us were set to chase a piece of my family history–following the trail of my maternal grandfather's military tour in WWII.
Until next time, na shledanou from the Czech Republic.