Slovakia: Eastern Europe's Outdoor Playground
"Is that really a 'No High Heels' sign?" I asked, stifling a laugh. "Here?"
We were 45 minutes away from the rocky summit of the tallest mountain in Poland when we spotted the sign, half-buried in melting snow. It was so comically out of place on the remote hiking trail that it was obviously placed there deliberately, a little joke for passing trekkers. We chuckled as we approached it, pausing to snap photos and take a water break.
A Slovakian hiker lumbered past, getting a kick out of our reaction. "Are you sad you didn't bring your Manolo pumps?" he asked with a grin.
The sign came at the perfect moment. We'd been sweating our way up Rysy, a mountain that straddles the border between Poland and Slovakia, from the Slovakian side for the past four hours. Although the difficult hike had rewarded us with beautiful views of the High Tatras range, exhaustion was beginning to turn our legs into heavy leaden weights. The sign–and the shared joke it generated among everyone trying to make it to the top–was exactly the pick-me-up we needed to push on.
Slovakia might be the most underrated country we've visited this past year. Considering its abundance of world-class outdoor activities and charming mountain villages, we were surprised at how untouristed it was. Our hunch is that it simply gets outshined by its neighbors, which boast the popular cities of Prague, Vienna, and Budapest. Slovakia's capital, Bratislava, is tiny in comparison, with an old town that can be explored in half a day. But visitors shouldn't put Slovakia on their radar for urban activities anyways. It's really a country that's custom-made for outdoor adventure seekers, offering some of Europe's finest hiking, cycling, and skiing.
Slovakia's relaxed, nature-centered culture ended up being just what we needed after spending most of May and June in large, bustling cities. The affordability of rail and bus tickets in Europe, as well as the short distances between cities, make it easy to spend the majority of your time doing urban sightseeing. Although we enjoy urban tourism, cities tend to wear on us after a few days. Some of our favorite experiences from the past year–hiking in Vietnam, trekking in Nepal, road tripping around New Zealand–share a common thread. We much prefer travel that involves the outdoors. We figured since we'd already trekked on two continents over the course of our trip, why not add a third? We started researching hiking destinations in Europe, quickly determining that we wanted to avoid the summer crowds (and prices) of the Alps and Dolomites. Slovakia's High Tatras, however, looked just as spectacular, yet less crowded and more affordable. Easy decision!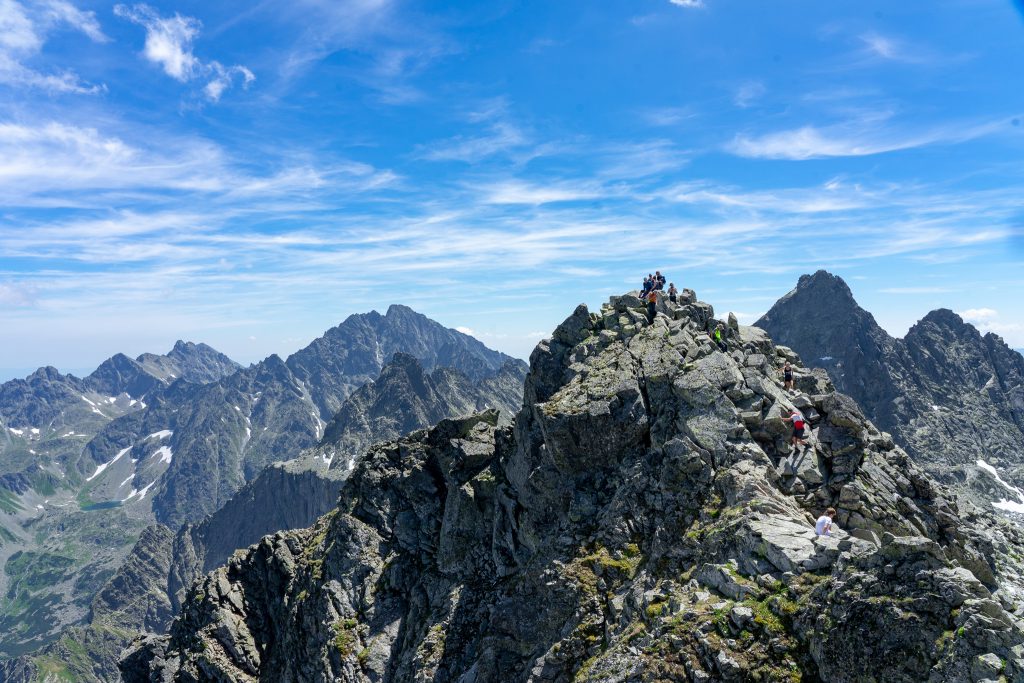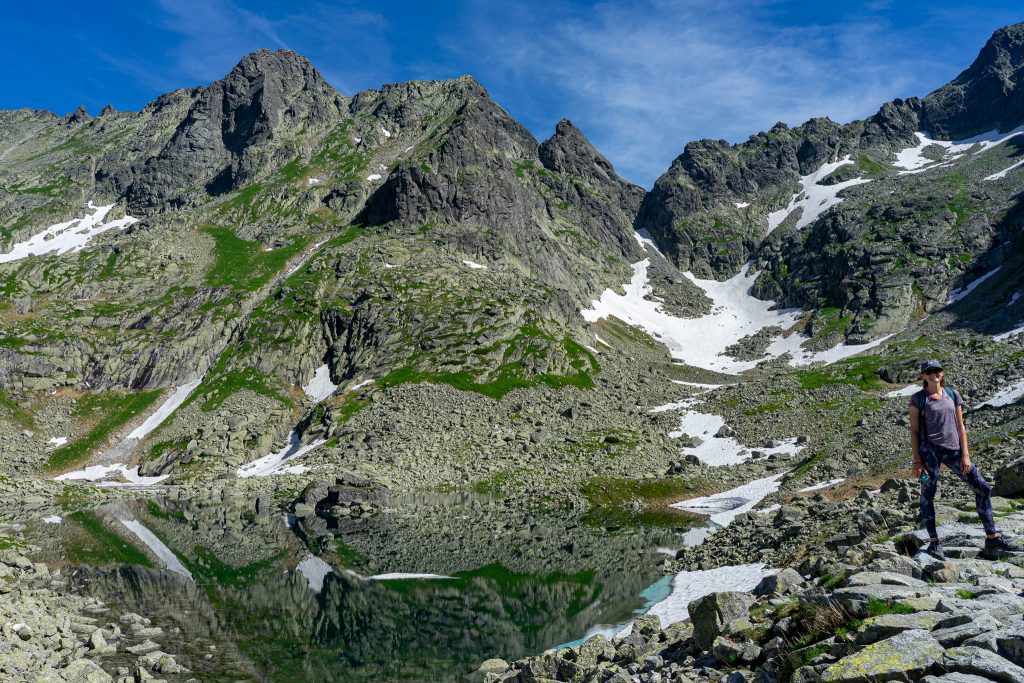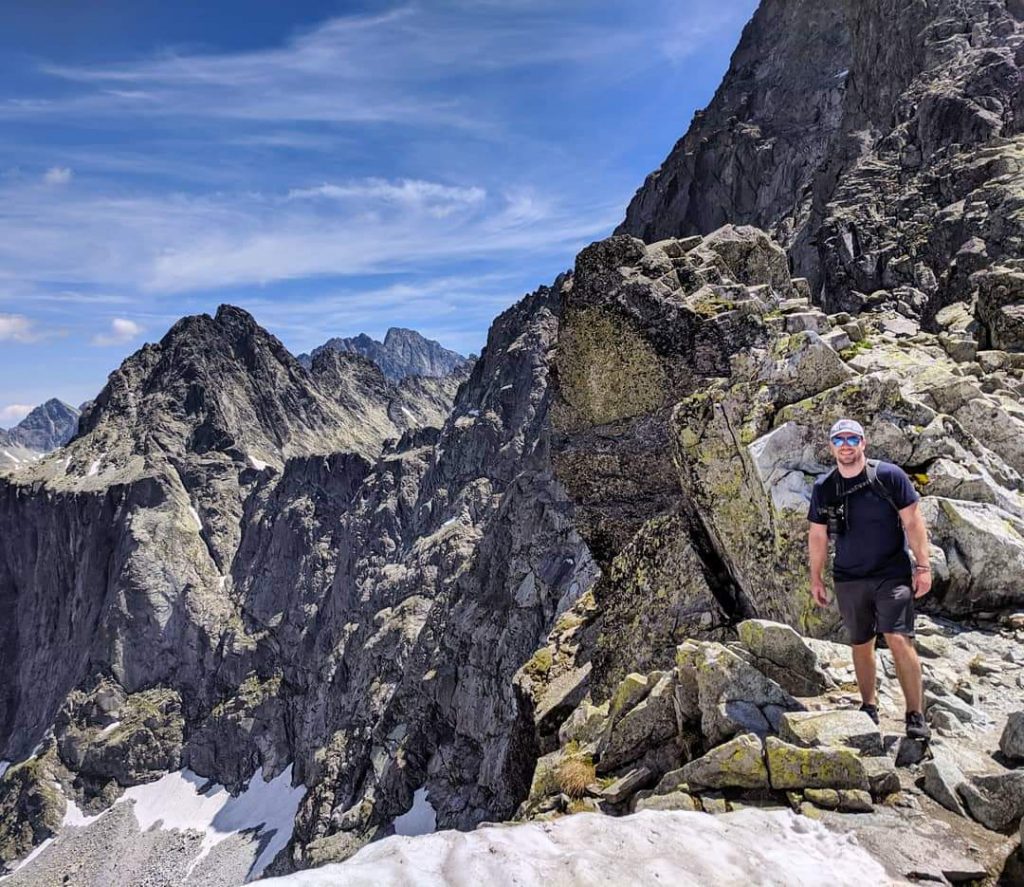 The train ride from Budapest to Bratislava was brief but sweltering. The air conditioning was broken in our rail car, causing much resentful grumbling among the passengers. Luckily the Slovakian family sharing our compartment seemed determined to make the best of it, passing around pastries and makeshift charcuterie platters to distract everyone from feeling like sweat-drenched human mops. The young woman sitting next to us, Catarina, introduced herself and we struck up a friendly conversation.
"This heat is the worst," she commented. "But oh well, what can you do! Do you guys want to have some beers with us?"
We weren't even in Slovakia yet, and we already liked it! The warmth Catarina's family showed us on the train ended up being representative of all encounters we had with the people of Slovakia, who were eager to talk with us, and always wanted to know what lured us to their country. As we would quickly learn, American tourists are relatively rare birds in Slovakia–most visitors hail from neighboring Eastern European nations.
Before venturing into the mountains, we spent a day exploring little Bratislava, which only became a capital in 1993 when Czechoslovakia split into the Czech Republic and Slovakia. Although we liked the quaint old town, we almost had more fun taking ourselves on a self-guided tour of the city's bizarre Communist-era architecture. Some of Bratislava's twentieth century buildings are so downright weird or ugly that they're worthy of a pilgrimage in their own right.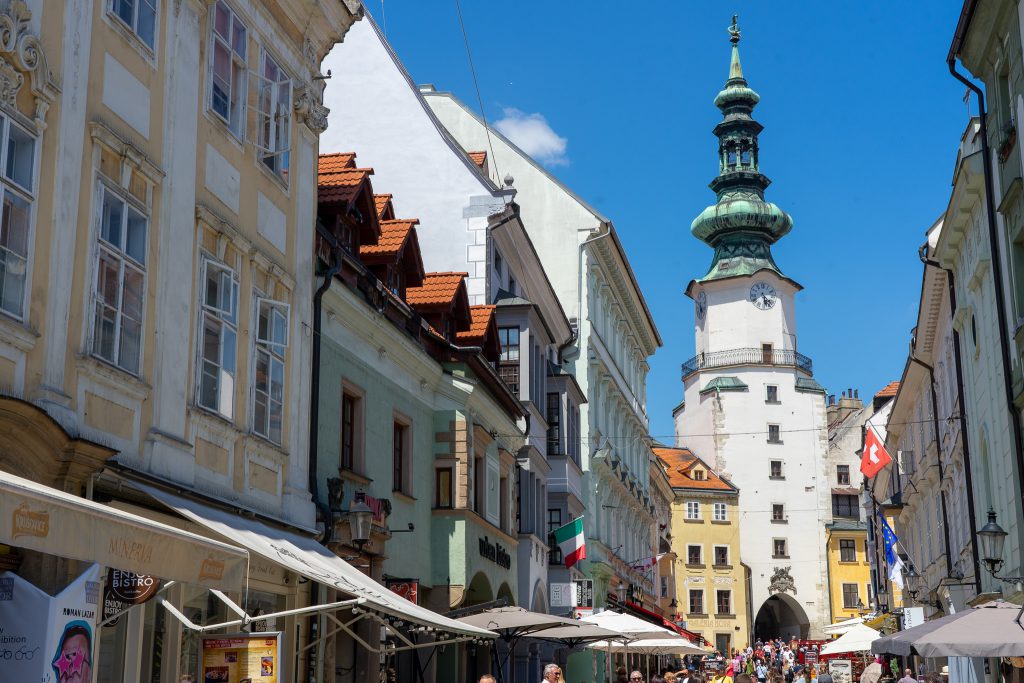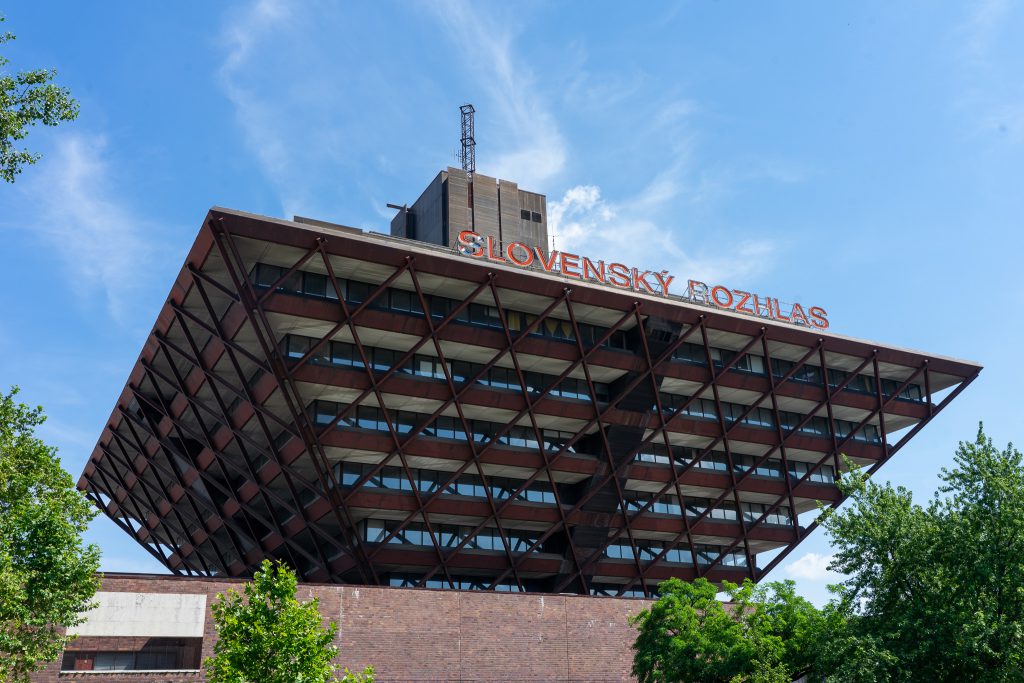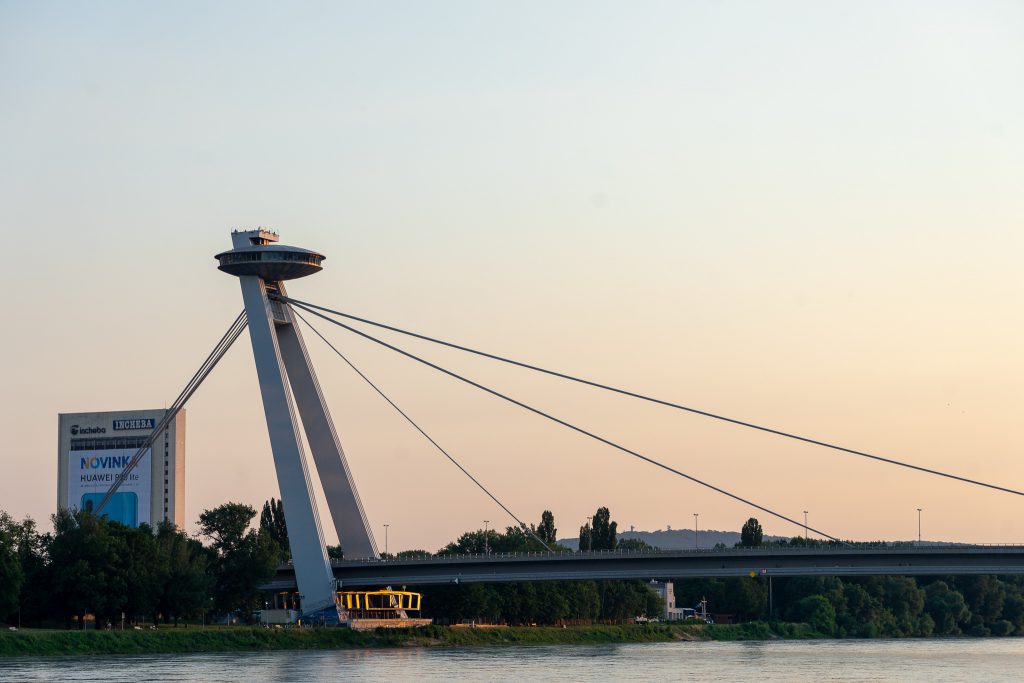 Eager to get to the mountains, we soon left Bratislava behind and headed to the historic village of Starý Smokovec, which we intended to make our hiking base for the next few days. The drive east across Slovakia was gorgeous. Most of the country is rural, and the green countryside is dotted with the ruins of countless castles. As we approached our destination, flat, prairie-like land gave way to rolling hills, and suddenly, the majestic High Tatras appeared in the distance, their jagged summits reminding me of giant teeth.
Starý Smokovec, situated at the foothills of the Tatras, has been a mountain retreat for over a hundred years, attracting hikers, skiers, and weary travelers looking for peace and quiet. There are plenty of accommodation options in town, including a grand Art Nouveau hotel that opened in 1904. Our rental apartment had the cozy vibe of a Swiss chalet, and the building even had a restaurant downstairs, an ideal spot to unwind with a hot meal or cold beer at the end of a long day outside.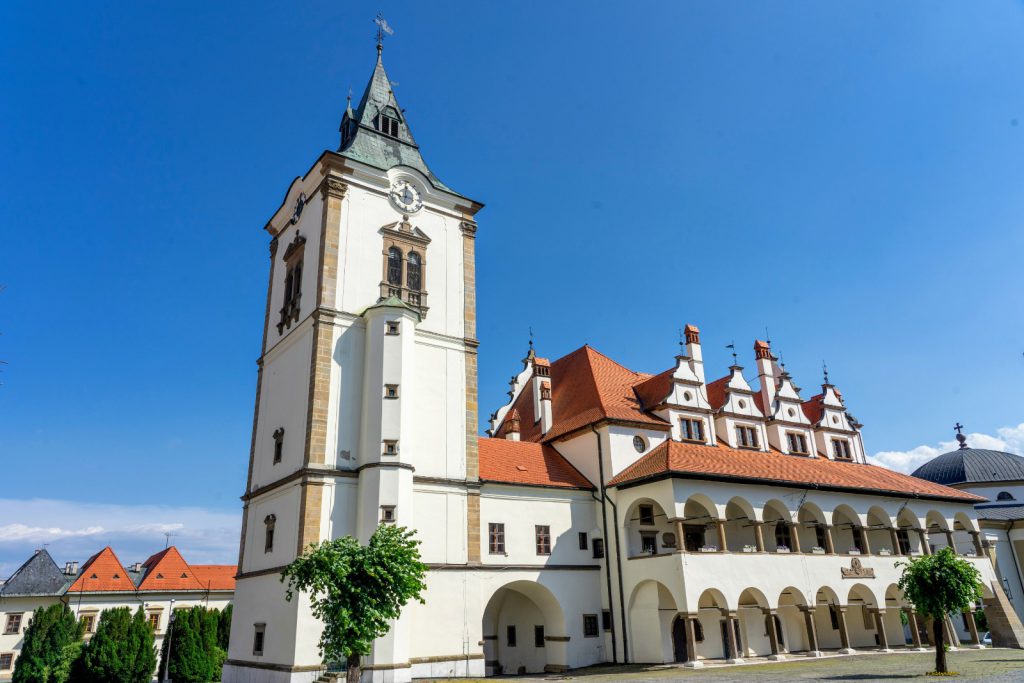 We rose early on our first morning to tackle Mount Rysy, whose proximity to Starý Smokovec is the main reason we booked accommodation in the village. We hit the hiking trail by 7am, first walking the hour uphill from the trailhead to the glacial lake of Popradské Pleso. We ate a quick breakfast of scrambled eggs and toast at the lake lodge, then continued on, climbing steadily along a rocky path that led through verdant alpine meadows. The trail had just opened for the summer season the week before, and at certain points, we slogged through slushy melting snow. 
Eventually the path grew steeper and we reached the most technically challenging section, where we had to climb steel ladders bolted into the rock face in order to continue. I moved as quickly and deftly as I could, the experience reminding me of the precipitous drops we encountered in Nepal. Greenery and wildflowers faded away below us, replaced by a landscape filled with craggy, slate-hued boulders. We were in a rangy mountain wilderness, surrounded by towering peaks. The views were stunning.
By the time we passed the quirky "No High Heels" sign and made it to the summit, we were exhausted but utterly exhilarated. A sign at the peak's highest point congratulated us on reaching Poland. We joked about achieving a first on our trip–crossing a border from one country to another on foot. Completing the hike gave us the same adrenaline rush and feeling of accomplishment we enjoyed throughout our trekking road trip in New Zealand. There's nothing like the mental high that comes from finishing a tough hike.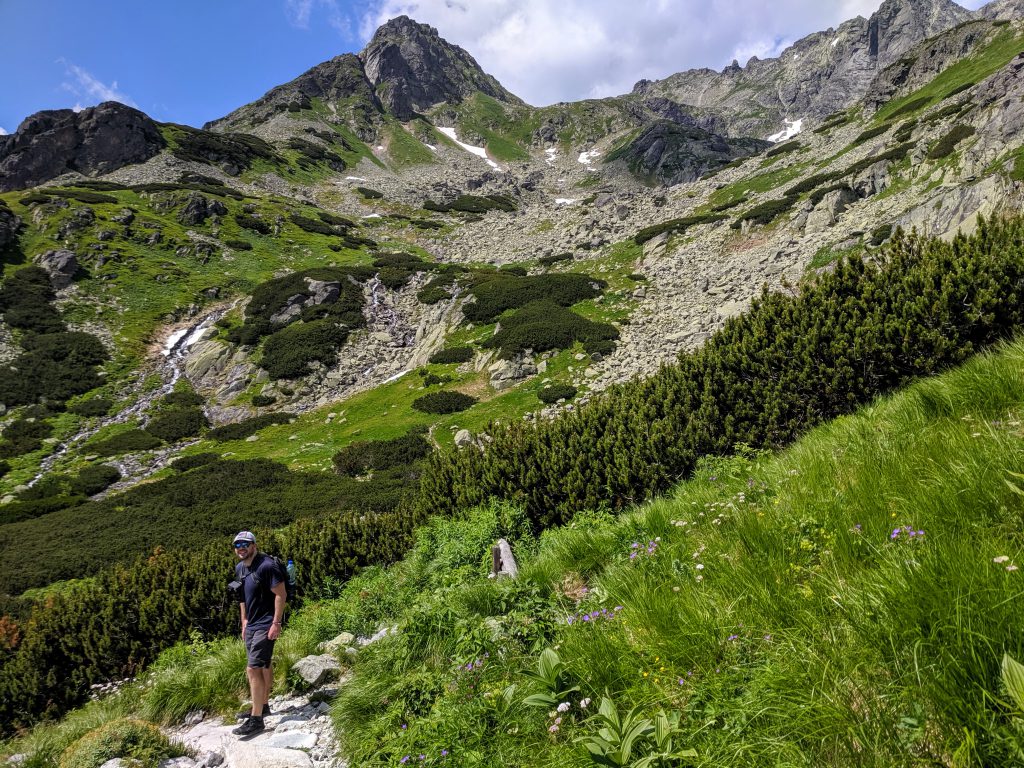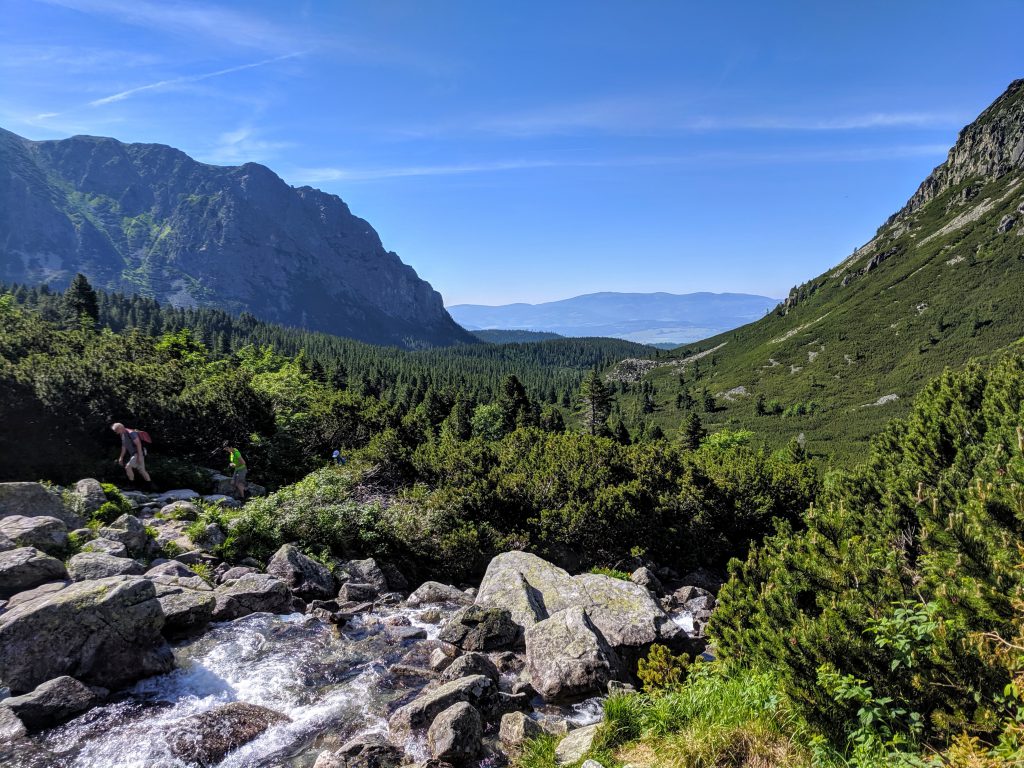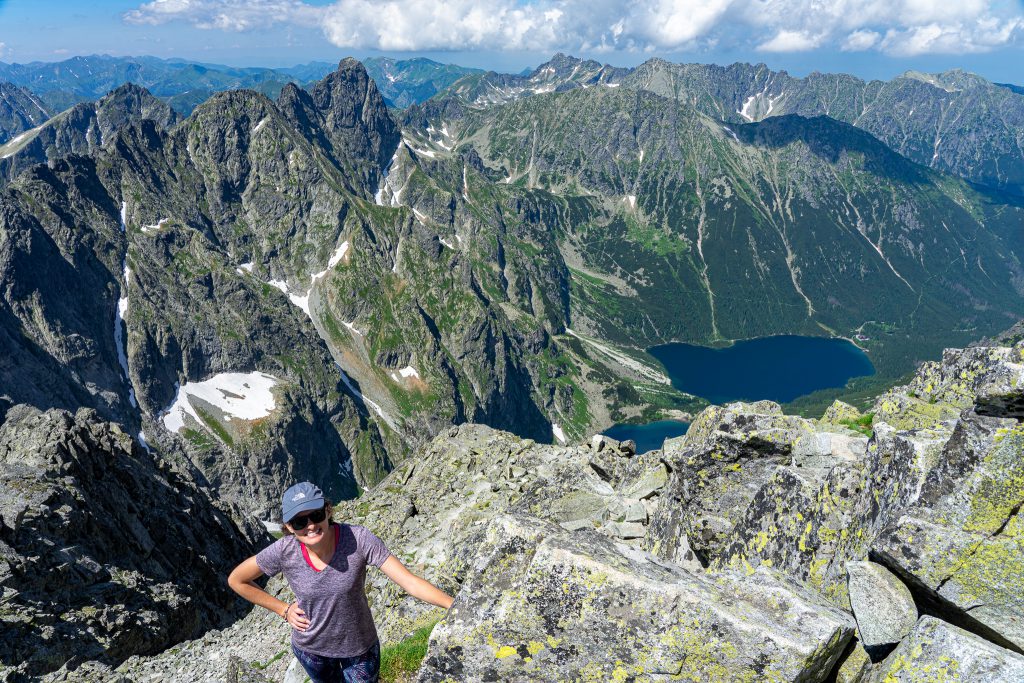 For the rest of the week, we alternated between spending our days hiking and checking out the area's historic sights. Slovakia has over a hundred castles, which are in conditions that vary from totally ruined to completely refurbished. We toured one of the most famous ones, Spiš Castle, located just a half hour from Starý Smokovec. The castle complex was huge and well-preserved, boasting every imaginable space from a fortified watch tower to a creepy underground torture chamber. As neat as the castle was up close, I loved gazing at it from a distance. It's situated high on a hill and visible from miles around–every bit what your imagination conjures when you picture a castle from a fantasy story.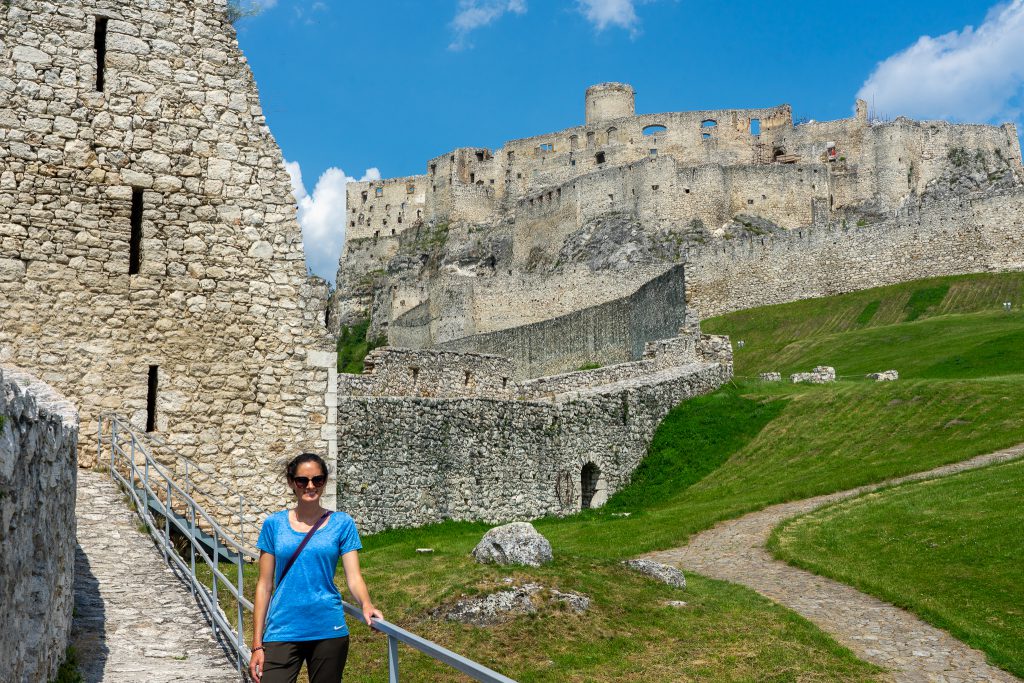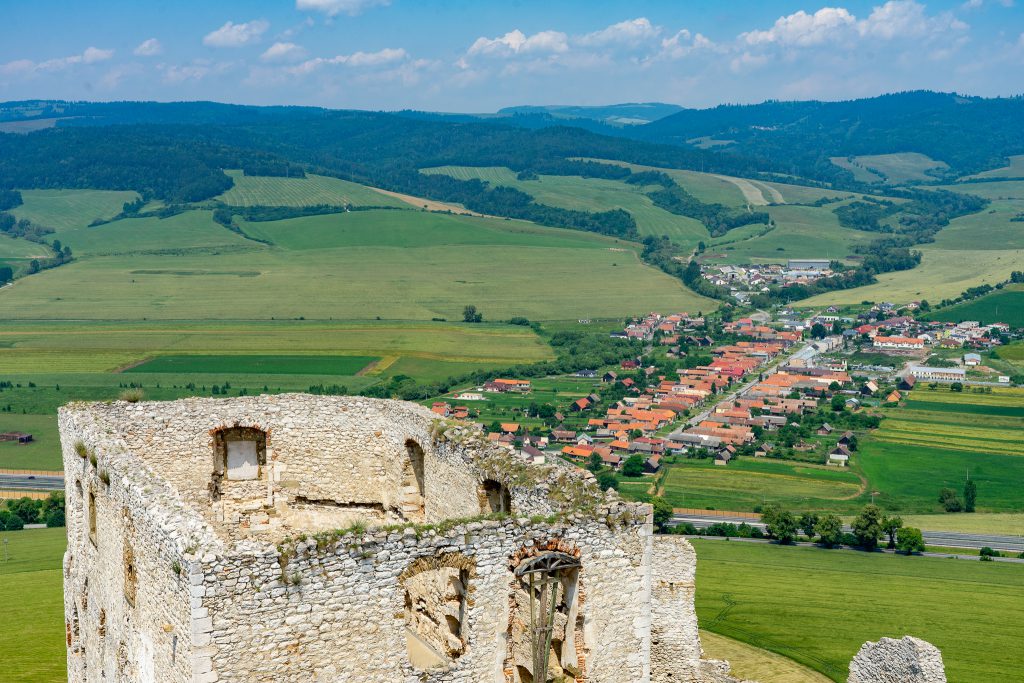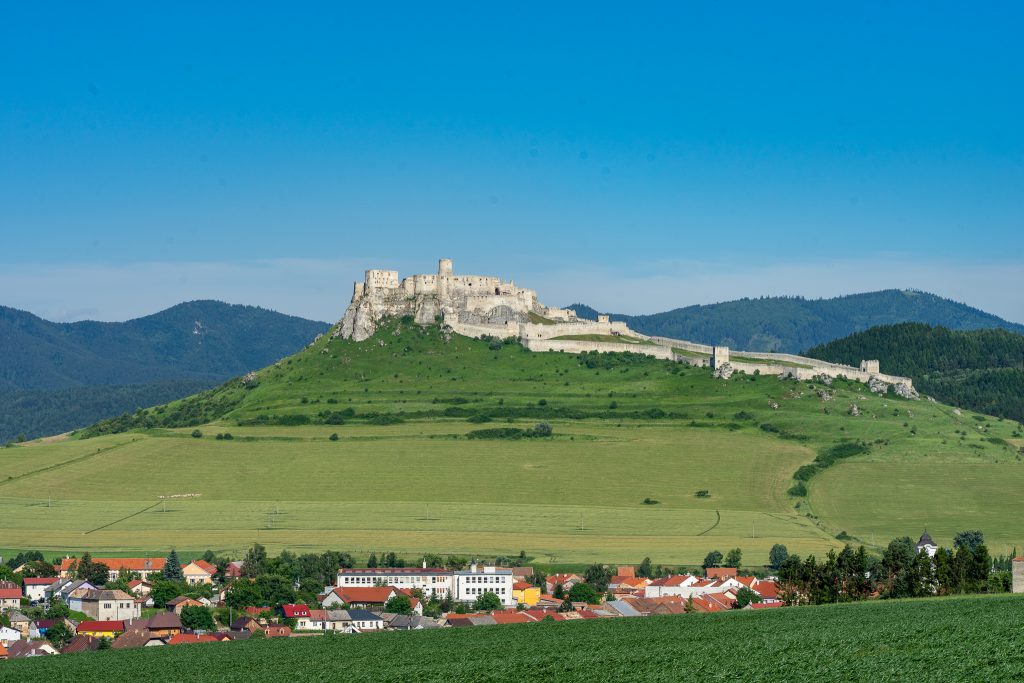 Ultimately, Slovakia will go down as one of our favorite countries. It's inexpensive, uncrowded, and packed with natural beauty and history, not to mention hospitable people. If you love the outdoors, it's especially a destination not to be missed. We hope to make it back someday, perhaps in the winter to enjoy some cold weather recreational activities. Maybe we'll even cross into Poland on skis–another first to chase!
Until next time, dovidenia from Slovakia.