Budapest: The City with Vintage Looks and Modern Vibes
If I had to describe Budapest in one word, I'd pick grand. Everything about Budapest has a faded grandeur to it–the ornate nineteenth century architecture, the elegantly decorated thermal baths, and the wide boulevards curving through the city center. If the city were a person, it would be a distinguished Victorian gentleman who wears a top hat and carries a pocket watch on a gold chain.
Vintage ambiance is the most overt, surface-level portion of Budapest's identity, but if you explore more thoroughly, you'll discover that the city has a pulsing energy. Youth culture reigns supreme, especially at night, when parks fill up with teens and twenty-somethings mingling beneath the glow of neon lights. The city is emerging as one of the premier nightlife destinations in Europe, and for every traditional goulash restaurant, there's now a ruin pub. Ruin pubs, uniquely Budapest institutions, are hip, sprawling bars located in abandoned industrial buildings, stores, and parking lots. The city currently has over a dozen of them, not to mention tons of other spots to grab a beer or glass of wine on the cheap.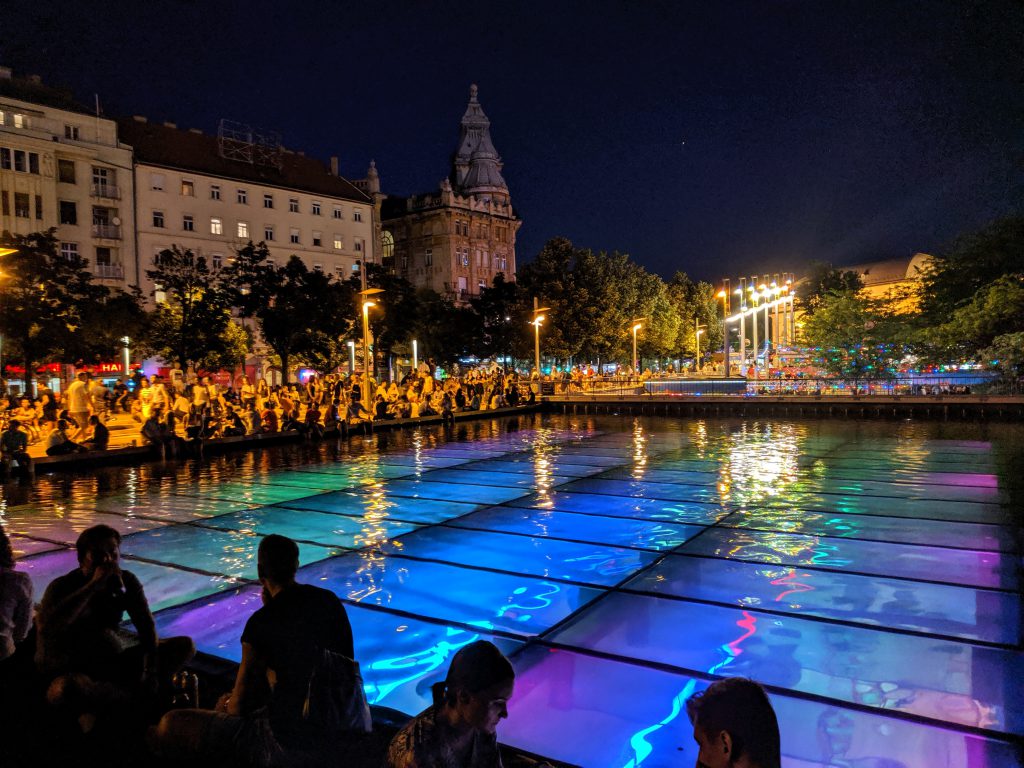 Budapest used to be two different cities–Buda and Pest–divided by the Danube River. The two places were merged into one metropolis in 1873. We stayed on the Pest side, as most visitors do, which has more sights and nightlife than the more residential (but equally beautiful) Buda side. We kicked off our exploration in the Palace District, the neighborhood where our rental apartment was located. The Palace District is full of enormous nineteenth century mansions built by wealthy families, and makes a lovely area for roaming. We meandered past the mansions, some restored and some in atmospheric states of ruin, before making our way towards the Castle District on the Buda side of the river. We crossed the Danube via Széchenyi Chain Bridge, the most famous one in the city, then walked uphill to Buda Castle. The views from the castle's well-kept gardens and terraces were beautiful; we could see right across the Danube over all of Pest's rooftops. We also had an unobstructed vista of the Hungarian Parliament building, perhaps the most iconic structure in the city, known for its towering neo-Gothic spires.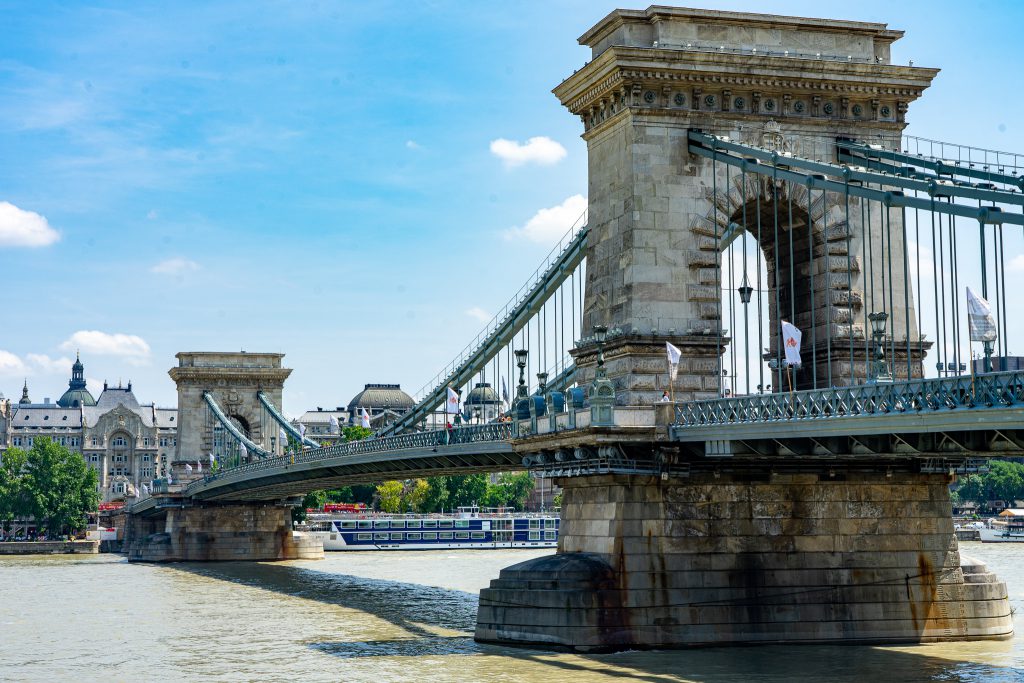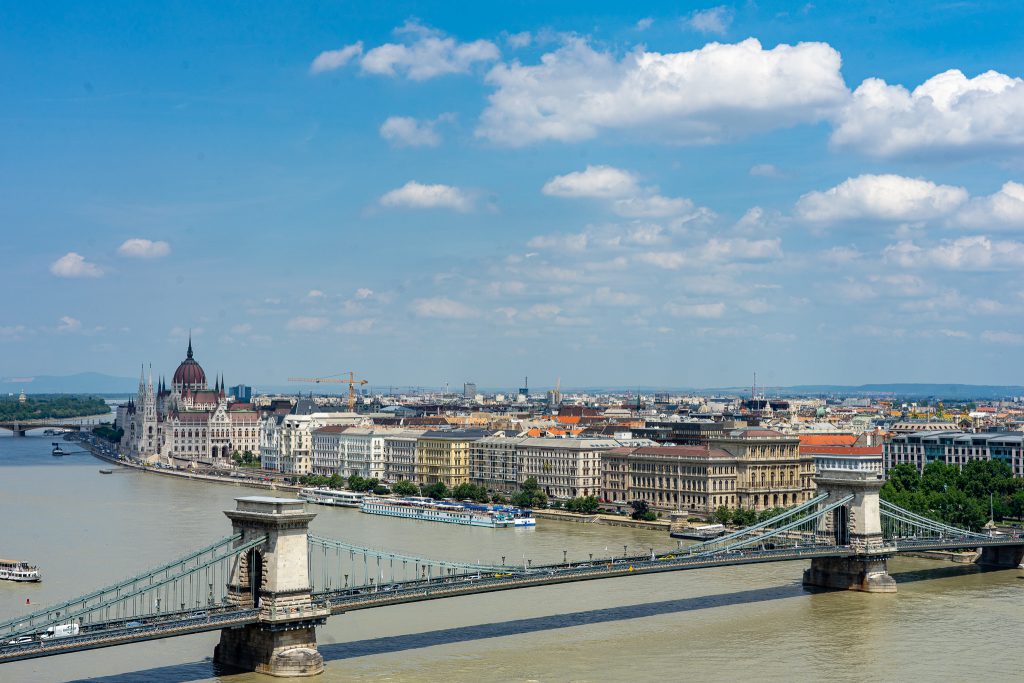 We made our way back across the river next, stopping at St. Stephen's Basilica, the city's most-visited Catholic church. The building is named for King Stephen I, considered the founder of the Hungarian state. The interior of the church was gorgeous, but it was the views from the 300-foot-tall cupola that truly made it worth the visit.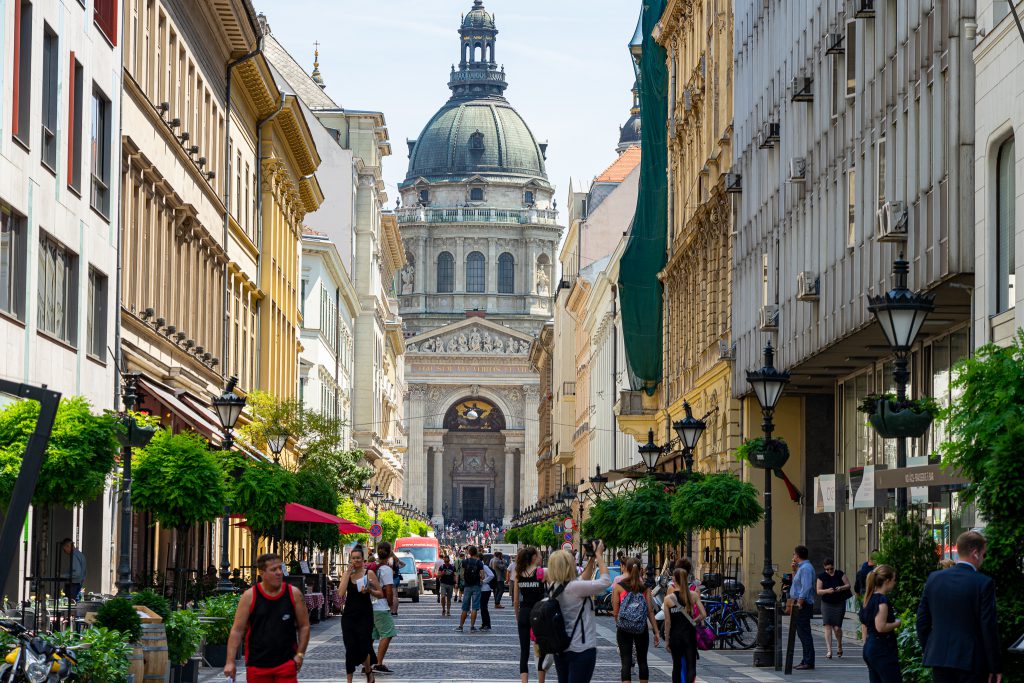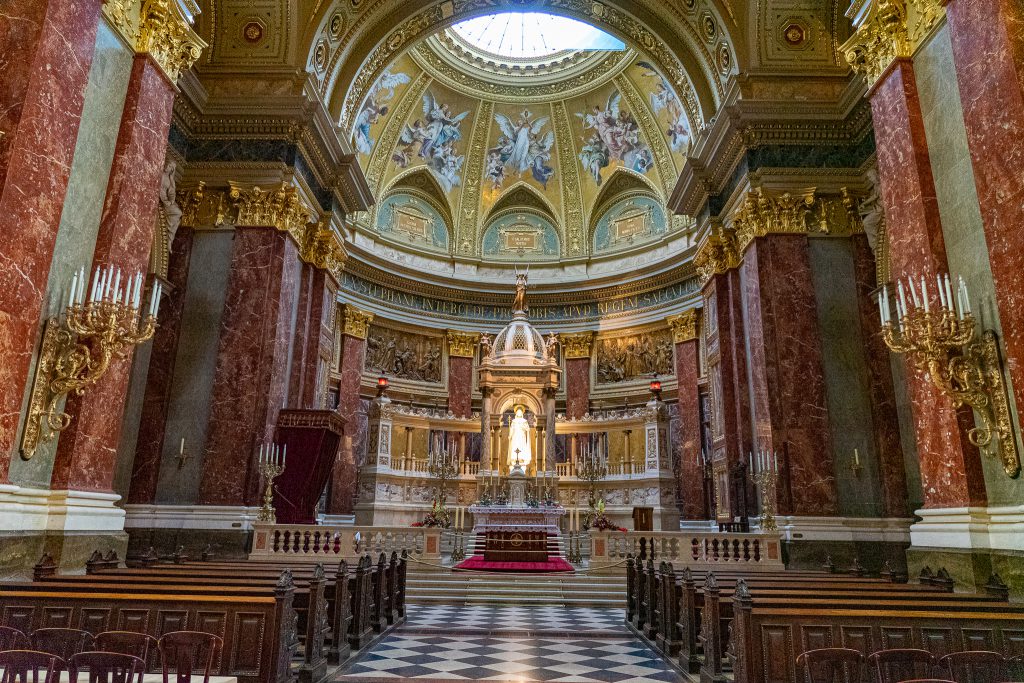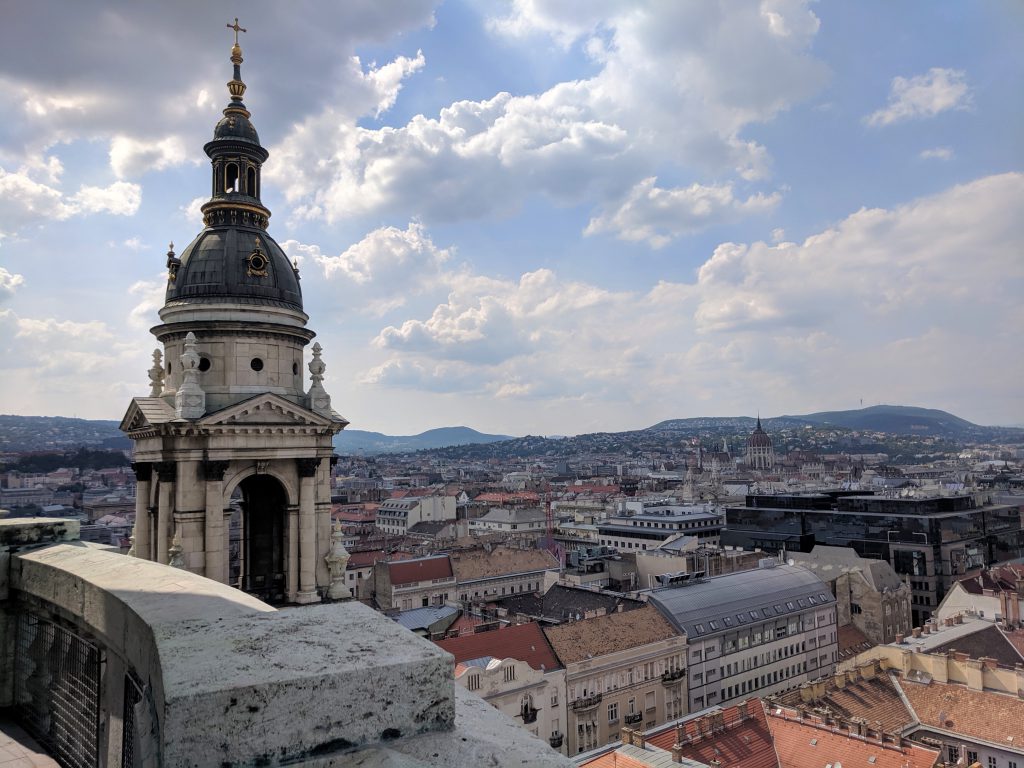 We'd worked up an appetite after all our walking, so next we headed to the Jewish Quarter, the section of town best known for bars and nightlife. Our first stop was Szimpla Kert, the original ruin pub, opened in 2002. Szimpla Kert reminded me a bit of breweries we've visited at home with its eclectic, artsy decor and industrial-chic vibe. The beer selection was excellent; my favorite was an ale flavored with Hungarian cherries, although Mike preferred the more traditional pilsners. Ultimately we returned to the Jewish Quarter several times to check out different ruin pubs and grab snacks at street food stands, including chimney cake, a barbequed dessert made with cinnamon and sugar that's comparable to a slow-roasted cinnamon bun (yes, it's as delicious as it sounds!)
We also spent time learning about the history of the Jewish Quarter, which, like many narratives of Jewish neighborhoods in European capitals, is not a happy one. The eighteenth and nineteenth centuries were marked by long periods of oppression interspersed with brief periods of tolerance, followed by the Holocaust, which led to the deaths of more than 560,000 Hungarian Jews. The most eye-opening experience was our tour of Dohány Street Synagogue, the largest one in Europe. The synagogue was desecrated by the Nazis during World War II, but has been beautifully restored. Still, haunting reminders of the past remain, including the house of worship's cemetery, where more than 2,000 people are buried who died of hunger, disease, and cold in the Budapest Jewish ghetto during the winter of 1944-1945. Behind the synagogue, there is a weeping willow sculpture inscribed with names of Hungarian Holocaust victims on its branches. Many of the branches are blank, though–a memorial to every disappeared person whose fate remains unknown. A visit to the synagogue is a sobering, but necessary, experience in Budapest.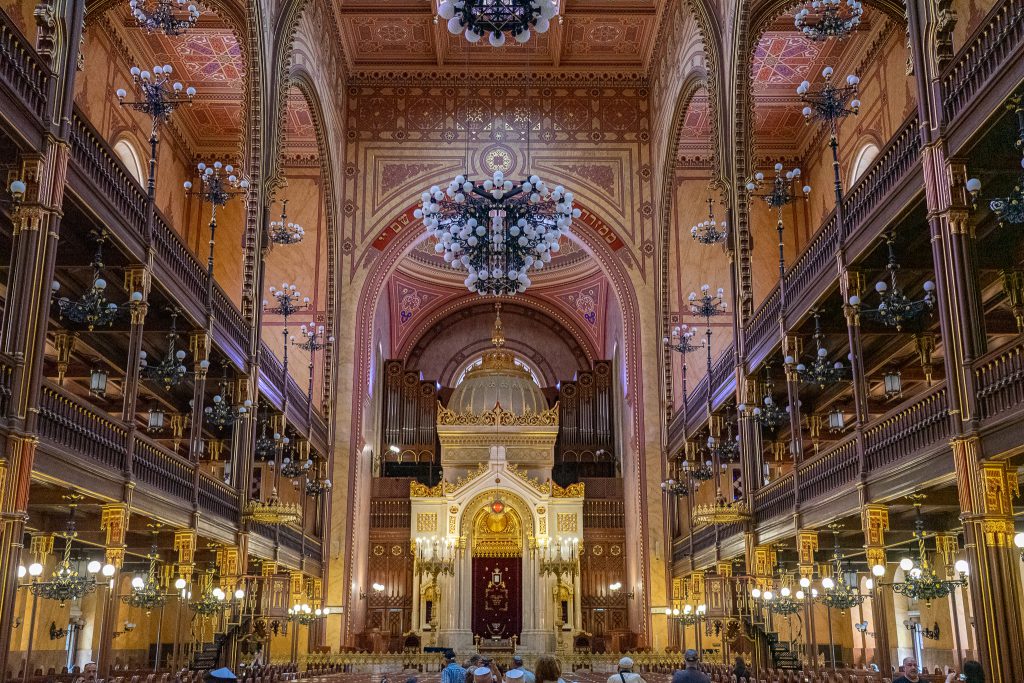 Experiencing Budapest's spectacular architecture is essential while visiting. Apart from the synagogue, there are many other famous landmarks tourists can enter. One of the most popular is the Parliament building, the elaborate structure where the Hungarian House of Parliament is located. Those who've visited London will probably note the building's resemblance to the House of Parliament in the U.K. This isn't a coincidence–the architect who designed the Hungarian Parliament drew lots of inspiration from Great Britain's building (or outright copied it, depending on your interpretation of historical events.)
Still, the inside of the building was incredible, even though the $23 each we paid for the official half hour tour was a bit on the steep side. The interior was just as dramatic as the exterior, full of gilded doorways, rich tapestries, and ceiling frescoes.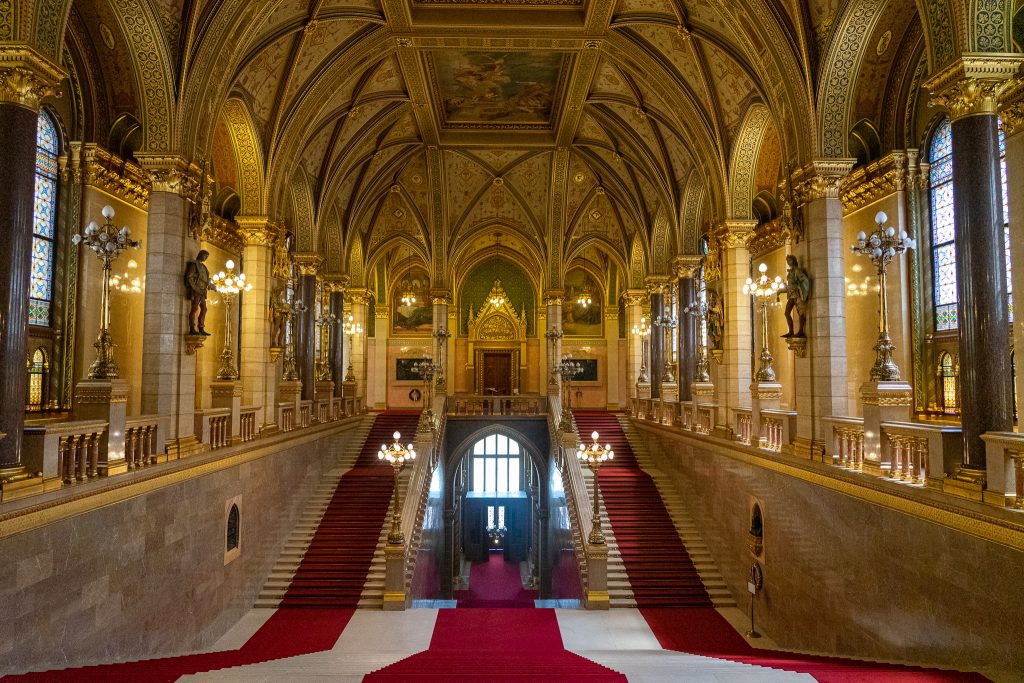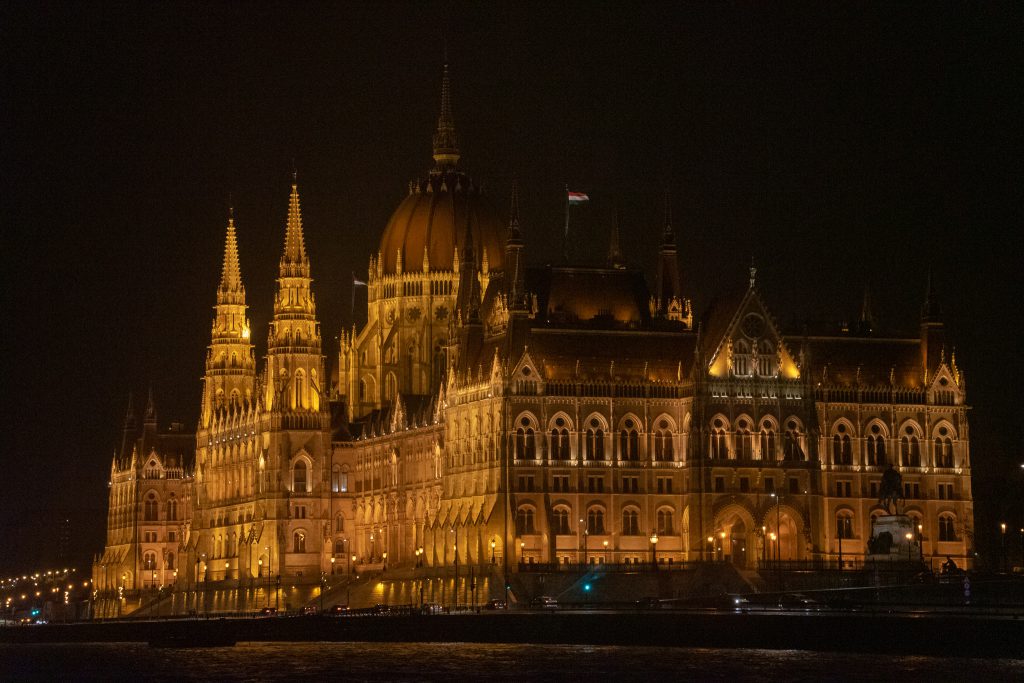 However, our favorite spots to soak in Budapest's extravagant architecture were at its thermal baths (no pun intended!) Budapest is home to more than a dozen public baths, which are fed by natural mineral-rich waters that simmer below the city's surface. Some date all the way back to the Ottoman era and have the feel of Turkish hammams, but we visited two newer ones, Gellért and Széchenyi, built during Budapest's early twentieth century golden age. 
Spending afternoons at the classically elegant baths felt like stepping back in time, as if people clad in vintage swimming costumes and bathing caps might appear around a corner at any moment. Széchenyi was a bit too crowded for our liking–ultimately we preferred the slightly smaller and quieter Gellért–but it was still a photographer's dream with its canary-yellow Baroque Revival architecture and gigantic blue pools.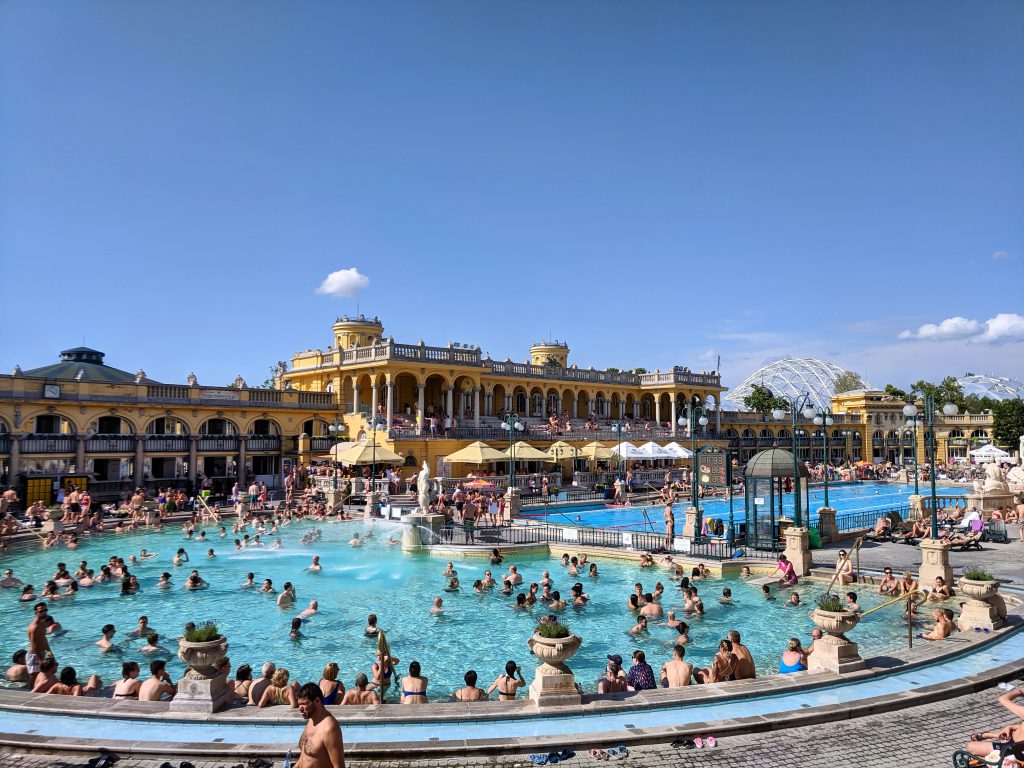 Some have likened bathing at Gellért to swimming inside a cathedral, and we could see why. Its interior baths, all set to temperature grades between lukewarm and hot, are decorated in an art nouveau style with floor to ceiling teal tilework. The exterior cold pool, surrounded by potted plants and Greek-style sculptures, has an equally opulent vibe. The water was extremely refreshing on the hot June afternoon we visited, but the highlight was the pool's hourly transformation into a wave pool. I haven't played in a wave pool since middle school–my inner twelve-year-old was rejoicing!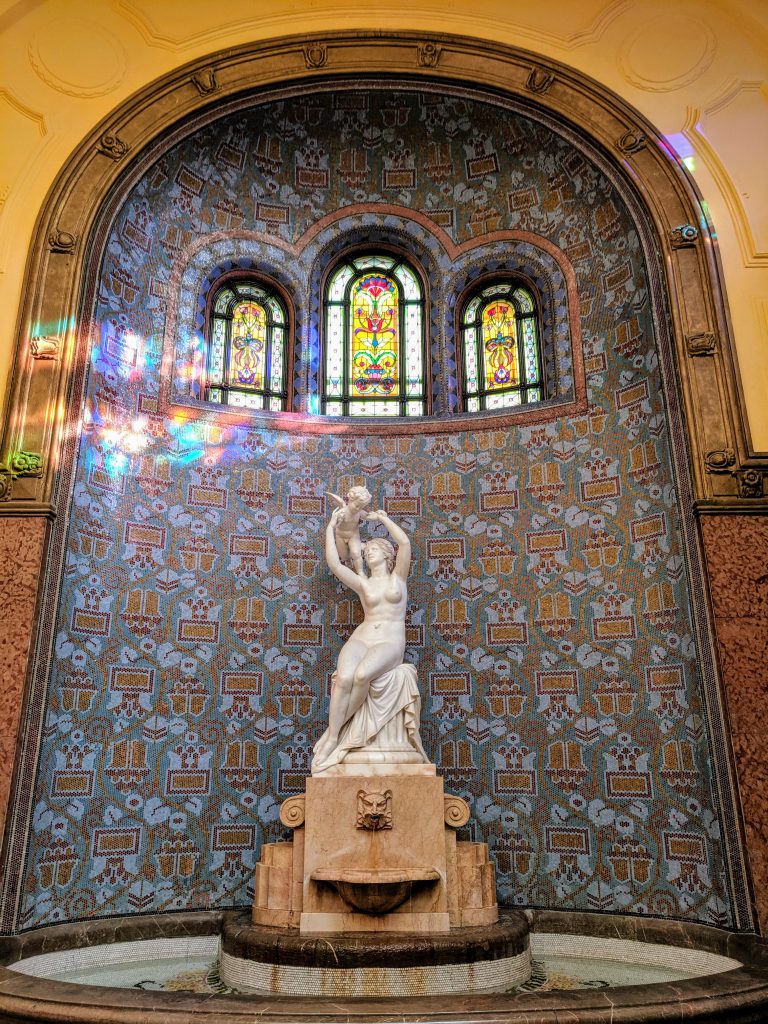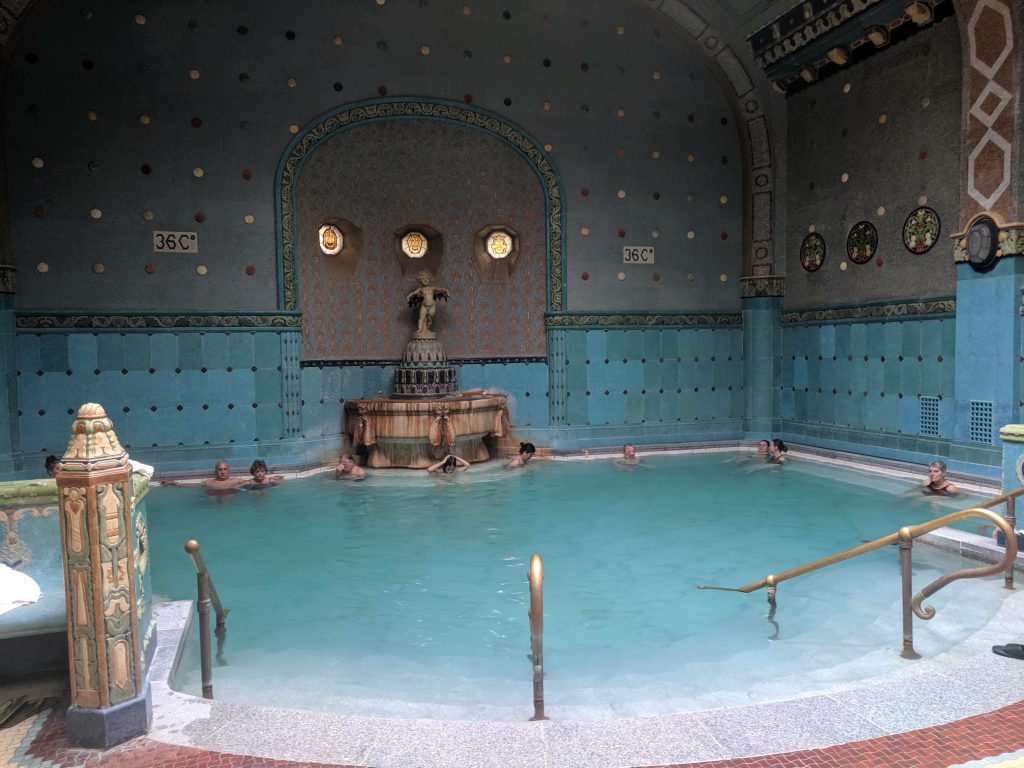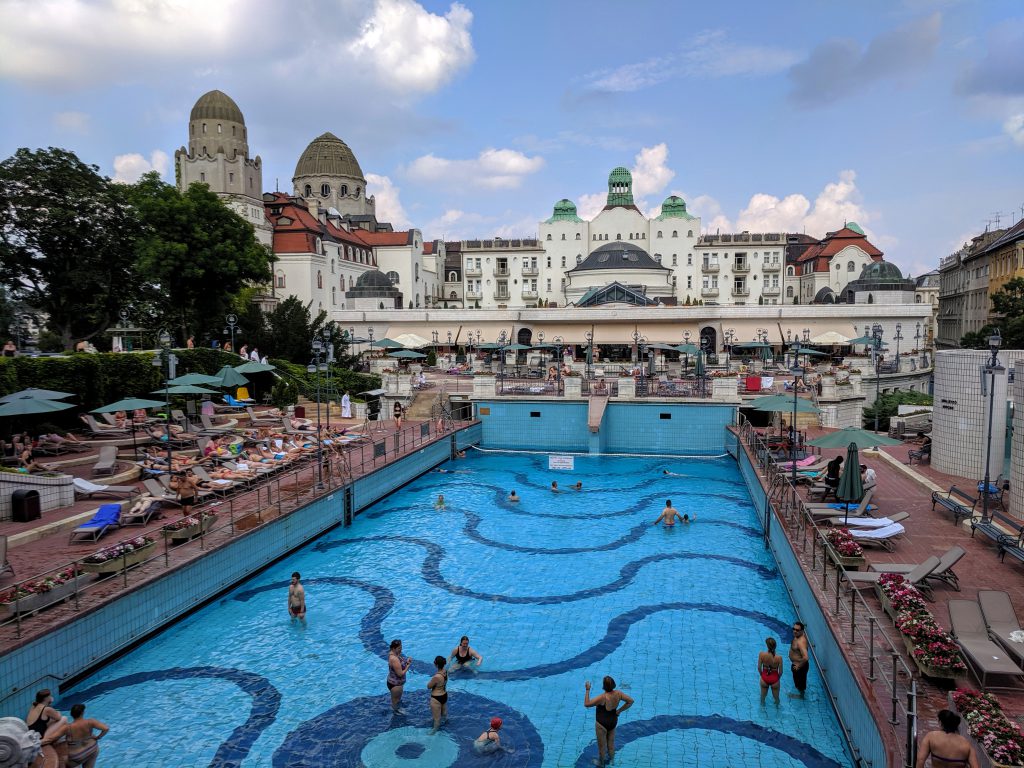 Budapest may appear old-fashioned on the surface, but it has a distinctly modern flair. History buffs and architecture fans will find heaps of interesting sights to keep them occupied, but tourists seeking a lively nightlife scene will be equally satisfied. We stayed for six days, but could have lingered for weeks and never run out of things to do. The city's worn grandeur, coupled with its youthful vibe, set it apart from many other European cities. If your first impression is that it seems a little buttoned-up or fusty, then, well, you definitely need to look closer.
Until next time, viszontlatasra from Hungary.