Madrid and Salamanca: A Love Affair with Spain, Revisited
Smell is a powerful link to memory. The first thing that struck me when I arrived in Spain, after 14 years away, was the scent of cured pork. Not just any cured pork, though–jamón ibérico, one of the most commonly eaten foods in Spain, layered on bocadillos and paired at tapas hour with cheese, olives, and wine. Jamón ibérico is cut in layers so thin you can see right through them. It has a delightful taste–salty, savory, rich. My first whiff of it transported me right back to my host mother's kitchen; to street cafes permeated with the odor of grilled meat and stale cigarette smoke; to butcher shops with countertops stained pink. It was a smell I didn't even know I knew. But there it was, transporting me back in time, to my days as an American college student living abroad.Spain is the first place we've visited on our round the world adventure that isn't new for both of us. Although it was Mike's first time in the country, it was my third. The first time I visited, I was a teenager traveling with her high school Spanish class. Wide-eyed and incredulous, finding myself outside the United States for the first time in my life, I couldn't believe how very different it seemed from home. The second time, I came not just to visit, but to live. I spent four months in the country as a college junior, living in the university town of Salamanca with a host family. By then, I had studied Spanish for eight years, and it had grown from a mandatory grade school subject, a mere box to check on a transcript, to a passion I chose on my own.
And now here I was, a 34-year-old adult, back again, and instantly reminded of my love for the country, the culture, the language, the food.
We shuffled out of the Madrid airport like zombies, having spent the past 27 hours traveling. The first leg of our journey was a 16 hour flight from Sydney to Doha, Qatar, followed by an eight hour haul from Doha to Madrid. We've gotten to be champs at flying, but it was brutal. I have a whole new level of respect for anyone who's spent more than 12 straight hours on an airplane!
We checked into our Airbnb, a cute renovated apartment 15 minutes from the city center, and though we desperately wanted to zonk out, we walked across the street to pick up a simple dinner of (you guessed it) jamón ibérico, chorizo, and manchego cheese. Mike stared in awe at the butcher shop's offerings, which included at least a dozen kinds of cured pork. Spaniards worship pork. It's available in every imaginable form in every restaurant, supermarket, and cafe. There are even entire hocks of ham for sale in grocery stores.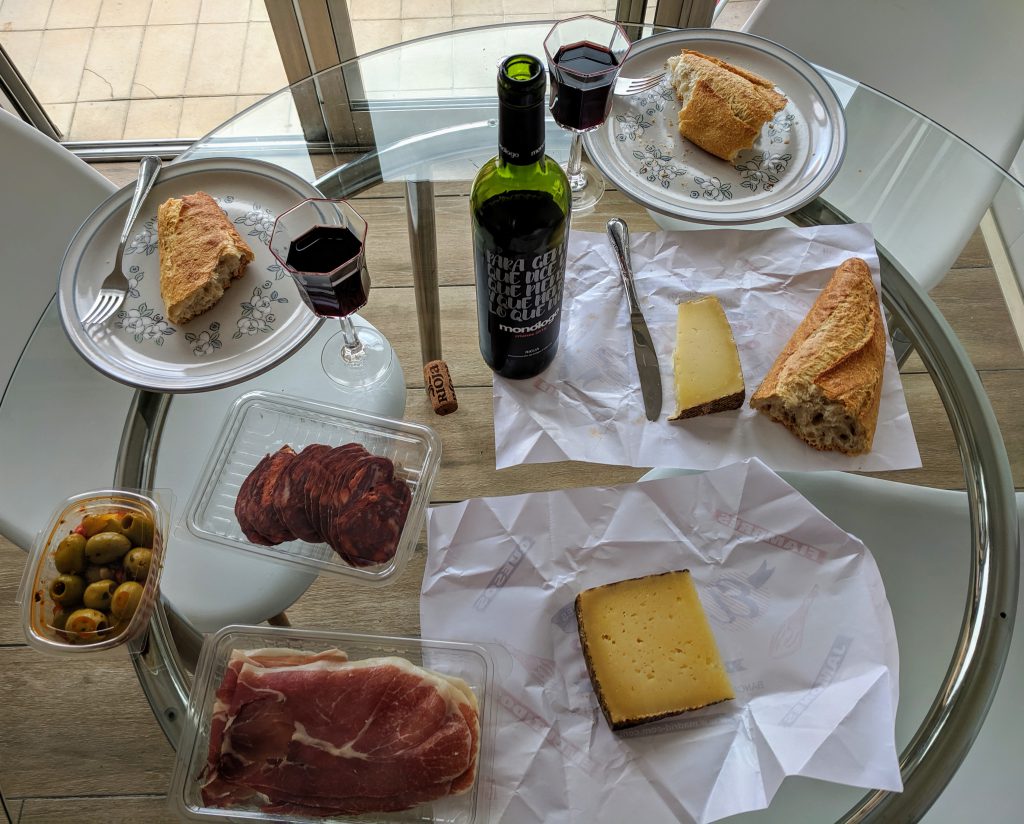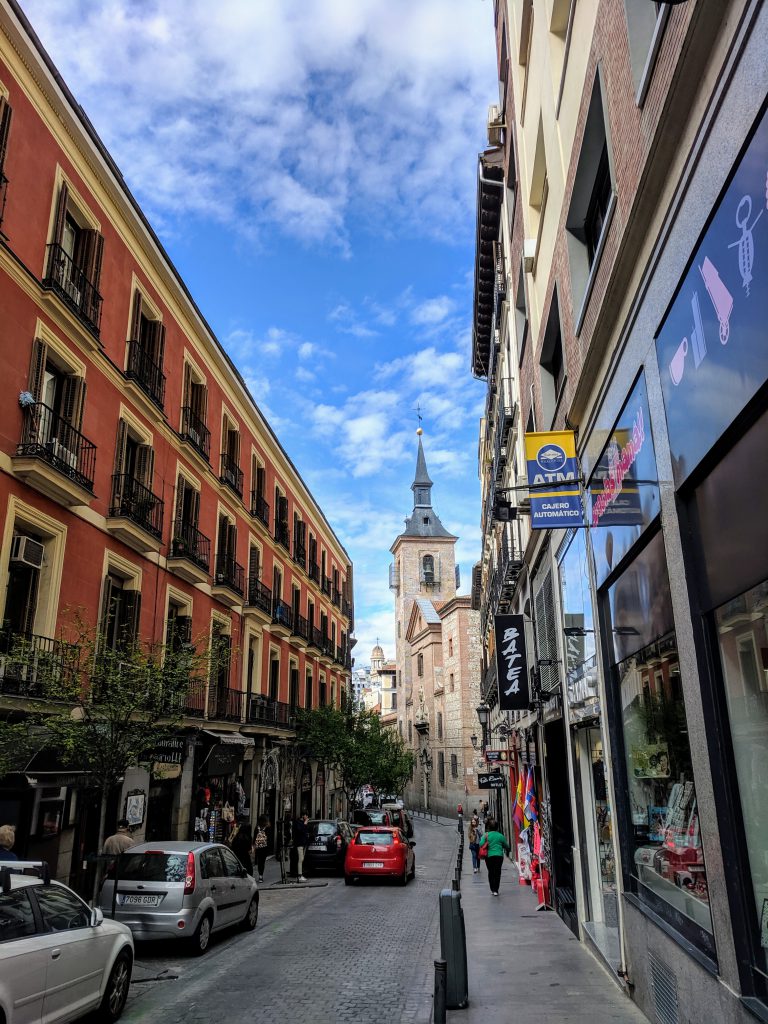 After enjoying our little meal (it was divine), we fell into a deep sleep, not waking until the next morning when light filtered through the blinds. We hauled ourselves out of bed and headed to a neighborhood cafe, where I ordered us a traditional Spanish breakfast–tostadas topped with chopped tomato and olive oil, along with fresh-squeezed orange juice and café con leche. Breakfast in Spain is a light, uncomplicated affair (lunch is much more elaborate) but it tasted wonderful. Spain's high quality olive oil–a product the country is known for–takes a dish like toast from basic to gourmet.
We set out for the city center, soaking in the excitement of being on an entirely new continent on a perfect spring day. We kept joking about the odd sense of disconnect we felt with the weather. Just the day before, we'd been living in autumn, surrounded by fall foliage, and now we were on the other side of the world looking at fragrant spring flowers. It was a wild, surreal feeling.
We savored every moment of that glorious first day in Madrid, walking from neighborhood to neighborhood, stopping to admire the Royal Palace (which we would enter the following week when Mike's mom and stepdad came to visit), and strolling the massive grounds of El Retiro Park, Madrid's answer to Central Park. The streets were full of locals and tourists alike enjoying the gorgeous weather.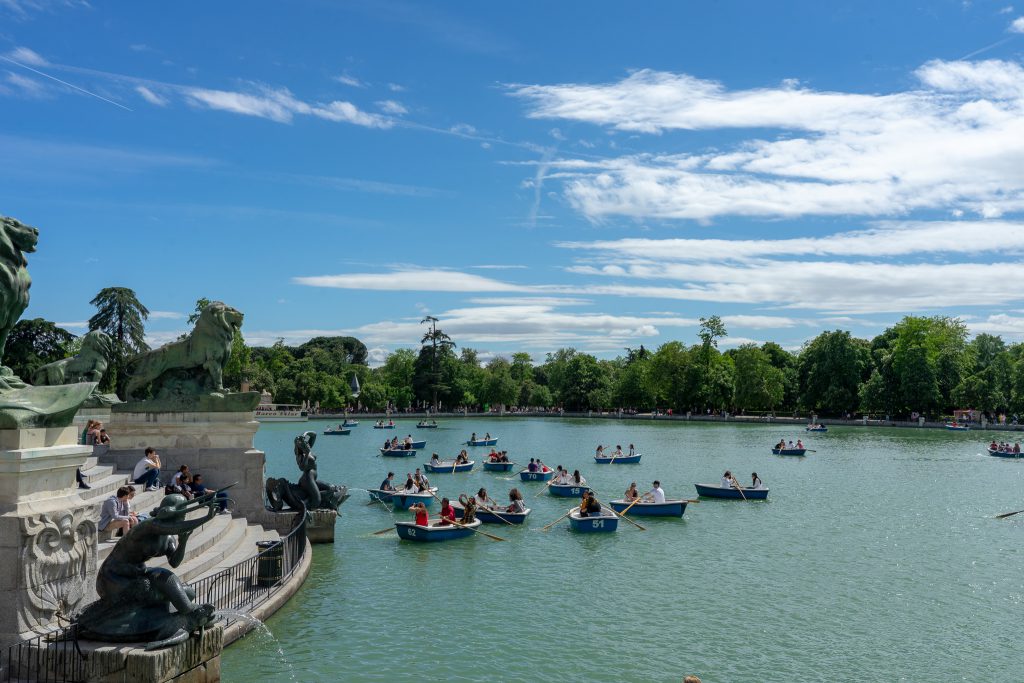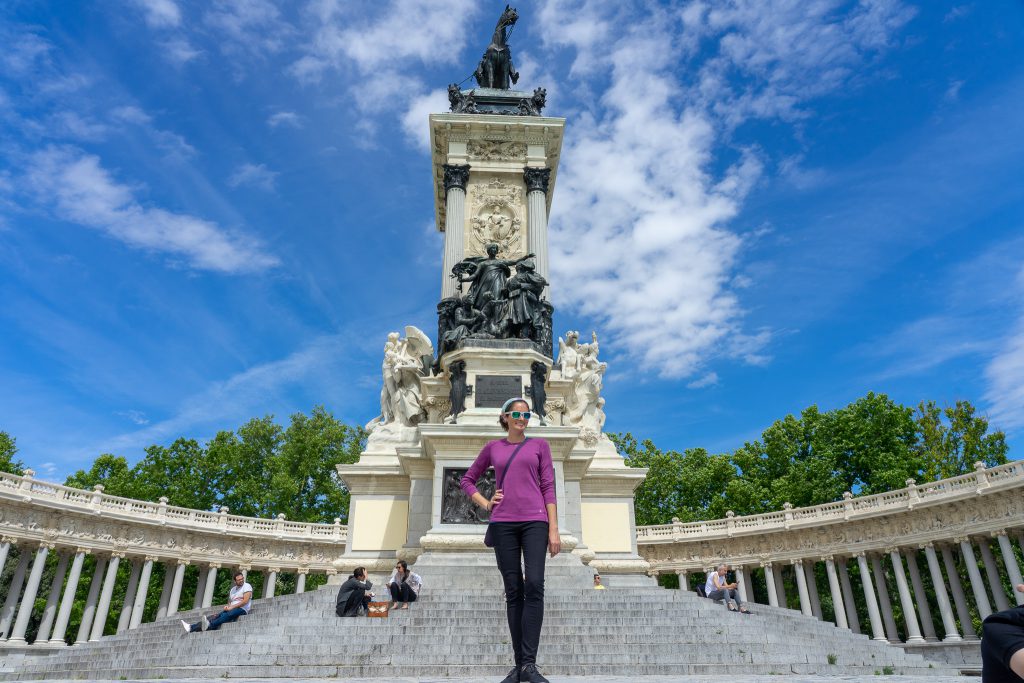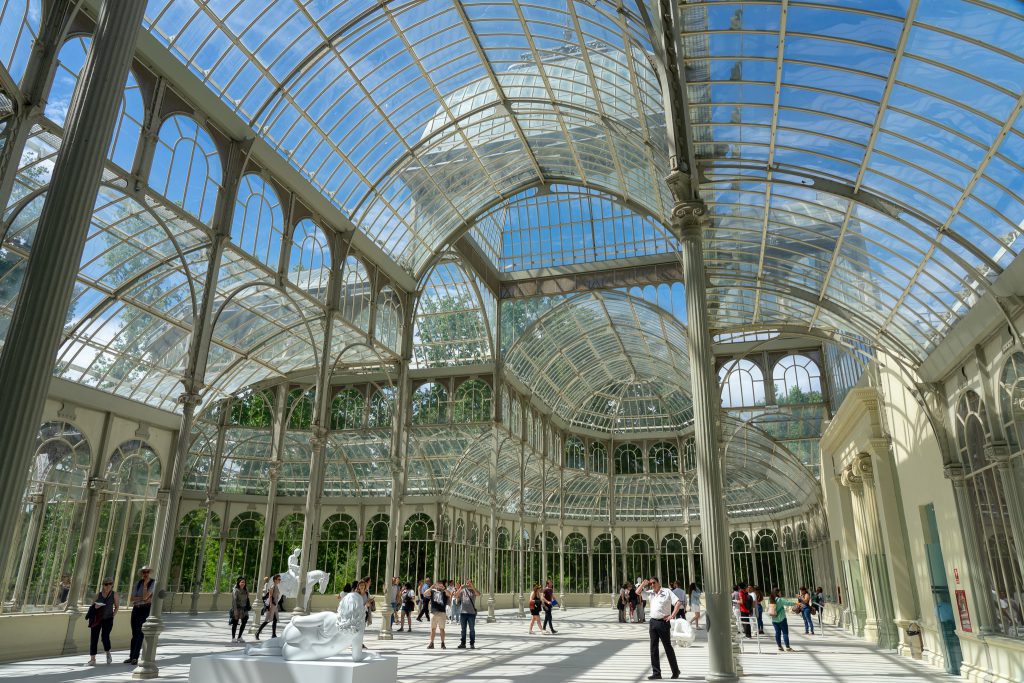 We stopped to eat churros at Chocolatería San Ginés and have tapas at Bodega de la Ardosa, two Madrid institutions open since the nineteenth century. Dining alfresco at cafes is a national pastime. Meals are never rushed (waiters do not mention the check, let alone bring it to you, unless expressly asked.) It's one of the many things I love about Spain, a quality that instantly endeared the country to Mike too. Eating out is prized as a sacred social time with friends, family, or coworkers, and the general pace of life is much more relaxed than what most Americans are accustomed to.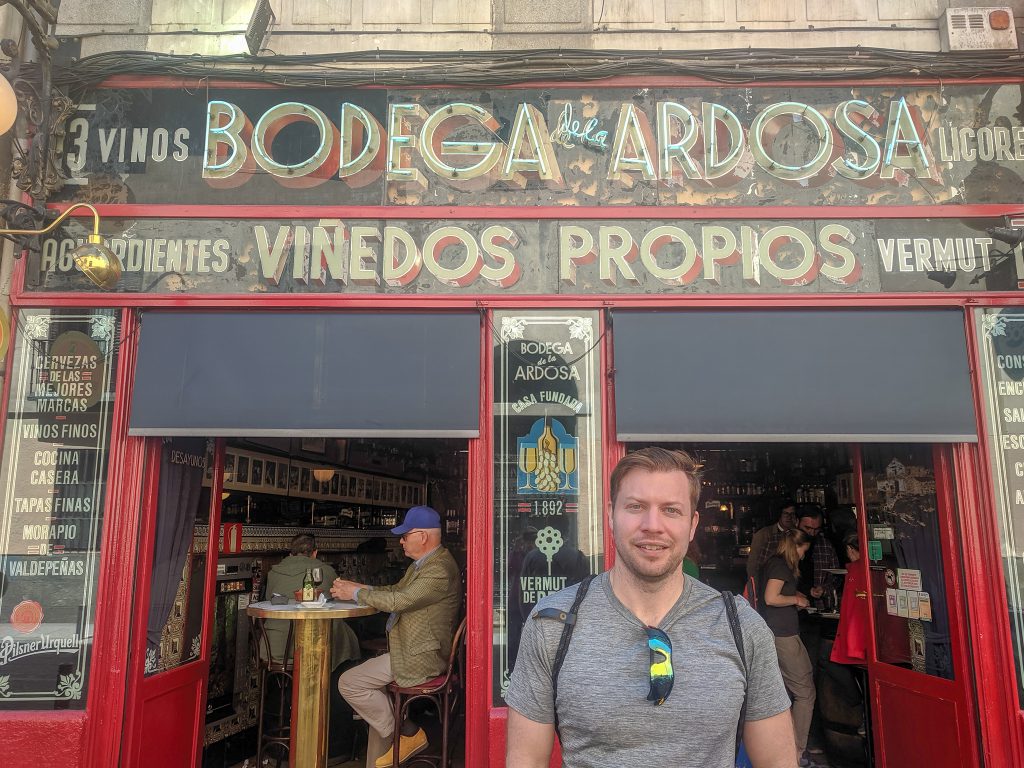 Madrid is, in my opinion, an underrated city. Many who visit Spain make a beeline for Barcelona, Madrid's more glamorous and artsy cousin. As beautiful as Barcelona is (you can't beat its location right on the Mediterranean, or its unique modern architecture), Madrid has a down-to-earth vibe that I find Barcelona to be lacking. It's also less touristy and more affordable, though there is no shortage of interesting cultural sites and museums to visit. It has a beauty that is simple and unassuming. Getting to see it again after 14 years just reinforced my love for it.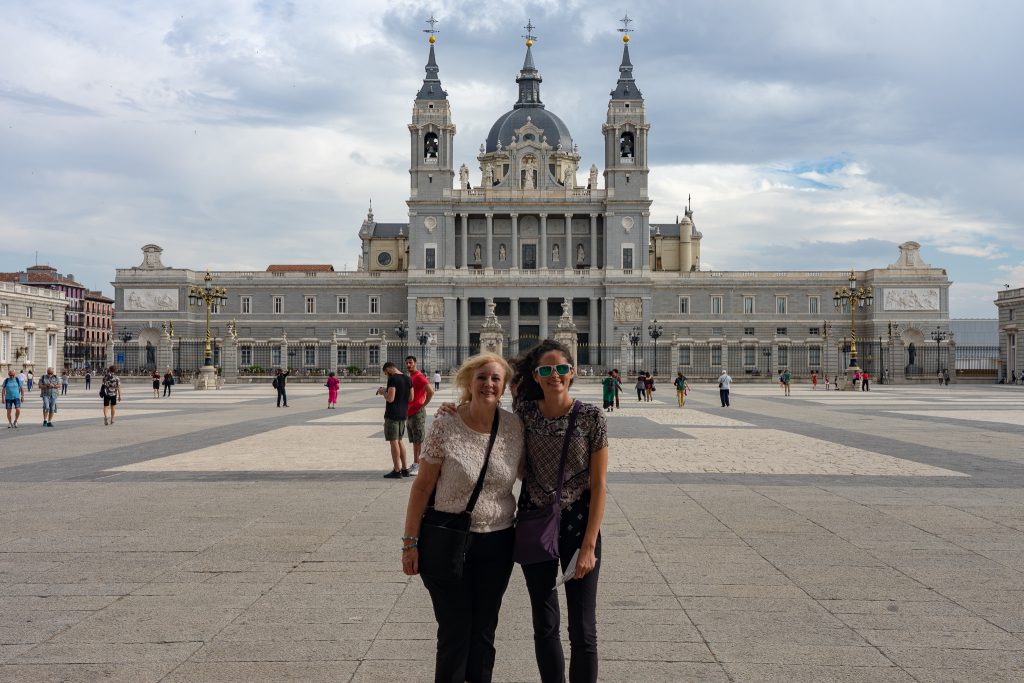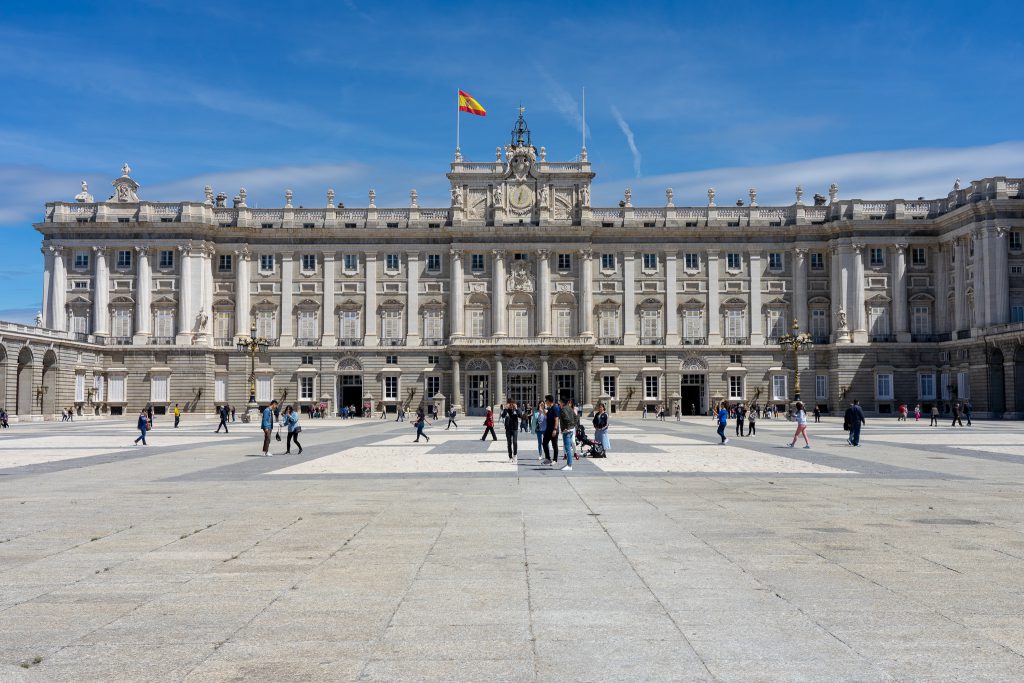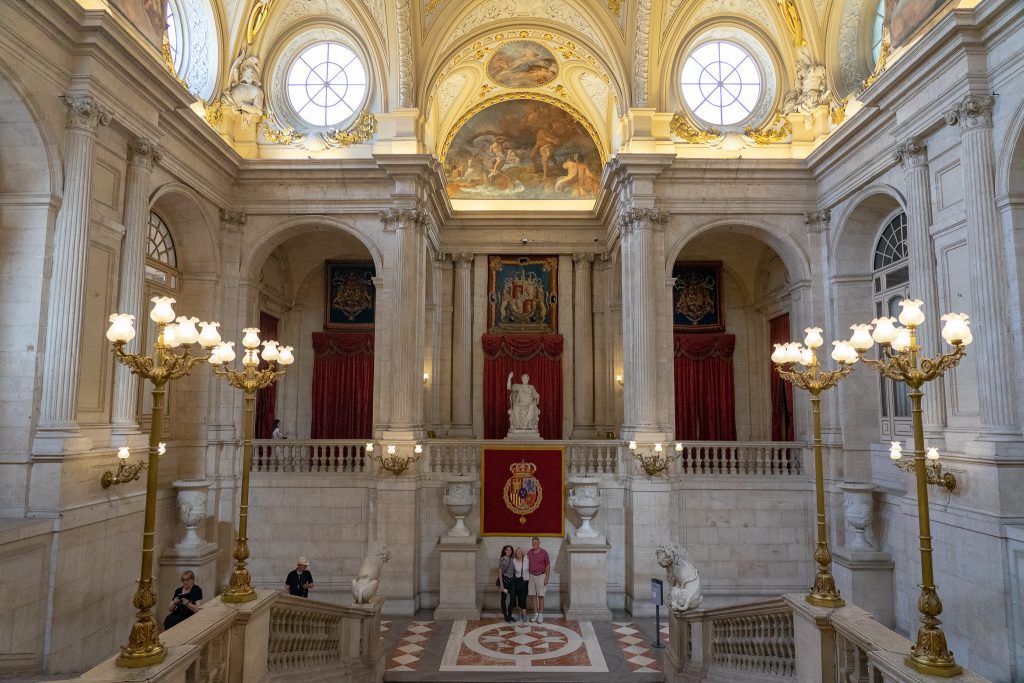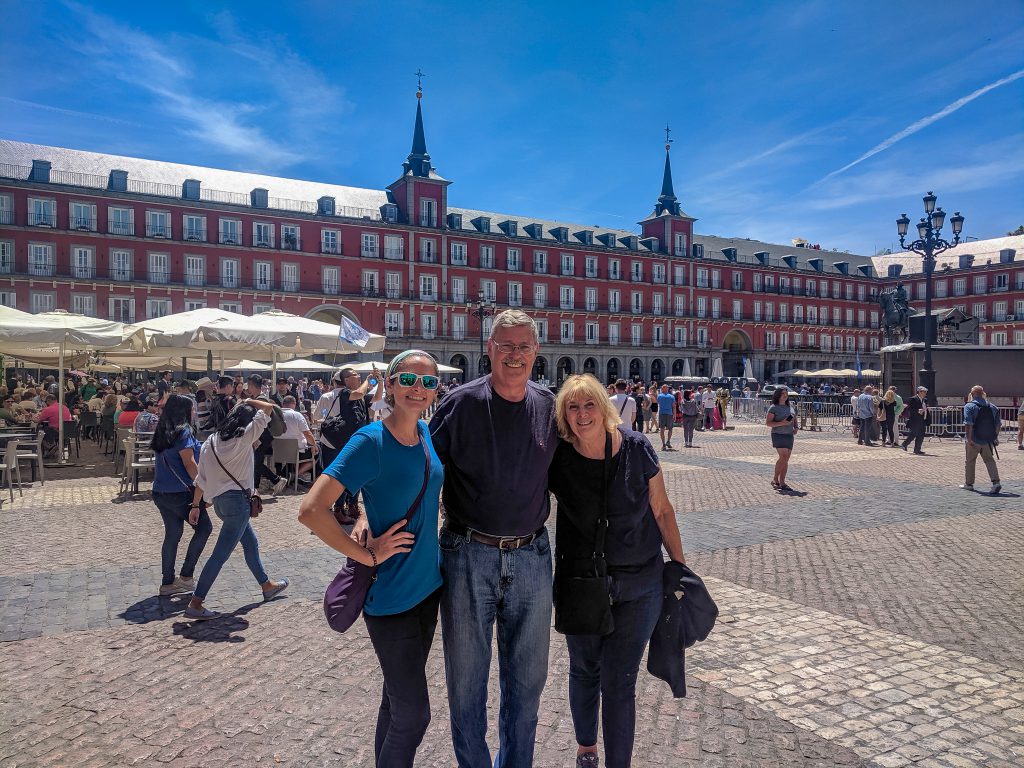 A few days after we arrived in Spain, we hopped on a bus to Salamanca. I may be biased, but I think it's the most gorgeous city in the country. The old section of town is one giant pedestrian-only zone, and all its golden sandstone buildings are lit up each night from 9 until midnight. It's a visually mesmerizing place, especially in soft evening light.
The heart of the city is the Plaza Mayor, widely reputed to be the most beautiful central square in Spain. Built in the 1700s, the Plaza is the city's main meeting place for residents of all ages. Cafe tables line the square in neat rows during the warmer months, and stages are set up for live music and festivals. Old couples stroll arm-in-arm past university students meeting friends for wine or coffee. Families dine together while teenagers mingle in groups, giggling at girls and boys walking past.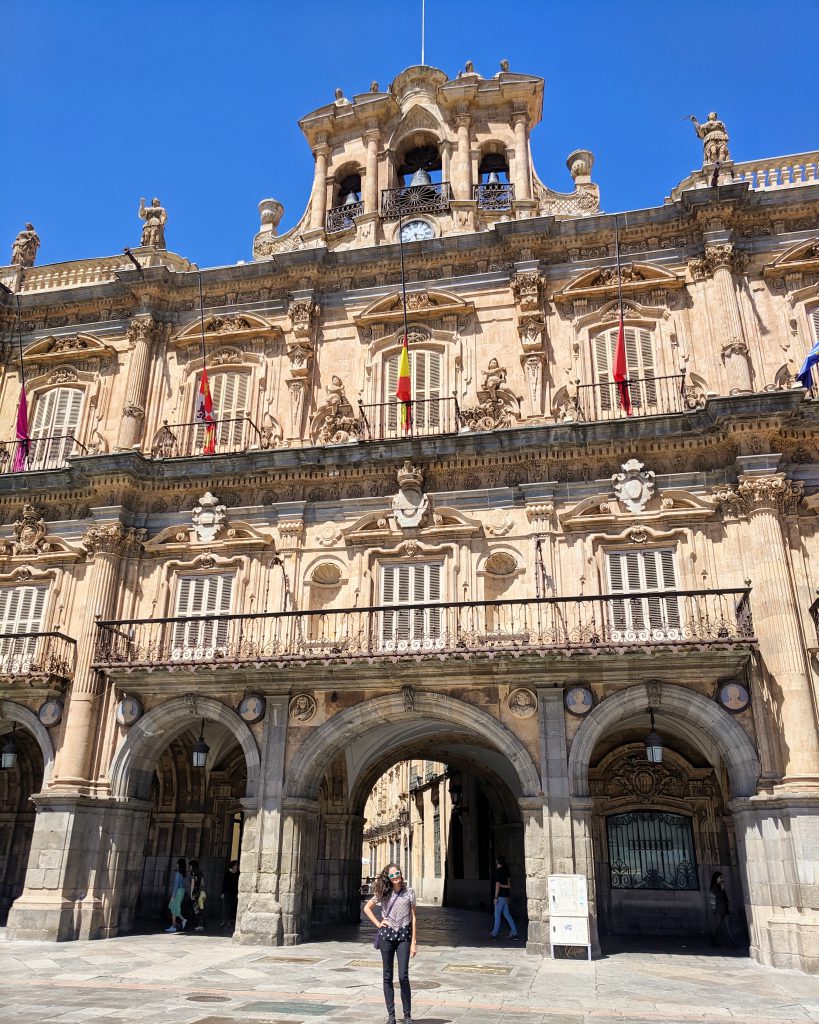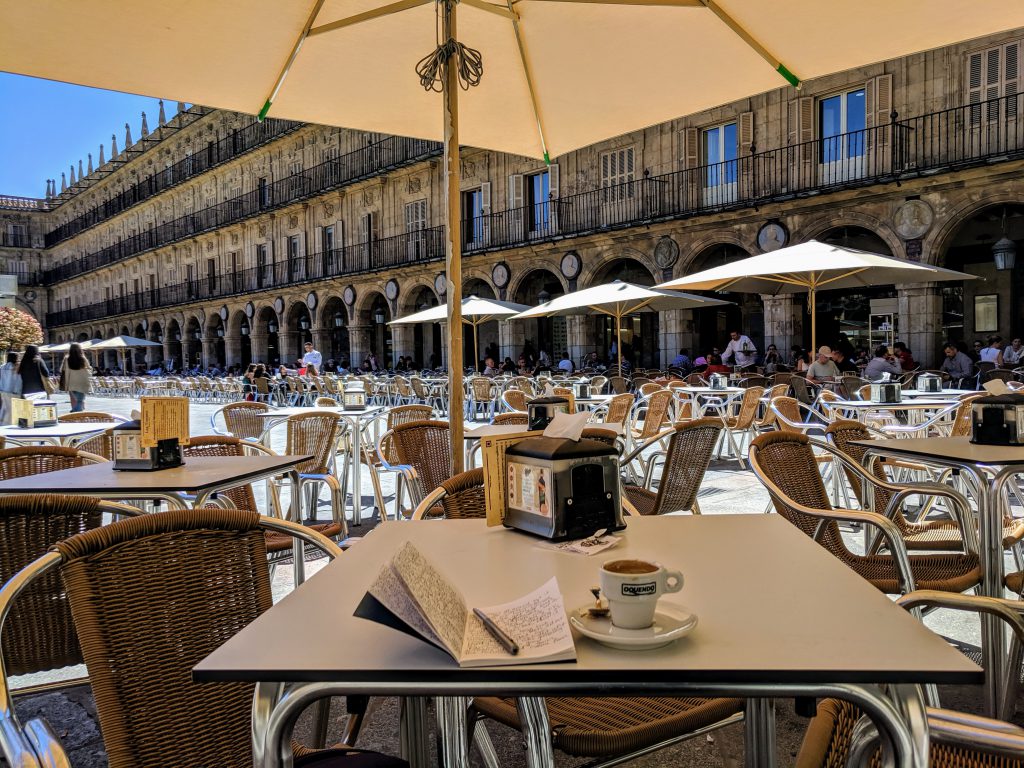 Arriving in the city again after so much time away was surreal. I was happy to see that little had changed, aside from the addition of a huge new department store. We happened to visit over spring graduation weekend, so the city was flooded with smiling young graduates trailed by proud family members.
I relived my study abroad experience over the course of four days by acting as Mike's personal tour guide. We walked all over the photogenic old city, visiting its most famous monuments, like the two imposing and ornate cathedrals (Salamanca has two that are merged together–an old one built in the fourteenth century, and a newer Gothic one.) We climbed the cathedral tower for panoramic views over the city's red-orange rooftops, walked past La Casa de Las Conchas (known as the seashell house, it's now a library), and dined alfresco on seafood tapas, oxtail, flan, and bubbly red sangria. We strolled through my former neighborhood, including a park where I used to go running, sometimes trailed by giggly elementary school students who would skip after me calling, "¡Corre! ¡Corre!" ("Run! Run!") And of course, we went past my old apartment. The street was unchanged, and I swear the same curtains were billowing in my bedroom window.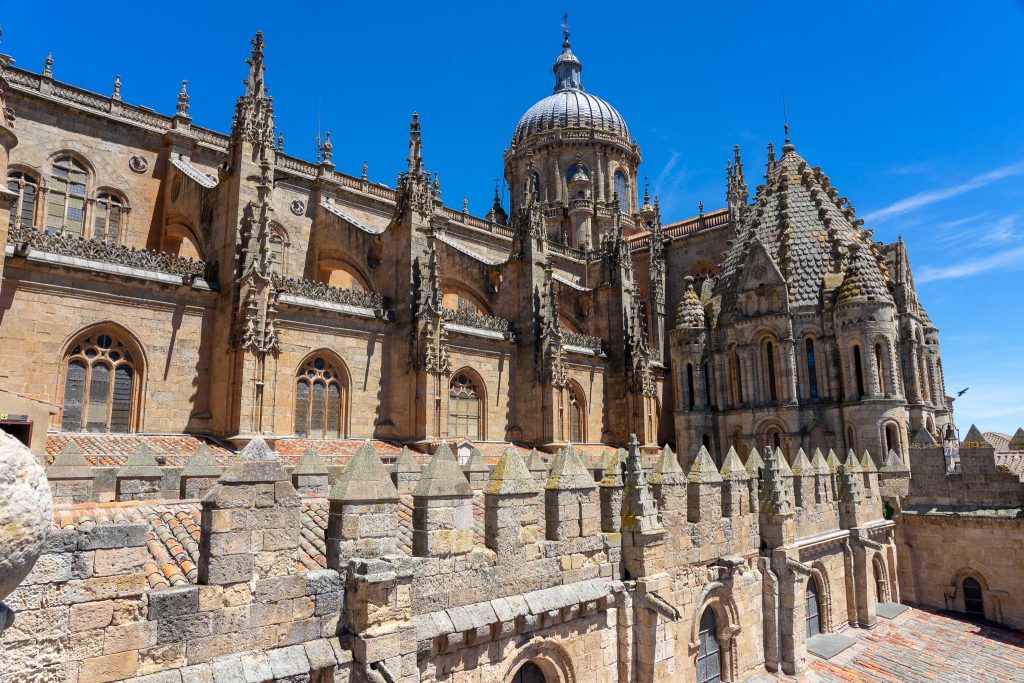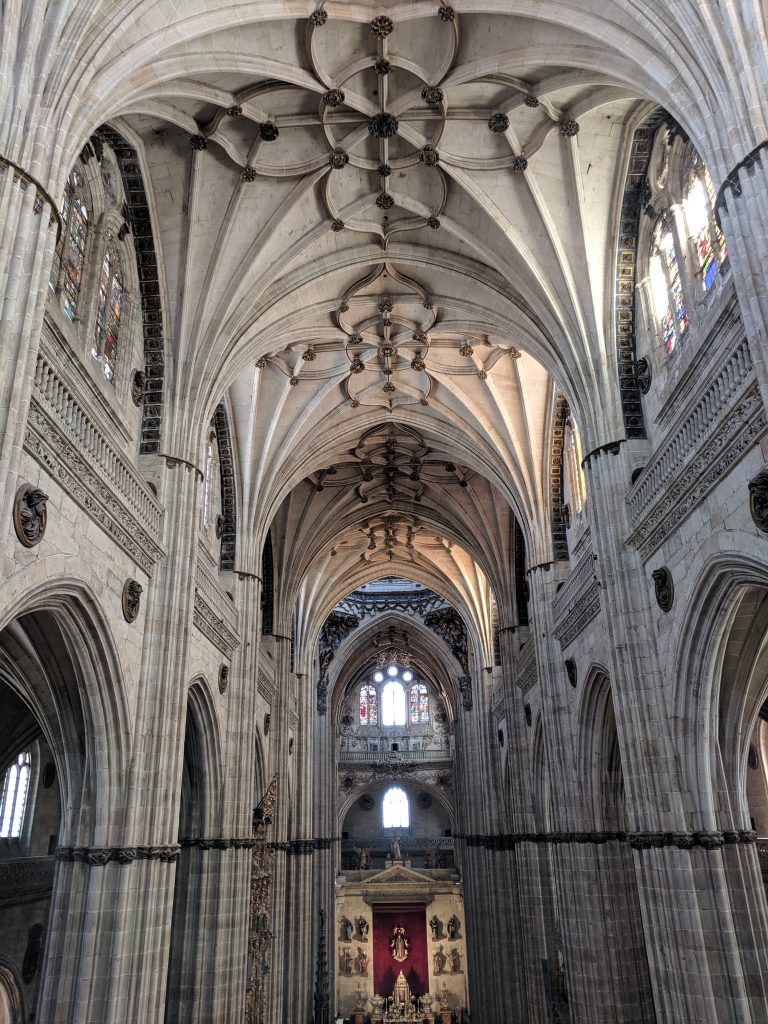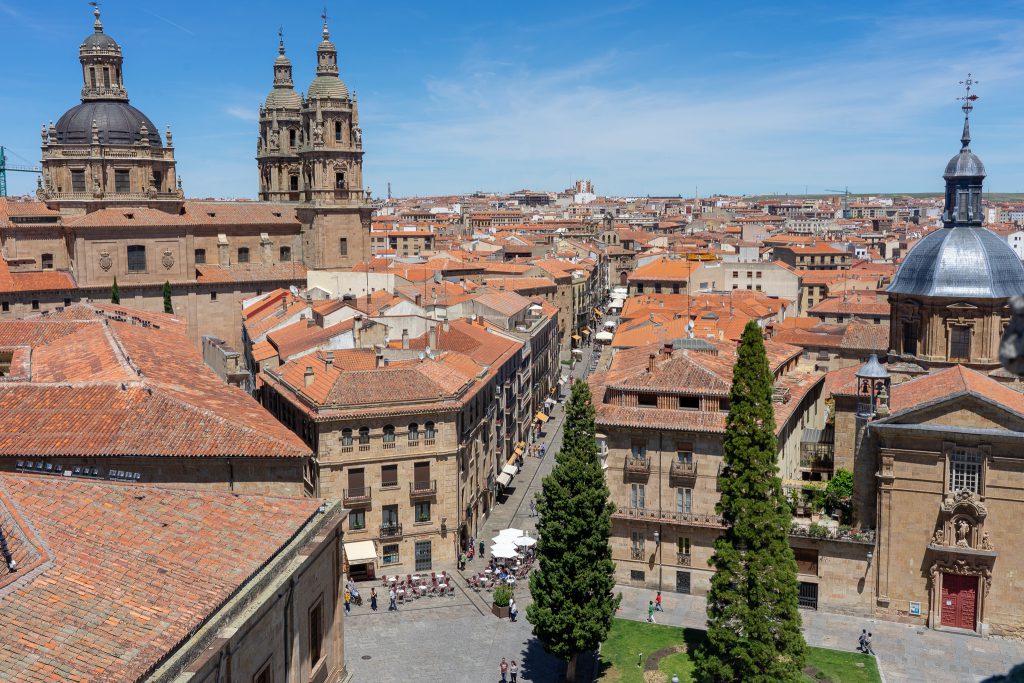 Salamanca is a university town known for its nightlife, but predictably, many of the bars I recall from 2005 have closed or changed hands. One was still there, though–La Chupitería, a long-running institution that serves only shots. The unrenovated dive bar-esque interior and menu hadn't changed at all. We visited at 11pm on a weekend (graduation weekend, no less!) and the place was positively empty. It made me laugh; clearly us old thirty-somethings hadn't gotten the memo that it isn't cool to start hitting the bars until midnight or later. Salamanca nightlife, as with most European nightlife, starts late.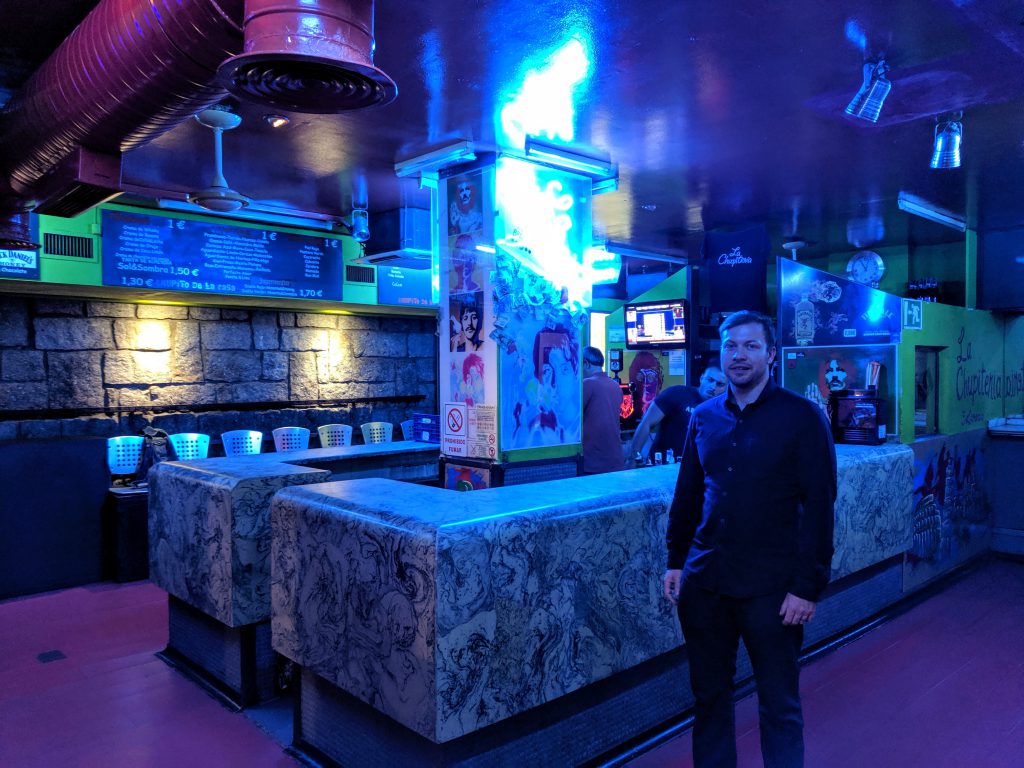 Perhaps the most enjoyable part of visiting Salamanca again after so many years was walking around the university campus, especially reentering the building where I used to attend classes. I have so many happy memories of that building, where I immersed myself daily in Spanish language, literature, and history. The interior was just as I remembered, right down to the cracked steps leading up to the top floor.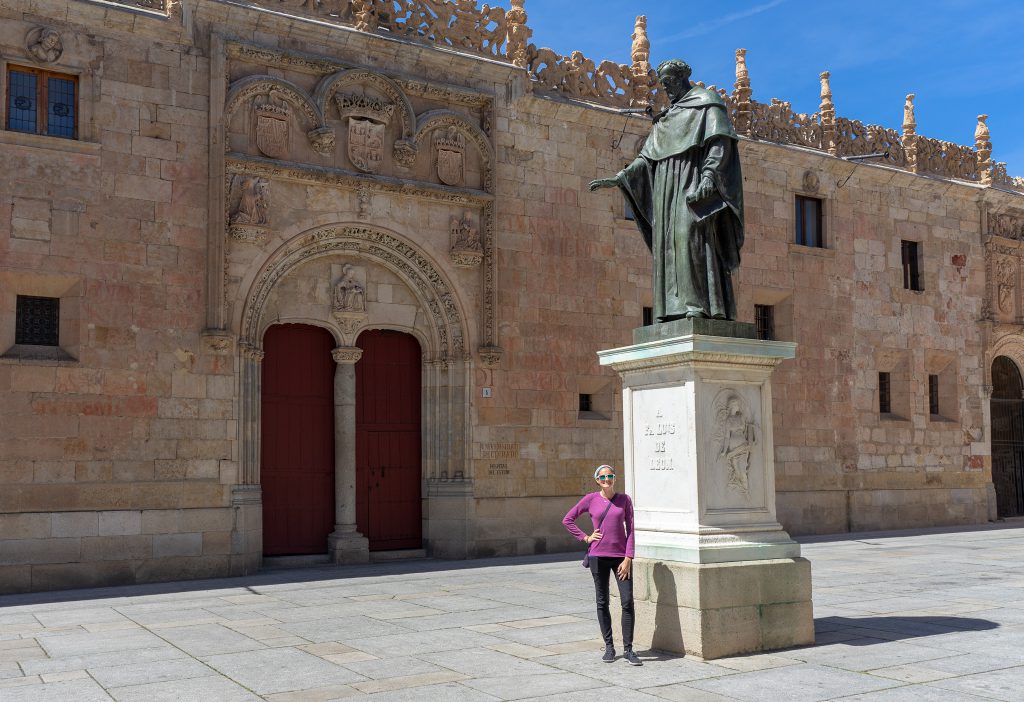 As I gazed out the window, taking in the view of the church across the street and the pedestrians buzzing past below, I was struck by a powerful insight. My semester abroad is really what cemented my love of travel, what ignited a thirst in me to see more of the world. If I hadn't studied abroad in college, would Mike and I be having this round the world adventure now? I'm not sure; it's impossible to know how our lives would have panned out with or without one event or another. There's one thing I do know, though: if 20-year-old me could see what I'm doing now, I'm pretty sure she would be proud.
Until next time, adios from Spain.