Dubrovnik, Hvar, and Split: A Journey Up the Dalmatian Coast
"Oh my god," I breathed the moment I caught my first glimpse of the sparkling blue-green Adriatic Sea. "This place is unreal!"We arrived in Dubrovnik, Croatia, at twilight, when it was just light enough to see the glimmering sea, tainted mauve by sunset, and the dramatic limestone mountains that sweep up to staggering heights beyond the coastline. Entering Croatia is like stepping into the pages of a fairy tale, with its seaside fishing villages, ancient fortresses, and dreamy cobalt waters. When it comes to the most naturally beautiful countries we've visited, it's right up there with New Zealand, Sri Lanka, and Nepal. It's easy to see why tourism in the country has grown exponentially in recent years, especially as travelers look to avoid the crowds (and high prices) of neighboring Italy.
As thrilled as we were to arrive in Croatia, we were even more excited to see our friends Heather and Chris and Courtney and Grady, who flew from the U.S. to meet us. Mike and I have been lucky to see loved ones on several occasions during our round the world adventure, and it's been delightful each time. As much as we enjoy each other's company, adding other people to the mix makes for fun travels! And as we like to joke, it gives us a break from only having each other to talk to, seeing as we've essentially been on one long extended date since October.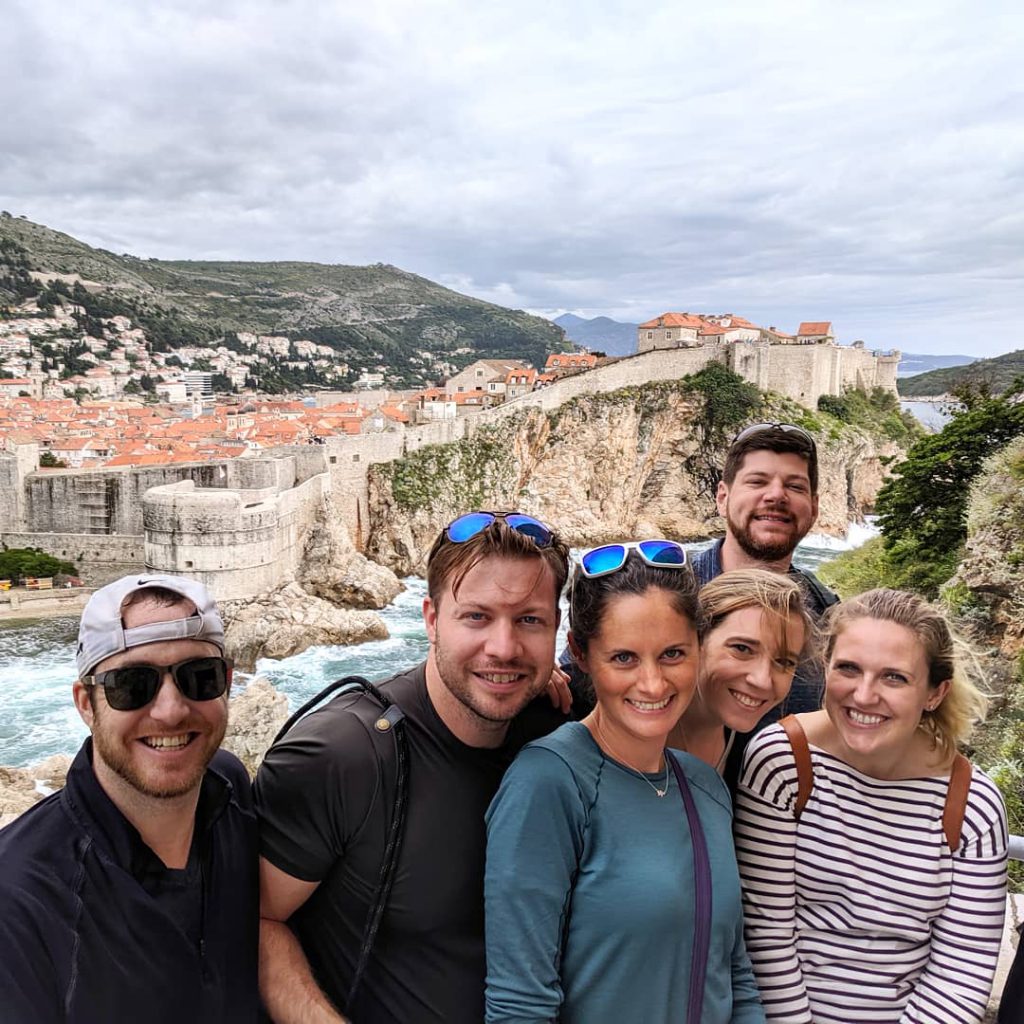 After reuniting with our friends and getting comfortable in our Airbnb, which had sweeping views of the Adriatic, we set out to explore the fortressed old city of Dubrovnik. Dubrovnik is one of the most visited places in Croatia, and it's only grown more popular since the hit HBO series Game of Thrones was filmed there. Still, we hit the city in late May, the sweet spot on the calendar before the hordes of summer cruise ship daytrippers start arriving (locals told us Dubrovnik gets downright packed in July and August.) The somewhat drizzly weather we experienced also kept the number of visitors low enough to make our time roaming the city enjoyable, yet didn't detract from its beauty at all.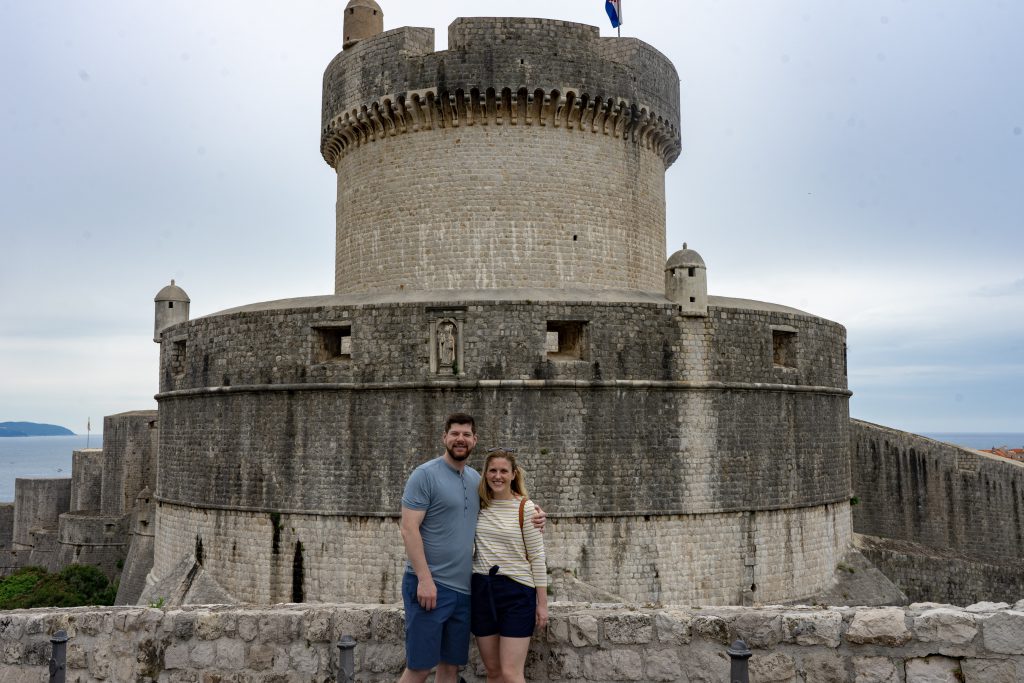 We walked the two kilometer length of Dubrovnik's ancient walls (the city was an independent kingdom for many years, hitting the height of its power during the fifteenth and sixteenth centuries), pausing to take photos of the vast Adriatic and the town below, its orange rooftops and church domes giving it a Venetian charm. We also loved roaming the streets and getting lost in hidden alleyways, stopping every so often when we spotted Dubrovnik's most common resident, the ever-present street cat.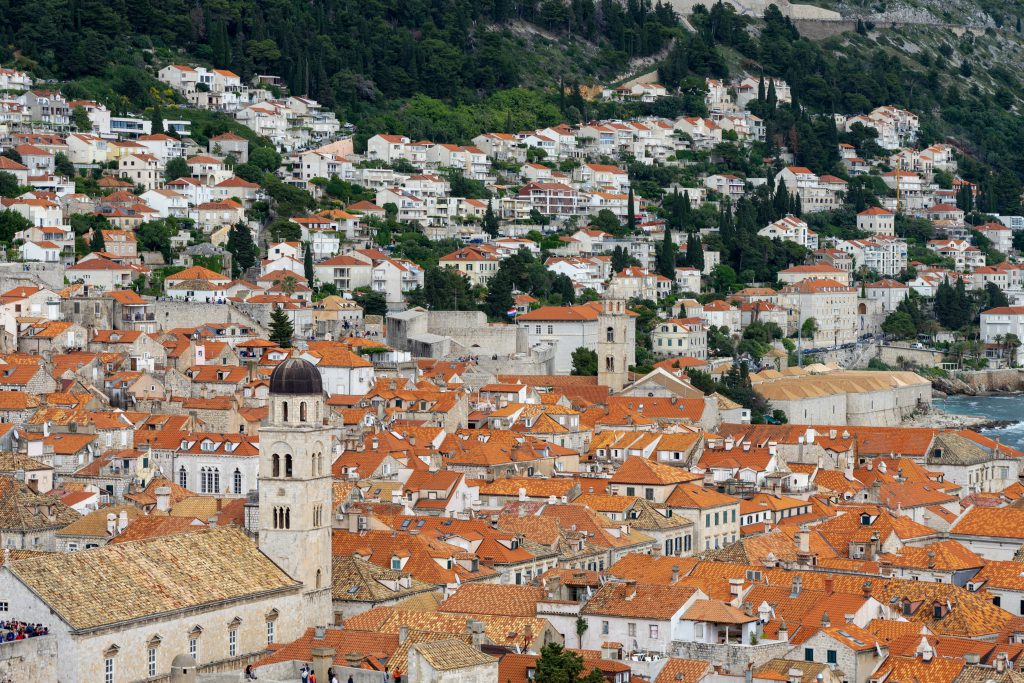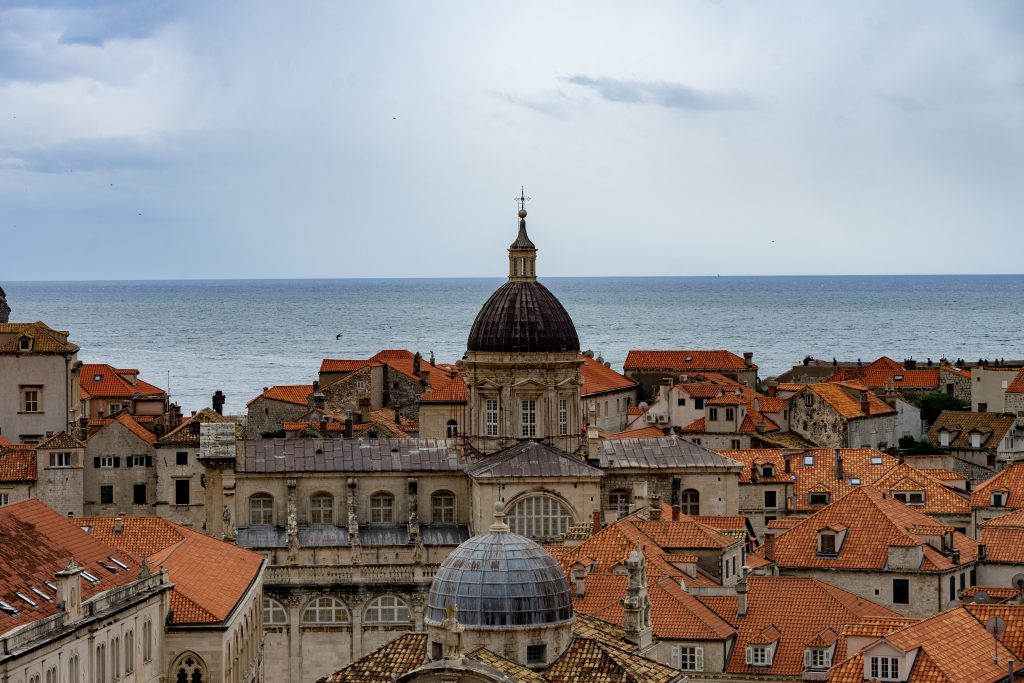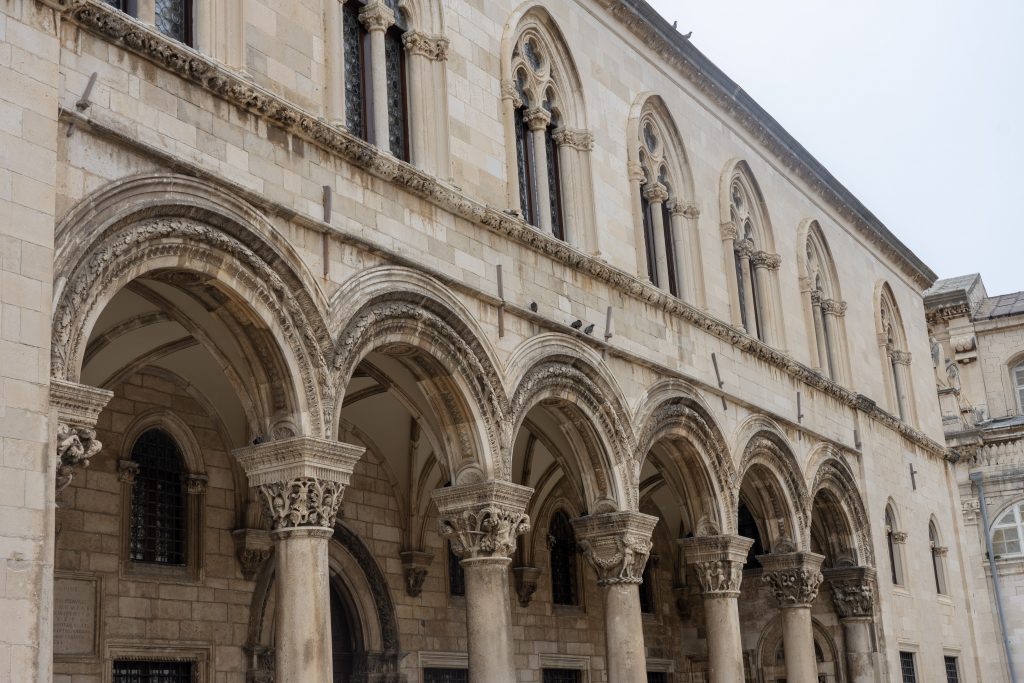 On our last day in Dubrovnik before we ventured up the coast, we went on a wine tasting tour on the nearby Peljesac peninsula, first stopping in the village of Ston, famed for its salt fields and defensive stone walls. The scenic route we took then led us to three wineries. Croatia may not be as famous for vineyards as Italy, France, or California, but it should be–the wine is excellent and unpretentious. My personal favorite was dingac, a rich red produced exclusively on the peninsula with a taste similar to merlot.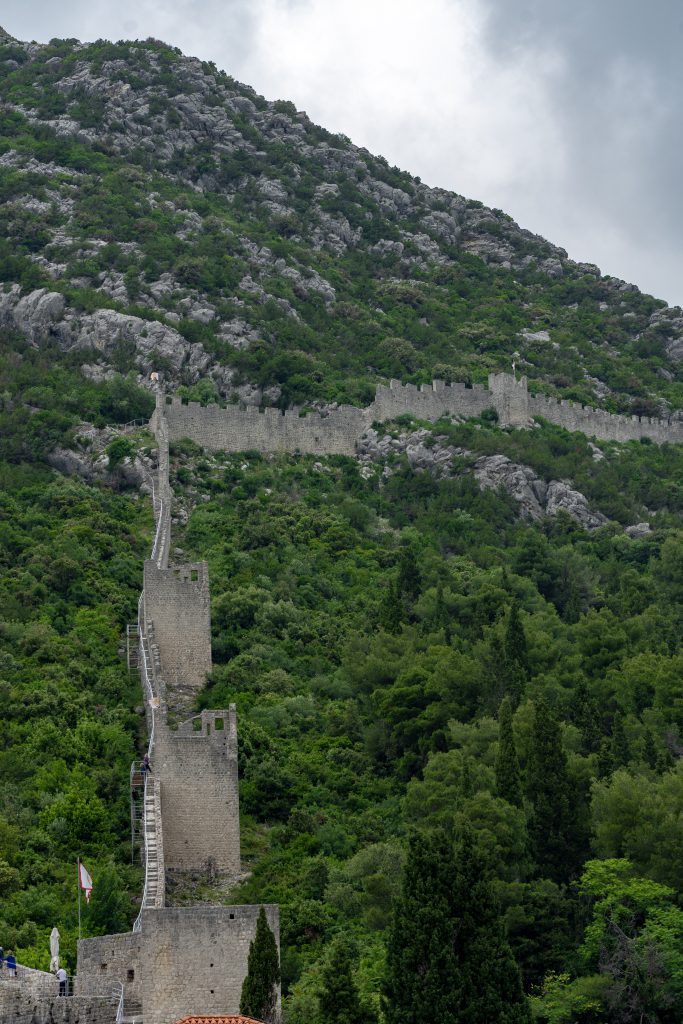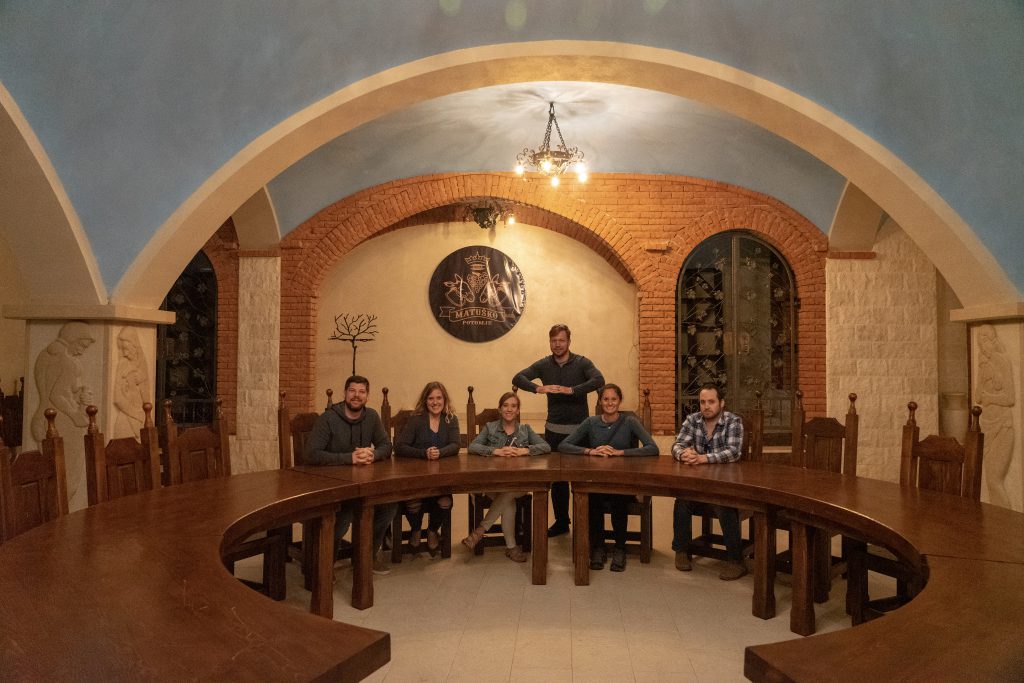 We took the bus up the coast next to the city of Split, hopping on a ferry from there to the island of Hvar, touted as one of the most gorgeous islands in the world. Incredibly, Croatia has more than 1,000 islands, 48 of which are inhabited. After a quick one hour ride, we were deposited in Hvar's jewel of a harbor, which looked like the marinas of Monaco. The glamorous effect was heightened by the million-dollar yachts moored along the promenade, as well as the presence of lush Mediterranean cypress trees and swaying palms. It was also the first perfectly sunny day of our Croatian adventure, and we could finally truly appreciate the sapphire hue of the sea.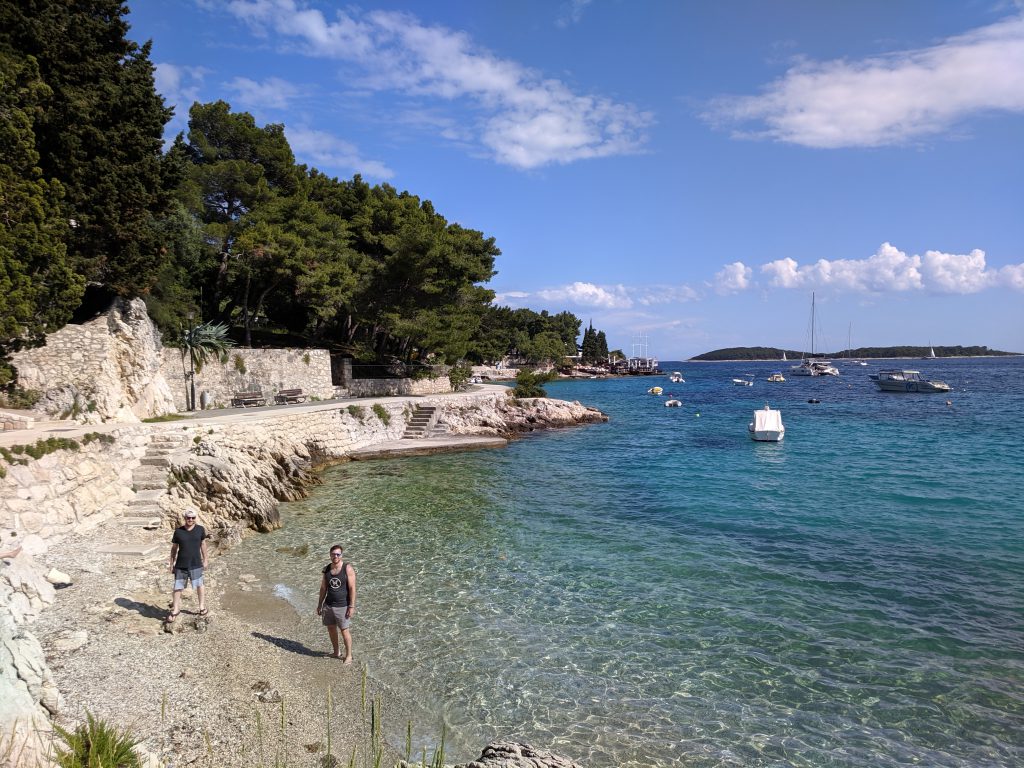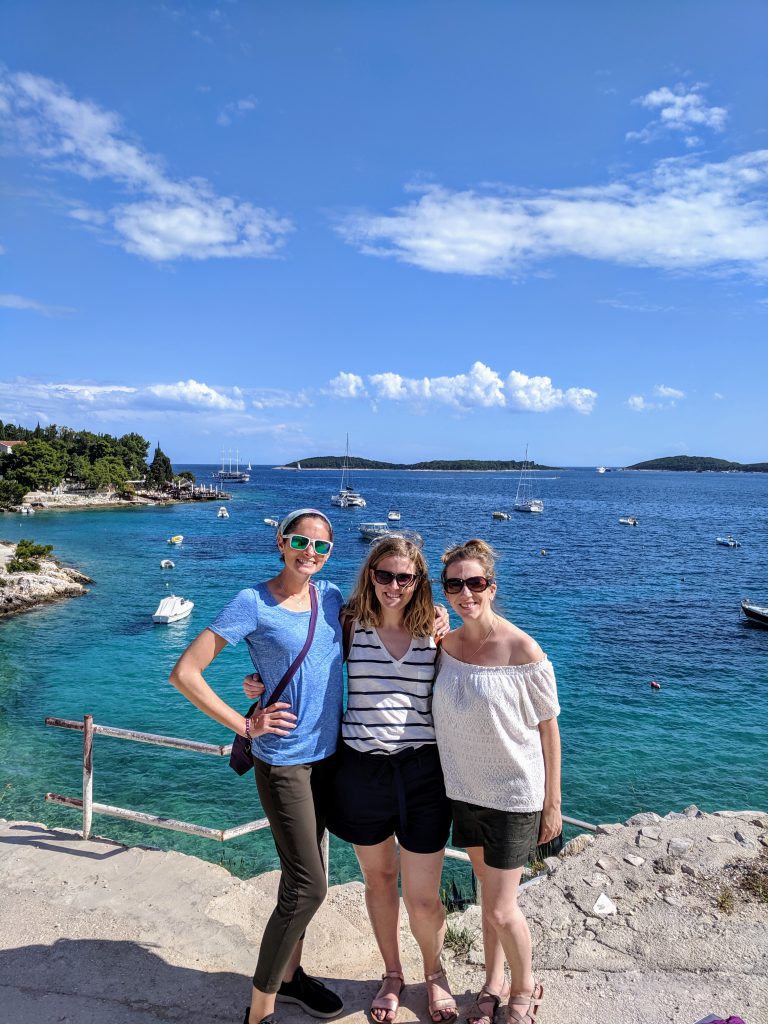 Although Hvar is a relatively large island, it was easy to explore the main town (also named Hvar) on foot. We divided our time between exploring the harbor's sixteenth century hilltop fortress, feasting on amazing food, and lazing by the sea. Although the water was a little too cold for swimming, we could still enjoy relaxing on the beach, and there was plenty of fresh seafood to be had. The most common dishes along Croatia's Dalmatian coast are similar to what you might find in other Mediterranean cuisines, with squid risotto and fish stews playing starring roles. Another dish we enjoyed was pasticada, baby beef fillet marinated in red wine and served with homemade gnocchi.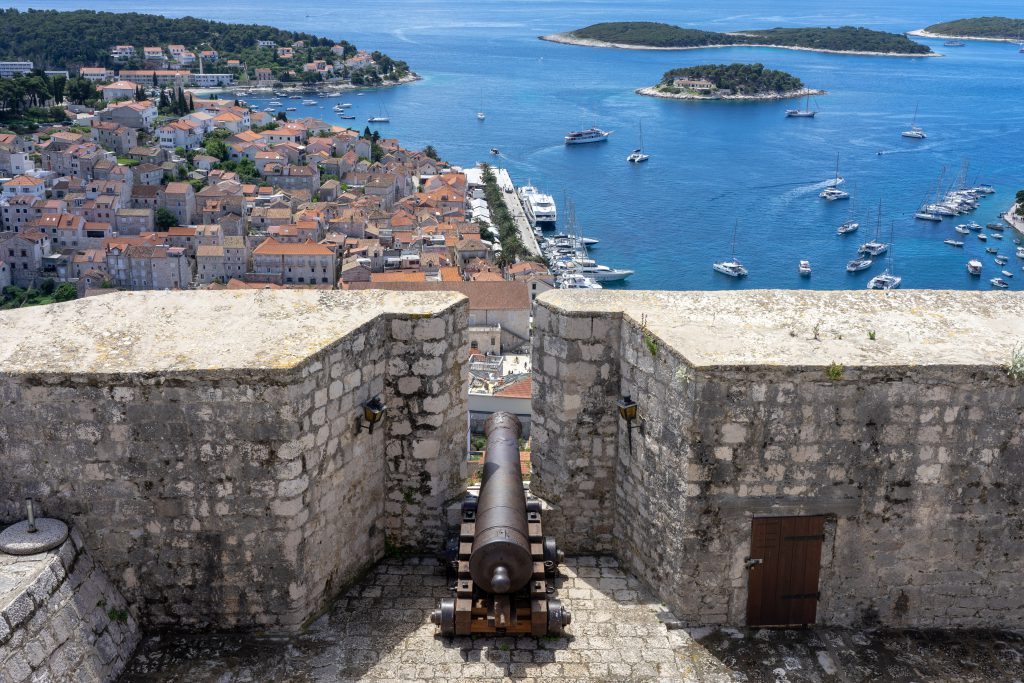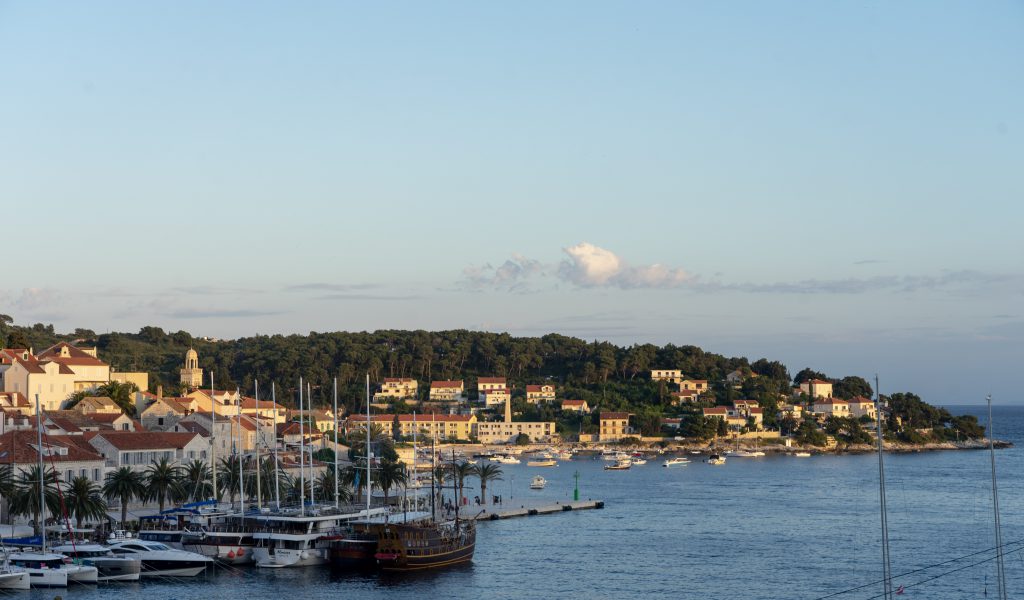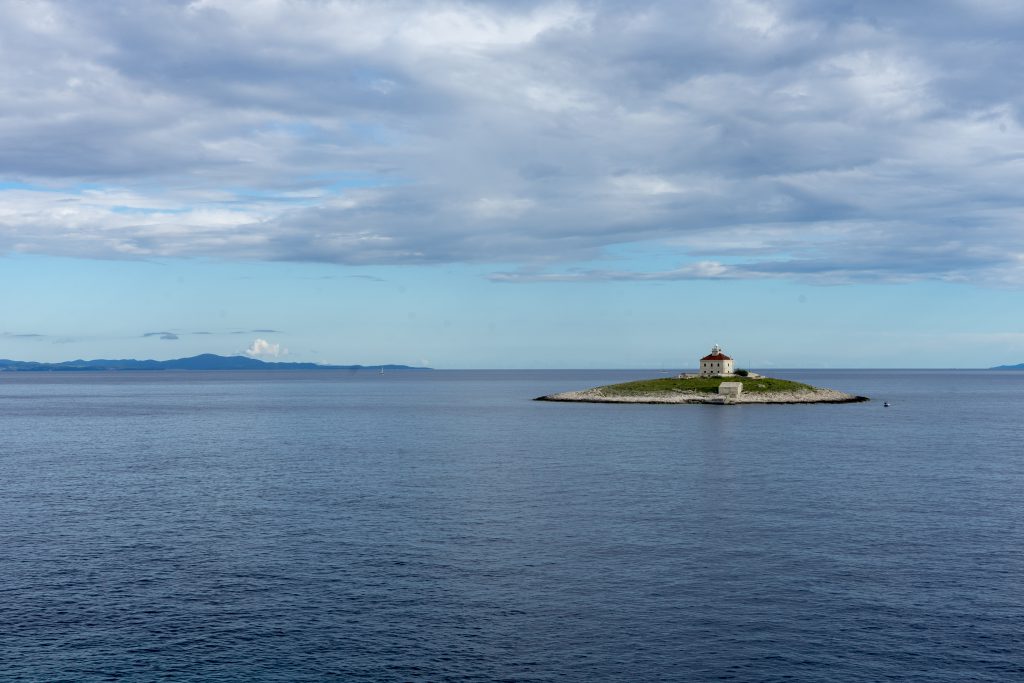 Our two days on Hvar were all too brief, and soon we were headed to our last destination, back to Split, Croatia's second-largest city after the capital of Zagreb. Split had a more gritty, lived-in edge than Dubrovnik, which I loved. Dubrovnik is sometimes half-jokingly referred to as the Disneyland of Croatia. As lovely as Dubrovnik is–I think it's a must-visit place for anyone traveling along the Dalmatian coast–Split felt more like a real metropolis than a place that caters exclusively to tourists.
The centerpiece of Split is Diocletian's Palace, the ruins of a Roman fortress whose walls the city is literally built into. While the fortress itself is no longer intact, its dark, sprawling basement is (unsurprisingly, it's another Game of Thrones filming location! Although we haven't seen the show, our friends told us it's where multiple scenes were shot with Daenerys and her dragons.) We loved wandering through the spooky basement and imagining what the palace must have been like in ancient times. We also savored meals together on the Riva promenade, Split's central meeting place dotted with harbor-front cafes, bars, and gelato shops. It was a perfect place for people watching with cocktails in hand.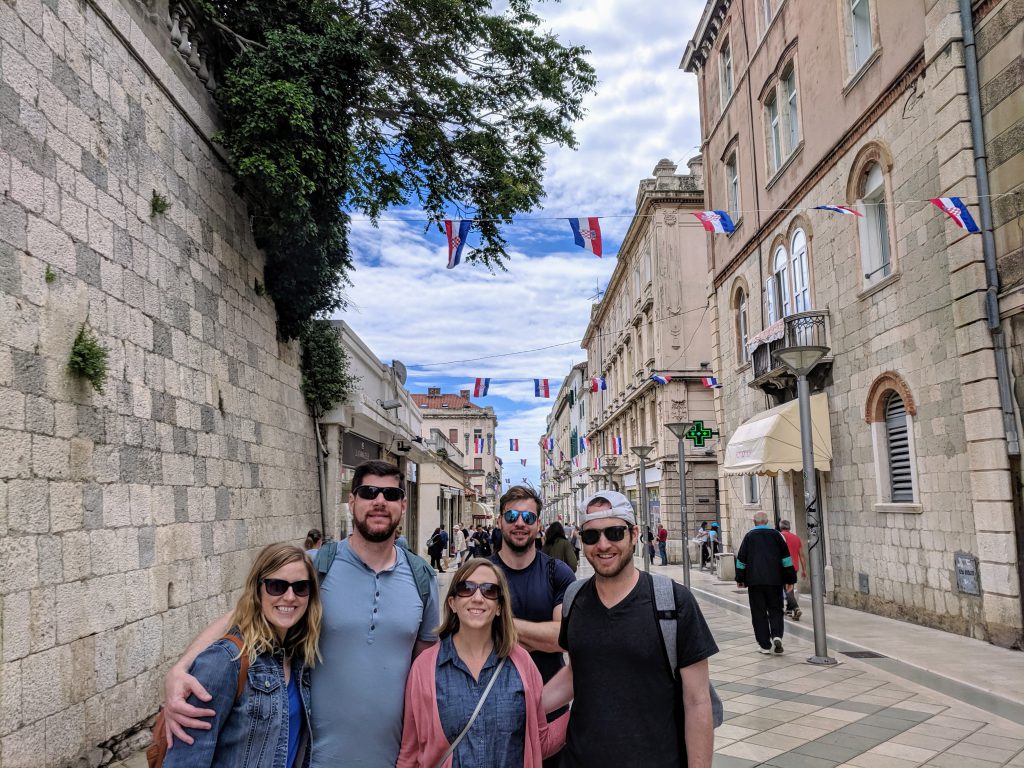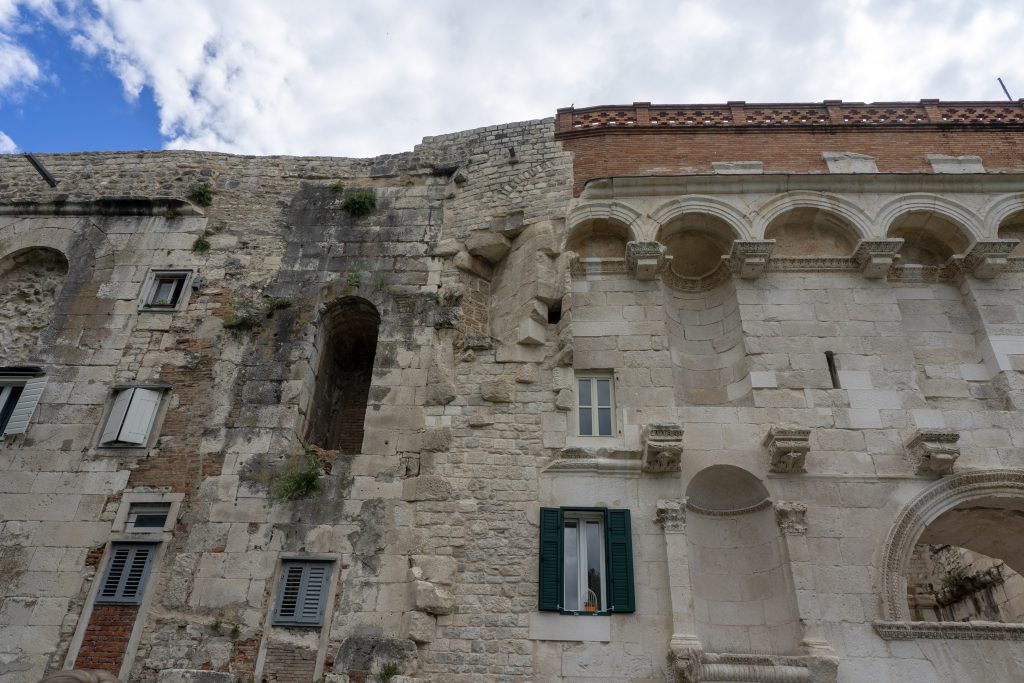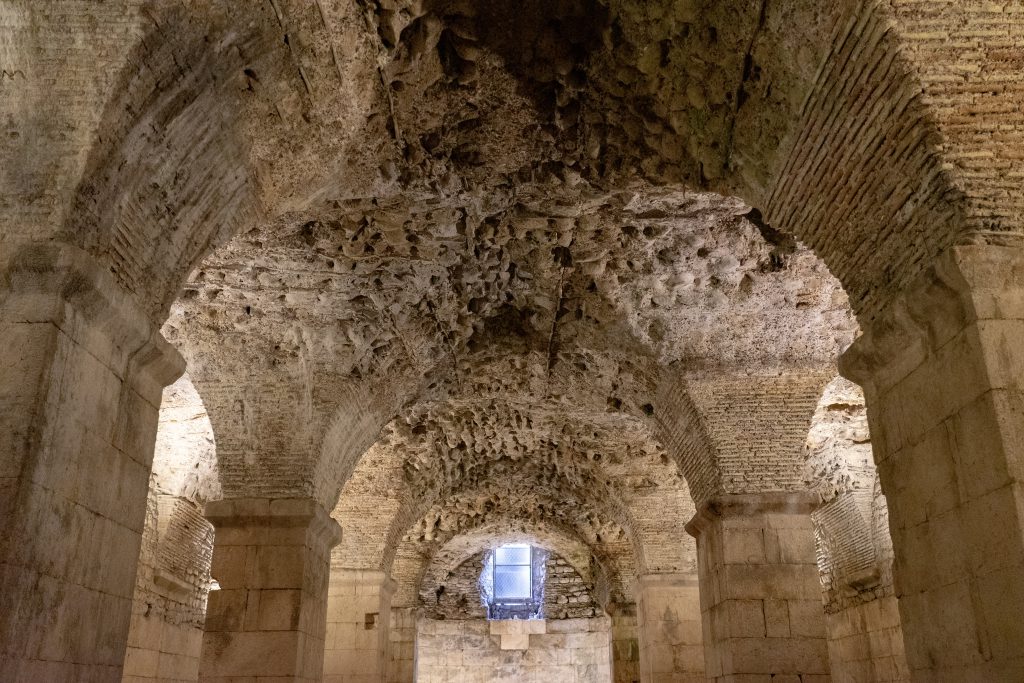 Our time in Split was capped off with an evening cruise along the spectacular Dalmatian coastline. Our boat was a small replica pirate ship, and we embraced every bit of the cheesy vibe (we were actually a little disappointed that pirate hats weren't handed out!) The boat journey highlighted yet again what a stunning country Croatia is. When I pictured Croatia in my mind before visiting, I always just envisioned beaches fringed by clear, cerulean waters. I was surprised to discover that the mountain landscape took my breath away just as much as the sea. Croatia is an alluring place; I can't imagine anyone visiting and not falling at least a little under its spell.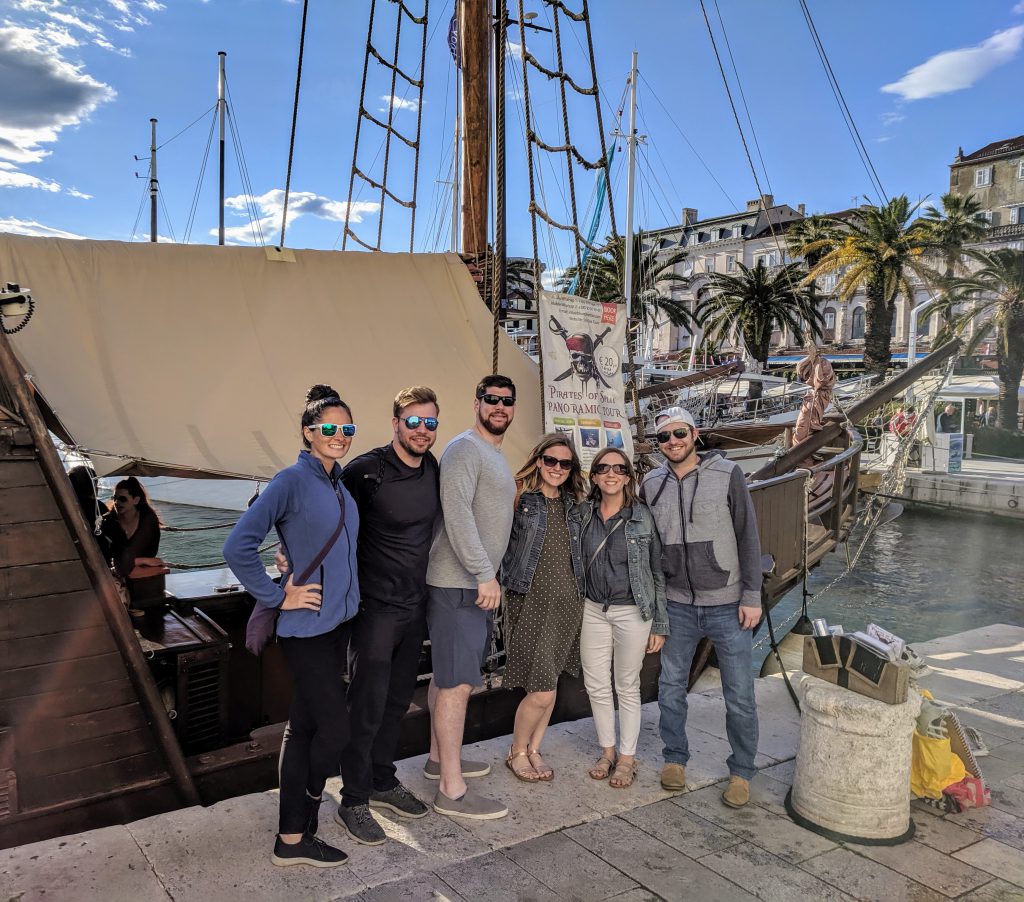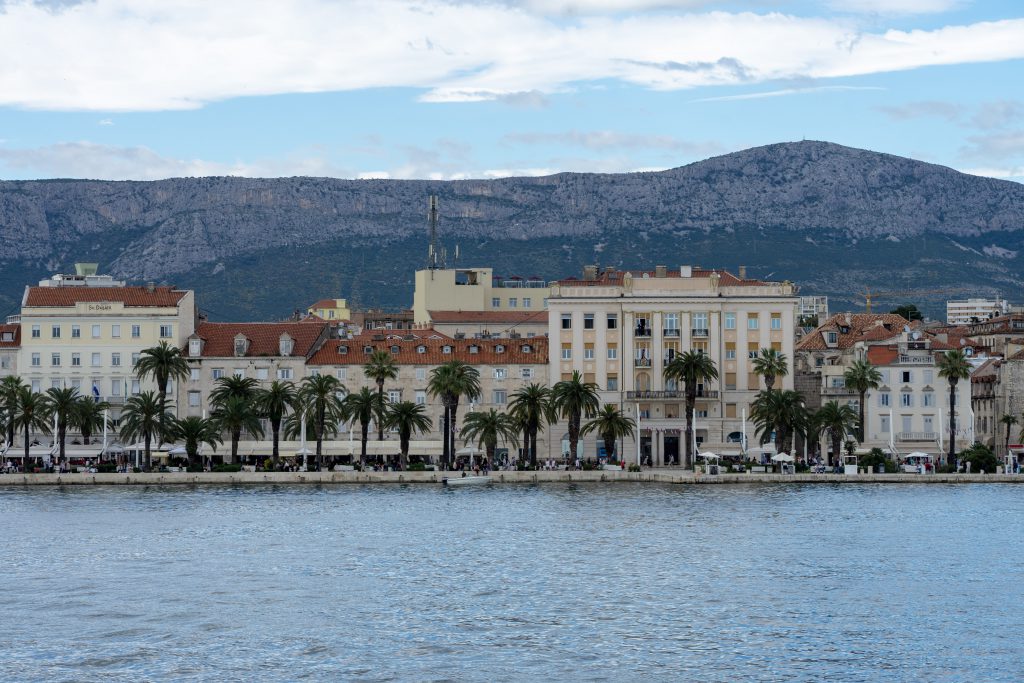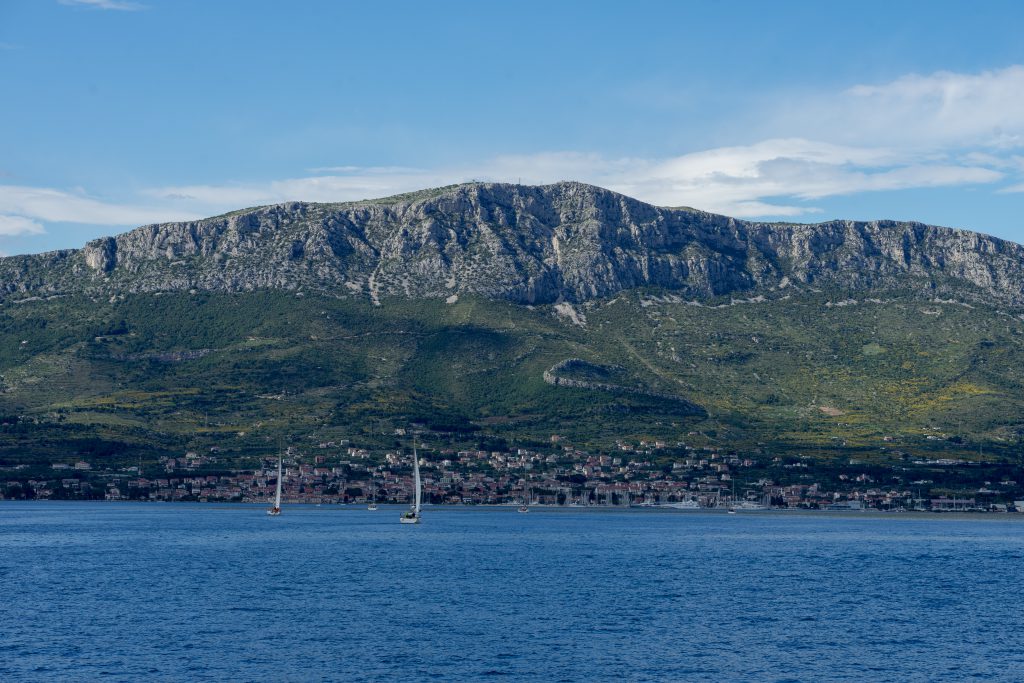 After bidding tearful farewells to our friends (I'll speak for myself on that one–I always get emotional when I say goodbye!) Mike and I found ourselves with weeks ahead of us and no set plans. Should we travel further north up the Dalmatian coast, then head to the more inland section of Croatia? Take a train to Slovenia? Go south to Montenegro? The options seemed endless.
In the end, we spent two more days in Split, enjoying runs and meals along the Riva promenade, then booked bus tickets to Bosnia and Herzegovina. Curiosity about one of the least-visited countries in Europe had won out. We were headed deep into the core of the Balkans, a region largely a mystery to us.
Until next time, dovidenja from Croatia.