Luang Prabang: Stunning Beauty and a Reckoning with the Past
"Hey, I think there's a karaoke bar down there," I commented, gesturing down a steep set of steps towards the Mekong River. "You can hear the music. Let's go check it out!"Mike and I hopped down a set of stairs and found ourselves standing not at a karaoke bar or even a restaurant, but at a table of co-workers eating and drinking beer under a riverside tent. Instead of telling us we were lost and escorting us back up the steps to the main road, the dozen or so people grinned and scrambled to pull up chairs.
"You sit with us! Join us!" they called amiably. "You sing song from YouTube with us!"
We plopped down at the table and were soon being handed beer after beer and passed spicy Lao dishes to sample. Our new acquaintances tossed us a steady stream of questions ("Where you from?" "Washington?" "Trump, haha!" "You like the Trump?" "You married?" "How long married?" "How many children?" "Married six years and NO CHILDREN?") We laughed and chatted with our friendly hosts in a broken mix of English, Lao, and hand gestures until the sun had completely disappeared behind the mountains.
So went our evening drinking with a group of friendly Laos in Luang Prabang!
The evening we arrived in Luang Prabang, we felt like we'd been transported to New Orleans, or perhaps a French island in the Caribbean. Luang Prabang, often referred to as the Jewel of Indochina, is the second-largest city in Laos (which says a lot about how developed Laos is, because Luang Prabang ain't a big place) and is known for its quaint French colonial architecture and scenic location along the Mekong River. The entire town was designated a UNESCO World Heritage city in 1995, ensuring its protection for generations to come.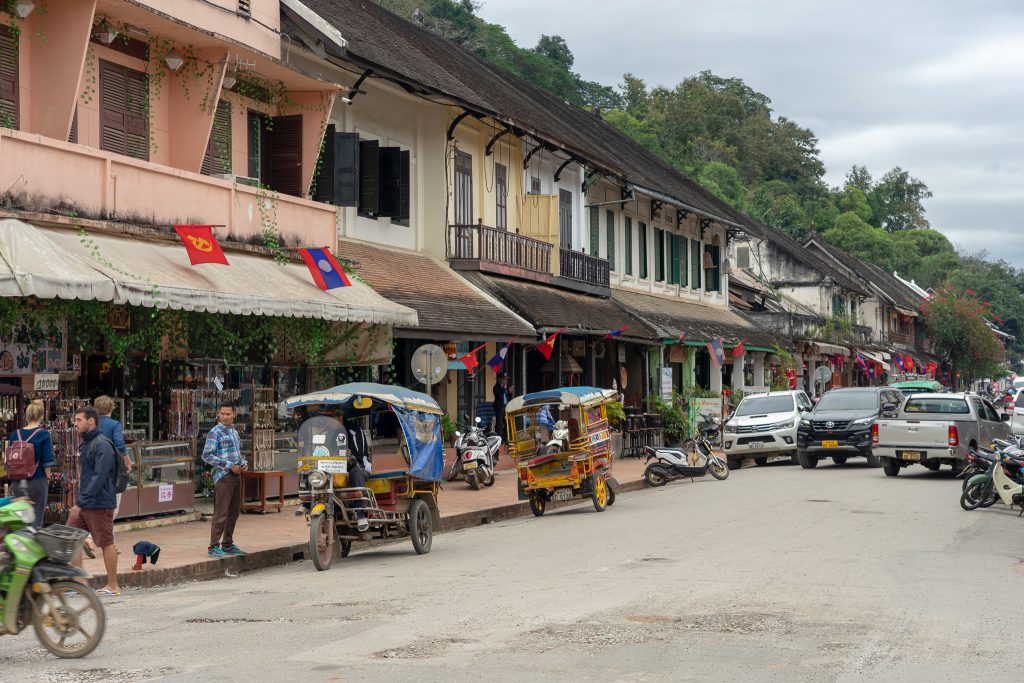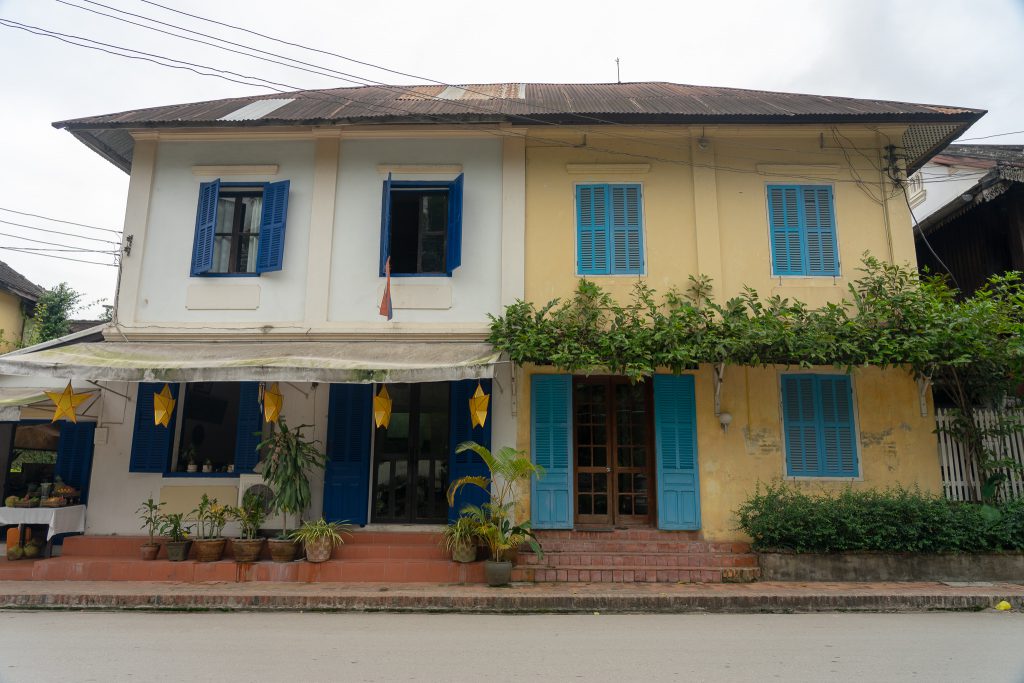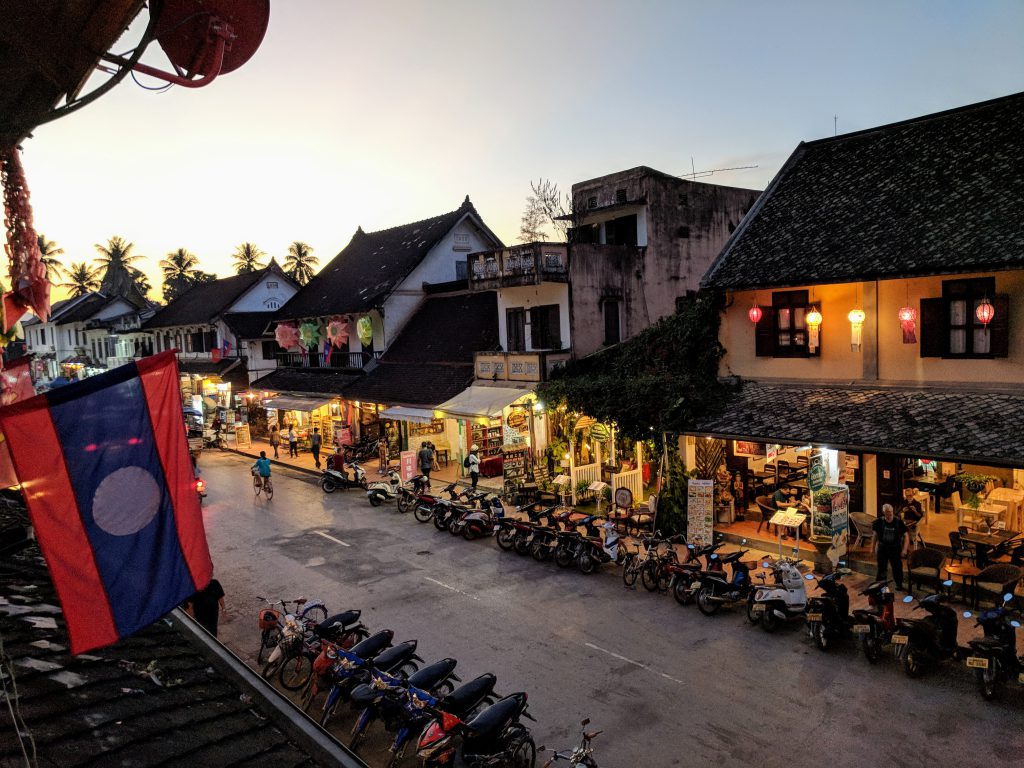 Laos was a French protectorate from 1893 until 1954, hence the lingering French influence. Quite a few expats live here, and there's an abundance of affordable French food and wine. (I had a minor freak-out when I realized we could get a plate of quality cheese and charcuterie for about $5. Oh cheese, how I've missed you these past two months!)
Luang Prabang is also a deeply spiritual city that many Buddhist monks call home. Every morning at dawn, hundreds of monks leave their temples and silently walk the streets to collect alms from the town's residents (which are typically offered in the form of common foods like sticky rice). This ritual has been going on every day for centuries. Watching the alms-giving ceremony and observing its many unspoken rules was incredible–citizens must never touch the monks, speak to them, or even look at them as they offer their gifts. An overwhelming aura of peace and calm surrounded the entire ceremony.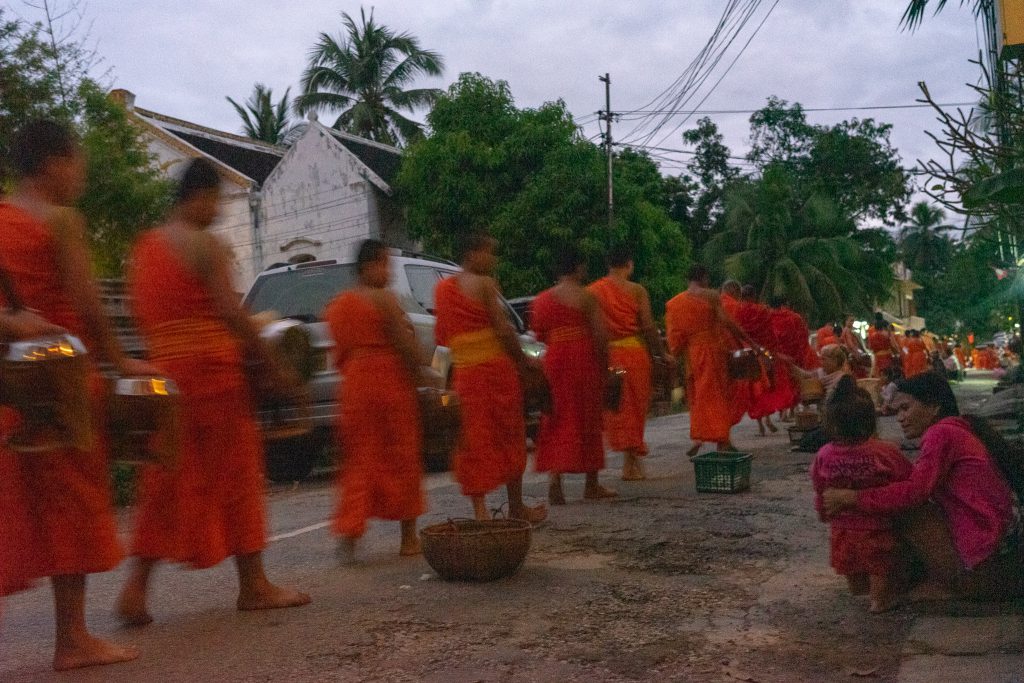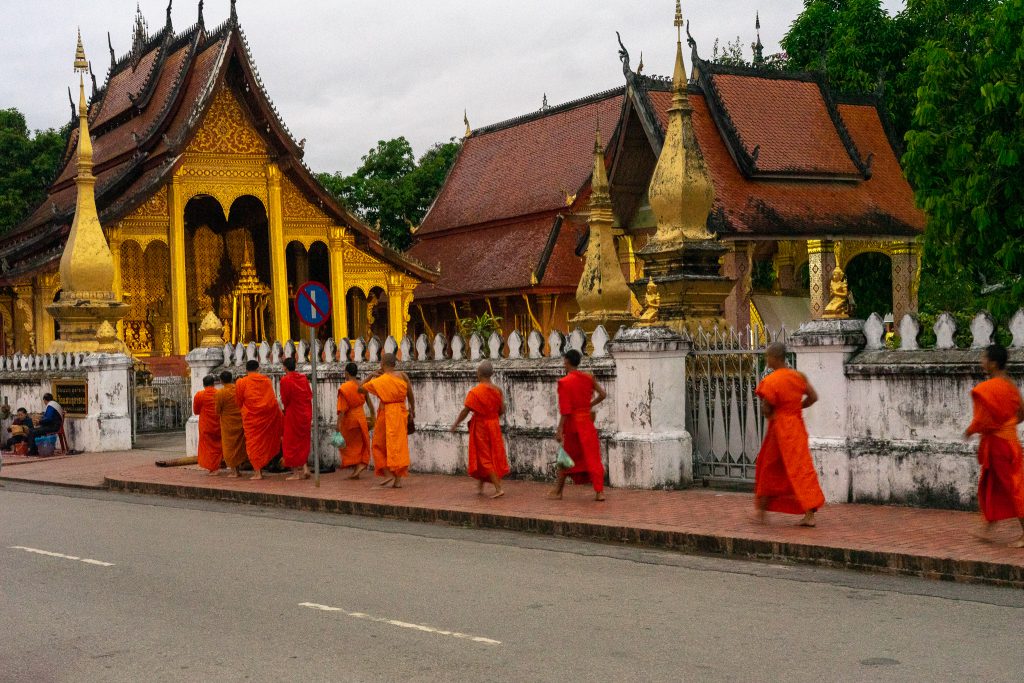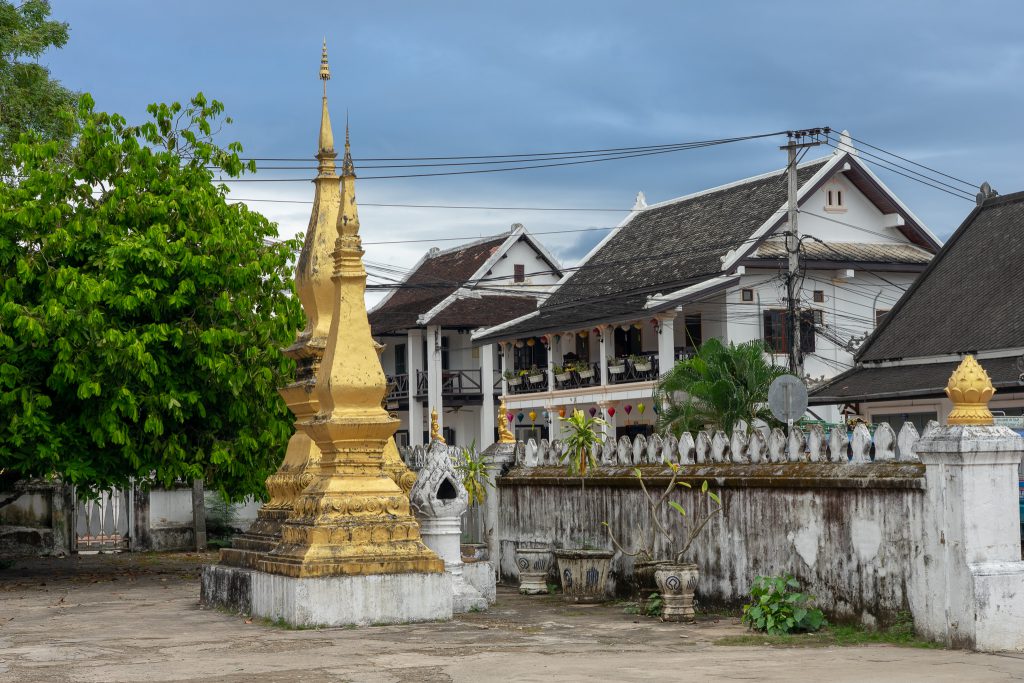 Compared to Thailand, which was so full of erratic motorbikes and speeding vehicles that Mike and I only felt comfortable biking once, we rode bikes everywhere around Luang Prabang. The two lane streets and tame traffic made it an ideal place to explore via bike.
One of our favorite days was taking a tuk tuk outside town to visit Kuang Si Waterfall, famed for its natural turquoise-hued waters. The otherworldly color looked like something you'd only get from an Instagram filter. The falls were one of the most gorgeous and unspoiled places we've ever visited.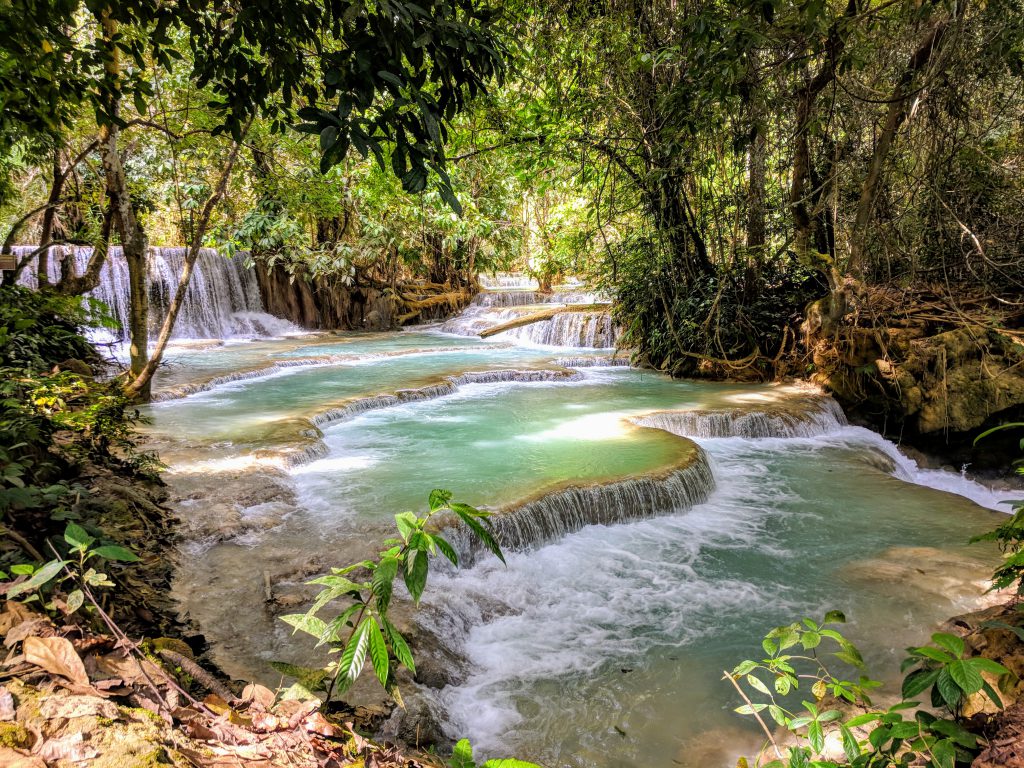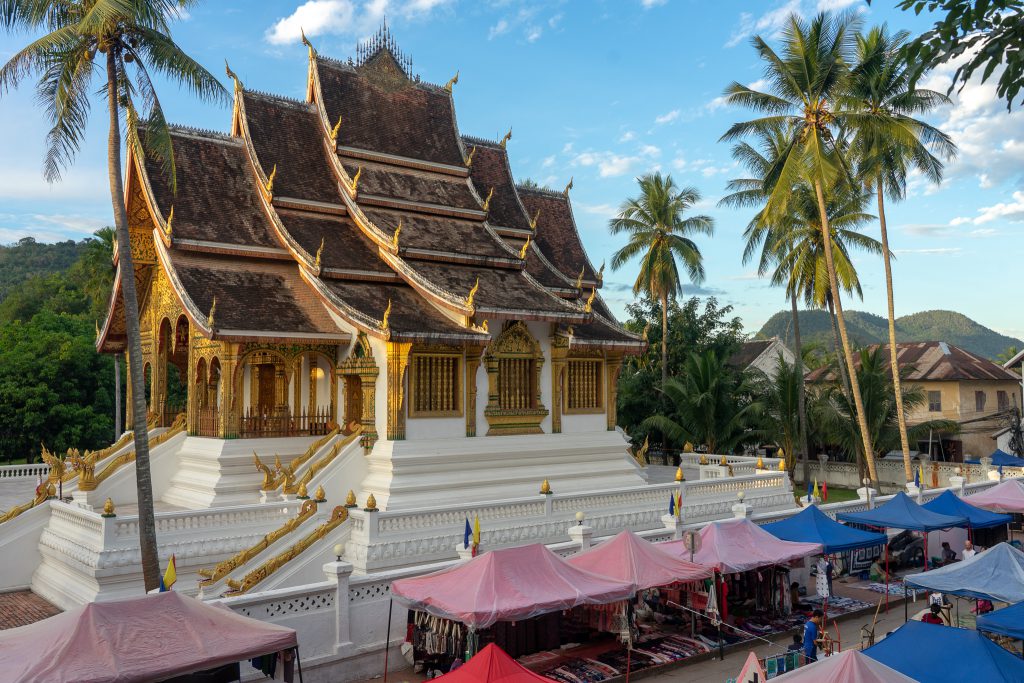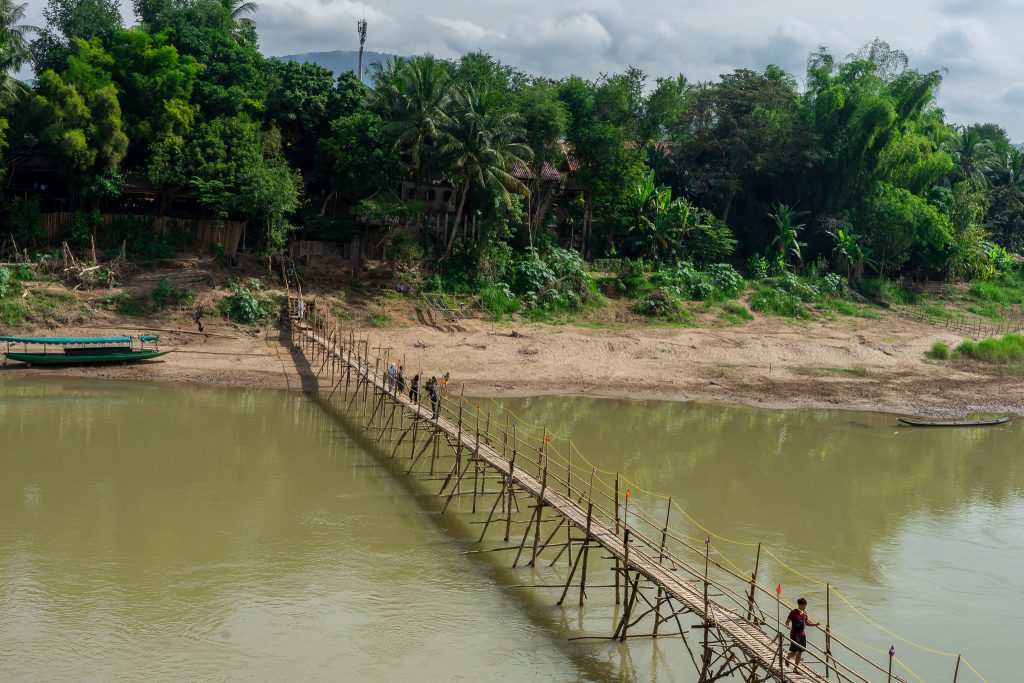 While we thoroughly enjoyed soaking in Luang Prabang's architectural and natural beauty–sunsets over the Mekong here are absolutely breathtaking–we also started reckoning with America's place in Laos' dark history and, in many ways, continuously painful present. During a visit to Luang Prabang's tiny national musuem, which is located in an old royal palace, I paused when I saw a Lao flag under a display case.
"Look, it says this was a gift from Nixon to Laos in 1973," I commented. "Apollo 11 took this flag to the moon in 1969."
"Yeah, and it was given to Laos at the same time we were bombing them day and night during the Vietnam War," Mike replied. "Just think about that."
I quieted; he was right.
We also visited Luang Prabang's Unexploded Ordnance (UXO) Information Center, which educated us in detail about the United States' nine-year-long bombing campaign in Laos and its continued devastating effects. Laos has the unfortunate and unwanted position of being the most heavily bombed country on earth–more bombs have been dropped within its borders than all of the bombs that fell during World War II. Many of the bombs failed to detonate on impact and continue to explode today when innocent civilians–often children and young adults who weren't even alive during the bombing campaign–accidentally activate them. When someone is maimed or killed by a bomb, the cycle of poverty in Laos continues–if a family member dies or can't work anymore due to injuries, the family must rely on neighbors' charity to survive, keeping the family itself and the village as a whole poor.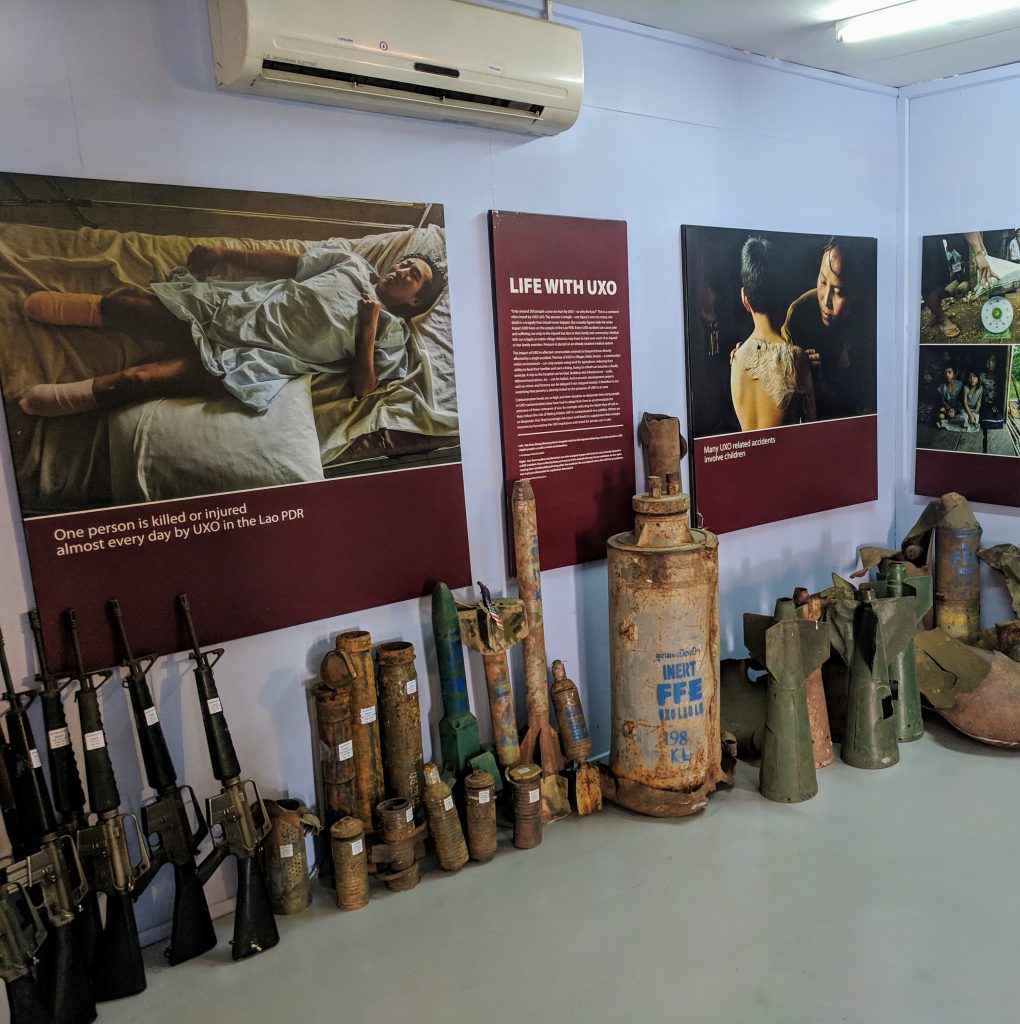 As you can imagine, clearing the country of bombs is painstaking, challenging work that requires nerves of steel. As of last year, only half of 1% of the entire nation of Laos has been cleared of unexploded ordnances.
Visiting the center was an emotional experience. We both lost it when we watched a UNICEF-produced documentary warning children about the dangers of bombs. The continued human toll from a war that ended nearly 45 years ago is astounding and horrifying. We believe it's important for westerners who visit Laos to learn about its history; Southeast Asia isn't all beautiful rivers and swaying palm trees. It's a place where many citizens continue to struggle–and knowing that the country you come from has a direct role in that struggle is difficult.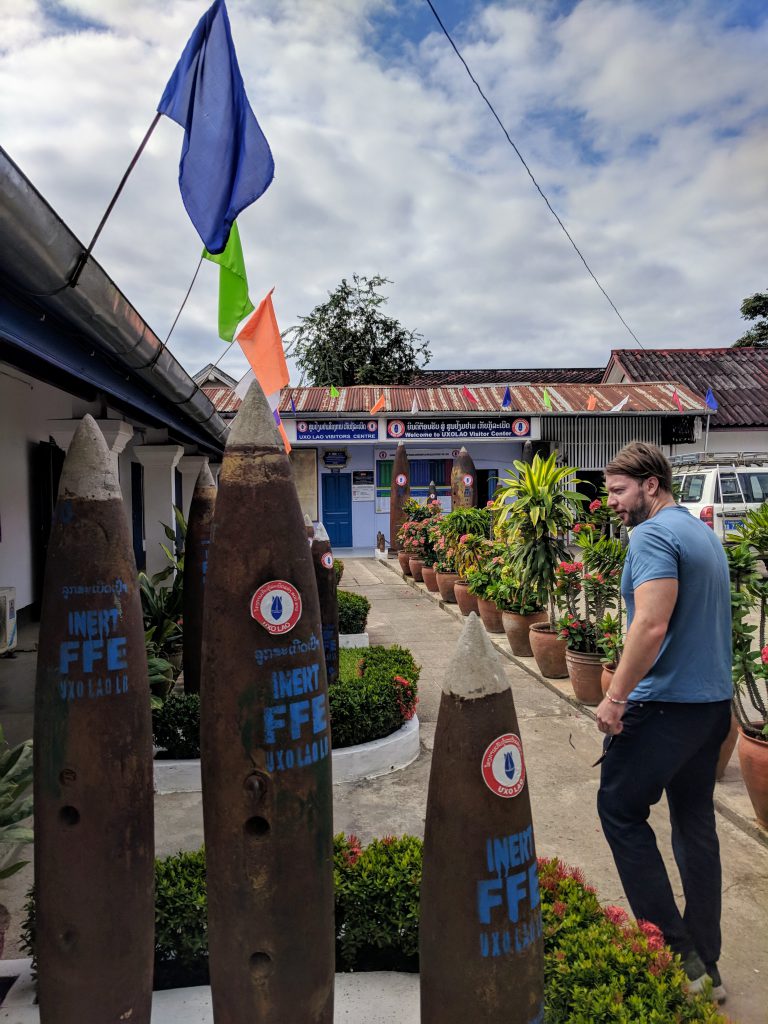 The evening after visiting the UXO Center, we volunteered with a local organization called Big Brother Mouse, which provides an opportunity for eager young Lao students to practice their English with visitors. It was a highlight of our time in Luang Prabang and one of the best experiences of our whole trip. As a former ESOL teacher, it also scratched my itch for being around children and doing one of the things I love most–working with English learners!
Mike and I sat with a group of teenagers and talked with them for hours. They were especially eager to know how the public education system in the United States works. We got another reality check about where we were in the world when we described how every child in U.S. has the opportunity to attend free public school.
"Everyone can?" one student named Remy asked. "Their families don't have to pay anything?"
"That's right," we said.
"Man, that's so different from here," Remy continued matter-of-factly. "I've got nine brothers and sisters, and I was the only one my family could afford to send to school."
Suddenly, our feelings about the United States grew even more complex. Public school systems in America may have their flaws (I say that as a staunch supporter of public education; don't get me wrong), but at least they exist. This trip has been, and continues to be, an education. Every day offers new and unexpected lessons that make us think more not just about who we are, but about our ethical responsibilities as travelers–particularly western travelers.
Until next time, la kon from Laos.