Chiang Mai: A Home Away from Home
In our most spontaneous move yet, Mike and I found ourselves sitting at a riverfront cafe in Bangkok the week before Thanksgiving with no plans whatsoever for the days ahead. We knew we wanted to stay in Thailand until early December, but remained undecided on where to go. We were equal parts enchanted by the idea of visiting the mountainous north of the country, where temperatures are slightly cooler and outdoor activities abound, and the thought of venturing down to Krabi, Koh Samui, or one of Thailand's many other beaches. When we learned that the Thai holidays of Loy Krathong and Yi Peng would be celebrated in Chiang Mai with a multi-day extravaganza (coincidentally falling the same week as Thanksgiving), we were sold. Chiang Mai it was! We said our farewells to Bangkok and booked plane tickets to Chiang Mai the next day.Out of all the Asian cities on our itinerary, Chiang Mai is the one I heard most about in the United States, both from friends who've visited and from travel podcasts. It's Thailand's fifth-largest metropolis, known for its many ancient temples, historic city walls and moat, and dramatic mountain scenery. It also has markets every night of the week, a lively music scene, and is a perfect home base for day trips to surrounding areas like elephant sanctuaries, national parks, and waterfalls. And while the city retains its northern Thai character and charm, it's also a burgeoning hotspot for expats and digital nomads. In some ways, walking down its palm tree-lined streets filled with organic cafes and yoga studios felt like being transplanted to a small town in southern California.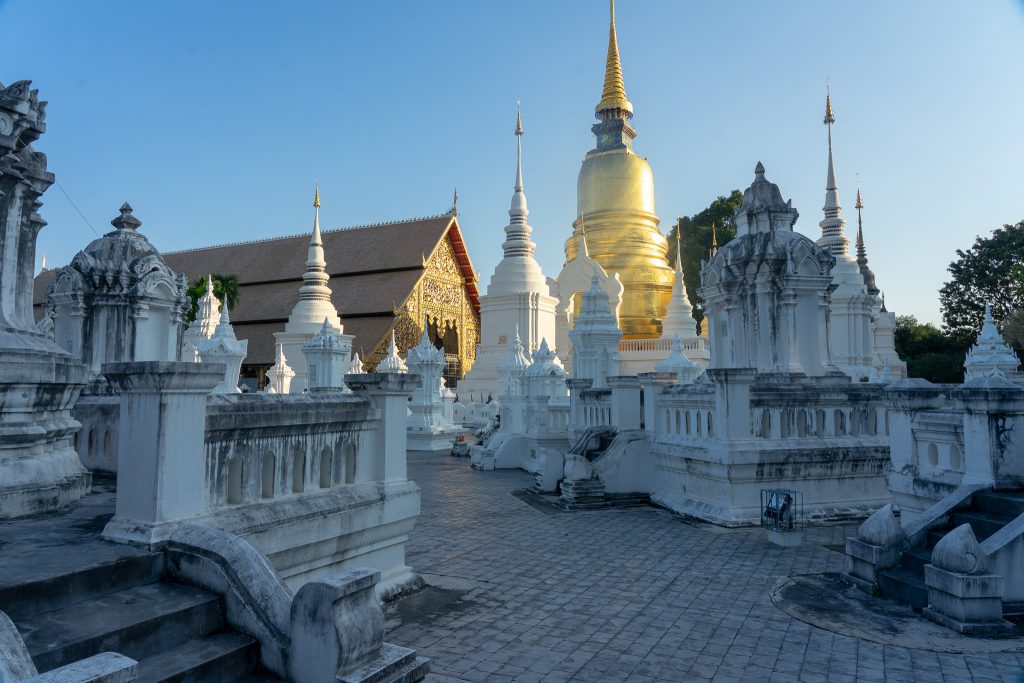 Chiang Mai compelled us to slow down and embrace daily life, Thai style. Mike and I rented an Airbnb apartment in the Nimman neighborhood, an up and coming area with lots of boutique shops and coffee houses. We filled our days with a mixture of sightseeing (there are temples galore; you can barely turn down any single street in Chiang Mai without encountering one) and the familiar rituals of home, like taking yoga classes and hitting the gym. We even managed to catch a live Redskins game–at one in the morning on a Monday, broadcast in Thai.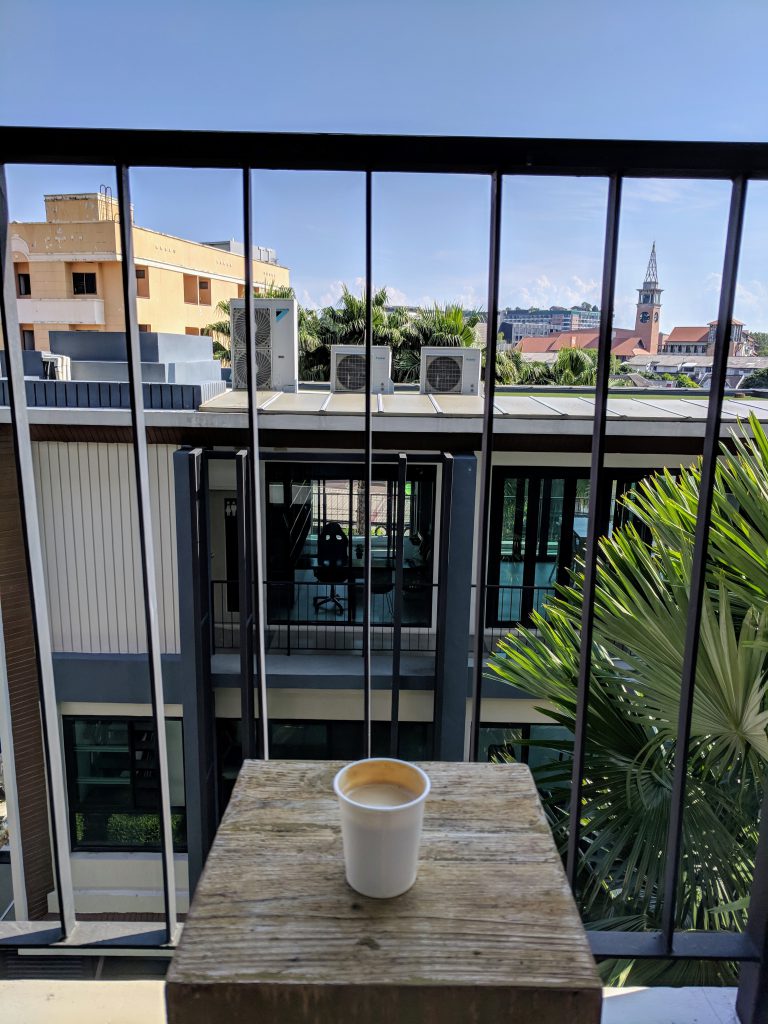 Chiang Mai is the first city we spent enough time in on this trip to start to feel like locals rather than visitors. We stayed for fifteen days (the longest time we've spent together in any place aside from our home of Reston). The staff at Smoothie Blues, our favorite breakfast joint, started bringing us our orders without asking (a strawberry, pineapple, and banana smoothie for me, and a mango, pineapple, and papaya smoothie for Mike. Yum!) We also drank so many iced lattes at a tiny, nameless cafe down a dirt road near our apartment that the young barista (and only staff member) gave us handmade loyalty program cards. (I'm never getting rid of that card. It's been added to the huge pile of receipts, tickets, and rail passes that I'm saving as keepsakes. Many of my friends and family know I'm a sucker for paper mementos–my wallet is filled with decades-old receipts!)
While we had many special experiences in Chiang Mai (more on our visit to an elephant rescue center to come shortly!) celebrating the holidays of Loy Krathong and Yi Peng were the most magical. Loy Krathong is held on the full moon of the twelfth month in the Thai calendar, and is marked by the launching of small floats (called krathongs) down the river. Krathongs are typically made of banana leaves and flowers, and are lit with candles and incense. Launching a krathong on the water symbolizes casting away negative energy, stresses, and worries. It's a holiday celebrated throughout Thailand, while Yi Peng (also known as the lantern festival) is unique to the northern part of the country. On the evening of Yi Peng, people gather to release rice paper lanterns into the sky while expressing gratitude and making wishes. (In fact, so many lanterns are launched in and around Chiang Mai that the airport cancels most flights that night.) Both holidays fell on November 22nd this year–the same day as Thanksgiving in the U.S.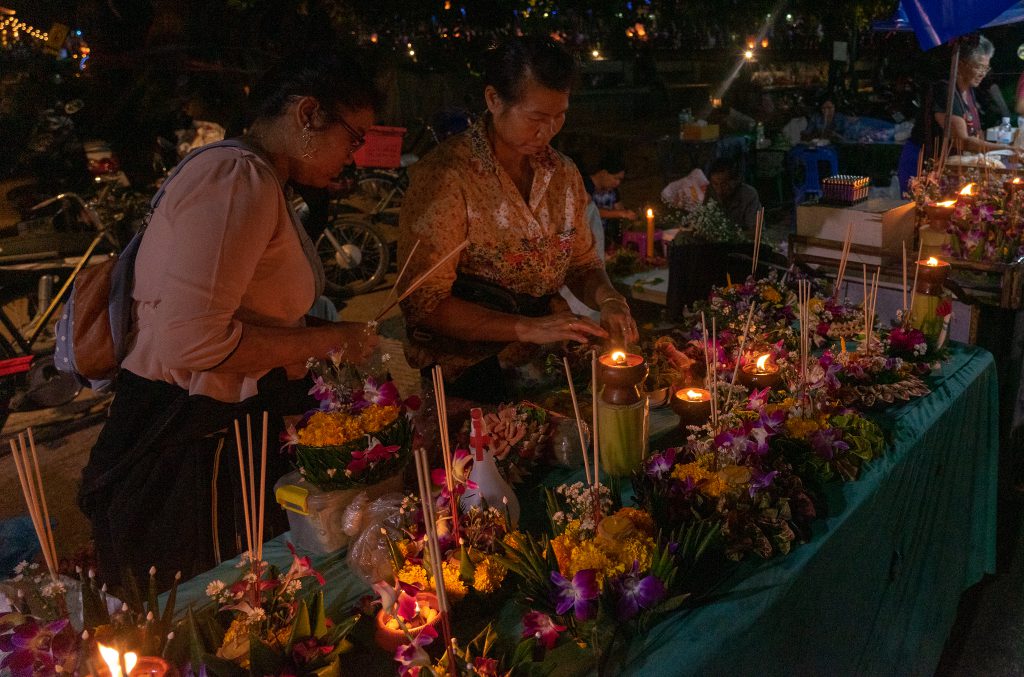 In the days leading up to Yi Peng and Loy Krathong, we saw many locals decorating their homes and businesses with beautiful multi-colored lanterns and lights. We also witnessed monks decking out temples with similar regalia. Though we assumed Loy Krathong and Yi Peng were holidays of Buddhist origin (over 90% of Thailand's population is Buddhist), we learned later that they actually have their roots in Hinduism. Some Thais commented to us that the two festivals have become rather commercialized for their taste–much like some westerners think Christmas has gotten to be all about shopping and presents rather than the "true spirit" of the holiday–but for us, a sense of spirituality and community pride surrounding the holidays still seemed visible.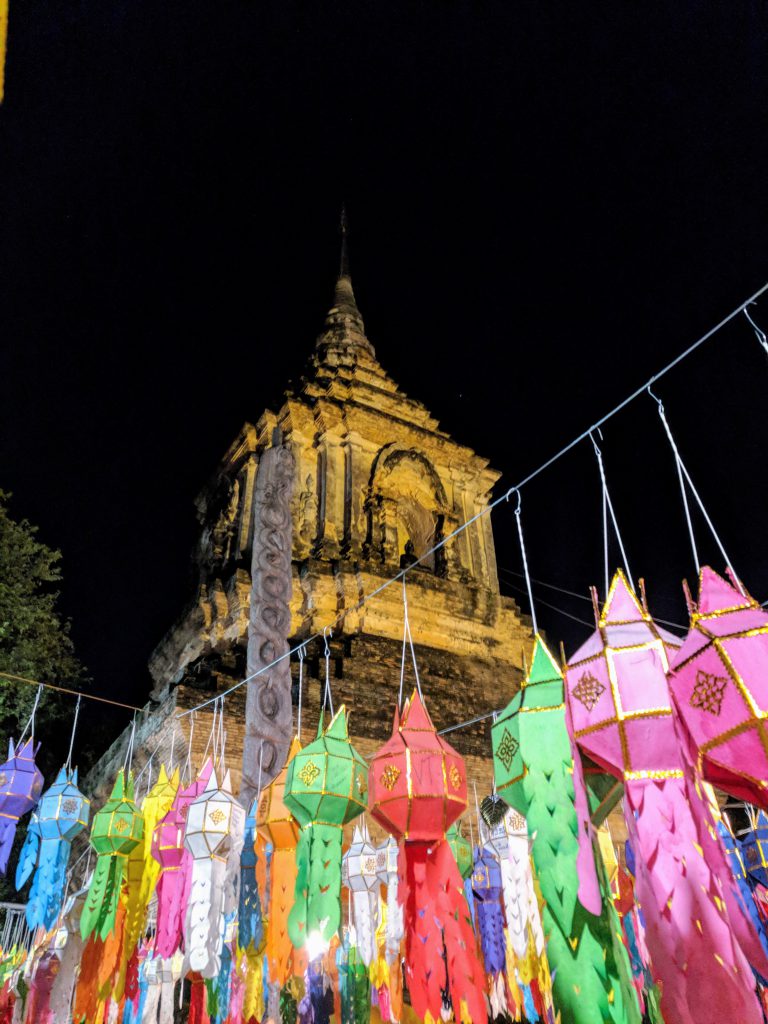 The day before, an opening ceremony with traditional northern Thai dance and music was held to kick off the festivities. Local politicians gave speeches, and there was even a "Mister and Miss Loy Krathong" male and female beauty pageant (it was refreshing to see a competition of this kind with male contestants too!)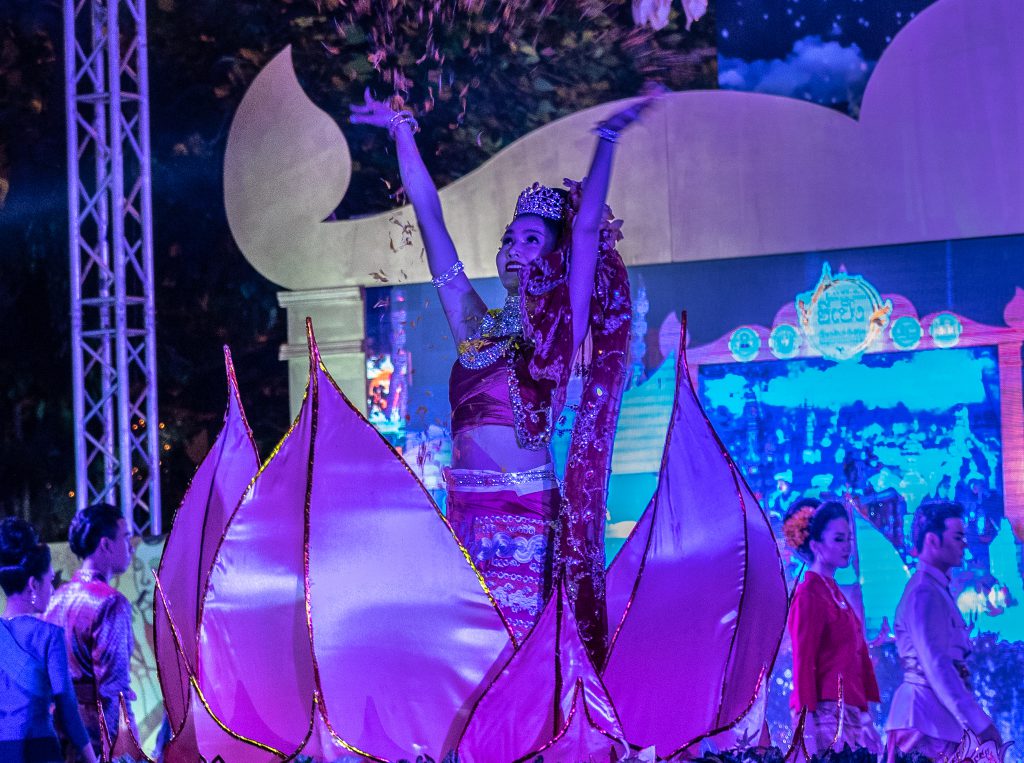 The real magic, however, happened on the night of the 22nd. As darkness fell, the sky slowly lit up with hundreds of paper lanterns. They danced across the sky, twinkling like stars as we walked around the city, wanting to get a look from every possible angle. It was a clear night, and we even saw some lanterns floating past the moon when we glanced up. It felt like stepping into a children's storybook. We bought two lanterns from a street vendor, and were immediately assisted by an enthusiastic family when we had trouble figuring out the proper way to light them (we didn't want to be responsible for burning down Chiang Mai!) It's said to be good luck if you lose sight of your lantern before it burns out. While I tried to follow mine initially, I was so enchanted by them all that I rapidly lost track of it as it floated away (hopefully I'll still have good luck!)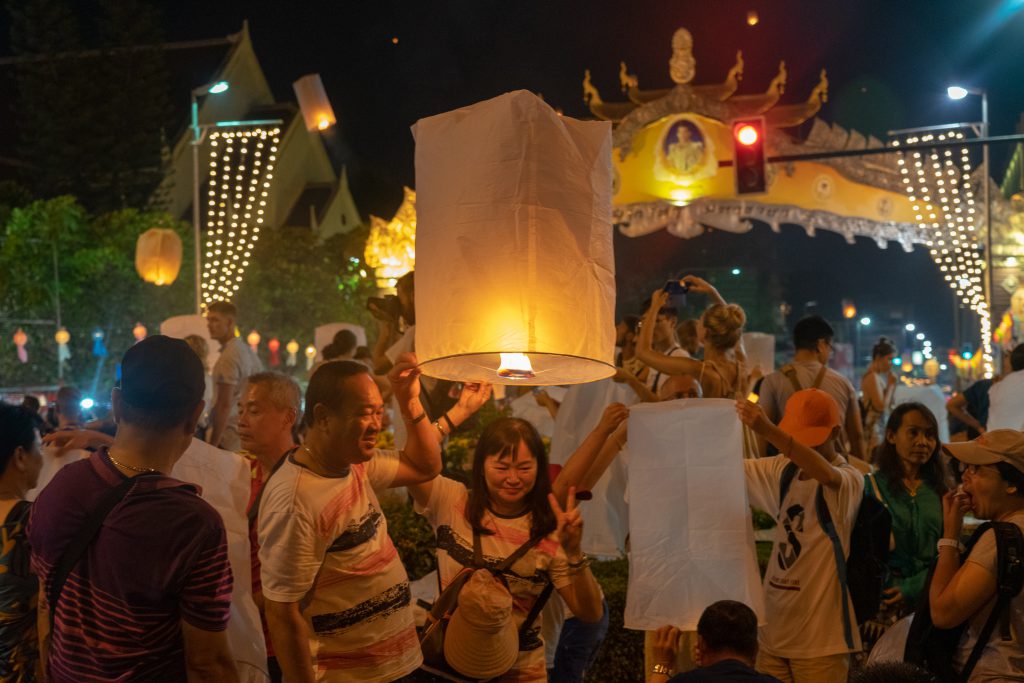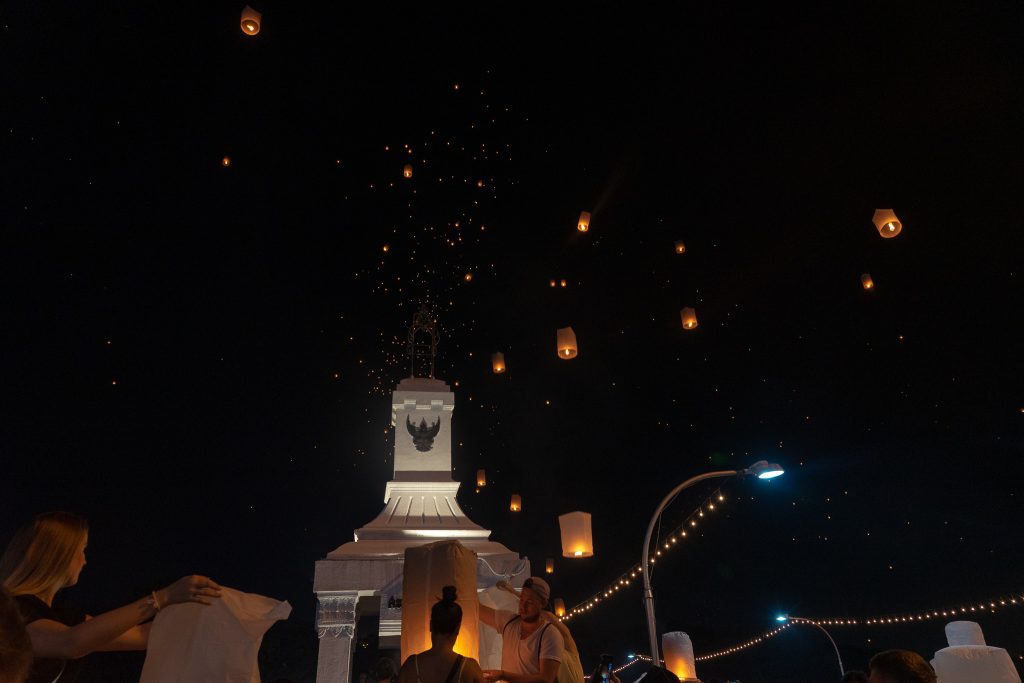 We also purchased a little krathong float and launched it down Chiang Mai's Ping River, making wishes as we did so. (We can't share what we wished for, though–otherwise it won't come true. 🙂 ) After our tiny boat floated away, we stayed on the riverbank for awhile, staring at the reflections of the sky lanterns in the water. It was a night we'll never forget. The whole evening was a powerful visual reminder of the importance of casting away negativity and making room in your heart for gratitude. The fact that it coincided with Thanksgiving Day in the U.S. made it doubly special for us, as we thought of our family and friends thousands of miles away at home gathering together to give thanks.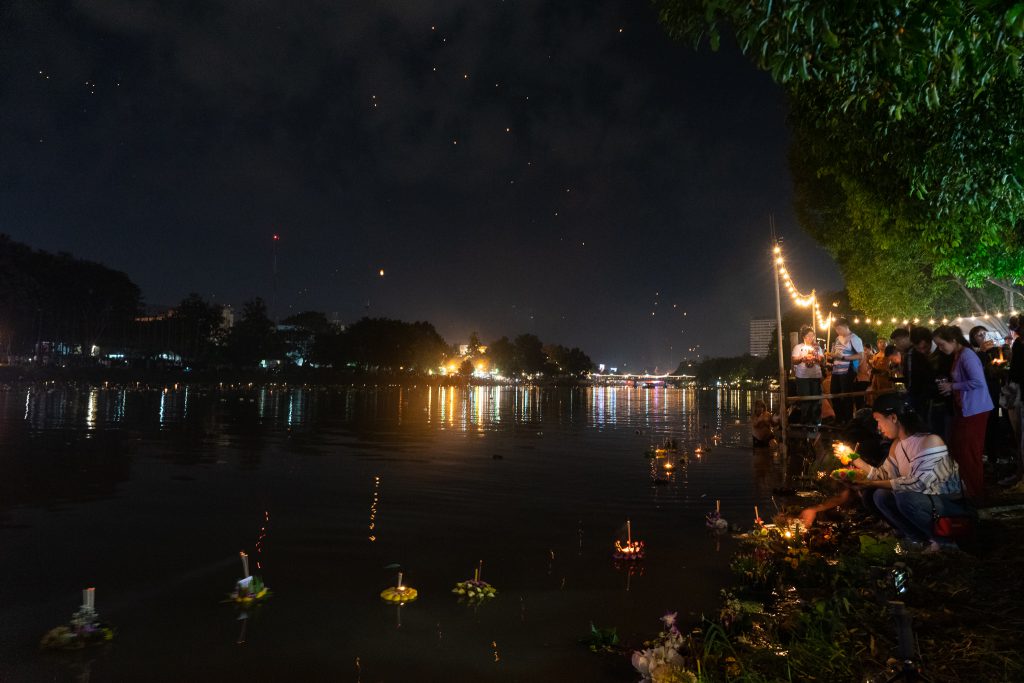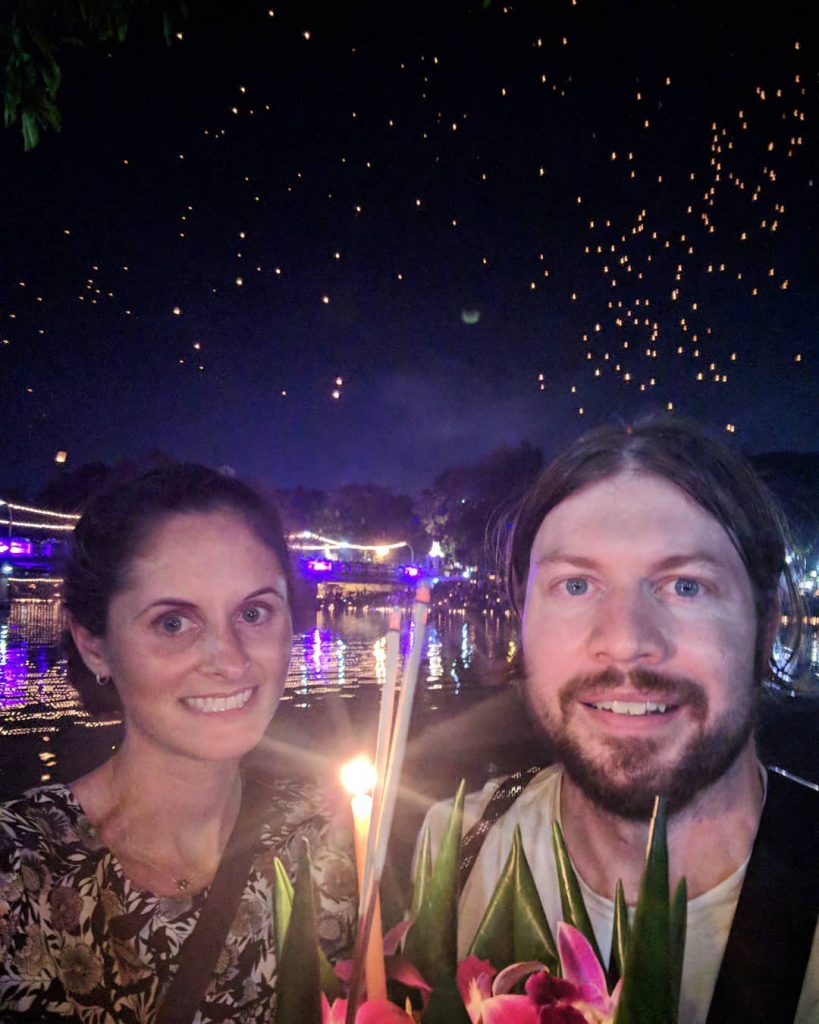 The following day, the multi-day celebration wrapped up with the grand krathong parade. Businesses, universities, and clubs all over Chiang Mai decorated huge floats (all shaped like krathongs) and paraded around the city. While we loved looking at the traditional costumes and ornately decorated floats, we were especially impressed by the volunteers following each float who served as "power line lifters." The power lines in Thailand dangle low over the streets in a haphazard mess, and since most of the floats were too tall to pass below them, volunteers carrying huge wooden poles had to push the power lines up in order for the floats to pass underneath. I held my breath every time, but luckily we didn't see anyone get shocked!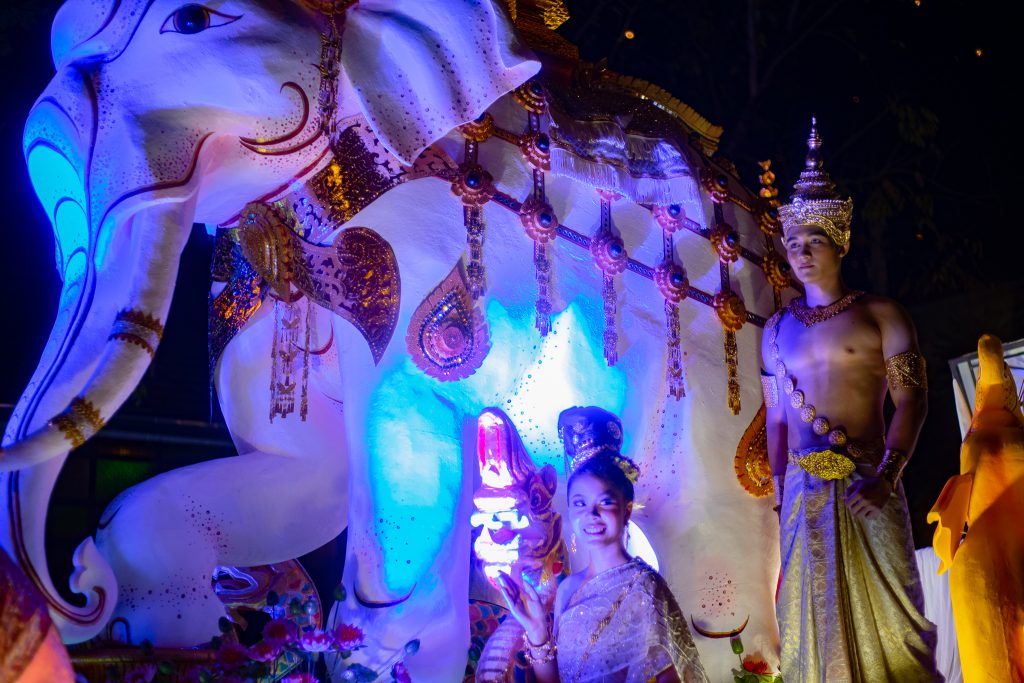 Visiting Chiang Mai during two of their biggest annual holidays certainly made our time in the city memorable. However, the abundance of activities in and around Chiang Mai on a typical day is still pretty impressive. We learned how to make traditional Thai food at Zabb E Lee Cooking School, whipping up common staples like pad thai and fresh spring rolls, while also trying our hand at dishes native to northern Thailand (including my favorite, khao soi–a curry soup made with fried and fresh egg noodles, coconut milk, and chicken, pork, or tofu. So delicious!)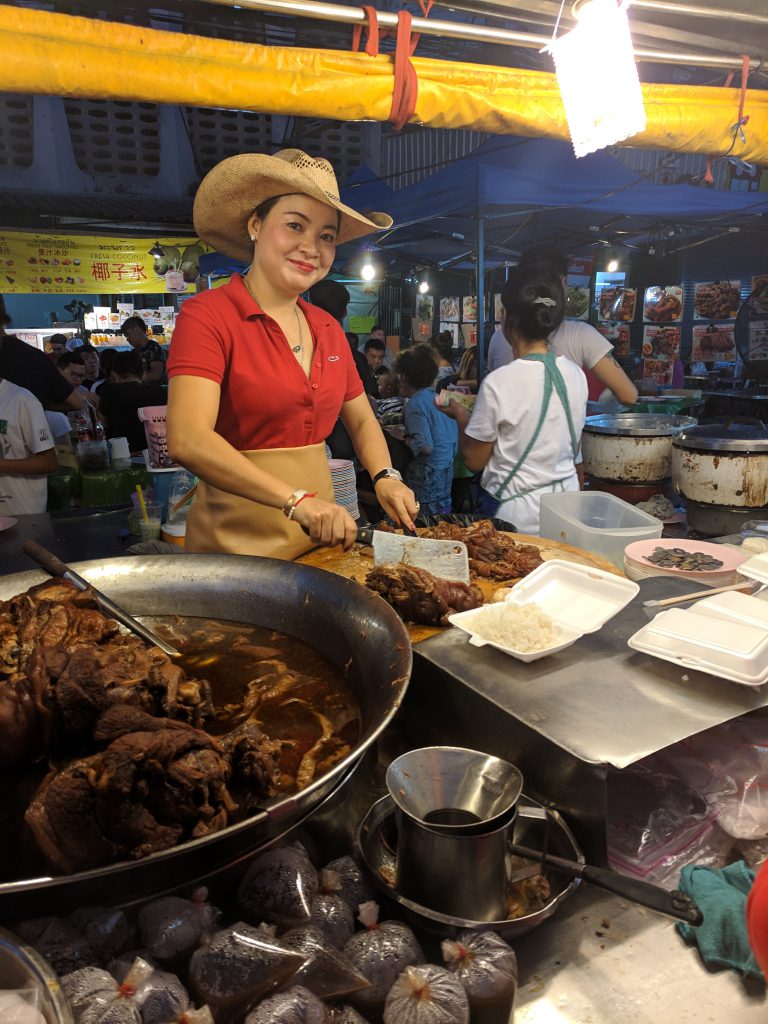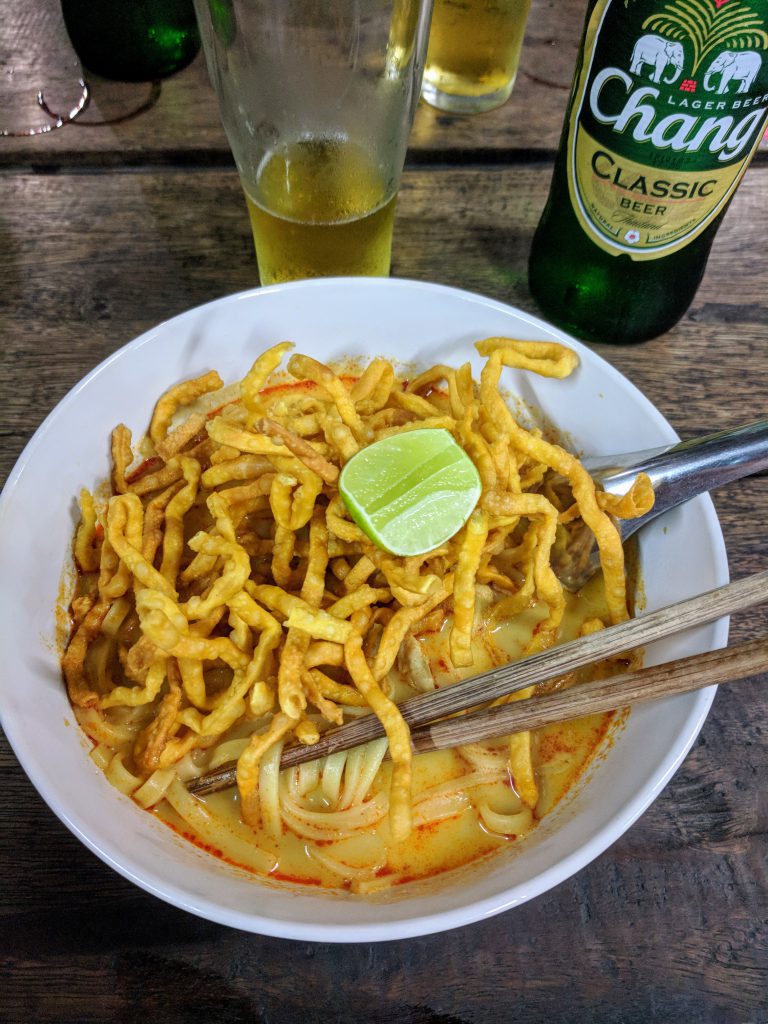 Another favorite activity was attending a monk chat, which was one of the most educational hours we've spent on this trip. Monk chats are literally a time to sit down and casually talk with local Buddhist monks, who are eager to practice their English with tourists. Our monk, San, was eighteen years old (a senior in high school) and had been a monk since age twelve. Becoming a monk at some point or another is common for Thai men, and it isn't necessarily a lifelong commitment. Some men become monks for life, while others only serve for a few months. We were curious to learn more about why young men become monks and what their daily routine is like.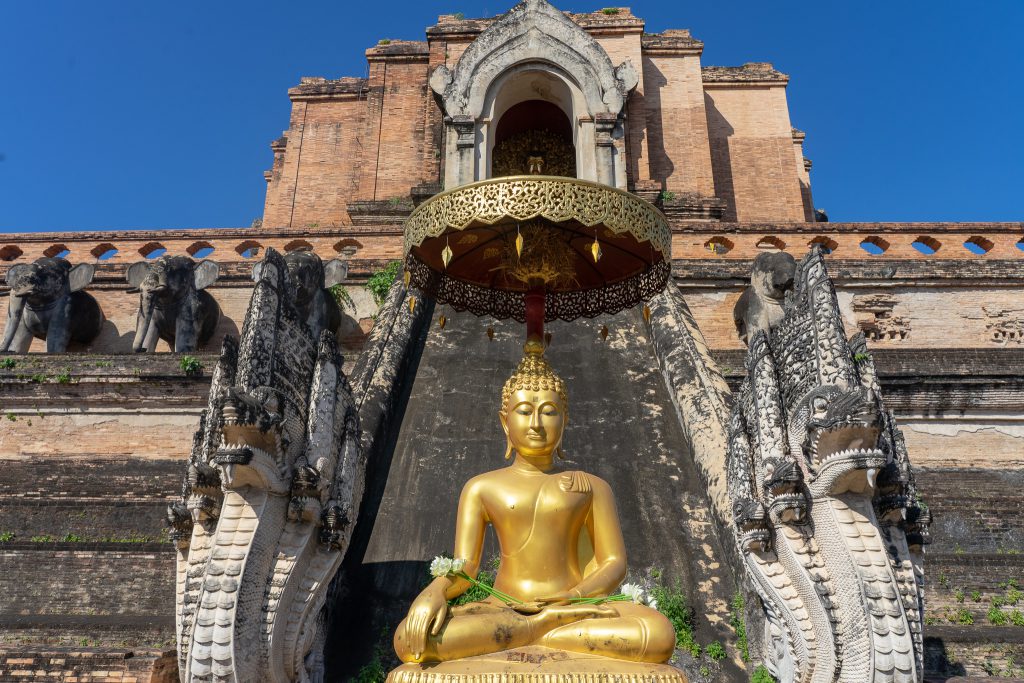 San shared that he became a monk for two reasons–first to show respect to his mother for giving birth to him (as you might guess, having a monk for a son brings a lot of honor to a family), and second, for access to educational opportunities. San said that in his rural village, it's rare for a child, even a boy, to obtain a high quality education. He knew that becoming a monk would give him a chance to better his (and his family's) circumstances. He shyly told us about his daily habits, which include a set amount of morning and evening meditation, studying Buddhist religious teachings, and learning more common school subjects like music and world languages. When we asked about his top personal interest or hobby, he smiled brightly and said, "Watching soccer videos on YouTube!" San may have been a monk, but in many ways, he was just like any other eighteen-year-old!
And of course, there was the visit to Kanta Elephant Sanctuary. I'd been looking forward to seeing elephants up close since we began planning this trip, and Chiang Mai seemed like the perfect place to do it. The elephants at Kanta were all previously forced to work in the logging industry or as circus animals, but now get to enjoy a happy life eating an infinite supply of sugarcane and bananas. Having the opportunity to literally walk among elephants as we fed them, bathed them, and played with them was an absolute highlight of our time in Chiang Mai. As I washed my elephant, Lily, she leaned into the brush and wiggled, much like a dog or cat does when you scratch behind their ears. At the end of the day, my face hurt from grinning so much. Though many elephants in Thailand continue to live under sad circumstances, it lifted our spirits to see the work that Kanta and neighboring sanctuaries are doing to preserve Southeast Asia's dwindling Asian elephant population.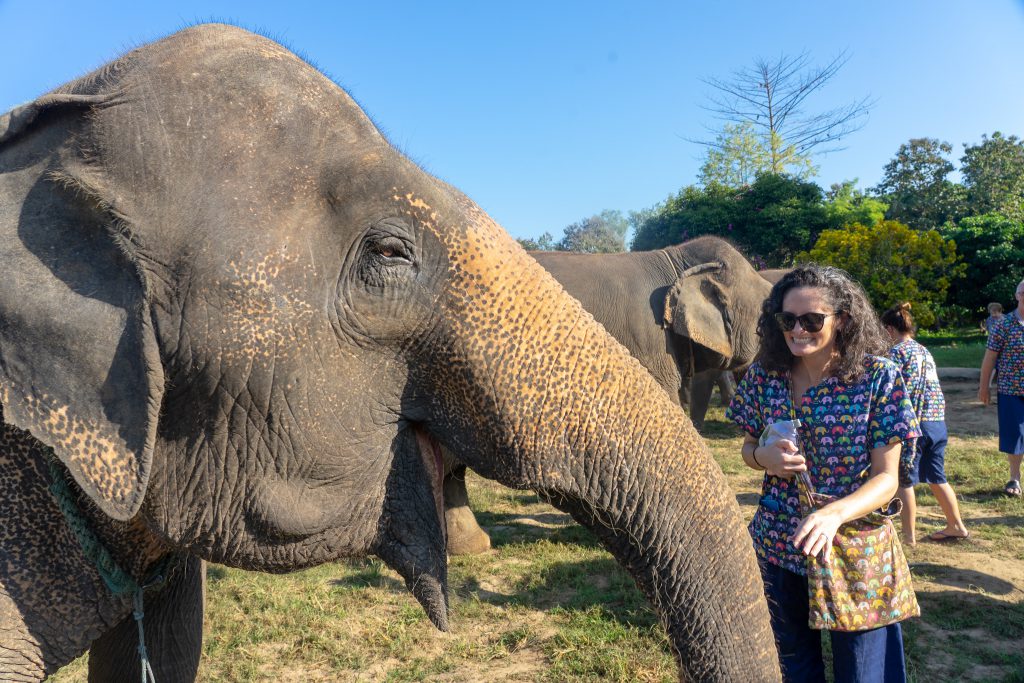 Ultimately, our time in Chiang Mai was made special by both the experiences we had and the people we met. I haven't written much about everyone we encountered, because then this post would go on forever! But during our fifteen days, we spent time with friendly fellow travelers (all of whom we met by happenstance) from Great Britain, Italy, Spain, Brazil, and Greece, among others. We also met a wonderful couple from Frederick, Maryland–one of them grew up in Howard County, five minutes away from me! There's truth to the old adage that it's a small world. It's also been gratifying to meet others who are on long-term travel journeys. There's more of us out there than I would have imagined.
On our last day in Chiang Mai, after we'd driven a rental car outside town to visit Bua Tong Waterfall (where we almost lost our phones and car keys–a story for another day, ha!), we randomly stopped in a small town for pizzas at a local cafe. We ended up talking to the owner for the better part of an hour, listening to her stories about growing up in Thailand and the years she spent far from home working in Budapest. She told us how she taught herself to make Italian food without ever having visited Italy. The secret to delicious Italian food, she said, is the tomato sauce–when it's freshly made from tomatoes in your garden, it takes the dish to a whole new level. As we bid our farewells, she gestured up the road and said, "Make sure you visit the temple right up there. It's very big, and no one knows about it."
She was right. As we strolled around the little town's massive temple complex–which was devoid of other visitors save for the passengers of a lone Chinese tour bus–we were, once again, overcome with feelings of awe for Asia. Just when we settle into the ordinary rituals of daily life here and the scenery around us becomes commonplace, something happens to take our breath away again.
Until next time, sawasdee from Thailand!